Who would have thought that the unassuming interior of a modest factory floor would eventually turn into a fashionable design and win many fans?? And this is exactly what happened. The industrial style that came from America was called the loft.
At first glance, discreet, dim, in fact, it conceals many decorative possibilities, allowing you to create a unique interior in almost any room. The loft can be seen in expensive apartments, trendy studios, offices and cottages. Oddly enough, but the ceiling sets the tone in it. In the loft style, he is assigned the main role.
Peculiarities
In fact, the loft is a design game. With a few formal elements, bright touches, an apartment in a high-rise building or a cottage turns into a semblance of an industrial workshop, while maintaining comfort and coziness.
To implement style ideas, interior partitions (if any) are usually demolished, creating a single studio space that is filled with natural light from large windows. The loft is stunning with its spaciousness. This feeling is supported by minimalist methods in the use of color palette, materials, decor. And in the echoing empty room, the loft-style ceilings in the interior are the most expressive detail.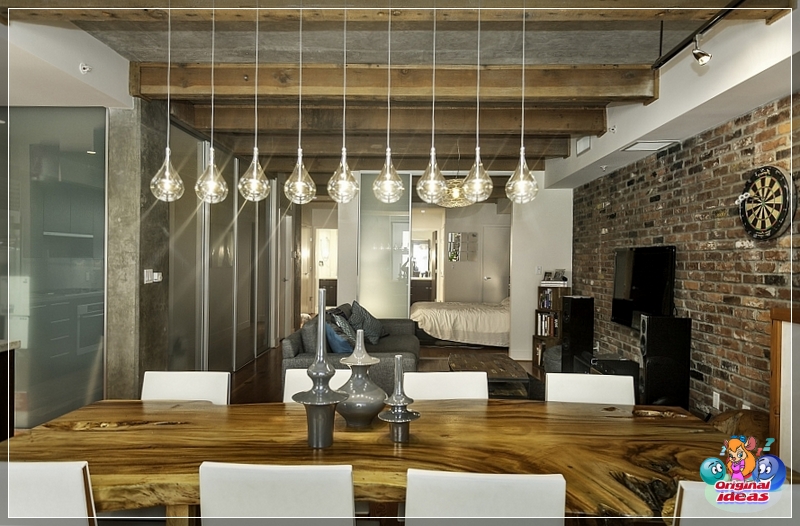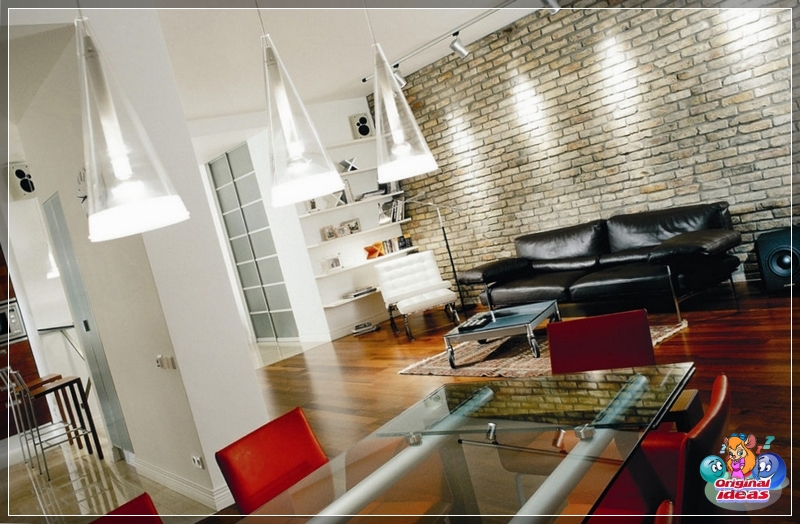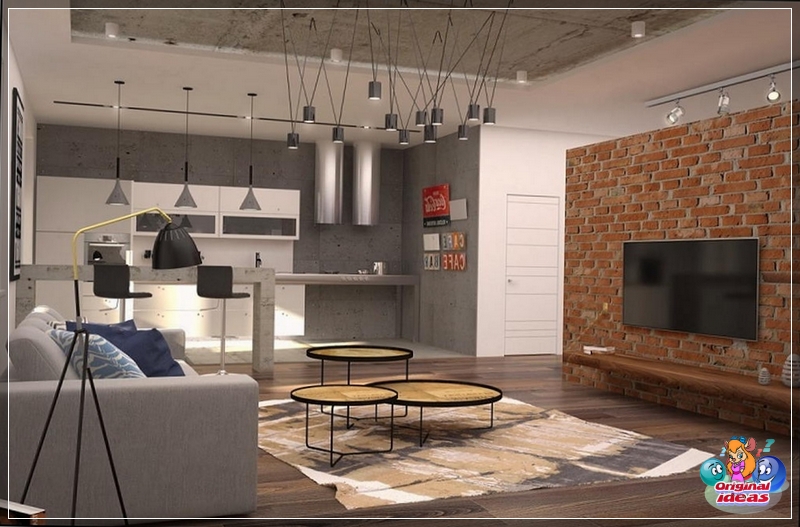 Materials (edit)
Materials with a natural texture are used to decorate the ceiling. Those that look neat and ironed, clean and even are not suitable. They should bring a slight feeling of brutality to the room. The loft-style ceiling looks as if only yesterday there was a factory workshop in the room, and today it is already an apartment, therefore, they are used as a ceiling decoration:
concrete;
wood;
brick;
metal.
Important! The game of industrial surroundings is supported by roughness, abrasion, even minor surface imperfections, as well as engineering communications displayed on display.
Color palette
The overall range of a loft-style room is discreet, but light, with individual accents from dark tones. But the design of the ceiling must be done in such a way as to attract attention, using colors and shades:
White, but not snowy, but muted. Combines with dark industrial elements, wood.
Cool gray. Light colors are suitable for a small room, in a spacious room you can even use a rich dark. In harmony with the decor of steel, copper, bronze colors.
Brick. Red-brown is used for partial finishing of the ceiling, using the method of "flowing" from the wall to the ceiling. Looks great against neutral colors.
Black. This is an interesting solution, but it is used only with a ceiling height of at least 3 m, otherwise it will turn out to be a gloomy and inhospitable room. This color is picky about the amount of lighting, so you need to take this into account when placing a sufficient number of lighting fixtures that give yellow warm light. Black ceiling blends well with light-colored flooring, emphasizing bright details.
Yes, the color scheme of the loft style is not diverse, but it is against the background of a neutral ceiling tone that various industrial decor elements look advantageous, which play an important role in the interior.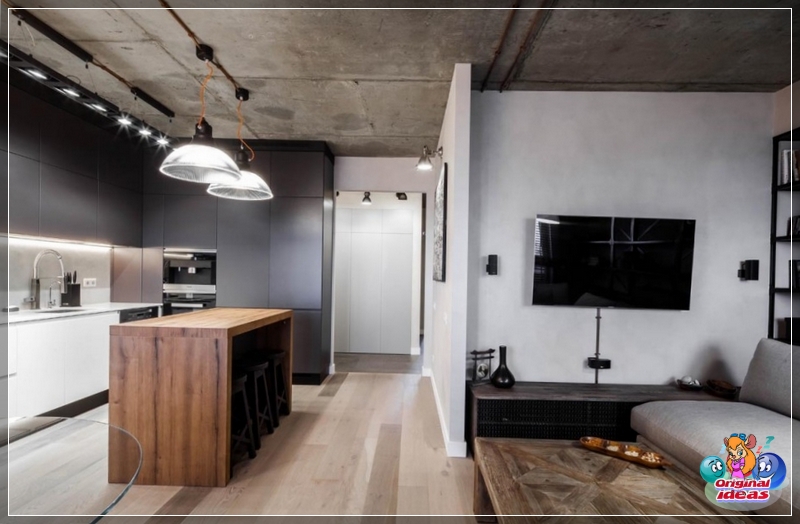 Variety of ceiling finishes
On the one hand, the loft style is quite economical, because expensive finishing materials are not needed for its implementation. On the other hand, the minimum decorative properties of the finish are very demanding on the quality of work.
Concrete
The easiest way to decorate is to remove all layers of the previous finish up to the concrete floor. Almost everyone can make such a loft-style ceiling with their own hands.
Why concrete is good:
Is a safe material.
Durable.
Resistant to external factors. It is not affected by temperature drops, changes in humidity.
A good background for decorative elements of brick, metal, wood.
Inexpensive material.
Concrete creates a smooth surface with small cracks and depressions. Light gray tones are predominantly used. If the room is small with low ceilings, then the ceiling shade should be lighter than the wall covering.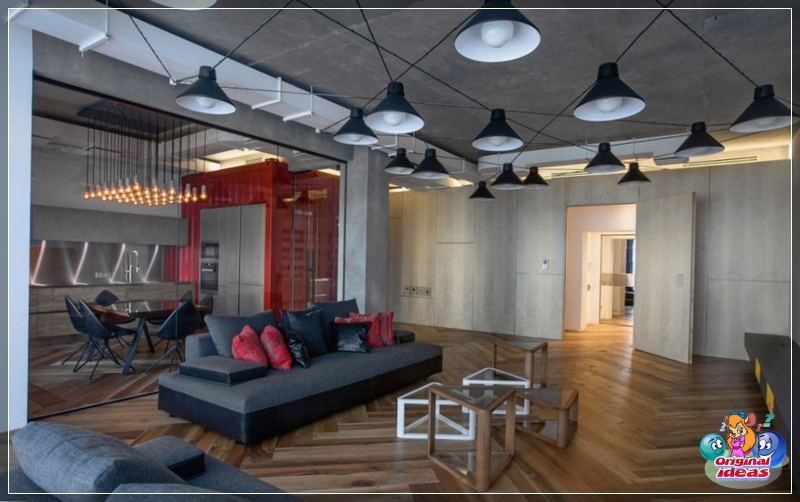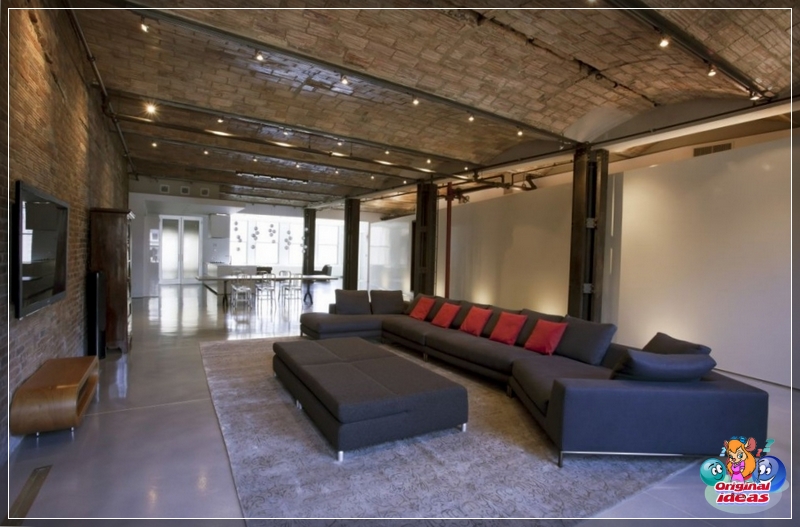 The ceiling is processed as follows:
remove irregularities with a cutter;
grind;
cover with a primer to eliminate dust;
finishing layer of protective varnish, which gives the ceiling a matte or glossy shine.
If the ceiling surface is made of some other material, then you can create an imitation of concrete. For this, the following are suitable:
decorative panels;
plaster mixes with concrete;
architectural concrete.
Before applying imitating mixtures, the ceiling surface is sanded, treated with a primer.
Plaster
The selected composition should mimic the concrete surface, be rough. Plaster is used if a low ceiling conceals space. If there are no significant differences in height on the surface, then this is an economical and simple way of finishing.
Plaster works well with brick and wood.
Wood
Oddly enough, but natural wood (or its imitation) looks great in an industrial loft style. Different widths are chosen as ceiling finishes:
panels;
lining;
boards.
An interesting textured wooden ceiling is a field for creative experiments.
Using boards of different widths, a complex surface is created on the ceiling. Planks are mounted both close and at a distance. This allows you to zone the space.
The boards are perfectly combined with concrete and plastered surfaces, creating a stylish layering.
The color also varies: the wood can be coated with a protective compound, paint or varnish. In small rooms, preference is given to wood painted in a white tone. Another option is to paint not evenly, but creating deliberate strokes.
Aged wood looks great, it is in harmony with metal decor.
You can make a single wooden plane on the ceiling, or you can complicate the finishing with beams (real or imitation). In this case, the beams should be darker than the background.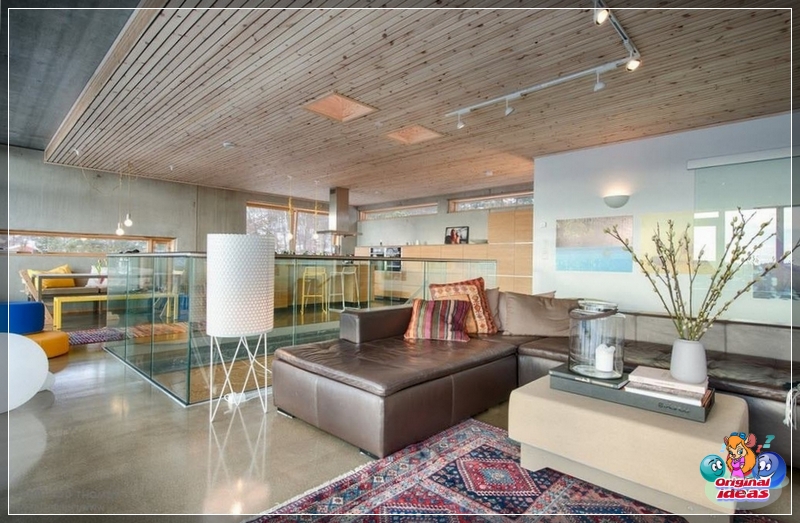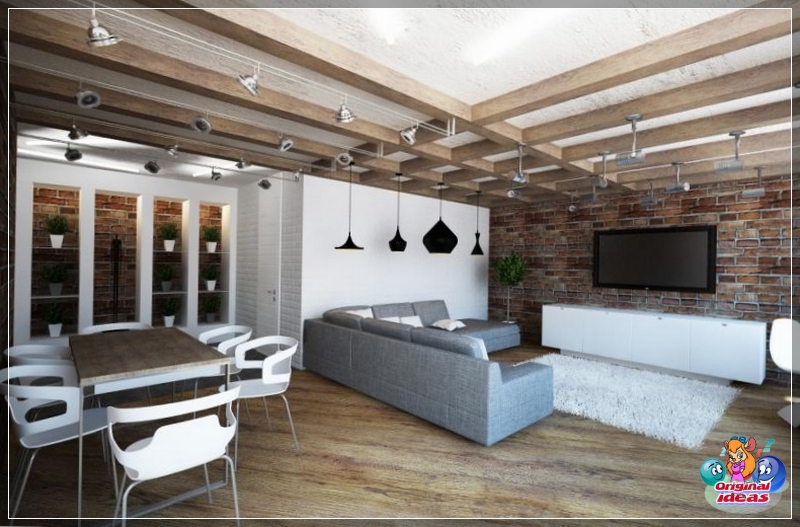 Stretch ceiling
Stretch canvases became so popular that they found a place even in the industrial loft style. In the photo you can see examples of design solutions when the canvas, film or woven, imitates:
whitewashed ceiling - matte or satin texture is suitable;
concrete - a gray canvas with a rough texture;
metal sheet metallized film.
Using the method of photo printing, the ceiling is decorated with the desired image.
The stretch ceiling looks good in the apartment, it will be quickly installed by professionals, it will reliably serve for at least 10 years.
Stretch ceilings are combined with wooden beams, nets.
Important! A single-level stretch ceiling takes 2-4 cm of the height of the room, multi-level up to 15 cm, so this method is not suitable for all rooms.
Suspension systems
Although drywall is a favorite material for ceiling decoration, it is rarely used in loft interiors. After all, one of the main advantages of drywall structures - the ability to hide engineering communications - is not useful here.
If, nevertheless, the ceiling is made of plasterboard, it can be diversified with wooden beams.
Decorative elements
Although the loft is a minimalist style, decorative details are still present in the interior. The decor is selected in the same soft color scheme. The goal is to visually complicate the ceiling space, make it more expressive, designate its industrialism.
The most popular option is wooden beams, slats, panels. It was these elements that once supported the high ceilings of industrial premises, now becoming a characteristic detail of the style. The ceiling space is rhythmically crushed with wooden lines, creating a dynamic effect. An interesting option is to place beams not at even angles, but with broken lines. Decor with beams is performed if the height of the room is not less than 3-3.5 m. You can use false beams, hollow inside, or high-quality imitations of polyurethane.
Coarse mesh metal mesh looks great on concrete or stretch ceilings. For expressiveness, the mesh is painted black, stainless steel is also appropriate on a concrete surface.
Armature. Color - black, copper, steel. This is an indispensable element that gives the room brutality, but at the same time does not weigh down the space.
Antique fans with blades will decorate a fairly tall room and add elegance.
As a decor, it is appropriate to use everything that is usually hidden: electrical wiring, air ducts, props, frames, etc. However, electrical wiring and other parts are placed on the ceiling in geometrically correct lines, carefully fixing.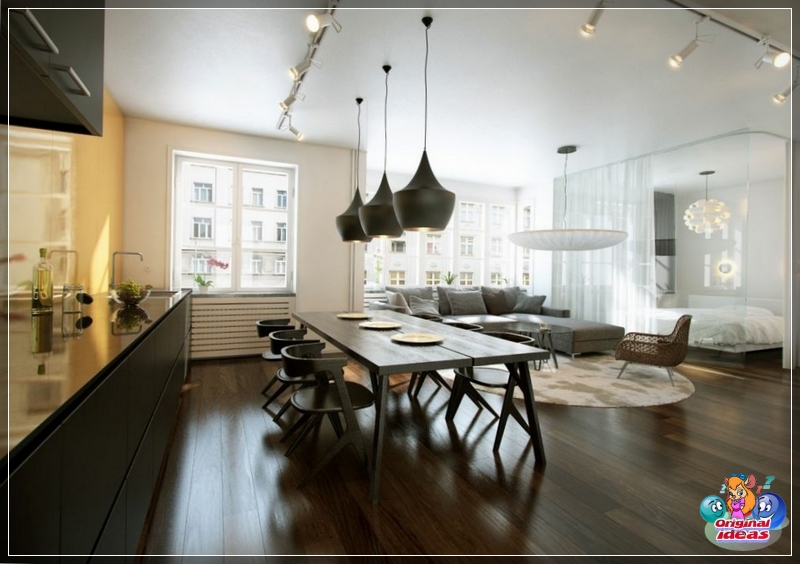 Lighting
The installation of lighting devices will complete the finish. It is necessary to choose lamps of the following types:
lighting fixtures with large or elongated bulbs;
copper or steel shades;
chrome-plated lamps on guides;
hinged spots;
lamps-bulbs on a cord or metal pins without a lampshade.
Retro style lamps that imitate kerosene lamps fit into the interior.
With your own hands
You can do the finishing work yourself, and if the apartment is located in a panel house, the easiest way is to arrange a concrete surface.
How to do:
clean with a spatula;
defects are eliminated with plaster;
the ceiling is primed;
covered with polyurethane, polymer or acrylic varnish.
Optionally, you can install mesh or beams.
You can also make your own ceiling clapboard. To do this, a frame is mounted around the perimeter of the room, on which the strips are fixed. This is how you can make the ceiling in the kitchen.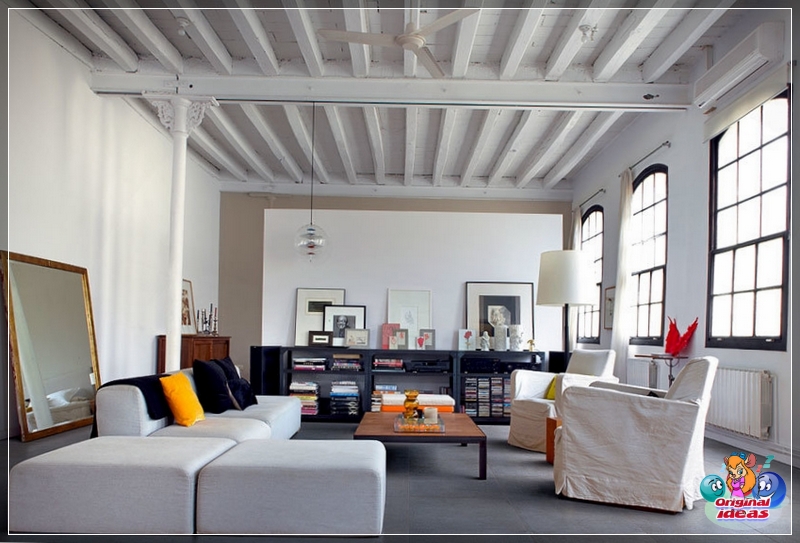 Conclusion
The ceiling in a loft-style interior is an opportunity to push the boundaries of space. Due to the simplicity of the form and the meager color palette, the ceiling does not distract. But at the same time, the space above the head with formal style elements energetically supports the design game in the factory floor - industrial zone-production base.