Lighting plays an important role in interior design. Accurately selected luminaires for stretch ceilings and their competent arrangement can radically change the room, hide the layout flaws and emphasize the advantages of the room.
Where does the choice begin?
When planning the installation of a stretch ceiling, many mistakenly believe that only small spotlights are suitable for such an elegant ceiling cladding, and there is no place for large beautiful lighting fixtures.
Tying the choice of lighting devices to the size is a big mistake, which, when developing the design and assembling the stretch ceiling on your own, will result in a loss in the appearance of the room.
Films or textiles used in ceiling structures are stretched over a frame installed 3-5 cm below the base slab. Thus, a void is formed between the stretch canvases and the existing ceiling, where wires, ceiling communications and embedded parts for fixing the lamps are hidden.
Subject to all installation rules, the reliability of such an attachment is absolute, therefore, you can confidently embed in a stretch ceiling decor:
spot systems;
Spotlights;
LED strips;
chic classic chandeliers;
modern LED ceiling lighting devices.
The main thing when choosing lighting equipment is to make sure that the lamps of lighting devices are not too close to synthetic surfaces.
Design Tips
The choice of lighting fixtures must begin with an assessment of the interior, since the basic rule of designers says: without having an idea of ​​the room as a whole, you cannot start decorating its individual elements.
First of all, you should decide:
How much the desired design of the luminaires will be appropriate in the existing interior. Today's range of lighting devices allows you to choose them for any request, for example:
when renovating, you can install spot systems;
if the room is stylized as classics or antiquity and is designed in restrained colors, then a traditional pendant chandelier with crystal pendants will become a universal solution for it;
in interiors with rustic motifs, forged lamps will look authentic against the background of matte or fabric stretch ceilings;
for scandi, techno, art deco, minimalism, eclecticism, single or grouped geometric pendants in various textures and colors, complemented by spot lighting, are ideal.
What kind of atmosphere should they create in the room?.
Will the lamps reduce the height of the room and is it possible to adjust the length of the suspensions.
Will they be able, if necessary, to effectively zone the space?.
Will they not draw all the attention to themselves.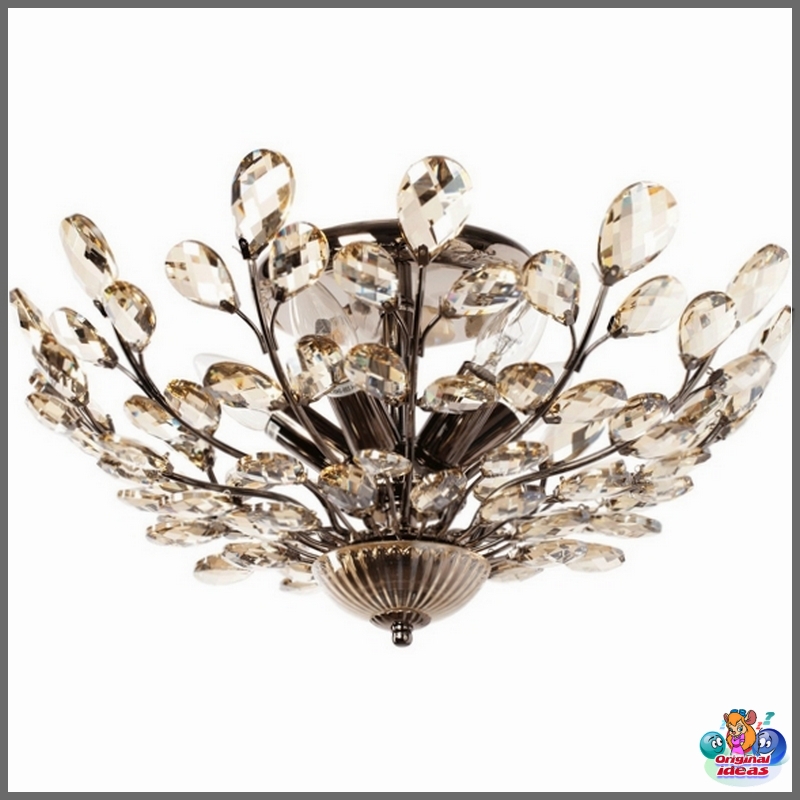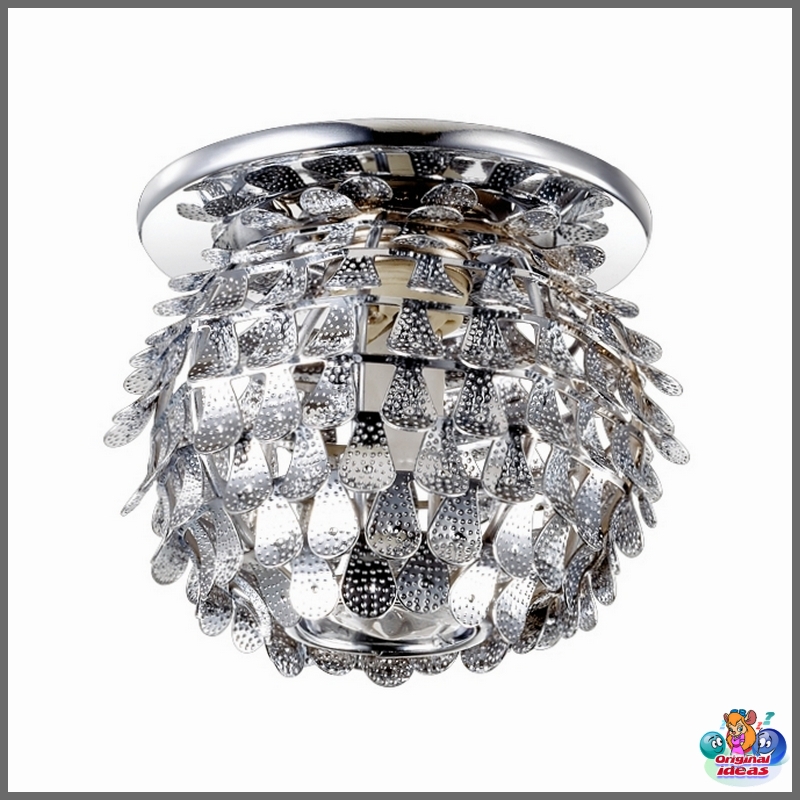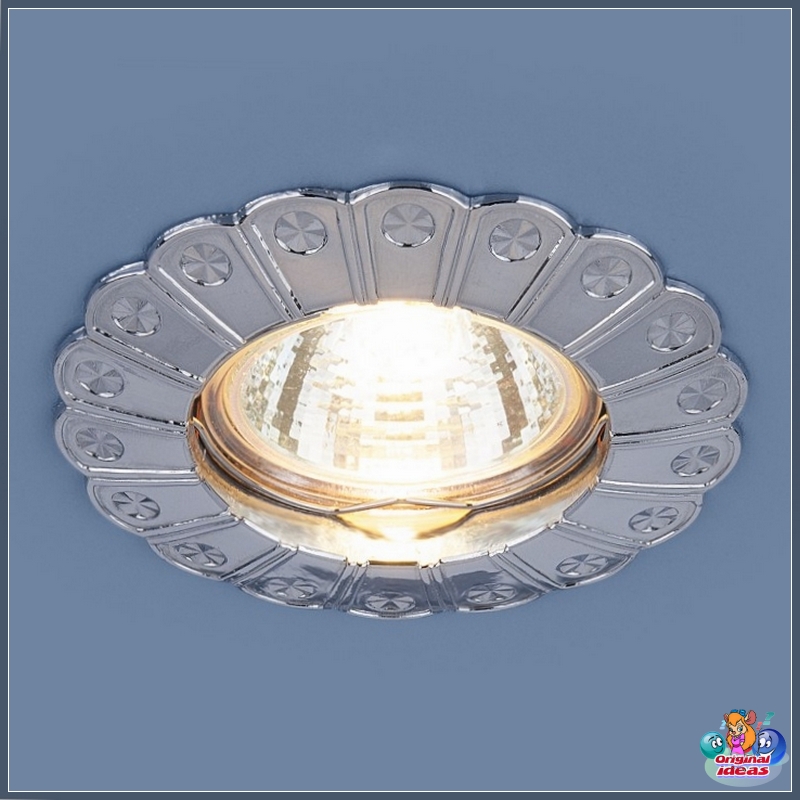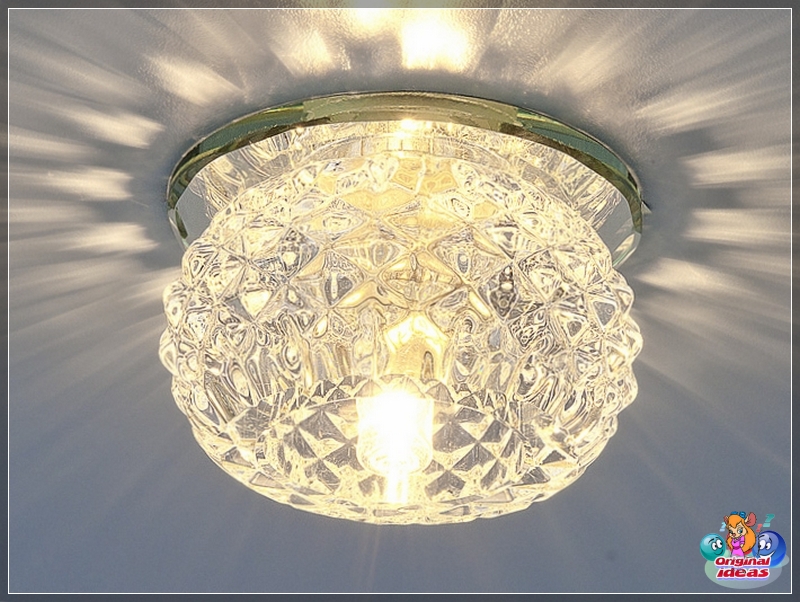 Answers to these questions will help you choose the right lighting devices and their layout, which will save you from many problems in the future, because replacing a lamp on a stretch canvas is much more difficult than on a regular concrete floor. What models are better to buy, the owner decides, since everyone has their own concept of beauty and harmony. Nevertheless, designers are professionals, and you still need to heed their main recommendations:
The shapes of the luminaires must match the geometry of the room. Correct configurations must be complemented by the same strict, and unusual shapes - asymmetry.
Motley lamps do not work well with stretch ceilings. There is a place for such models in children's rooms, but it is better not to use them to create lighting systems in the main rooms.
For the bedroom, elementary lighting devices on small suspensions are preferable, always monochromatic in a delicate range - white, pale blue, beige, powdery, although black tones are also possible for ultra-fashionable interiors, which will make up a stylish composition with a white stretch canvas.
Simple square or round lamps look decent in small rooms, and massive models are good for spacious rooms.
Fancy chandeliers are designed for rooms with arches, beveled corners and curves, which are usually decorated in classic designs, Gothic, Empire, Baroque. However, in modern style trends, they are inappropriate. But industrial-type lighting fixtures with metal shades can be used with various ceiling finishes and in almost all interiors.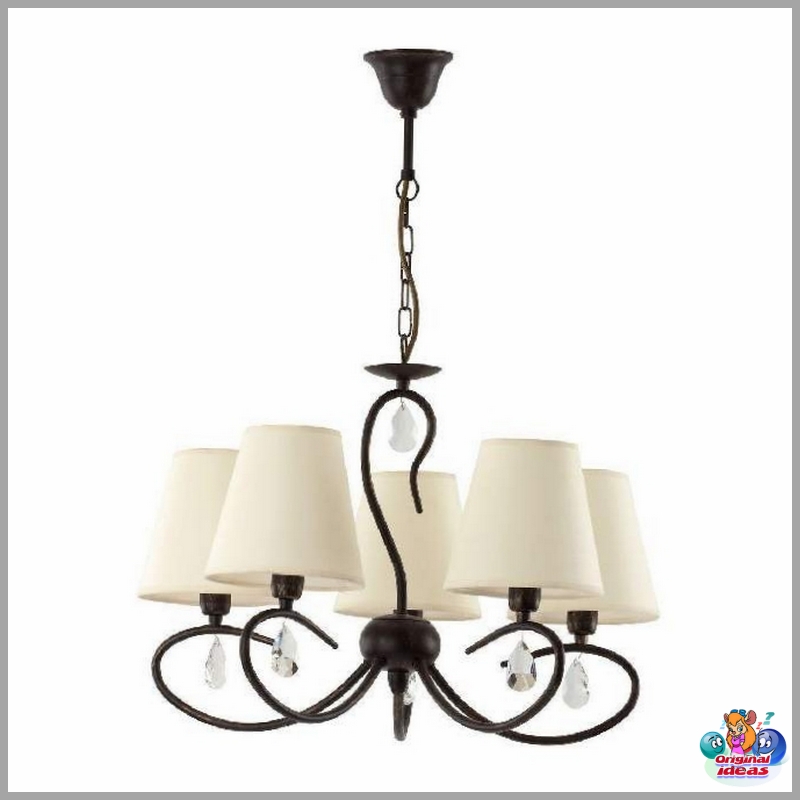 Popular types of luminaires for tensile structures
Any lamps are suitable for stretch ceilings made of textiles and films. The restrictions apply only to the power of the heating elements.
The most popular lighting devices are:
Spotlights. Small recessed light sources designed for 1 incandescent lamp, halogen or light-emitting diode (LED), of which energy-saving ones are in the highest demand due to their low energy consumption, longevity and reasonable cost. The body of such devices is mounted in tension planes in whole or in part in order to provide better heat dissipation. Spotlights are mainly installed:
as the main source of illumination in low rooms;
where hanging devices are undesirable due to the style of the interior;
in the form of additional lighting for central lighting equipment;
to create local or accent lighting, for which the gx53 luminaires are mainly used, characterized by a rich color palette and reliable mounting on any surfaces.
Overhead models. Ceiling lamps differ primarily in design and number of lamps. Such equipment must be chosen carefully, since some models fit too tightly to the ceiling, due to which, under the influence of a powerful luminous flux, the likelihood of deformation of the canvases, even fabric textures, which, although more heat-resistant than film ones, will quickly lose their color, increases. Therefore, it is advisable to use ceiling lights with good heat dissipation and LED lamps (LED devices).
Suspension luminaires for stretch ceilings. These are shades of different shapes and textures, fixed on cords, which designers are happy to use to illuminate individual functional areas or as a central light source. Successful examples of location are multi-lamp suspensions on a common base, as well as a group of several separate devices of different colors, but of the same shape, on the same or different cords in length. Since the heating element in pendant models is located far from the canvases, there are no restrictions on the power of the lamps for them. The latest trend is conventional incandescent lamps on black pendants, which is welcome in scandi, hygge, loft. Installation of multi-lamp models will cost less than a group of single suspensions, but separately located lamps look more original.
Classic chandeliers. The choice of this type of lighting equipment is huge in configuration and design, if only it fits the style of the interior. The only point that needs to be taken into account: if incandescent or halogen lamps are installed in the chandeliers, then the distance from the lamps to the canvases should be at least 10 cm. But it is still better for your own peace of mind to choose LED lighting sources, which in any form are not afraid of tension structures, since they:
resistant to voltage drops in the network;
durable - they resist vibration and shock well;
the most economical - up to 90% energy savings in comparison with other lighting sources;
they are characterized by minimal heating, which excludes burnout, fading or deformation of the tension cloths;
have a large angle of dispersion and excellent working potential - from 25,000 hours of continuous illumination;
environmentally friendly and do not harm health, in particular, eyesight.
Spot systems. Spots are designed to illuminate a specific area. They are used alone or in conjunction with other types of lamps. The spots look beautiful in modern style and can be easily mounted on all tension structures. Spot systems are:
single-lamp and multi-lamp;
simple design and complex intricate shape;
having one attachment point or several;
due to the wide variety, they can act not only as lamps, but also as decorative elements, which is their indisputable advantage.
All types of lighting devices have different fastening systems, therefore, at the time of the formation of the stretch ceiling, the lighting equipment must be completely on the object.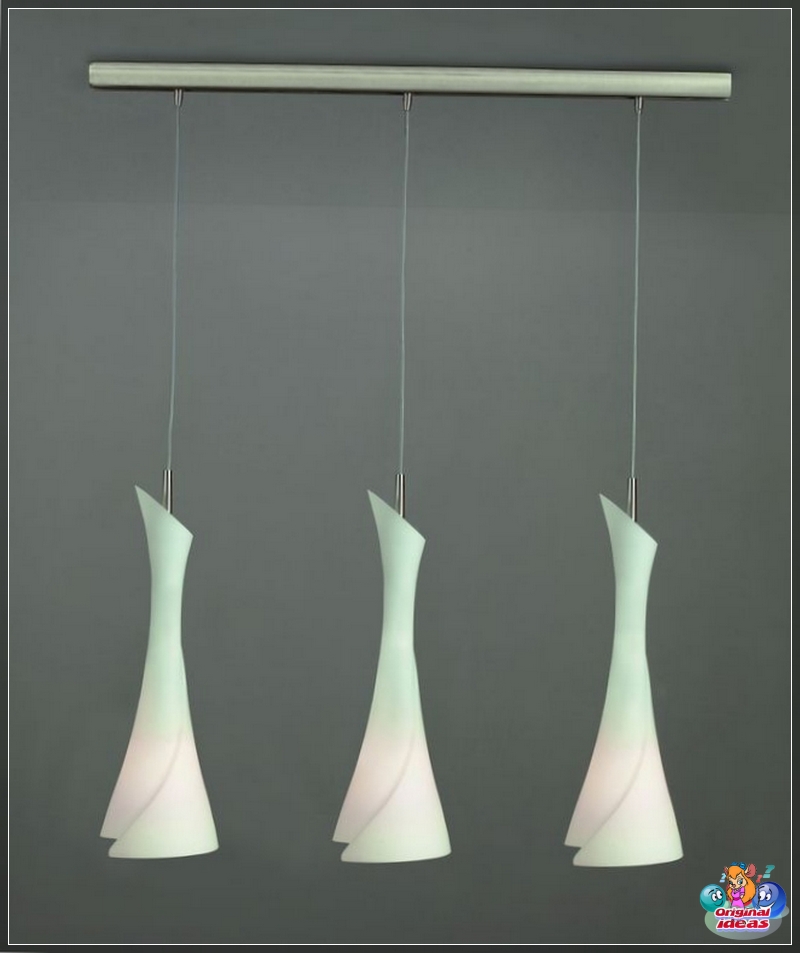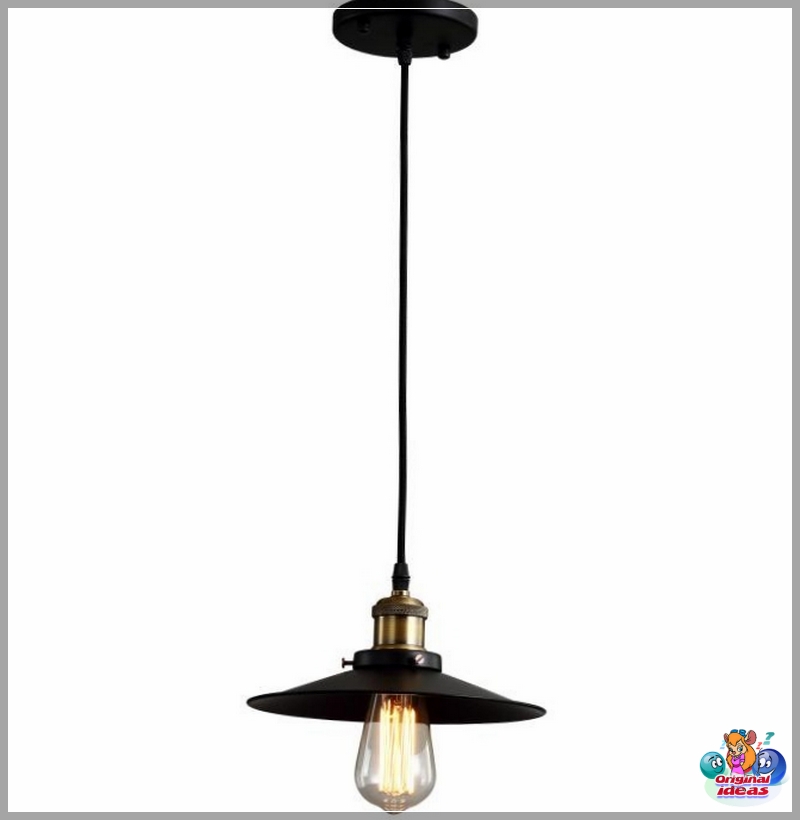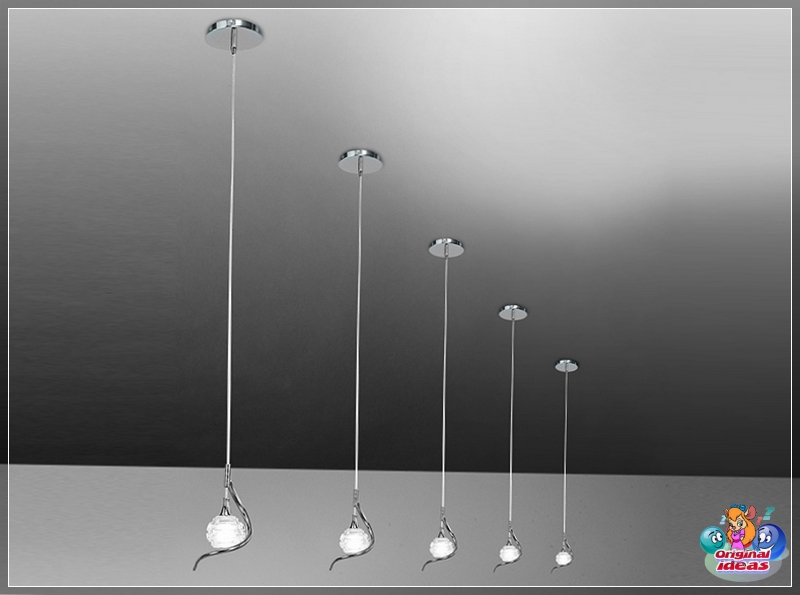 Which lighting devices cannot be used in tensioning systems
In order to increase the durability of tensioning structures, some restrictions must be observed:
The power of traditional incandescent lamps in the lamps used should not exceed 60 W, halogen for point devices - 30 W, fluorescent - 50 W.
The distance from the shades to the stretch canvases should vary within the following limits:
for incandescent lamps, the standard is not less than 40 cm;
the minimum allowable value is 10 cm + 5-7 cm for a margin, and for point devices - 15 cm from the seams, 20 cm from the walls and 30 cm from neighboring analogs.
For point square models, you need to know in advance the possible sizes of platforms for embedding. There are certain values ​​for the installation of such light sources in tensioning systems, and if you do not guess with the size, then an individual order of platforms will be too expensive.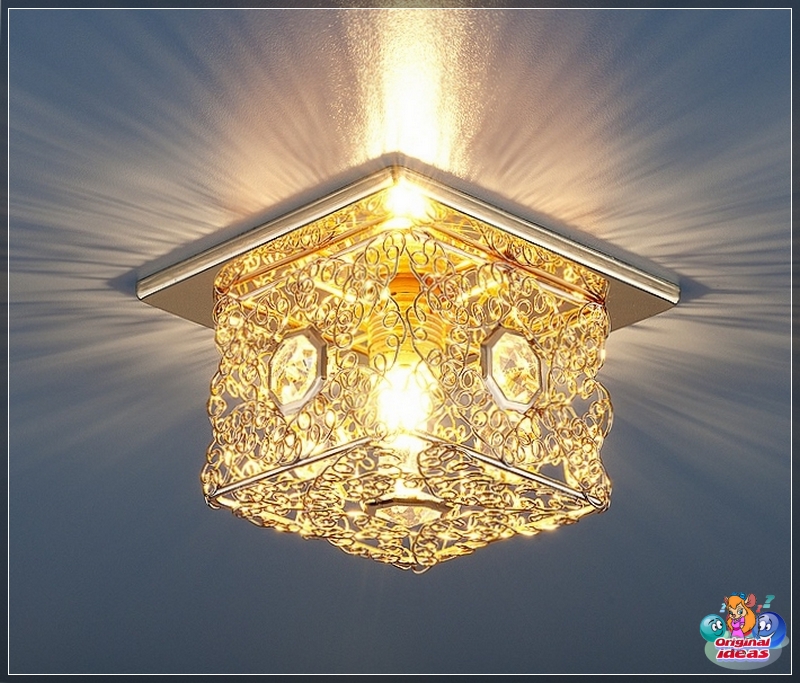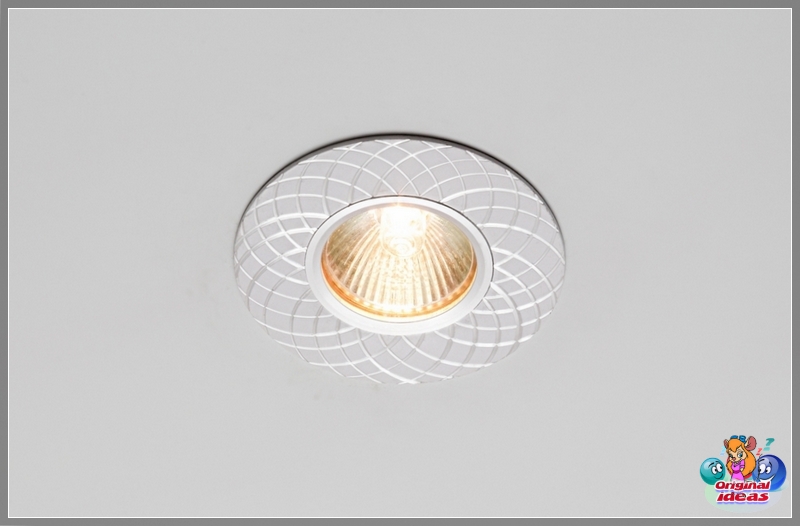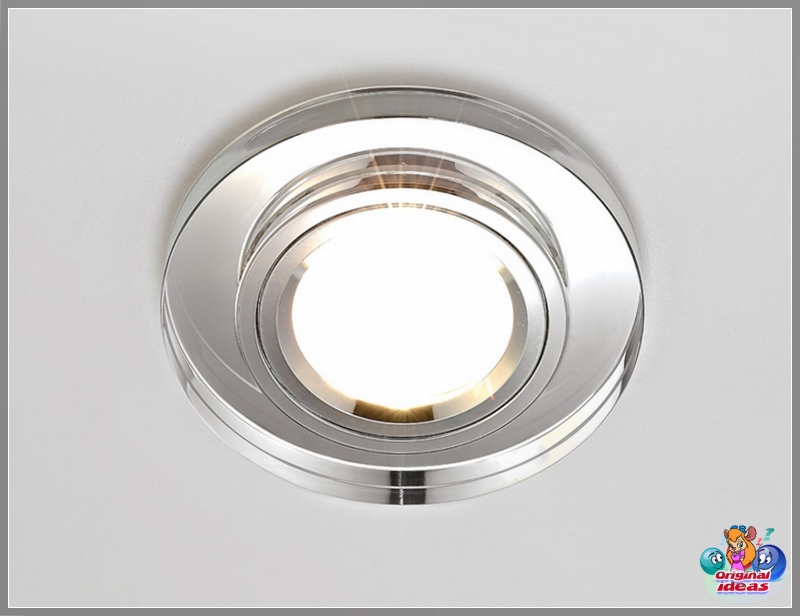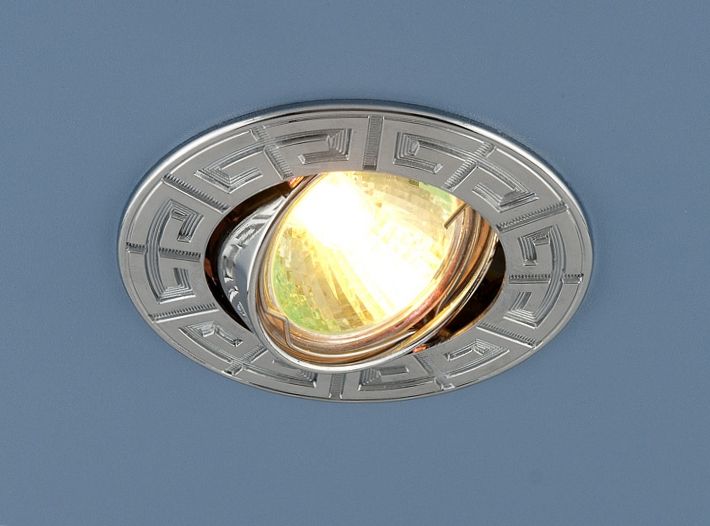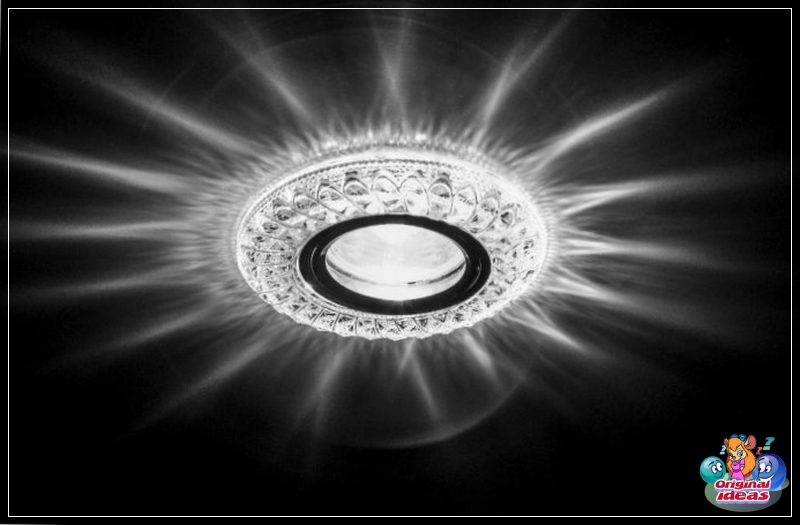 Things to consider when placing fixtures
The first thing to focus on when choosing lamps for ceilings is the texture of the stretch canvases:
If matte or textile coatings in white are conceived, then such a cladding is no different from the usual plaster, therefore it is allowed to use any lighting equipment here, positioning it according to the design of the room and personal preferences.
On glossy canvases, light sources are reflected like in a mirror, therefore they visually double, which must be taken into account when installing them.
On lacquered stretch ceilings, you should not equip lamps with wide horizontal shades, since dust will collect on them and be reflected in the mirror canvases, significantly lowering their aesthetic appeal;
Stretch ceilings with LED strip themselves perform the function of lighting, therefore, when designing such structures, the installation of other lamps will be a clear excess.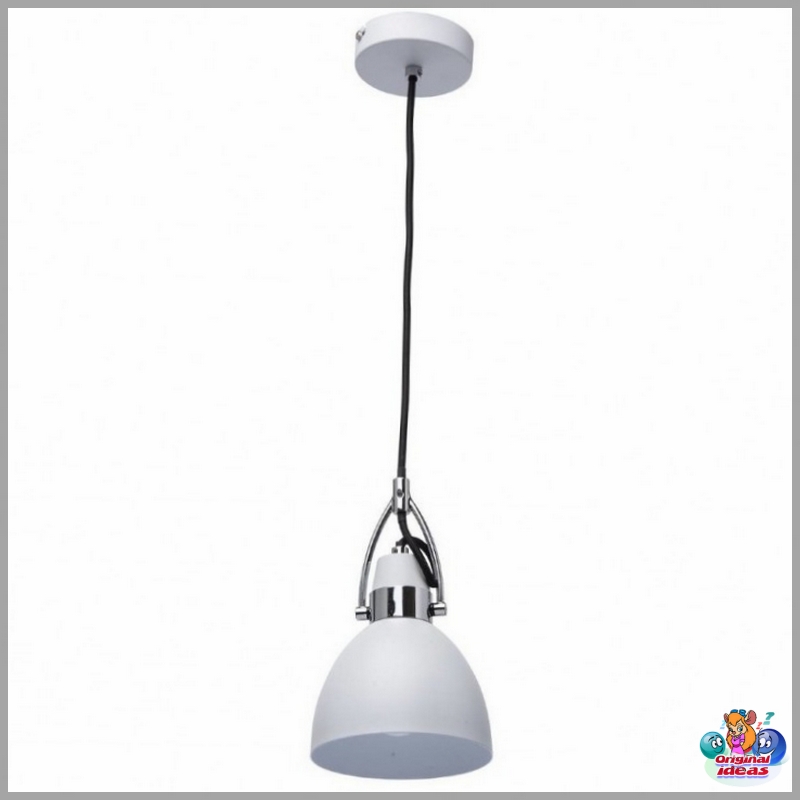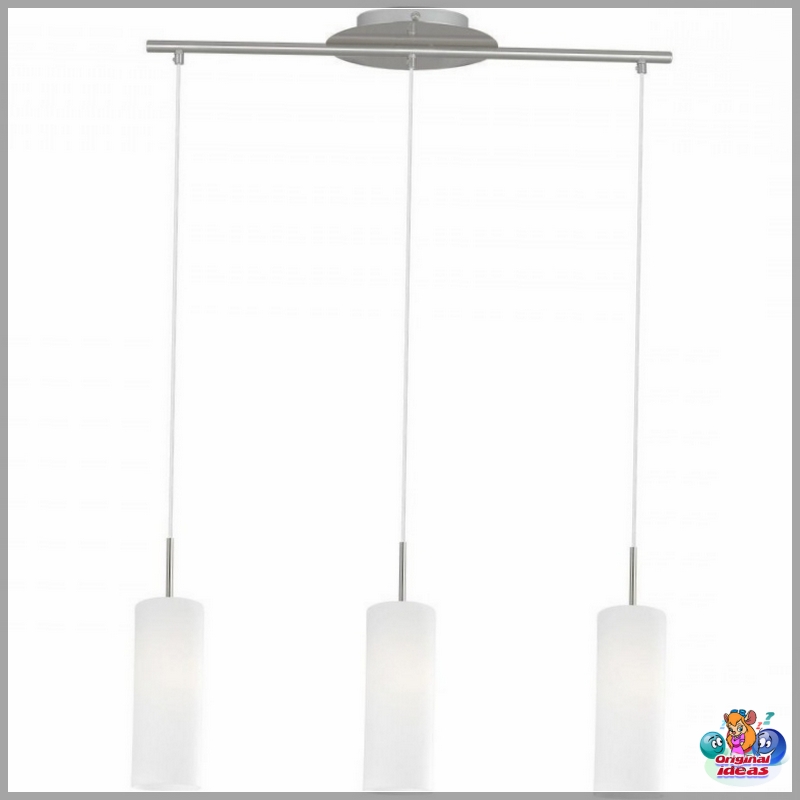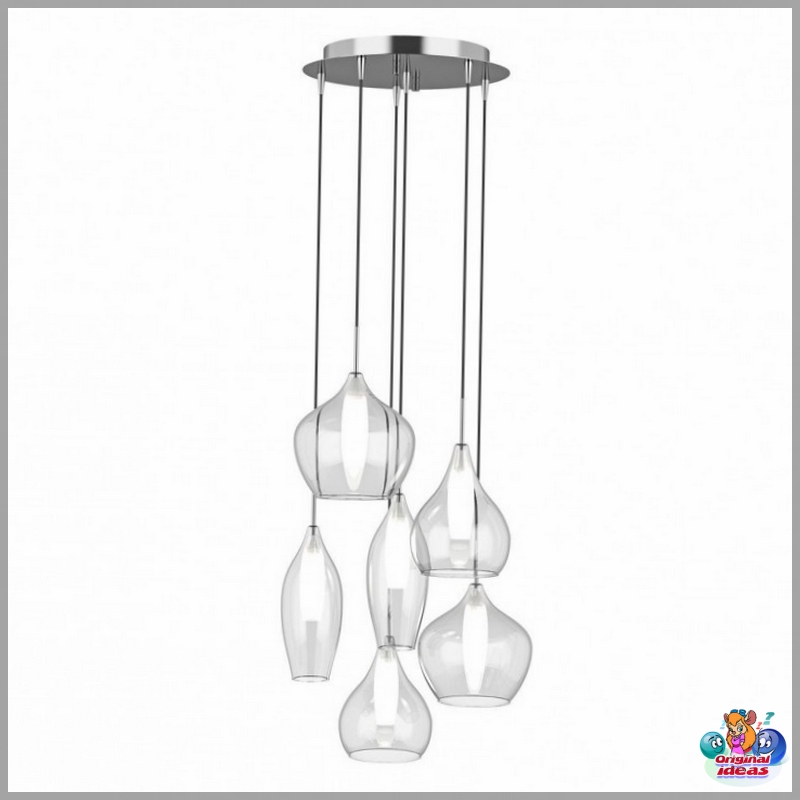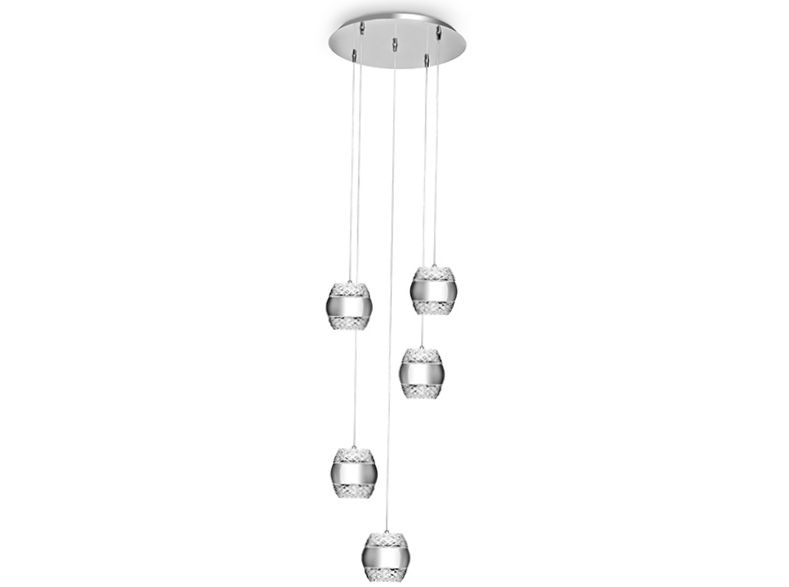 Besides:
In classic interiors, lighting fixtures must be placed symmetrically, since symmetry is their key feature. And when designing modern designs, on the contrary, the arrangement of the lamps should be asymmetrical.
It is necessary to take into account the height of the furniture so that it does not block the luminous flux and the length of the suspensions, so that no one touches the pendant lamps with your head, as well as the ease of caring for the lighting fixtures.
A careful selection of lamps for stretch ceilings will help you create a fantastically beautiful, stylish and original ceiling finish that will decorate your home and delight you with pleasant soft light for many years. The only condition is to think over all the details in advance, to place the correct light accents, to correctly combine lighting equipment with the shapes and colors of the interior, since it will not be possible to outweigh the lighting devices on tension structures. Good luck to you.