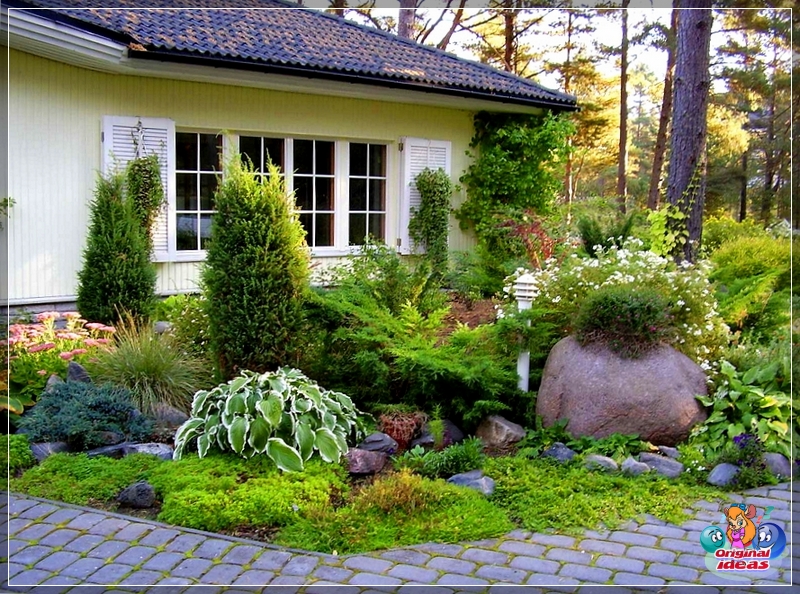 Ornamental shrubs in landscape design are often used to equip the territory of a private house or any structure, photos of these plants are found in almost every specialized magazine or other source of information on how to make your site attractive.
But in order for the plants to look really beautiful and well-groomed, you need to understand how to plant them correctly and how exactly to care for them.
Let's start with the fact that spring is the best time to plant these plants. The main task of the gardener is that he must know how to choose the right type of shrub and in which part of the yard it is better to plant it.
Hedge planting pattern
Shrubs are known to play a variety of roles in the garden. Namely:
perform decorative functions;
with the help of them, you can create various recreation areas, or you can equip those that will be evergreen - both in summer and in winter.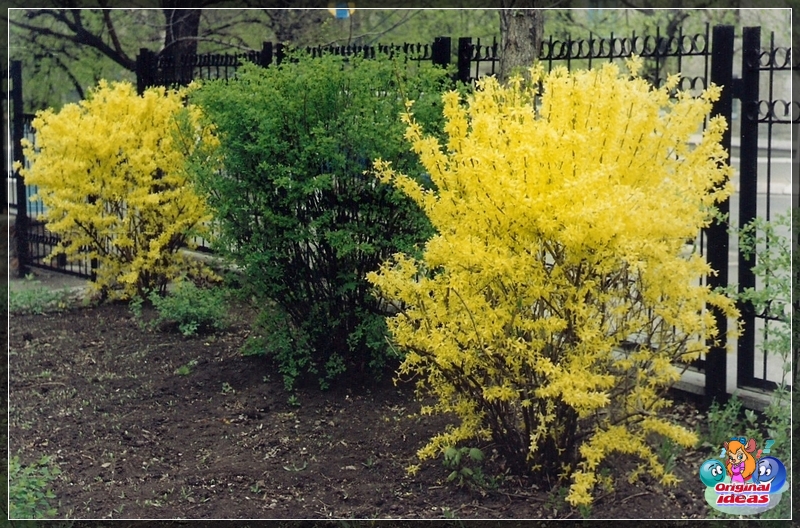 Growing ornamental shrubs at their summer cottage
Of course, all this is possible only if the plants are successfully selected, correctly planted and properly grown.
Do not forget that there are some plants that are used as a link between trees. There are also perennials or, conversely, annuals. They are all different, suitable for different purposes and may differ in the complexity of their care. But be that as it may, their main function is to decorate the surrounding space.
Flowering shrubs in landscape design
What to look for when buying
As mentioned above, the most important rule according to which you will choose which plants to buy for you is what functions will be assigned to them. For example, if we are talking purely about decorating the yard, then you can pay attention to roses. A freestanding climbing rose bush near the entrance to the building will perfectly decorate it. Plus, it will give an unforgettable aroma that will be felt in the house too.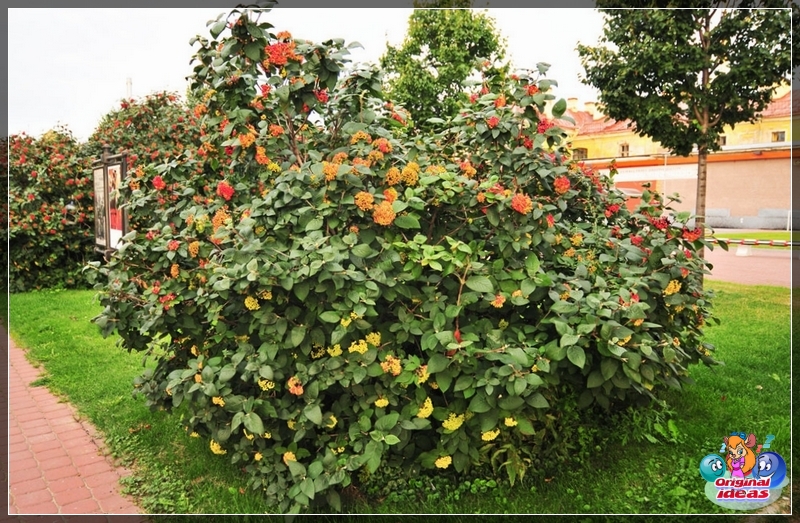 Decorative vines at their summer cottage
There are ornamental shrubs that grow straight, and there are those that curl, but both are very often used in
landscape design, and there are quite a lot of photos with similar examples on the Internet.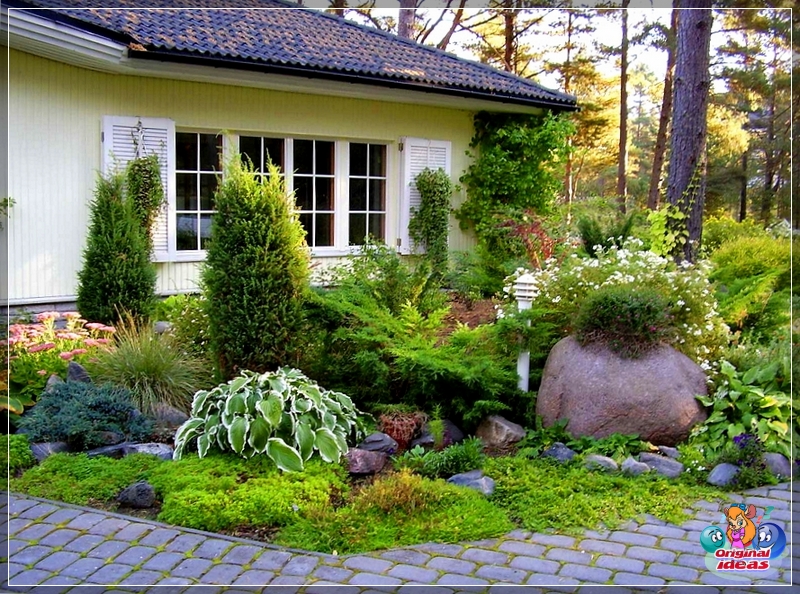 Decorating a summer cottage with decorative shrubs
It is also important to consider what kind of plants this shrub will be combined with. Let's say the same rose bush that is grown separately will be an excellent decoration among other plantings of a similar type.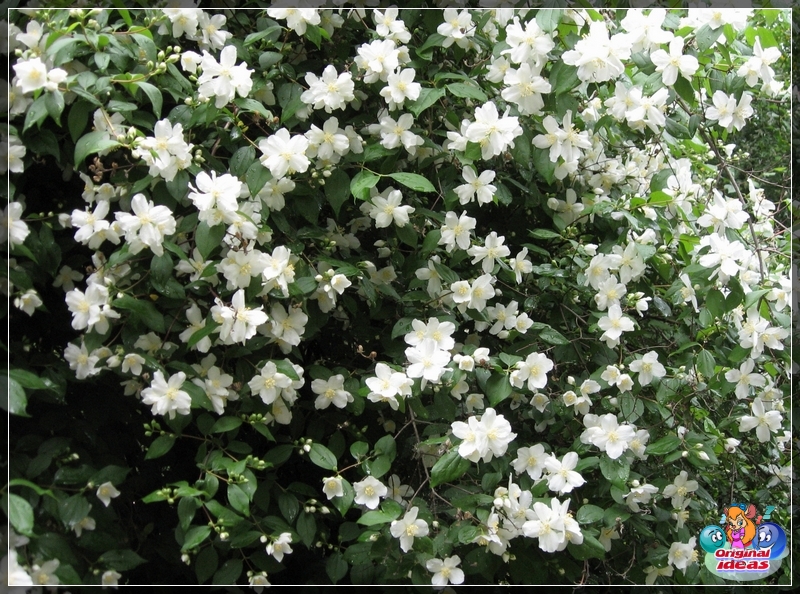 Climbing roses in landscape design
In addition to all of the above, there are also vines and ground cover varieties. The former are used for vertical decoration, but the latter are most often used to decorate slopes and flat areas. By the way, the latter are very good at suppressing the growth of weeds, which cannot but please lovers of green spaces.
Based on the foregoing, we can advise those who want to improve their site: when choosing a particular plant, first think about what exactly you need it for.
Use in landscape design of bushes with a spherical shape
Variety of assortment: what to choose
Of course, it is impossible to characterize all existing shrubs. But the most common ones are worth noting.
Broom creeping in landscape design
For example, forsythia. It blooms the very first, has a height of one and a half to two meters (although it does not bloom every year). Its golden flowers begin to bloom in late April or early May, while it almost always blooms very profusely. The leaves themselves appear much later. This is a fairly hardy plant.
Forsythia in landscape design
Erika should also be attributed to early flowering plants. These are dwarf shrubs that resemble herringbones. There are many varieties of these shrubs, as many shades of their bell flowers - from white to purple-red and purple. But it's worth remembering that Erica needs some care. Even in the fall, you need to add peat to the places where the bushes are planted, and the layer should be from twenty to thirty centimeters. The ground beneath them is mulched every year. But, again, eriks are frost-hardy and tolerate winter well.
Erica in landscaping
Back in May, other ornamental shrubs begin to bloom, which are very often used in landscape design - for example, steppe almonds (a photo of this plant can also be easily found on the Internet). Steppe almond has another name - bean. This is a bush of medium height, from one to one and a half meters. It continues to bloom for about two weeks and all this time is densely covered with flowers.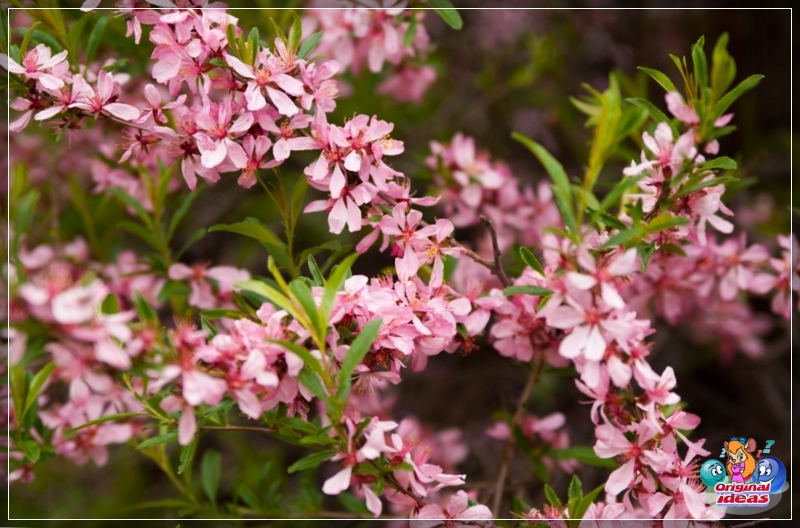 Steppe almonds in landscape design
In general, this is an unpretentious plant, but still it is better not to transplant it once again - it does not tolerate frequent changes in location. If, nevertheless, there is a need to transplant a flower, then it is better to do this in early autumn or in mid-April. In appearance, the beanberry is similar to the Japanese cherry - sakura. This plant does not tolerate frost well, so it is better to insulate it for the winter.
Sakura in landscape design
What other plants bloom in spring
If we talk about what other decorative shrubs that are used in landscape design bloom in spring, then there are a lot of them, a photo of each of them is available on the Internet.
Spireas in landscape design
Spireas are no less popular than previous plants. Most often, they delight those around them with flowers of a white hue, which, like snow, cover the branches of a bush and have a pleasant aroma. Flowering lasts almost two weeks.The height of the bushes can be from half a meter to one and a half meters.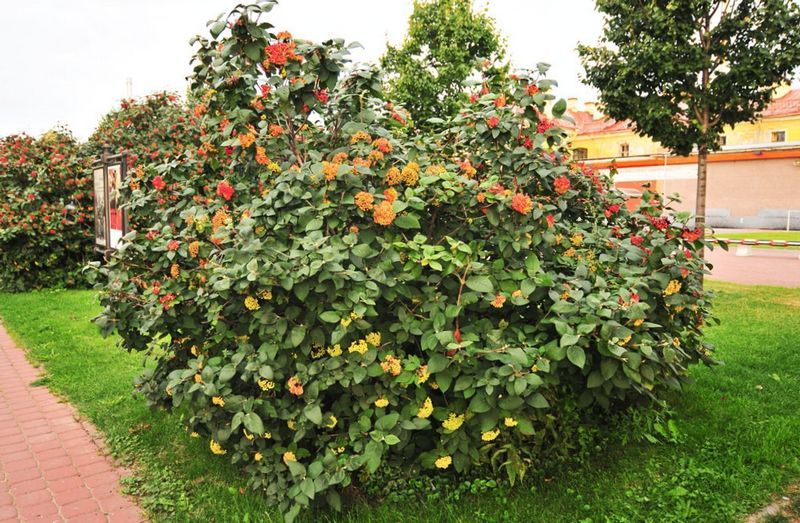 Viburnum in landscape design
Also, do not forget about the Japanese quince, which has the scientific name henomeles. This is a rather undersized shrub, the height of which does not exceed 90 centimeters. Quince has bright red flowers, and by the fall, very tasty fruits ripen on it. It is also important that the quince tolerates winter very well. Therefore, she is quite popular.
Japanese quince in landscape design
There are also plants such as:
barberry and many others.
Rhododendrons in landscape design
Ornamental shrubs such as viburnum and barberry are very popular in mid-latitudes and are often used in landscape design, and photos of these
flowering plants in the courtyards of our compatriots date back tens of years ago. These plants are not picky and tolerate our climate well.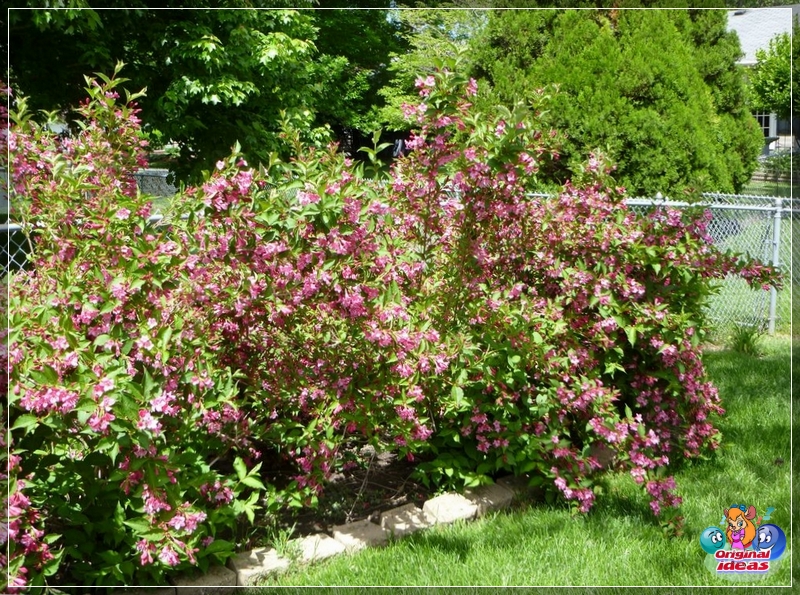 Weigels in landscape design
Rhododendrons have a special place in this list. These are unusually beautiful plants that are often compared to roses.
Barberry in landscape design
They come in many different varieties and subspecies. But, unfortunately, they require careful personal care and do not tolerate winter very well. They bloom from early May to late June. Among these shrubs, there are also evergreen varieties that do not shed their leaves even in winter.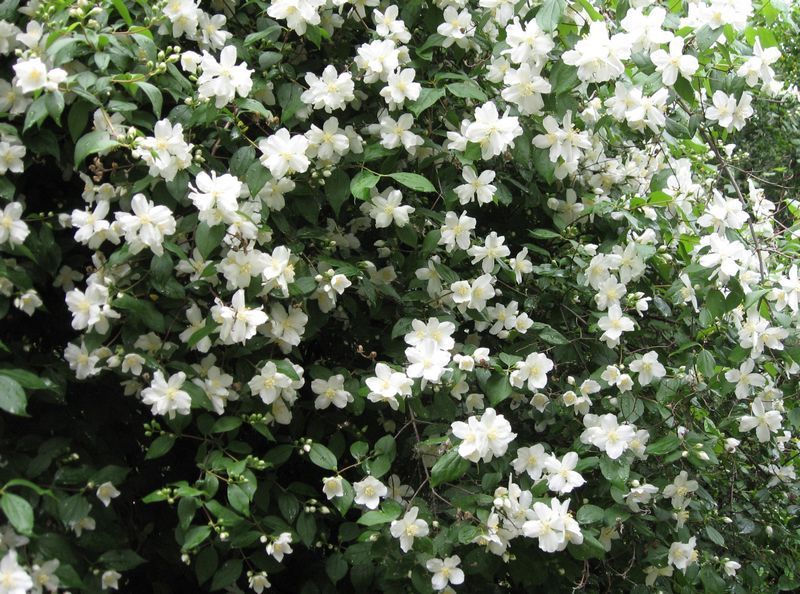 Jasmine in landscape design
Weigela is very similar to jasmine, it grows in height from one and a half to three meters. Has a pleasant sweetish aroma and white, pink, red flowers. This is an unpretentious and hardy plant.
How to properly plant and care for plants
Trees and shrubs in garden design
It is best to buy planting material, which is sold in a special container and with a lump of earth. Although its price will be slightly higher than that of what is sold in boxes with an open root system, it takes root much better.
If, nevertheless, a plant with an open root system is purchased, then it must be planted without leaves, that is, only the main stem with the root. At the same time, the planting pit must contain absolutely the entire root system of the plant. It is also recommended to add humus or complex fertilizers. By the way, if we talk about fertilizers, then they can be added during watering during the first few weeks after planting.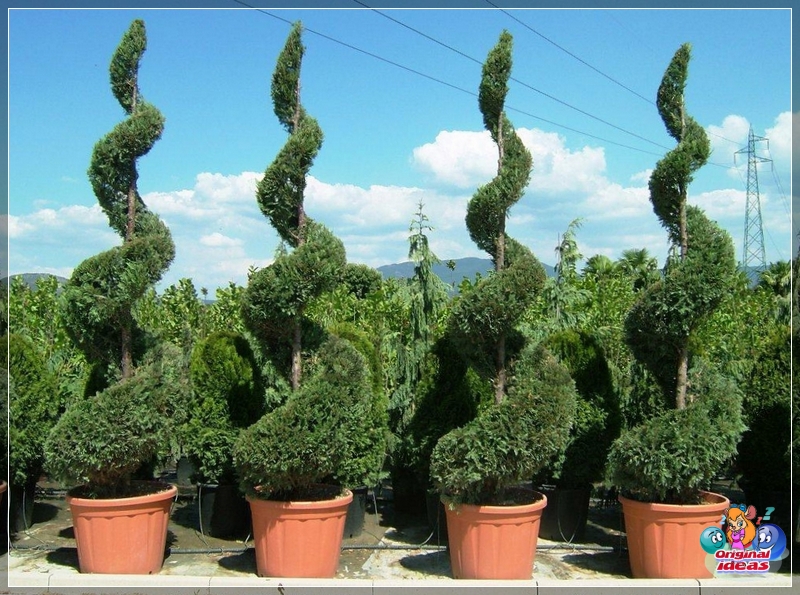 Saplings of ornamental shrubs for landscape design
You also need to know at what distance the plants should be planted from each other. For example, if we are talking about a hedge, then this is an interval from half to one meter. But if we are talking about a mixborder, then it can be even more.
Planting ornamental shrubs
It is very important to prune the bushes correctly. Especially if it is
trees, as well as those plants that are used as hedges. Of course, curly varieties can also be cut, but only if this is provided for by the design rules of the place where they grow.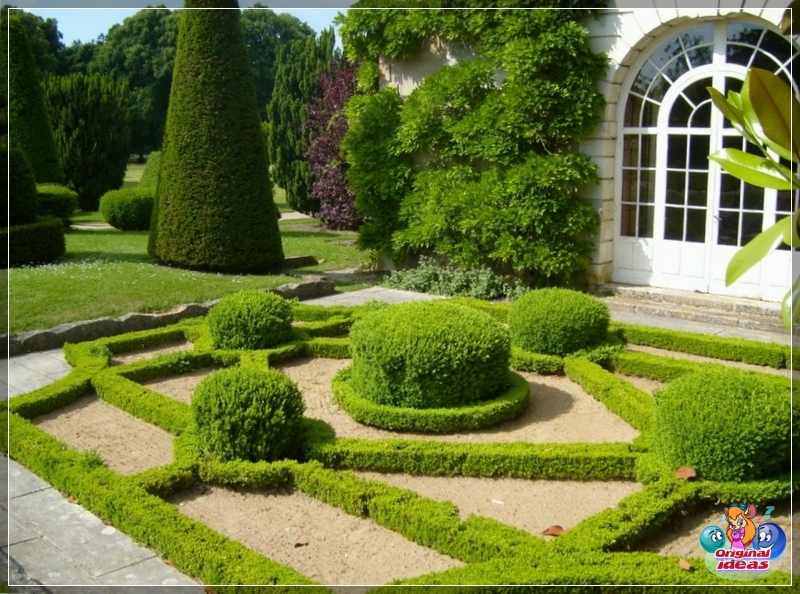 An interesting arrangement of ornamental shrubs in the country
If these are very large shrubs, then once every five years, pruning should be done almost at the root, it is called stump pruning. In this way, the rejuvenation of the crown occurs.
But with regard to the formation of crowns and pruning of plants, the variety of the flower, bush or tree should be considered. After all, each of them has its own rules of care. That is why, before proceeding with the processing of your garden, you should consult with a specialist in this field or independently familiarize yourself with the necessary information.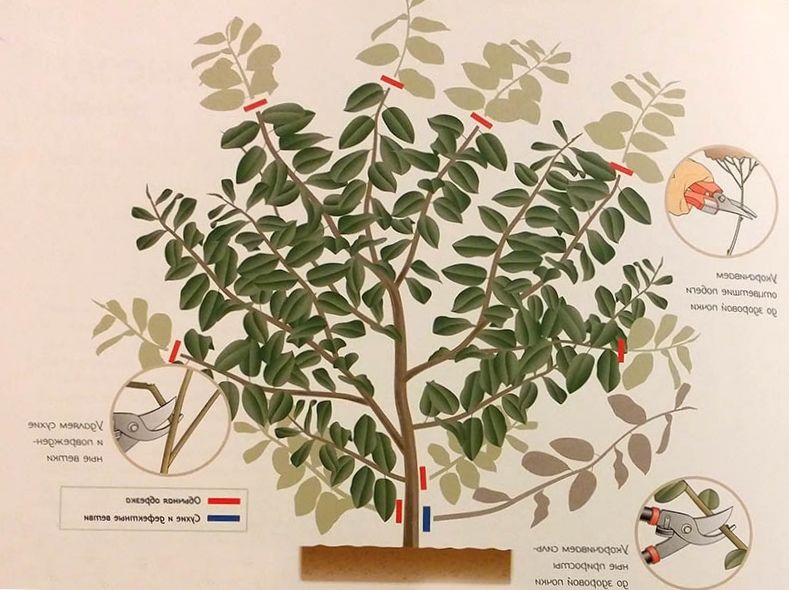 Pruning ornamental shrubs
If you follow all the above tips, then all the shrubs will bloom excellently and delight you and those around you with their appearance and pleasant aroma.