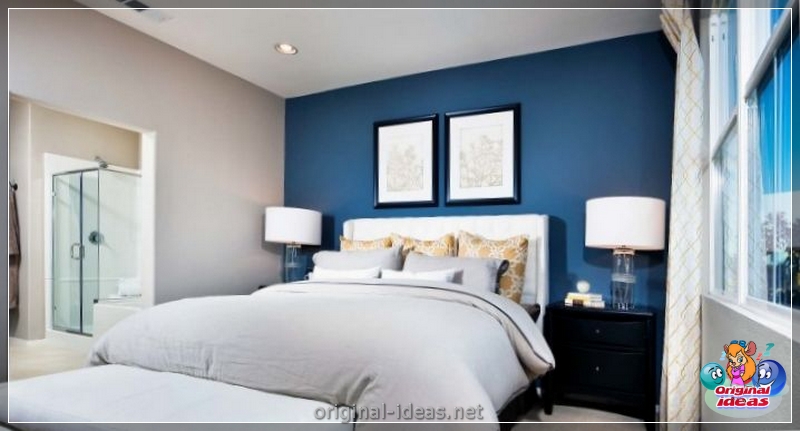 Walls in the bedroom - draw up according to the mind! Top 100 photos of the best ideas of beautiful wall design in the bedroom interior
Bedroom is a favorite place for each of us in the house and apartment. After all, it is so nice to relax every evening, to be alone with a loved one or with your dreams, to read a pleasant book, and finally restore strength before a new day.
Flying a variety of photos of beautiful walls in the bedroom, you can notice how a huge number of new trends have appeared in recent years. Before starting the repair, it is worth finding out all the nuances and make a decision - what the walls in the bedroom will be?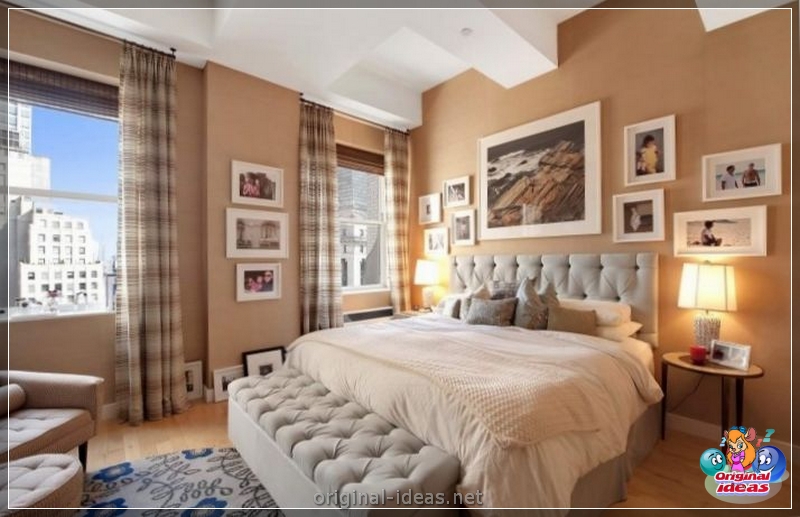 Material options
Options - mass and even more. If twenty years ago there was one option - wallpaper, now the choice is much wider.  Now modern wall design involves the use of the most unexpected options. We list only the most popular and relevant.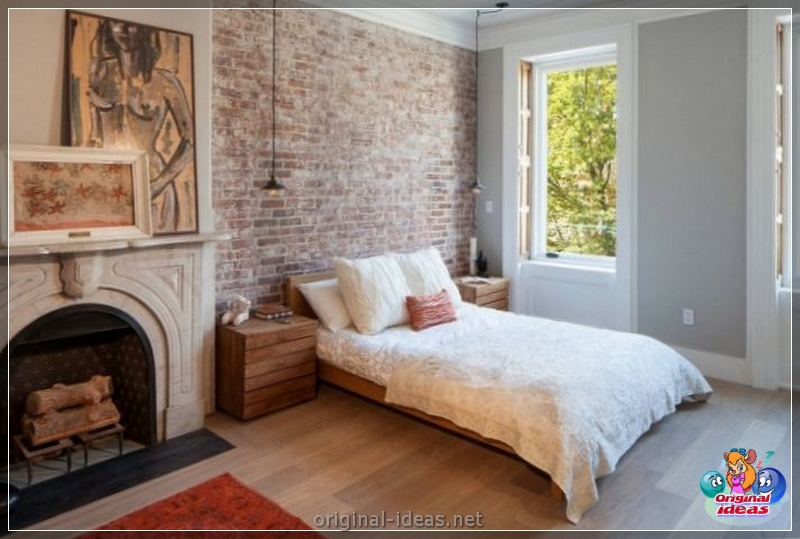 Wallpaper. Where without them?
True, today the choice of wallpaper is tremendous from what was a few years ago. Textured, voluminous, with a variety of texture solutions - wallpaper can be realized by any fantasies. The variety of colors and drawings should not even be mentioned.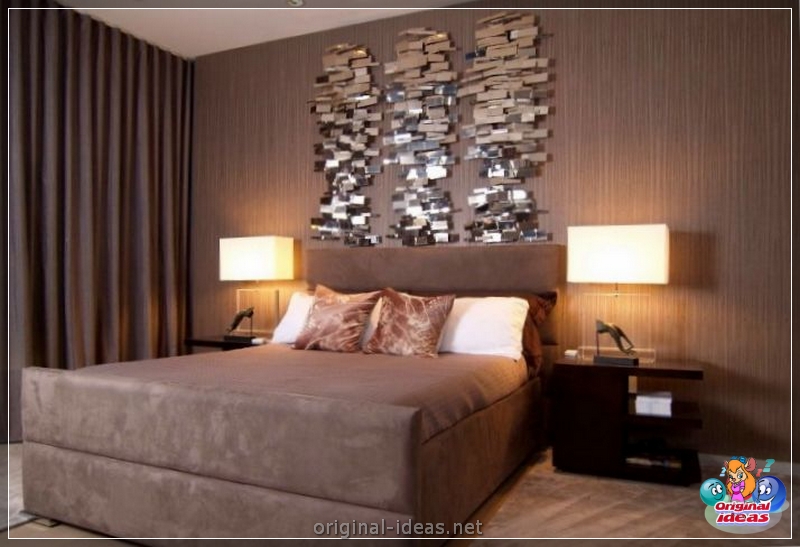 Dye
She replaced the wallpaper and became in first place in popularity. Non -toxic. Beautiful, natural - the walls are easy to wash, it is easy to repaint them if desired, look very beautiful. In addition, paints are also different - velvety, textured, with different effects.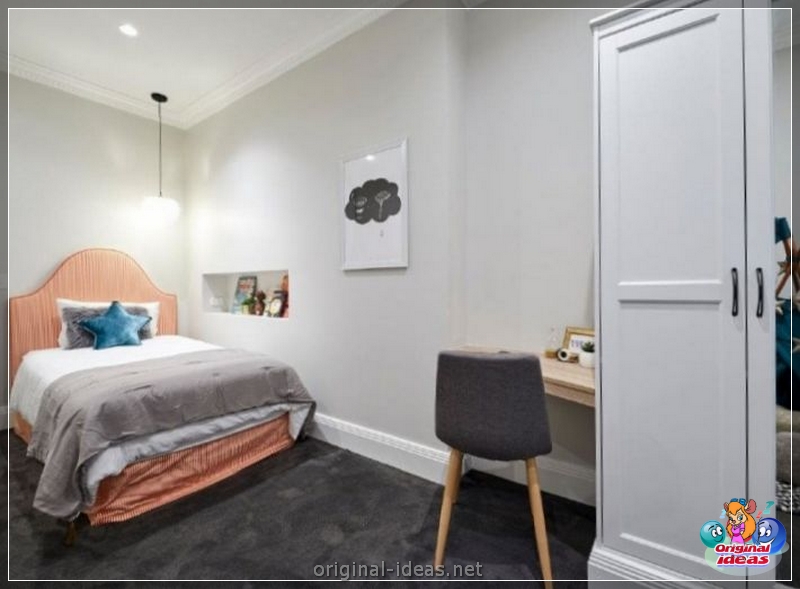 Plaster
There may be a variety of options - and stucco, and a variety of textures, effects, styles. An experienced designer will be able to create incredible walls with a pair of spatulas and his imagination.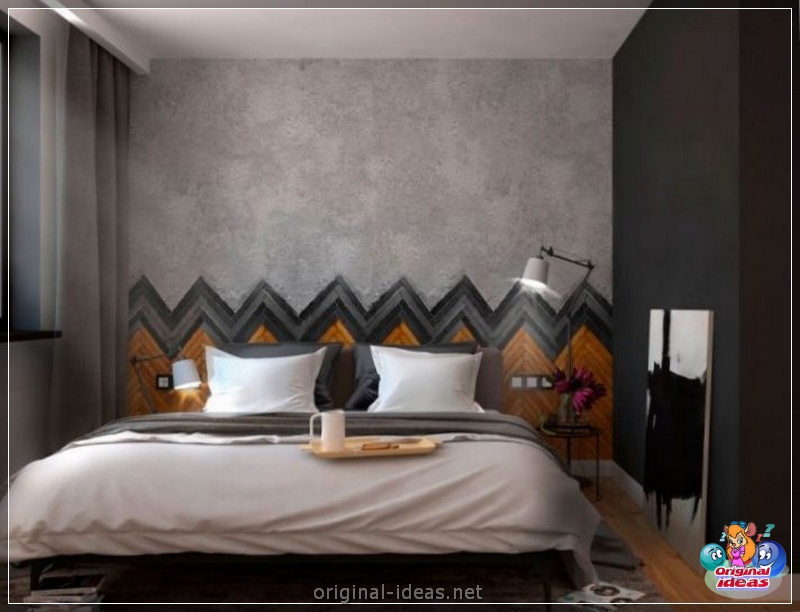 Natural natural materials
These are a traffic jam, wooden panels, bamboo, rattan, vine ... Anything. The natural wall can be left alone, or you can arrange the whole room like that.
Panels
This is not a novelty, but it looks very good. Half or part of the wall is decorated with wood, fabric, skin or in another unusual way. For example, the laminate on the wall in the bedroom looks great in combination with a contrasting textile coating. This option is good for spacious bedrooms.
Wall murals
The idea is old as a world, but modern murals are infinitely beautiful! If you leave three walls monophonic, and decorate one with a photo picture - the effect will be amazing.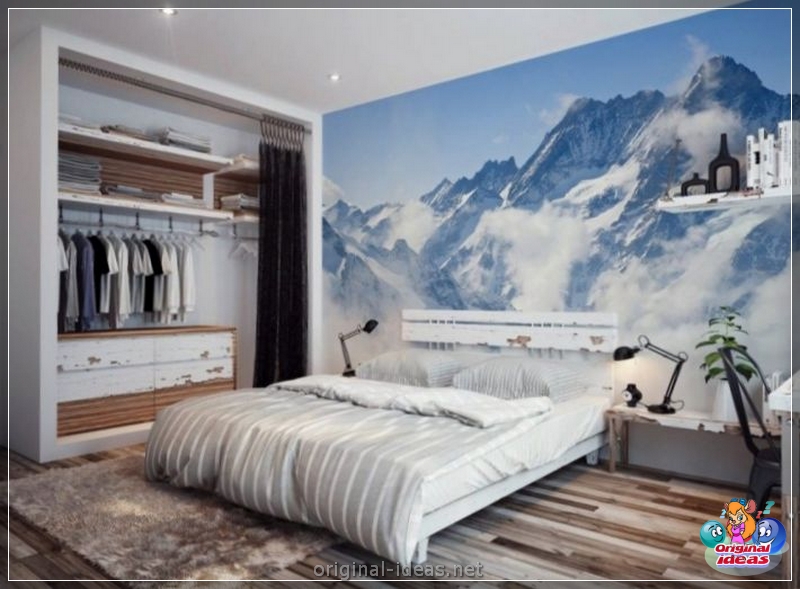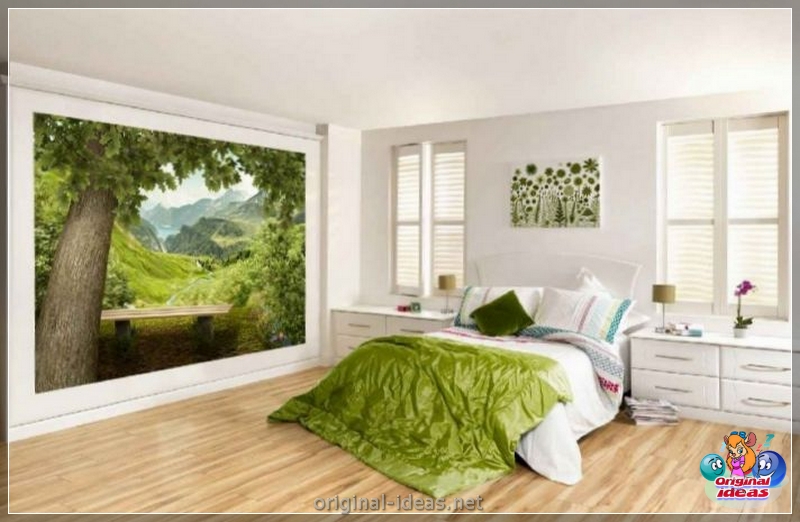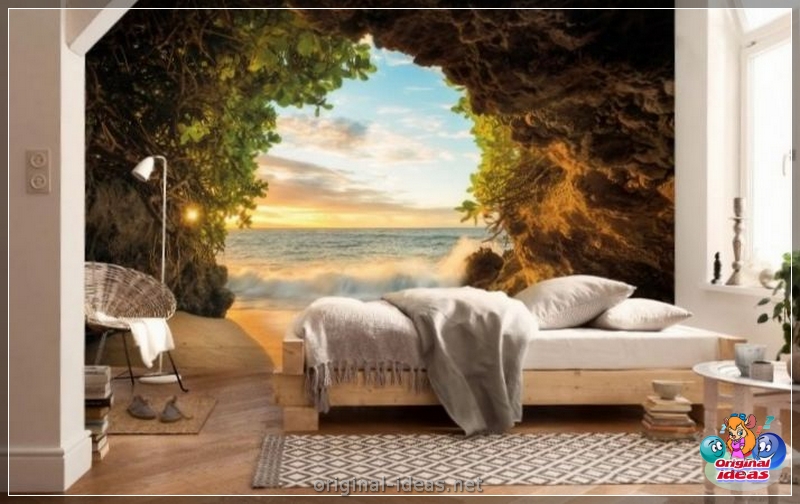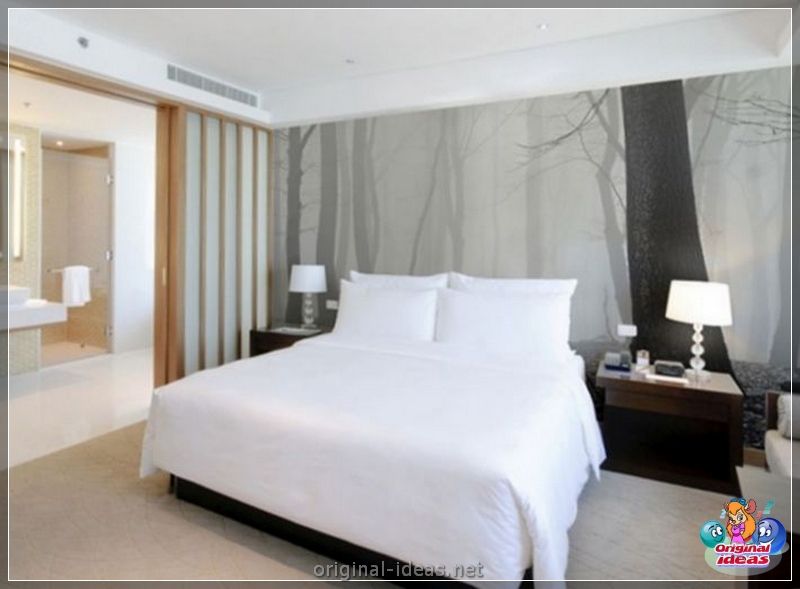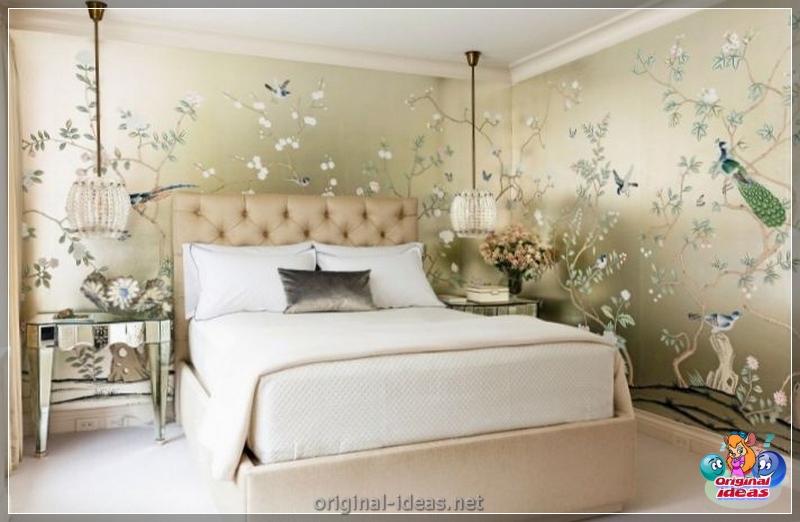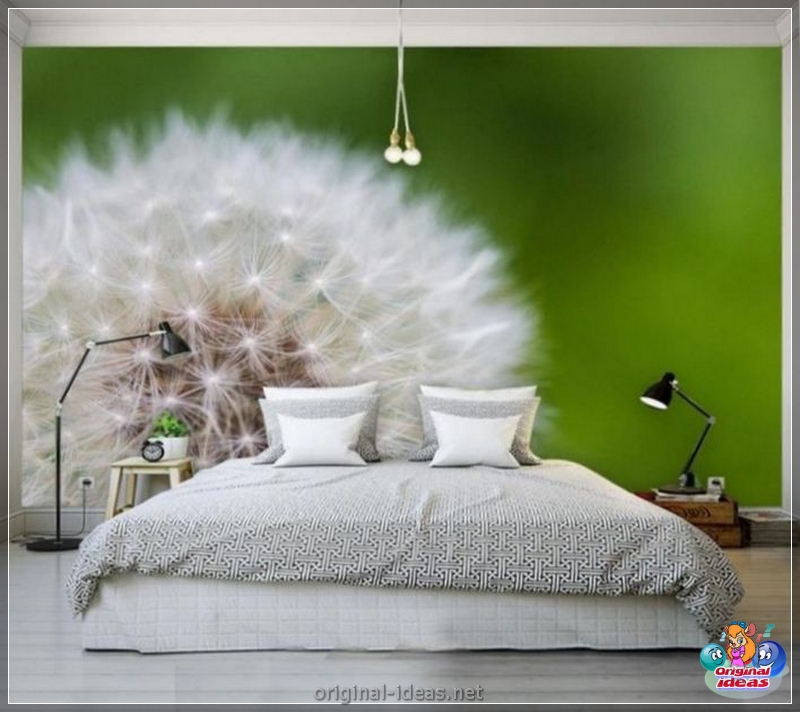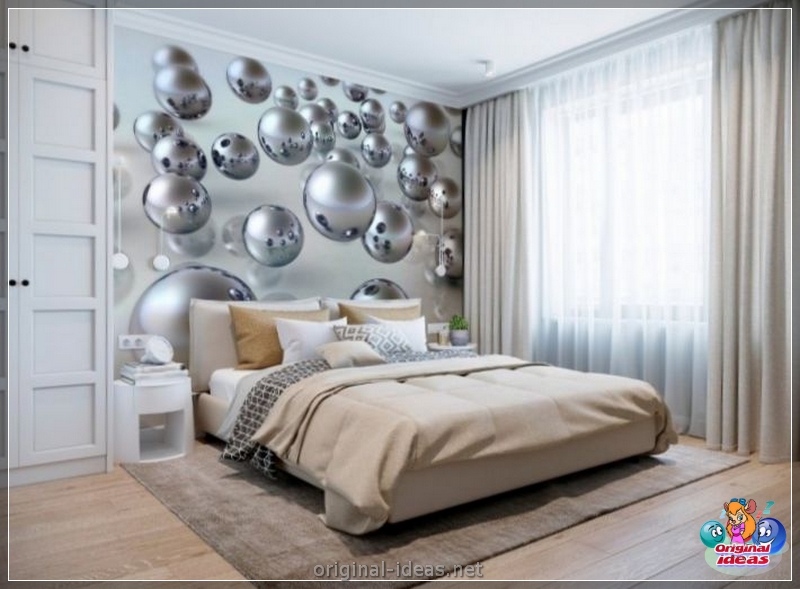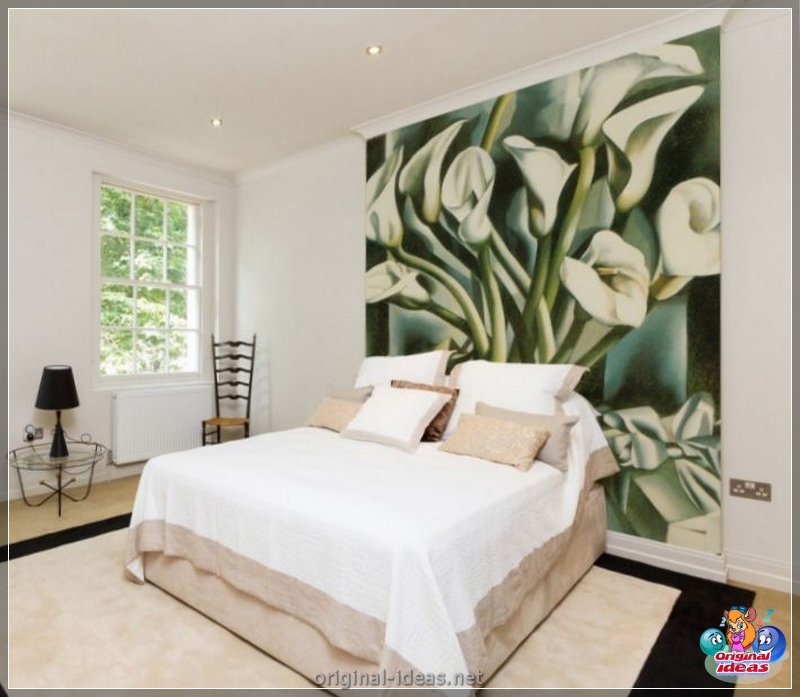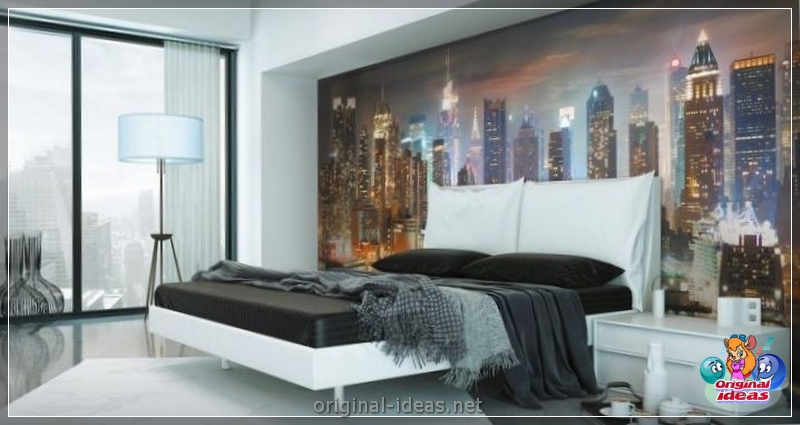 Brick and other natural, unprocessed materials are fashionable, unusual and very stylish.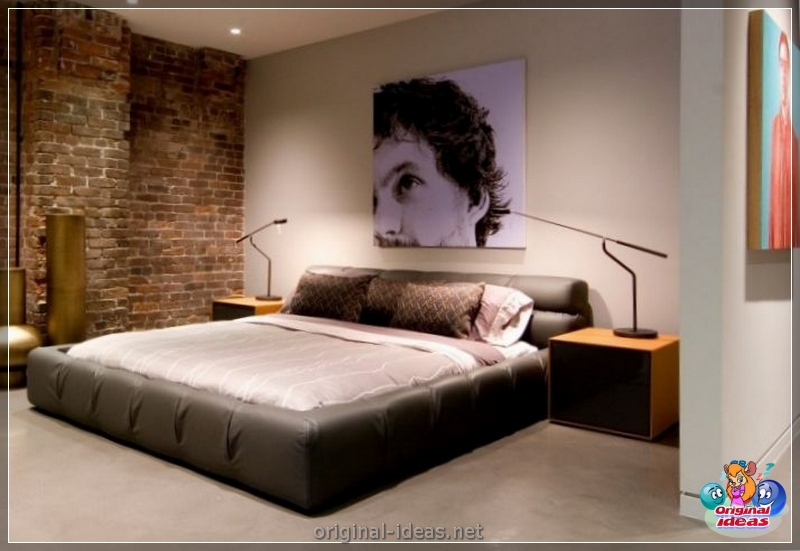 You can actively fantasize and experiment, and add to the design of the walls of the mirror, painting, contrasting spots, any unusual decor.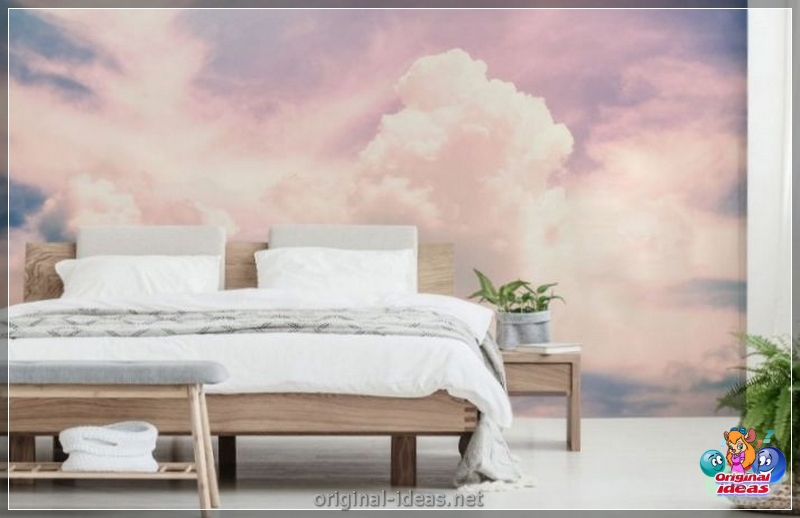 The best shades
The bedroom is a room with special requirements. Therefore, you should carefully think about which color to choose for walls. After all, it has long been known that shades and tones in different ways affect our psyche and even health.
Beige and its shades - the king of the bedrooms. The beige bedroom looks luxurious, comfortable and fresh, I don't want to leave it so. When designing the bedroom in beige, it is worth taking many different halftones - then the bedroom will be beautiful, and not with a flat spot.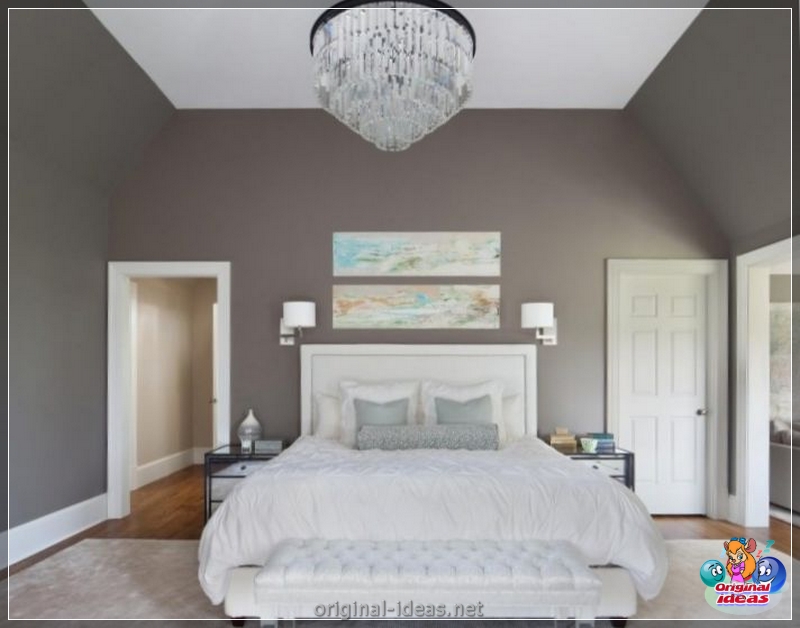 White color - in vain is considered boring and sterile. If you add a little cream, sand, brown in detail to it - the bedroom will look very expensive and fashionable. The basis can be white, and the details are darker, but natural shades. Such colors give a feeling of peace, purity, frees thoughts and help to relax.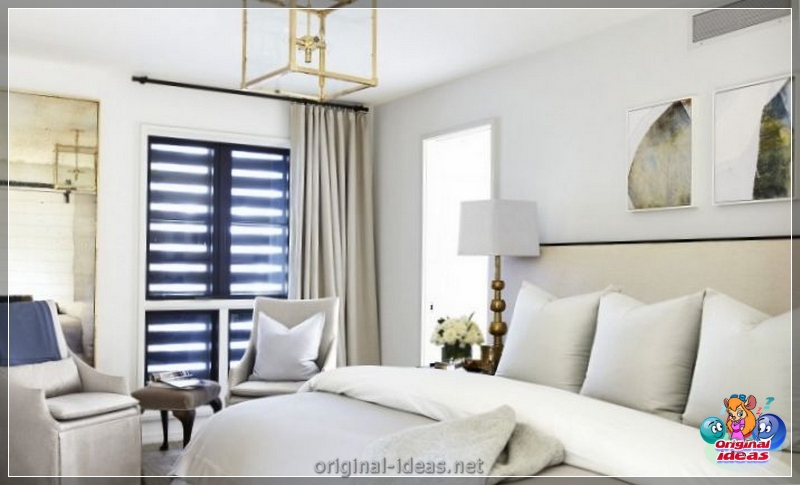 Tender shades of pink - peach, powder, pinkish beige, lilac and others - incredibly pleasant and cute. The main thing is not to overdo it and do not make the bedroom too "sugary".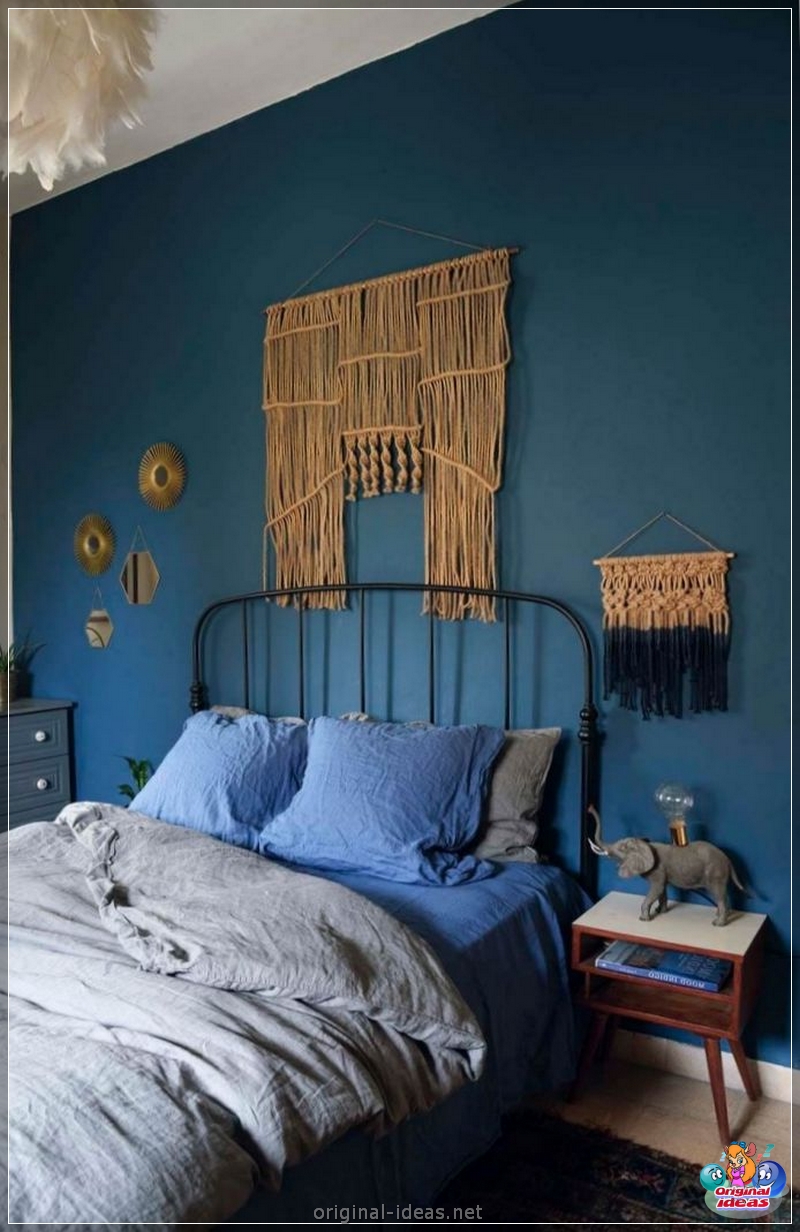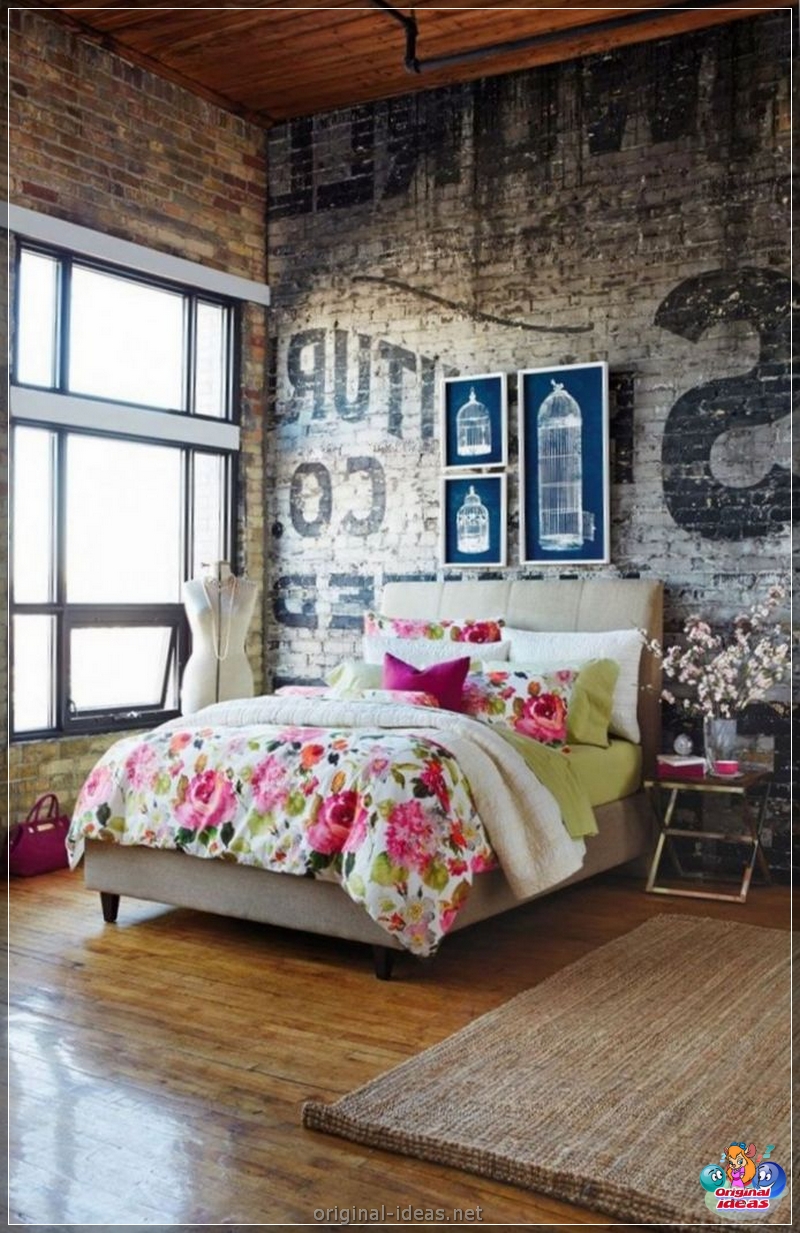 The most light and delicate tones should prevail in the pink shades of the bedroom. Such shades give a good mood, relieve anxiety and fatigue and provide excellent dreams.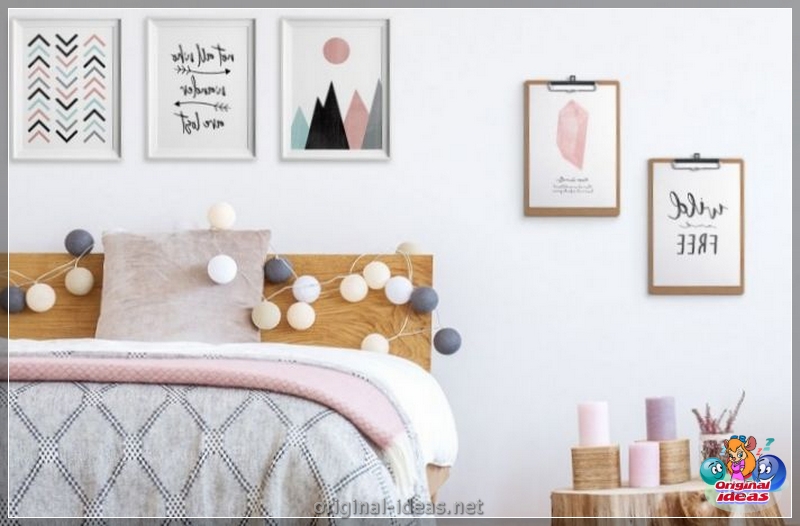 Dark colors are very noble. Purple, burgundy, cherry and even black-they are able to transform the bedroom and make it in a korolly luxurious.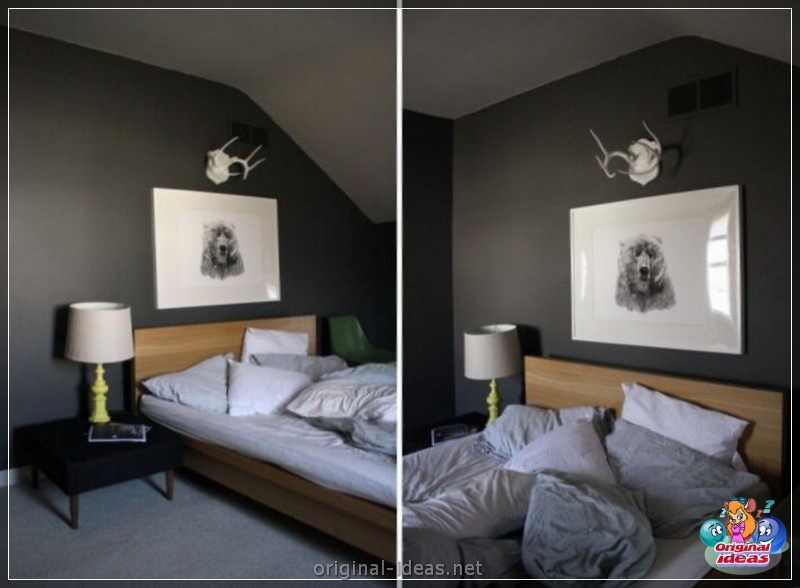 The main thing is that dark tones are suitable exclusively for a large, large -sized room. And you must definitely combine them with lighter and brighter accents so that it is not too gloomy.
For a small room
Choosing the best wall design in the bedroom, where the space is limited, it is worth knowing important tricks. The main task here is to visually increase the scope so that there is no feeling of tightness. Try different colors for walls. Make the main central wall bright or dark, and the rest are lighter. Play with contrasts. Do not use too textured coatings. For a small bedroom, it is perfect - it is a paint or smooth wallpaper. Use in mirror design, they very successfully increase the space. No large patterns, drawings and wide stripes on the walls - this will reduce your small room even more. The brick wall will make a small bedroom not only stylish, but also increase it. In general, fantasize and combine different walls - do not make a bedroom look like a plain box. And then it will become unrecognizable!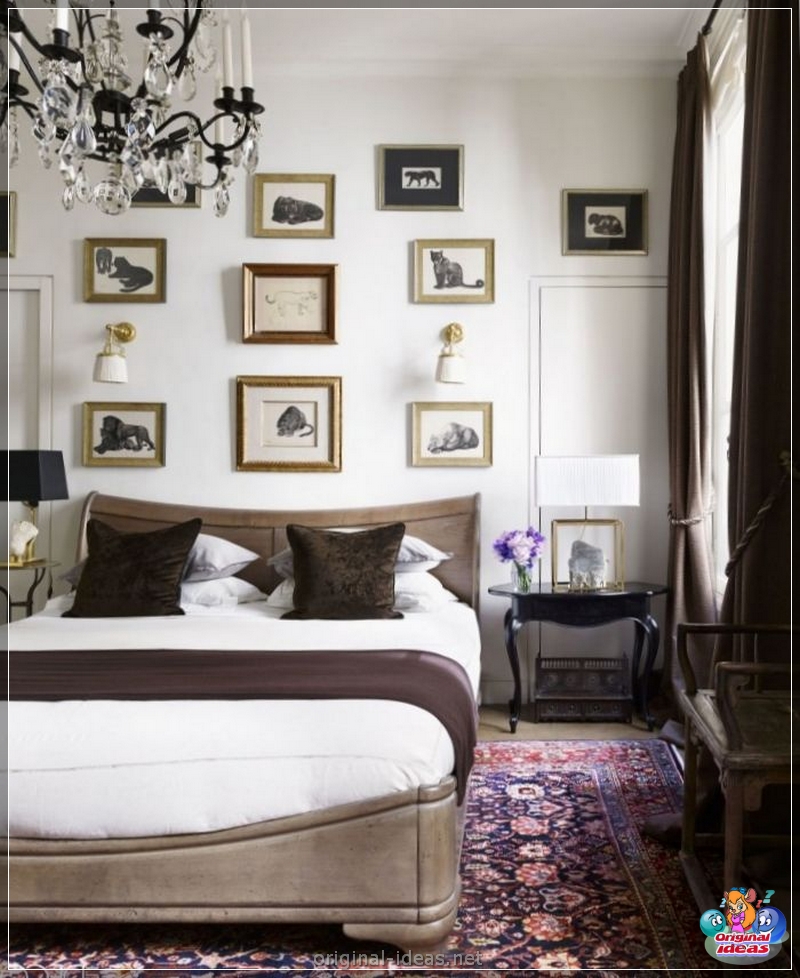 In large space
If the bedroom is spacious - you are big lucky. There is where to walk around! You can create the most unusual and beautiful wall design in your bedroom. The main thing is fantasy and desire! For example, you can choose a restrained English style, and cover the walls with vintage wallpaper in a dark vertical strip. Or choose leather panels and beige paint for their design - it will be very noble and restrained. Want more luxury? A large space allows you to perform any design exploits, from Rococo to romanticism. Light wallpapers in the textured pattern, textile coatings for walls. Many mirrors and paintings, light shades and gold - and you are in the royal bedroom! Try the Loft style, combine natural raw materials. One wall can be completely brick, while others are covered with dark worn paint. Bright paintings will dilute the general style and make the bedroom of the ultra-modern. Or you are more gravitated to all natural and environmentally friendly? Then choose a rural style, country, eclecticism, eastern or ethnic. There are many options for every taste! Gorgeous murals with the image of a pagoda or ocean, natural Bambukov stems or cork coating, wooden walls ... It will seem to you that you are sleeping in a cozy bungalow on the beach.
When choosing the design of the walls in the bedroom, do not be afraid to experiment, especially if the space does not put any restrictions!
Finally
No matter what you choose - classic wallpaper on the wall, modern panels, laminate, textile or natural coating, paint or plaster - know that the main thing is harmony and restraint in everything.
Do not forget about the decor, because cute paintings, compositions, mirrors and photographs, as well as shelves and lighting devices decorate and create a separate comfort.
But do not overdo it and litter the walls with decor and various functional garbage. Everything should be in moderation, everything should have a composition and its own purpose.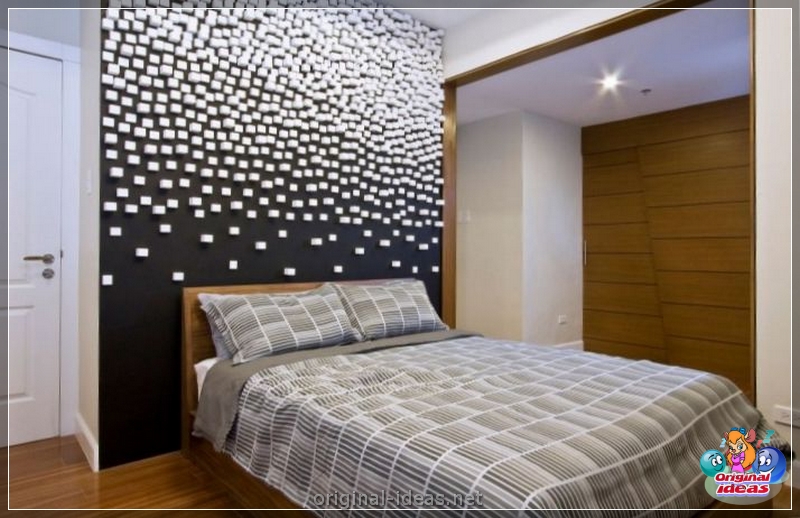 And then your bedroom will be irresistible and unique!
Photo of beautiful wall design in the bedroom