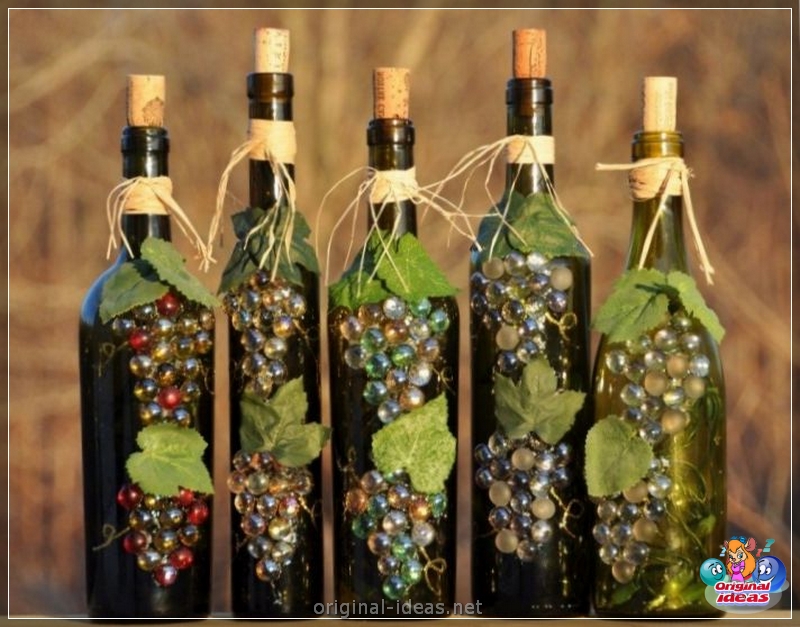 Bottle decor: interesting ideas and the best options for decorating bottles with your own hands (video + 100 photos)
Interior bottles can be decorated in a variety of techniques using all the material available in the arsenal of the decorator: Fabric cuts, burlap, Decorative grid, leg-split, ribbons, Threads, Beads, rhinestones, buttons, varnishes, paints, gypsum, Gold leaf, foil, Decoupage cards, PVA glue, multi -layer napkins and others.
Also, if desired, you can use real and artificial flowers and floral materials. The choice of tools, as well as materials, primarily depends on the selected techniques in which the designer will work.
And in order for the work to go easily and at ease, it is important to take care of the necessary tools, among which it is worth highlighting an adhesive gun, brushes, mastikhin, awl, tailor scissors, stationery knife, stapler, needles.
Even more information about modern needlework can be found on the pages of the portal:
Bottle decor in technology ...Decoupage...
One of the most common design of bottles decor techniques is decoupage. This is the possibility of applying a drawing to the surface of a bottle, which can subsequently be covered with varnish for durability.
For decoupage in decor and design stores, special cards with different images of any topics are sold. But for this purpose, you can use even ordinary two -layer wipes with a pattern that can be found both in ordinary supermarkets and in stores for designers.
A master class on the decor of bottles in the technique of decoupage is able to master even a beginner in one lesson. The most important thing here: do not tear thin paper. As a result of work in this technique, a real masterpiece can be obtained, which can decorate any interior.

The whole technique is that a special tool for decoupage is applied to the bottle (although decorators often use the usual PVA glue), and then on a low surface they carefully distribute paper with a pattern and straightened with a hard brush.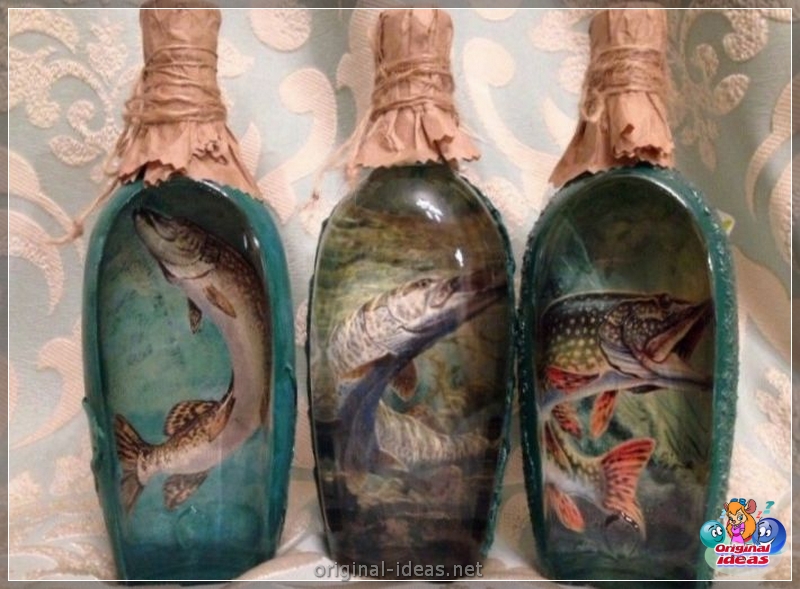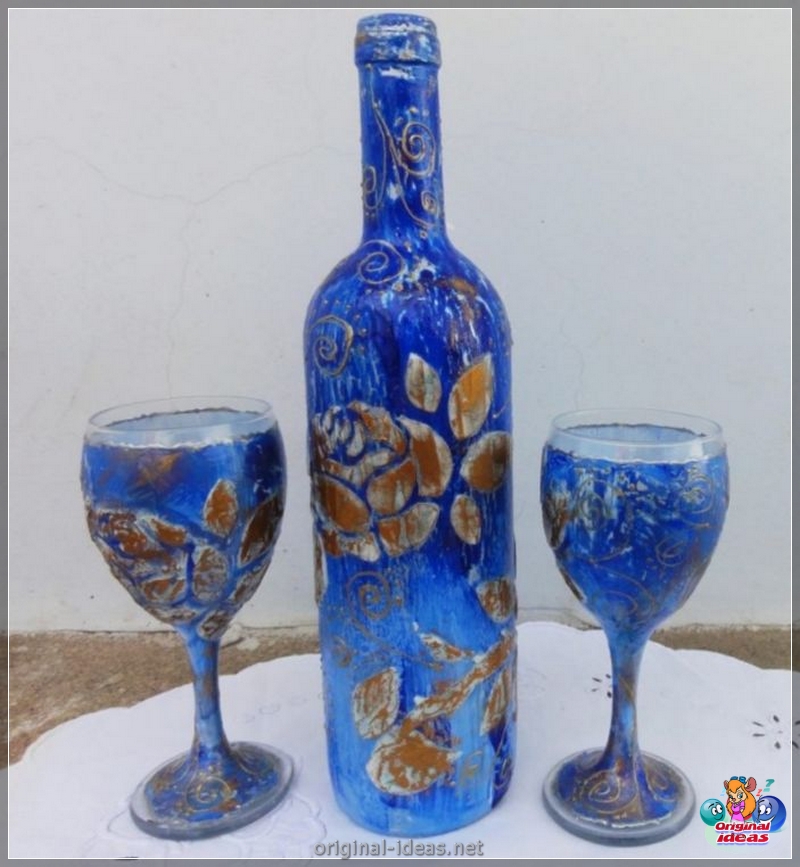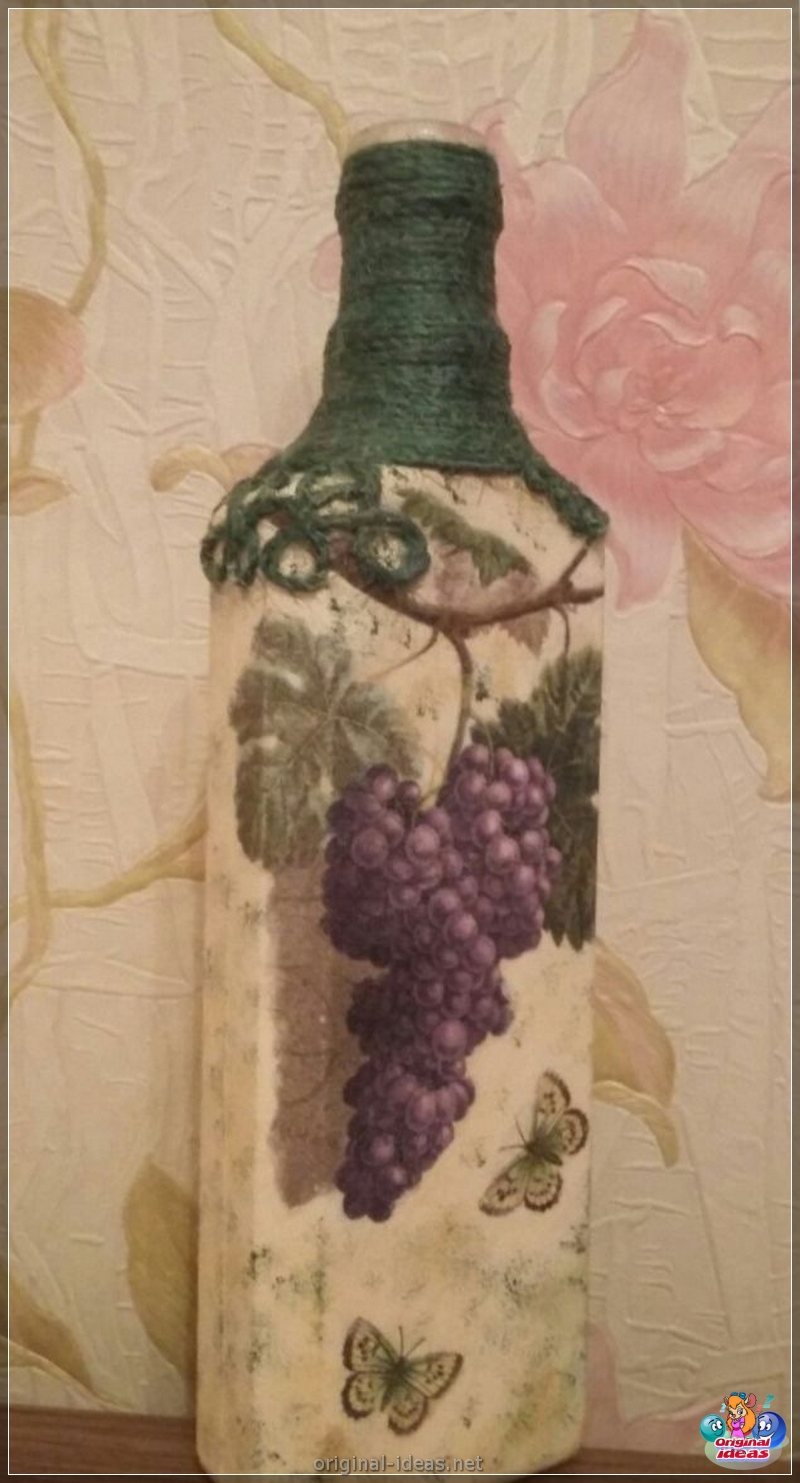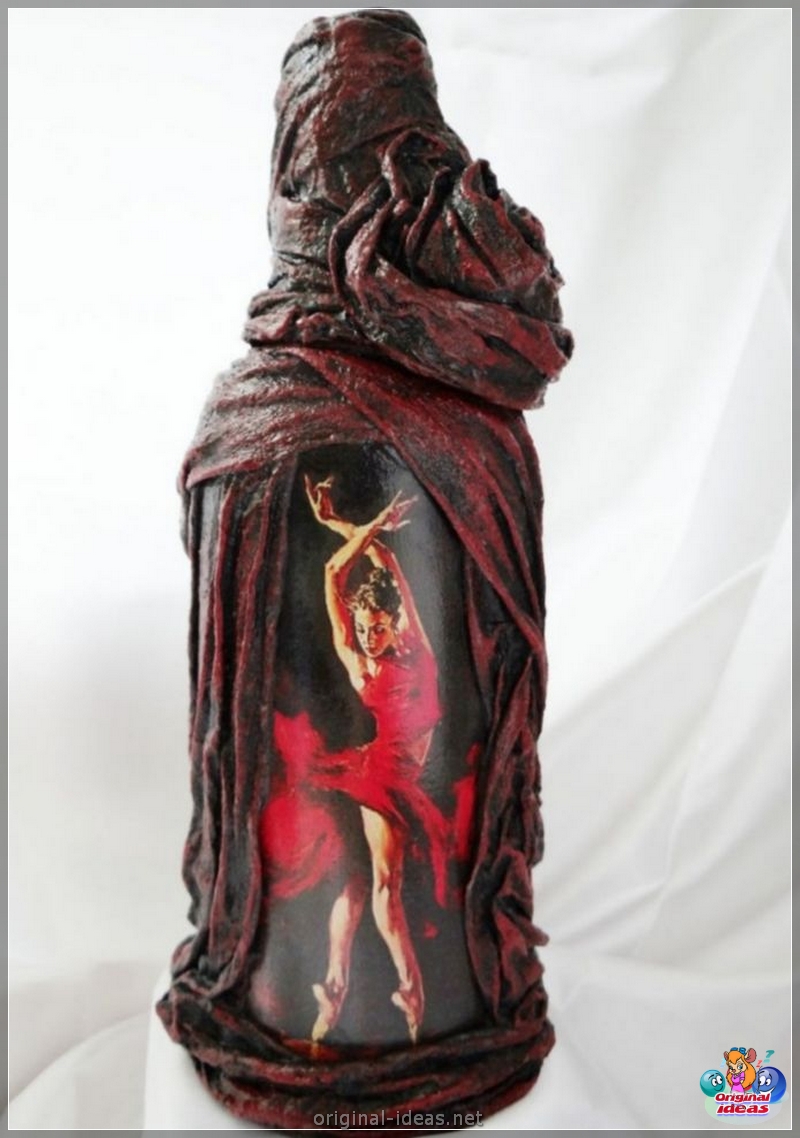 Bottle decor: painting with craquelure
Another common technique for the decor of bottles and other interior items is painting with craquelure. First, the bottle is painted with paint, usually for this purpose they use acrylic. Often one layer is not enough, then 2-3-4 layers of paint are applied, and then they are waiting for its complete drying.
When the paint dries, it is necessary to apply a special varnish for craquelure, which makes cracks on its surface.
As a result, you can get a product that will be literally saturated with the spirit of antiquity. A very interesting effect can be achieved if you use gilding gold together with paint. Such a bottle will certainly be able to apply for a work of art.
Glass bottle decor with twine
Another original method of the decor of bottles is to blame their twine. In order for the twine to hold well on the surface of a glass bottle, a special glue-pistol is used.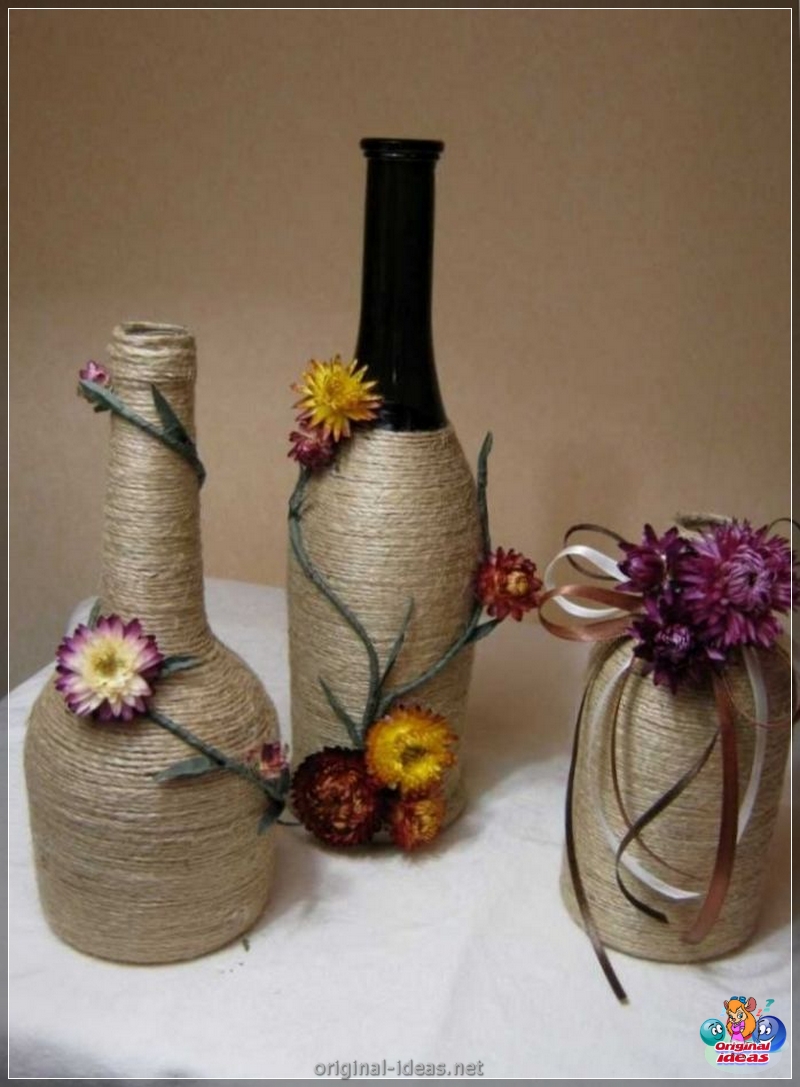 This tool is indispensable for designers-decorators, and if you are going to create a decor for interiors, then you should definitely purchase it.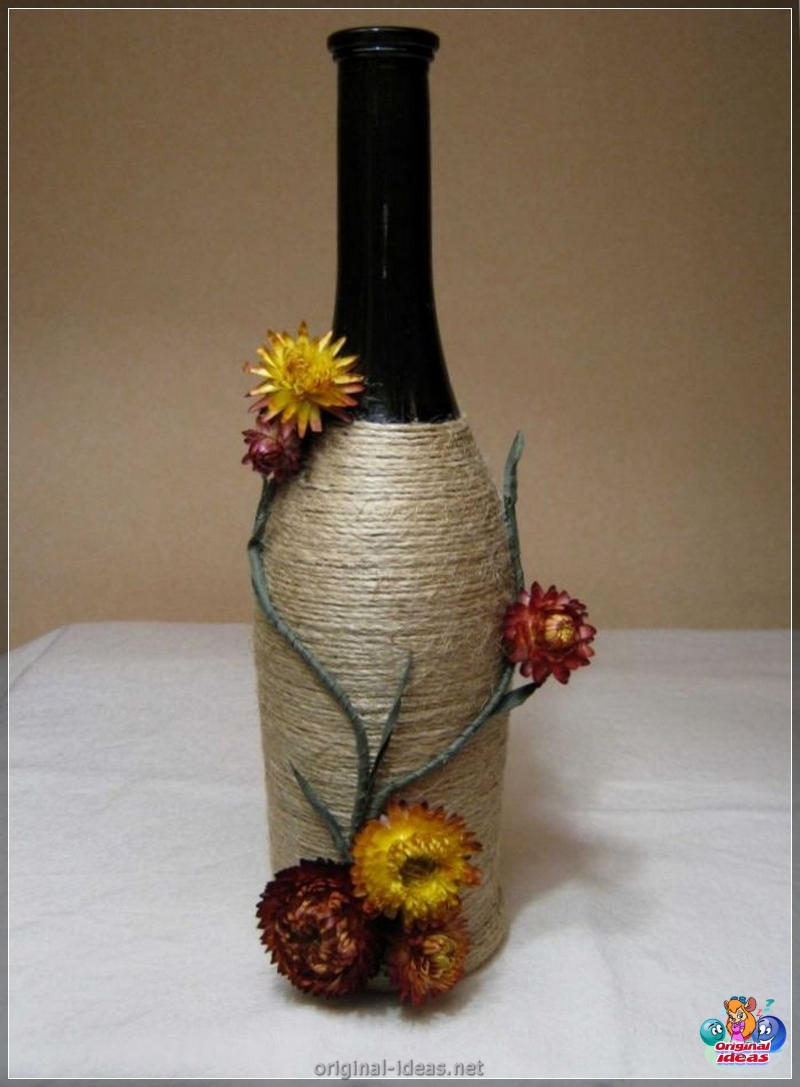 As for the twine, for the decor of bottles it can be of different thicknesses and colors. You can wrap the bottles at an angle or parallel to the bottom - variations will create completely different products. And when their layout, you can create very interesting compositions for decor.
Bottles with filling
Decorators also often use transparent glass bottles as vessels to fill with something: decorative stones, glass, sand, cereal, etc.D.
To decorate the interior in the marine style, you can fill the bottles of small pebbles, shells, sand - all this will look harmonious and complement the general style.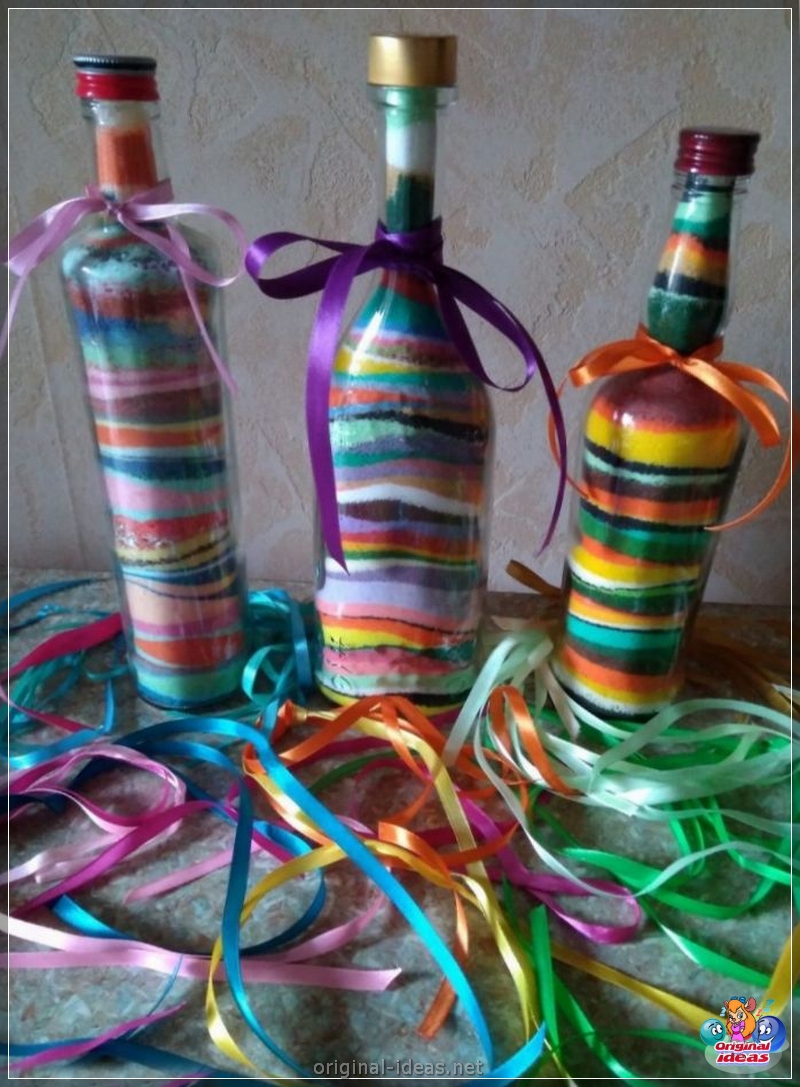 With their own hands, such a decor of bottles can be realized by everyone who wants to create unique items for their interior.
Additionally, bottles can be decorated with twine, ribbons, and closed with a cork on top. Meadow -dried herbs placed in a bottle look beautiful, which also spread a pleasant aroma around the room.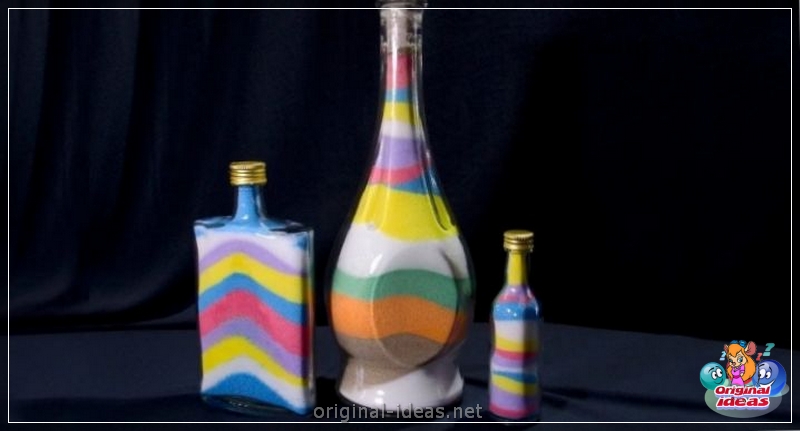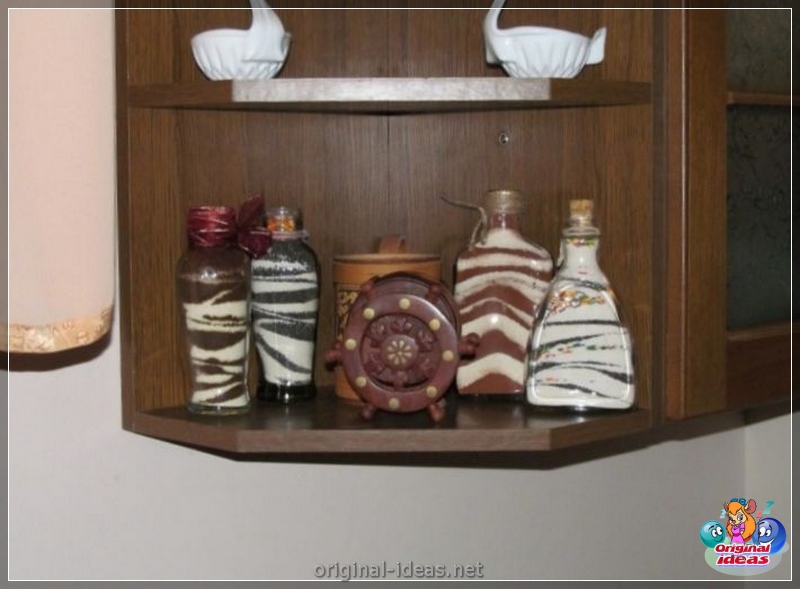 Using gypsum in a bottle decor
GIPS is widely used by decorators, including for creating designer bottles. It is easy to work, easily knead, easily applied to the surface, hardly hardens.
You can create any form from it, and then either cover with paint or sparkles, or leave as it is - it all depends on the design of the decorator. Such a bottle can be additionally decorated with ribbons, twine, rhinestones, decorative stones - everything that is found in the arsenal of the designer.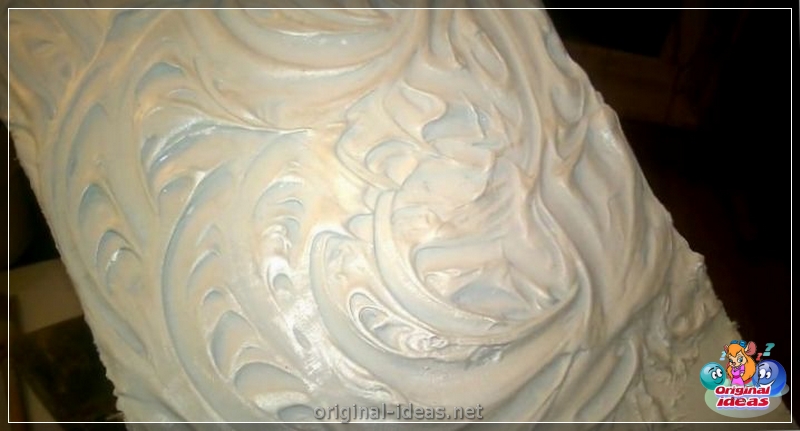 Champagne bottle decor
One of the especially popular bottles decor techniques is the use of various textiles: silk, flax, decorative burlap, mesh.
In this case, either they wrap the bottle with a cloth and adorn with additions with ribbons, beads, buttons, rhinestones, or they sew a special cover for it, which is dressed for decor.
And if from felt, for example, you can sew an original cover on a bottle, then silk and velvet will allow you to make delicious drapery.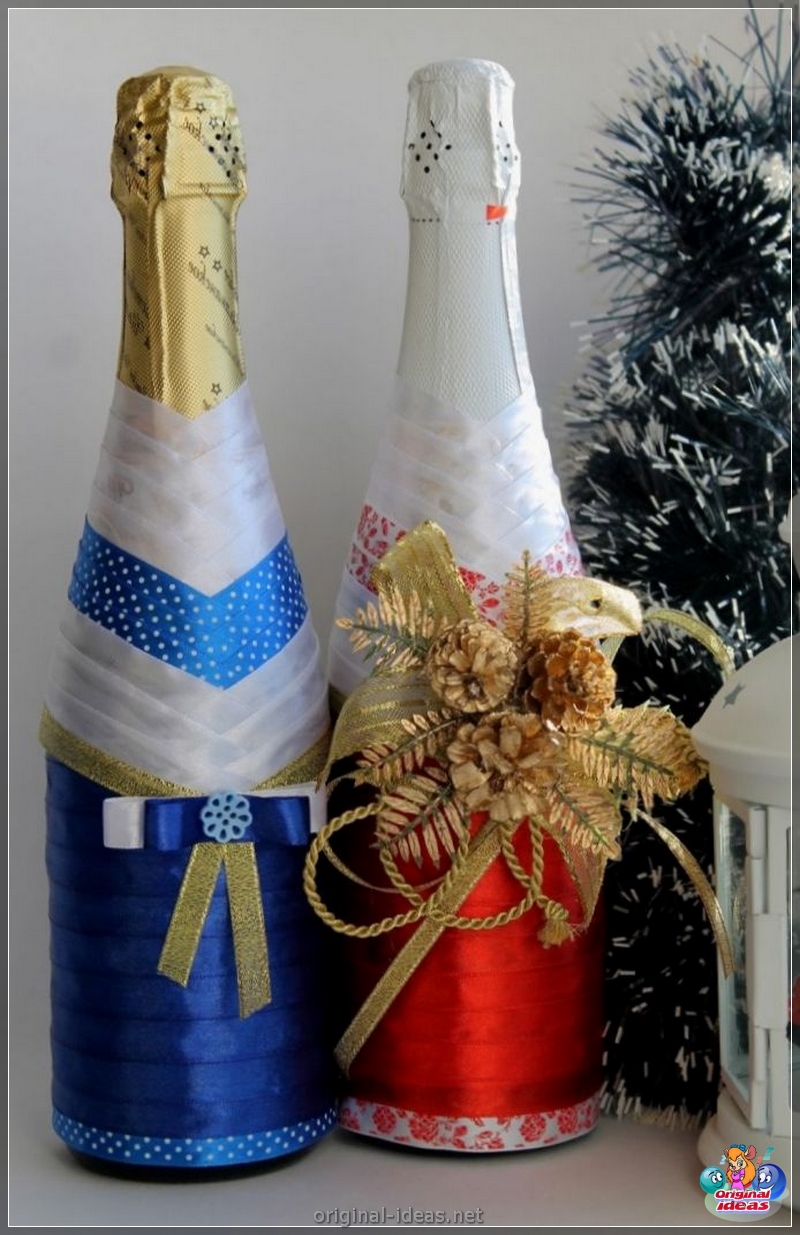 New Year's decor of bottles
If you want to make a festive table truly elegant, you can decorate the bottles of champagne in the style of this magical holiday.  It all depends on the imagination of the decorator and available materials.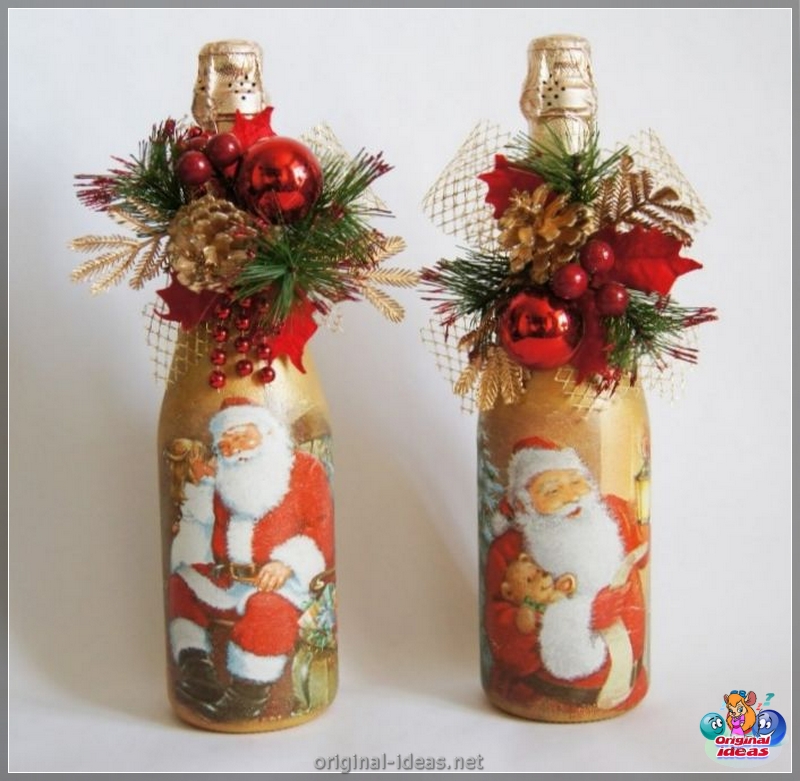 Everything is suitable here: Fetra Caps in the form of Santa Claus or a decorated Christmas tree, a beautiful drapery made of velvet with sparkles and rhinestones, intricate patterns on gypsum braids.
Together with decorative compositions on the table, New Year's bottles will create a unique tandem of a festive mood. And in order to get inspiration to create the best holiday, you can familiarize yourself with different photos of the decor of bottles on the Internet, then there will definitely not be problems with ideas.
Champagne bottles for wedding
3 decorated champagne bottles are usually placed on the wedding table: one is drank the newlyweds at the wedding itself, the second is deposited until the first anniversary, and the third opens with the guests when returning from the hospital with the baby.
All these three events are very important in the life of a new family, because the decor needs to be approached especially responsibly. The decor of the bottle of champagne can be different: using textiles, gypsum, different decorative elements, but the main thing that needs to be paid to is the quality of work.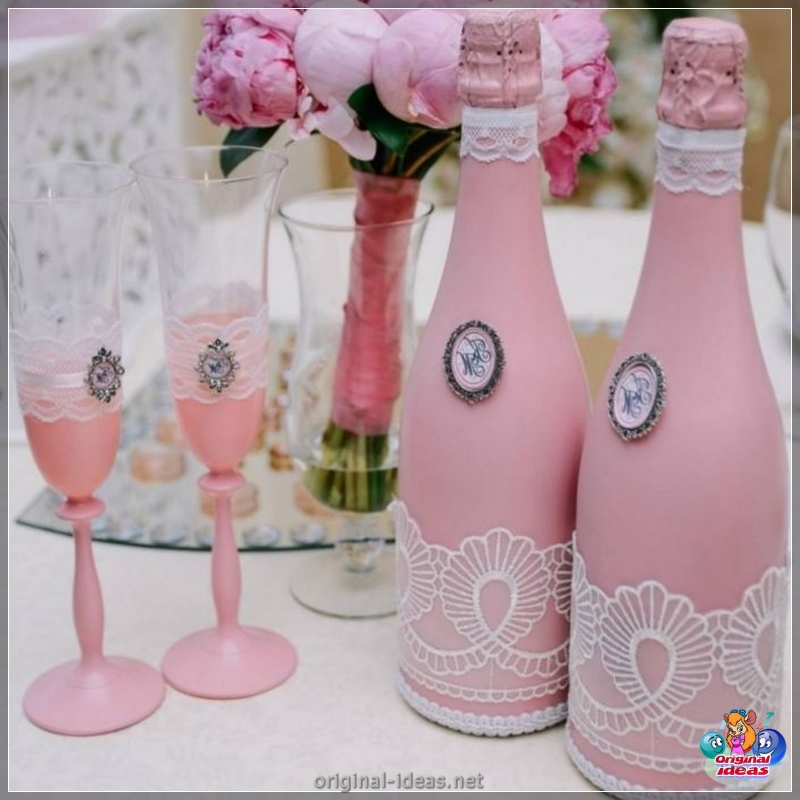 These bottles will most likely stand in the apartment in a prominent place, because it is important that the decorative component does not lose the appearance.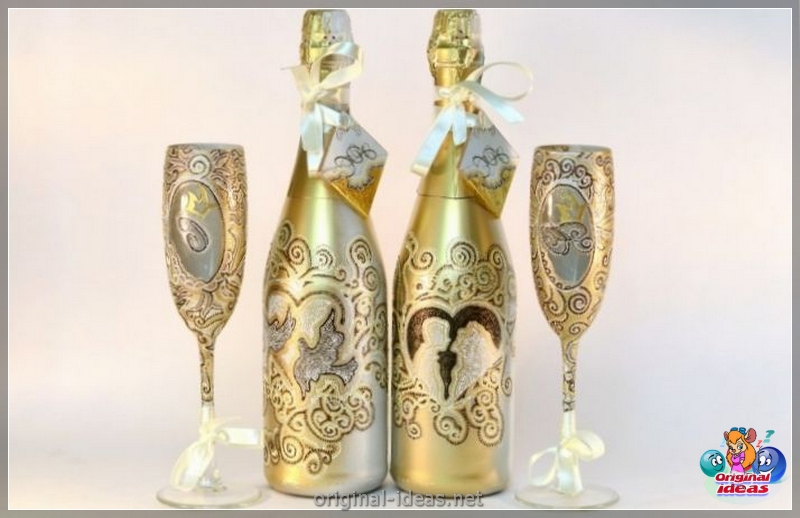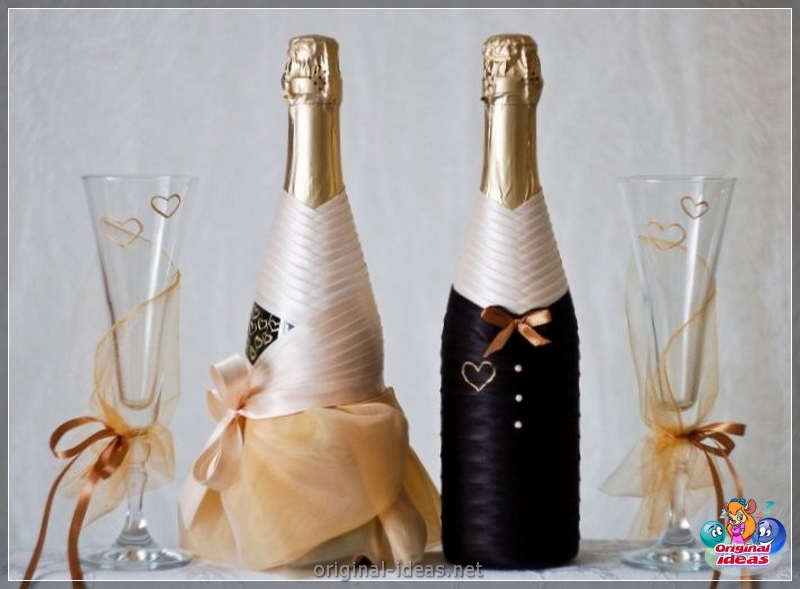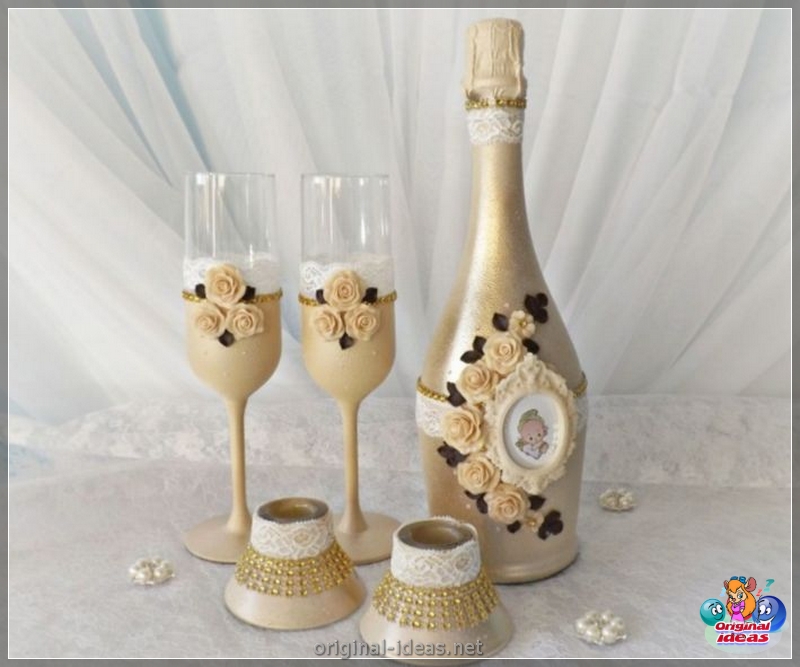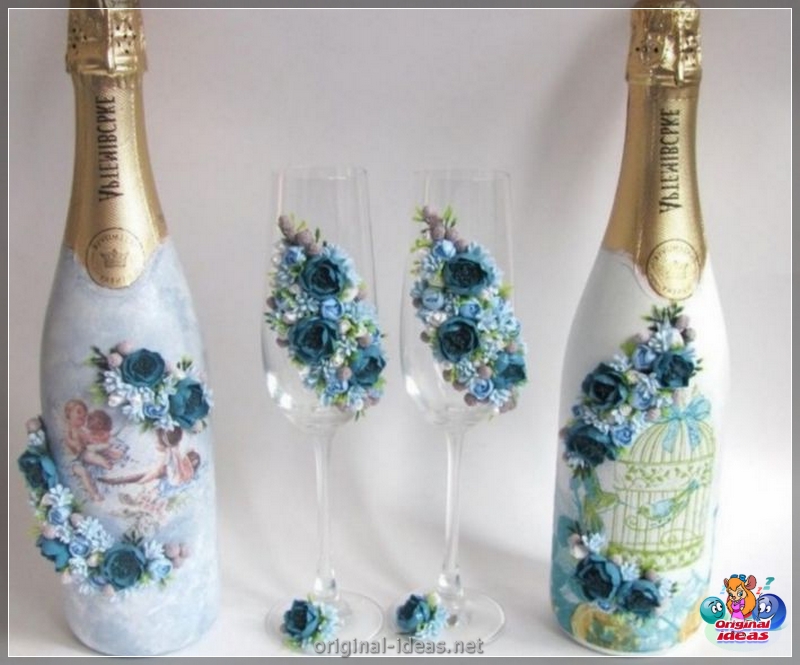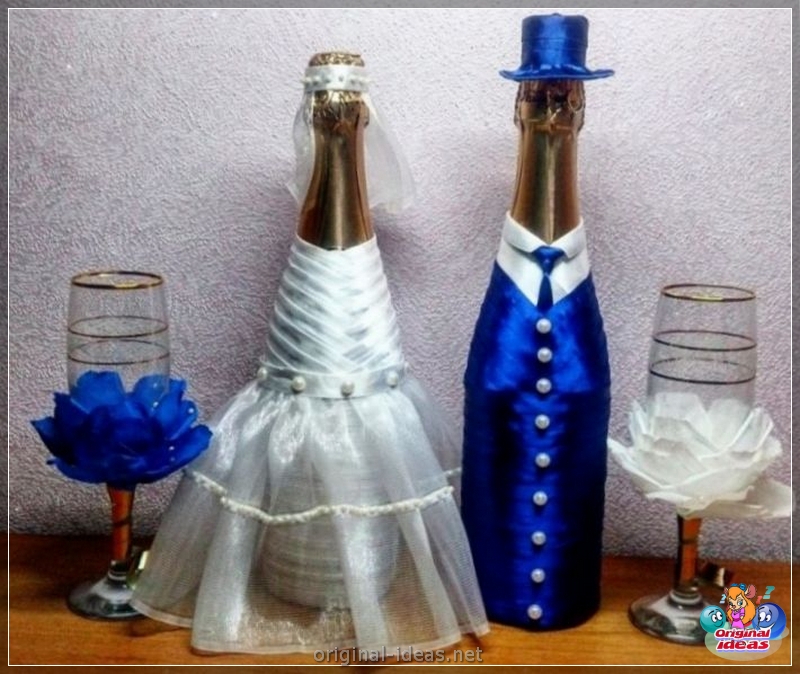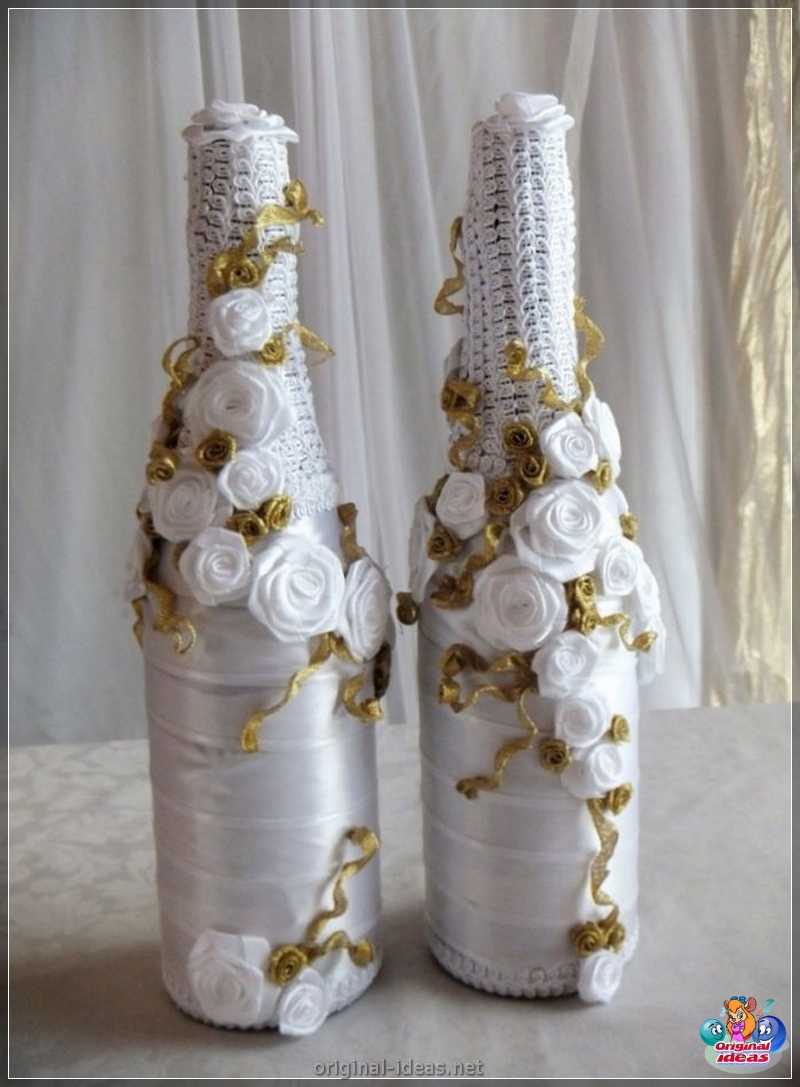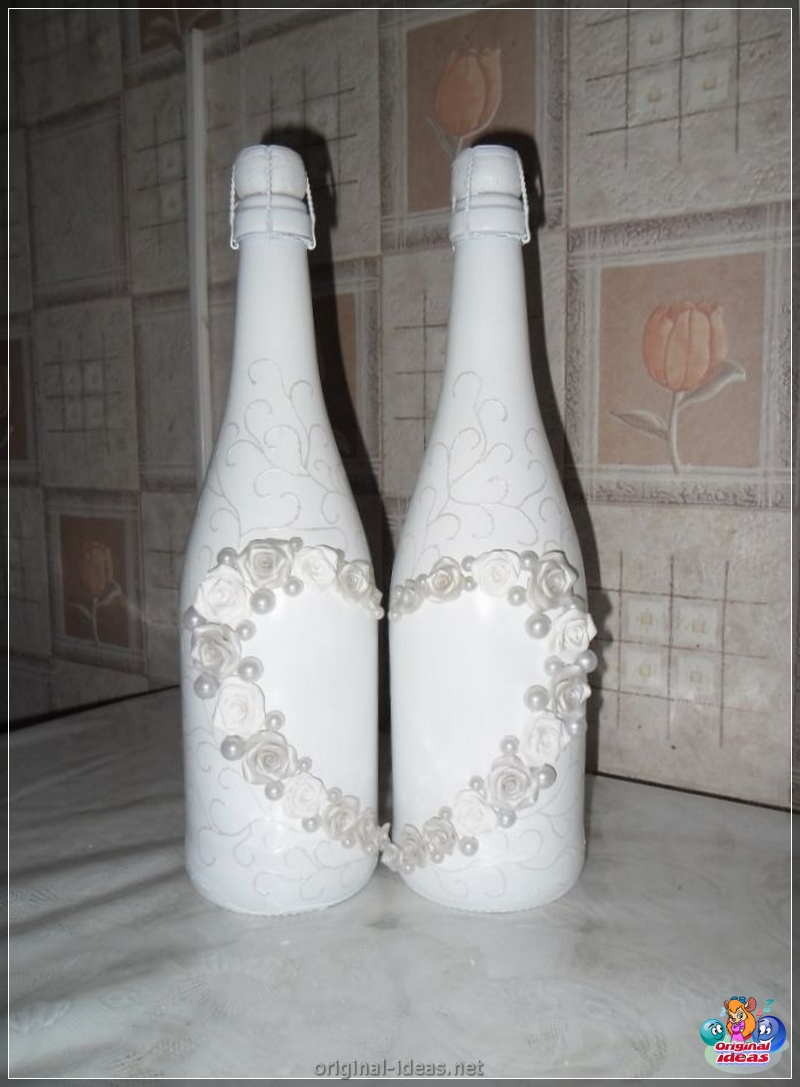 Photo decor of bottles