Design of a small living room in a modern style
The interior of a small living room is a variable design of a room intended for receiving guests or family pastime. Usually used in apartments with a small area. Successful solutions and the correct layout allow you to visually expand the room, make it convenient and pleasant for all the inhabitants of the apartment. In private houses, a small area of ​​a small area can be used by one person, while for a significant accumulation of guests a hall is equipped.
Features of interior design of a small living room
The interior of a small living room is a general term for the entire set of decorative products, from furniture and textiles to the type of decoration of wall panels and ceiling. In competent sources, the features of your own design or design solution are called: Redevelopment, which is provided that this allows the placement of other parts of the apartment. The close location of the kitchen, a large hallway, a balcony-lodge allow you to extend or expand a small room. A characteristic example is the interior of a small living room with a kitchen that creates non -trivial use of two rooms at once, convenience in serving dishes for a festive table, family dinner or dinner. Zoning - for this purpose, various means can be used - from different types of flooring to openwork partitions, functional textiles, unusual furniture, podium and second tier. Stylish constant - for limited area, design in the style of Provence, Minimalism or Scandinavian, with their compact forms, convenient placement of furniture, textiles in a small pattern is more suitable. However, with skillful planning, it is quite possible to arrange a tiny room in a classic or modern style, art deco, modern or loft. Decorative means and modern materials for decorating visual space - stretch ceiling, plaster with imitation of concrete, stucco panel, wallpaper. Selection of color solutions - in furniture, walls, choosing curtains, art objects, pillows, rugs, rugs and bedspreads. The selection and arrangement of furniture, dominant attributes that form the emphasis, the allocated space-the podium, corner sofa, fireplace, false-column, sliding and glass partitions, niches, drapery. The right choice of lighting is the rejection of bulky chandeliers, the use of LEDs, lighting, spotlights, sconces and floor lamps.
Interesting! When selecting the necessary in a furniture supermarket or in an online store, the search for the desired parameters can take a long time, but then there will be no urgent redrawing of plans, a change in the idea intended for embodiment. If the room is so non -standard that there were no suitable parameters in the store, it can be made to order. This is especially in demand with a non -standard number of corners, a room with a fireplace, tall or very low ceilings.
Before proceeding with the formation of the interior, it is imperative to carry out measurements - available space, furniture (if already it already) and decorative attributes. Before buying furniture in the store, you must definitely draw a scheme and indicate the location of the items. Types and layout options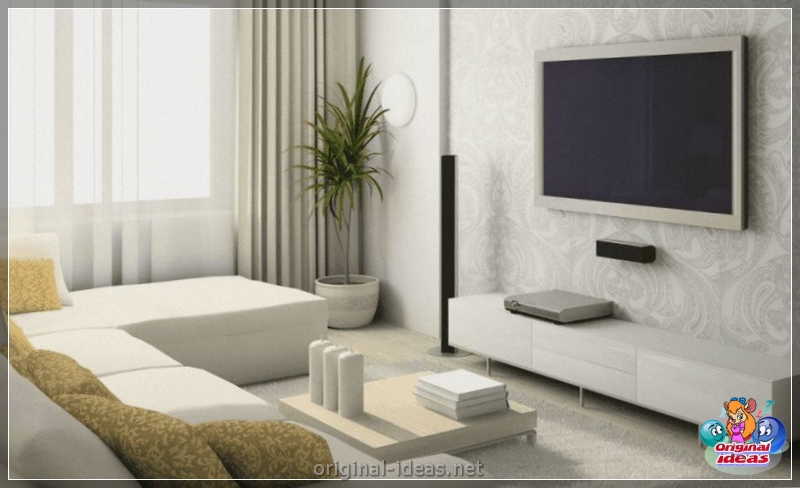 Photos of modern ideas of the interior of a small living room clearly demonstrate that the choice of the owners of the room can be limited by the footage, the shape of the room, the presence of windows or balcony in it: A rectangular living room with one output, window or balcony is a good option for performing several zones, diagonal arrangement of furniture. The space can be expanded by joining the balcony to the total area of ​​the room. For this shape of the room, it will be successful to use structures from plywood and drywall, glass partitions, walls-walls and sliding doors. The passage option is a frequent attribute of small apartments, you can make a separate room by applying a cape door or an accordion. This will lead to some visual narrowing of the area, so there is an alternative - the transformation of the corridor door into arched opening. But modern trends offer to use innovative repair technologies - make a two -level ceiling, podium and variable flooring for non -bubbile conditional zoning. The presence of protrusions, niches, pantries in a non -standard layout - not a hindrance to constructive redevelopment. Even a small niche or unnecessary pantry can be beaten, and the most incorrect ledge can be disguised with a plasterboard built -in cabinet or a decorative column with an electric fireplace. Square rooms of the correct shape are rare. Furnished without imagination and original details, they seem close and cluttered. Minimalism and modern technologies transform such a room miraculously. A room with a corner sofa, decorative or fabric partitions, which is absolutely inexpensive, turns into a living room with a children's or personal space of a student, a creative workshop or an adult inhabitants of the apartment.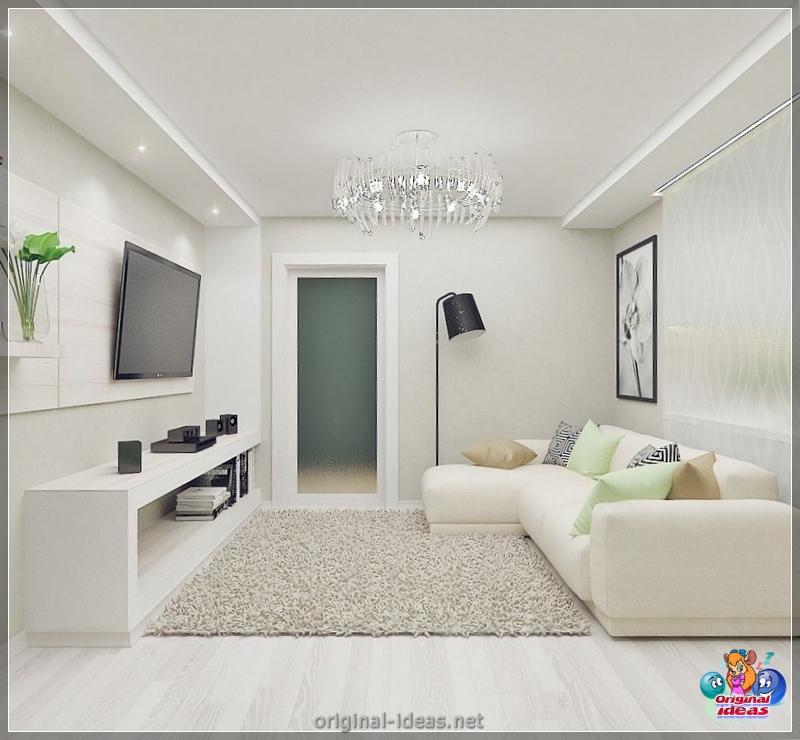 Fact! The main secrets of modern design are several - a small amount of furniture, the use of non -trivial decorative means in creating functional zones, thoughtfulness in the location of objects and the use of hidden space for placing things that were previously stored in huge wardrobes and pot -bellied chests of drawers. Which style to choose for a small living room
The choice of the style direction remains at the discretion of the owners, although now in a special trend-loft, high-tech, pop art and minimalism. They are organically combined with decorative materials and overhaul trends - mirror or multi -tier ceilings made of drywall, walls with beautiful plaster and stucco panels, hidden lighting, functional sliding, mobile or stationary partitions.
No one can insist on a certain style, indicate the owners what they should stop at. Living room decoration is a responsible event, since it is this room that is usually demonstrated by guests and outsiders. But the subject of preference remains with the owners who can solve the problem of choice in their own way: choose the Scandinavian style, with its cold light tones and natural textures; to dwell on a romantic Provence, with its small floral prints, pastel shades and peculiar furniture; design the interior of a small living room in a classic style, purchasing sophisticated, exquisite and expensive things for the situation; Great idea for a business card at home - Shebbie Shik - a cozy not new wooden furniture, prevailing light shades, many needlework details, bouquets, openwork curtains and napkins.
But, of course, the interior of a small living room in a modern style is the most constructive idea for a person living in harmony with current reality and acquiring furniture in supermarkets or on sites, and decor items in boutiques or fashion stores. The modern style has undeniable advantages in the use of decorative building materials. They can replace not only furniture, but also works of art. Color scheme for decorating a small living room
It is determined not only by the chosen style (pastel, soft tones-for Provence, cold, light-for Scandinavian, bright color accents in modern, pop art and modern). Some restrictions dictate the location of the room - on the southern and eastern side the dark tones will burn out, and the bright ones will strengthen the intolerance of bright natural light, in the north and west gloomy shades are inappropriate, they do not compensate for the lack of light, but only aggravate it. Finishing and materials
Fashion trends change annually, new building materials appear, but to make repairs every year is tiring and troublesome. Therefore, they select not just materials that correspond to the latest recommendations of glossy magazines, but primarily strong, convenient and decorative. For the floor, carpet, laminate or natural parquet is suitable, for walls - good panoramic or seamless wallpaper. You can use decorative plaster, drywall, polished stone. Ceiling, especially in a low room - with a mirror effect, combined or two -level. Furniture for a small living room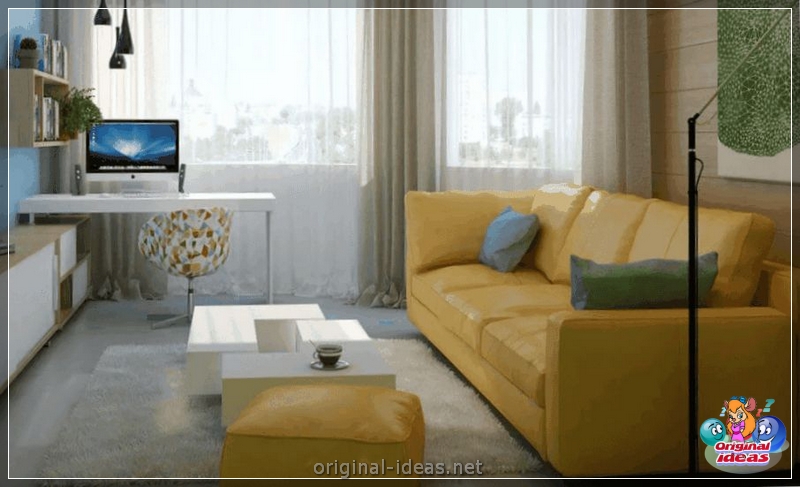 Selected taking into account the shape of the room. Recommendations can be variable for a square or rectangular room. A standard set of sofas, corner, tea table and racks with curios, can be complemented by an electric fireplace, a TV in a niche or fundamentally different attributes if zoning is provided. The choice of lighting
In a small room, it is difficult to imagine a pompous multi -tiered chandelier, so standard recommendations are reduced to the use of modern trends - spotlights, LED lamps, local backlight, decorative sconces and floor lamps. In extreme cases, the chandelier is integrated into the stretch ceiling, for this it must be modern design and the corresponding form. Decor and textiles
The most replaced part of the design of the room, the update of which gives it the appearance of a completely new. The principle of choice - complementarity, contrast or harmony. Textiles are recommended to buy inexpensive so that it is not a pity to change. It is impossible to use everything in conjunction - to combine all attributes, too much space is needed.
Therefore, professional designers recommend first of all to determine the style. The choice of furniture, the correct selection of textile design, the appropriateness of modern improvements or the rational operation of any free space depends on it. The correct solutions and the selected planning of the interior of a small living room will make the room visually larger. Such a room should attract all the inhabitants of the house. since it is intended for a joint comfortable pastime.