Small bedroom design 6 kV. m for two
The small area of ​​the room is the main organizational problem in the case when it is necessary to furnish its interior. In a typical Russian apartment, they often choose a room with the smallest area as a bedroom. How to plan a design of a small bedroom of 6 sq m, so that all the necessary things and sleeping places are placed in this limited territory?
Features of the layout of a small bedroom
In the photo, it seems as if in a small room, in principle, it is impossible to arrange it conveniently and comfortable things. It creates restrictions in the creative sense. But if you competently plan the design of a small bedroom of 6 kV m, using including real photos of finished interiors, it will turn into a room in which it will be easy to relax and relax comfortably. It is necessary to take into account a number of fundamental rules in order to solve this complex problem.
On a note! Regardless of what purposes a small room is intended for, the visual component of such an interior should be changed. In particular, mirror surfaces will help to increase the space.
In small bedrooms, for this reason, you can often see stretch ceilings with a glossy texture, a decorative panel that are hung on the wall, as well as shiny shelves, facades of cabinets.
If the owner of the room has the opportunity to equip a lifting bed, then this will be an ideal solution. In the lower area of ​​this object, you can mount special boxes where all unnecessary things will be placed, as well as bedding. In this place it will be possible to put pillows, rugs, blankets and other things that usually take up a lot of space.
In conditions of close space, pay closer attention to the installation of a comfortable bed in all respects than a large and spacious cabinet. When selecting furniture, bulky models should also be avoided. A room forced by such objects cannot look cozy.
As for color solutions, it is better to give preference to light shades. A functional and very fashionable object in a small bedroom can be a attic bed, under which there is a place for storage. The same can be said about modular systems that can, by translating into a vertical position, hide the bed. You can also consider beds under which large boxes are located.
If all these conditions are met, you might think about complementing such an interior creating a feeling of comfort with things, for example, with rugs, beautiful curtains that harmonize with the common color component of the room, pillows.
How to visually increase space
The use of light, pastel shades allows you to make a visually small bedroom more. If the windows in the room do not overlook the south, this method is especially recommended. The more light shades, the more bright and illuminated the room looks. In the case of an interior of a small bedroom of 6 sq m without a window without such color solutions, you can't do at all.
You can also resort to the creation of accents. Suppose if you do not want to have an absolutely white bedroom, you can make a small emphasis on any section of the room. Designers usually choose one wall that is painted in a bright color or on which wallpaper is glued with an interesting pattern.
They leave all other surfaces bright. You can also leave all the walls light, and create color accents on the interior objects, for example, make the facade of the cabinet multi -colored or put on the bed a bright blanket. The photo shows that this technique looks harmonious.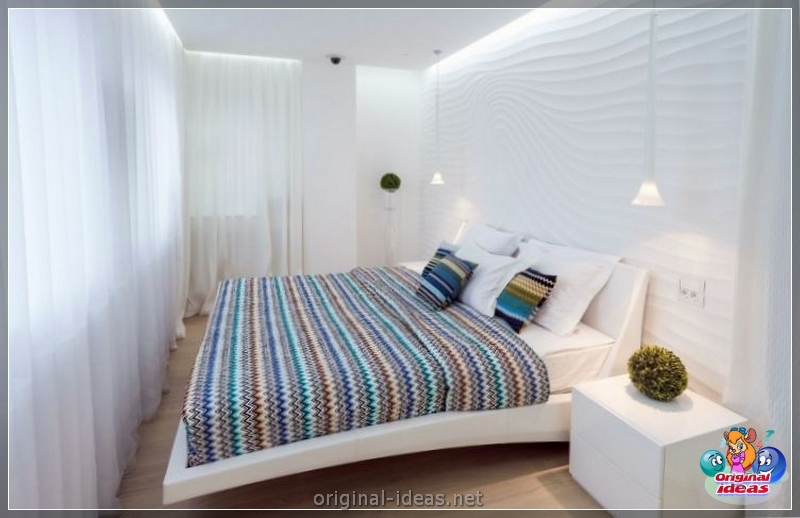 What to take into account when thinking over the design of a small bedroom of 6 sq m with a window? Depending on the floor you live, lower or upper, one or another of light will penetrate into your apartment. On the upper floors, more sunlight always penetrates into the room.
If it is not enough in your bedroom, try replacing the curtains and hang light tulle or translucent curtains in white instead. It will also be possible to supplement them with luminous blinds so that at night it can be easier to fall asleep. There is no need to use them during the day.
Do not hang the curtains that reach the floor. Such long curtains additionally conceal the space, and therefore it is better to tie them or from the very beginning buy models of shorter length. Do not give in to the temptation to make the windowsill with a large number of indoor plants, as is often the case in Russian apartments. Better leave this space free.
Refuse large dressing systems. When buying furniture in the store, immediately look for objects that differ in functionality, such as beds with boxes designed for bedding, compact cabinets, ottomans that have a place to store.
What features does the interior of a small bedroom of 6 sq m for spouses have? Of course, the bed is the most space in such an interior. To create a visual feeling that there is more space in such a bedroom, take the bed on the legs. Also do not take models that have a fairly bulky head. Avoid modifications with soft upholstery, it is better to replace them with models with a metal lattice, for example. Choosing a style for decorating a bedroom
To equip a beautiful design of a small bedroom of 6 sq m in a small apartment is a difficult task. You can resort to various style options if you have to furnish a small bedroom. It is better to make a choice in favor of calm options that contribute to rest and relaxation.
The main option that begs in the case of a small bedroom of 6 sq m for two in a small apartment is minimalism. It doesn't matter who intends to relax here: adults or children, teenagers. This style is concise and combined with functionality. The main rule that is required to be observed in this case is homogeneous.
Such a space should not assume a large number of colors. It is enough to make a choice in favor of two or three shades. Bright colors should be used to create an accent, while the main should be restrained.
Fact! Large decorative objects and complex prints should be excluded. Several levels should not be overwhelmed in the decoration. The furniture should be practical, comfortable and differ in concise forms.
The room should have a basic set of things. All unnecessary should be thrown out. If you want to use any accessories, make a choice in favor of the paintings. It is not recommended to supplement them with anything, but if you decide to do this, let it be better than such accessories at least. Scandinavian style
If you plan to put a large bed in your small bedroom, you can follow the advice of designers and arrange it in the Scandinavian style. This direction is largely echoing with classical minimalism. Here the fundamental idea is the idea of ​​natural naturalness, the presence of a large number of color shades in design. Only thanks to this is a feeling of some cool naturalness is formed.
On a note! If your bedroom is on the southwest side, be sure to consider the Scandinavian design style for yourself. It contributes to the visual expansion of space here.
A popular solution in the case of the Scandinavian style in the design of a small bedroom of 6 kV m with a bed - the design of the wall with special wooden panels. If your room is narrow enough, such an approach will be quite successful.
A rather boring light background can be diluted using the textiles suitable in appearance. Geometric patterns, various kinds of bright color spots can be used. Indoor plants can play the role of accessories, as well as decorative objects depicting wild animals. High tech
This design will be appreciated by young people. This is also the best solution for Russians leading an active lifestyle. The interior of such a room will look practical and functional. There should not be anything superfluous in the setting of such a bedroom.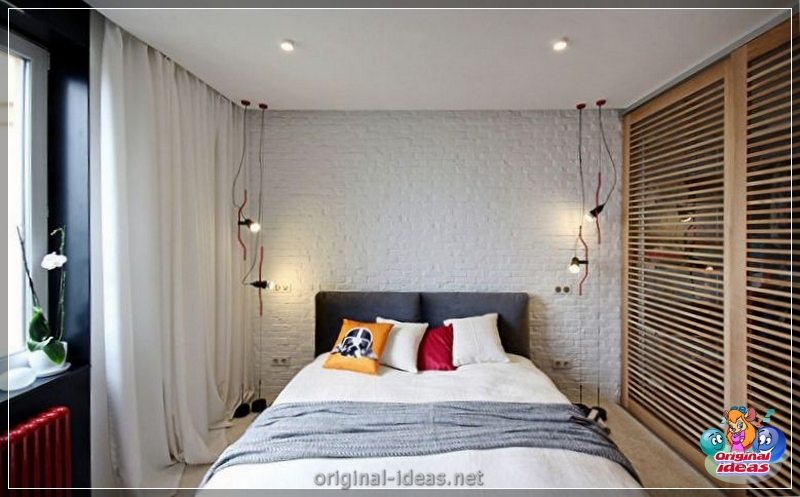 For reference! Metal shine and gloss are the main design techniques to form a high-tech style. It can be formed gray or white, despite the fact that the emphasis can be created through black and red.
Combinations of yellow, pink and blue can also be involved. Accessories can be made in mother -of -pearl and silver shades. Instead of wallpaper, it is advisable to use decorative panels. These materials can be made of plastic, wood, in various types of metal or stone.
Furniture in such an interior plays the main role. The technique goes into the background. You should abandon standard solutions in favor of unusual and original details, futuristic design. Suitable color palette
What color solutions will be optimal in the case of a small bedroom? In fact, equip a cozy space when there is a small area in stock is easier than in the case of a large room. You can take pure white as a basis. It gives airiness to the space, visually expands it. The room seems more calm. It seems to be filled with light. You can dilute white with any other shade in small quantities to remove the feeling of sterility of such an interior.
The choice can also be in favor of warm pastel shades that contribute to comfort and set up for relaxation. Slightly dusty warm halftones go well with each other. They, like a white hue, contribute to a visual increase in space.
On a note! Designers are especially advised to bet on combined colors, which include light fist, gray-blue, powdery pink.
If you have a small bedroom, this does not mean that you should only consider sterile white or pastel colors. Take a closer look at the natural shades and surfaces that imitate them. Want to achieve a peaceful effect? Try using woody shades in the bedroom.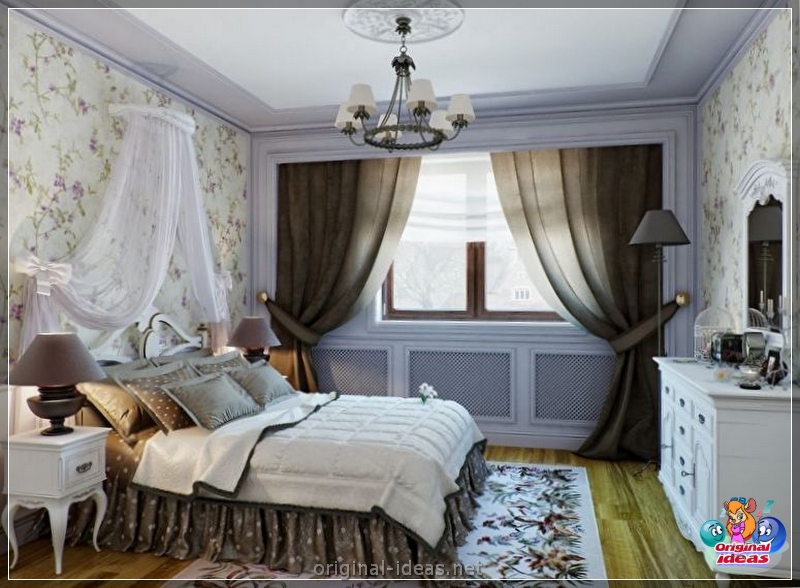 You can combine wood colors with areas finished with textured plaster for cement. If you like the direction of minimalism, environmentally friendly style in the interior, then such a bedroom will be the best to match your expectations.
Decor and decoration
What finishing materials can be used in the presence of a small bedroom? You can consider not only classic wallpapers for yourself. It can also be wall panels. Such finishing materials differ in different texture. They can imitate brick, wood or stone.
On the ceiling, you can use whitewashing or mount a glossy stretch ceiling. On the floor you can put linoleum, parquet or laminate. Do not use large and bulky curtains. It is recommended to avoid complex curtains, consisting of many layers.
Advice! Designers recommend buying traditional sets of dense curtains or light tulle curtains. Small roller curtains are also suitable.
As for decorative elements, it is better to avoid them in large numbers. Hang a couple of paintings on the wall, equip the suspended shelves. This will be enough.
Lighting
It should be thought out in advance. It is not necessary to limit ourselves only with a light bulb on the ceiling. You can equip highlights. It will also be useful to create a special additional backlight in the workplace or inside the cabinet with clothing.
On a note! The lamp for convenient reading can be mounted on the wall. At the same time, it is better to put books on a separately nailed shelf than in a closet that will take a place on the floor. Selection of furniture for a small bedroom of 6 square meters
As mentioned earlier, it is better to buy a bed on legs or a model that has many additional storage boxes in the bedroom. It can be replaced by a folding sofa.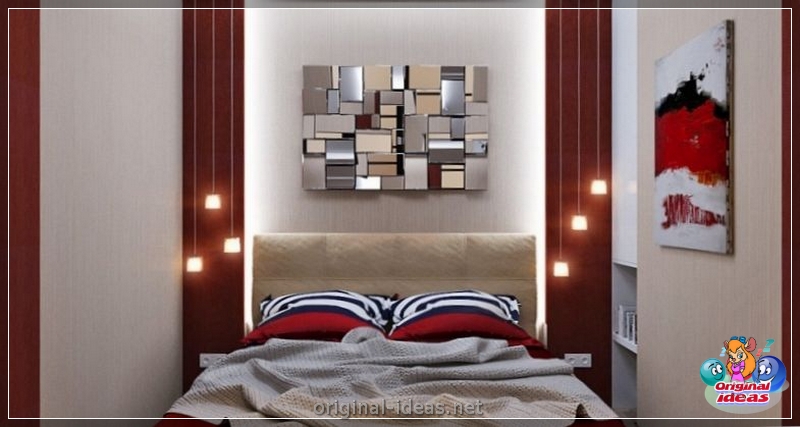 In a small bedroom it is worth putting tall and narrow cabinets. A good size here will be an object with a depth of 40 cm. It is even better if you can install wardrobes. Buy also low ottomans if you do not plan to put a special chair or reading chair. If you still want to place chairs in the bedroom, it is better to choose those that have a transparent structure. They can be used in combination with a small glass table.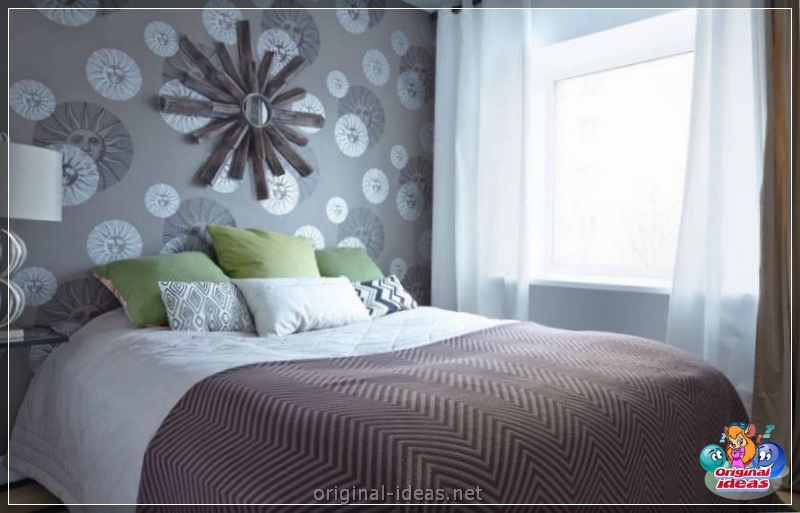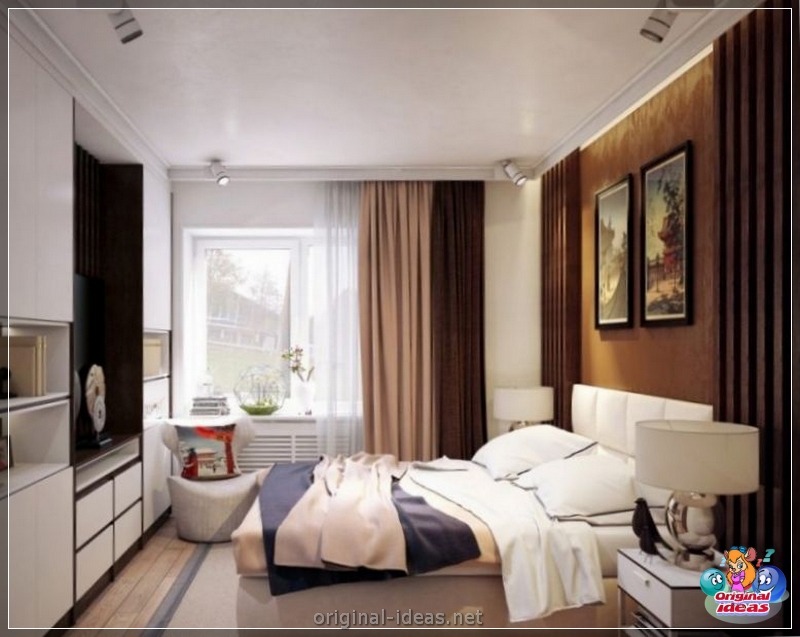 Even in a small bedroom, you can come up with interesting ideas that will additionally save space and create a feeling of a more free interior. Also for such a room you can order furniture on an individual project.