How to beautifully design the living room in green color
The living room in green is a good solution for the main room in the apartment. This point of view is unanimously adhere to designers and psychologists. The natural shade soothes, making the room fresh and positive.
Living room in green: advantages and disadvantages
To arrange a living room in green colors permissively bold, confident people. Such an interior does not look annoying, but before the implementation of the idea, it is necessary to evaluate the positive and negative sides.
Let's start with the pluses: Natural color positively affects the nervous system. In a room, arranged in green colors, anxiety and tension leaves, giving way to peace and tranquility. The color scheme has a positive effect on the relationship between all family members living in the apartment. Removes tension from the eyes, helping to relax after a busy day. Eliminates sharp mood swings, forming an even emotional background. Combined with numerous style directions. With a competent combination, green color is ideal for rooms of any meter.
Not without flaws, even there are a little of them: Green color acts on the body relaxing, bust in design can cause a state of apathy. With diseases of the nervous system, an excess of green causes a loss of energetic. It is difficult to find a suitable combination of modern style.
Attention! The colors of olive, salad and malachite lower the appetite. When planning to combine the living room with the dining room, it is necessary to take this nuance take into account. Color palette
With the correct selection of depth and saturation of the tone, you can make the living room that forms the mood. Main ideas: Herbal tones - pacify; Emerald and mint colors - have a stimulating effect; saturatedly green - gives respectability; The color of olive and sage - create an even emotional background, making the living room warm and elegant; the color of pistachios and green apple - contribute to a relaxing mood; needles, turquoise, emerald - these colors are associated with severity and wealth, and therefore approach most living rooms, aged in a classic style. What colors are the green color with
In modern design, the living room, decorated in green color, is not such a rare phenomenon. Artists have learned to use most shades of this color combined with other tones: With white - ideal for a room made in a modern style where modular furniture is placed and metal surfaces are present. It is important to adhere to the rule: no sharp contrast, only soft halftones. With yellow - colors are in perfect harmony, creating integrity. In order not to create a feeling of busting, everything should be in moderation. For small rooms, too juicy shades are not suitable. With blue - it turns out a magnificent duet, provided that the shades of both colors will be light. Otherwise, the room visually narrow. With gray - you get a harmonious tandem of sophistication and originality. What should be avoided is dark shades of gray, so as not to give the room a feeling of pile. Real photos will show how the living room looks in green color. Beige - unlike white, is not so categorical, perfectly harmonizes with green, adding energy rooms. With brown - there is where to take a walk, but it should not be many. The main task is to focus on details: decorative sofa pillows, wall panel or bedside rug.
Attention! Orange and red do not combine with green, in equal proportions it is better not to use them. Which style to choose for the design of the living room in green
Modern ideas are so diverse that even the most demanding customers will certainly find something of their own: shades of jade and olifs are the best suited to the oriental style; The color of the sea wave is to the Mediterranean; Salad - to tropical.
Fans of home plants and wooden decor items should pay attention to eco -style. Mediterranean style
To revive the situation in the room, making it more comfortable, homely and attractive, shades of a sea wave or turquoise tone will help. The walls can be beige, curtains, sofa pillows and desktop decor items-green, and furniture, as shown in the photo, pale blue or light gray. This design is popular among young people. Country style
There are the most saturated shades combined with beige and dark brown. The photo shows a living room with a fireplace, decorated in green color. This solution is suitable for large rooms divided into zones. Classic style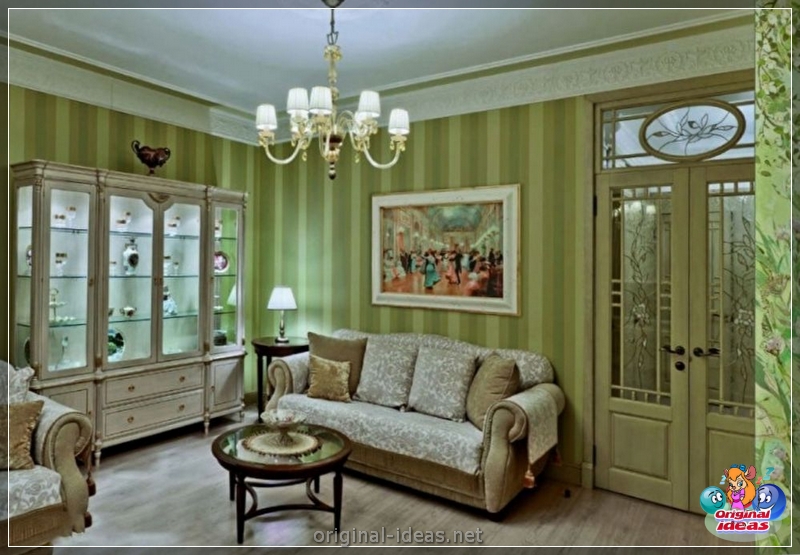 An open or isolated room with green walls and a large library is suitable for decorating in a classic style. A good complement will be a wide window sill, covered with a mattress and performing the function of a rest for relaxation. Loft style
People of creative professions, who do not accept luxury and tasteless, prefer to draw up a living room in a house or apartment in the style of loft. The peculiarity of the modern idea in a certain rudeness of the decoration of walls and floor, the absence of curtains on the windows. Together, all this resembles a warehouse or a factory room. The living room with green walls will become a source of inspiration and home comfort. Provence style
Connoisseurs of the home atmosphere choose the design of the living room in the style of Provence, bringing a note of French charm to the interior. The decoration uses exclusively natural materials: wood, stone. The color palette should be light, creating a feeling of light fading in the sun. Muffled greens are ideally combined with white and beige color. Selection of furniture for the living room in green color
Respectable and solid furniture of green shades in the skin and suede looks. She harmonizes well against a restrained background, focuses on and gives an impression. Cabinet furniture could be an original solution.
Attention! When choosing furniture items, it is necessary to take into account the size of the room so that there is no sensation of overload.
A corner sofa, trimmed with high -quality green, brown or white color, will perfectly fit into the spacious room - depending on the decoration of the room. A table with a black countertop will look very elegant near him. On the contrary - modules with shelves for storing the necessary things and a large TV in the center. The final stroke of the interior - curtains. To give lightness and airiness, the room should be preferred to translucent fabrics of pale green color. In a large space made in a classic style, heavy curtains from satin or velvet will be appropriate. Flooring, walls and ceiling
Finishing materials create the necessary background of the living room. It is not necessary for all walls to choose one color, especially if we are talking about a small room. According to designers, now the wallpaper or paint for walls of pastel shades is trend - for example, beige. It is enough to arrange one or two walls in green, gluing the murals.
Advice! You can focus on a green background with a wooden finish, marble or stone.
To visually make the ceiling above, traditionally it is made by white. In spacious living rooms, you can use beige or light green tint. It can be a stretch ceiling, in large rooms - matte, in small ones - glossy. Classical whitewashing, painting or suspended ceiling - provided that the height is more than 2.7 m. An ideal solution to cover the floor will be a tree or material that imitates it. No worse in the appropriate design is a parquet, parquet board, laminate, tile, stone or linoleum. Lighting
This is an important component of the room. One chandelier, one -lamp suspended lamp or a ceiling is not enough. For a comfortable pastime, it is necessary to highlight each island with the possibility of turning on and off both together and separately. If the living room is combined with the dining room, be sure to hang the lamp over the table so that it does not beat in the eye and performs its function. It is desirable that it can be adjusted in height.
Point backlighting will emphasize the beauty of the picture, the original figurine or other subject of art. The design may contain one or more devices. It also performs the function of additional lighting.
Advice! In a room with numerous light sources for convenience, it is advisable to use the control panel to simultaneously control all devices.
In the classic interior, lamps are placed symmetrically. In a bright room with appropriate furniture and walls made in pastel colors, the original floor lamp will perfectly fit. A round metal lamp is in harmony in the living room decorated in the style of minimalism.
In a spacious living room with numerous glossy surfaces, one large chandelier in the center is enough. Crystal will give the premises solemnity and grace. The dark room needs greater light and vice versa.
The living room in green tones characterizes calmness and comfort. A competent approach will help create an unforgettable atmosphere that has a vacation and friendly gatherings in the circle of relatives and friends.