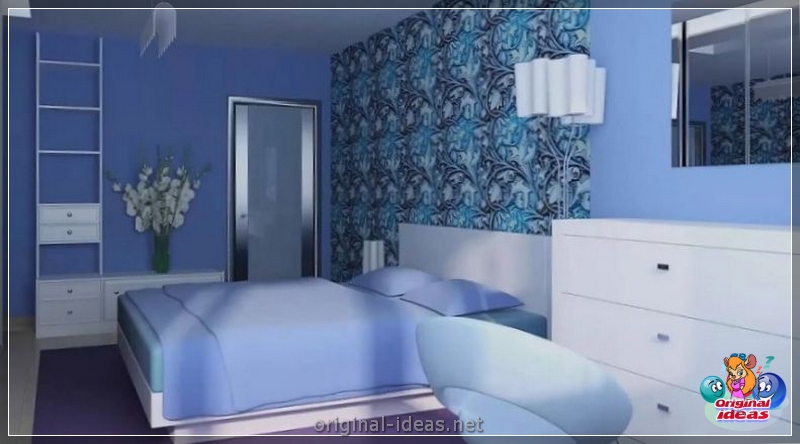 Bedroom decoration in blue tones
The design of the bedroom in blue will create a harmonious and calm environment. Its various shades are easy to combine in the interior of living space. He will give a unique look to the room in any stylistic direction.
Features of blue
Color is considered conservative and calm. It is chosen by rational people who value convenience and harmony. It is often used by designers to decorate a dwelling. A variety of shades of blue, indigo are used to decorate the bedroom, children's room or work office. Women prefer delicate pastel colors: blue; cornflower; turquoise.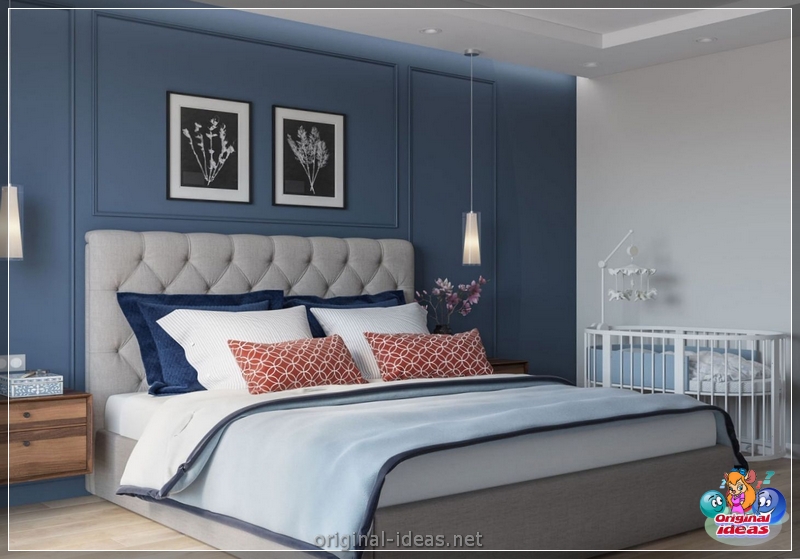 Men more often seek to choose a more saturated tone that gives determination and strength. Such a shade will add mystery, severity, nobility. He acts soothingly on the nervous system, sets up in a positive way, promotes thoughts. It is believed that this color can positively affect the well -being of a person: Slow down the heart rhythm; relieve nervous tension; normalize pressure.
The design of the room in blue tones looks elegant, sophisticated, elegant. However, color can be perceived ambiguously. On some people an excess of blue acts negatively. They feel internal discomfort, oppression, become anxious.
Important! A room whose windows overlook the north side, from an overabundance of blue, may look silent and gloomy. This color is referred to a cold spectrum. He visually expands the space, but in the bedroom with a lack of sunlight it is chosen only as a color accent. How to choose a suitable shade for bedroom decoration
The bedroom is intended for relaxation. The atmosphere in it should be calm, positive, contribute to good sleep. Intensive bright shades in large quantities will not be the best option. The spectrum of pastel colors will help create an easy, air interior, and dark colors emphasize the clarity of the lines.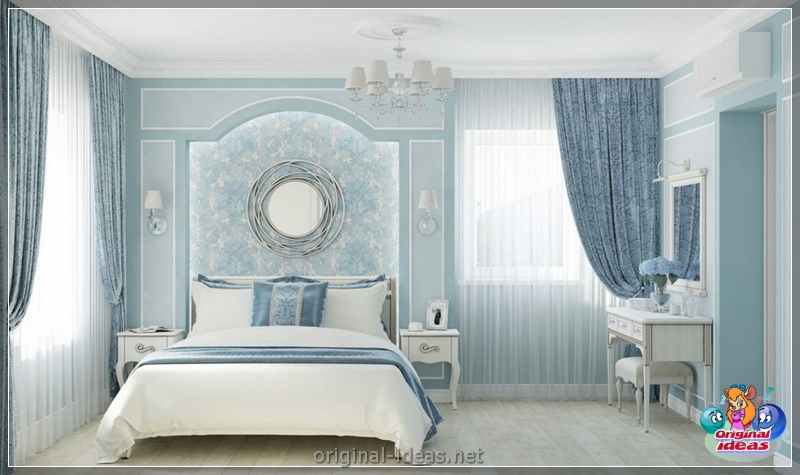 Photos of the bedroom in blue tones and design ideas: The turquoise gamut is widely used to design interiors in different styles. This shade is considered a symbol of wealth and prosperity. It is a suitable option for the bedroom of adults and children's. Makes the situation of spiritual, cozy, comfortable. Turquoise is combined with beige, sand, cream, green, brown, white. It is often used as a basic tone. Turquoise will add brightness and contrast to the room in light beige shades, if used as an additional.
The blue spectrum is suitable for a small room. It visually expands the space, makes the room bright. The design in blue tones cannot be overloaded with massive furniture and heavy decor. Harmony and lightness emphasize elegant lines in the design. Bright blue shade is combined with neutral colors. Intensive tones are added to heavenly blue. It is combined with yellow, gray, purple, green, white. Often blue is chosen for a children's bedroom, especially for a boy.
Indigo is a deep dark blue color close to purple. Suitable for the design of large rooms in the classic direction. In small rooms it is used as a bright additional accent. The interior is combined with light shades of green, blue, beige. It also leaves a harmonious impression with lilac, white, purple.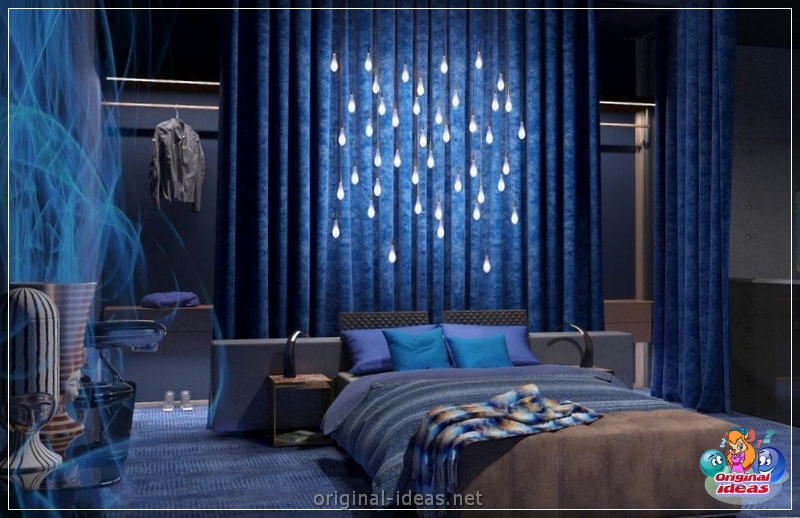 Classic blue is suitable for decorating a bedroom in the Mediterranean style. It is used as a base background or to decorate. So that the dwelling does not seem cold, it is combined with various shades of a warm spectrum. Some designers advise combining a shade with blue, pearl, white. With caution, this color is chosen for rooms with a lack of daylight.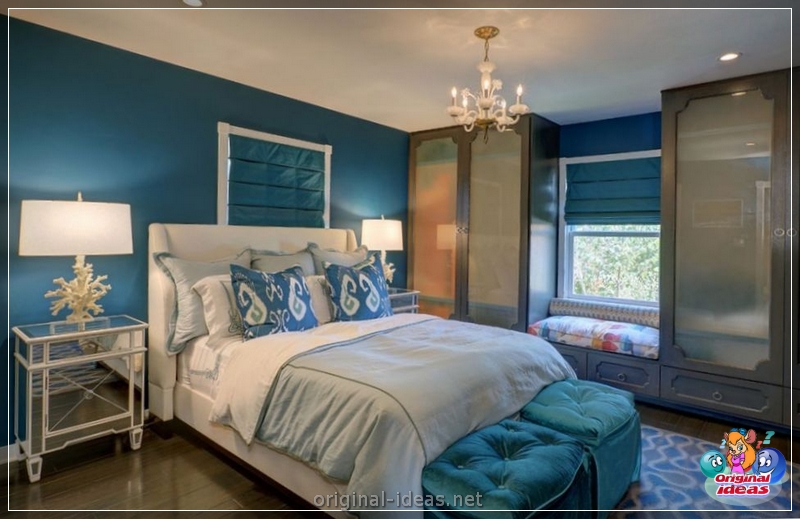 Aquamarine-greenish-blue shade. The interior looks fresh and original. It is combined with peach, pink, sand. Aquamarine color is suitable for decor elements - curtains, rugs, pillows, furniture upholstery. It is quite intense, so as the main tone is more suitable for large rooms.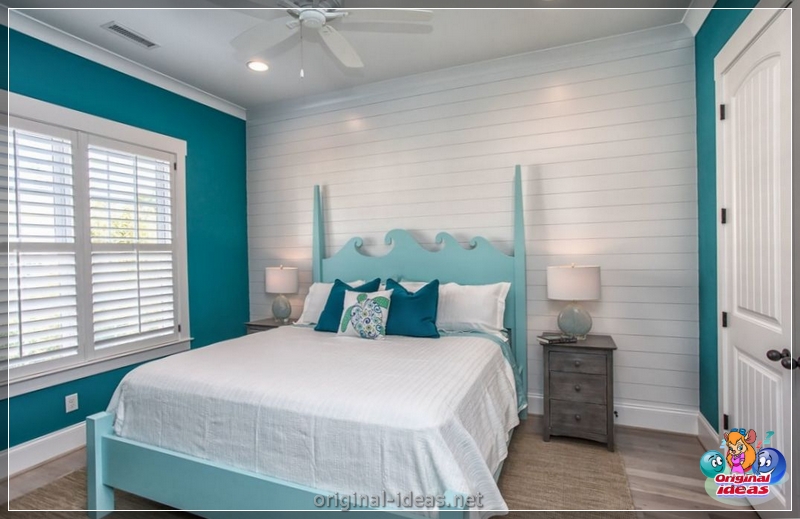 Blue color is best used for designing a room with good natural light. With a lack of sunlight, a vacation room can make an oppressive impression. It is permissible to decorate a large room in bright intense colors. A small room will decorate a pastel palette. Photos of the design of the bedroom in blue will help to decide on the choice of a suitable color scheme.
What is the blue color and its shades in the interior
A large range of shades allows you to combine this tone with many others. A harmonious combination will create optimal conditions for relaxation and relaxation, emphasize the stylistic design of the room. Two shades of the same color or contrast combination are used as the main background. The third tone is used for a bright color accent.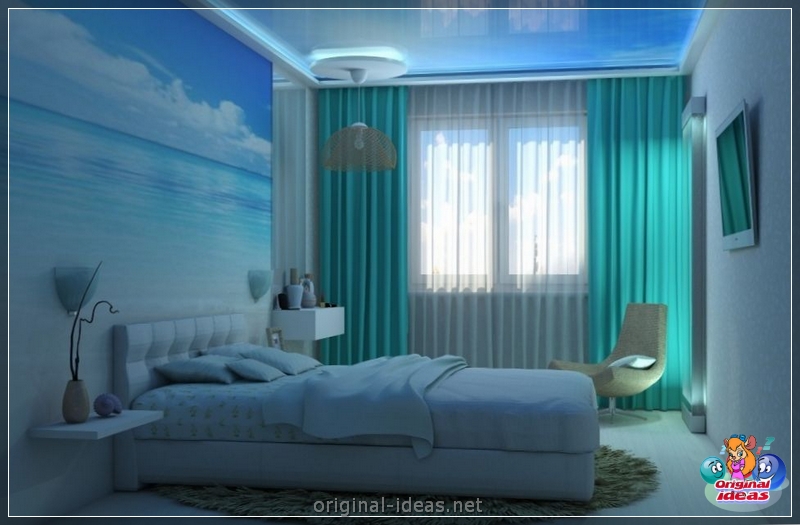 Photos of successful combinations of blue in the interior: Blue and white will create a feeling of freshness and purity. White balances the gloom of indigo and gives the room an elegant look. The bedroom in blue with white furniture is often decorated in the marine style. The situation is supplemented with silver fittings and marine accessories.
The blue-beige combination looks easy and comfortable. Beige walls and light furniture can be supplemented with blue curtains, a veil and decorative pillows. Brown is best combined with turquoise shades. Light tones are chosen as the main background. They are complemented by brown furniture, and turquoise is used as another emphasis.
Blue and blue are used to create a monochrome interior. The bedroom with blue walls and dark blue curtains looks harmonious. Additionally use the decor in similar color scheme - vases, books, flower pots. Blue with yellow is suitable for lovers of bright combinations. Such a bedroom looks interesting and stylish. As a basic background, it is better to choose blue, and yellow is used as a color accent.
The blue-gray gamma looks elegant, calm, harmonious. The walls can be a pearl shade of gray, and the upholstery of furniture and textiles of a classic blue color.
The entire palette from blue to indigo is referred to the natural color scheme. It harmonizes well with body furniture made of natural wood of light and dark tones.
Advice! To create a successful color scheme, you need to correctly choose a shade and choose additional colors. In this case, it is necessary to take into account the area of ​​the room and its illumination.
Bedroom decoration options in different styles
The rich gamut of blue tones allows you to perform a room in various styles. Options for decorating a bedroom in modern design with photo: The classic style looks luxurious and respectable. Dark wallpapers and textiles are appropriate in this direction, which harmonize well with brown shades from an array of wood.
For the Scandinavian and Mediterranean style, they choose a neutral palette of light tones. It is complemented by bright elements of the color of the sea wave and a stylish decor. From the bedroom in the style of Provence blows village comfort and simplicity. Light wooden furniture and curtains with a floral pattern in delicate blue tones look simple and fresh.
The minimalism room looks simple and neat. The sensation of order is created due to the right forms, clear lines. Blue is often used as a neutral main background. Minimalism does not allow the clutter of space excess furniture and decor.
Having correctly picked up a color palette, you can arrange a room for sleeping loft or high-tech style. If you supplement them with interesting accessories, a unique design will be obtained. Materials for finishing
Most often, walls, sometimes ceiling or floor are designed in blue. Light shades can visually expand the space, and dark add depths. Popular materials for wall decoration: dye; wallpaper; decorative plaster.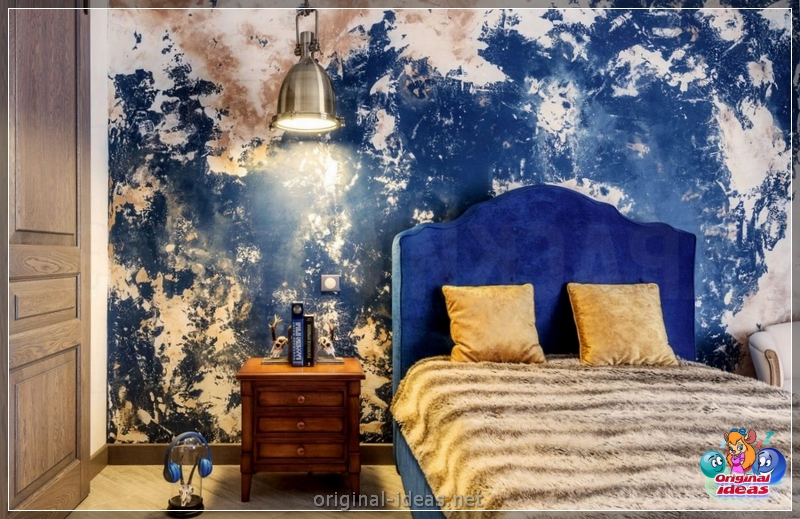 Ceilings are painted with water -based paint. An inexpensive option would be a stretch ceiling. The colored canvas is matte, glossy, satin. The blue floor is rarely made, but if they want to add extravagance to the room, then they use carpet or large carpet. Wall decoration, floor and ceiling
High -quality modern materials are used for decoration. The walls are aligned, then glued, painted or finished with decorative plaster. The choice of wallpaper is quite large, so they are used most often. A single room is chosen in a small room or with a small pattern. A large room can be pasted over with a large pattern.
Advice! Dense wallpapers with a textured surface will help to hide the small irregularities of the walls.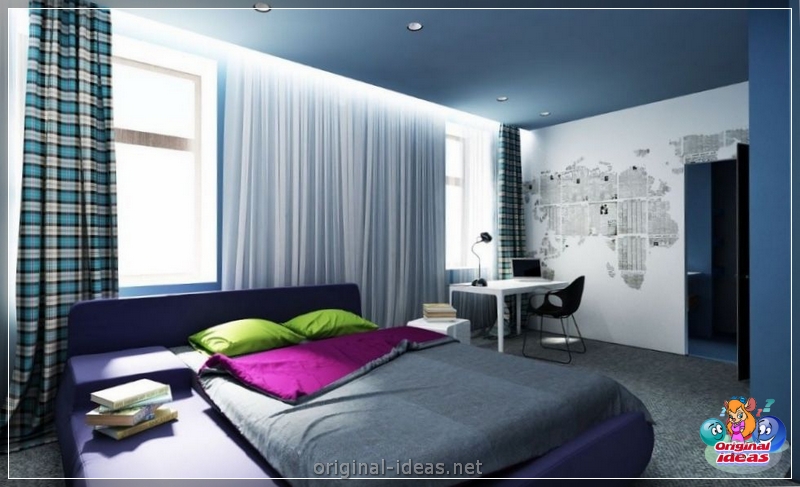 The ceiling is painted with water -based paint. It turns out a beautiful matte surface. To get the desired shade in white paint add a colored kner. For flooring, they prefer carpet in the desired color scheme. How to choose furniture in a blue bedroom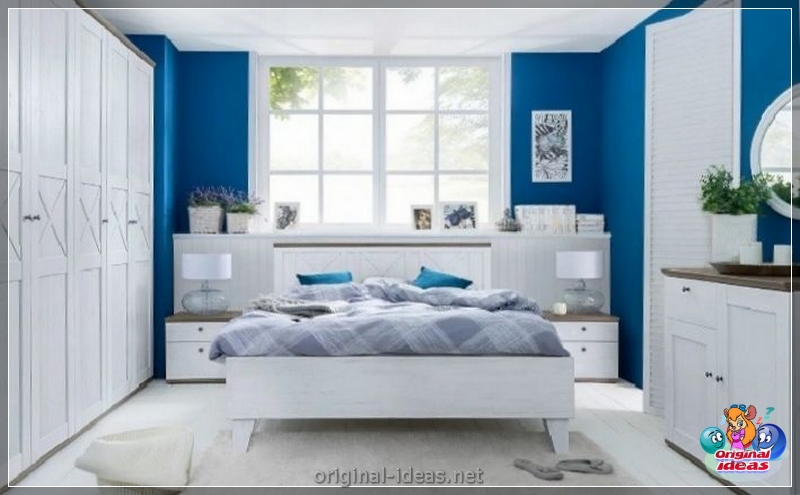 The choice of furniture is an important stage in the arrangement of a rest room. It should be comfortable and approach the general style solution. The blue main background of the bedroom with brown furniture always looks comfortable and noble. The dark situation contrasts well with the light background. White, light gray, beige or light brown furniture is chosen for a room with dark walls. This combination is popular for the bedroom in the Mediterranean style.
For some modern directions, furniture with metal elements, glass surfaces is suitable. The monochrome interior will support the situation selected to the color of the walls. Lighting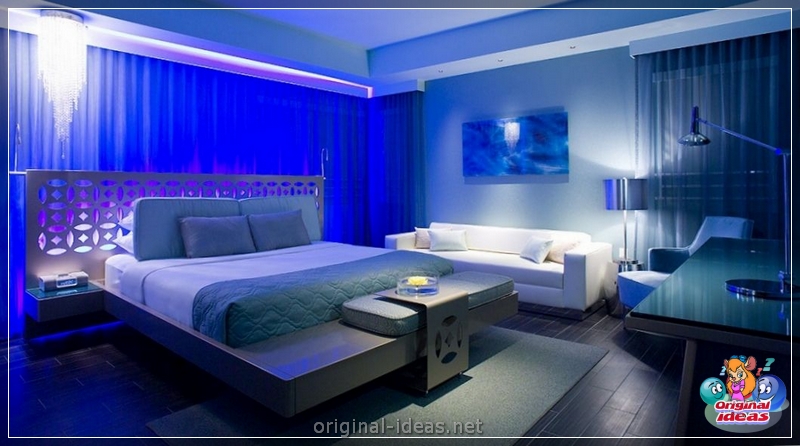 In the modern style of bedroom design, not only ceiling chandeliers are used, but also floor lamps, sconces, table lamps. The chandeliers are placed in the center of the ceiling, and the paired lamps are placed in the head of the bed. For the cold background of the blue bedroom, the lighting of a warm spectrum is chosen. Various types of lighting: The main light is chandeliers or spotlights built into the ceiling; bedside lights are needed for reading and a cozy atmosphere; Decorative muffled backlight, stylized under the starry sky is suitable for creating an intimate environment.
Additional lighting can be made near the toilet table, cabinet, space for work. Lights are selected taking into account the general style of design. They can be in the tone of the base background or contrasting.
Advice! For a room in the style of country or Provence, you can make a lampage with your own hands.
Properly selected light sources create an atmosphere of comfort in the room, contribute to a pleasant vacation. Shades of the sky and the sea soothe and help to relax, ideal for the bedroom. The thoughtful design of the room, the correctly selected finishing materials, furniture, textiles and decor will help create the perfect place for relaxation.