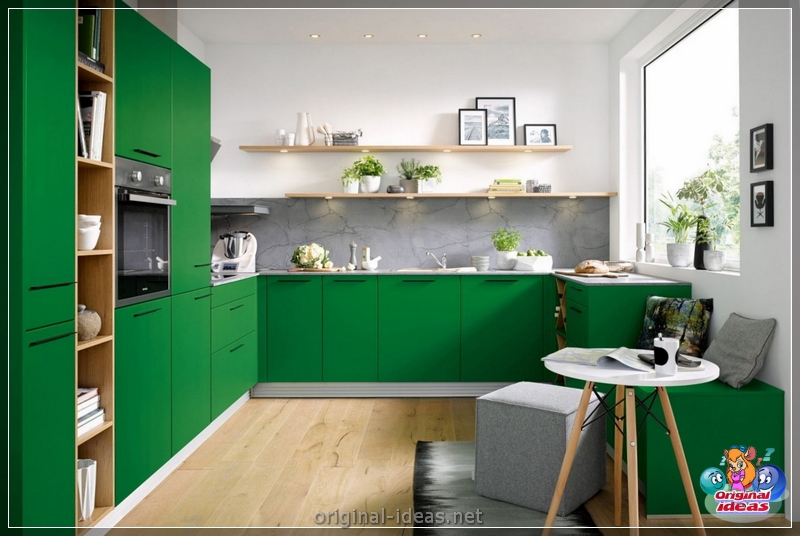 What is the green color in the interior of the kitchen
In the interior, colors can be used, which serve as the personification of freshness, spring awakening and purity. They can be used in various areas of the apartment or private house. Experts give advice on how the green color in the interior of the kitchen can be used.
Kitchen in green color: pros and cons of
It is important to take into account all the advantages and disadvantages of the shade in this case, so that it is more appropriate to fit it into the space of the kitchen room. If you indicate the advantages, then they are as follows: Green almost always and in all its available shades has a positive effect on the emotional background and psyche of a person. Many people like this juicy color, because thanks to it it seems that you are lunch in nature. It seems to symbolize fresh vegetation, and therefore a good appetite and a great mood with it are always guaranteed.
Green is universality in color, because it is able to fit into almost any design. You can successfully use it if your kitchen is small, average in dimensions or large enough. He also finds application in certain stylistics, although, of course, he is most appropriate in the style of eco.
Despite the obvious advantages, the color under consideration may also have disadvantages. What are these disadvantages: Bright shades are characterized by the fact that after a while the owners of the room are annoying; If there is too much green in the interior, a feeling of overload of space can be created.
For this reason, you need to carefully use it to avoid the feeling of redundancy.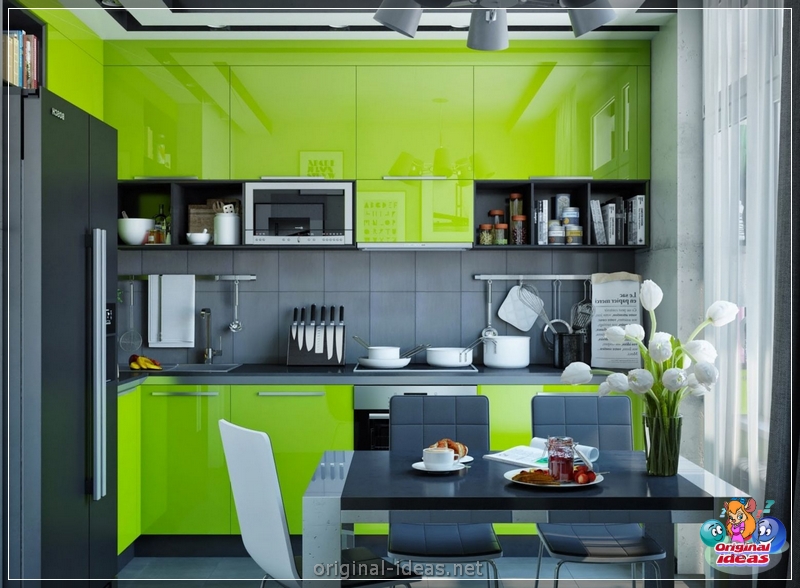 Which style to choose for the design of the kitchen in green
Many are afraid to use this juicy and bright color in the interior of their home. In fact, skillfully using it, you can create a very original and stylish space. The main thing is to correctly treat various shades of green, each of which can be suitable for a particular stylistic direction. Provence
Using the green color in the interior of the kitchen, you can create interesting ideas and color combinations. If we talk about the Provence style, then the color of the olive tree is most in demand. You can create a truly homely and cozy room using this shade. He will seem to move you into the atmosphere of hot summer and Mediterranean olive groves.
On a note! If the kitchen in the Provence style is large enough, it is better to use dark olive color here. It will be ideal in combination with furniture decorated in dark colors.
In the case of a kitchen in the Provence style, you can consider not only restrained shades, but also quite juicy colors. It can be emerald, light green and lime. On the other hand, it is advisable to use them on any one wall, while all the others are designed in more muffled shades. Dark tones of green are not recommended for small kitchens in the style of Provence. Country
Green color, like no other, fits perfectly into the style under consideration. It involves various options for this basic tone that correspond to the rural style. You can, say, paint a wooden set in pale green. You can also take more saturated tones. On the shelves it is allowed to put ceramic products, beautiful dishes, then as it is better to close household appliances behind facades. In the photo green color in the interior of the kitchen in the style of country looks especially spectacular.
Do not forget to decorate the kitchen with characteristic attributes of a rustic style, for example, with short curtains made of natural fabrics. Moreover, they do not have to be plain-green. Checkered drawings can also be applied. Well spread on the table the tablecloth of the same color. It is important that the atmosphere is comfortable and creates a feeling of a real house, as in childhood. For this reason, the number of artificial materials here should be minimal. If this rule does not work, you can at least look for materials that mimic natural textures, for example, laminate for wood.
Classic
To many people who equip a cuisine in their classic style in their house, I would like to give them a kind of highlight that would make it more interesting. In this regard, color can play crucial. Natural wood tones have already fed up with many, therefore it is worth experimenting in search of something unusual.
Green color can cope with this task, which refreshes and at the same time calms, sets up to observe the beauty of nature and at the same time eliminates any kind of negative emotions. Once on such a kitchen, you feel as if walking in your own garden early in the morning. Green color in the interior of the kitchen-living room can be especially successfully used in the case of a classic style.
If this is a green tone with shades of yellow, such an interior looks especially cheerful. In accordance with the classic design, green, or any of it, a certain object can be highlighted in the interior of the kitchen-living room. For example, you can paint a buffet in a salad. Kitchen boxes can be made in lime color. A similar shade is applicable to ceiling beams, stools, shelves. A geometric mosaic on the floor covering and a floral pattern on the tile can provide a feeling of village idyll in the house. Modern
This is a special style, which involves the mandatory use of expensive materials characterized by high quality. It is permissible to use only glossy or metal surfaces. You can also use mirror textures based on stone, natural or artificial. It is best not to make green in such an interior the main one, but to use it to allocate accents. An example can be a kitchen apron of a green shade, which is made of ceramic finishing materials or lined as a mosaic of greenish glass.
On a note! For the style of modern in green, you can equip decorative elements on the walls or hang a glass chandelier on the ceiling. It is also worth considering accents in the form of green blinds on the windows.
It will look very beautiful in the style of modern flooring dark green color. If there is no way to equip it, you can apply ordinary tiles as an alternative. The main thing is that it is combined in color. Modern style
In this case, a style is meant, which is a kind of golden mean and is suitable for absolutely everyone. To create a kitchen in this direction, it is enough to place a modern room in the room. It can be made of plastic and have green facades. It is allowed to use various decorative elements in green. It can also be upholstery for chairs and other objects of furniture and decor.
Household appliances can also be a light green shade, but the purchase of "metallic" is also allowed to buy and white or made in color. What color is the green color in the interior of the kitchen
If you have green furniture in the kitchen, then apply a universal white background, which will be a win -win solution in your case. It can be absolutely any shade, from bright light green to a darker and saturated forest. It's good if you use paint for walls of grass to cover these surfaces. Kitchen facades can be made in a similar shade. What other color combines green in the interior of the kitchen?
If you think about what an apron should be, then for durability and practicality it makes sense to perform it from white ceramic tiles, decorated with a geometric or original plant pattern. The ceiling can be decorated in exactly the same color, especially if there are many gray unsightly surfaces in the room.
Another interesting option is a combination of green with black. Pay attention to glossy textures that will be appropriate to complement one another in the case of covering the lower cabinets or dining table. The upper region of such a headset can be made in lime or olive.
Even if there is a lot of black color in the interior of the room, it is better to decorate the dining table and chairs in exactly the same shade. He looks noble. To make the kitchen lighter, the walls should be painted in white or light gray tones. At the same time, the floor must be finished with beige tone material.
When you have to deal with bright interior items, a gray shade can be applied as a restrained addition to them. A good solution would be to use an apron in gray with a countertop of a similar tone. Household appliances can have the surface of the color of steel. If the kitchen is small and is not well lit by sunlight, it is better to glue light wallpapers on its walls, you can do a dim, gray tone if the headset has a light green or light green hue.
Another interesting neutral tone is beige. Green color in the interior of the kitchen in combination with beige is universal. You can combine it with any shade of green. It is best to use beige as a background design on the flooring or wall. The headset itself can be made of wood and subsequently painted in the color of spruce needles.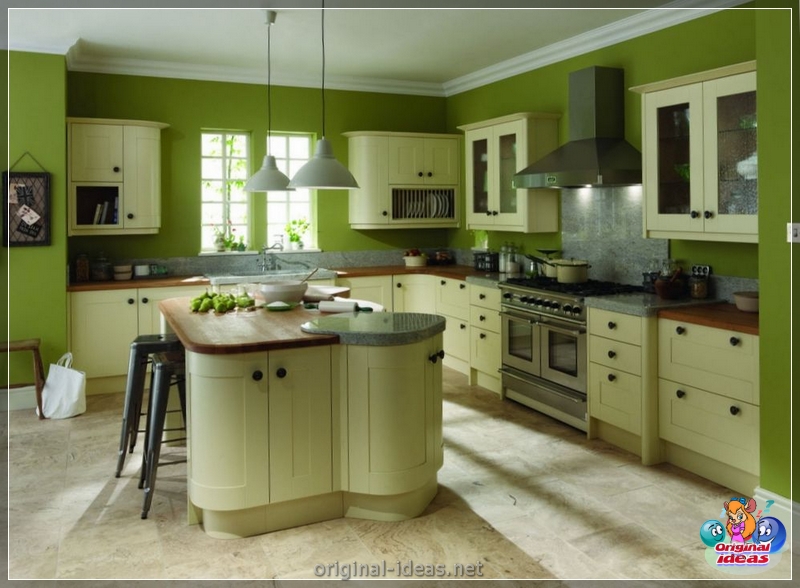 Brown creates with green excellent natural combination. It is a very noble shade that can be supplemented by reed green. The floor at the same time is desirable to make completely white. Useful tips for decorating a kitchen in green color
If you are looking for universal solutions, it is better to install a standard ceiling plinth. It is also worth mounting spotlights on the ceiling to make the kitchen even lighter.
It is permissible to create several levels using additional materials, such as drywall. Due to this, the working area is separated from the place where the home is taken food. For the same zones, you can equip special backlight.
Advice! If you have a small kitchen made in green color, you can install glossy stretch ceilings in such a room. They will add more light and airiness to the existing space.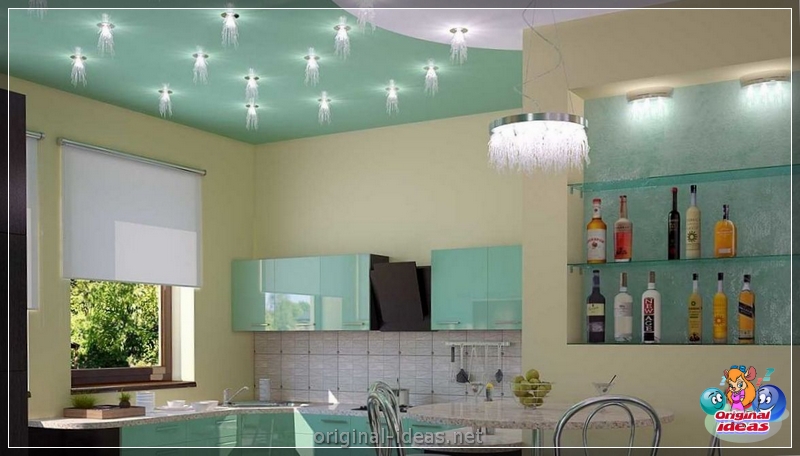 On the walls you can stick wallpaper, but also acceptable and staining. It can be made in 1 tone, or provided with a special texture. Options with decorative plaster look good. In rich houses often use tiles of expensive varieties. Of the other options, you can indicate the finish for brick and the installation of wood coatings.
The floor covering in the presence of appropriate financial capabilities is best done on the basis of a bulk floor. Natural wood also looks beautiful. But you can replace them with high -quality linoleum, moisture -resistant laminate and use them as an alternative.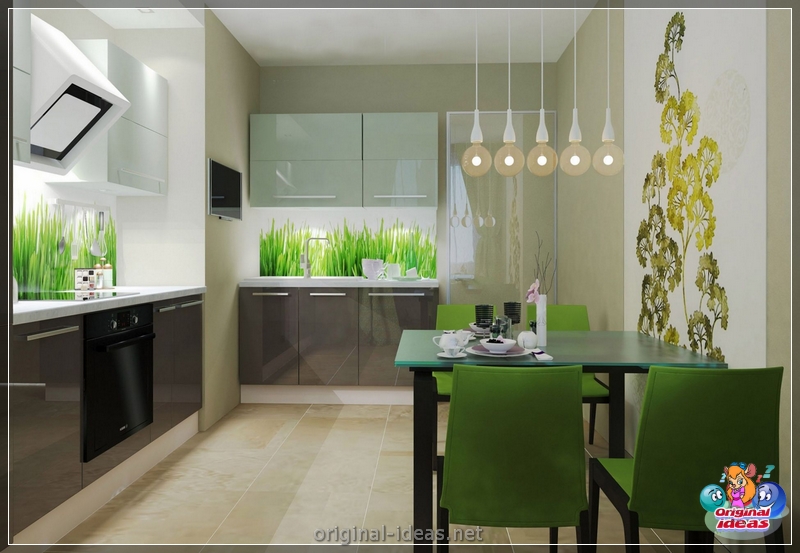 The design of the curtains is also important. It is better to give preference to natural materials that are in harmony with a general environment in the kitchen room. You can use curtains in light range, for example-beige-green. Installation of horizontal and vertical blinds is possible.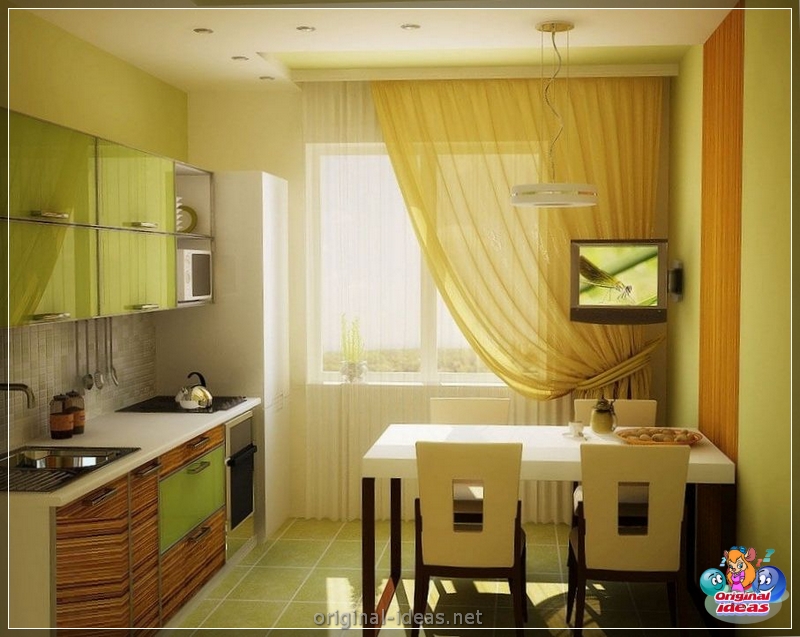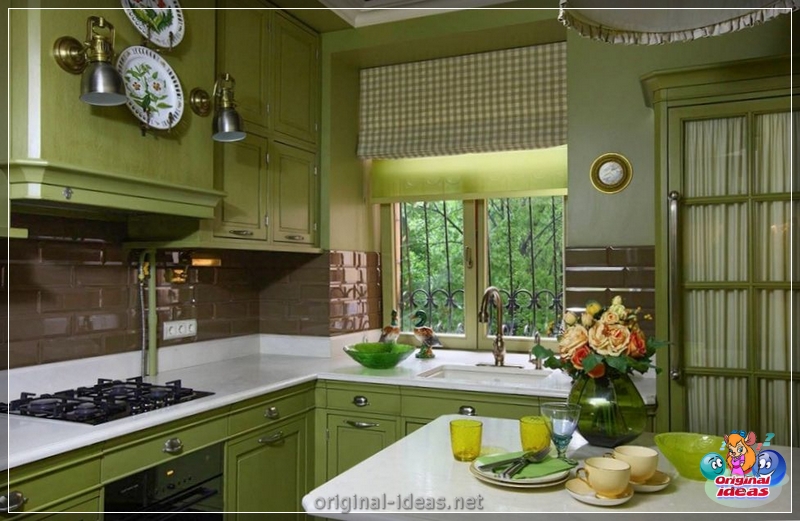 Green is one of the most successful solutions for the kitchen. It is universal because it is combined with most other shades. This tone provides a feeling of cheerful and fresh interior in any house.