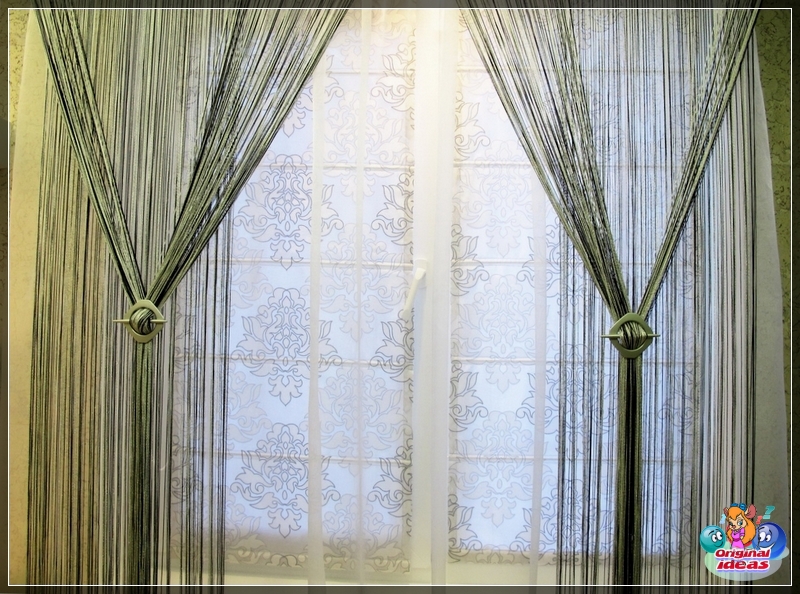 If you want to know how to hang curtains beautifully, you need to first study the future interior of your room. The fact is that each type of curtain has its own subtleties in fastening, you also need to take into account their appearance and combine it with one or another design option for window and door openings.
It is especially important to hang up filament curtains correctly, since they have an original appearance and are not suitable for all styles of room design.
What are filament curtains?
In order to know how to hang filament curtains beautifully, you need to understand what they are. The fact is that this type of curtain came from the East, where it was used to create shade and divide work areas in living quarters. In Russia, this material is called muslin and is made from different types of threads by weaving. The result is a light translucent material that can partially transmit sunlight and not interfere with the movement of air.
On a note! Currently, muslin is common in Europe, especially in decor options that imply the creation «eastern» style.
Moreover, the material of such curtains is now completely different, which makes it possible to implement almost all design ideas. At the same time, the threads made from the same synthetics or cotton fabric have different lengths and thicknesses, which allows products knitted from them to have a different appearance and texture.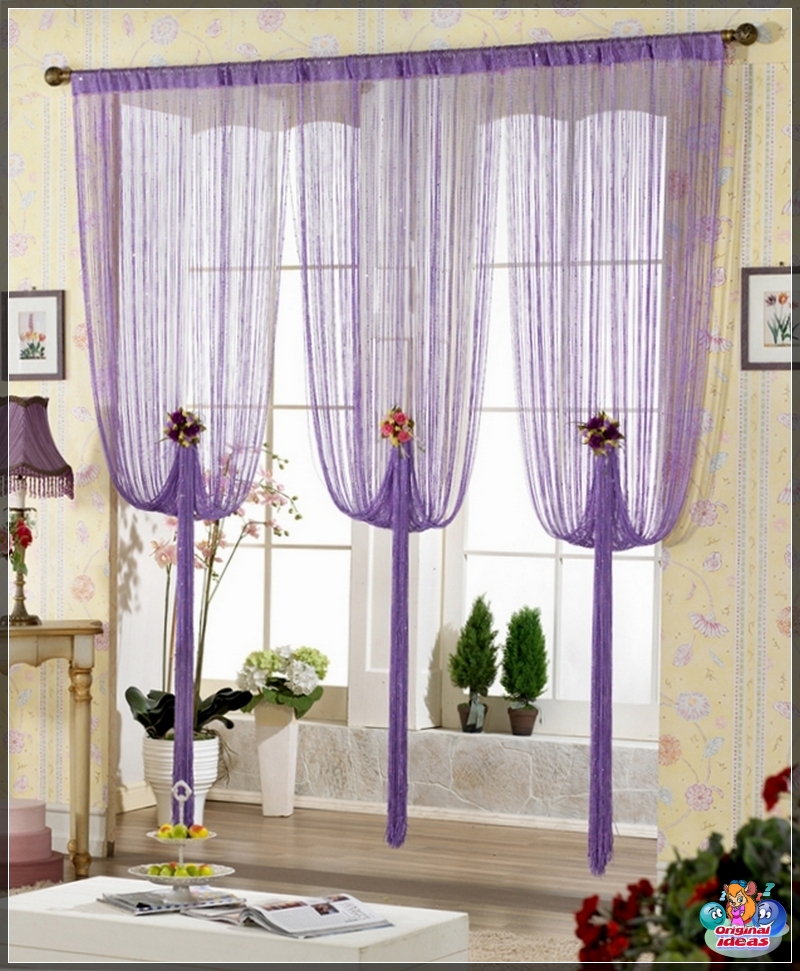 As for the varieties of muslin, it is divided into:
Products with hard elements such as decorative inserts or decorative elements.
Curtains made entirely of yarns. Their advantage is the ability to weave into braids and go well with almost any curtains and curtains.
Fabric and decorative strings.
If we consider the material from which modern muslin is made, then these are:
It should be noted that artificial and natural materials have their own unique characteristics, which must be taken into account if you want to understand how to hang curtains beautifully. For example, muslin made of synthetics or polymers is not afraid of moisture and therefore does not rot. Due to this circumstance, it can be used to decorate such premises as a kitchen or a bathroom.
Separately, it is worth talking about the decor of such curtains. The fact is that thread curtains can have:
various contrasting color combinations;
decorative items such as bugles, feathers, beads, as well as beads.
On a note! It is worth noting that all types of filament curtains look great only when they are used in bulk, in the same case, when you hang such a curtain alone in the room, it will be knocked out of the entire decorative row.
In addition, you need to be very careful to ensure that the muslin is good «fit in» into the architecture of a particular room.
The fact is that it is necessary to cut it, observing certain conditions. If this is not done, the whole product will curl and be damaged.
Advantages and disadvantages of using muslin
To understand how to hang muslin curtains beautifully, you need to know its strengths and weaknesses.
For example, the undoubted advantages of such curtains include:
The presence of a wide variety of options for attaching such a curtain to the cornice. At the same time, the most common is fastening using a mounting tape or a circular curtain rod passed through a double top tape.
Light weight of curtains-muslin.
Availability of the possibility of easy adjustment of the length of the curtains. The standard length is 2.2-3 meters.
Low price of the whole product.
Easy to operate and maintain. For example, if you want to wash such curtains, you just need to braid them and wash them in a washing machine on a manual mode, placing them in a special bag. After that, the thing is dried in a straightened form. In addition, such a curtain can also be washed by hand, having previously braided it into a braid.
As for the disadvantages of the described curtains, these are:
The impossibility of using one curtain to obtain a good decorative effect.
The tendency of yarns to tangle when not properly washed or stored.
Difficulty untying knots on thin threads.
Propensity to build up static charge, which allows dust to be attracted perfectly. This circumstance is especially important in the case when you are deciding how to hang the curtains beautifully, for example, in the hallway or living room.
If we take the situation as a whole, then the disadvantages listed above are not able to outweigh the existing advantages, since all the disadvantages are eliminated by the correct selection of one or another version of the curtain for the interior, as well as their correct operation. For example, if the threads of such curtains are prone to tangling, you can secure them with special clothespins that will prevent this.
In addition, there are a huge number of accessories that allow you to modify filament curtains to such an extent that they will look great even in a classic interior. For example, these accessories include: hairpins, decorative knots, pendants, brushes, thread flowers. You can also weave one braid from different threads, which will allow you not only to make the curtain original, but also to significantly improve its strength characteristics.
How to properly hang a cotton curtain?
In order to solve the question of how to hang filament curtains beautifully, you should look for a photo of fixing such curtains, which can be easily found on the corresponding Internet sites. This is necessary in order to pre-adjust it to the length of the window or doorway. In the same case, when the product of the required length cannot be found, you will have to cut your muslin.
For example, standard cotton curtains are three meters long. In this case, in order to correct the height of the curtain, it is necessary to attach it to the cornice, untangle all the tangled threads and let the muslin hang loose for about two days. During this time, the threads can become even and take the position you need.
After leveling, the curtain can be trimmed with regular scissors. At the same time, remember that after this, the threads will need to be fastened at the ends with special hairpins or tied with a decorative knot. In the same way, you can trim the muslin for the window, having measured in advance its required length according to the dimensions of the window opening.
After completing the preparatory procedures, you can proceed directly to hanging the curtain itself. At the same time, there are some features in the fastening of muslin that you need to know. One of the most common ways to answer the question of how to hang curtains beautifully is to use a regular cornice pipe in the form of a muslin suspension.
For this purpose, it is necessary to use a special patch pocket with a horizontally located drawstring designed for putting on the barbell. Remember that the curtain in this case will be able to move quite easily along the pipe, which will allow you to change its position if necessary. For example, you can hang your curtains slightly stretched. As a result, they will let in more light into the room. If the curtain is hung more tightly, it can almost completely block the access of sunlight into the room.
Important! It will be great if you sew a special tape on the curtain to adjust its width.
In this case, it will be easy enough to set the size you need. Metal hooks can be sewn onto the tape to facilitate hanging and removing muslin from the cornice.
A thick tape usually keeps the shape of the folds on the curtain well, but from the side it will be possible to hang on the Velcro tape. This option is best suited for curtain rods with Velcro tape. In this case, you will need to sew adhesive tape to the upper border.
How to make sure the curtain doesn't get tangled?
Sometimes, in the process of hanging curtains, there is a problem with the fact that the threads in them begin to get tangled. For example, at the top of the curtain there is a border, to which the cornice is attached. In no case, do not untie it or the ropes that tie the curtain together, as in this case the muslin can get tangled. It is necessary to remove such ropes only when the curtain is firmly placed on the cornice.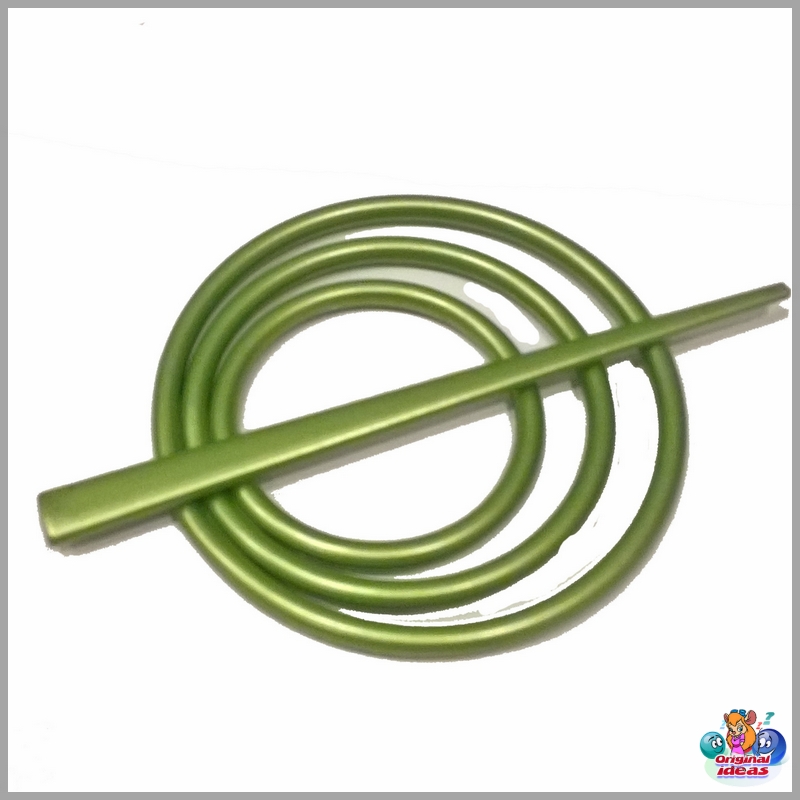 In this case, your curtain will not get tangled, and you can safely hang it in the place you need. This rule also applies to new filament curtains. Here, too, it is worth untie the protective bandages when you hang this product on a door or window opening.
In the same case, when your muslin does get confused, you can unravel it, for this you need perseverance, as well as a decent amount of time. In any case, you should not hang a tangled curtain on the window, as it will get tangled even more, and the knots on it will tighten up. Take the trouble to spread your muslin better on the floor or bed and unravel the threads successively, using a knitting needle.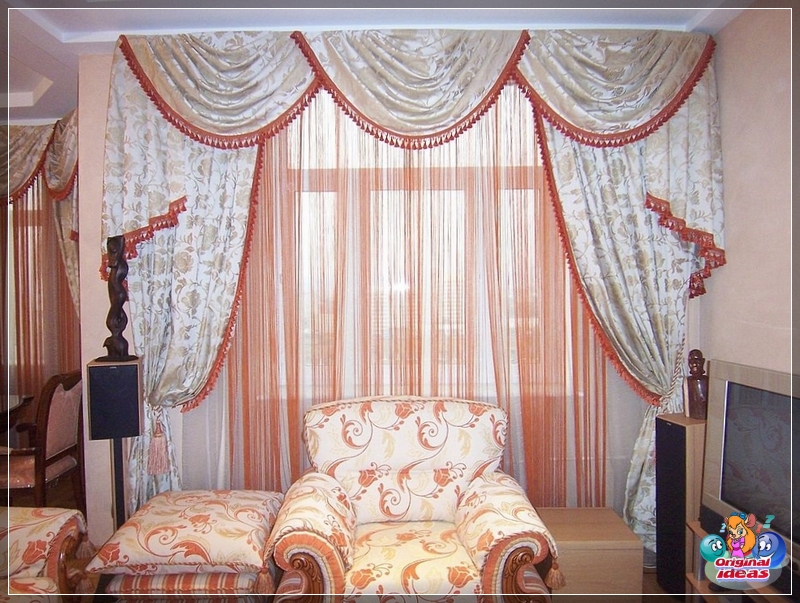 In addition, before washing the described product, it is also worth taking a number of precautions, for example, tying such a curtain in several places. As a result, it will not get tangled, and you calmly wash your muslin in the same washing machine, using the delicate mode. Similar precautions should be taken when washing any other delicate curtains.