Recently, more and more people have appeared who use white laminate in the interior as a floor covering. However, according to professionals, you should be very careful with this color. 
White glossy laminate in the interior
For
interior decoration is always important to choose the right floor covering. One of the most versatile, comfortable and durable options is laminate flooring. Its shades can be absolutely any. Light or dark wood is most popular, but more interesting colors, for example, white, are well suited for some interior styles.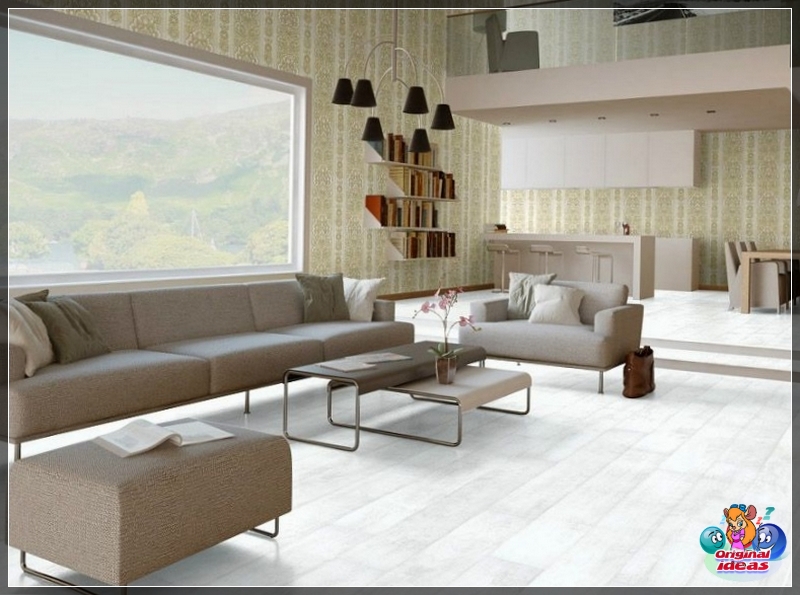 Using white laminate flooring in room design
Influence of floor color on the appearance of a room
It is necessary to think about the flooring even at the initial stages of the renovation of the premises. A lot depends on the correct choice of color, as this can affect the mood and well-being of the person in the room.
White laminate to increase space
For example, the gray shades of the laminate work well in classic-style rooms. Such a floor will perfectly set off dark and bulky furniture. Dark floors are chosen when they want to give the room more chic, and the golden shades of natural wood make it possible to feel more comfortable.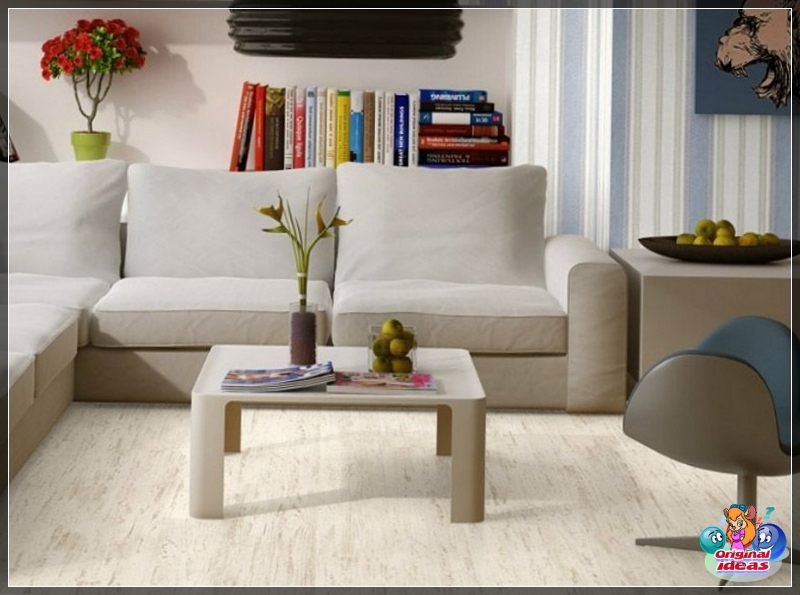 Cozy room interior with white laminate
As for the white laminate in the interior, the photo of which can be seen, experts recommend using them with great care. An overabundance of white in the interior can create the feeling of an excessive amount of space, as a result, a person is simply lost in such a room. It becomes uncomfortable, and you cannot feel protected in it.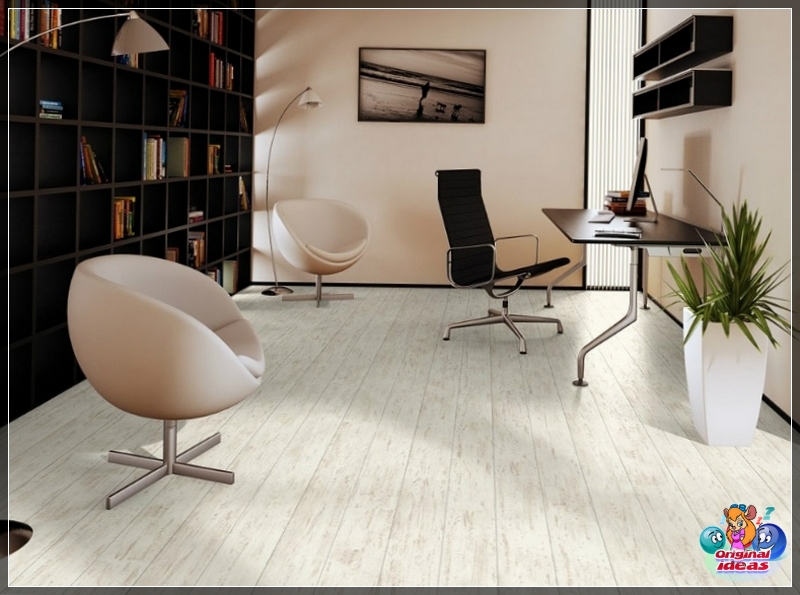 Living room interior completely in white
To avoid discomfort, it is worth using darker wallpapers and contrasting pieces of furniture along with white floors. For example, you can choose a white pear laminate as a floor covering in the interior, and make the walls in gray tones. Everything can be supplemented with high-tech furniture, that is, objects with a lot of glass and metal.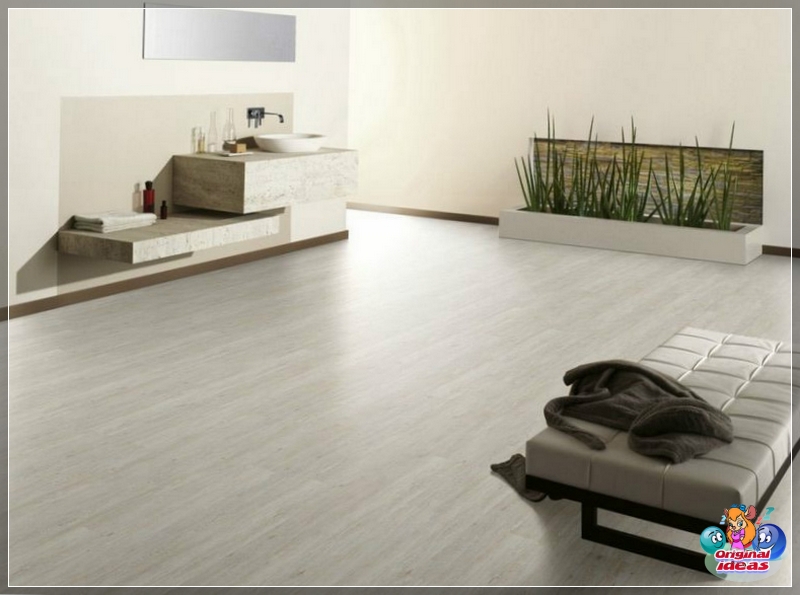 White laminate for a lightweight feel
With the right approach to the design of the room, you can achieve the effect of airiness. Often, white oak laminate is used in the interior of ethnicity and minimalism. It will be the perfect solution for creating futuristic glamor and "shabby chic". It's hard to imagine without a light floor and
french country style.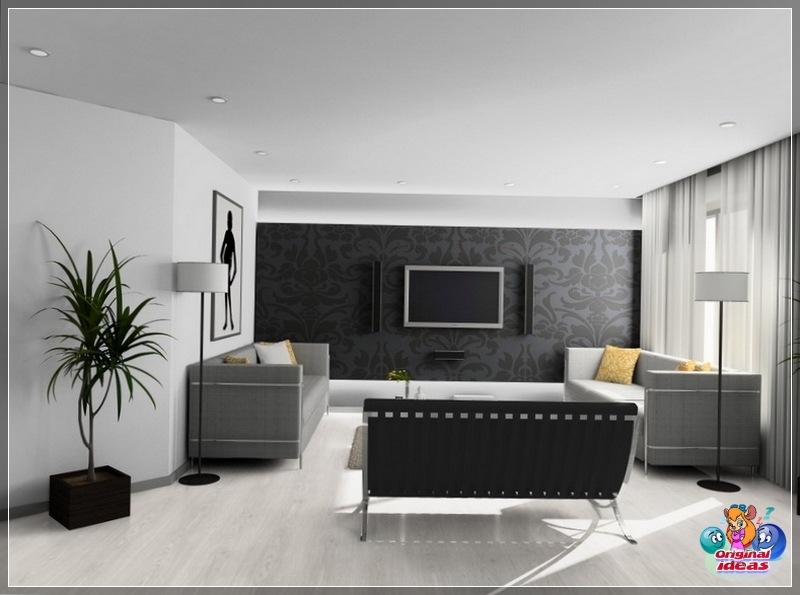 White oak laminate in the interior of the living room
In any case, when working with white floors, you need to know when to stop. Under no circumstances is it recommended to use a laminate of this color to decorate the entire apartment.
White laminate flooring in a country style living room
In this case, a person will not be able to relax in his home, since the obsessive sterility of the environment will interfere with him.
But for a children's room, white laminate is very good. Bright pieces of furniture and colorful toys will look great on such a floor. As a result, the room will glow positive. And in the bedroom of adults, white laminate will create a romantic atmosphere.
White laminate in the children's room
As for the kitchen, here a sense of sterility is welcome. However, white should be used in moderation. For example, you can use white ash laminate in the interior, but choose finishing materials for the walls at least 3 tones darker for it. This applies not only to wallpaper, but also to paint for doors.
White laminate in the interior of the kitchen
Advantages of white laminate
Such a floor covering should be used in those rooms where there is a lack of natural light. In this case, the room will become lighter and more spacious.
According to reviews, white laminate flooring in the interior, the photo of which, in addition to its external qualities, is famous for its high level of wear resistance and ease of installation. If you choose a really high-quality laminate, it will last a very long time without the need to replace. At the same time, unlike many other flooring options, this type perfectly tolerates mechanical damage, for example, the claws of dogs and cats. Plus, a good laminate will not crack if a heavy object is dropped on top of it.
High-quality white laminate in the interior of the living room
This applies to laminated panels of any color. Moreover, the white laminate in the interior, the photo of which has already been presented, also has such a positive quality as resistance to fading and normal perception of ultraviolet radiation. As a result, the floors will retain their original appearance for many years.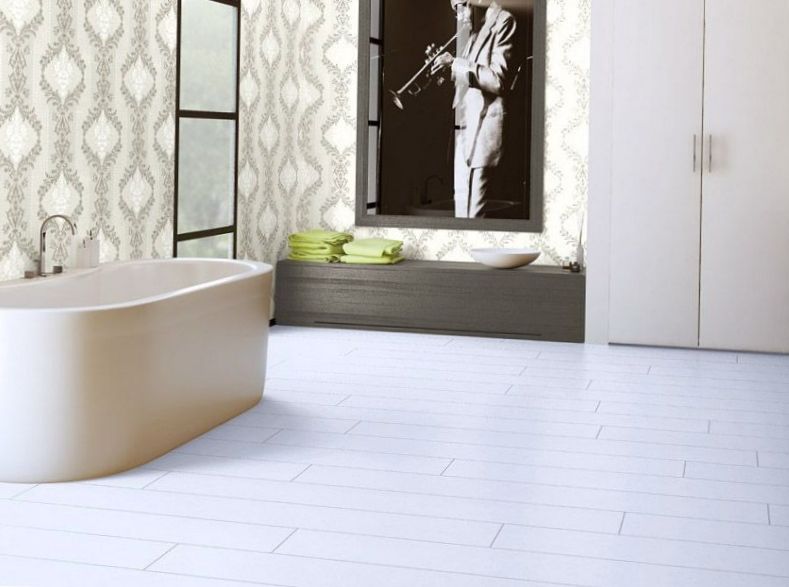 White laminate in the bathroom interior
The moisture resistance of the laminate is much higher than that of many popular types of flooring. Panels are easy to clean and are not afraid of various cleaning agents. For this reason, laminate flooring is very popular for use on
kitchen and hallway.
White laminate in the bedroom interior combined with black curtains
Types of white laminate
Laminated panels are often made to imitate various wood species. This also applies to white laminate, which, when laid, looks as if wooden boards were laid on the floor and covered with a thin layer of white paint.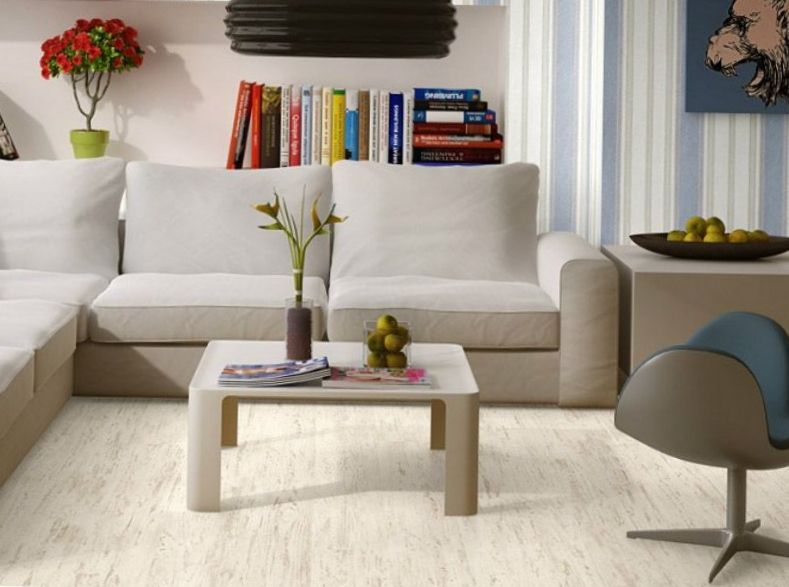 White pine laminate combined with vertical striped wallpaper
Light laminate can be of different shades. It can be both natural and more original unusual colors. Professional designers consider a classic white oak laminate in the interior, a photo of which can be seen, or pine. White pear and ash are very popular in various interior styles.
White laminate in the interior of the study
Laminated panels in white can be monochromatic or decorated with patterns. The latter option looks especially good in children's rooms, as well as in many other rooms that require creating the most comfortable atmosphere.
Cozy atmosphere in the bedroom thanks to white laminate
Separately, it should be said about the combination of white and black laminate. These colors in the interior can be considered classics that will never lose their relevance. A floor covering that combines several contrasting colors at once is perfect for making a room modern and chic.
The combination of white and black in a classic interior
Should I use a glossy laminate??
The surface of laminated surfaces may differ not only in color, but also in texture, which is matte or glossy. Each of these types of flooring has its own characteristics.
Unusual glossy white laminate
Recently, glossy white laminate in the interior, characterized by a rather unusual appearance, has become more and more popular. This is made possible by the reflection of light from the surface. Some time ago, glossy laminate was used only by the most daring interior designers. Now this option is gaining more and more popularity, which he won for well-grounded reasons.
Glossy white laminate in the interior of the apartment is now very popular
At first glance, a white laminate, and even with a glossy surface, can give the impression of a very easily soiled floor covering. Nevertheless, this disadvantage is covered by a lot of advantages. Such a surface is perfectly flat and smooth, but at the same time absolutely non-slippery. Glossy reflections give any room more personality and brightness. Despite the fact that such a laminate is easily dirty, caring for it is as simple as possible, since all stains are erased in no time. He is not afraid even of ashes and hot liquids.
Glossy reflections add a touch of personality to any room
Glossy white laminate in the interior of the apartment is not afraid of ultraviolet rays, has high wear resistance and does not wear off over time. As an additional plus, the environmental friendliness of the material can be noted. Often, a silver ion coating is applied over a glossy surface, which makes such a floor very beneficial to health.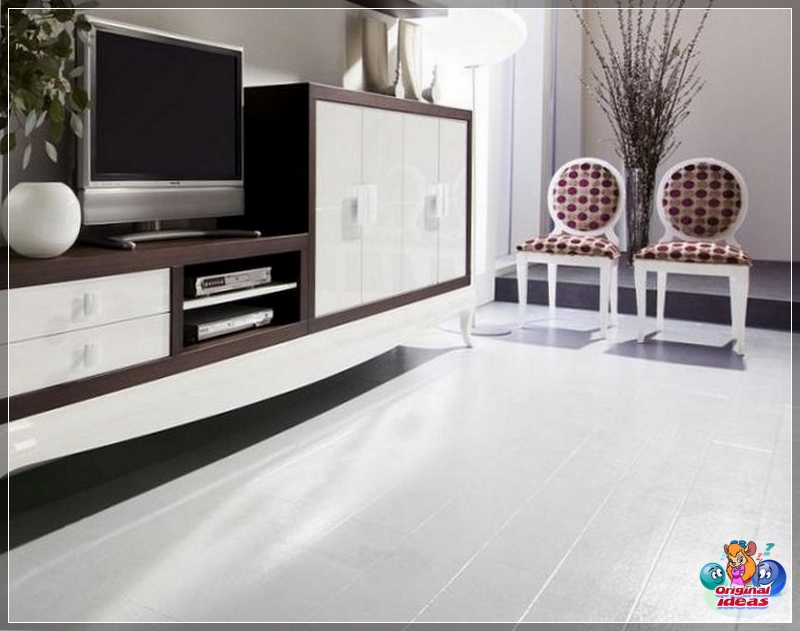 Glossy white laminate is highly durable
Cons of a glossy finish
The advantages of white glossy laminate are many. However, it cannot be argued that such an option is absolutely devoid of disadvantages. The main disadvantage of a white surface is its impracticality, since any stain immediately becomes very noticeable.
Glossy white laminate will not wear off over time
If the designer decides to opt for a white laminated surface with a glossy effect, it is necessary to choose the highest quality materials. On such a floor, even the slightest inaccuracies of installation will be immediately visible. Moreover, any wrong seam will immediately collect dirt.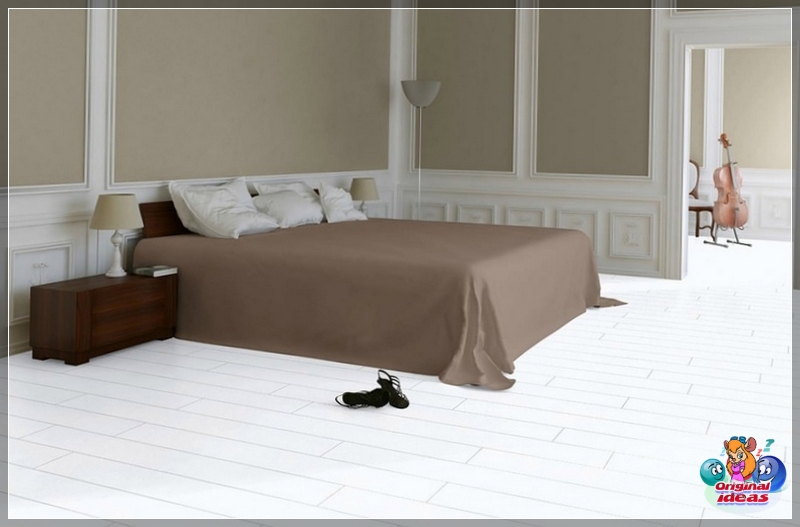 Contrasts are important when choosing a white laminate
When choosing a glossy white laminate, you need to pay attention to the shades. Different lighting conditions give the floor a new look. That is, the store will have one shade, and after laying in the room, the effect will be different.
White glossy laminate is very easily soiled
White laminate care rules
When caring for any laminated surface, and even more so for a light one, it must be borne in mind that washing with an ordinary wet rag will leave streaks. It looks especially ugly on a white laminate. Experts recommend solving this problem with a special microfiber cloth, which perfectly cleans the surface and does not leave unpleasant marks.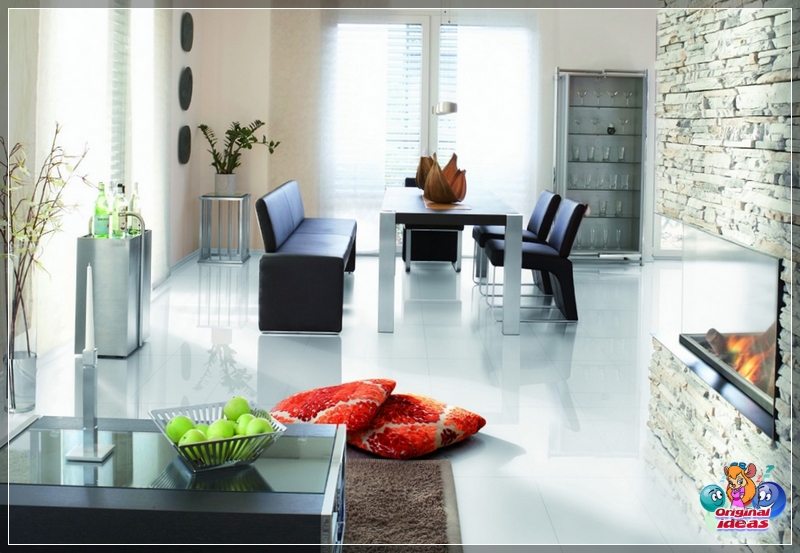 Use mild detergents for white laminate
It is advisable to use mild detergents for laminate flooring. If a vacuum cleaner will be used during cleaning, you need to put on a special nozzle used for cleaning carpets.
It is better to cover the furniture legs with felt stickers. This will help to avoid scratching the surface of the laminate with the subsequent accumulation of dirt in them.
White laminate has a long service life
White laminate is a great way to add style and luxury to your space. Such a coating combines chic and lightness. And let the cost of such a floor be somewhat more expensive, all this will pay off over time, since the laminate has a long service life.