A Greek-style kitchen differs from other interiors in that there are no unnecessary details that clutter up the space. It is designed in white and blue tones, and should face the south side in order to be flooded with sunlight throughout the day.
A lot of pottery is used in Greek cuisine. It is used in the decoration of floors and walls. A variety of ceramic dishes are traditionally used in Greek kitchens and are an important part of the decor. Greek women keep their kitchens tidy and embrace minimalism.
In this southern country, it is customary to spend time on the terraces, which are available in every house and apartment. There the Greeks eat, receive guests, rest. The main load on the kitchen space falls during the cold season, when family breakfasts and dinners are transferred from the open terrace to a closed room.
How to prepare a room
White and blue dominate the interior. The Greek style kitchen is set in a room with high walls, poorly finished ceilings and huge south-facing windows. Plaster is often used to decorate walls and ceilings.
It can be smooth or rough to the touch, with a complex pattern.
In the Greek style, even plaster walls are combined with rough ceilings decorated with wooden beams from which lamps hang.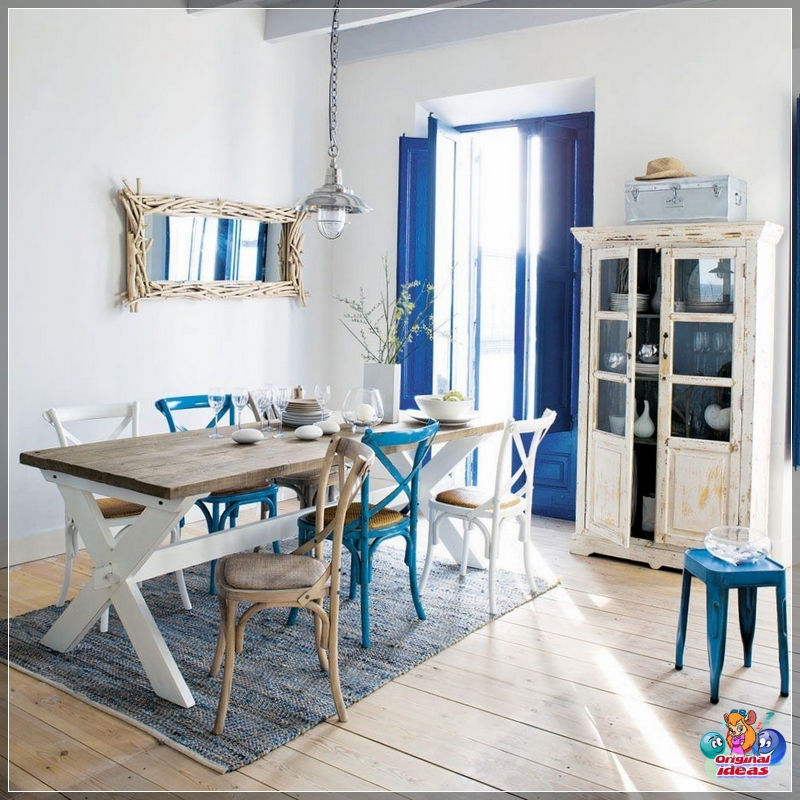 Roughly finished walls can be paired with wood-beamed ceilings that are laid between beautifully painted shimmering white ceiling tiles.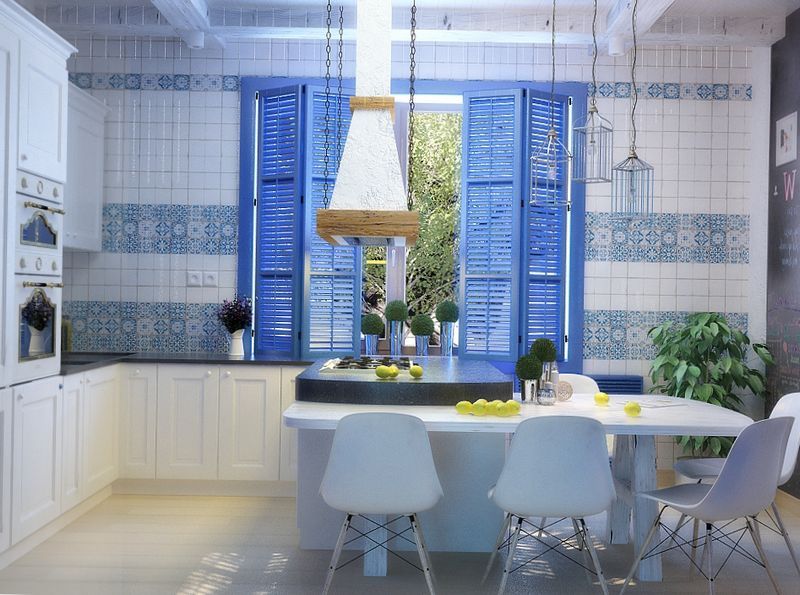 On a note! Faded shades of blue are used to paint the walls.
If the windows face the north or east side, then you can replace the cold shades with warmer colors. It is recommended to choose a milky, cream, olive, gold or brown background.
Ceilings and walls can be decorated with paintings in the Greek style. It can be an ornament of geometric lines or shapes. To do this, you need to purchase special stencils, and, after reading the instructions, apply the drawing to the surface with brushes and paints.
The wall related to the work area is finished with different types of tiles or mosaics. The apron can be laid out in a narrow strip if there are wall cabinets hanging on the wall. An open wall adjacent to the work area can be laid out to the ceiling with white and blue tiles.
The wall where the dining area is located can be decorated with imitation brickwork, which shines through under a layer of lime. The dining area will look great with unpainted light wood floors, varnished and waxed for easier maintenance. They are covered with a homespun rug that looks great against white floorboards in Greek interior design.
If the kitchen is large, small niches are made in its walls with the help of drywall and open shelves, in which a refrigerator, a washing machine and other large items of kitchen life are located. This allows you to create a free and harmonious kitchen space.
For floors, choose porcelain stoneware floor tiles, which have blue and white colors. It is laid out, creating various combinations to separate the work and dining areas.
What environment to choose
A Greek-style kitchen should be furnished with low, simple and practical furniture. It can be handmade furniture made by yourself from boards and plywood. The furniture has primitive shapes, is made of natural wood, can be ordered at the carpentry workshop, where they make wooden frames for the kitchen sofa and chairs, benches, tables.
On a note! If preference is given to wooden cabinet furniture, then an artificially aged and shabby set made of light wood is chosen.
The surface of the facade boards can be varnished or painted with acrylic paints in the colors of the sea and sky. To do this, select white, blue or turquoise shades.
In Greek cuisine, furniture made of wicker, bamboo, rattan or cane can be used. It goes well with antique sideboards in which glass doors hide a large number of small shelves.
The dining area should match in shape and color with the rest of the room. Rough large table, surrounded by benches or wooden chairs, set in the dining area, fully in line with the Greek style.
If the kitchen is large, then a low table is set up for tea drinking, surrounded by floor pillows. Such a corner will help create a calm atmosphere at home, where there is a place for each guest.
Several open shelves are installed in the kitchen, on which baskets are installed, used to store small kitchen items.
The worktop tabletop is made of a marble slab, which is decorated with drawings traditionally used by the Greeks in everyday life.
Kitchen furniture is painted and decorated with a simple geometric pattern that repeats the one applied to the walls.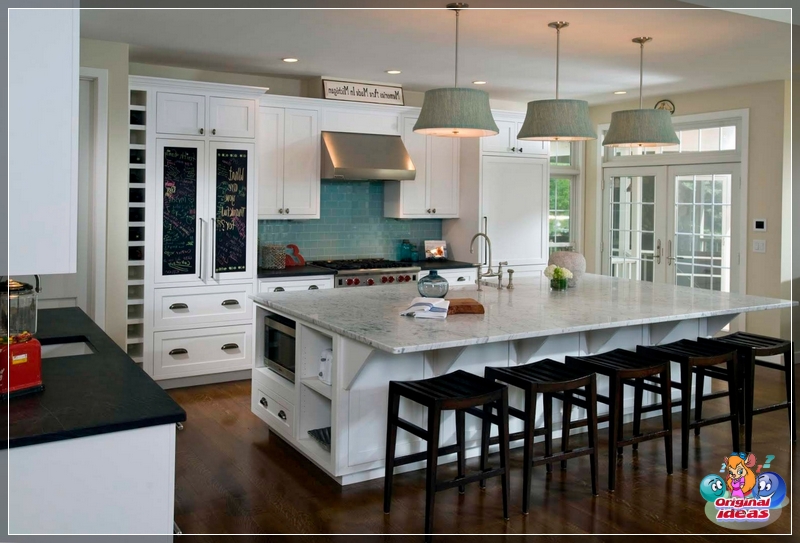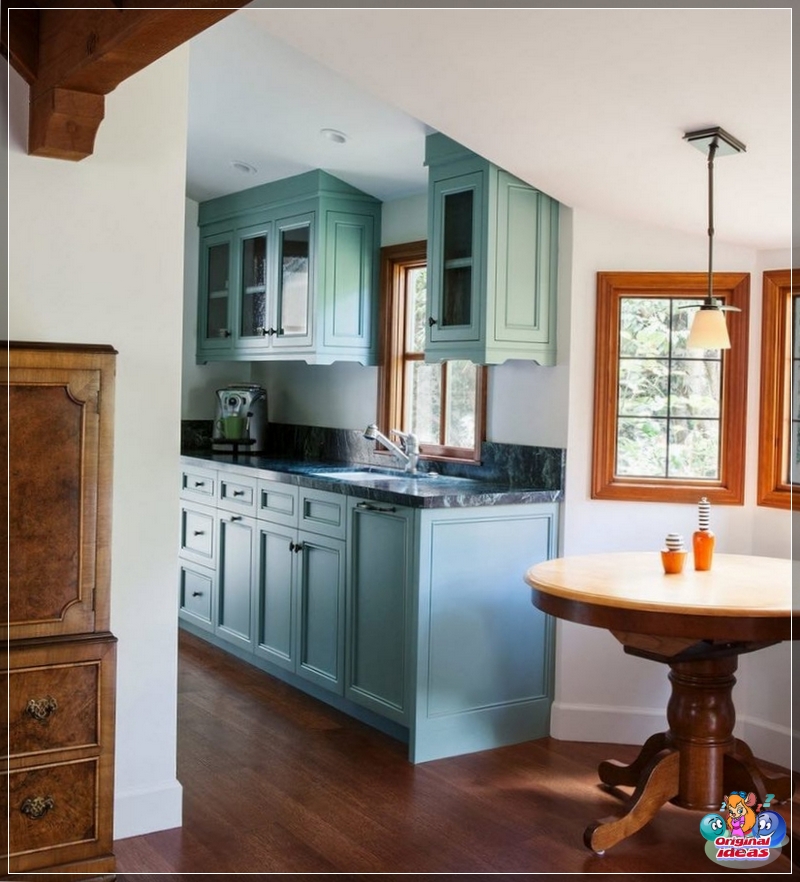 Bright kitchen details
In order for the room to take on a finished look, it is decorated with details.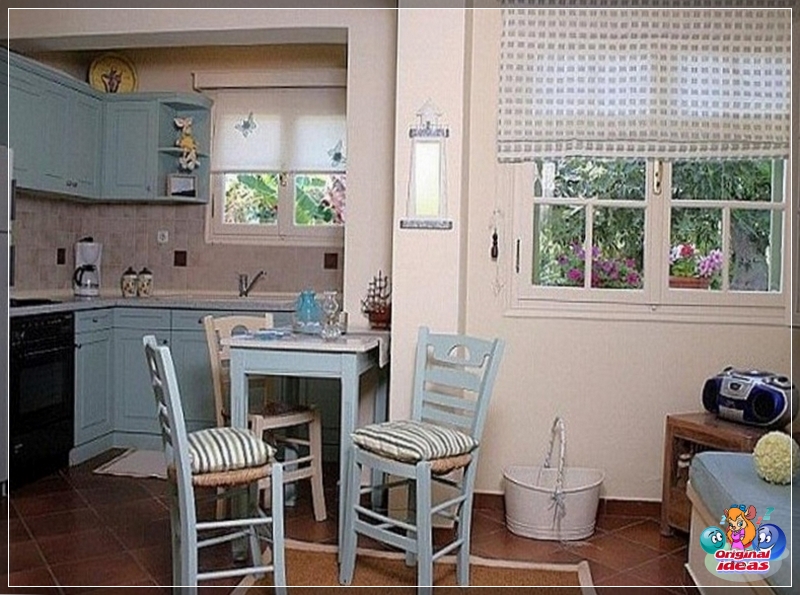 For this, the following may be suitable:
plaster statues of various sizes;
paintings depicting seascapes of the Mediterranean;
panels made of shells and semi-precious stones;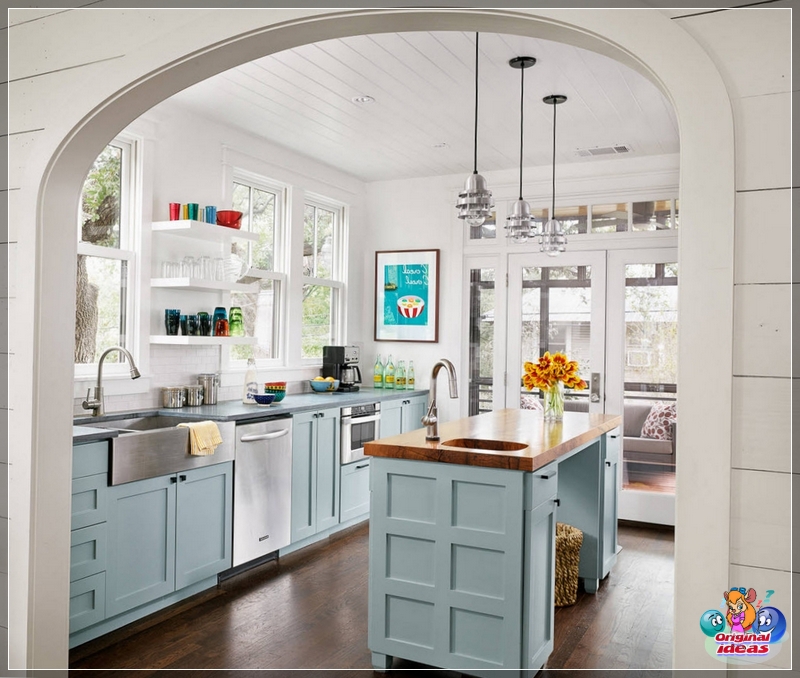 bundles of dried herbs hung in the working area;
dried flower arrangements in porcelain vases;
wicker baskets with decorative fruits;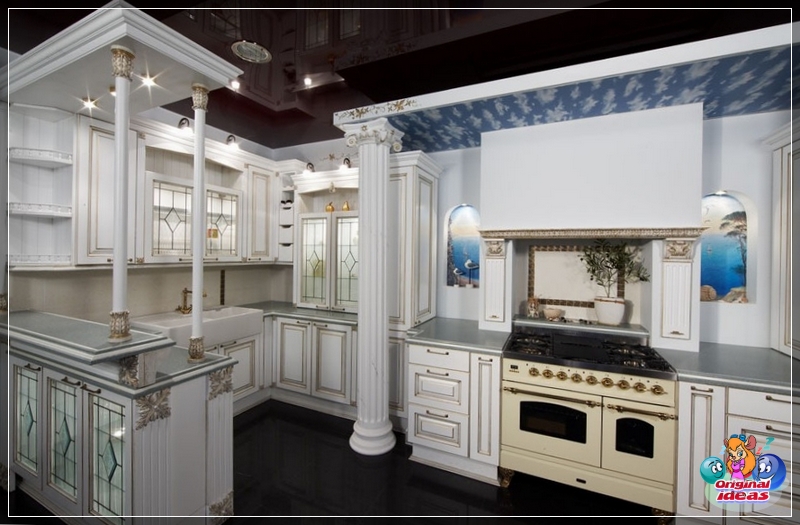 The main place in the design of the kitchen is occupied by textiles, the task of which is to combine disparate parts of the furnishings into a single whole.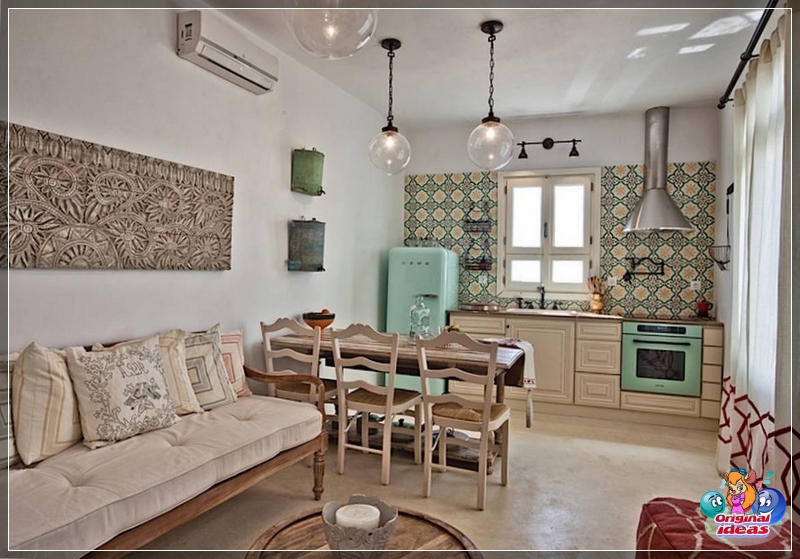 Important! Greek women love rough linen with embroidery.
They make curtains, tablecloths, napkins and towels on their own, or purchase them in special stores. The windows may have linen roman blinds which are perfect for the Greek style. The window can be covered with light curtains made of plain silk in light shades or plain tulle.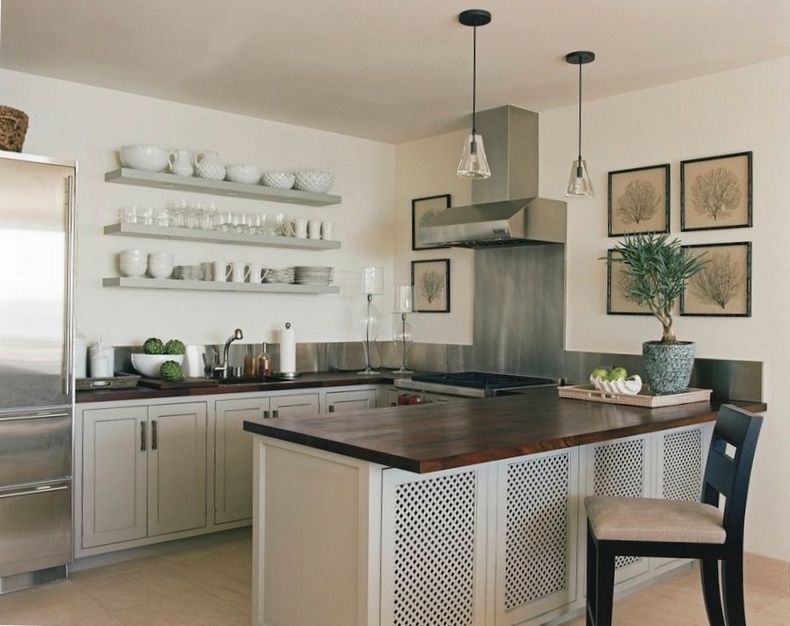 Live plants give a special charm to Greek cuisine. It can be citrus trees or a bush of noble laurel, planted in a clay flower pot.
The doorway leading to the kitchen is closed with curtains made of fabric decorated with national ornaments.
Chandeliers, sconces and candlesticks are made of wrought iron. Ceramic tableware, covered with glaze and decorated with ornaments, allows you to create a real Greek interior. It is placed on open shelves along with cast iron pans and other kitchen utensils. Plates with national colorful drawings can be hung on the wall.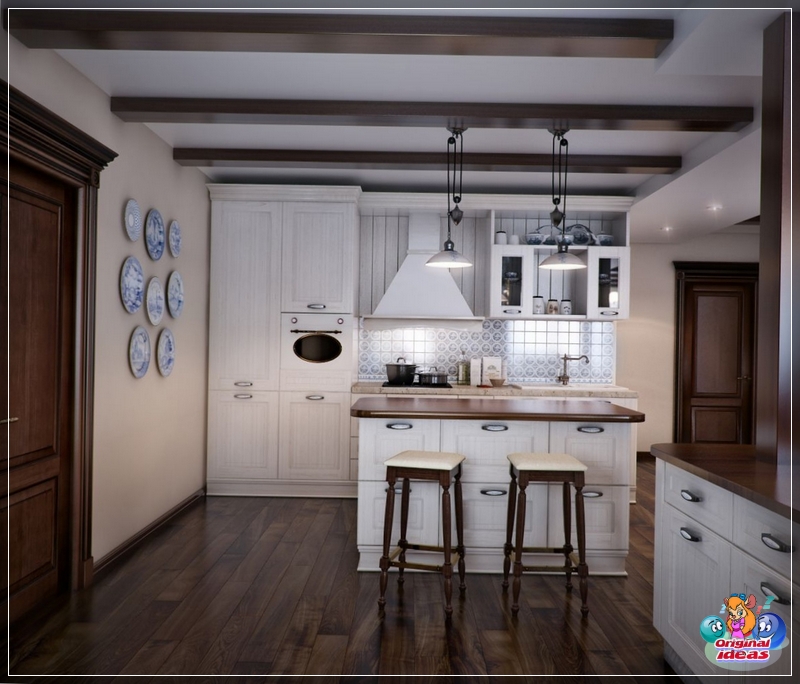 To understand what a Greek-style kitchen should look like, you can see the photos below, acquaintance with which will allow you to create your own original design project for the room, where there will be a place for storing supplies, preparing food, holding breakfasts, lunches and dinners with the family.