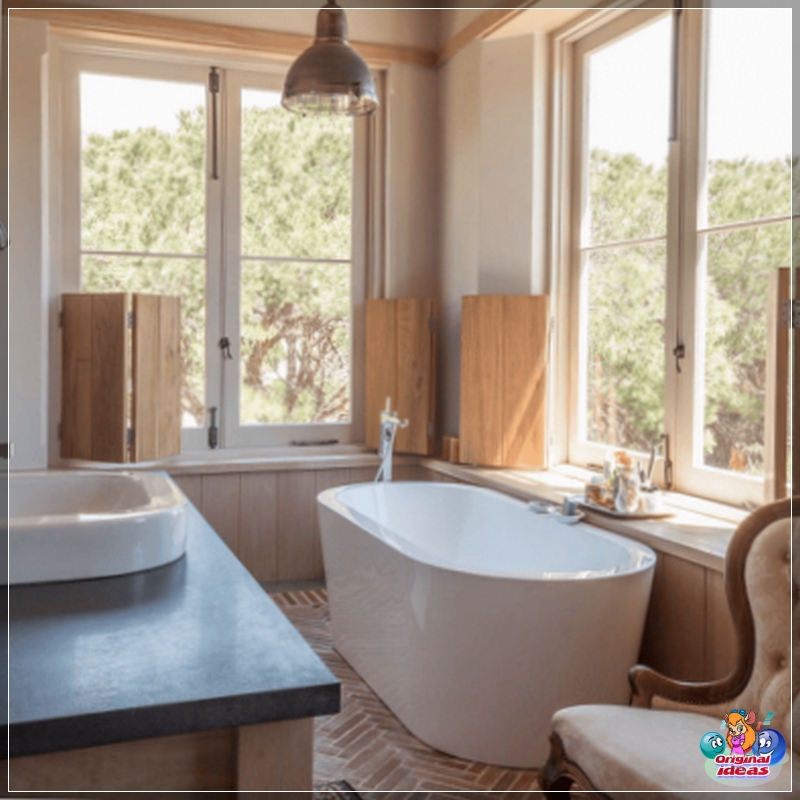 In any house or apartment, the bathroom is a special place where not only the body becomes clean, but also the soul rests. Therefore, it is so important to choose the right style of the bathroom, which should help to relax every day, relieving the burden of problems and fatigue, giving cleanliness.
The layout of the room, the selection of finishing materials, furniture and plumbing fixtures, the nuances of decoration depend on the chosen style.
A modern bathroom should be comfortable, practical, accommodate the necessary set of plumbing fixtures and, finally, just bring joy
Timeless classics
This style direction is traditionally beautiful and elegant. However, it is difficult to implement in a small bathroom. Features:
natural wood furniture;
zoning and decorative elements of the column, stucco molding, bas-reliefs;
calm colors with a priority of beige, golden, white, mustard;
Classic bathroom with soothing colors and natural materials
plumbing must be white, with bronze legs;
sink and countertop are marble or stone;
bronze mixers with patina;
huge mirror;
lamps imitating candelabra.
On a note! Expensive, high quality, for centuries this is the principle of the classic bathroom interior.
Bathroom accessories in classic style are often made of metal and decorated in antique style
Refined Art Nouveau
The Art Nouveau bathroom is distinguished by its smooth forms, this is manifested both in the decorative decoration of the walls and ceiling, and in the choice of plumbing:
natural color palette (greenish, woody, pearl, beige);
the room is being rebuilt, rectangular shapes should be abandoned, giving preference to curvilinear semicircular niches, partitions;
floral motifs and patterns look perfect;
the bathtub is placed in the center or finished with wood panels;
accessories enhance the style unity, therefore, there should be smooth lines, with floral ornaments;
of materials glass, light forging, wood must be present.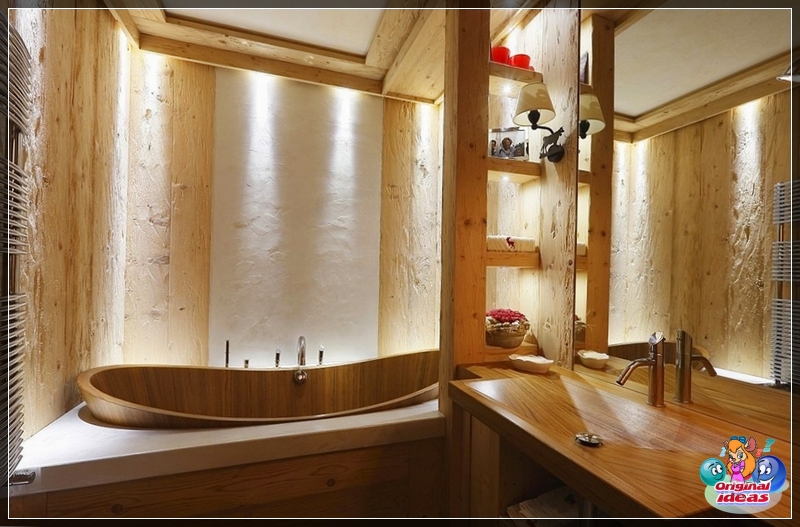 Modern bathroom
Bionics is a new word in design
Becoming a part of nature is the motto of this design trend. Therefore, oval arches and niches change the geometry of the bathroom. The best material for surface finishing is small sparkling mosaic that flows from walls to floor and ceiling. She also trims the countertop of the sink and the podium for the bath. It is worth choosing a mixer that creates the illusion of a waterfall or a tropical shower, contactless plumbing.
Bionic bathroom
Sea style
Great option even for tiny bathrooms. The decoration uses colors:
all shades of blue;
turquoise;
light green;
White;
sand.
Bathroom in a nautical style
The feeling of being on the seaside is created by different elements:
ceramic tiles, which can be purchased as a ready-made collection for walls and floors;
inserts from natural stones (pebbles, sea stones);
self-leveling floors with a 3D effect;
ceramic panels;
textured plaster imitating waves.
For decorating a bathroom in a nautical style, blue and beige colors are most often chosen
Ethnic styles
Any version of the ethnic style helps to visually enlarge even a small bathroom. There are different types: Japanese and Scandinavian, Italian and African, Mediterranean and Spanish.
Japanese style bathroom
Japanese style is characterized by laconicism and simplicity of forms. All shades of brown, white and black work well. The main material is moisture resistant wood, better cedar. The space is split horizontally with wood panels or ceramic tiles. The floor can be decorated with small pebbles separated by waterproof wood panels. The bathtub is shaped like a furo Japanese bath barrel.
The Scandinavian style is no less restrained, but the color scheme is dominated by white, gray or bluish with bright accents. All shapes are exclusively geometric, no floral motifs. Plaster or tile is used as a decorative coating for walls and ceilings.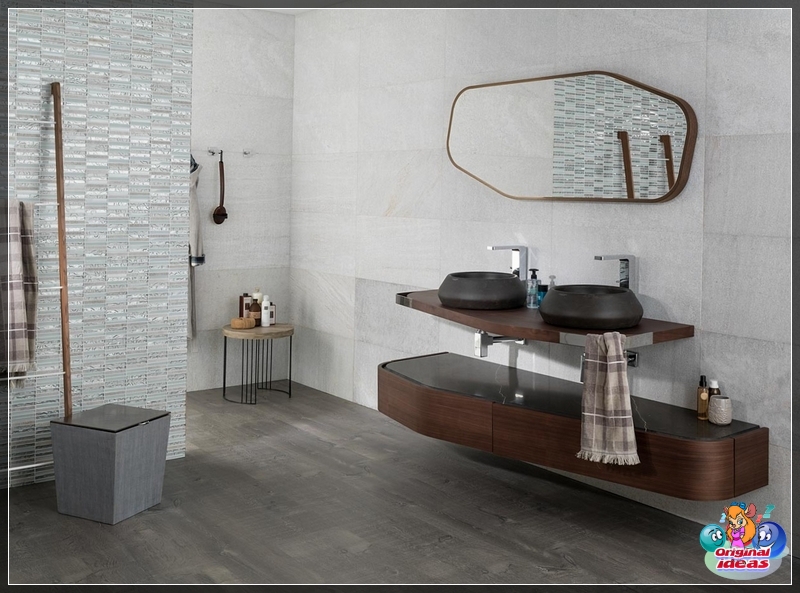 Scandinavian style bathroom
The Mediterranean style of the bathroom is elegant and fresh, dominated by warm shades of terracotta, ocher, golden, olive, orange colors. To emphasize the style, light arches are created in which mirrors, furniture or bathtubs are placed. The ceiling is converted into a dome.
Mediterranean style bathroom
The walls are covered with Venetian plaster, themed panels of ceramic tiles. From plumbing, the choice is made in favor of marble sinks, semicircular bathtubs and a Jacuzzi.
Tenderness of Provence
The romantic style of Provence is emphasized by the choice of wall and floor coverings in faded tones of pink, purple, blue, lilac.  From finishing materials, both tiles and ordinary plaster are suitable, followed by painting. Part of the wall is decorated with wood panels. The furniture must be aged, natural wood, rattan or forged. A pedestal bathtub is usually placed in the center of the room.
Provencal style bathroom
Cozy country
Nice country style, but difficult to implement in a small room. Indeed, when finishing, massive natural materials are used: stone, wood (possibly even imitating solid logs), brickwork. Simple, slightly rough furniture is illuminated by the warm light of lamps, decorative wicker baskets adorn the bathroom.
Country style bathroom
Modern trends of minimalism and high-tech
High-tech and minimalism, similar to each other with clear lines and expensive asceticism, gravitate towards such manifestations:
an abundance of metallic chrome-plated shiny elements;
the predominance of light shades;
range of 1-2 colors;
the decor is extremely functional;
asymmetry.
Fits perfectly in tiny bathrooms without creating the impression of being cramped.
Minimalistic bathroom
Bathroom furniture style determines the choice
Depending on the size of the bathroom, you can place a variety of furniture necessary for comfort in it.
Important! Furniture should not stand back to back, filling the entire space, it looks ridiculous, moreover, without ventilation, accumulations of bacteria and fungi will form on the furniture.
The bathroom is not a place of accumulation of furniture, especially if it is of a very modest size
What is usually purchased in the bathroom:
cabinet or cabinet under the sink or sink;
open and closed shelves;
racks;
narrow pencil cases;
a chair, armchair or couch;
linen box, basket.
Mirror and towel holder required.
If the size of the bathroom allows, then it is possible to place not only the necessary furniture, but also additional cabinets in it
Nuance! Color and style, bathroom furniture are determined by the chosen design direction when decorating the room.
Sometimes it is easier to purchase a ready-made set of items that are in harmony with each other and suitable in size.
For bathroom furniture, increased requirements are imposed on moisture resistance, resistance to temperature extremes and high humidity. Therefore, it is important to choose furniture items that are not only beautiful and stylish, but also durable, reliable.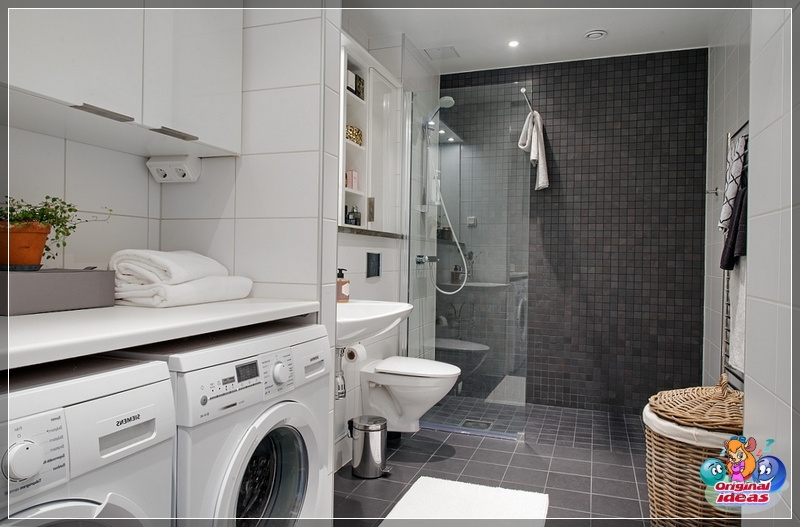 Whatever the bathroom furniture, it must be made of moisture-resistant materials
Furniture is made from the following materials:
Natural wood. Ideal for ethnic, classic styles. Usually has a moisture resistant impregnation.
Metal. Used in the embodiment of a number of style directions. More often open openwork designs are made.
Chipboard and MDF, of which custom-made furniture is made, including radius. Such furniture requires excellent ventilation.
Strained glass. Looks great in spacious bathrooms, adding light and air. Combinations of glass with other materials look interesting.
Plastic. Such products do not last long, but they are also inexpensive. Plastic furniture is not afraid of moisture, is available in a variety of colors and shapes.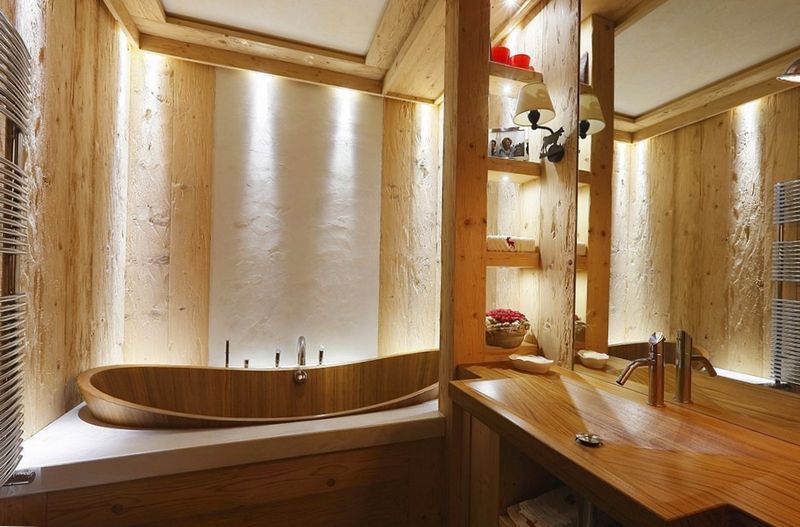 Good ventilation must be installed in a wooden bathroom
A few tips for choosing furniture items:
furniture must be looked after (or bought) before the start of renovation in the bathroom, in order to guarantee its harmonious combination with finishing materials and plumbing;
the main thing is the functionality of furniture products;
you should not force a small room with a large amount of even very necessary furniture, it is better to use the space more rationally;
it is more practical to use suspended models, they save space, and it is easier to clean;
a properly placed mirror can visually expand the bathroom and add light.