Fusion cuisine is a vibrant mixture of different items taken from different styles and combined into a coherent whole in a confined space. This is a creative direction that is often used in interior design, where the designer decided to mix a variety of styles found all over the world. Fusion is a tracing paper from the English word fusion (fusion, mixing).
When decorating a room for cooking, you can fantasize, because there are no strict requirements that apply to other styles. As a result, a super task should be achieved - all things should be combined with each other and look aesthetically pleasing.
To achieve it, you should competently organize the space and create a stylish interior using corner kitchen sets with flat facades, a mortise sink, a colored apron without an island.
Room preparation
To decorate a fusion kitchen, it is important to take into account the texture, color and materials with which the room is finished. The use of natural materials for wall decoration is encouraged. It can be stone, ceramic tiles with a bright pattern, brick, textured plaster, wooden slabs.
On a note! When choosing building materials suitable for finishing work, proceed from the tactile and visual sensations.
Walls are finished using various types of surfaces that create a feeling of warmth, having a silky or rough texture.
With the help of a variety of materials, it is convenient to zoning the room. Tiles and poorly finished brick walls look good in the work area, wood slabs, natural stone will highlight the dining area.
To decorate the walls, you can use some kind of ornament, the elements of which should be combined in color and shape with the selected textiles.
When creating a stylish room, you need to clearly divide the zones according to their functional characteristics. This is done using artificial light sources and using different paint colors on the walls. For this, false ceilings are made, in which many LED lamps are mounted. The ceiling can be divided into several sections with decorative beams. This style is characterized by the use of rounded lines of the ceiling box.
The sizes of windows in a fusion kitchen can be any, as well as the materials from which they are made. The main thing is that the room is well lit. Arched openings of windows and doors, which come from different styles, are often used in fusion style.
Laminate or parquet boards are most often placed on the floors. You can use hardwood floors painted with vibrant paint to make the kitchen look festive and festive.
Suitable furniture for this style
Fusion is a mixture, and furniture from several styles is installed in the room to achieve style originality. Look good side by side with antique tables made of natural wood, purchased in an antiques store, and modern bright chairs, bought in the store or made to order.
On a note! A kitchen set made of plastic, which has built-in appliances with colored details, is balanced by an old strict shelving unit.
Wood and tempered glass on the tabletop of the dining table and modern chairs arranged around it look beautiful next to it.
If the furniture and appliances are neutral in color, then the walls and floors in the room must be bright and unusual in appearance.
A high-tech style kitchen set will look original against the background of natural stone walls.
A fusion kitchen will look unusual if, against the background of a classic headset made of natural wood, countertops made of acrylic stone or marble chips are used.
If the living room and kitchen are connected, then a bar counter of a non-standard look and lighting in this area will give a special look to the interior.
Regardless of what kind of furniture will be installed in the kitchen, you need to remember that everything looks harmonious in it. To do this, everything in the interior is connected with the help of color. If you like furniture in pastel colors, then the walls and decor should be bright and rich in color. Choosing a bright headset, you need to do so that the rest of the accessories complement it, and not cause dissonance.
Fusion style kitchen interior
The contradictory design of the apartment allows the presence of elements that are not thought out to their logical conclusion. A fusion kitchen can look very original and cozy due to the used details, which should be beautiful and functional.
To create a single space in the decoration of the kitchen, details taken from other styles are used. Bare brick walls are taken from the loft style, whitewashed or painted over so that the masonry is clearly visible.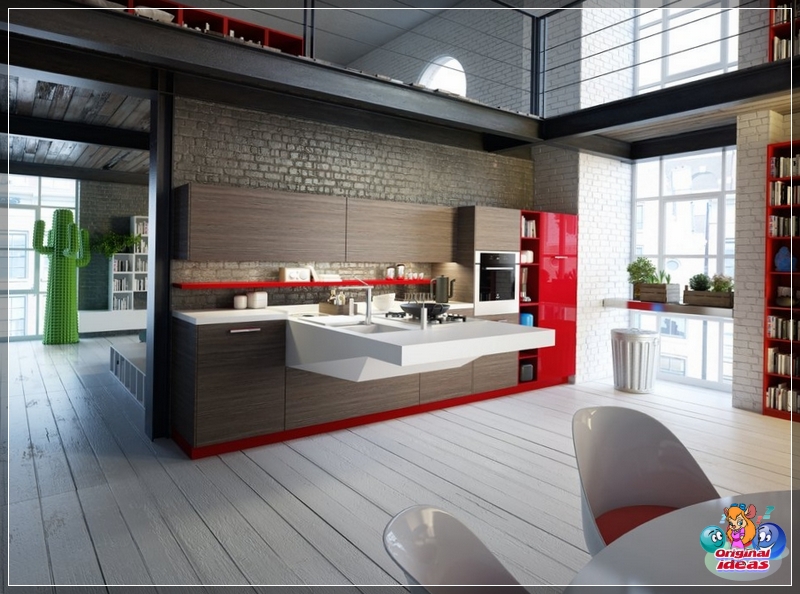 Wooden ceilings are taken from the chalet style, and from high-tech - furniture and shiny chrome dishes, which are hung on an open wall in a Mediterranean style.
Bright porcelain, displayed on open shelves, is used as a decor. Fusion kitchen allows the use of cookware from all possible materials. It can be food grade plastic, glass, ceramics, porcelain, metal.
Important! There should be a lot of light in the kitchen, and to achieve this goal, multi-level lighting is used in the kitchen, with the help of which additional zoning is carried out.
Luminaires in different areas may differ in shape and style. Open shelves lined with pots of green vegetables are suitable for fusion.
In a well-lit kitchen space, herbs will grow well as a pot culture.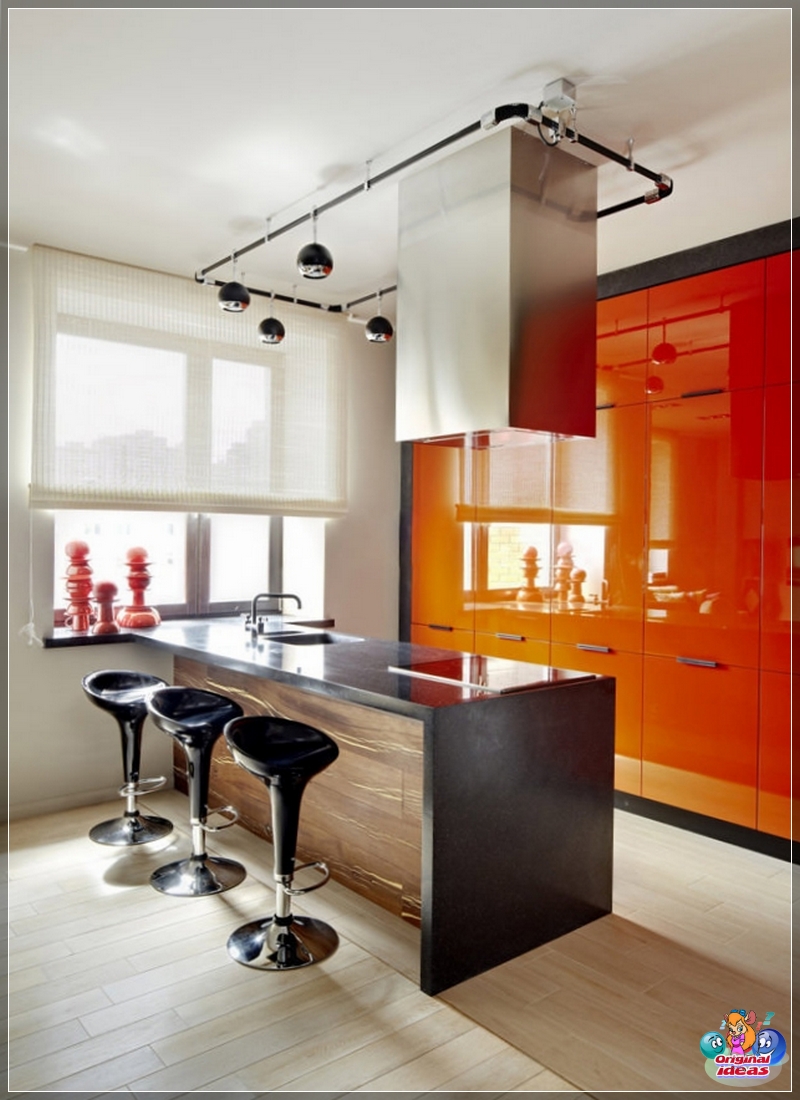 For everything to be harmonious, you need to remember about the rule of 3 colors. To create the perfect interior, you can use a standardized system of identification and selection of shades of the same color, which allows you to correctly combine them without overloading the space.
Fusion color palette can combine turquoise, gold and fuchsia. This is the most common color combination used in this style of kitchen. Saturated tones in the interior should be balanced by calmer, natural shades. The design of the room will look advantageous if white and black colors are used with the addition of red shades
White color must be present in any combination of paints. It will help balance the riot of colors in the kitchen and create a comfortable environment. Otherwise, the most violent disputes and scandals will flare up in the kitchen.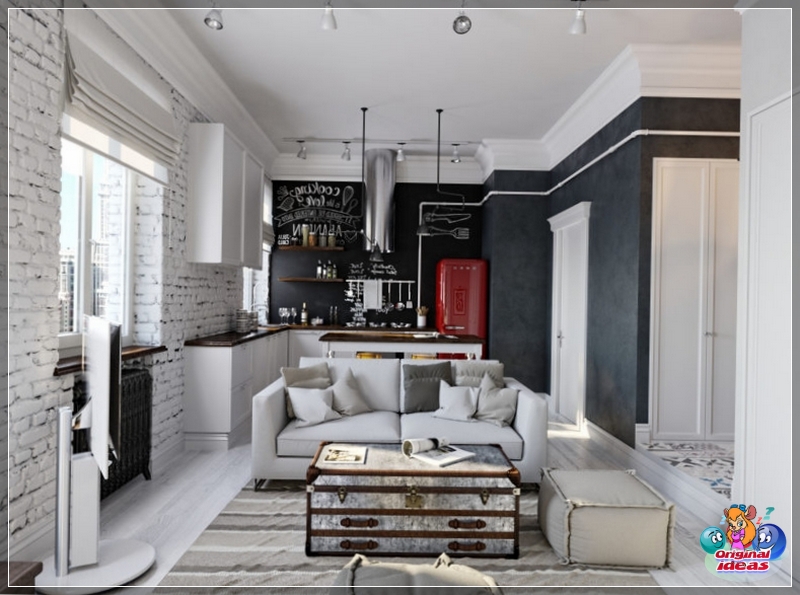 The harmonious look of the interior will develop if it is possible to avoid cluttering the space. All disparate things should be connected according to some attribute and emphasize each other. An integral, harmonious picture is formed only thanks to common sense and good taste, which allow you to avoid chaos in the design of the room.