The cherished dream of many freedom-loving connoisseurs of informal aesthetics is their own loft-style living room. And although until recently it was generally accepted that a loft is only for the "elite" who can afford to purchase a building with a rich history in order to then redesign and use it as housing, today the industrial aesthetics characteristic of a loft has become available even for owners of standard apartments and private houses. And this is not surprising. Since the loft has emerged as a separate interior style, this English word has ceased to mean only the corresponding type of housing with an industrial past.
Loft is one of the most popular trends in interior design, especially among the young and freedom-loving
After reading this article, you will have a complete idea of ​​how a loft-style living room should look like: photos of the best projects from around the world, useful ideas, tips for eliminating common mistakes will serve as a good help. Hurry to implement modern ideas in the interior, 2022 promises to be rich in them.
Loft style living room decoration
The loft style is characterized by the predominance of rough lines in the interior, a large number of prominent metal details, minimal wall and ceiling decoration, eclectic furniture. It would seem that housing, the interior of which is designed in this style, should not be associated with something cozy and hospitable. Meanwhile, there are plenty of examples of lofts that prove the fallacy of this assumption.
The walls and floor in the loft interior look simple and ascetic
If you want your living room to become a textbook example of style, take into account the following recommendations.
One of the main attributes of the loft style is huge windows that let in streams of natural light into the room. If you want to decorate a loft-style reception hall in a private house, during the construction of which such a design solution was originally planned, then most likely you have made sure that the windows in the room are of sufficient size. If the object of reconstruction is a typical apartment with standard-sized windows, it will be more difficult to ensure sufficient daylight. First of all, you will have to give up curtains and blinds. Remember that plenty of natural light is the easiest way to visually "warm" a space.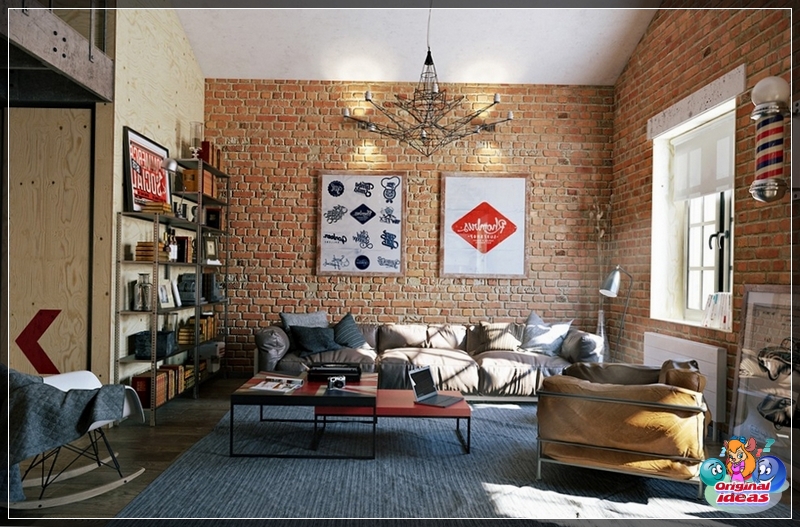 The loft is characterized by the presence of large windows
If you are lucky enough to have at your disposal a building with a genuine industrial past, during its reconstruction the wisest decision would be to try to preserve the same "industrial spirit". To do this, try to leave as many original elements as possible in their original form: wooden beams, pipes, columns, etc. d.This is a great way not only to show guests that you know a lot about industrial design, but also to pay tribute to the history of the building.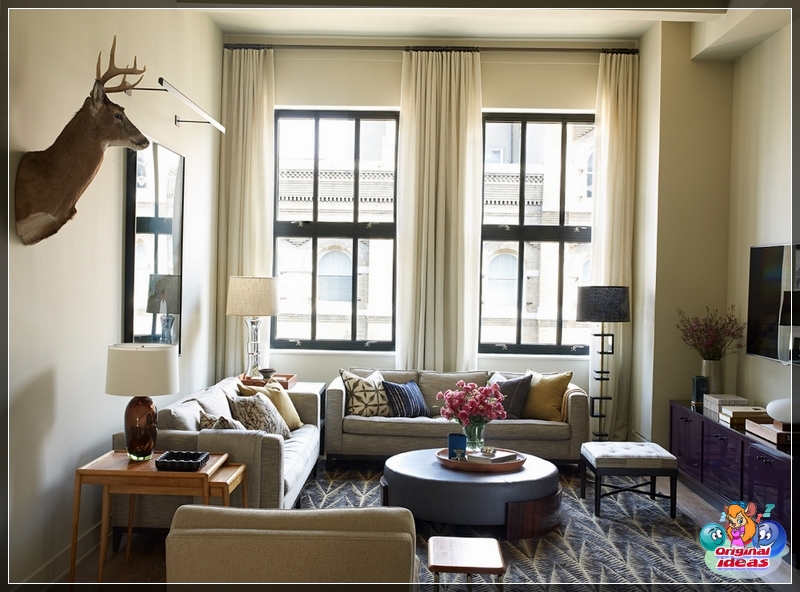 Spacious loft in a former factory building
Wall decor should be minimal. If you are afraid to experiment, walls and ceilings can be painted in dazzling white - so the room will surely turn out bright and bright. A color scheme in cool tones, especially if there are a lot of metal parts in the interior, will turn the living room into a kind of lounge area. If it seems to you that the resulting interior is not cozy enough, the elements of wooden decoration and a variety of textures will help to "warm" the room. There are other ways to breathe life into a loft-style living room: photos of households on the walls, paintings, etc. d.
Brick walls classic loft interior
Advice! Try to decorate one of the walls in the room with a wooden board. Such a solution will make the interior, gravitating towards the industrial style, much more comfortable and welcoming.
Loft living room design and lighting
Although the main light source in a loft-style interior should be sunlight coming through large windows without curtains, artificial light sources are also acceptable. When decorating the interior of a living room in a loft style, lamps of all known types (wall, ceiling, pendant, floor, table) can be used, but with one condition: their design should be inspired by the aesthetics of the industrial style.
It is best to use industrial-style luminaires as artificial light sources
As for the choice and location of light sources, there are several rules:
It is better to refuse a ceiling chandelier. In any case, it should not serve as the main source of light, acting instead as a decorative item. It is good if the chandelier has several shades directed in different directions. The chandelier-fan will perfectly fit into the interior of the living room in the loft style.
As pendant and wall luminaires, it is recommended to choose models on rails that allow you to change the direction of the luminous flux. Typically, these luminaires are used for spot lighting. Preference should be given to models made of dark metal or frosted glass, which can be artificially aged, thereby passing off as antiques.
Swivel spotlights are perfect for a loft-style living room
When it comes to loft style, floor and table lamps represent the greatest scope for imagination. Any style is acceptable - from retro to minimalism. Lighting fixtures can be partially or completely improvised, they can be supplemented with various decorative elements. But, of course, bulky floor lamps are only suitable for large rooms.
Large original floor lamps look great in a spacious loft living room
Even if your loft-style living room interior desperately needs bright accents, you shouldn't add light sources with shades of flashy colors. Lighting devices should be in harmony with the main color scheme prevailing in the interior.
Advice! Geometric spotlights can contrast beautifully with the graceful curves of wood furniture.
Lighting in a loft is a space for imagination
Interior of a loft living room in a private house
Perhaps the main feature of the loft-style living room interior is its eclecticism. Eclecticism is achieved through the use of a wide range of finishing materials, differing in texture and texture, as well as through a combination of furniture and decor, seemingly incongruous at first glance.
On a note! Combinations of pieces of furniture of strict geometric shapes and decorative accessories in vintage style look especially good.
An eclectic mix of art and designer furniture to create a stylish and unique ambiance in the room.
However, in order for the loft-style interior living room to "work" as it should, a number of mistakes should be avoided.
In private homes and former industrial workshops, loft-style interiors often turn out to be too gloomy and "lifeless". To avoid this, increase the presence of natural light and add some warm accents. Various decorative trifles, cute trinkets, stacks of books and magazines will help to dispel the atmosphere of desolation - by placing these items on tables, shelves and shelves, you will instantly give the interior a hospitable look.
Loft in a former industrial building
The second common problem in large loft-style living rooms is the lack of spatial depth. Metal parts, a long-naped carpet or a table with a stone table top can add it to a spacious room. When it comes to the design of the hall, nothing adds volume to the space like a variety of textures.
A variety of textures and decorative little things can revive and add coziness to a loft interior in a large room
The rough texture of brick walls can be softened by a picture in a frame or a collage of stylish photos - it is quite difficult to imagine a loft-style living room design without such accents. It is interesting that these elements, performing a purely decorative function, are at the same time capable of, as it were, "highlight" the shades of furniture and decor items, be it a table or a sofa, a carpet or an armchair. In turn, furniture, being designed in warm colors, tends to dilute the uncomfortable atmosphere created by the excessive presence of glass, stone and metal in the interior.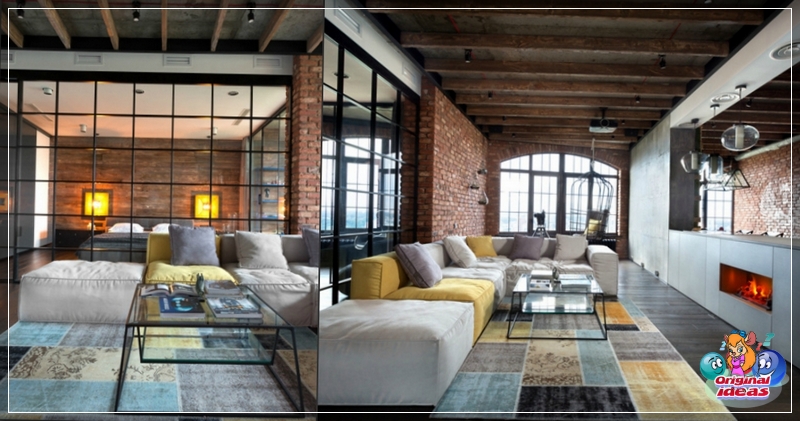 Living room in a loft style in an apartment
Despite the fact that the loft style itself has fairly clear criteria, the rules for decorating a living room in this style in a private house will not be relevant for apartments either. This paradox is explained by the limitations in living space. Agree, rare apartments today boast four-meter ceilings and giant windows all over the wall. Hence the need to know some of the nuances, this will help furnish the living room with taste.
If, in the case of spacious living rooms, the loft style assumes eclecticism, then smaller rooms should be furnished with furniture in one style. At the same time, the design of furniture should be minimalistic - the interior of a small room should not be overloaded with details. Otherwise it will look cluttered. Try to choose furniture in light colors, it will make the space brighter and more spacious. However, dark furniture can also contrast well with the warm woody tones of the floor.
Furniture in light colors will visually increase the space
Although it is believed that in an apartment the interior of a loft-style living room should, if possible, be kept in light colors, it is also worth experimenting with a cool color palette. The only condition is that the hall should have large windows and high ceilings so that dark tones do not look too gloomy. If cool tones prevail in the decoration of the living room, furniture for it should be chosen in natural colors - they will distract attention from the gloomy walls.
Contrast will be appropriate in the loft, both in color and shape
Always try to create contrast between geometric and organic shapes. Metal framed furniture can contrast perfectly with warm wood surfaces; smooth curves of wooden armchairs will dilute the strict atmosphere created by finishing in cool colors.
Do not forget about the view from the window - in many ways, it depends on it what atmosphere will reign in the interior of your living room. This is especially important if the apartment has panoramic glazing.
Loft style living room with fireplace
As noted above, there are many ways to bring a little coziness to a loft-style interior, if initially it turned out to be too alienated. However, the most obvious option is to install a fireplace - after all, it is the blazing hearth that has been considered a symbol of comfort from time immemorial.
Luxurious loft living room with fireplace
If you are equipping a loft-style living room in a private house, then there should be no problems with a fireplace. But remember that, by design, the hearth should fit into the interior. It is no secret that the loft style takes its roots from the industrial style, which means that you will have to forget about fireplaces made of natural stone. An ideal option would be an open-type island fireplace.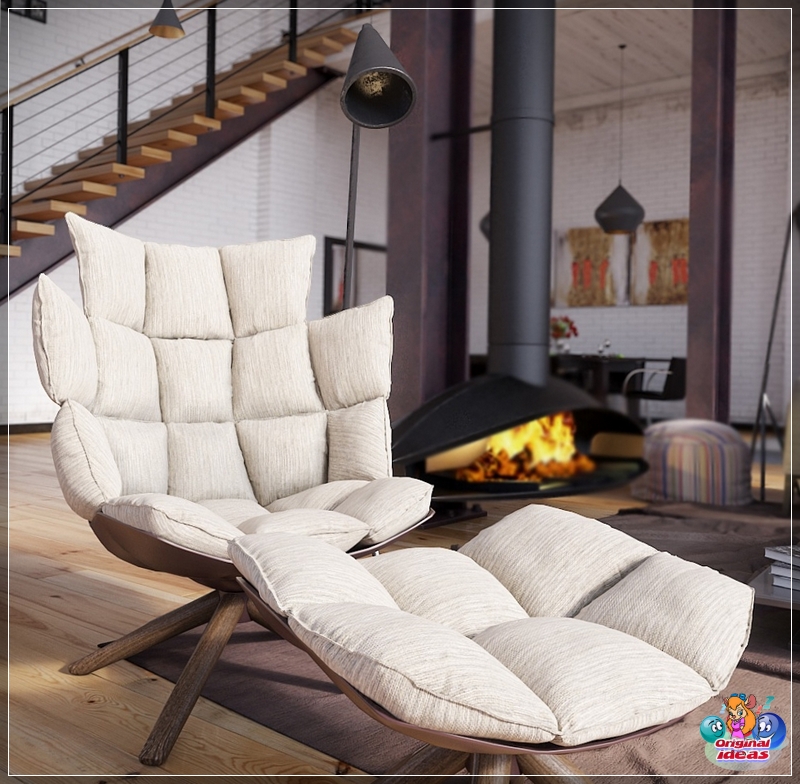 Island type fireplace
The design of some models of these fireplaces is literally imbued with industrial aesthetics. Of course, island fireplaces serve mainly for beauty - there is little heat from them, and most likely you will need an additional source of heating (especially if the room is large).
Industrial style fireplace
If you live in an apartment building, but you still want to create the illusion of a burning hearth, you can try the option with a false fireplace - now the market offers a wide range of models of such "pseudo-hearths", the most perfect of which very realistically imitate the flame and even the crackle of burning logs. However, in some modern apartments it is possible to install a real fireplace.
False fireplace - an option for a modern apartment building
Small living room in loft style
A spacious open space with high ceilings and floor-to-ceiling windows - these are the associations that most people associate with the word "loft". Therefore, the figures of 20 or even 18 square meters set aside for the living room recorded in the data sheet of a modest standard apartment sound like a sentence for an admirer of the mentioned style. However, do not rush to give up your dream - you can equip a loft living room in a small apartment.
Despite the fact that initially the loft assumed the presence of a spacious room with high ceilings, you can arrange a living room in this style in a small apartment
Yes, it is really not an easy task to properly organize a space, whose area does not exceed two dozen "squares", and to do it so that the room looks spacious enough.But it is quite doable if you strictly follow a number of "commandments":
When thinking through the design of a loft-style living room, first of all make sure that you can arrange all the interior items in such a way that the room does not look overly cluttered. High ceilings can help in achieving this goal - the concept of "layering" residential areas in such a small area, of course, cannot be realized (and there is no need for this, because we are talking about a living room, and not about a nursery or a bedroom), but visually the room it will still seem larger than it really is.
A small living room should not have an abundance of furniture and decor items
If in a spacious apartment or a private house the interior of a loft-style living room can be maintained in dark colors, then in the case of a small room such a solution is absolutely contraindicated. Moreover, ideally, the interior of a small living room should be dazzling white. Do not be afraid that the room will look lifeless and "sterile" - you can give it a cozy look, using a variety of textures and bright color accents competently. In addition, it is not at all necessary to use only one shade of white - having at least a few at your disposal, you can create the effect of smooth color transitions in the interior, which will add spatial depth to the room and make it truly stylish.
The most important rule for small spaces is to use light colors that visually increase the space
Try to use glass furniture - in the case of a living room, this will most likely be a table or shelving. In the daytime, sunlight will flow beautifully through her. In addition, a table with a glass top will help make the space more open.
Living room in loft style in Khrushchev
Perhaps the least potential for the implementation of an interior project in industrial and related styles is possessed by apartments in old standard five-story buildings, or, as they are also called, Khrushchev buildings. Rooms in a typical Khrushchev house are usually small, their size and geometry poorly correspond to the majority's ideas about what a loft should be. Nevertheless, you can equip a loft-style living room even in such an apartment.
Loft in a small apartment
In addition to being cramped, a significant drawback of many apartments located in Khrushchev houses is that some rooms in them are made through passage. However, even such a flaw can be turned into an advantage.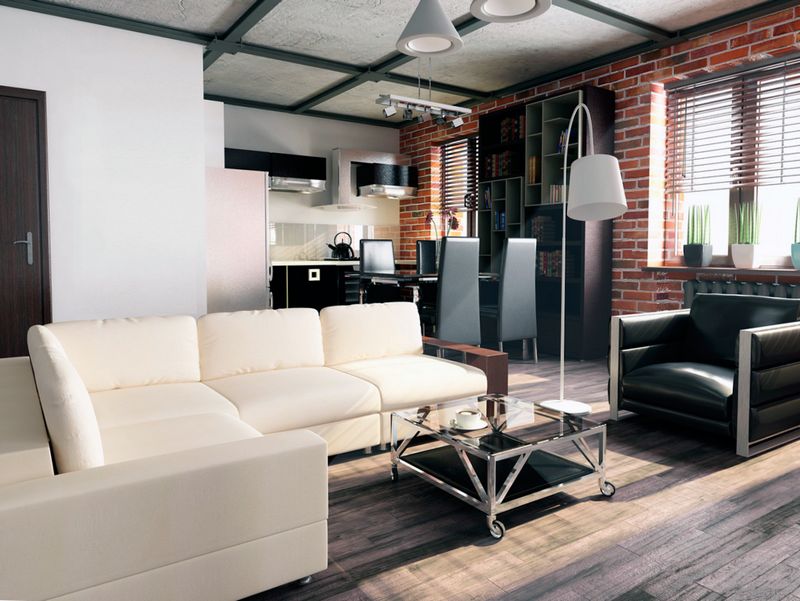 Living room combined with kitchen
So, by removing one of the inner walls of the walk-through room (this is possible, of course, only if the wall is not load-bearing), you can combine two rooms into one spacious hall and thereby create a multifunctional area in the apartment for receiving guests and spending leisure time with family.