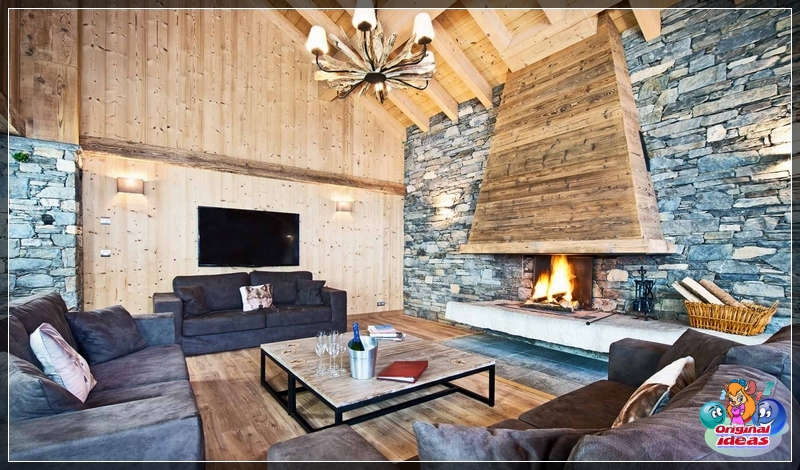 When pronouncing the word "chalet", one can immediately hear the crackling of firewood in the fireplace, one feels a warm, soft blanket and an enveloping, lulling atmosphere of a village or a sleeping winter forest. Indeed, "chalet" from French means "a hut in a village, forest" or "a house somewhere in the mountains". And this house must necessarily be wooden, solid, log. And someone will imagine a stone dwelling, in the window of which a kerosene lamp flickers, and a lazy smoke rises from a chimney on the roof. However, today a chalet-style living room may well be located in a city apartment of a house standing in the middle of a never-sleeping metropolis. And you need to arrange, furnish it so that you get the impression that outside the window is not the smell of exhaust gases, but the scent of spring flowers.
Initially, the chalet is a French house in the mountains, which is distinguished by good quality and comfort
Basic style features
Speaking about a country house, or rather about its interior decoration, which will need to be recreated in the living room, it should be clarified that it can be English, French, Swiss or Scandinavian. Therefore, you should always decide in advance which ethnic style living room you would like to relax and receive guests in. But regardless of the choice, the room should have some common features, according to which it will be perceived as a rustic.
The chalet style is characterized by the use of natural materials
They are as follows:
the absolute maximum of naturalness, simplicity;
only natural finishing and building materials;
exquisite harmony, calmness in color;
a real fireplace;
distinctive beamed ceiling;
impressive accessories;
an abundance of textiles, retro decorations;
handmade, folk crafts.
Important! The main natural materials of the chalet are stone, wood.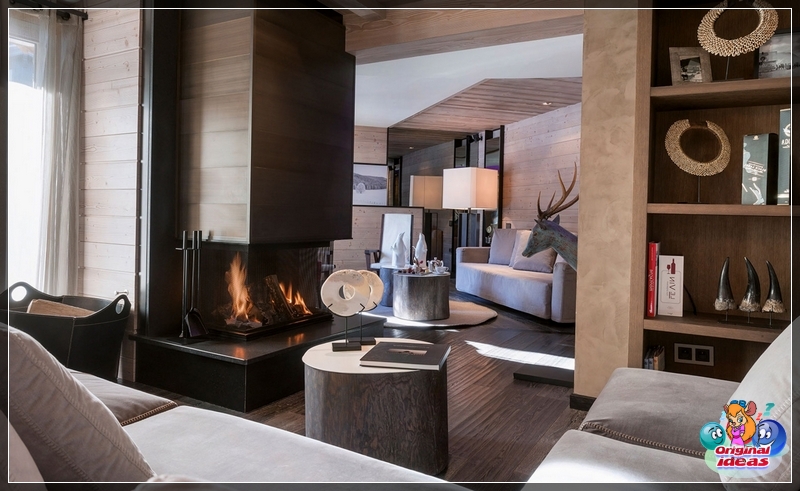 Most often, when decorating interiors in the chalet style, wood and stone are used as finishes
Moreover, it is difficult to understand what should be more in the living room. Some designers believe that wood. But here everything will depend on the tastes of the owners. The color palette should be dominated by extremely warm shades: beige, caramel, brown, cream, amber. You can add a little color coldness in the form of gray, black, white strokes.
Chalet interiors are kept in warm colors
Naturally, not everyone can afford to place a real wood-burning fireplace in the living room. However, it is he who is 50 percent of the success in creating the interior of the chalet. Yes, no one will argue that the warmth of a real fire, the sound of crackling logs is the true music of home comfort and tranquility.
Speaking of the originality of the ceiling decoration in the context of the chalet, there is only one option - massive wooden beams in the spirit of country style. They can significantly lower the height of the ceiling visually, but this squatness, which turns the living room into a "hole, den" - is the spirit of a true chalet, even if in an urban living room.
A chalet is unthinkable without wooden ceiling beams
Speaking of accessories, ornaments, without which the interior of a living room in a chalet style, judging by the photos given here, cannot be truly rustic, one can mention animal skins, handmade clay dishes, embroidered napkins and curtains, wicker items (from furniture to vases) , wrought iron candlesticks. All these items can be created by folk craftsmen in the spirit of one of the ethno-directions. After all, without hand-made, the living room will be inanimate, fake, as if empty.
Animal skins will perfectly complement a chalet-style interior
Chalet in wood and stone
As mentioned above, a living room of this style cannot be imagined without wood and stone. Therefore, the law will operate here: there is never a lot of wood. It should be everywhere: on the floor, ceiling, walls, in accessories and souvenirs. But since it is problematic to afford natural wood within the boundaries of a city apartment, you can find a way out in various imitations of natural materials. Although this will not be an entirely ethical ploy, it will be quite possible to create an atmosphere in this way.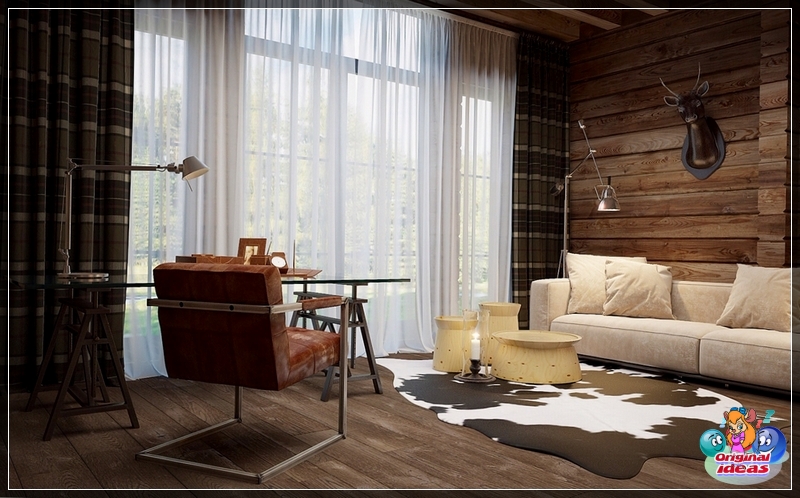 In the chalet, I use wood to decorate the walls, ceiling and, of course, the floor
The floor of a rustic living room, however, may well be made of natural wood. Today, of course, you can find a laminate that imitates it well, but natural parquet or boards will become not just pride and chic, they will grow old along with the inhabitants of the apartment, filling the room with incomparable charm and nobility. You can also artificially age it without removing a single knot, without evening out a single bulge. And then cover the surface with oil and varnish. The effect will be amazing when combined with wooden window frames and door leaves.
Parquet board is the best option for floor finishing
Another gem of the hut living room is stone. It can also age, as a result of which its color and texture will become even richer. It's not bad if a professional milling machine works with the stone, who will perform the necessary chips, cuts, make the surface where necessary - smooth, and where it is emphasized wild. Modern urban living rooms that look like country houses are often finished with bricks, tiles, materials imitating them.
Chalet style living room interior
Since the chalet is like nature itself, the color scheme of the interior should completely repeat or imitate it. Therefore, the main colors of the style are:
White;
all shades of wood, wood;
colors of stone, brick;
Rusty shades;
green, red.
For the interiors of the chalet, designers select natural natural shades
The predominance of wood in the interior leads to the fact that the color palette will be woody. Therefore, for perfect contrast, walls and even floors can be pure white. A chalet-style living room with white walls is lighter, more airy, visually it seems more, which can be easily seen by looking at a series of photos. If white is unacceptable to you, you can replace it with jasmine, vanilla, beige, light brown.
Contrast walls with ceiling and floor
On a note! Color contrasts in the form of a scarlet stroke will not interfere with the interior, which, for example, can be curtains, sofa upholstery or a pillow on an armchair.
Chalet walls are most often finished with wood paneling or various imitations. They look great in combination with embossed plaster, stone, brick elements.
Stone is also used for wall decoration, it looks especially beautiful in combination with wood
Ideal for flooring - parquet. And nothing if he's not young anymore. High-quality restoration will only emphasize its noble dignity, which will have a positive effect on the interior as a whole. If the parquet floor cannot be restored, it can be replaced with boards imitating them with laminate.
Chalet ceiling is another story. Massive beams arranged in a strict geometric sequence are the true highlight of the style. But not everyone can afford such a luxury. A very stylish, interesting substitute for wood can be, for example, polyurethane blocks that imitate it. They can have any texture, weigh ten times less, and are mounted with ... construction glue. Outwardly, if the guests do not know about such a trick, no one can distinguish polyurethane from wood. And the delight of every visitor will be simply provided.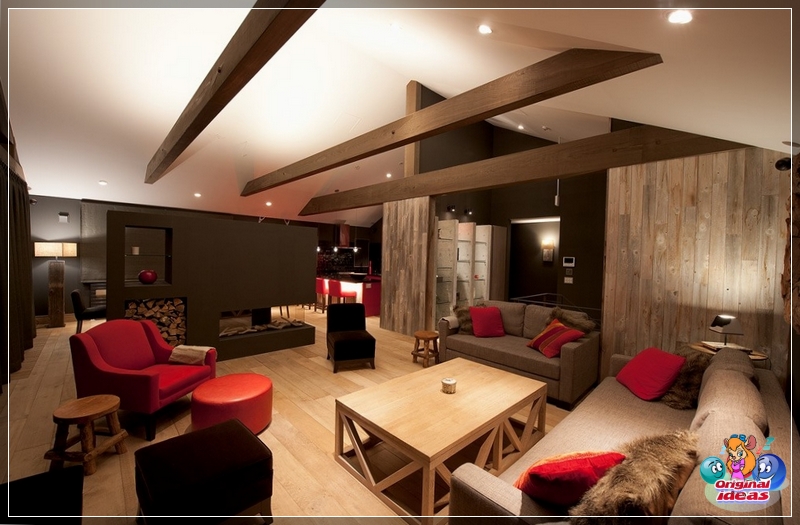 Chalet ceiling decorated with wood beams
Chalet style living room with fireplace
If the ceiling beams are the highlight of the chalet interior, then the fireplace is its soul. And that's the real truth! No country house is complete without a fireplace, and any chalet living room must have one. If not real, then at least with the prefix "fake" or "bio". Of course, it is much easier to equip a fireplace in a country house, a cottage than in a living room in the center of a city high-rise building (residents of the last floor of five-story buildings were more fortunate with this). Therefore, they will have to console themselves with electrical energy, and not with a magical living flame.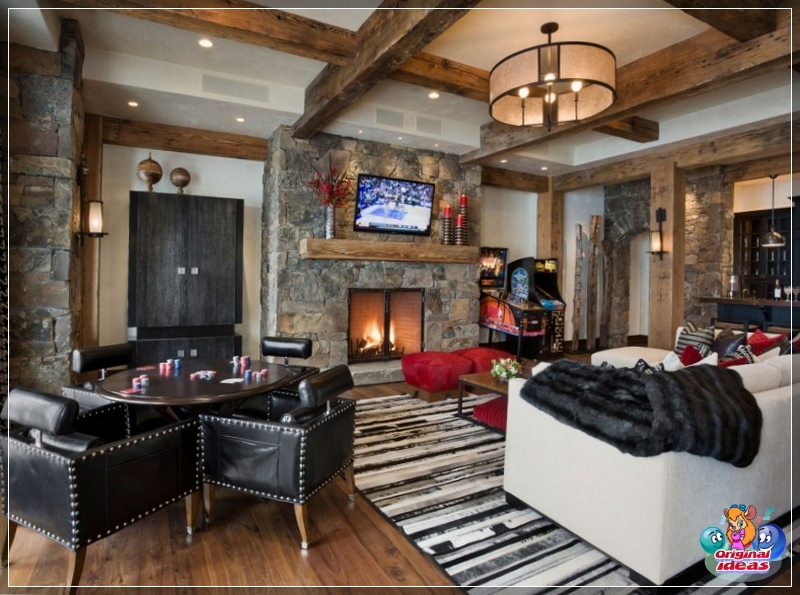 The fireplace is always the center of the living room
Important! For French, English, Scandinavian chalets, a fireplace is almost an obligatory item, and there is one in almost every home.
This object takes the central place of the main wall and is installed in a frame of brick, stone, forged elements. There is usually a shelf above the fireplace. Its role can be played by a massive board or a log, which has been given the desired shape. The mantel is rarely empty. Usually, photographs, souvenirs, trinkets dear to the heart are placed on it. An old hunting rifle may hang over it. And not always decorative.
A chalet-style living room would be incomplete without a classic solid fireplace
Furniture and accessories
Ultra-modern furniture models made of plastic, synthetics, metal for the living room of the chalet are strictly prohibited. It should contain exclusively old - antique or hand-made furniture, 99 percent of 100 - wooden. It is she who will make the interior look like a rustic one. The upholstery of armchairs and sofas should be soft, they should have a huge number of pillows, and there should be a classic checkered plaid. But armchairs and sofas are not all furniture. Chests of drawers, tables, cupboards, shelves, chairs made from tree stumps should complement the furnishings (table legs can also be made of them). All of them should be old or semi-antique (like in shabby chic), wooden, with a pronounced texture, cracks and scuffs. You can find this in expensive antique shops and flea markets. And they often look the same.
Antique or semi-antique furniture will accentuate the rustic style of the living room
Among the main accessories, in the first place should be put a variety of textiles. And besides textiles, it can be:
old books and photographs;
forged candlesticks, kerosene lamps;
wicker items (baskets, vases, chairs);
skins, stuffed animals, other trophies obtained on the hunt.
In the living room of the chalet, wickerwork, wrought-iron candlesticks and lamps, as well as a variety of antiques look good
Another chalet-style living room with a fireplace can be decorated with a chime and a cuckoo clock, ceramics, earthenware, china, dried flowers, cotton tablecloths, curtains, tapestries, paintings depicting cute rural everyday life - the photos clearly demonstrate how all these accessories are best placed. And if you want to slay the guests on the spot, throw a real bear skin in the middle of the room!