For several thousand years, the culture of China has existed as a once mysterious country for Europeans, full of amazing things and unusual technologies. Over the past centuries, a certain interior style has developed in China, intricate, striking the imagination with exquisite lines and subtlety of the master's work. Interior decoration in Chinese, along with other curiosities, conquered Europe, eventually becoming a popular style. There is a room in the Chinese style in the Hermitage and the Louvre, other famous museums.
The Chinese interior is always restrained and harmonious
Nowadays, the Chinese room is absolutely appropriate in a modern apartment, harmonizing the flows of feminine and masculine energies according to the Chinese teachings of feng shui. The main principles of the Chinese style are restraint and harmony. It is believed that a room decorated in accordance with all the rules of Chinese philosophy will not only delight every day with delicate aesthetics, but also have a beneficial effect on the well-being of the owner.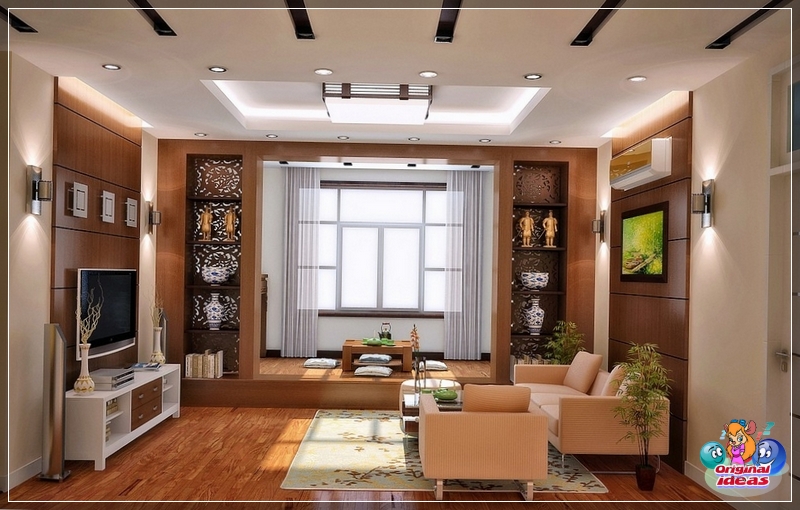 Chinese-style interiors are often designed according to Feng Shui rules
The importance of color choices in Chinese interiors
The basic colors of the interior are calm and noble:
muted green, soft shade of reed or bamboo;
White;
blue, heavenly;
cream tones;
bronze;
red-brown.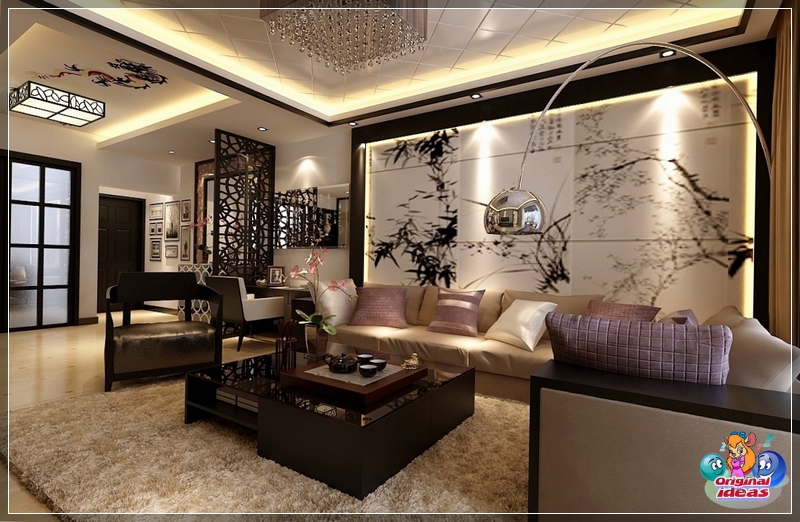 The Chinese-style room is characterized by natural, restrained colors
All shades must be of natural origin, bright, and even more so neon tones, are unacceptable.
Important! Red is the main color in Chinese philosophy. Scarlet denotes strength and health, energy and power.
But there should be a little red in the interior, only significant details are emphasized by this vigorous shade. Also, lacquered black and yellow are used as a semantic accent.
The color palette can be supplemented with red, but there should be very little of it
Chinese room interior
In some ways, the Chinese-style room is similar to the interior, decorated in the spirit of minimalism. They are united by their penchant for simplicity and order, neatness, the presence in the design of only the necessary elements without excessive decoration.
Many pieces of furniture and accessories cannot be found in Chinese interior design
Therefore, the walls in the Chinese interior are decorated simply, but tastefully, using:
paper wallpapers decorated with traditional national painting of plants, birds, animals, scenes from life and mythology;
Traditional Chinese wallpaper is one of the wall design options
bamboo wallpaper;
sheathing of wall surfaces with wooden rectangular panels;
it is possible to paint in light colors, while one wall stands out with photo wallpaper or exquisite painting;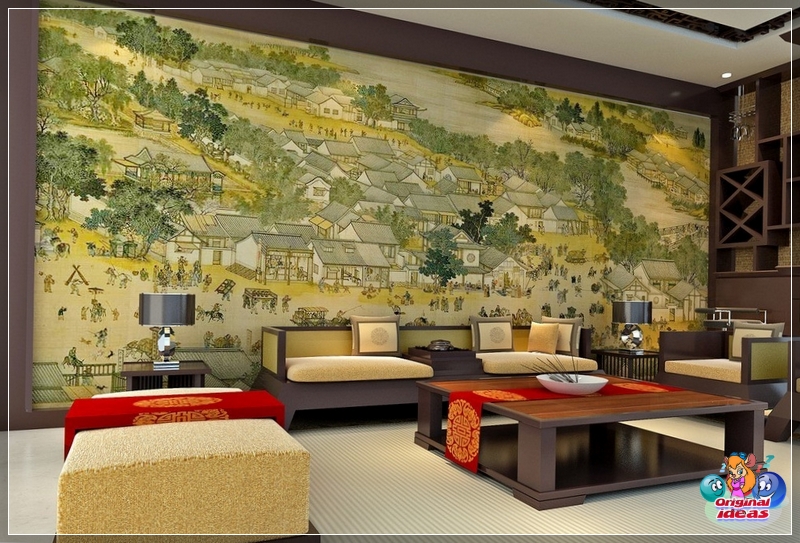 One of the walls can be decorated with photo wallpaper
smooth shiny wallpaper imitating a silk surface.
As a flooring for a Chinese-style room, you can use:
wide parquet board in dark color;
bamboo boards or plates;
ceramic small tiles;
small stones;
a combination of bamboo and stone cover.
Dark parquet with light wall decoration and furniture looks great
For the floor, a material of predominantly dark color is chosen: dark brown, red-brown, black-brown, black.
Ceiling decoration plays a big role in creating style harmony in the room. The following design techniques are characteristic of the Chinese interior:
pasting with bamboo panels;
suspended timber structures;
aged ceiling beams;
stretch ceilings with pictures;
plasterboard structures.
On the ceiling in a classic Chinese room, you will most often see structures of crossed dark beams
Door and window openings can also be decorated with bamboo plates or wood paneling.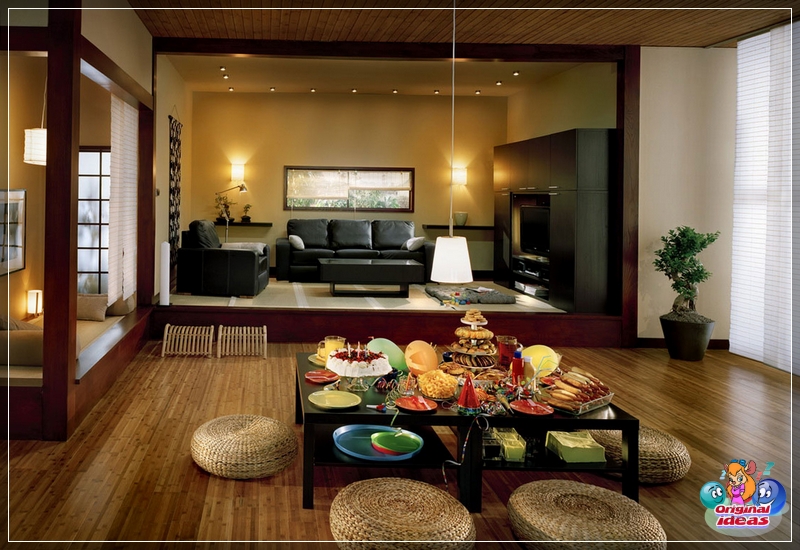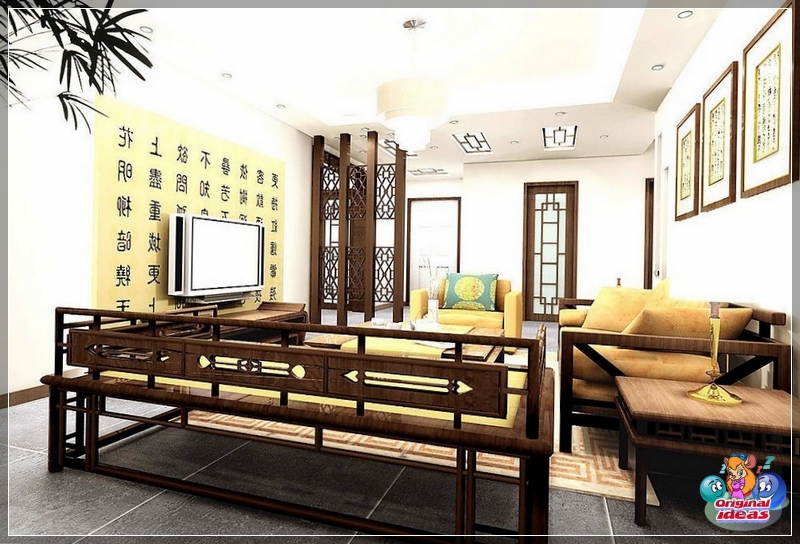 Zoning
The geometry of a Chinese-style room is simple and elegant: no nooks and crannies, everything is laconic and in plain sight. However, to hide what is not intended for prying eyes and conditionally divide the room into zones, you can use the old Chinese screen technique.This is not only a beautiful decorative element, but also a very functional thing that allows you to delicately fence off the space.
Screen is the easiest and most beautiful way to zoning a room
Screens are made from various materials:
carved wood;
plywood sheets;
bamboo;
even plastic that imitates a natural surface;
silk stretched over a frame, decorated with painting or embroidery.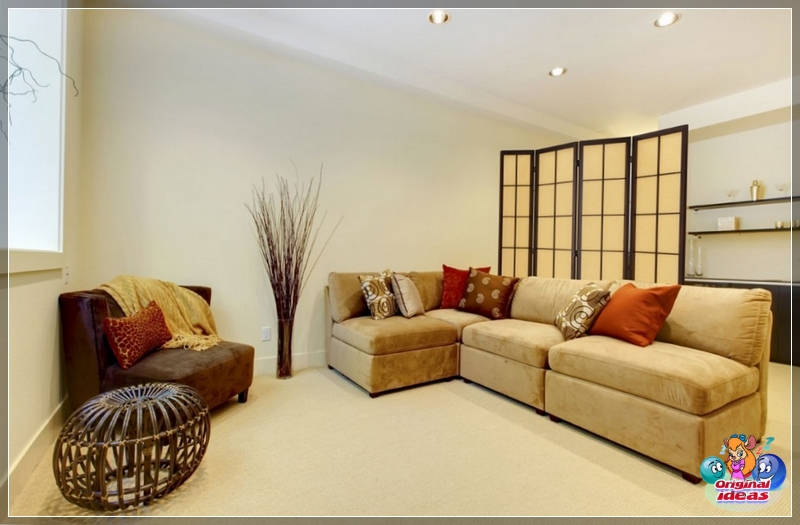 Depending on the interior, the screen can be either richly decorated or look very simple
Nuance! All screens are folding structures, so at any time they can be folded and removed, freeing up space.
Celestial furniture
Each room is in the Chinese style, photos with ideas are presented in the article, furnished with furniture that immediately conjures up thoughts of the Great Empire. How to choose the right furniture for your interior?
More often, furniture items are made from expensive types of wood:
sandalwood;
Manchu walnut;
olive Tree;
Red tree;
oak.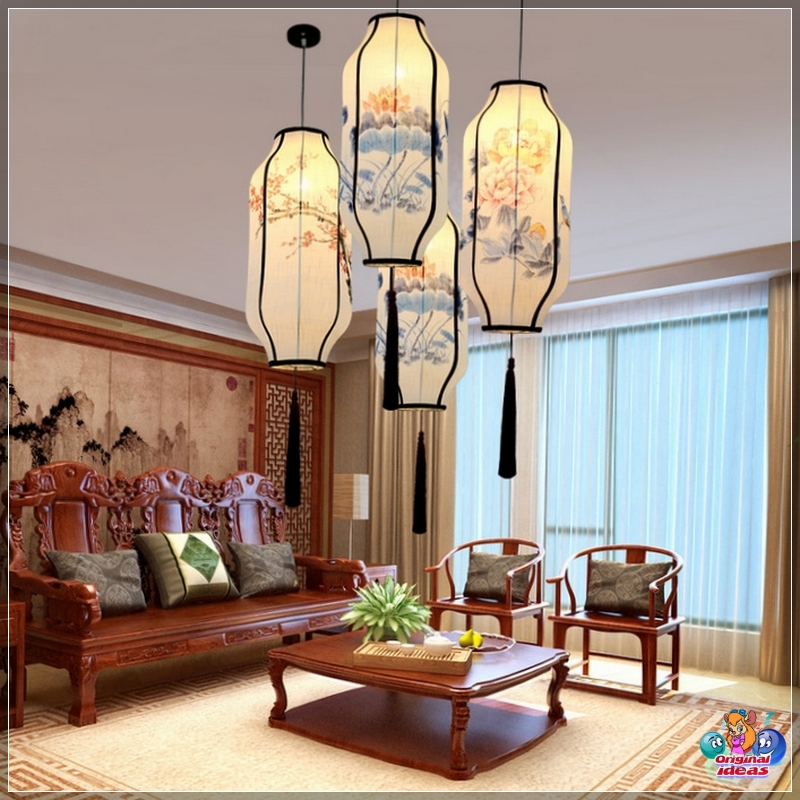 Furniture for a room in Chinese style is worth choosing wood
During the manufacture, furniture is carefully polished, the surface is smoothed to an ideal state and varnished several times. This creates an expressive dark polish similar to black lacquer. By the way, sometimes furniture is covered with varnish or scarlet paint.
Some pieces of furniture are made from bamboo, rattan, even plywood sheets.
The furniture shape emphasizes the Asian style of the room:
rectangular, square - for sofas and dressers, round for tables;
simple lines;
no sharp corners;
on low legs.
Chinese-style furniture is usually very low
All Chinese furniture is about a third lower than the usual European height.
Wardrobes and numerous chests of drawers differ from the standards familiar to Europeans:
the wardrobe is usually small, does not reach the ceiling;
there are always a lot of drawers, shelves, stands in dressers;
to decorate the handles are covered with gold paint.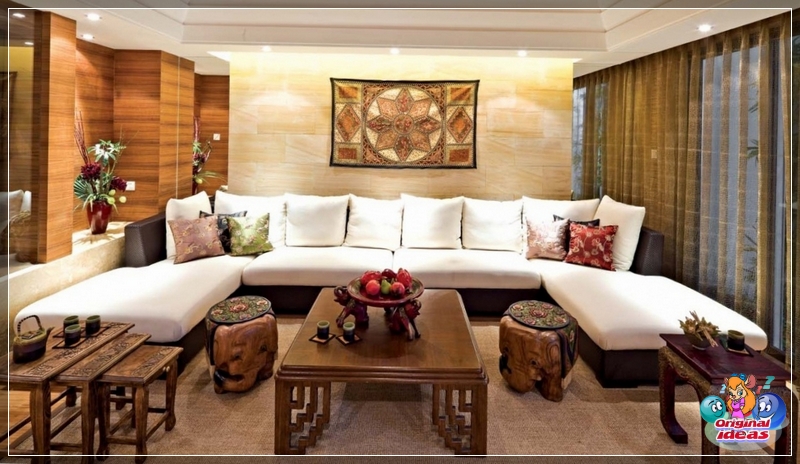 Always a win-win combination of European and Chinese style furniture
Chinese furniture is very beautiful due to exquisite finishes. Doors of cabinets, dressers, table surfaces are decorated by craftsmen:
mosaic patterns from precious woods;
inlays of ivory, tortoiseshell, pearls, mother-of-pearl that make up floral ornaments or Chinese characters;
openwork carved plywood inserts fixed to the surface;
carving on multilayer black lacquer.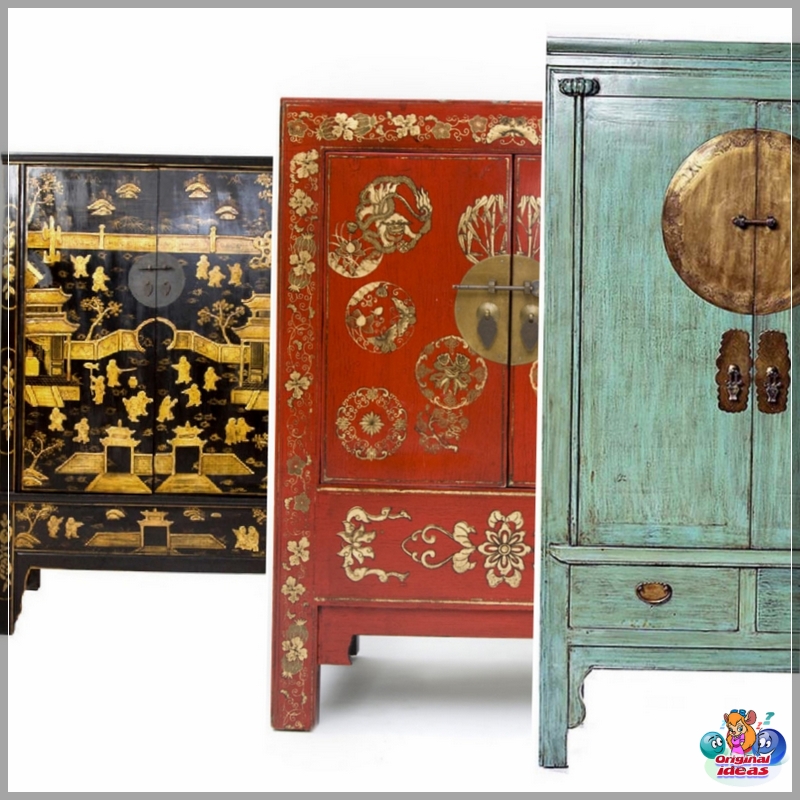 Rich finishes are the hallmark of Chinese furniture
Choosing furniture for the Chinese interior, you should not clutter up the room. For a bedroom, a high four-poster bed on carved posts and a bedside table is enough. In the living room you will need a sofa or sofa, bamboo armchairs, 1-2 dressers and a wardrobe, low horizontal open shelves on the walls and several small tables.
Asian-style furniture is produced by various factories in Europe, Russia, China.
Chinese style tends towards minimalism in the number of pieces of furniture and accessories
Finishing touch accessories
Even the most laconic interior will not be complete without a few bright details that add completeness and harmony to the image. Although the Chinese style tends towards simplicity, it is appropriate to place some elegant decorations around the room. What can be used as decorative accessories:
Live plants. Tall large ficuses, bamboo bundles in flat containers, blooming orchids look especially good.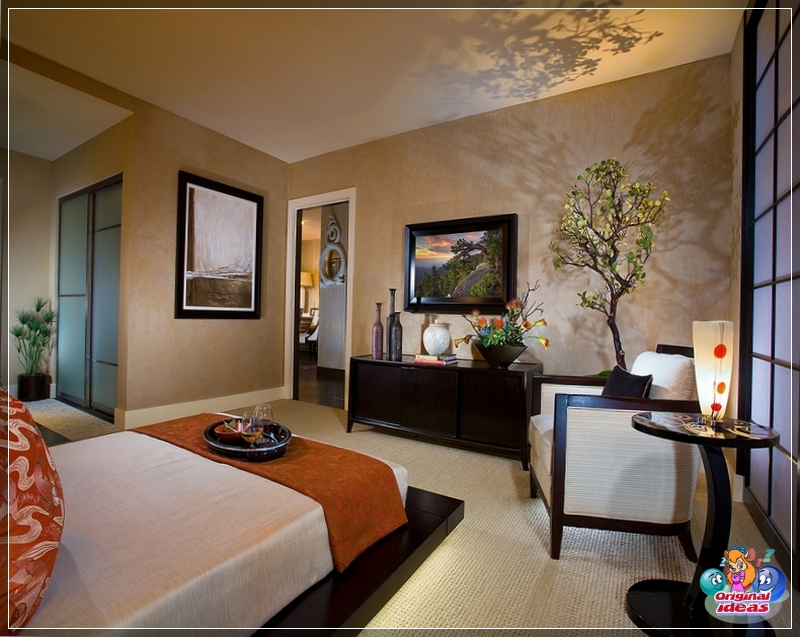 Plants can liven up any interior
As the birthplace of porcelain, China has been a monopolist in this production for many centuries, so many porcelain products give the impression of real works of art. In the room, it is appropriate to place elegant dishes for a tea ceremony, figurines on shelves or on dressers, tables. Expensive fine porcelain can be replaced with high-quality ceramic products.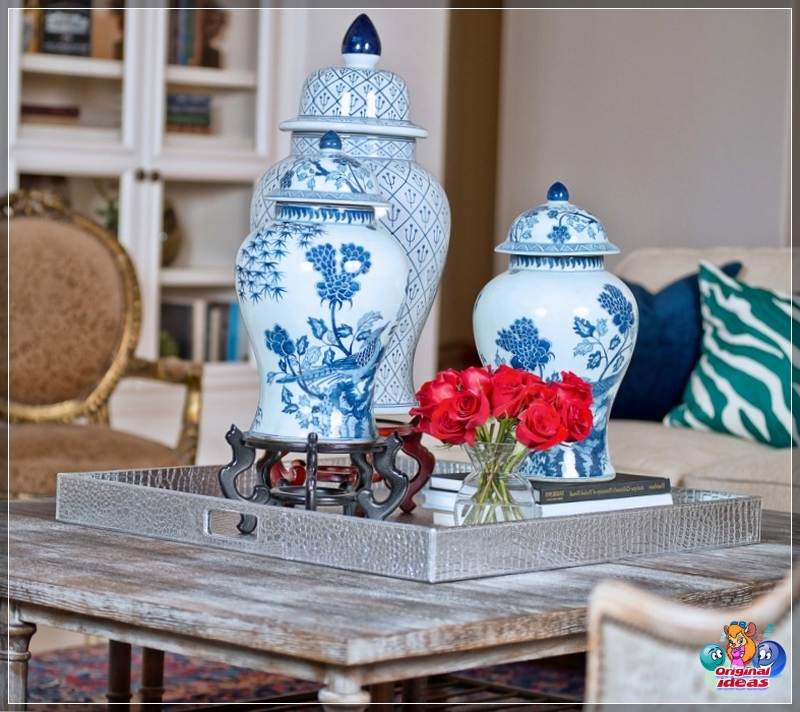 Chinese traditional vases are one of the favorite decor items of many designers
Floor vases play a special role. Most often, they are made and sold in pairs, the drawings on them make up a whole story.
Screens made of silk are also a decorative element.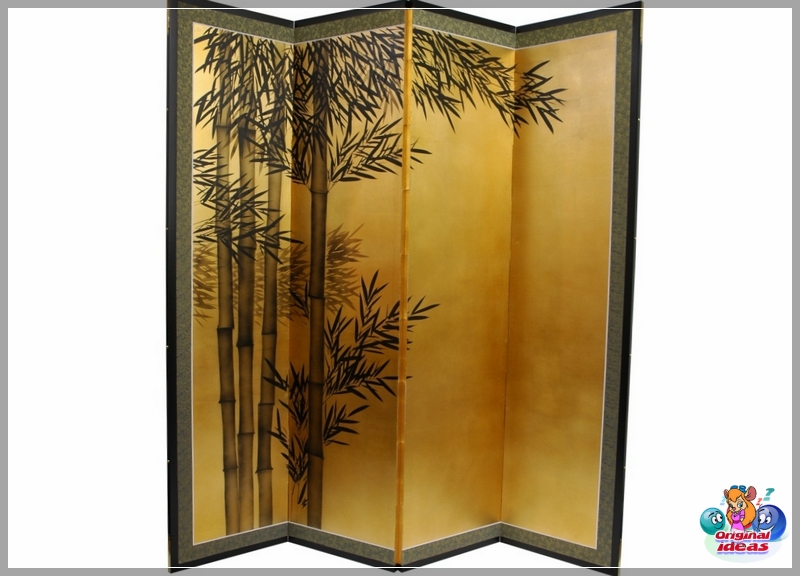 Golden screen with a pattern of bamboo
Textile. Silk takes a leading place in the interior. Silk pillows, carpets, napkins will decorate the room.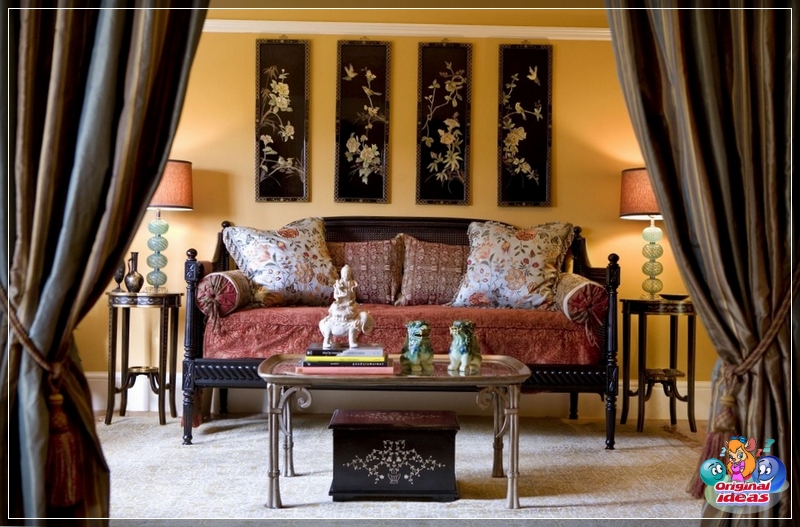 Silk pillows add comfort to the room
Windows are usually not draped, bamboo or wooden blinds can be used instead.
Bulky chandeliers are replaced with lanterns in thin rice paper lampshades or lamps that imitate them are selected.
Instead of a traditional chandelier, you can hang a rice paper torch
Important! When choosing accessories, you must comply with the requirements of the Feng Shui philosophy, t.e. either arrange things in pairs, or combine in a composition.
Even the most beautiful, but single accessory is an impossible phenomenon for the Chinese interior.