The name of the style - country - speaks for itself. Almost rustic simplicity, silence, comfort, the predominance of pastoral notes in the interior, the complete absence of modern technical innovations and plumbing, synthetic materials such as plastic and stretch ceilings - this is what distinguishes the style from all the others.
Therefore, if you cannot do without a shower cabin, or LED bulbs, this idea should be abandoned. A country-style bathroom is nature itself, its color palette, exceptional naturalness in everything. It may seem to some that it will not be possible to create a "house in the village" in a city apartment, but this is not so. What can be done to create a natural oasis of serenity and simplicity in a house in the middle of a metropolis??
Style features
Country music has its own rules to help recreate it with maximum quality and authenticity:
simplicity, complete absence of frills;
sincerity, preservation of traditions;
rejection of innovations, finishing synthetics;
only natural materials.
Simplicity is the true theme of country music. A room in this style is always sweet, sincere, calm and familiar, as if you suddenly found yourself in your grandmother's village house.
On a note! But do not think that country is too primitive: sophistication, grace, even a certain chic is possible in it.
After all, natural materials in themselves are quite expensive and always look amazing.
"Rough" cladding, painted walls, brick, masonry, wooden furniture, the presence of textiles and bouquets of fresh flowers - all these are notes of sweet primitivism, in which each object is understandable, familiar and performs certain functions. In country, there is no place for abstractions, non-standard shapes, broken lines, flashy shades.
Basic materials
If we talk about the materials that should be used when creating a style, then this is forged metal, wood, stone (preferably natural), in a word, everything that can be found in nature. If you try to get around this principle and use imitations, substitutes, then the very charm of the style can disappear, and the country-style bathroom will turn into something incomprehensible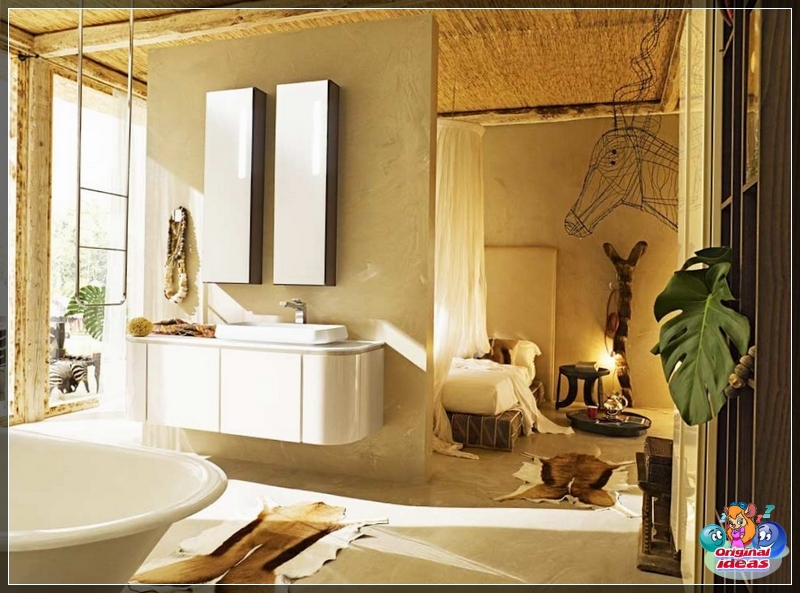 Despite the fact that wood and a bathroom, in principle, are incompatible, it is this material that dominates the interior in almost everything: in the cladding of all surfaces, furniture, accessories. Therefore, you should choose materials and items of excellent quality, durability, which have undergone appropriate processing.
Wood in a rustic bathroom can be on the ceiling, on the floor and walls, in the form of a furniture set and even the bath itself: some, for example, find unique models made in the form of a huge wooden barrel.
Natural stone is more often used for floor or wall cladding, but only fragmentarily. If you still think that wood will not withstand moisture, then it is stone, brick, ceramic tiles that can prevail in the country interior. Here it is worth resorting to artificial analogs, especially since these days there are very worthy samples.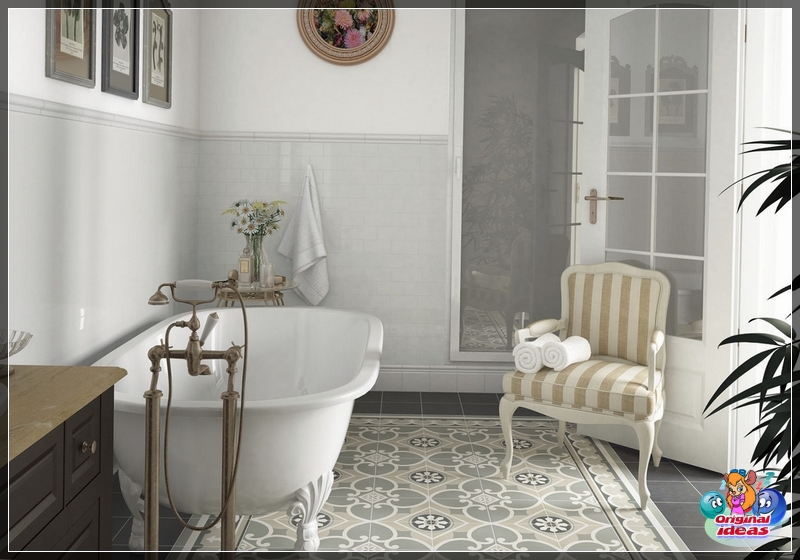 On a note! Another "whale" of country is forged metal.
It is more often found in decorative elements, accessories. The bathtub can have forged legs, the cabinets have handles, the mirror has a frame. It can also be stylish, appropriately processed copper, from which tables are often made under the sink or the washbasin is trimmed.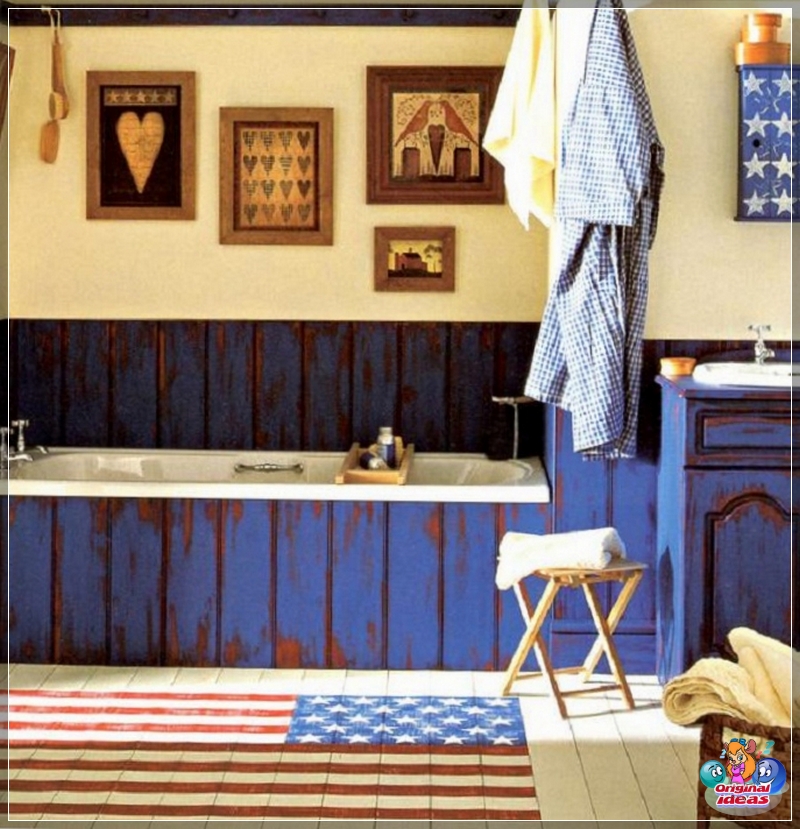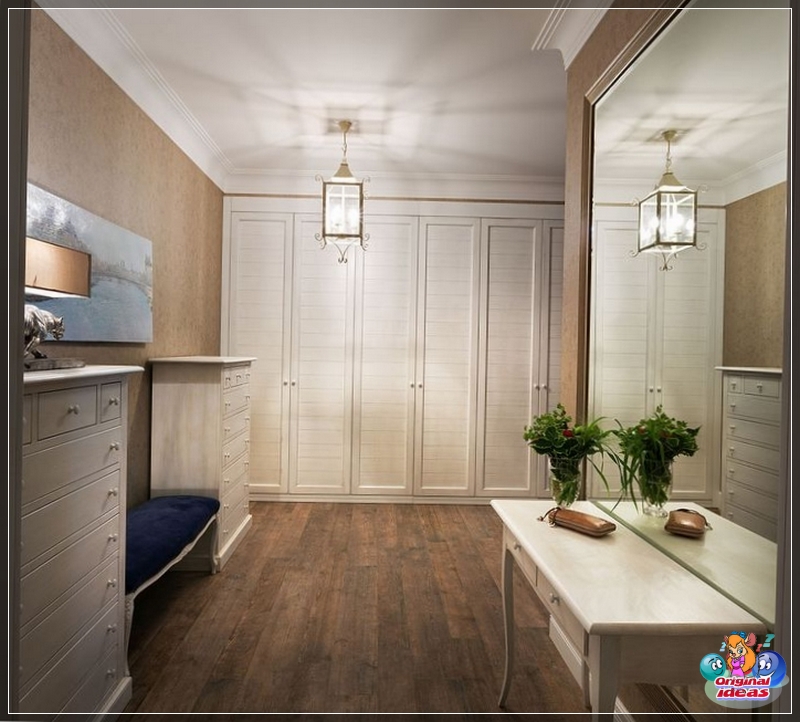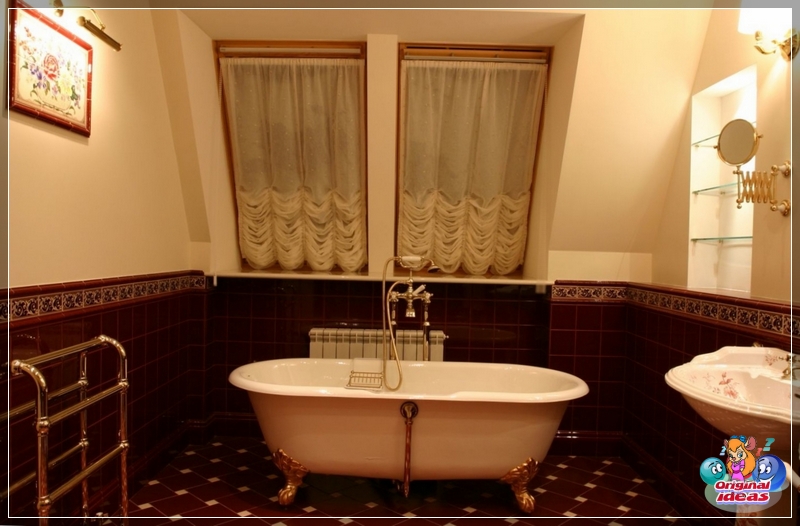 Surface finishing, colors
Rustic bathtub walls are often simply painted in soothing pastel colors. You can do the same with the ceiling if you want to give up the plaster. The ceiling is usually decorated with massive symmetrical timber beams. You can also choose ceramics for the walls, but the colors should be calm, neutral, floral prints are welcome.
If we talk about the color scheme, then nothing bright, contrasting, exciting, cutting eyes in this interior should not be. In terms of color, a country-style bathroom should be decorated in a natural palette, only those colors that are found in nature itself should be present.
Preference should be given to the following shades:
pastel;
terracotta;
woody;
beige;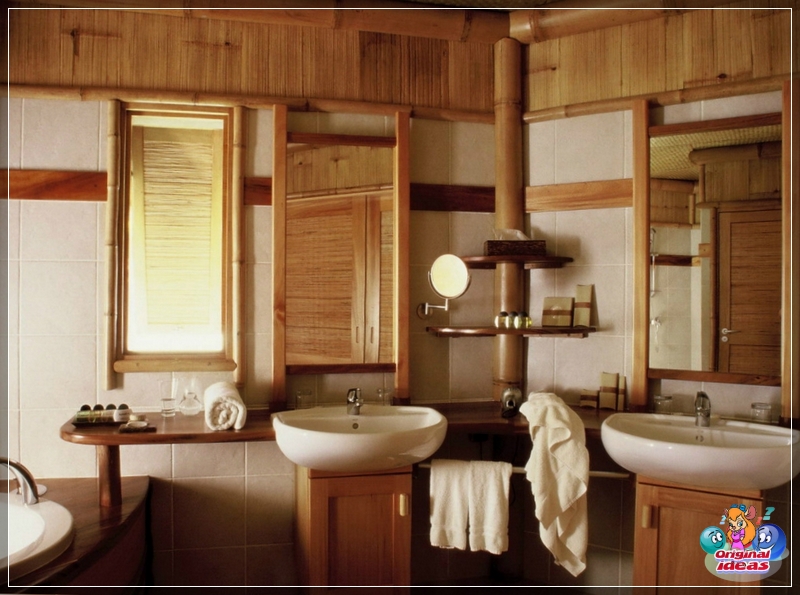 sand;
blue and green;
yellow and orange;
gray and brown.
All of the above colors should not be bright, no acidity and contrasts, but only the maximum harmonious compatibility. If it is possible to achieve color harmony, the bath will seem to be airy, flying, radiating goodness, peace, peace of mind.
Therefore, choosing any color from the natural palette, you should abandon its bright options. All shades should be as if faded, muted, more like halftones.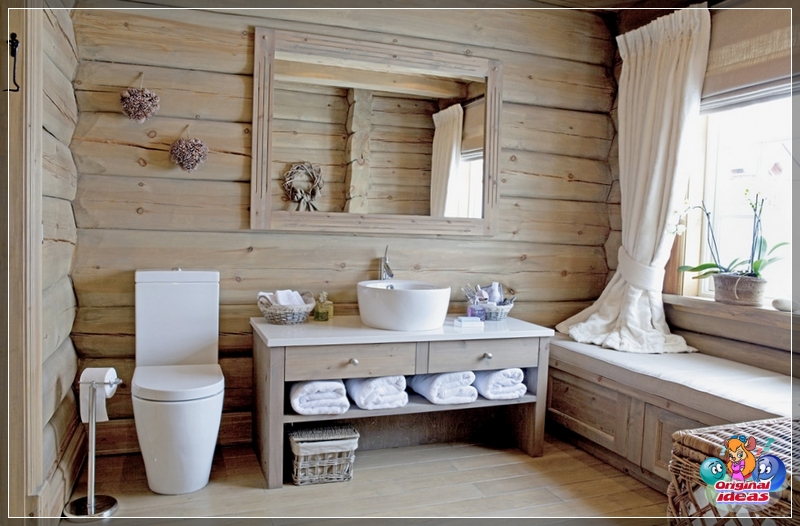 Color saturation is allowed, but on one condition: it must be balanced. If you choose a rich palette for finishing, then accessories should be more subdued. And vice versa. And I want some accents, you can put some bright decorative object or accessory in the interior. But alone and within reason.
Country and furniture
Furniture is the basis of a country interior. It should be made exclusively of wood. The most simple forms, gravitating towards some coarseness, primitiveness, without any pretentious decoration and accessories - these are the main features of furniture sets in the style of a country house. Here you can think about shabby chic and equip the room with something antique, hand made. And you can apply stylish, expensive styling, if opportunities allow.
Important! Your country-style bathroom, according to the photo, is a real triumph of wood in all its diversity.
Painted elements with deliberately left cracks, flaws, scuffs, knots are allowed. The natural texture of the tree should be visible as much as possible, so options that imitate it will not work.
If we talk about forms, then furniture sets can be emphasized rough and uncomplicated. Benches, primitive shelves, stools in a sauna style are welcome. The furniture should be different:
laconicism;
simple lines;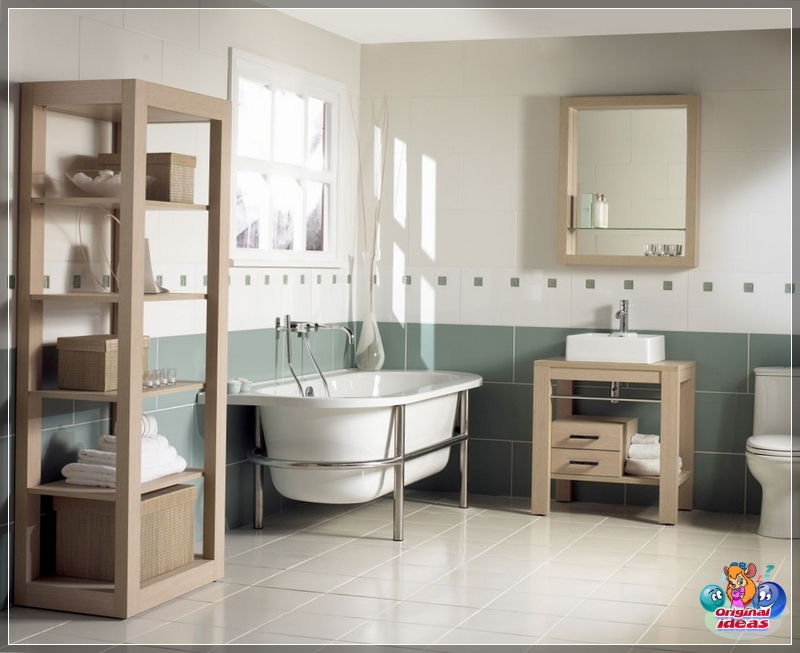 clear forms;
maximum functionality;
lack of decor;
some primitivism.
Very often in country bathrooms you can find wicker items, including accessories - laundry baskets.
Cabinets should have a minimum of drawers, and some open shelves should be curtained with floral print curtains.
Accessories in decoration
The naivety and coziness of a country house - such an atmosphere should be created by country style accessories. Ceramic, clay vases and figurines, pastoral paintings with village subjects, landscapes, live bouquets and dried flowers, curtains with frills, ruffles and bows, wicker baskets, animal skins or a rug with a high fluffy pile and, of course, an abundance of textiles - this is not enough what can be present in a country bathroom.
Copper and forged handles, animal figurines, stucco elements on the walls and ceiling, and even deer antlers will be in place. But we should not forget about harmony and compatibility.
Overkill and congestion are not at all welcome here. Otherwise, your country-style bathroom risks losing its harmony, charm and tranquility.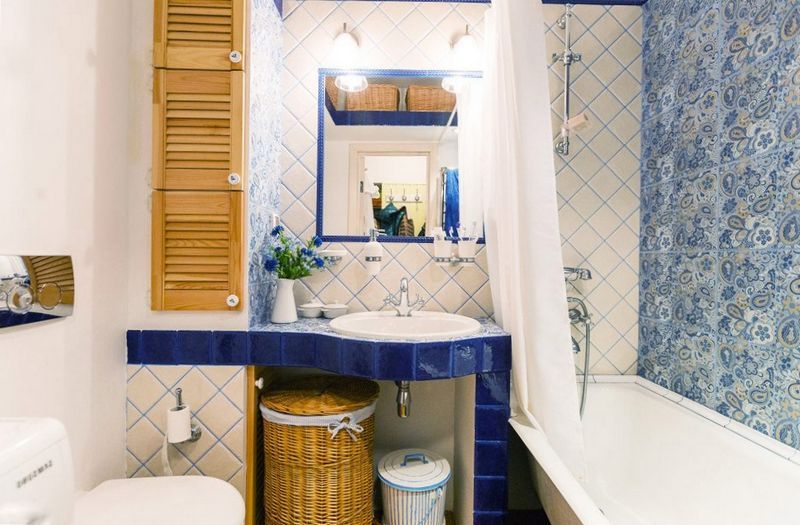 And to understand how best to decorate the interior with interesting accessories, look at the photo selection. Perhaps one of the proposed interiors will be in tune with your tastes and preferences.