How to turn routine hygiene procedures into a small miracle, surrounding yourself with luxury and exquisite beauty? The answer is simple: an oriental-style bathroom will help.
Unique design and bold ideas will transform a standard room into a wonderful world of cleanliness enjoyment.
However, before starting the repair, you need to choose which East is the most attractive, because the oriental design is based on the traditions of countries such as:
India;
Japan;
China;
Egypt;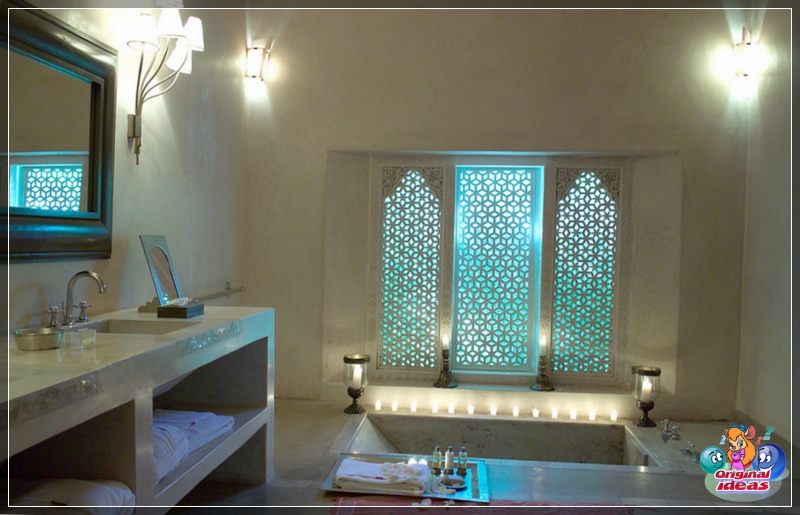 Morocco;
Turkey.
Nuance: the oriental style is picky about the size of the room, so for small bathrooms it is better to use Japanese and Chinese designs, for spacious ones - Moroccan, Turkish, Egyptian.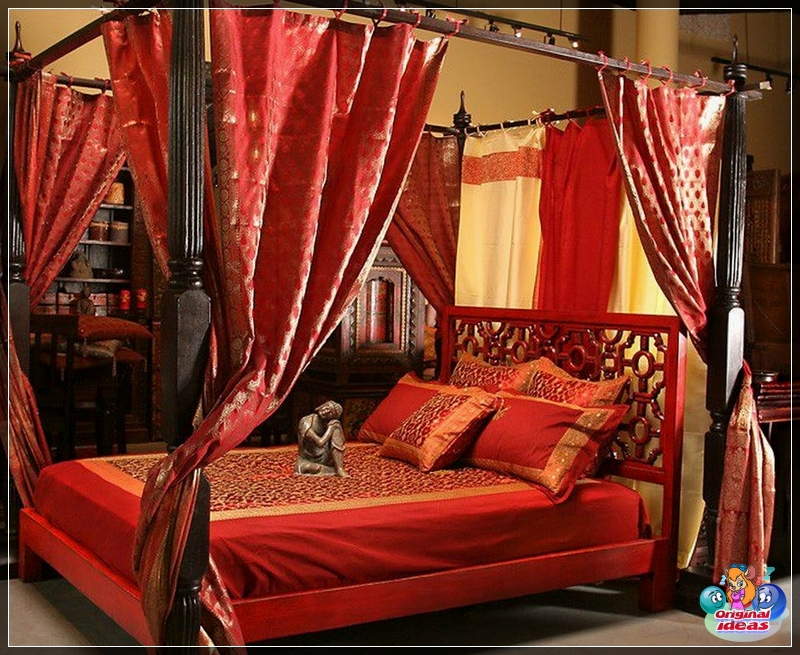 Luxury of india
An oriental Indian bathroom is a luxury and richness of natural colors and materials.
The color scheme includes the following shades:
all kinds of brown, woody, ocher;
blue;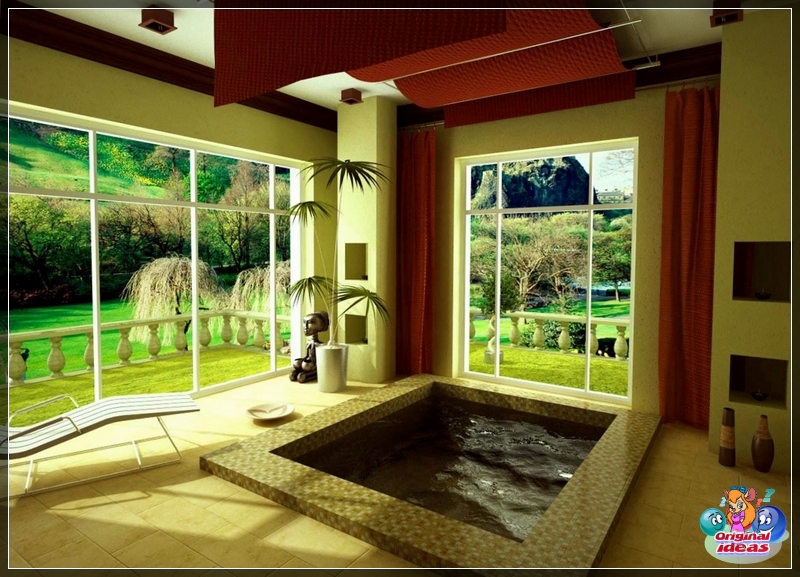 green;
Orange;
Red.
Important! The most recognizable Indian pattern is paisley, or oriental cucumber.
Ceramic tiles with this pattern will decorate walls and floors, but the pattern should not be overly variegated.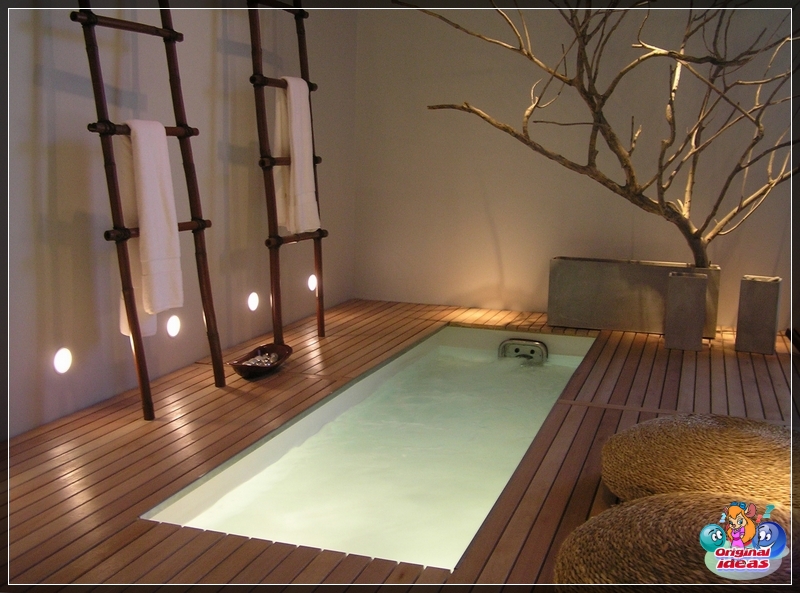 Designers offer several more options for wall decoration:
wood carved panels or gratings covered with waterproof lacquer;
homogeneous plaster, on top of which is a mosaic panel;
walls are painted in rich colors - fuchsia, green, blue.
If possible, one of the walls is formed by a niche crowned with several domes. The inner surface is covered with plaster and decorated with carvings. Even a shallow niche immediately gives the bathroom an Indian flavor.
It can accommodate a sink or open wooden shelves.
Plumbing fit both traditional white and black with gilding, red or beige.
Textiles are an important part of the Indian interior, so towels, rugs, bathrobes made of natural fabrics with national motives will be appropriate in the bathroom.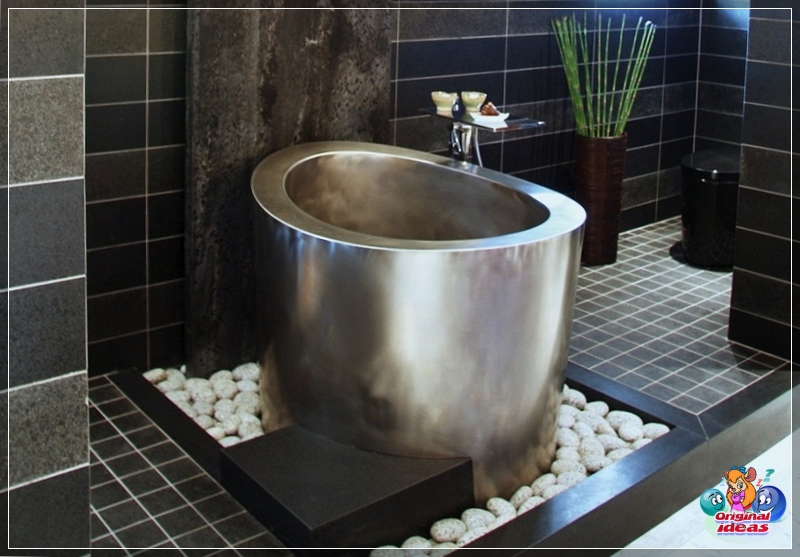 Attractive minimalism of the Land of the Rising Sun
Yes, the interior of the bathroom in an oriental style, photos of the best options in the Japanese style are given in our article, impresses with its elegant and thoughtful simplicity. Nothing superfluous, asceticism, laconic forms, these are the principles of the Japanese interior, which has become popular in many countries of the world.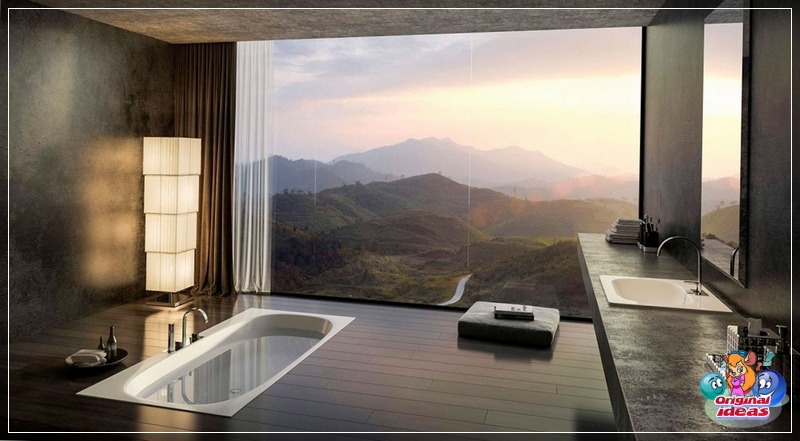 The bathroom interior uses natural, subtle colors that maintain a soothing atmosphere of relaxation:
blue;
peach;
beige;
pink;
terracotta;
coffee;
yellow;
black.
Important! From this variety, you need to choose only 1 or 2 colors to avoid oversaturation of the room with colors.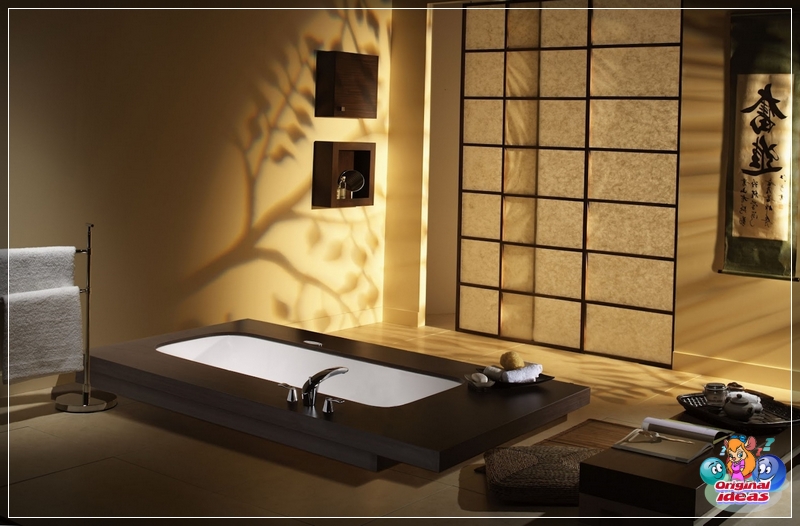 If the dimensions of the bathroom allow, then it must be visually divided into zones traditional in Japanese baths:
for changing clothes;
shower room;
swimming place.
In this case, screens or partitions will help to differentiate the bathroom - shoji.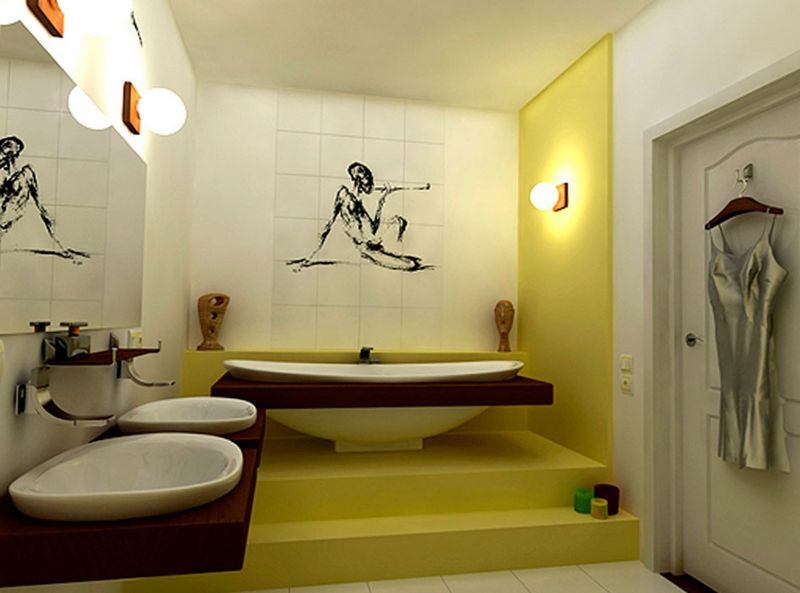 On a note! In a Japanese-style bathroom, white plumbing with bronze or copper taps and mixers looks appropriate.
If it is possible to install an ofuro - a cedar barrel - it will be possible to spend many pleasant minutes in it, relaxing and relieving stress.
Ofuro is not for washing, but for relaxation. In a European apartment, a Japanese barrel will be a real decoration of the bathroom.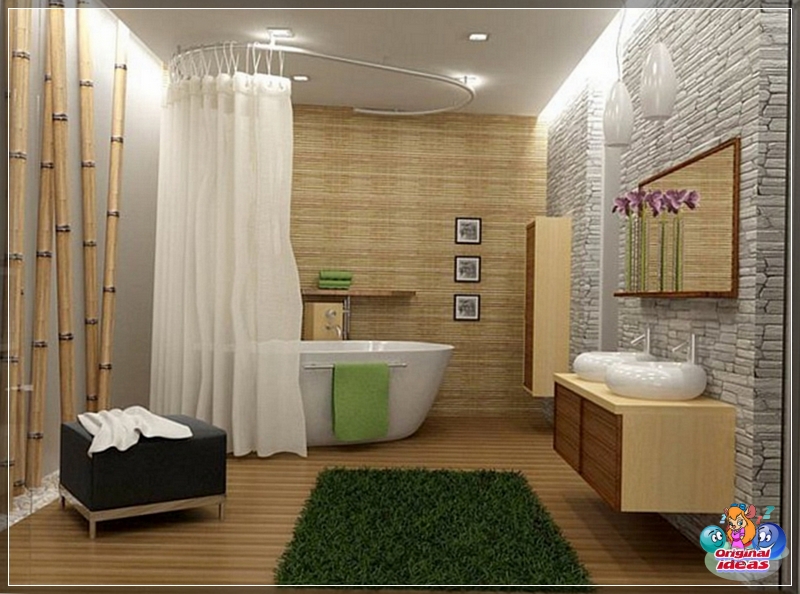 Designers advise using the following wall coverings:
rough matte ceramic tiles imitating rice paper, bamboo, wood, straw;
ceramic tiles imitating wooden rectangular panels;
ceramic panels with views of the mountains, images of good hieroglyphs-wishes, cherry blossoms, chrysanthemums;
combined surfaces - large lattice covers painted or plastered walls;
river stone mosaic.
Bathroom furniture is selected exclusively from dark polished wood with low legs, rectangular clear shapes.
Lighting can be ceiling-mounted, wall-mounted, sconces can also be installed. Luminaire shades are selected in a cubic shape from frosted glass, wooden slats or bamboo.
Sisal or bamboo mats are placed on the floor.
Chinese grace
It is worth looking at a variety of photos. An oriental-style bathroom in Chinese always meets the requirements of feng shui philosophy and promotes meditation.
Of the colors, it is preferable to choose the following:
green, the color of reed or lotus leaves;
warm yellow;
gold;
transparent blue;
black;
White.
But the priority color is red (and even scarlet). It must be present at least as a color stroke or accent.
When decorating walls, one must remember the basic rule of feng shui and avoid sharp corners or sharp shapes - this prevents the flow of positive energy.
Walls, floor and ceiling are covered with natural materials. It can be stone, glass, metal or wood.
Ceramic tiles are indispensable, which are used both as wall and floor coverings:
glossy one-color;
imitating stone, bamboo, rice paper, silk fabric;
similar to small river stones.
Suitable for the Chinese style, impregnated wood floors or porcelain stoneware that depicts thatch weaving.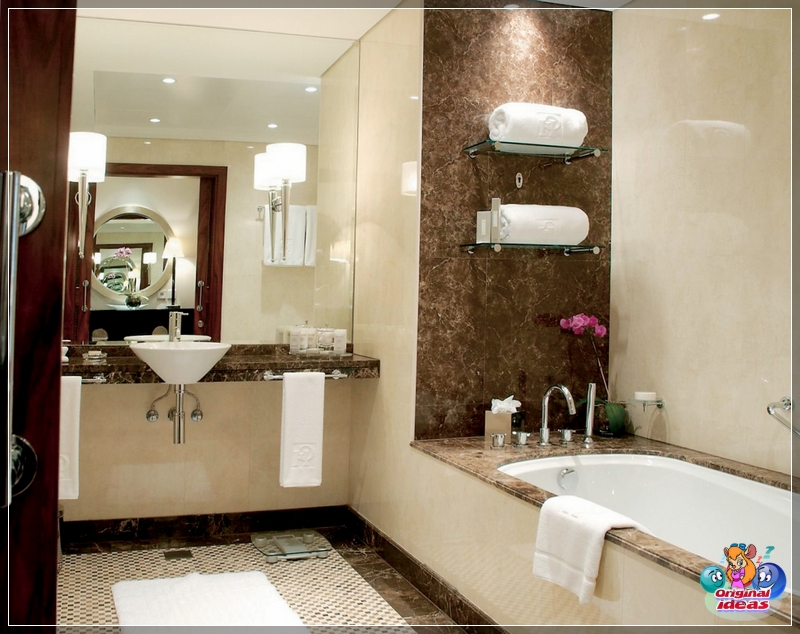 To enhance style harmony, you should correctly choose plumbing. For the Chinese style, it is necessary to select plumbing items of a square shape, but with rounded edges. Sink or bathtub can be decorated within a wooden case. The bath itself is most often located on a podium with closed sides.
Furniture is selected compact, low, preferably made of wood. Bamboo furniture fits perfectly into the surroundings. The corners must be filled with cupboards or dressers, t. To. in feng shui, empty corners are a dangerous phenomenon for positive energy.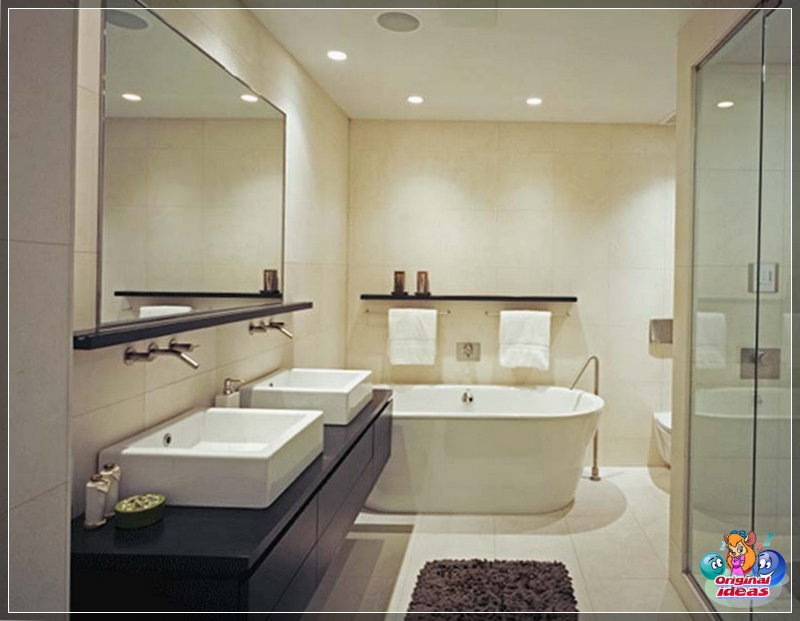 And one more thing: a Chinese-style bathroom is always well-lit. These can be stylized modern shades or red paper lanterns treated against high humidity.
Mysterious Egypt
You can decorate an Egyptian bathroom in an oriental style, photos of the most interesting designs are posted below. This type of interior design is characterized by rich luxury, so it is better to implement it in a spacious bath.
Among the colors, a gamut of yellow tones prevails - from sandy to gold, brown is used as an additional one - from beige to dark chocolate.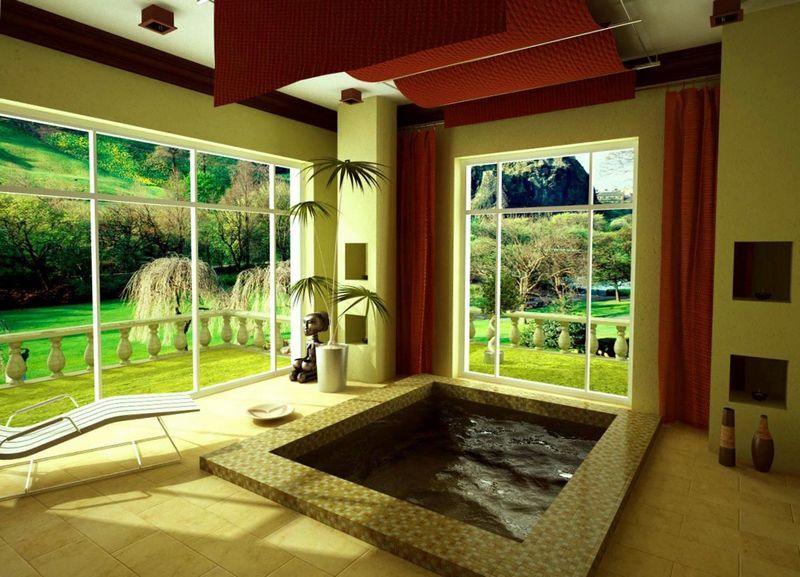 Walls and ceilings are finished with textured plaster, painted in golden tones, or the corresponding ceramic tiles. Fancy architectural details such as arches and columns are very appropriate.
Furniture made of expensive wood is decorated with gilded handles and legs in the form of animal paws. Gilding is also applied to the mirror.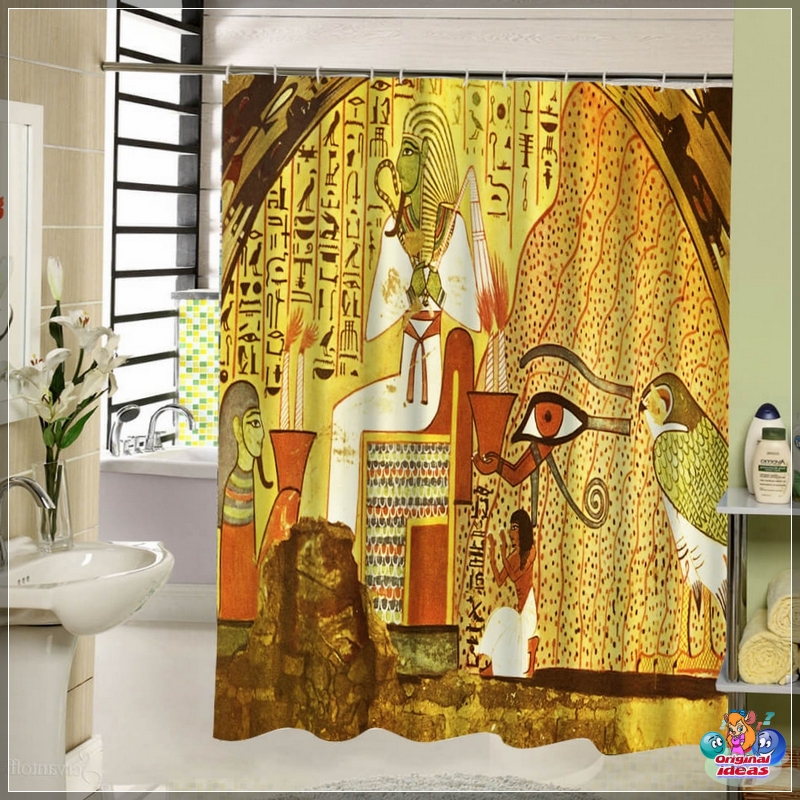 It is also better to purchase plumbing fixtures in sand or beige colors, with elements decorated with gold paint. Instead of a standard bathtub, you can put a large jacuzzi on a pedestal.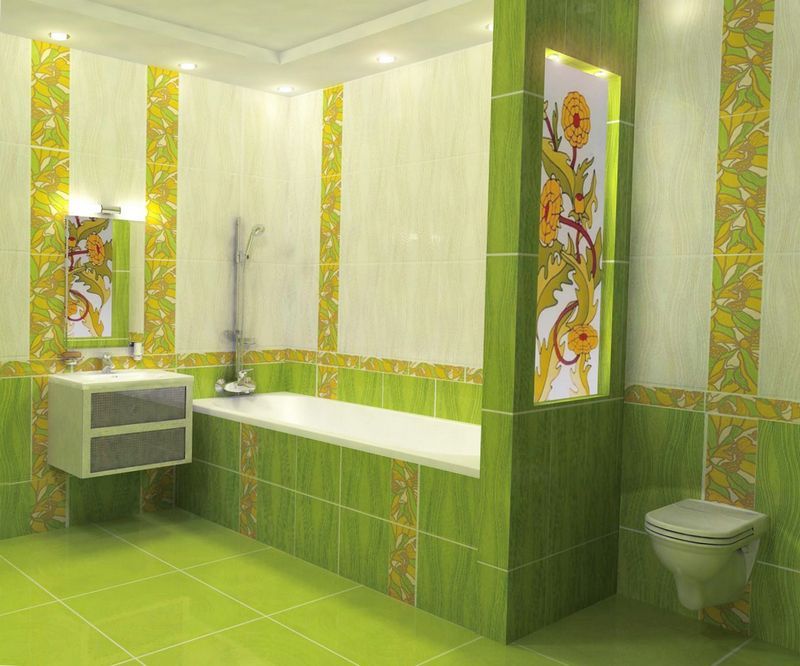 Real fairy tale
Luxury and splendor, mystery and beauty - all this is embodied in the national culture of Morocco, which for Europeans has become the personification of a fairy tale. An oriental Moroccan bathroom - the most elegant, defiantly decorative, but at the same time perfect in style and elegance.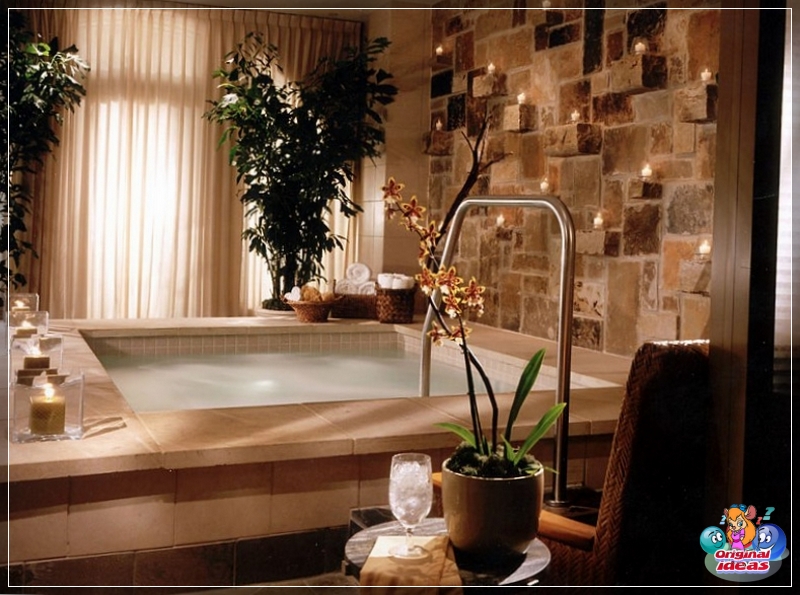 Amazing color saturation is at the heart of Moroccan design. The atmosphere is created by the following tones:
thick red colors;
yellow (from sandy to ocher);
Orange;
Brown;
necessarily ultramarine, turquoise, cobalt.
Another option for a Moroccan-inspired bathroom is to use black and white.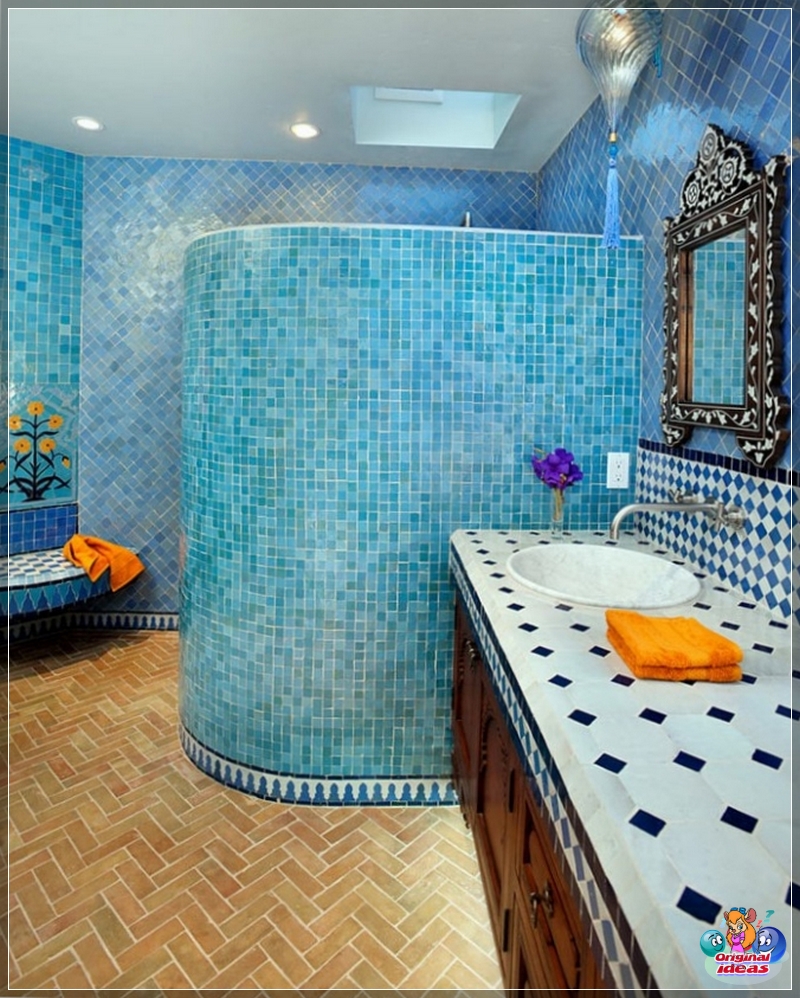 Of particular importance are the architectural elements characteristic of this distant African country and which have become an integral part of the East for Europeans:
pointed arches, in the form of which windows or doors are made;
lancet niches for installing mirrors or shelves.
For wall decoration, it is best to use Tadelakt mineral plaster, with its help, the effect of marble walls is created. A varied layout of tiny, no more than 6 cm each, ceramic tiles looks no less beautiful. Bright or black and white patterns in the form of stars and geometric shapes, floral ornaments, Arabic ligature look amazing.
Mosaic can decorate not only walls, but also sink countertops, flowing from a vertical plane to the floor.
To harmonize the style, you need to choose plumbing made of dark stone, the faucets are made of bronze or copper, the faucet is with an intricate spout.
Furniture is purchased low, simple in shape, with massive wooden handles.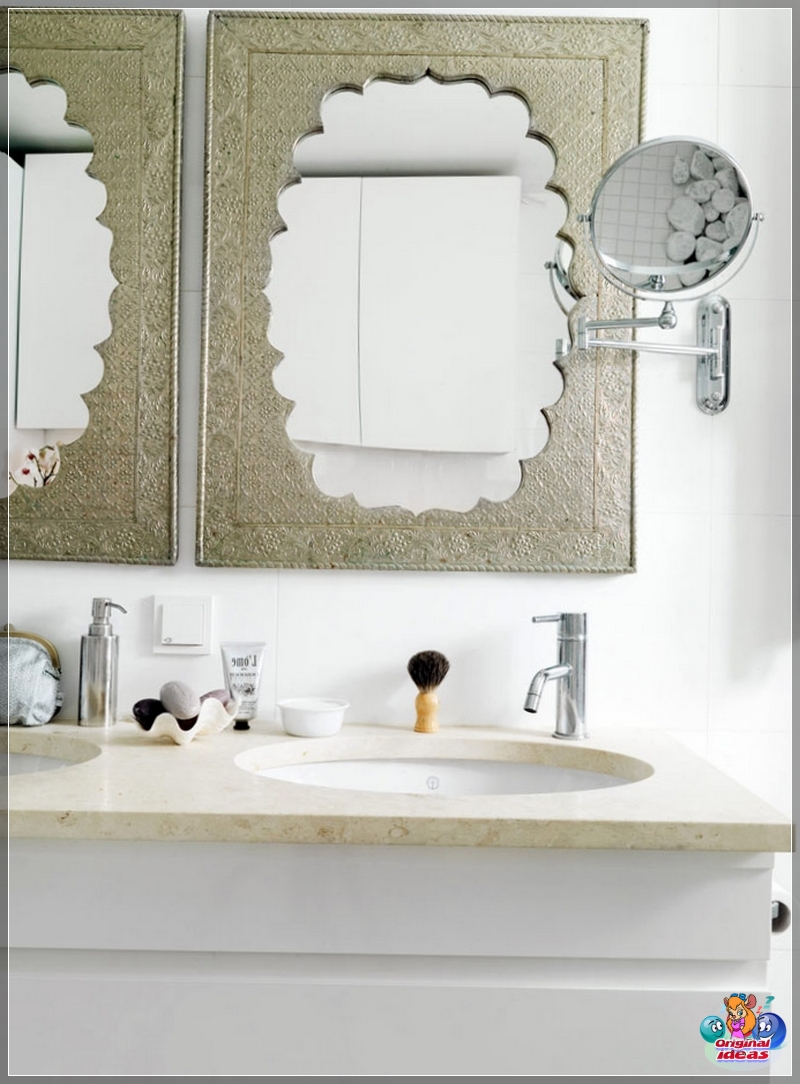 Brass lamps decorated with embossing, metal carvings and colored glass inserts will become a magnificent stylistic accent.
Turkish luxury
If possible, instead of a traditional bathroom, you can arrange a small hammam, then it will be a unique oriental-style bathroom. The photo of the design should be studied before the start of the repair, choosing the appropriate option or coming up with your own. It is better to entrust the installation of equipment to specialists, and use a small blue-blue mosaic to decorate the room.
However, a luxurious bathroom in the Turkish style can be decorated without a radical reconstruction. To create an oriental atmosphere, use:
small stone mosaic, aged looks great;
intricate ornaments (without the image of people or animals), most often the Turkish cucumber pattern is found;
marble plumbing with copper mixers;
The sink looks great in the form of a copper basin, and the shower head looks great in the form of a copper dish.
The main colors that are used in the selection of finishing materials and textiles:
Red;
brick;
red brown;
blue;
yellow;
green.
Luxury and restraint - all this is the East, so different, but always elegant and beautiful, amazingly suitable for decorating a bathroom.