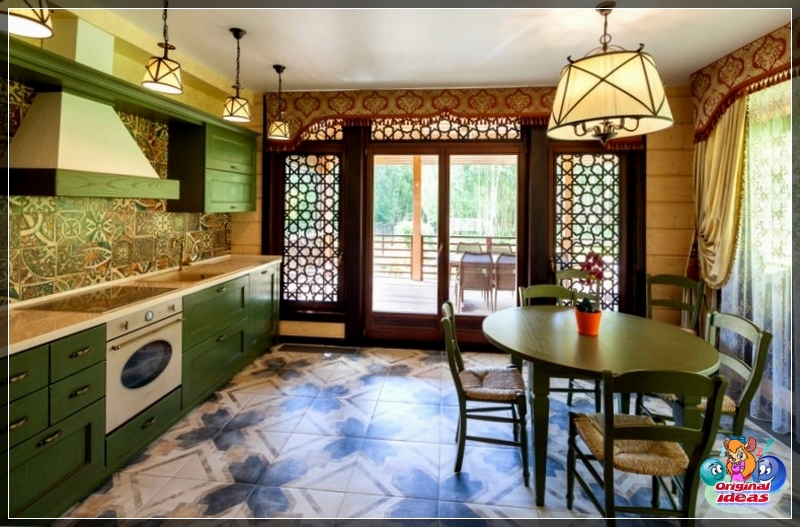 The bright and colorful world of the East fits perfectly into the interiors of modern apartments and houses, bringing in what is so lacking in a modern person - the richness of colors, tastes, a wealth of sensations.  An oriental-style kitchen will be a great place where the whole family will be happy to gather to share their impressions at a common table and enjoy every day, to cook delicious dishes and eat them with pleasure.
Having made the decision to decorate a kitchen room in an oriental style, you must first understand which kind of the East is closer and more attractive:
India;
Japan;
China;
Turkey;
Morocco;
Saudi Arabia.
Designers conditionally divide the oriental style into Arabic and Asian, which have their own characteristics. However, in general, the oriental style in the kitchen can be indicated by applying the following design tips:
Use only bright natural colors. Shades of brown and green are in priority. The following are used as necessary tonal accents:
gold and the whole palette of yellow;
Orange;
turquoise, deep blue, sapphire;
red - from scarlet to wine.
Creating an oriental style, the kitchen can be rebuilt using architectural changes:
domed ceiling;
for the Indian interior, textile curtains separating the kitchen space are suitable, for the Chinese one - screens and light partitions;
for Arabic design, arches are irreplaceable, since they create the right atmosphere, they are used when decorating windows, doorways, niches;
lack of clear geometric lines, rectangular shapes in the Arabic style;
in the Asian direction, on the contrary, it is worth adhering to straight lines, simple forms, limiting redundancy and colorfulness.
Natural finishing materials help to maintain the unforgettable spirit of the East. And although each country has its own approach to decorating walls, floors and ceilings, the oriental style implies high quality materials and subtlety of work.
Oriental kitchen design: general trends
The Asian interior is more restrained in colors, texture of the finish, while the Arabic one is luxurious and bright. The design direction should be chosen based on the area of ​​\ u200b \ u200bthe kitchen: the smaller the room, the more calm the interior should be.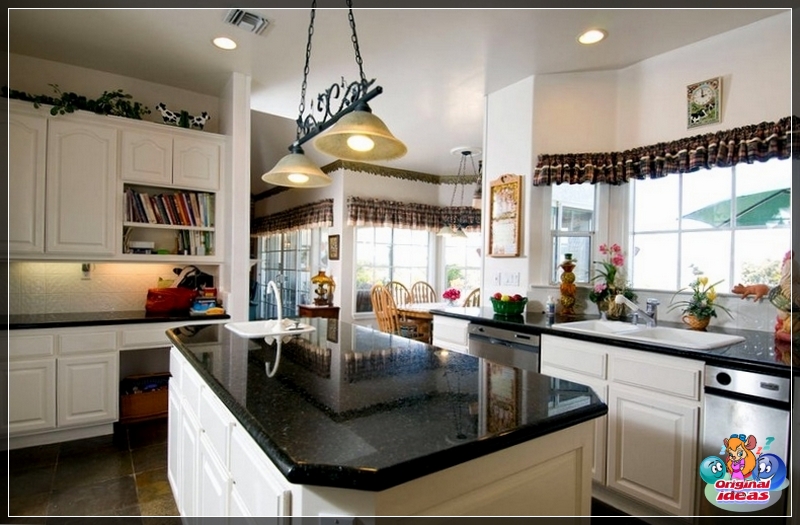 The ceiling in the oriental style can be decorated in different ways, based on financial capabilities:
simply painted white, but well aligned and with a beautiful chandelier in the center;
painted with waterproof paints;
drywall will help out if the ceiling is extremely uneven, you can make a multi-tiered composition and even a dome;
it will also help to hide the flaws of the stretch ceiling, which will perfectly fit into the color scheme;
the ceiling will be decorated with stucco moldings, gypsum linings, molding structures;
a solution suitable for all styles - wooden beams or slats.
Most often floorboards, laminate or porcelain stoneware are chosen as flooring. In ethnic interiors, the color of the floor is usually darker than the walls and furniture.
Having studied the offered bright and colorful photos, you can develop an oriental style kitchen design yourself. In this case, it should be borne in mind that the creation of a characteristic oriental atmosphere and a unique interior will be facilitated by special solutions for wall covering. For example, the following materials are used:
wood panels at a third of the surface height;
wooden slats on top of plaster;
textured plaster with the addition of marble chips, repeated application and painting;
universal solution - ceramic tiles.
It is about tiles that provide many design possibilities that I must say in more detail.
Such different tiles for the kitchen in an oriental style
The interior of the kitchen in oriental style, the photo can be studied in our article, it is inconceivable without ceramic tiles. Durable tiles cover:
floor; the apron of the working area must be decorated;
walls - in whole or in part, you can use the method of combination with plastered surfaces;
window or other niches;
worktop or dining table top;
windowsill.
However, it is necessary to select tiles in accordance with the general idea of ​​\ u200b \ u200bdesigning the kitchen space.
Japan and China.
Tile collections that imitate the rough surface of rice paper or bamboo weaving, straw are ideal. Large ceramic tiles can be used to decorate kitchen walls, which give the impression of wood panels. Another option is to decorate the work area with tiles depicting chrysanthemums, sakura in bloom or with hieroglyphs that indicate good wishes.
The color scheme of the tiles is restrained, dim. Preference is given to natural shades of brown, beige and green. In the Chinese interior, the presence of red and gold shades is obligatory; in Japanese, black will bring an interesting touch.
Morocco.
Interior in the spirit of Morocco is simply impossible without tiles. The ceramic coating can be matched to the color scheme of the room and furniture, the tiles are produced in different color combinations, you can choose:
one color - dim, but the tile looks very harmonious in shades of brown or blue;
two colors - for example, white-black, white-blue, red-blue;
multicolor.
National patterns are of great importance, different collections include:
floral ornaments;
patterns of geometric elements - squares, rectangles, octagons;
with imitation of Arabic calligraphic ligature;
arabesque pattern;
patchwork.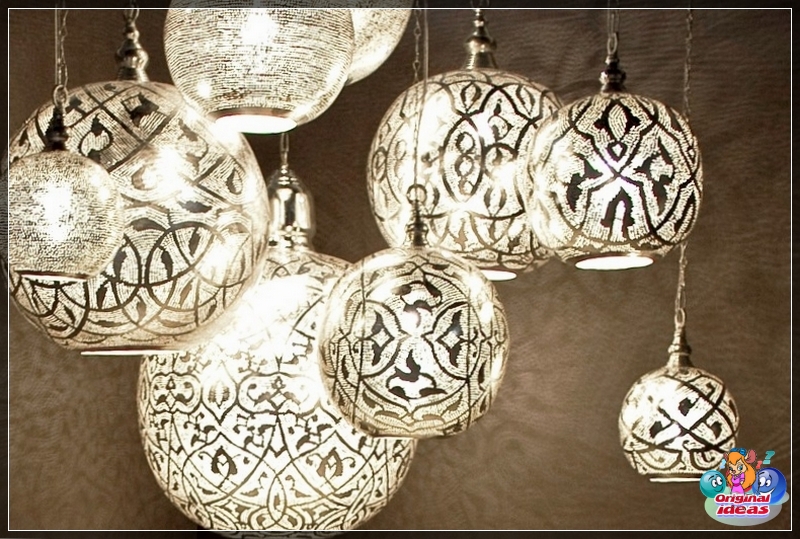 Arabic ceramic coverings are available in different sizes, the tiny iridescent mosaic tile of zelige, measuring 6x6 cm, looks interesting and elegant. Another great option for kitchen decor is the design of the work apron with patchwork tiles, which is easy to compose due to the fact that the pattern is combined horizontally and vertically.
On a note! Arabic-style ceramic tiles are great for kitchen interiors - they are easy to maintain and less noticeable.
Turkey.
To decorate surfaces with ceramic tiles, you can use traditional patterns - Turkish cucumber or floral ornaments. For a quieter interior, artificially aged small stone mosaic tiles are suitable.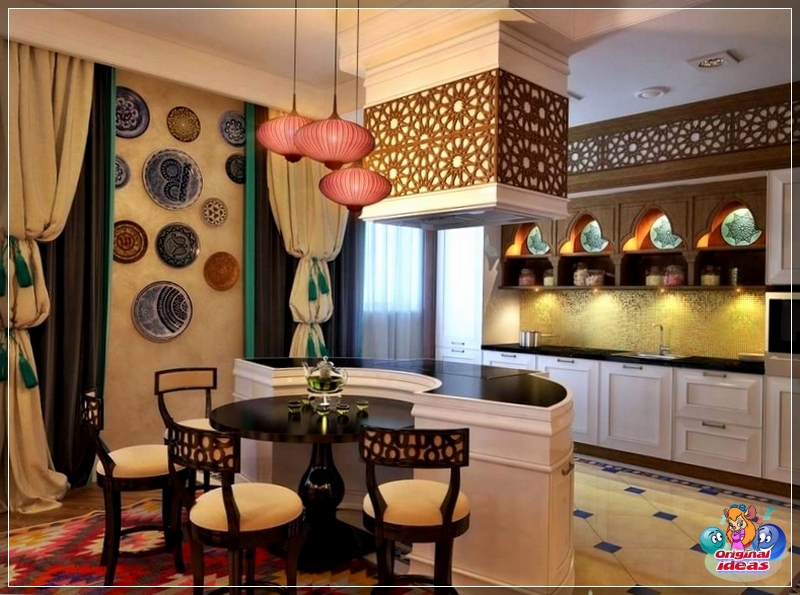 To make the kitchen look Turkish, it is preferable to use a collection of ceramics in the following colors:
White;
blue, turquoise;
emerald, malachite;
brown, terracotta.
India.
The richness of the juicy range is simply amazing, so in a modest-sized kitchen, it is enough to decorate only a small part of the wall with tiles in the Indian style.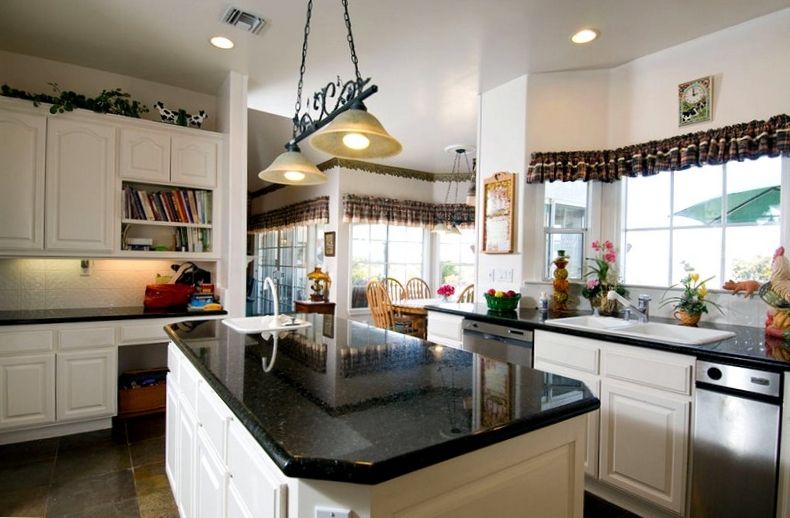 Of the shades in Indian culture, the most popular are:
warm red;
pink;
lilac;
Orange;
blue;
black;
necessarily gold.
Furniture and accessories
Any ethnic style of the East requires appropriate furniture accompaniment. Products made from natural wood, as well as bamboo, rattan fit perfectly. It should be borne in mind that the Asian direction gravitates towards simple geometric, slightly mundane forms of furniture. The kitchen part can be white, red or black, matte products look good, the dining room is made in tone from bamboo, the dining table is decorated with a glass insert.
The Arabic version of the style allows you to order a kitchen set made of expensive wood or high-quality imitation, decorate it with forged or enamel inserts, intricate carvings, stained-glass windows.  Instead of chairs, you can put half-chairs or low couches in the dining area.
An oriental-style kitchen is necessarily decorated with a variety of decor items.
Nuance! Particular attention should be paid to the selection of lamps, which are one of the important elements that set the tone for the entire room.
Variety of choices: oriental chandeliers for the kitchen
Having decided on the style direction of the kitchen interior, you can proceed to the selection of lighting fixtures, given that it is necessary to illuminate the following kitchen areas:
Desktop;
dining area;
bar counter;
and also provide general lighting.
For the convenience of work, LED lamps are built into the furniture, their edging should correspond to the general style of the room.
In the photo, the oriental-style kitchen is equipped with spots - they are suitable for some oriental interiors, but they should be chosen carefully so that the shape and color of the lighting fixtures match the overall design.
The central chandelier fits perfectly into any oriental style, and wall sconces will help create cozy lighting in different kitchen areas.
Manufacturers offer a variety of collections of lamps, conventionally highlighting the following areas:
1. Chinese - most often in the shape of a ball, preference is given to red with gold accents. An excellent option is to hang lamps made of impregnated corrugated paper over the dining area (to increase durability).
2. Japanese lighting fixtures are rectangular, the frame is made of wood or plastic, covered with treated paper or frosted glass inserted.
3. Moroccan lamps immediately add an oriental touch to the interior. Brass lamps have a slightly elongated spherical shape, reminiscent of minarets. Often decorated with glass mosaics, embossing, carvings. If the lamps are small, they are hung on thin chains, several pieces in a row. Large lamp looks great alone, creating the visual center of the kitchen.
4. Turkish and Arabic lighting fixtures can be cylindrical or circular. Made of wrought metal or covered with gilding, decorated with crystal pendants, curls, woven draperies. They can be placed singly or in groups. Ceramic lamps decorated with carvings look interesting - beautiful inserts make them lighter and more elegant. The Arabic variety of the oriental style is perfectly supported by luxurious multi-arm curved chandeliers with glass domes. Another interesting option is a chandelier with a fan, while the blades should be painted to match the furniture.
5. Indian lamps are manufactured:
made of glass, representing a multi-colored small mosaic;
in silver plated brass with embossing;
with woven lampshades on stands, made in the form of elephants and other animals.
The shape of the lighting fixtures varies from rectangular to round.
Nuance! When choosing lighting devices, one must remember that even a high-quality hood that is constantly working is not able to remove kitchen soot and grease.
Therefore, the luminaires must be practical in use. It is preferable to choose plastic, metal or glass products that are easy to wash and dry.
National floral and geometric patterns, as well as flowers and elephants are most often depicted on ceramic coverings.
The technical aspect of oriental cuisine
To maintain the unity of style in ethnic interiors, it is necessary to choose the right mixers and taps. In any oriental design, copper or bronze taps and watering cans look great, a light patina adds to the impression of antiquity.
It is better to choose stone, marble or copper products of a round shape as a kitchen sink.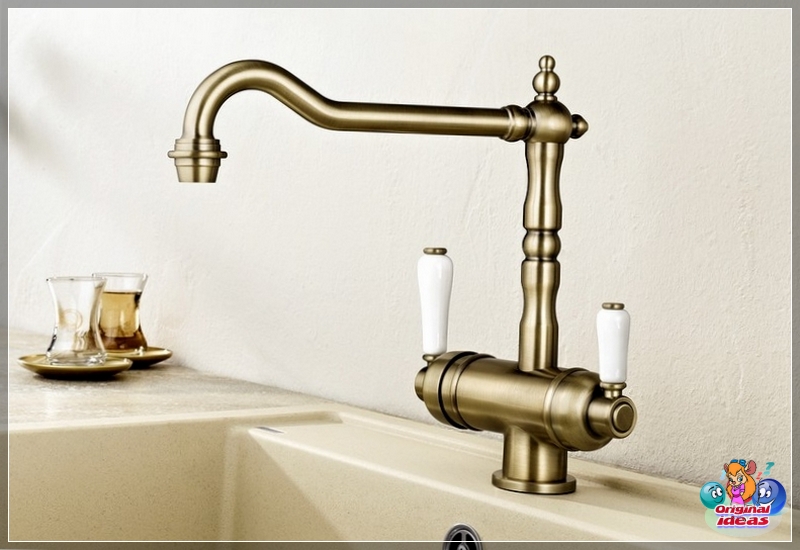 Modern kitchen appliances look like an unnecessary guest in a kitchen decorated in an exquisite oriental style. Therefore, it is advisable to place the necessary equipment so that it is hidden from view (in drawers, behind cabinet doors).