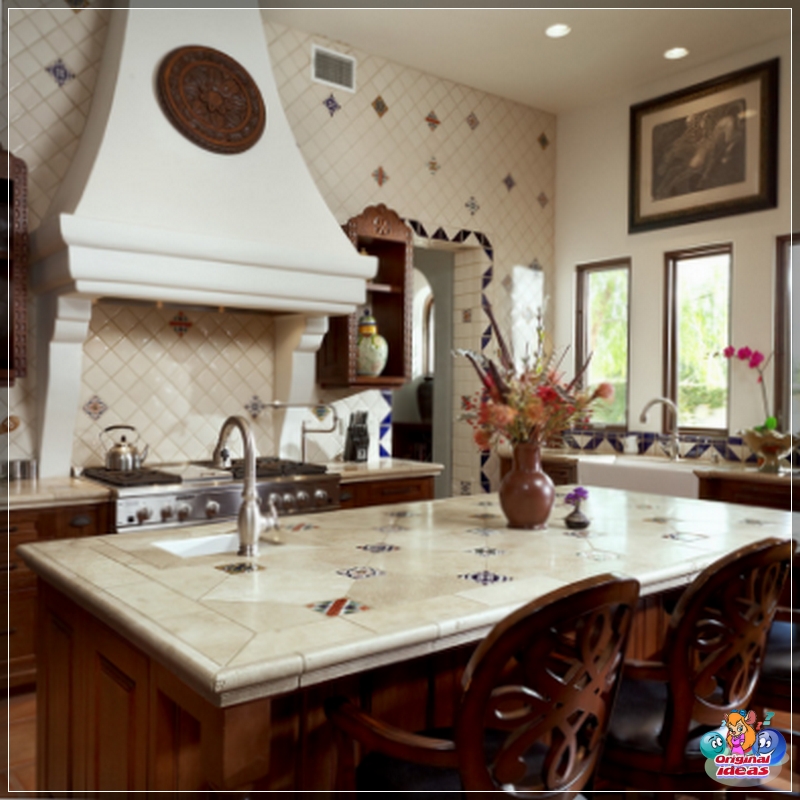 Thanks to the European sense of sophistication and centuries-old rich history, the Italian style in the interior of the kitchen does not leave anyone indifferent. Italians are not only gourmets who have turned the cooking process into a real art, but also skilled designers who have managed to create an organic style. It embodies serenity and tranquility, comfort and family characteristics.
Italian-style kitchen is not only a palace luxury, but also a cozy country
On the Internet, there are a variety of Italian cuisines, performed in both classic and modern styles, from the photos of which it is impossible to look away. Starting from decoration and ending with Italian fittings, a kitchen decorated in this style will be the dream of any housewife. It combines family values, iridescence, the mentality of the country, historical features, simplicity and sophistication at the same time. This article will reveal some of the features and secrets with which you can create a warm and welcoming cuisine in a refined Italian style.
Italian style: history of origin
Whatever one may say, but Italy has always been famous for its masters and was considered a trendsetter. The exquisite creations of Italian designers have delighted the whole world, from new clothing collections to interior items.
The Italian style in the interior of the kitchen always looks chic and elegant, fully conveying the temperament and traditions of Italy
Those who have once visited Italy will definitely want to return there again. There are many interesting things in this country - narrow streets, delicious dishes, old squares, as well as melodic Italian speech. This is the whole ardent, peculiar and vibrant Italy. These are the features that the Italian interior has absorbed.
Oddly enough, it was in Italy that the word "design" originated in the 16th century. However, its essence was significantly different from the modern interpretation. At that time, design was the concept of a future work, which was developed by its creator. Design in its modern sense, as an activity of artistic construction, began to be used thanks to the work of such Italian meters as Gio Ponti, Gaetano Pesce, Ettore Sociss and others.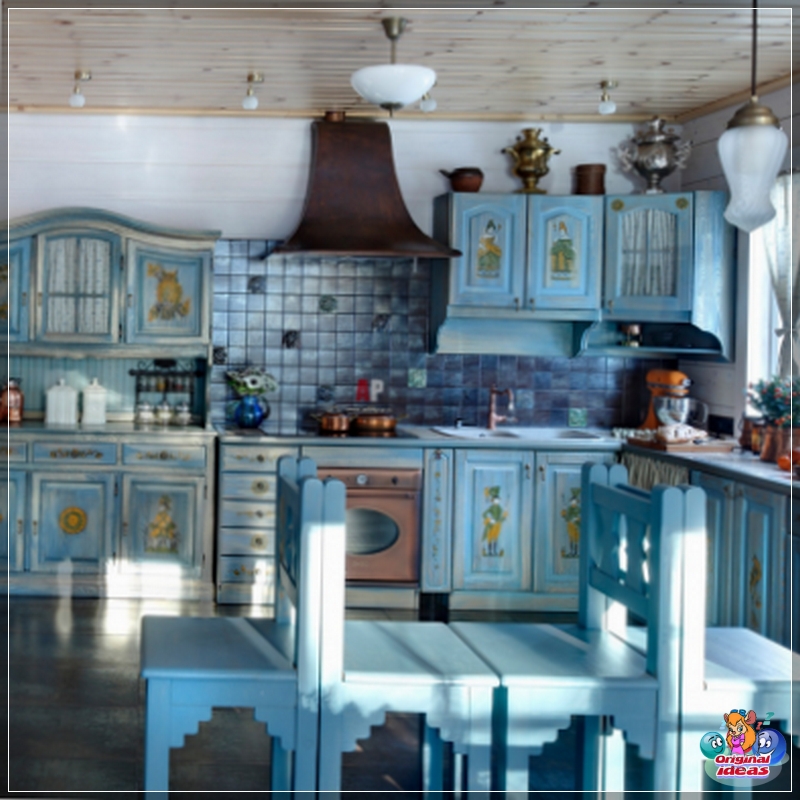 Italian style kitchen is one of the most demanded on the modern market
The room, made in Italian style, combines such incompatible things that it makes a strong impression on any visitor. Thus, the palace chic and simplicity of the province, indestructible traditions and modern spirit create an incredible atmosphere of the Italian interior.
Just like the speech of Italians, in which there are a large number of adverbs and dialects, there are many directions in this style. For example, a "trattoria" style for kitchen decoration, reminiscent of a small cafe in Italy. It features wicker baskets for bread, a red and white checkered tablecloth on the table, clay pots and jugs with fresh and dried flowers, as well as bottles filled with wine and olive oil.
The Italian-style kitchen fits perfectly into the classic interior of the apartment
Having gone through many years of history, the Italian style has absorbed a variety of features. To decorate your space and keep the true spirit of Italy in it, you can combine different options. This wood and natural stone flooring, ornate furniture and tiered ceiling.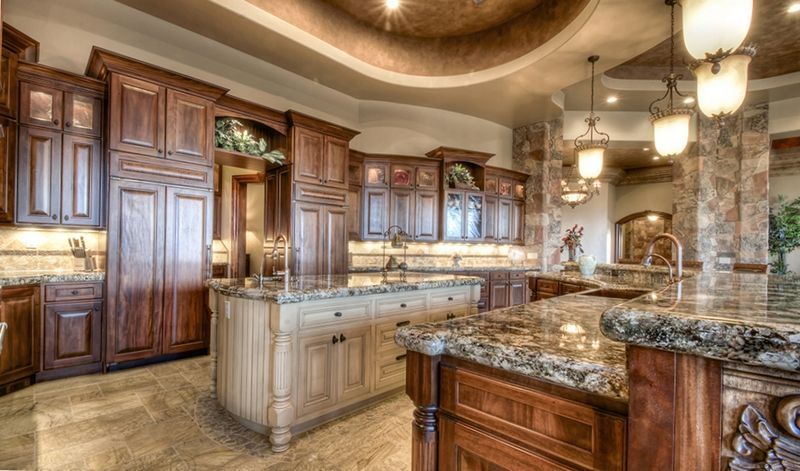 When creating an Italian style in the kitchen, natural materials are often used
Due to the variety of interior solutions, one can understand the history of the development of the Italian style in the interior of the kitchen. Distinguish between classic and modern styles, which have their own features and characteristics, which will be discussed a little later.
If you are a fan of Italian style, then you have extraordinary taste. Further information will help you transform a conventional kitchen into a sophisticated and chic environment.
Classic Italian cuisine interior
Classic features in the interior of Italian cuisine originate from the era of antiquity. Speaking of classic design, one cannot fail to mention such directions as Baroque, Rococo, Biedermeier or Empire. Despite the fact that these are different styles, they have something in common - the desire for wealth and luxury. Indeed, the classics "screams" with their "palace" luxury, scale and deliberate pomp.
The classic interior of Italian cuisine is always scope and luxury
Attention! To decorate a room in a classic Italian style, you should focus on bulky and chic furniture made of wood with elements of gilding and velvet.
Renaissance paintings framed with ornate baguettes, candelabra, as well as bohemian chandeliers have characteristic features for this trend.
When designing a classic kitchen "in Italian" it is also important to adhere to balance, correct forms and symmetry. Despite the bulky and luxurious fittings, there should be no unnecessary items in the room. The design of a classic kitchen combines nobility, grandeur, regularity and high cost.
Furniture for a classic Italian style kitchen looks solid and is most often made of solid wood
The stucco ceilings and walls are characteristic features. Most often, sculptures are used as an accessory. This area is rich in various semi-columns, columns and moldings. You can also find order decor framing door openings. The arch between the kitchen and the dining room looks very stylish. The classic direction of the Italian kitchen interior embodies grace and moderation, but in no way pretentiousness.
You can embody the Italian style even in a small kitchen
Modern Italian kitchen interior
This direction is completely different, because not a trace remains of the classic pomp. Modern trends bring new trends in style, for example, modern, neoclassic, art deco and others. However, the very authenticity of the spirit of Italy remains, adapting to modern design.
The sophisticated and luxurious elements of the classic interior are replaced by the sophisticated and graceful lines of the modern Italian style.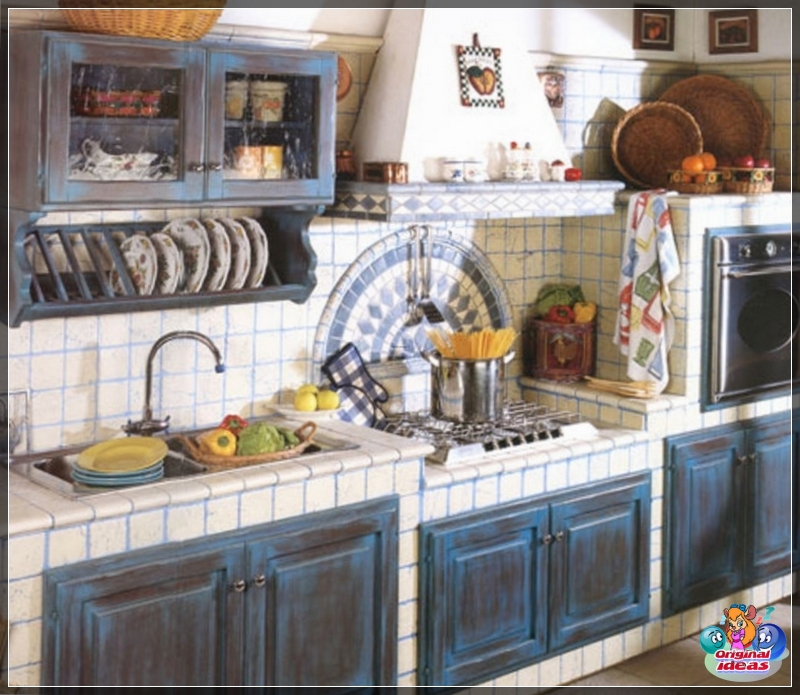 The modern style of Italian cuisine, just like the classic one, gravitates towards natural materials
You can recreate it in your kitchen, knowing the main features of the Italian interior:
Using environmentally friendly materials. In the modern world, the fashion for organic products has also touched the interior design. Therefore, the materials used for Italian cuisine must be natural, for example, wood, painted in a dark color, or natural stones. Often used marble or granite.
Forged items look very stylish. These can be candlesticks, small lamps, kitchen table legs, etc. Such products will add grace and moderation to the room.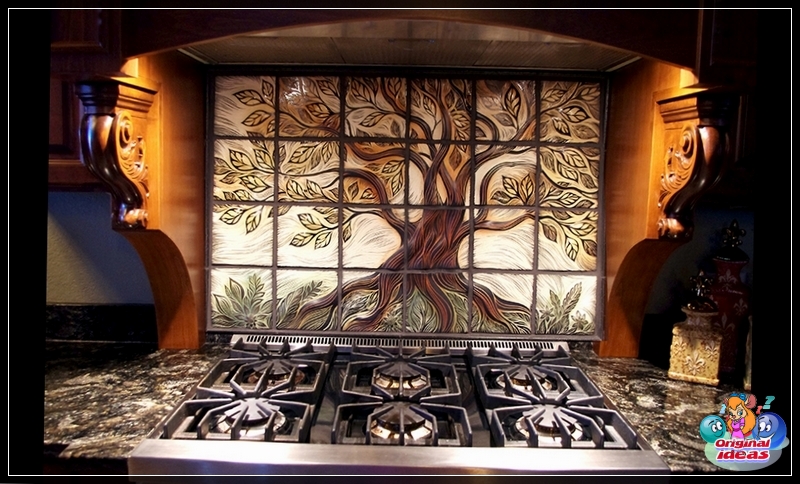 Forged products will perfectly fit into the Italian style
Lighting is essential for modern Italian kitchens. Since the room requires as much light as possible, a baroque crystal chandelier in the center of the ceiling, as well as wrought-iron candlesticks, would be appropriate. These light sources as a whole will be able to convey the spirit of modernity and make the room more comfortable.
In a spacious kitchen, it is worth making several light sources by complementing the forged chandeliers with inconspicuous built-in lighting
Since Italy is a sunny country, the modern style of the kitchen includes only warm colors. The color scheme ranges from ivory to pastel, white, beige, cream tones. However, there are rich and vibrant colors inherent in the Mediterranean style. Thanks to the natural and geographical features of the Mediterranean, the Italian kitchen interior "comes to life" in a new way, as the palette of colors in it is filled with bright yellow, green and blue tones.
Lots of accessories bring the kitchen room to life. Live plants in pots and vases, curtains, both monochromatic and multi-colored, various pictures and so on, will not be superfluous on the windowsills.
Italian style kitchen: design
Italian-style cuisine is most suitable for temperamental people who have an exquisite taste, as well as who appreciate the quality of fittings and perfection in details.
As mentioned earlier, in the Italian style, the use of environmentally friendly and natural materials is acceptable. The contrast of color and texture also plays an important role.
For the floor in the Italian kitchen, choose a parquet board
The floors must be covered with parquet or solid boards. An interesting option is the use of decorative stone or tiles. If the owner is limited in finances, you can use a high-quality beveled laminate as a coating.
Decorative plaster will look great on the walls, and its combination with brick or masonry will generally be wonderful. The rough surface of the walls contrasts with the elegance of the patterned tiles and the smooth countertop made of natural stone.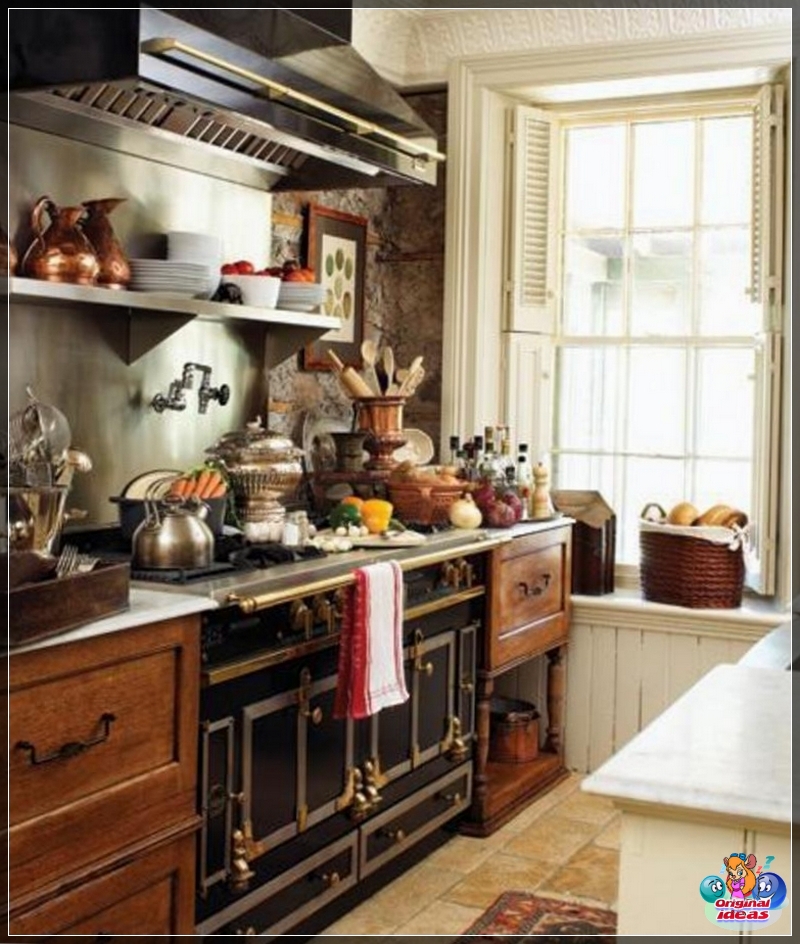 Wooden beams look interesting on the ceiling
On a note! An excellent addition to the Italian style in the interior of the kitchen will be decorative beams and wood panels. True, such a decoration is possible only with a sufficient ceiling height.
When choosing a color scheme for finishing a room, you need to focus on rich natural shades. Ideal would be the blue color, reminiscent of the sea and sky of Italy, a juicy green shade that conveys the Tuscan heights, a lavender shade that resembles bright wildflowers. Warm shades of red, yellow and orange also convey the true Italian flavor. Furniture made of dark or blood-mahogany wood with bright decorative elements would be a great combination.
The color palette of the Italian-style kitchen includes warm natural tones
All this will decorate and bring into the interior of the room a special Italian charm, combining "rustic" simplicity and "bohemian" pomp. In order to visually see Italian kitchens in a modern or classic style, just look at their photos on the website.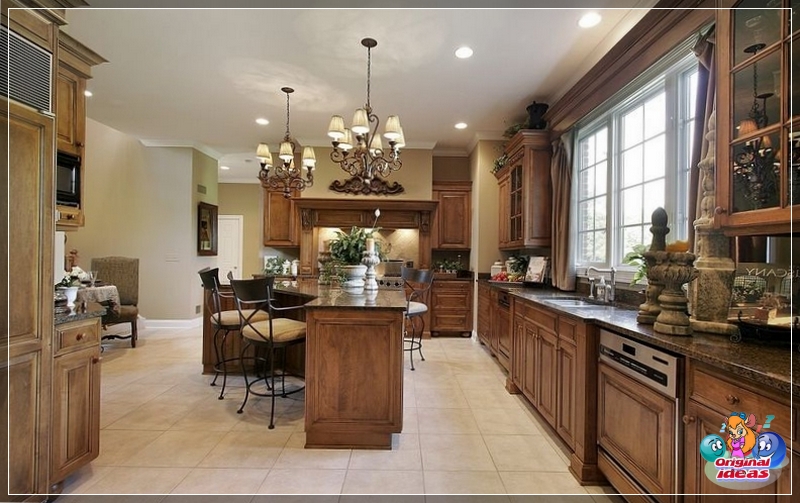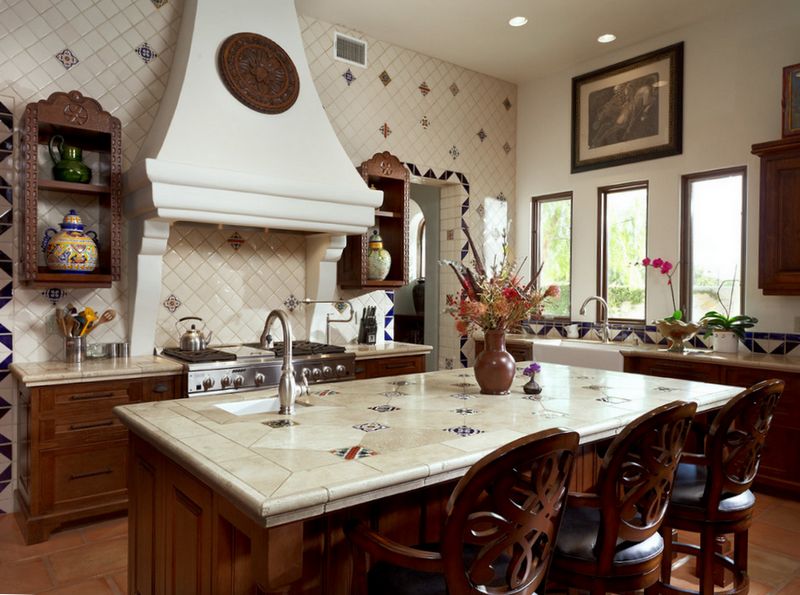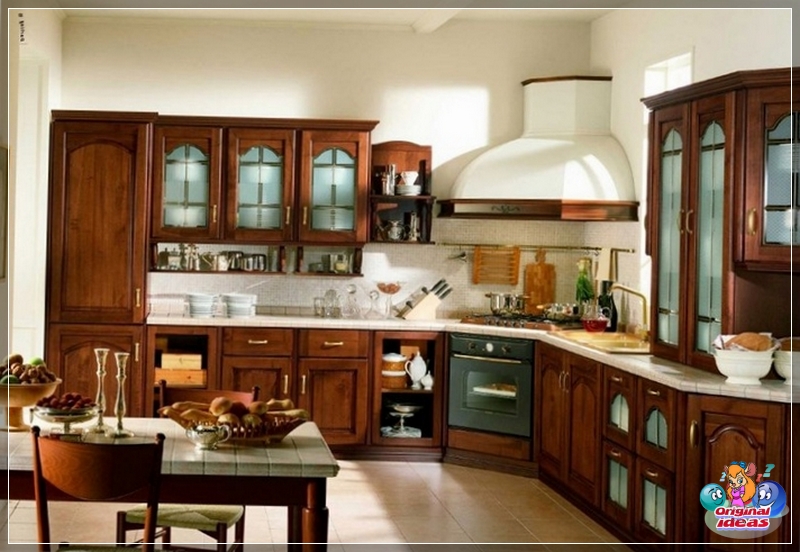 Kitchen interior in Italian style (photo)
In such a room, it is difficult not to notice massive furniture made of wood, marble countertops and fancy bronze fittings. All this together conveys the solidity and grace of the style. At the same time, one gets the impression that all kitchen furniture is passed on from generation to generation, which is very important for preserving the spirit of Italy.
Decorative wood carving of kitchen furniture is often used. Animals, olives, flowers are popular thematic drawings that not only delight the eye, but also encourage the preparation of new culinary masterpieces. Sideboards are also decorated with carvings.
Furniture facades are often decorated with carvings
The main element of Italian cuisine is definitely the dining table with chairs or long benches. Furniture made of wood is perfect not only for families, but also for guests. Lightweight wall cabinets are uncommon for Italian kitchens. Kitchen utensils are stored in a large roomy sideboard.
All household appliances must comply with retro style, which means a combination of white or black with bronze details. Which goes well with a wooden kitchen set.
The apron near the hob or sink can be additionally decorated with a tiled composition
The highlight of any Italian cuisine will be a fireplace that fills the room with warmth and reminds of a family hearth. If space permits, you can equip a real or electric fireplace, but decorate it with natural stone material.
A real fireplace will become the center of any room, adding coziness to the interior
To create your own and extraordinary style of a kitchen room in the spirit of Italy, you still need to adhere to some of the features of this style:
Absolute ergonomics, that is, a convenient arrangement of furniture and kitchen utensils for its easy and non-burdensome use.
A combination of light negligence and carefully planned order. For example, bottles of olive oil and wine, hanging pans, open shelves with dishes. Italians do not hide their kitchen utensils, but, on the contrary, show them.
Creation of contrasting texture and color (rough plaster and smooth countertop), as well as the use of natural and saturated shades.
Thus, furnishings and kitchen furniture create a unique style in the Italian spirit. There are many design options for fittings, detailed information about which can be found on the Internet and view photos of kitchens made in the style of "Italian".
Italian kitchen accessories and lighting
As mentioned earlier, Italian cuisine will captivate with its "artistic disorder". Thanks to this approach, her comfort and a sense of family warmth are preserved.
All kitchen utensils perform two functions - main and auxiliary as an accessory.
On a note! Therefore, small utensils are hung on brass and bronze rails. Large utensils are displayed on special holders.
It is customary to display utensils in an Italian-style kitchen
Traditional Italian-inspired interiors use copper and brass, terracotta and clay. Old-style metal decorations, clay pots and other utensils convey a rustic spirit.
The flooring is decorated with ceramic tiles imitating an antique stone and painted decor. Common motives are landscapes with olive trees, Italian food (fruits, olives, vegetables, garlic), wine jugs and oil bottles.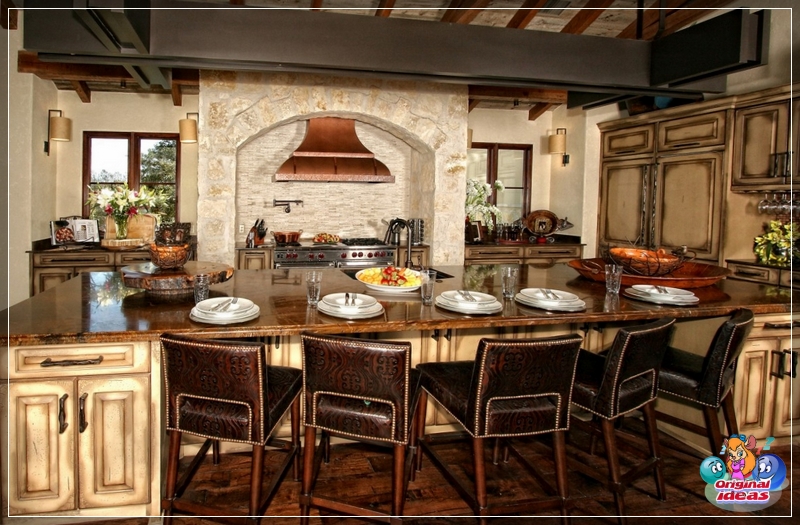 An interesting solution would be a niche that imitates an open hearth, in which a kitchen stove is installed
Wicker baskets will be appropriate, which will serve to preserve small kitchen utensils. Handcrafted products are an integral part of Italian cuisine. These can be embroidered napkins and towels, decorative pillows, patchwork rugs, tablecloths, and chair covers.
A traditional kitchen space cannot do without the use of stained glass windows. To do this, it is filled with colored glass vases, ceiling shades, accessories or doors. Paintings made of stained glass will look very peculiar.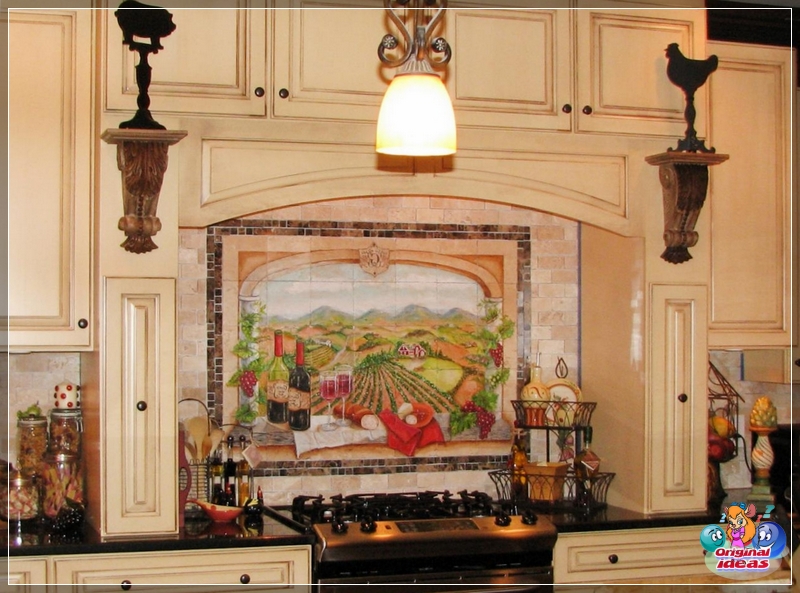 Italian style mosaic
One of the essential features of creating the decor of Italian cuisine is diffused light. It is best to choose semi-antique lamps, namely chandeliers or candelabra. They will look great over a bar or table. Also, the dim side light gives family coziness and warmth to the room. These are candles or antique lanterns, of which there can be quite a lot. Don't be afraid to overdo it with lighting here. Even a table lamp that illuminates the work surface of the hostess will be acceptable.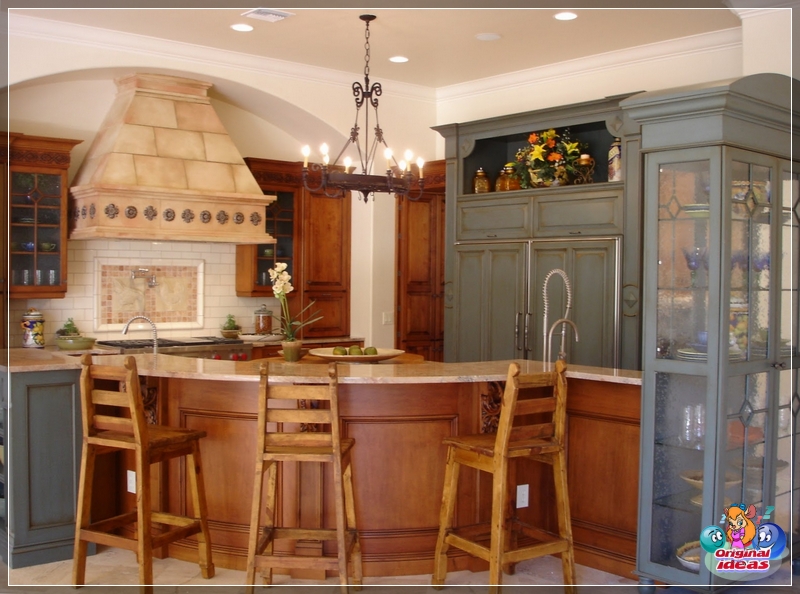 Antique chandeliers will perfectly complement the Italian style in the interior of the kitchen
The main rule of the Italian style is coziness, convenience and charm of the kitchen interior. Don't be afraid to experiment. If you are an adherent of classicism, you can equip your kitchen in a classic style, made in light colors, and if you like modern motives, use eco-materials and bring a drop of something new. Italian cuisine is the perfect place for the whole family and guests, filling with an amazing sense of happiness and joy.