For the owners of summer cottages, a personal plot has always been an important aspect, or rather, a vegetable garden from which you want to harvest as much as possible. Some 10-20 years ago, hardly anyone was interested in exactly how their garden would look like, whether it is beautiful enough. Today, landscape design is more popular than ever among the owners of country cottages and among the owners of more modest houses in the village. Cast aside the prejudices that the design of a vegetable garden and a private house in the village are incompatible, take a look at the photo below.
Landscaping of a vegetable garden with flower beds of vegetables and herbs
Previously, hardly anyone would have thought that a vegetable garden in the village could or should be beautifully decorated. The main idea of ​​the owners was aimed at collecting a quality crop. Trends are changing their direction today.
Beautifully decorated vegetable garden of a private house in the village
Many owners of a private house in the village want to perceive the vegetable garden not only as a place where you need to work every day, but also as a plot that you want to admire, capture its design in a photo. After all, you must admit, to work in a well-groomed garden, where each vegetable has its own separate place and as if everything is laid out on shelves, which is much more pleasant.
Arrangement of a garden plot
Of course, we can say that for such purposes you need to hire specialists who will transform the garden, while demanding a significant fee. However, this is not at all the case. Read to the end of our article and you will learn how to turn your garden into a work of art in just 6 steps without paying landscape designers.
Ornamental cabbage beds
Step # 1. Planning a place for your garden
If you decide to re-plan the design of your garden, then first you need to decide on its plan.
Methods for the location of vegetation on the site
It is best to draw in detail: what size of the vegetable garden is preferable, how the beds will look like, which and where the vegetables will be located.
The location of the beds in the summer cottage
Pay attention to the photo, how well the design of the garden of the owners of a private house in the village is built.
Step # 2. Don't be afraid to make your garden look beautiful
If you ask any summer resident what a vegetable garden is associated with, then the answer will be simple: a lot of beds, a lot of work. However, everything can be changed, and always for the better. Do not be afraid to experiment, create interesting beds of various shapes, even if they are not inferior in beauty to flower beds.
Decoration of interesting beds
In the first year, we advise you to stick to the vegetable planting plan that you have on paper. Further, over time, you will see for yourself what adjustments need to be made and how vegetables will be planted for the next year.
Garden design project
Step # 3. Layout on paper
It would be more expedient to attribute this step to the first, since it involves fixing the plan of the vegetable garden on paper. But we highlight it separately to show how useful this plan will be. It will not only help to plant vegetables correctly, but also come in handy when changing the design of the garden, will help to foresee where adjustments can be made.
Vegetable garden planning on paper
Step # 4. Comfortable beds
The basis of the beauty of your garden will be in the beds. Each area for each type of vegetable should be clearly defined, which will give an aesthetic appearance and ease of use.
DIY decorative garden
Neat and clear beds will give your garden not only beauty, but also a sense of order and cleanliness. Take a look at the photo how the neat garden beds transformed the design of the garden, even considering that this is a private house in a village, not a cottage.
Sketchy design of the vegetable garden
Don't forget about the condition of the soil. If your site cannot boast of good land, then high beds on which vegetables will feel comfortable and delight with a rich harvest will be the best option. In addition, high beds are very convenient to use, because you no longer need to be in a bent position for a long time during the next weeding.
Please note that for convenience, it is better not to make wide beds. As for the length, here as much as you like.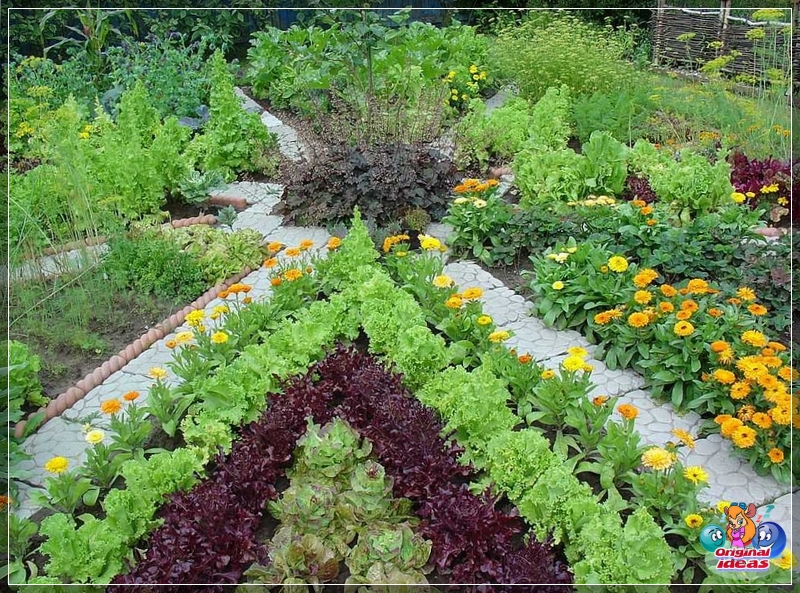 Registration of beautiful beds on the site
Step # 5. Experiment with design
It should be noted that not all owners of summer cottages are eager to create a large vegetable garden. For some it is not entirely interesting, but someone simply has no time to deal with land affairs. In this case, a good option would be to transform a small flower bed into a garden bed, where instead of the usual flowers you can plant various types of greens and tomatoes.
Different types of cabbage or salad will also look interesting.
Step number 6. What to plant?
What kind of vegetables or fruits to plant is entirely up to you. Focus on soil composition, climate and, of course, your own preferences.
Fencing the garden with a fence
Nevertheless, there are several general rules that are still recommended to adhere to:
when planting plants with a high stem, keep in mind that in the future they should not obscure lower-growing ones;
study the plant itself before planting. What kind of light it prefers, whether it likes abundance of water, what kind of plants it does not tolerate neighborhood;
each plant has its own watering regime. Some need water every day, others feel much better in drier soil. Do not forget to take into account such nuances, and in this case plant vegetables in different beds.
Decorating the beds along the house
Fashionable garden: principles of creation
If you decide to make your garden not only fruitful, but also beautiful and fashionable, then give up the standard planting of crops.
Creating a trendy vegetable garden
In this case, it is better to resort to combining. Don't be afraid to combine what at first glance seems impossible. For example, you can plant carrots and beets on the same bed, alternate varieties of cabbage or salads.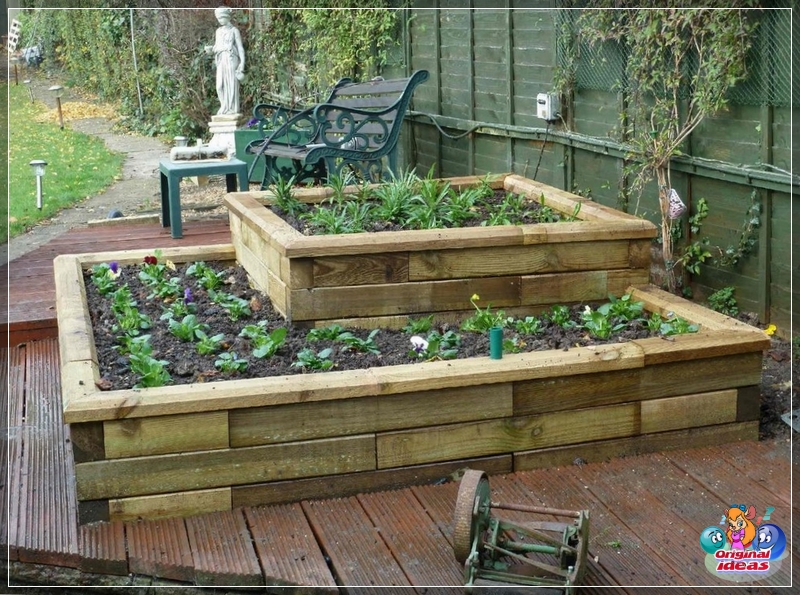 Creating tall beds
Try planting pansies or marigolds among the greenery. They will not only add a touch of originality to your garden plot, but will also attract beneficial insects to pollinate your plants. Do not think that a beautiful design of a garden is only appropriate for a photo in magazines or in the presence of an expensive cottage, it will perfectly transform a small private house in the village.
Ornamental garden in a suburban area
Even a small flower bed can be interestingly filled with a mixture of various plants that will delight the eye. So, try planting some types of tomatoes together: cherry, yellow, red, black tomato varieties. You will see how they will sparkle with colors and bring incredible variety to your garden.
Rectangular model of vegetable garden planting
Decorative garden: design rules
No matter how strange it may sound, you can combine not only vegetables on the garden plot. It is quite acceptable to combine them with different varieties of flowers.
Combining vegetables in the garden
It is not recommended to use such a combination with flowering types of crops with peppers or tomatoes. But planting bright flowers among greenery or lettuce will be quite a good solution.
Combining flowers and vegetables in the garden
Try combining some types of cabbage and lettuce, and plant bright flowers, such as calendula, in between. Its sunny color will not only transform the garden, but it will also lift your mood every time.