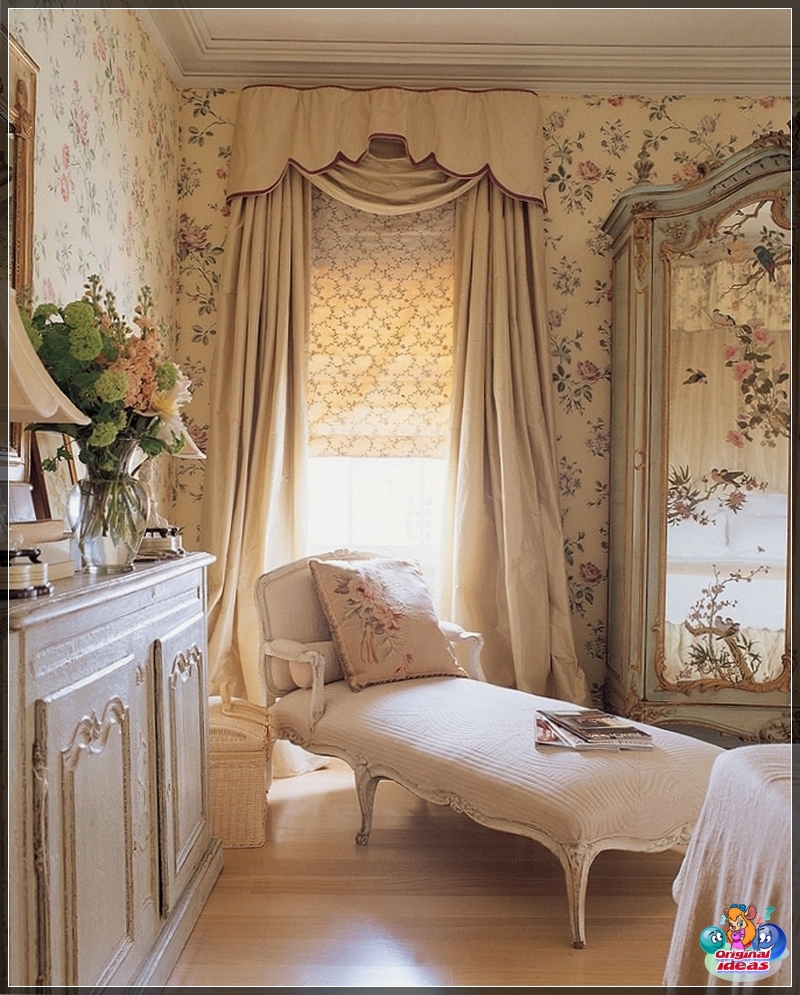 The Provence style in the interior embodies the spirit of the fabulous provincial France. Provence style bedroom design is an excellent solution for everyone who dreams of creating a fabulous, cozy and calm corner for relaxation in their home. It is a charming, surprising and sophisticated style that skillfully combines French sophistication and provincial simplicity. Despite the variety of directions in the interior, Provence has been and remains popular for many years.
Features of Provence style bedroom design
Before decorating a room, you should decide on the color scheme.
Provence is dominated by colors such as:
lavender;
blue;
pistachio;
cream;
pink;
White.
The lavender wall looks extraordinarily attractive and very simple, it seems to be a continuation of the headboard
Sometimes it is enough just to lay a blanket or bedspread of a different color and the bedroom is completely transformed A slightly greenish, pistachio shade of your bedroom can always remind you of sunny days on cold days Delicate tones of cream color will not leave you indifferent, especially when it comes to Provence style Do not forget about the pink color, in its colors everything looks light and carefree The simplicity and unobtrusiveness of white flowers in the bedroom hides silence and tranquility. This is exactly what is necessary for a good rest
It becomes clear that such an interior should be designed in light, pastel shades.
Do not take contrasting colors as a basis, all shades should be harmonious and delicate.
For wall decoration, as a rule, either plain wallpaper or wallpaper with a floral or plant print is used. The color, of course, you need to choose a light, for example, lavender or olive.
Natural colors always prevail in Provence style wall decoration Olive shade conveys the main idea of ​​the French style. Interior designers have always strived to recreate nature in the home
Provence loves when various decorative trifles and elements are used. Here the choice for fantasy is wide and varied. You can use various figurines, paintings, panels, photographs, decorative shelves and other similar decorations. Macrame cache-pot, lace lampshade, wrought-iron candlesticks - such things will be ideal attributes for a Provence style bedroom design. The main rule of this style: the interior must be made with soul and be sure to please its owner.
A variety of decorative knick-knacks in the interior will betray comfort and show your exquisite taste
Antiques would be a great solution for such an interior. Antique clocks, rare furniture, antique trifles will come in handy here. Provence loves DIY things. Therefore, decoupage lovers will truly appreciate this style. Do-it-yourself furniture, decorative plates with simple ornaments, hand-made crafts and paintings, embroidered with your own hands, will remarkably emphasize the style of Provence.
Be sure to look out for antiques and antiques. All this conveys the grace of style
Since lavender fields begin to bloom in the south of France from June to August, Provence lovers decorate their homes with bouquets of these dried
flowers, and also use lavender oils and aerosols indoors. Living and fresh plants will take you to the heart of Provence
Having decided on the colors and various little things, you should think about textiles, furniture and lighting for the bedroom.
Furniture should repeat the delicate taste and be a continuation of the style
The furniture is suitable for large-sized, wooden or forged. An excellent solution would be a bed, bedside tables and a wardrobe made of artificially aged wood. Furniture, as mentioned above, can be additionally painted with your own hands or painted in light paint, which should be in harmony with the color of the walls and ceiling.
The bed can be decorated with a canopy. This element will perfectly fit into the design of Provence and will create a feeling of antiquity and comfort. Falling asleep in such a four-poster bed and inhaling the scent of lavender, you can forget about all the problems and failures, and have a good sleep and rest.
To truly recreate the spirit of Provence indoors, you can put a chest made using the brushing technique in the bedroom. This method allows you to artificially age the thing, making it look antique and fabulous.
It is better to choose lamps and chandeliers in fabric lampshades made of wrought metal. Depending on the overall interior, you can choose a variety of lighting fixtures. A chandelier with decorative wrought iron flowers, lamps in rag lampshades depicting vegetation, exquisite, romantic candlesticks placed throughout the room - all this is great for the Provence style. Another rule that should be taken into account by those wishing to create a special atmosphere of provincial France in the bedroom: the light for the bedroom should be muffled, diffused and soft.
When it comes to textiles, rough fabrics such as linen, burlap, chintz and cotton prevail in Provence. The curtains must be light and not too bulky so that sunlight can calmly and gently penetrate the room. It is good to lay out homemade napkins on the shelves and side tables, and place pillows with embroidery or ornaments on the bed or armchairs.
Design options for a small bedroom in Provence style
Very often the dimensions of the bedroom are quite modest. However, do not get upset and despair. The spirit of Provence can fill even the smallest bedroom with warmth and charm.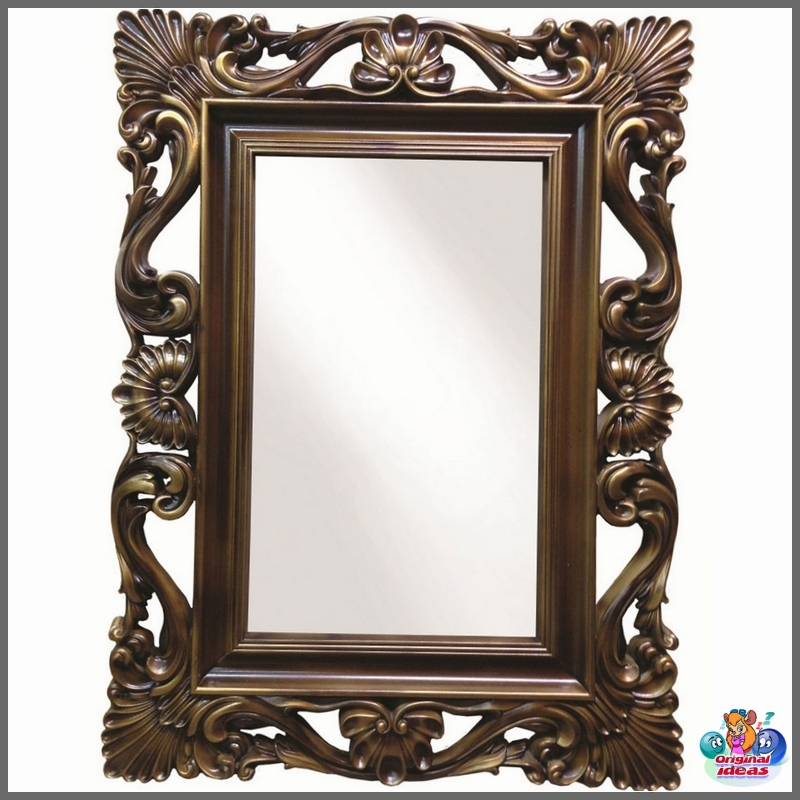 Light shades inherent in the Provencal style are able to visually expand the space. For a small room, it is better to use plain wallpaper or plaster. A fairly large vintage mirror would also fit perfectly here. If the bedroom has low ceilings, it is better to choose a vertical mirror, and if you need to "move" the walls, then a horizontal mirror would be an ideal option. To avoid the clutter effect, do not overload a small room with unnecessary things or a lot of furniture.
For a small bedroom, it is better to give up large wardrobes and four-poster beds. Ideally, use a chest for things and hang small shelves on the walls in the appropriate style. It is on them that you can perfectly place the necessary things and various accessories.
To
the interior turned out to be really beautiful, you can see to consult with the designer. Otherwise, with unreasonable mixing of various shades, combining different accessories and furniture from different materials with each other, you can get a tasteless and awkward combination that will ruin the whole look of the room, and instead of a good mood, it will only induce melancholy.
Small Provence style bedrooms look very cozy and noble. Delicate pastel shades create harmony and give tranquility, which is why this style is very suitable for a small bedroom. However, it is important to remember that Provence combines many elements, colors and materials, so the main thing is to use all the attributes wisely and correctly place accents.
No modern design solutions should be in such a room. Only romantic classics, sophisticated and at the same time simple provincial attributes and furniture, as if inherited from ancestors. This is what a bedroom looks like in the spirit of Provence.
Summing up, it should be noted that this style is really very soft and delicate. But at the same time, rough and old elements prevail in it. This combination of romanticism and rustic simplicity makes this style unique and unrepeatable. Provence is great for the interior of any house or apartment. In such a room, you can feel a piece of the soul put into the atmosphere of the rooms. That is why, having correctly placed the accents, you can get a fabulous and cozy bedroom.