The layout of the apartment may be different and the owners may not always like it. But despite this, you can always create a beautiful and stylish interior. Sometimes it is enough to show imagination and listen to expert advice to get an interesting design of a small bathroom. First of all, you need to focus on your own preferences. After all, some like laconic high-tech, while others like spiritual Provence. Both styles can look amazing, so you need to consider your tastes to make the right choice.
Design option for a small bathroom
Choosing a bathroom design
As you know, ideal for small rooms
minimalism. No need for a small space to force a lot of things. This also applies to the design of a small bathroom. Modern design for a small bathroom
A large number of small, and especially bright details will turn a small bathroom into a cramped closet. Here you need to thoughtfully choose pieces of furniture and accessories. When creating an interior, one should not forget about the main goal - to visually enlarge the space.
Minimalism is ideal for small rooms
The easiest way to visually expand the room is to hang a large wall mirror. Therefore, in no case should you give up this item. Another favorite technique of designers, which they almost always use for small rooms, is the use of light colors with a separate accent of bright color.
Simple and charming bathroom design
True, experts advise not to get carried away with white, because it is uncomfortable to be in such a room for a long time. It is better to give preference to other light colors - beige, pale blue, sand, salad, cream, etc.
Choosing a bathroom design
To expand the space, designers actively use horizontal stripes for the interior. This method can easily make the bathroom wider.
Simple design for a small bathroom
Wall and floor cabinets in a small bathroom are not needed, they clutter up the room too much. Built-in furniture is ideal for this occasion. It should be roomy so that most of the small accessories are out of sight.
Bathroom design in beige colors
It's also important to think about lighting for a small bathroom. The light should evenly fill the space, then the room will appear visually larger and brighter.
Stylish design for a small bathroom
The mirror can be equipped with spotlights in addition to the overhead lighting or stylish wall lights can be installed.
Great design for a small bathroom
Built-in furniture in a small bathroom
Before thinking about the design of the bathroom, you need to pay attention to the doors. Namely - in which direction they open.
Bathroom design features
Doors that open inward reduce space, so they must be replaced with external or sliding doors that look stylish and original.
Bathroom design in white colors
Bathroom design features
If the bathroom is separate and the area of ​​the toilet is not too small, then the designers recommend combining both rooms. It is not always possible to do this, since sometimes it is not allowed to do redevelopment. In addition, a combined bathroom is not very convenient if more than 2 people live in the apartment. Therefore, before combining a bathroom with a toilet, you need to carefully think not only about increasing the room, but also about the comfort of all family members.
There are many ways to create the appearance of a large space, and they are often used by professionals to design small bathrooms. Everyone knows that a mirror enlarges a room, but for a greater effect, mirror surfaces can be installed around the entire perimeter of the room. Moreover, it is quite possible to combine it with other materials.
bathroom design in blue tones
Instead of standard mirrors, designers also use frosted and corrugated glasses for this purpose.
Bathroom design in green
It is quite possible to enlarge the room with the correct ceiling. First of all, you need to remember that you cannot use dark shades and choose a multi-level ceiling. For a small room, it is better to make the ceiling light by adding bright lighting.
Unusual bathroom design
It is important to choose the right materials for any bathroom. They must perfectly resist moisture or temperature changes. Specialists often use stretch, slatted aluminum and mirrored ceilings for small bathroom designs.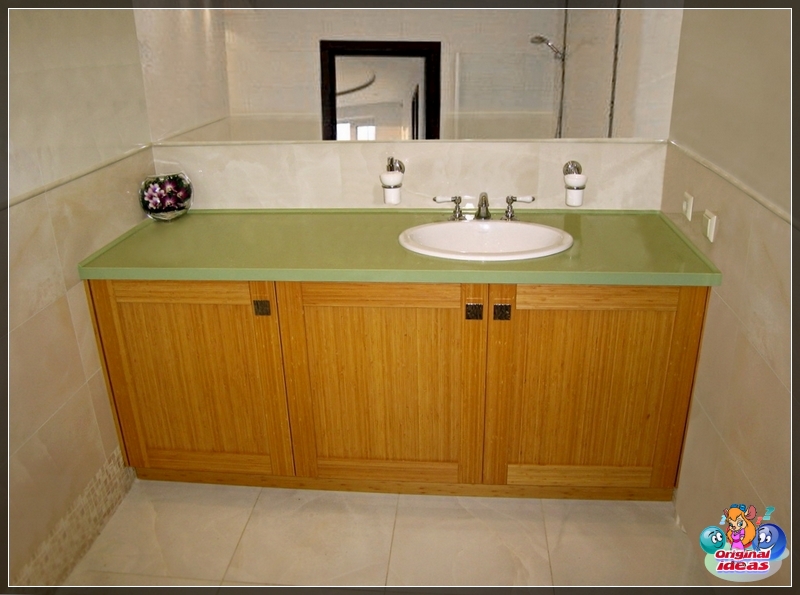 Bathtub design in black and white
When choosing furniture for a bathroom, care should be taken that it is not only perfectly combined with the interior, but also spacious and practical. Quite often, an empty space is formed under the sink, as well as on the wall. In a small room, every centimeter is important, so it is very profitable to order built-in furniture, according to your tastes and characteristics of the bathroom. Such furniture should be compact, durable and moisture resistant.
small bathroom design
Quite often the question arises when installing furniture and plumbing, where to put the washing machine. This important point must be thought out in advance, because in a small room of roads every centimeter. In some cases, it makes sense to purchase an unusual top-loading washing machine.
Bathroom with shower
Another way to visually and really increase the bathroom is to abandon the standard bath in favor of a shower cabin. Plumbing stores offer a wide range of this product for every taste and wallet. A corner shower is perfect for a small bathroom. In addition to saving space, it has other advantages: it saves water, has additional functions, for example, hydromassage, looks stylish and modern.
The perfect solution for a small bathroom
Installing a shower stall can solve such a problem as a lack of space for a washing machine. For a small bathroom, this design method is very beneficial. The bathroom will immediately become more spacious, the main thing is not to succumb to the temptation and not force it with various accessories. For example, a large wicker laundry basket or a plant in a ceramic pot. For a small bathroom, you need to use a minimum of decor. The room should look spacious, stylish and beautiful!
Small bathroom design idea