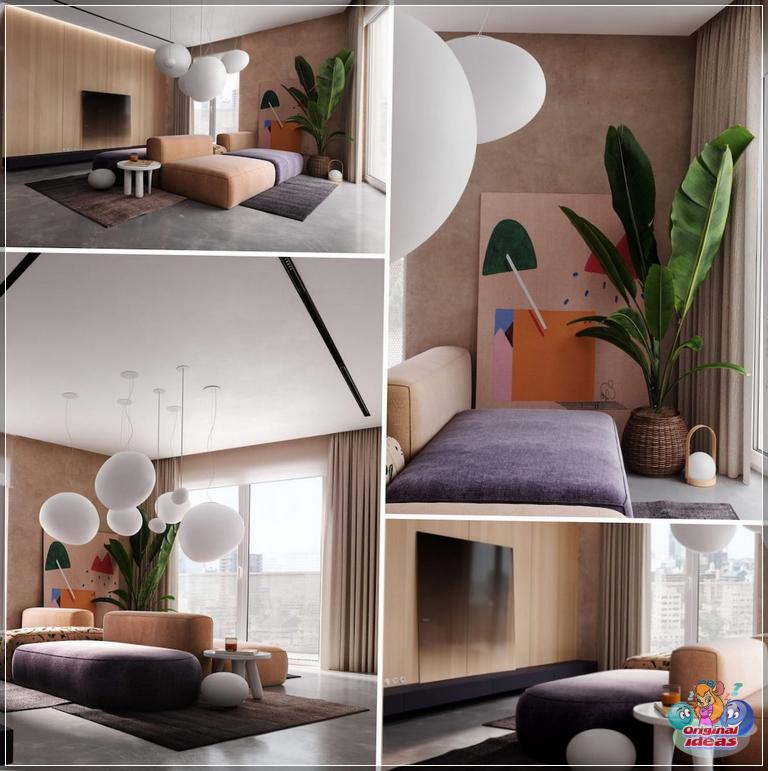 The color beige is so versatile that it is perfect for decorating any room in the house. To create a beautiful apartment design, the combination of shades must be harmonious. Usually beige is chosen as the base, and another color complements it.
It is permissible to use several shades for interior decoration, but so that they all combine well with each other.
What shades beige color is combined with in the interior
If you want to decorate your apartment as professionally as the designers do, take a look at the photos, which show different combinations of beige with other popular shades. Each room has its own characteristics that must be taken into account in order to end up with a beautifully decorated room filled with coziness and comfort.
How to properly combine beige and gray in the interior
This combination looks elegant, it is versatile and can be used to design any room in the house. To prevent the space from looking too monotonous and cold, be sure to dilute it with different colored accents: red, blue, green, orange, crimson, blue or turquoise. It can be bright flowers in a vase, paintings on the walls, carpet, curtains, vases, sofa cushions, various knick-knacks on cabinets, furniture with colored upholstery.
Classic combination of beige and brown
Very often, a similar color combination is used when decorating a hall. The beige and brown interior is considered a design classic. Even if you are not a professional, but are going to decorate your apartment on your own, you can never go wrong by choosing these two colors as a basis. In such a room, the family will feel comfortable and cozy.
An example of an ideal interior in beige tones is

-, in which brown leather furniture looks great against the background of a beige floor and vanilla walls.

Bright color spots will add a little dynamics to a noble and restrained interior: a

colored carpet

,

ikebana in a vase

, a

picture

.
Elegant combination with blue and turquoise
Beige and blue are the perfect combination as they complement each other. A room decorated in this color scheme will be light and light; it will emit sunlight, remind of the sea and warm summer.
On a note! Often, designers use nautical motifs for, hall or. An example of an original interior design is a room with beige or cream, where there is one accent wall in blue or blue.
Along with the blue color, turquoise is perfect for a beige interior. It is believed that it is best to use a light turquoise color, which makes the space light and cozy. By correctly placing accents in the right places, designers are able to make a room dynamic, voluminous and lively. They successfully combine beige tones with blue shades, aqua and turquoise in one interior.
Elegant interior in light gray tones
Gray and its shades are not very popular in interior design in tandem with beige. It's time to correct this omission, because they combine perfectly with this color. Designers offer to decorate the bedroom in a romantic style:
beige walls;

light furniture;

light gray curtains;

lilac bedspread;

silk decorative pillows.
If you add cream or orange accessories to the interior that go well with beige, then the space will become more dynamic and colorful.
How beige and green are combined
The combination of beige and green shades is very common in interior design. These natural tones create a harmonious combination to create a pleasant ambience in any room. Shades of green are very diverse: malachite, light green, may greens, pistachio, olive, emerald.
They enliven the monotonous beige interior and create coziness in the room. The combination of light cream walls and green accents looks especially good in the living room. Designers like to combine different shades of greenery: light and rich, due to this, the space looks lively and dynamic.
Delicate combination of beige and pink
This combination is especially recommended for a child's room or bedroom. Beige in combination with pink adjusts to rest and relaxation. These light, light shades relieve irritability and fatigue. The pink tone loves textured materials: suede, velor, velvet, so it would be ideal to use it for bedspreads and upholstery.
Bright pink on a light background is used to decorate hallways and bedrooms. An example of an original design solution is a country-style living room, where all the walls are covered with beige wallpaper with large floral patterns.
Advice! The room has one pink accent wall, all furniture is light, and the floor has a rustic carpet combining brown, beige and pink stripes. Due to this, the interior looks light and dynamic.
Beige and white in the interior of the apartment
The interior is made in beige tones with the addition of white elements, creating a sense of a festive atmosphere. If you cannot decide how to combine light wallpaper, then white is the best choice, as it is versatile. An example is a hall with a white stretch ceiling.
Different shades of beige (floor, walls, furniture) - harmoniously combine with each other, filling the room with comfort. The high mirrored ceiling will visually make the room more spacious.
Avant-garde combination: beige and metallic
Metallic items are used to decorate various high-tech rooms. Silver and gold furnishings blend perfectly with light-colored walls, flooring and ceilings.
An example is a bedroom, for the decoration of which several beige shades were chosen, and as an accent the designers added a translucent curtain made of delicate blue chiffon.
Beige in the design of the kitchen can be the main color or an additional one. If you decide to paint the walls in any bright color, for example, light green, then the beige shade will be the best addition. For example, a light beige kitchen set goes well with a bright light green color of the walls.
It is believed that a bright light green tone causes appetite. This color is very appropriate for the walls of the kitchen, especially in combination with natural wood furniture.
Interior design in beige colors is a complete harmony with nature. The combination of this color with other shades is appropriate everywhere, including in the bathroom. Here a person spends a lot of time doing spa treatments.
By adding beige colors, the bathroom becomes expressive, it is always pleasant to be in it and relax. Other suitable shades for combination are chocolate, sea wave, turquoise, emerald, orange.