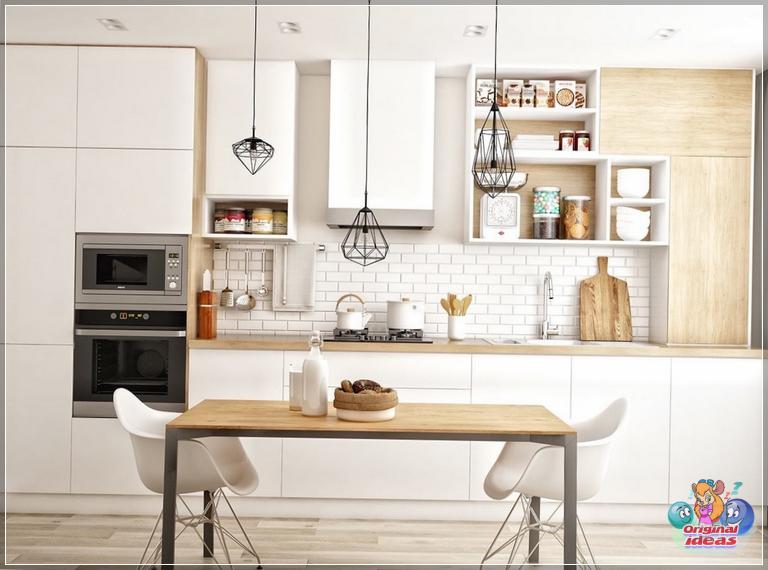 When it comes to creating a harmonious kitchen space, white is the perfect solution. Snow-white cabinets, light walls that will reflect natural light in your kitchen will make it not only more spacious, but also more comfortable.
In addition, the white kitchen in the interior is a symbol of a new beginning, complete cleanliness, it creates a feeling of lightness, comfort, and sets you up for a positive.
Advantages of a kitchen in white
The magic of shades of white is able to create a visual feeling of infinity and weightlessness of the entire space in the kitchen interior. Psychologists believe that each person usually perceives shades of white as something primary, a new beginning, this has a positive effect on the central nervous system and psyche.
In fact, white is not able to get bored, it does not irritate the eyes, for this reason, shades of white are appropriate in a room where a person has breakfast in the morning, and after work prepares dinner for the whole family, sometimes just resting with a cup of coffee.
A kitchen in shades of white is a real classic, because the room in which food is prepared must be the embodiment of complete cleanliness and impeccable accuracy.
Nothing looks as perfect and pristine as a snow-white kitchen. If you have not yet decided what colors to choose for the kitchen, then the interior design presented in white tones is a win-win and the best option.
The choice depends on what style of interior the owners prefer, as well as on which side the windows face. If this is the south side, cold shades are appropriate, and on the north side, milky, cream will be good.
The practicality of a white kitchen
Very often, housewives believe that a kitchen that is too light is not practical, there is an erroneous stereotype that dirt is more noticeable on white, and much less visible on a dark background.
In fact, you should take care of a white kitchen in the same way as red, brown, green or black. Moreover, on black, especially glossy surfaces, spots, marks from greasy fingers, any smudges will be noticeable much more than on light panels.
On a note! As a rule, every housewife removes all the dirt on a snow-white surface instantly, because psychologically all housewives want to see the shades of white flawless, this fact is present in a person at the level of intuitive thinking. That is, your cozy kitchen will always shine with cleanliness.
As mentioned above, there should be progressive household appliances in any kitchen, but you should not flaunt it, as is done in the previous style. It is best to hide it behind wooden cabinet doors, which are ideally made of bleached oak, although wooden fronts painted with white paint will do.
The ecological style is in many ways reminiscent of rustic country, but this is only partly. Just like in the previous style, the number of accessories is reduced to the minimum functionality. But the presence of plants in white pots is mandatory, there can be many and even a lot of them.
Kitchen in the style of "white provence"
The romantic style of lovers of underlined home comfort is, of course,

fashionable Provence

.

Such a design seems to have been created for kitchen spaces, as it creates a wonderful atmosphere of family warmth and extreme comfort.
However, creating a "white provence" is not as easy as it seems. Usually, to embody a Provence style kitchen, they use bright curtains, patterned wallpaper, a decorative element of various colors. But in our case, we will replace the curtains with white ones with light monochromatic embroidery, or even better with crocheted ones.
Wallpaper must be chosen in white with a texture or just paint the walls. White in Provence is not bright, pearly, as in high-tech, but soft, milky or grayish. White furniture facades, light furniture are required.
On a note! The color of curtains, tablecloths, towels, furniture, various details can completely change, and from this the space will look completely different every time.
White kitchen in the interior continues to be very popular because it is stylish, modern, but at the same time cozy and elegant.
White color in the kitchen space is always fresh, clean energy, calm and neutral, which can be given one or another accent at any time.