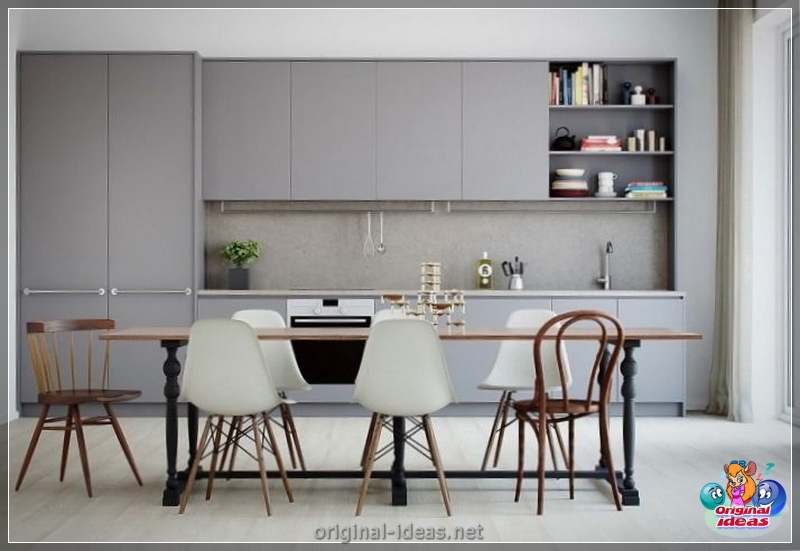 Gray kitchen - 110 photos of examples of real design and video advice of experts on choosing combinations
Gray color is very mistakenly called gloomy and gloomy. With the correct use of the gamut, it acquires an incredible depth, nobility and beauty. Take a look at the photo of the design of gray kitchen and make sure for yourself: smoky shades look great in the interior.
Gray - universal shade
It is difficult to imagine that this wonderful universal shade did not fit any style. He is so easily and unobtrusively pours into any architectural and design direction that there is no doubt that it will fit every kitchen.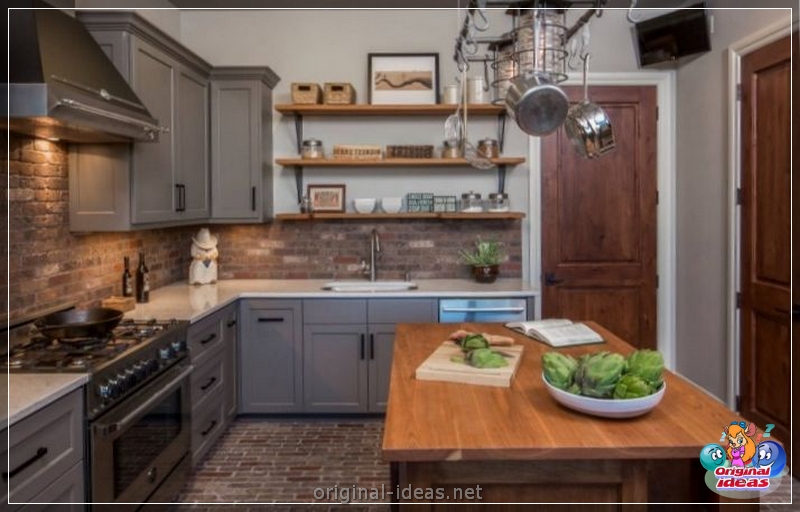 Modern interior in the style of loft, minimalism, high -tech, Scandinavian, village, Provence and many others are very gravitated to gray gamut. However, before you draw up a gray kitchen in the interior, you should study some subtleties associated with this unusual shade.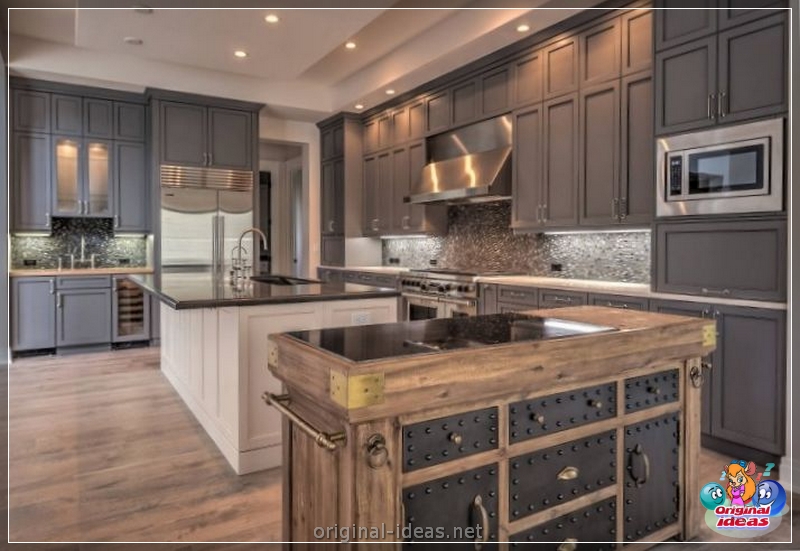 What is harmoniously combined with?
The kitchen in gray, simply flooded with one shade evenly, will resemble a crypt and cause very gloomy associations. But if you add contrasting spots, increase the volume with other shades of the same gamut, shade key accents - then the design of the gray kitchen will be just magnificent!
Ideally gray furniture looks with natural brickwork or dark coarse wood. For "loft" or industrial style it is an impeccable duet.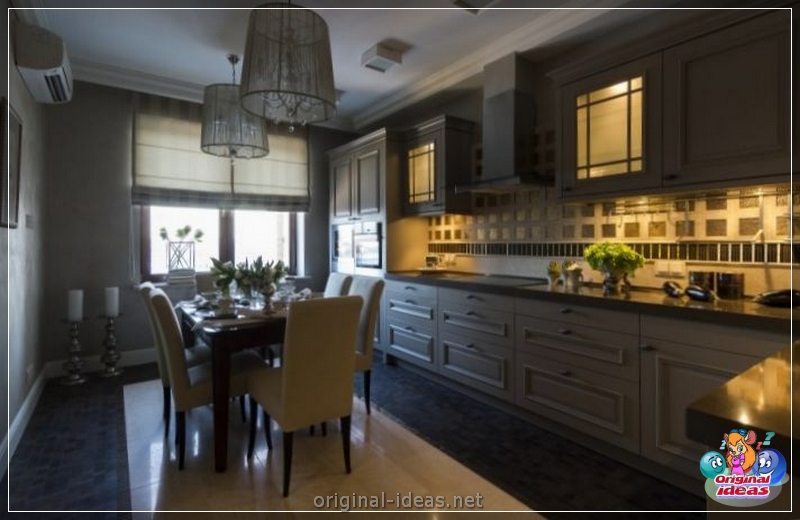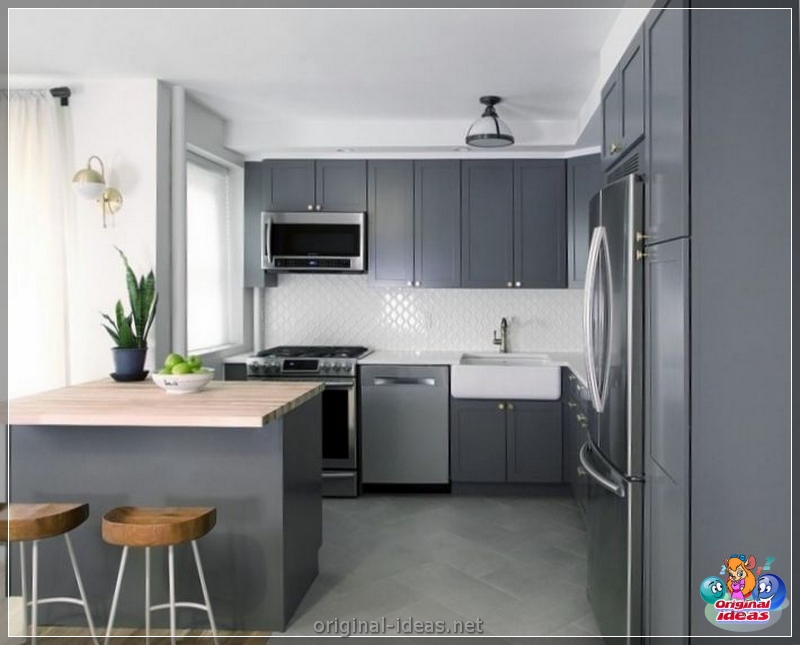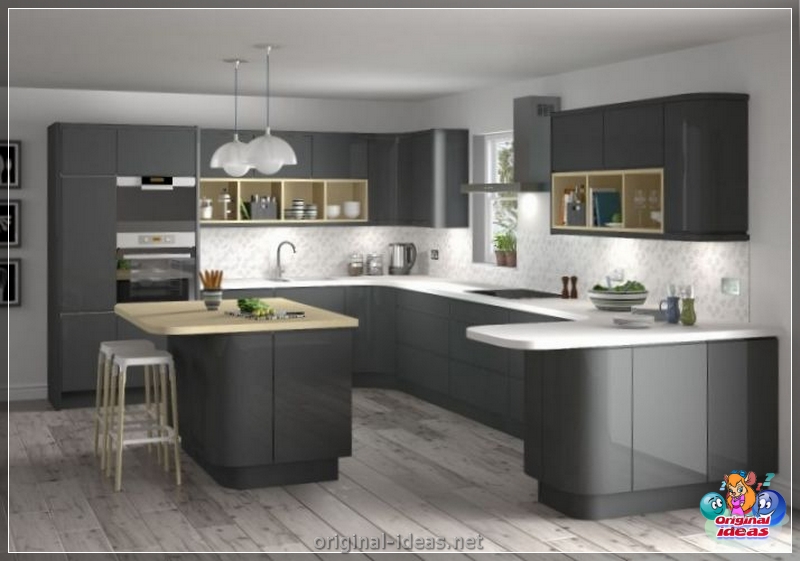 Gray-white kitchen looks great. It is both airy, and stylish, and modern. These two fraternal shades are so harmonious that in any space they create comfort, harmony and a feeling of purity.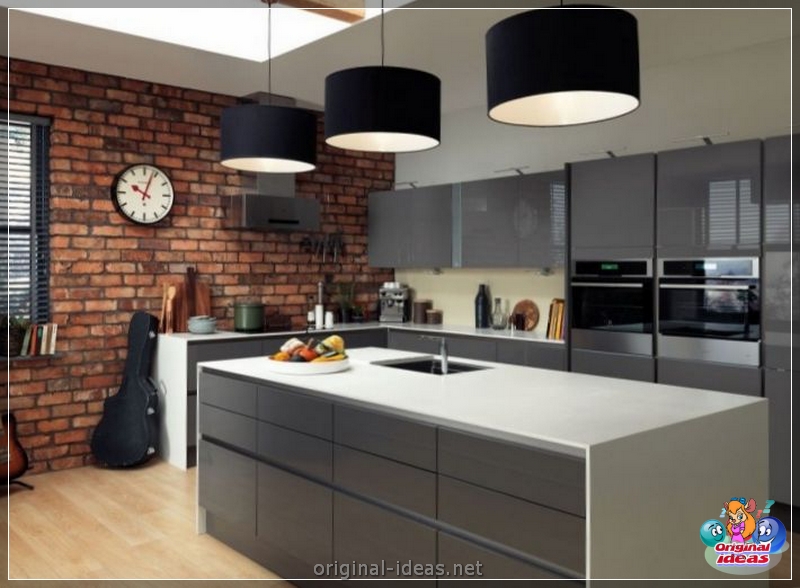 The interior using various halftones of the same gamut looks stylish. Here the lightest shade should be taken as a basis, and diluted it darkens. For example, the walls and the floor are light gray, the furniture is a little darker, the household appliances of a dark steel shade, and the decor, curtains and lighting devices are almost black.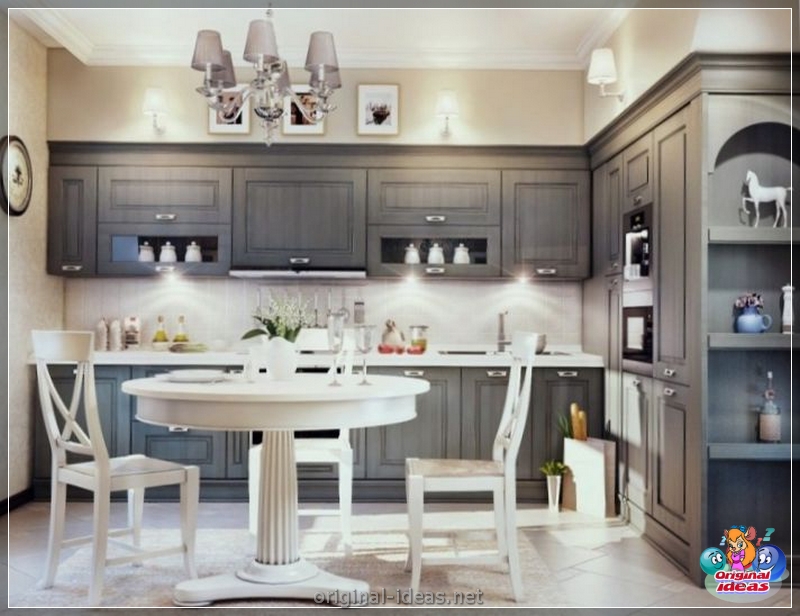 A couple of miniature nuances of white color - dishes, decorative trifles - and the ensemble will be completed. In general, the gray gamut is good with black, with white and related grayish halftones. Any such combination will be successful without a doubt.
Gray-white kitchen with the addition of contrasting spots
If you want something more juicy and bright, do not be afraid to compromise-add multi-colored accents! Moreover, the combinations will be excellent and harmonious.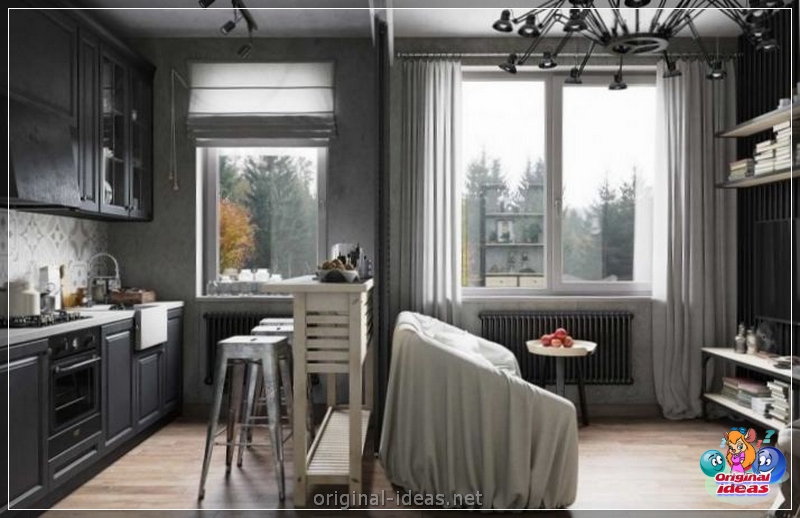 Red - also a good friend of gray. This is a very bold interior solution, since red tones for the interior can only be suitable as accents and contrasting spots. Here you need to take a light-dry base as a basis, and red red apron or one accent wall, part of the furniture or decorative elements in red. Moreover, it is better to choose dark red, plum or other "mixed" tones. Yellow - an excellent companion for gray. Not screaming and sunny, but pale sand, or the color of a ripe apple, with green. This combination looks fresh and fun, the kitchen acquires special breathing, the atmosphere of joy and comfort spreads in it. Blue shades are very close in range to smoky, so they are perfectly combined. Especially muddy and foggy-pale blue, lavender, shabby blue. Such combinations are good for the Provence style, and also look great in the modern interior. Violet in combination with gray - a very elite, rich union. Looks great in gloss, suitable for the most modern design. By and large, noble and deep gray is a neutral base, as if a canvas on which you can breed any colors. This is an incredible field for experiments, so the kitchen in gray tones can harmoniously supplement with absolutely any color spots. The main thing is to competently choose the background and the main accents, and then distribute bright interspersed with taste.
Several features
The gray kitchen in the interior can look very stylish and expensive even with minimal costs, approaches any format of space and combines with any shades. But before you run after gray wallpaper and carpet, find out a few more nuances inherent in such a style solution.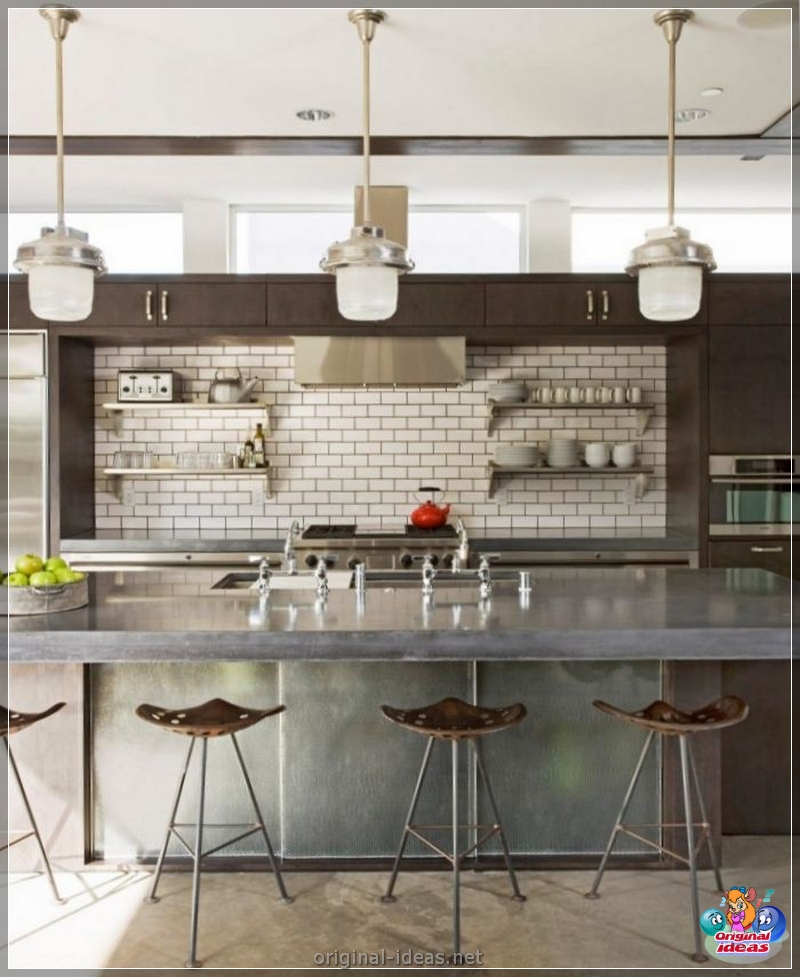 Dark design is suitable exclusively if you have a very spacious and extensive kitchen space.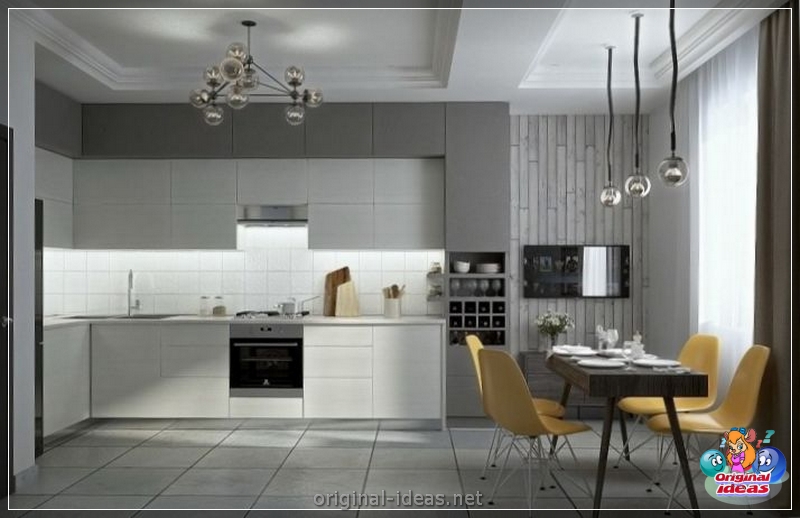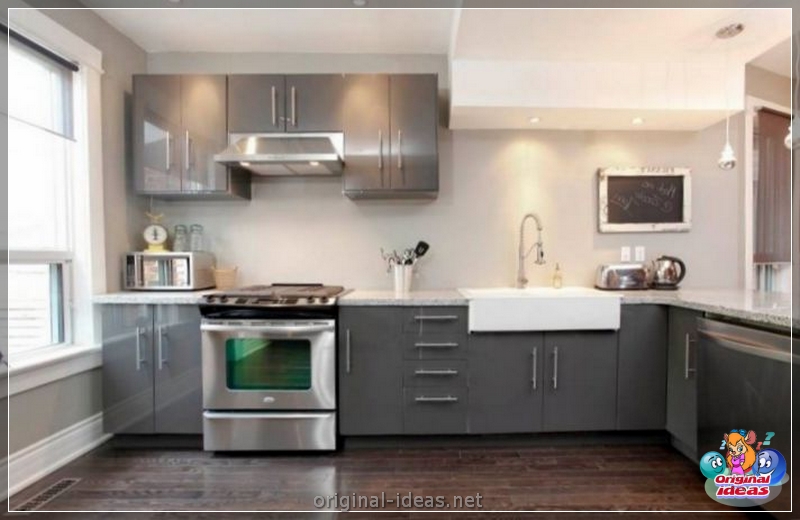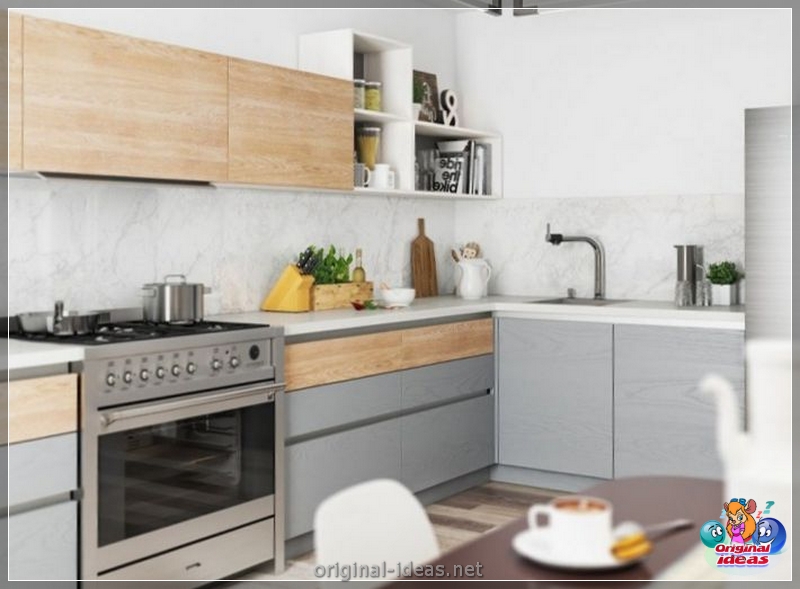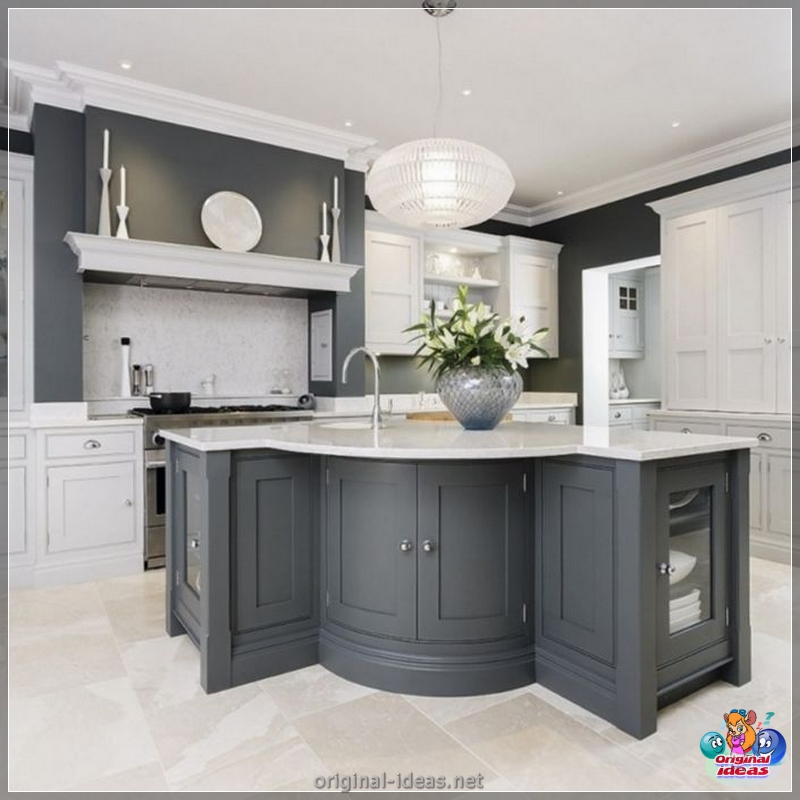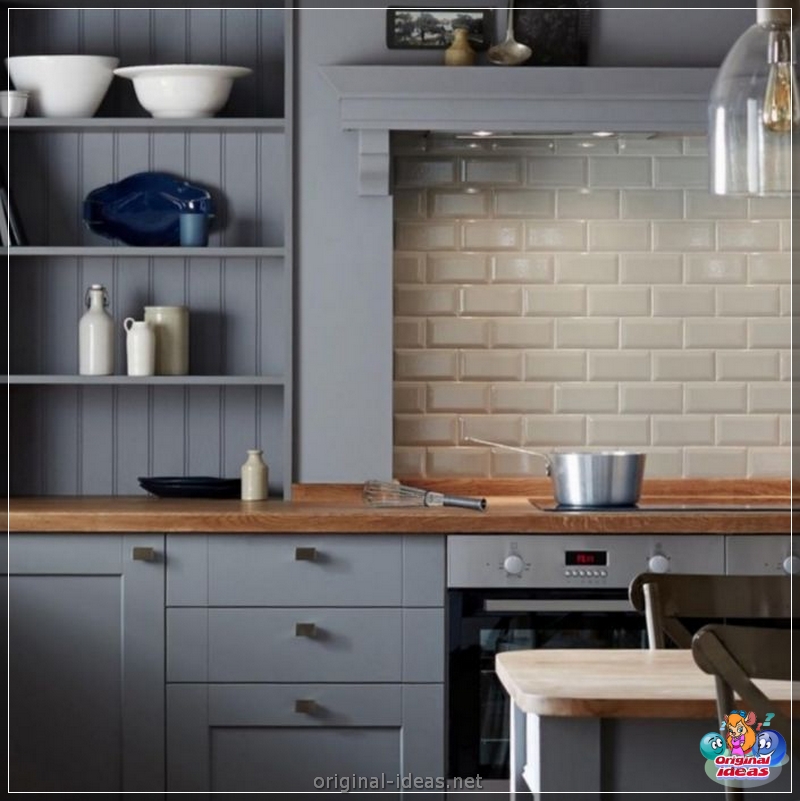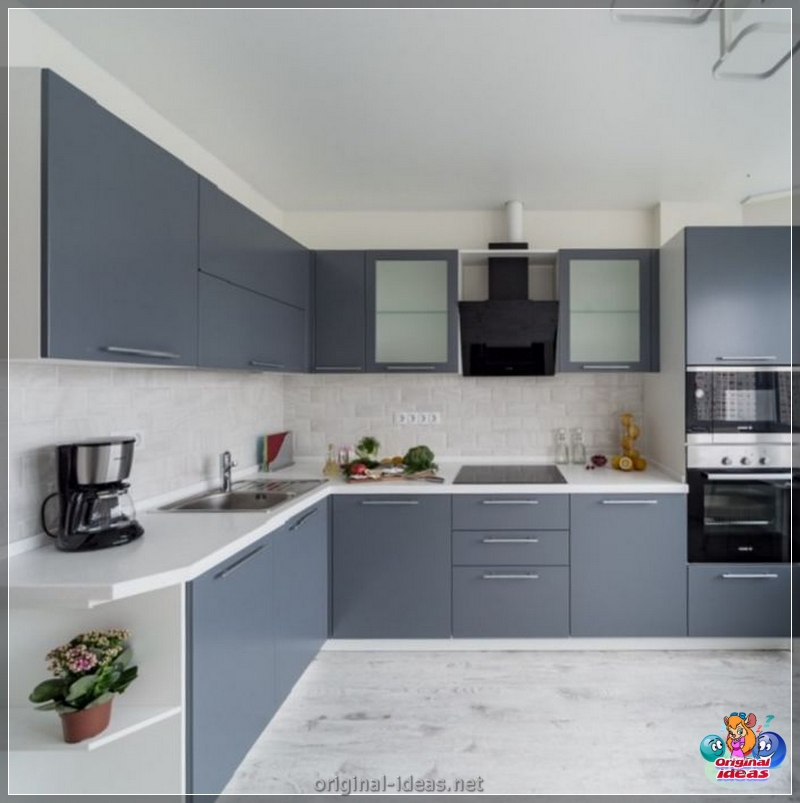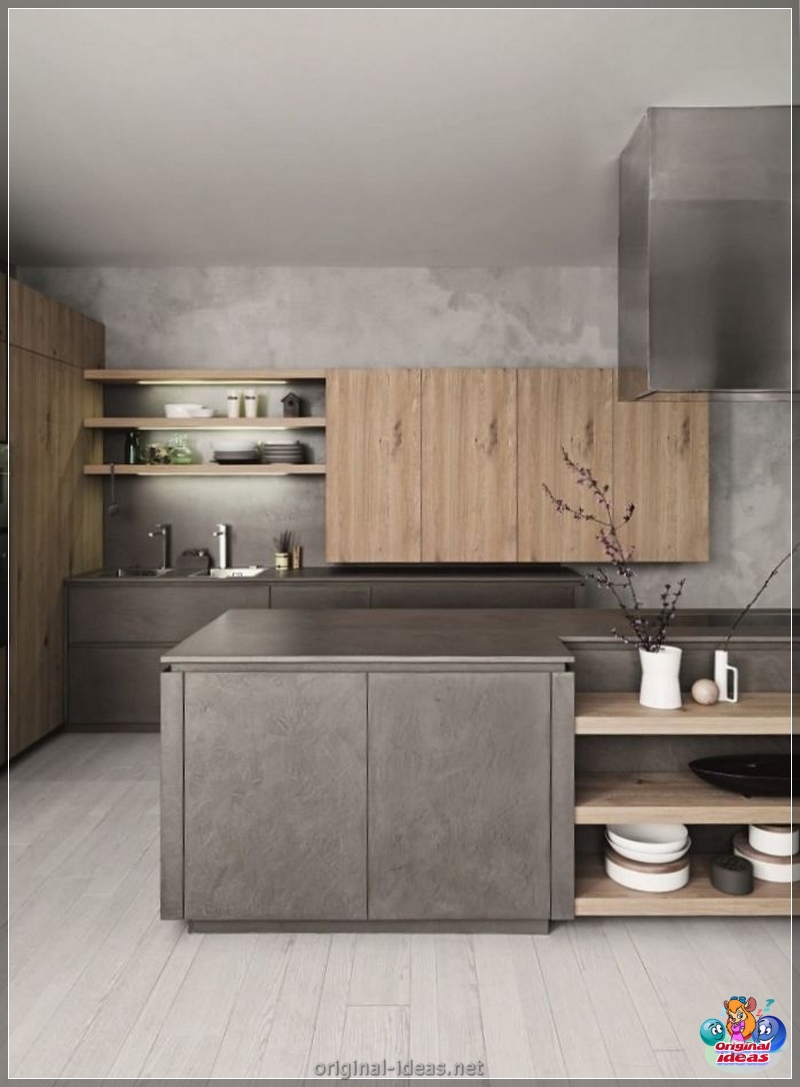 If the kitchen is low -sized, then it can be decorated exclusively in the brightest smoky shades, and only slightly shade with darker.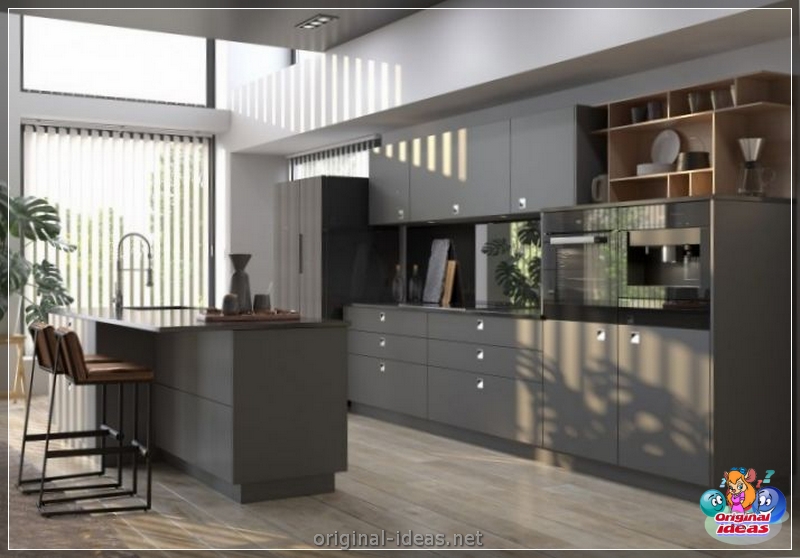 Modern cuisine with a gray countertop, chairs and a working area will look excellent if there is not only color unity, but also a harmonious combination of materials.
It is best to use artificial stone and natural marble, combine metal, plastic and glass, ceramic tiles. A tree is going on separately - it can be combined with painting and wallpaper, but not interfere with glossy materials.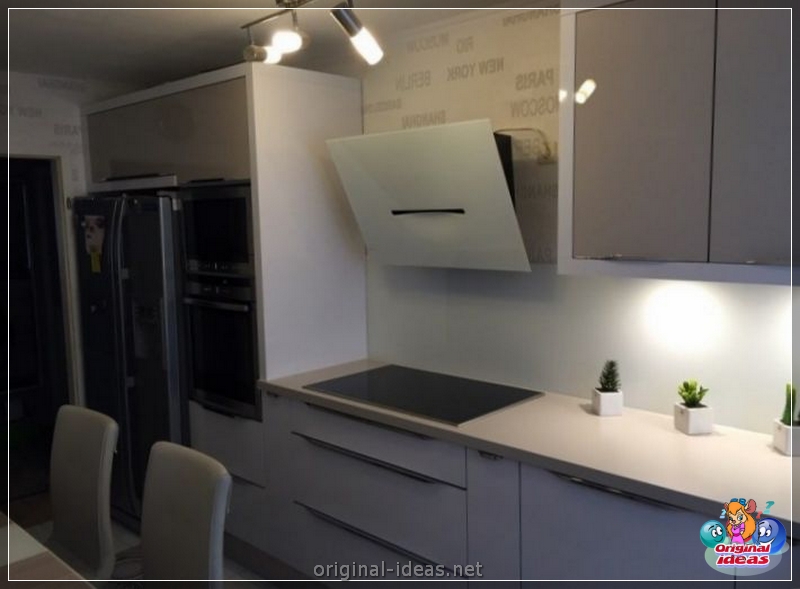 These are the basic rules that must be kept in mind when choosing materials and design for designing a future kitchen.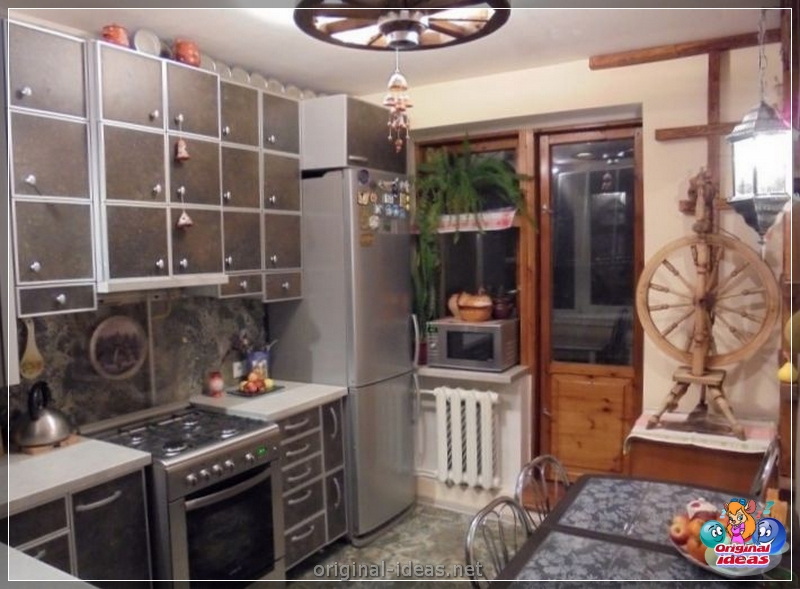 Tips for experienced designers
There are several more nuances, small tricks that will help make an impeccable decision and create an amazing design of gray kitchen. Pay attention to them.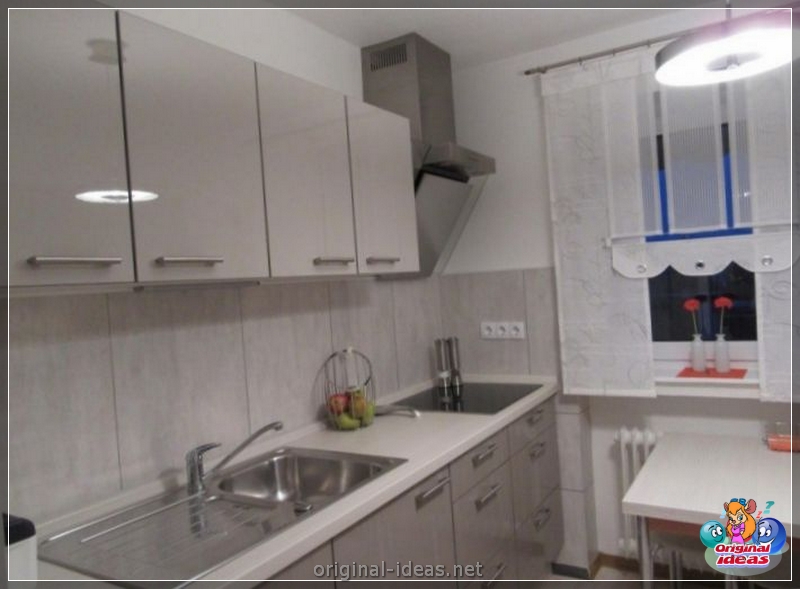 Do not forget, planning the repair of the kitchen that this space should be not only harmonious and beautiful, but also have huge functionality. Everything should be comfortable and at hand.
It is very important to select modern and high -quality household appliances so that it not only harmoniously fit into the common space, but also makes life a pleasant and light.
Shades of smoky gamut look great in gloss, that is, in materials such as glass, stone, marble, metal. But when choosing materials for walls, apron, countertops and other surfaces, remember - they should be very durable, not afraid of moisture and temperature, do not scratch and easy to wash. After all, this is a kitchen! There will often be pollution and cleaning, and it is insulting if the luxurious interior loses its appearance in a year.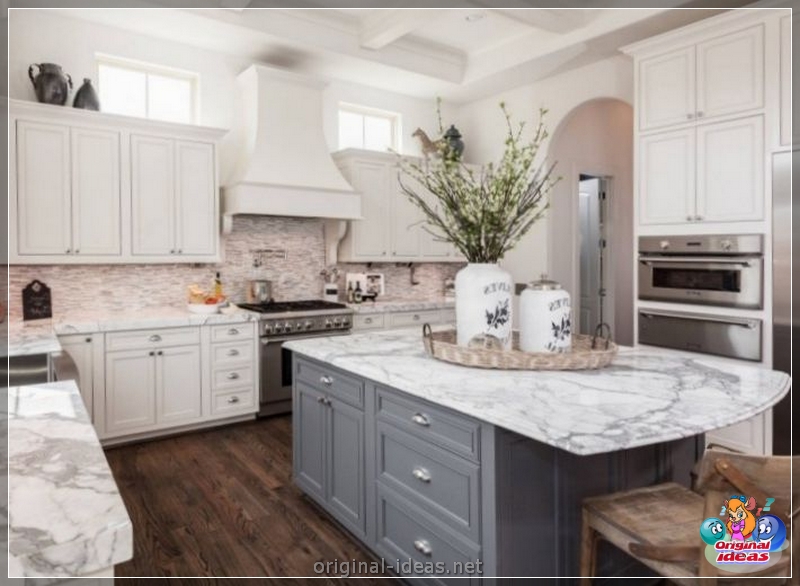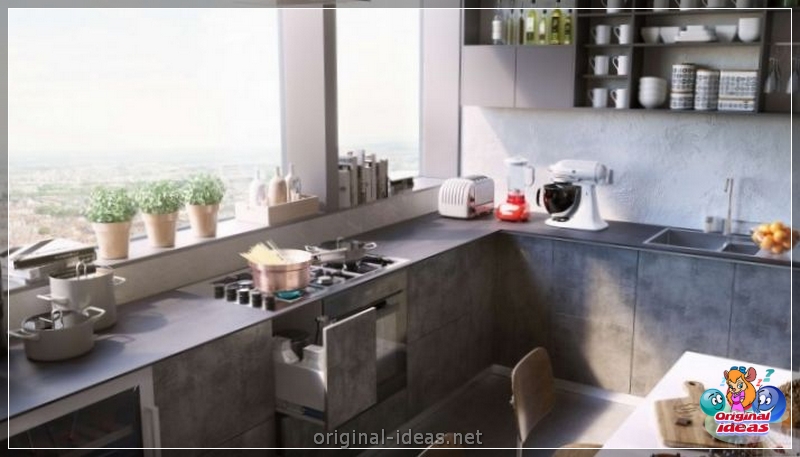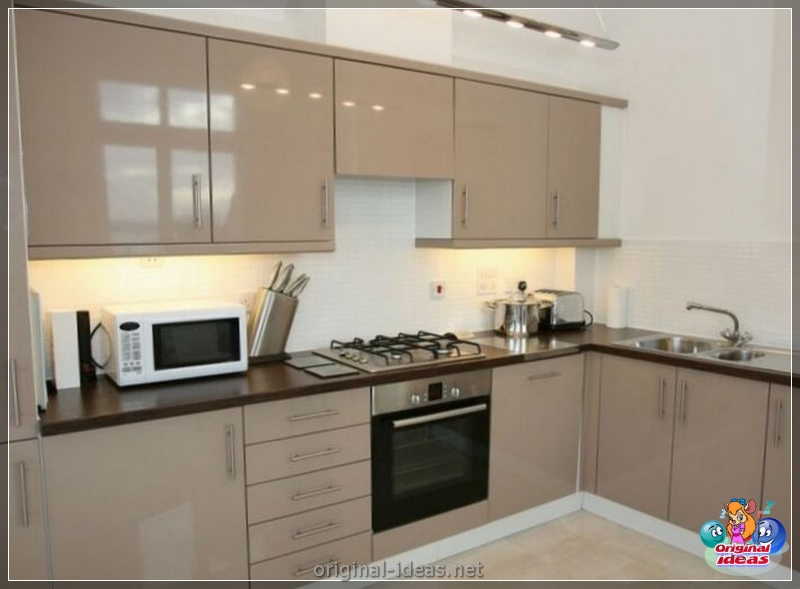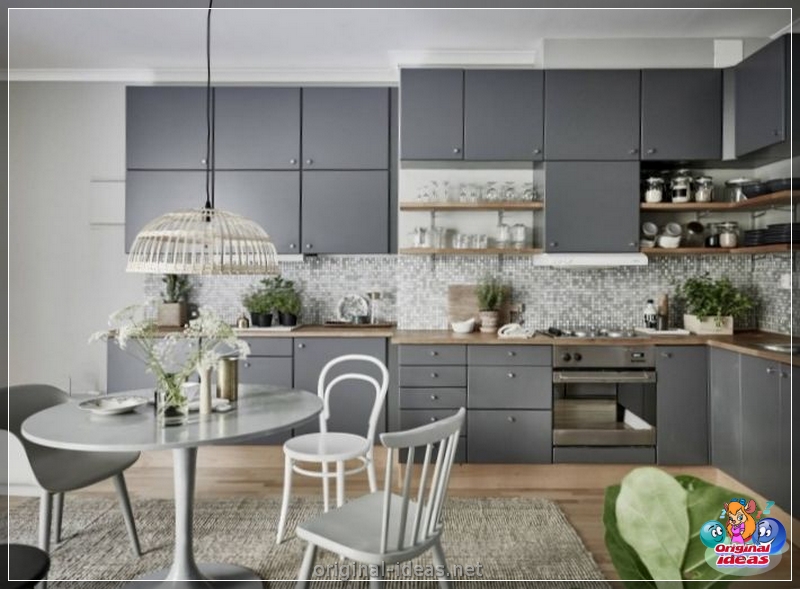 Focus first of all not on fashion, trends and trends, but to personal taste. If, at the sight of such an interior design, your heart beats faster, and you already imagine yourself in this kitchen - dare! And if there are doubts, then it is better not to rush and still think over the options.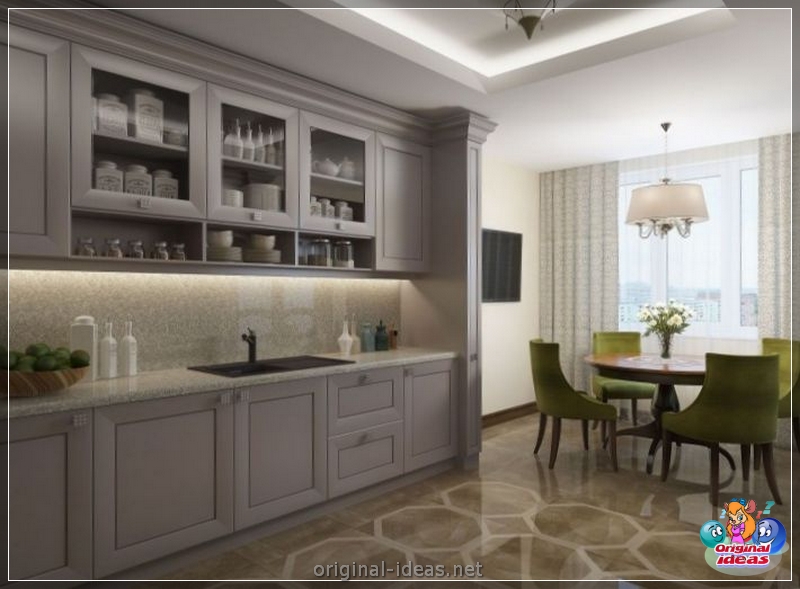 The gray gamma is so rich that it creates endless space for creativity. Try to combine different options, do not be afraid of bold solutions and create, using intuition and a sense of style.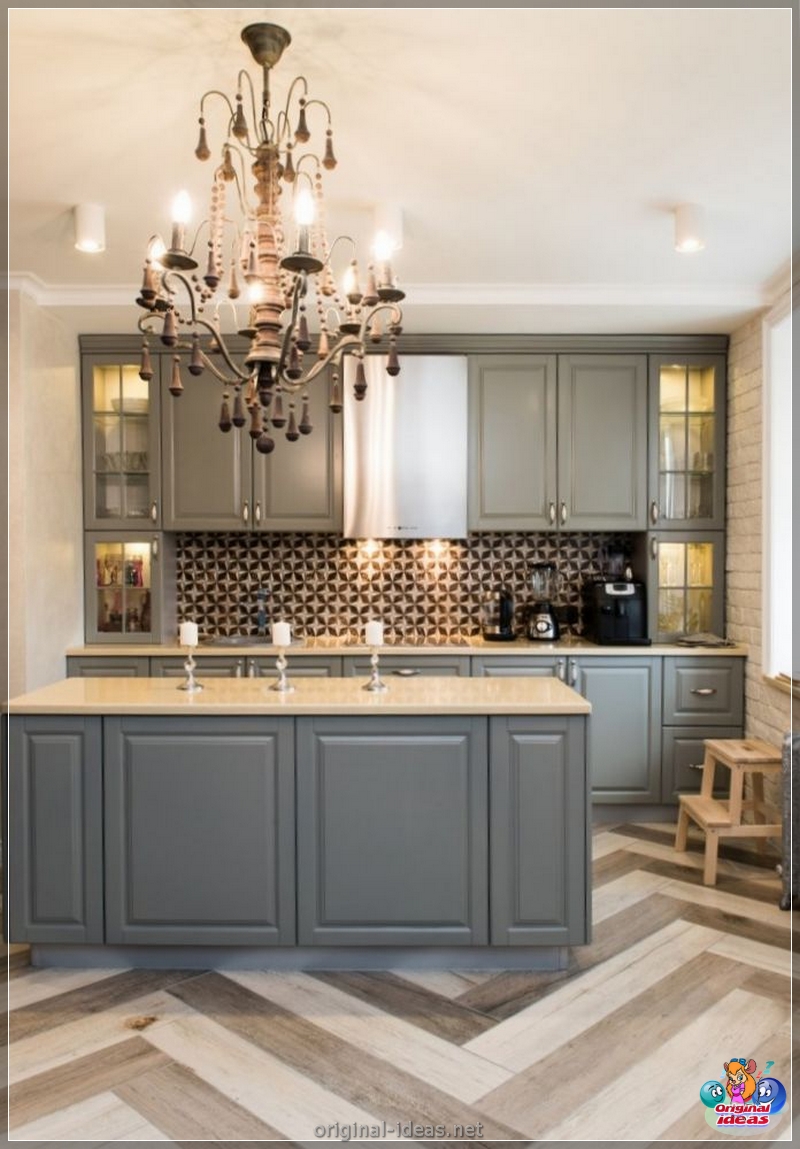 Create with the soul
You can create your ideal space yourself, step by step, you can order a ready -made version, such as the gray kitchen of Ikea, the choice is yours. The main thing is not to hit the extremes: the space of the kitchen should be pleasant and not too dark, not too bright, not excessively bright.
It is here, in this beautiful place, you have to spend a lot of time with your family, beloved people, relatives, guests, friends. This is the most soulful place in the house where sincere conversations, important meetings, unforgettable holidays and family gatherings take place. Therefore, you need to approach the design of the kitchen with the soul!
Unforgettable photos of gray cuisine