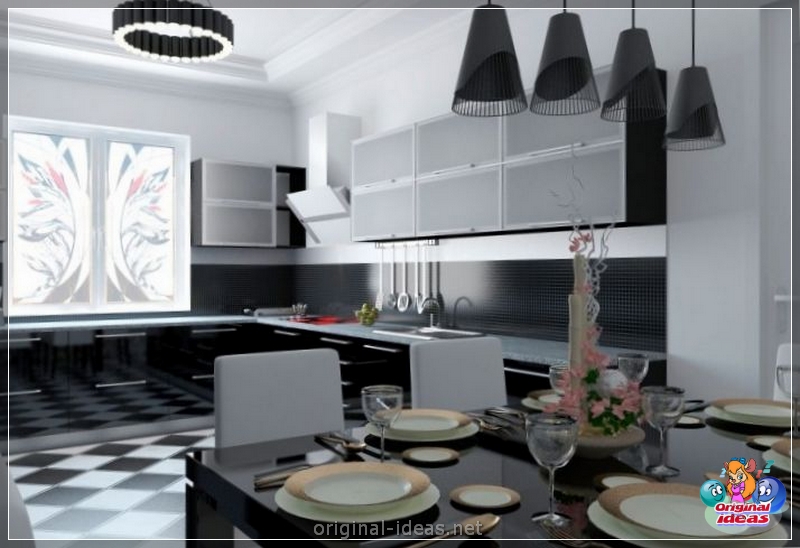 Black and white kitchen - important interior details and options for decorating a two -tone kitchen (125 photos)
Black and white are "brothers" who are famous for difficult relationships. On the one hand, these two shades are absolutely opposite. On the other hand, with their proper joint use, they become an ideal pair and perfectly harmonize together.
A successful design of black and white kitchens is a competent combination of elements, the correct distribution of colors in space, tangible volume, harmony, unity and balance in all elements. For inspiration, take a look at the photo of black and white kitchen and agree that there are very stylish options! If you dream of creating such a stylish space in your own home, read to begin with what options can be.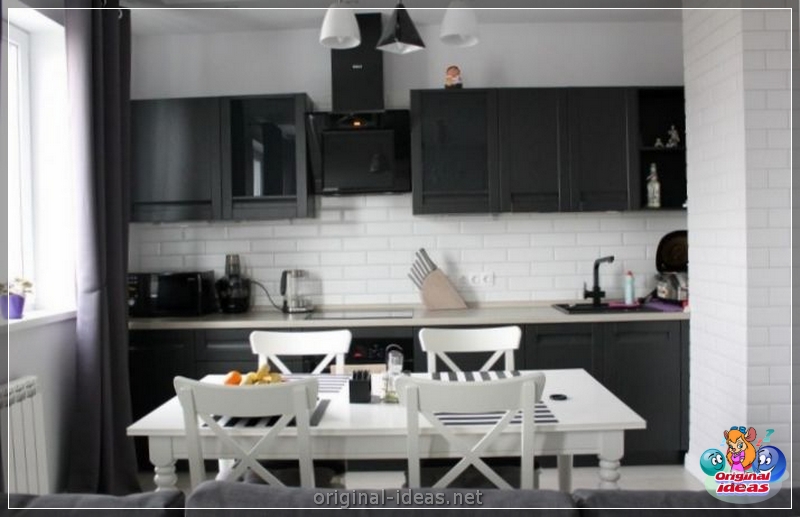 Options for combining colors "White top, black bottom"
There are several main options on how to combine these two opposite colors in one place. A beautiful and stylish black and white kitchen is always a correct combination of textures, a variety of decor elements, bold forms and unusual solutions. Here are the main options:
The most common is the option "white top, black bottom". A rather practical option in which all the lower cabinets and countertops are made dark, and the upper cabinets, curtains and decor are bright.
Looks very light, bright, voluminous. In this case, the table can be light, and chairs - dark. Either on the contrary, the table and chairs are light, and the flooring and the carpet are darker. In general, you can experiment.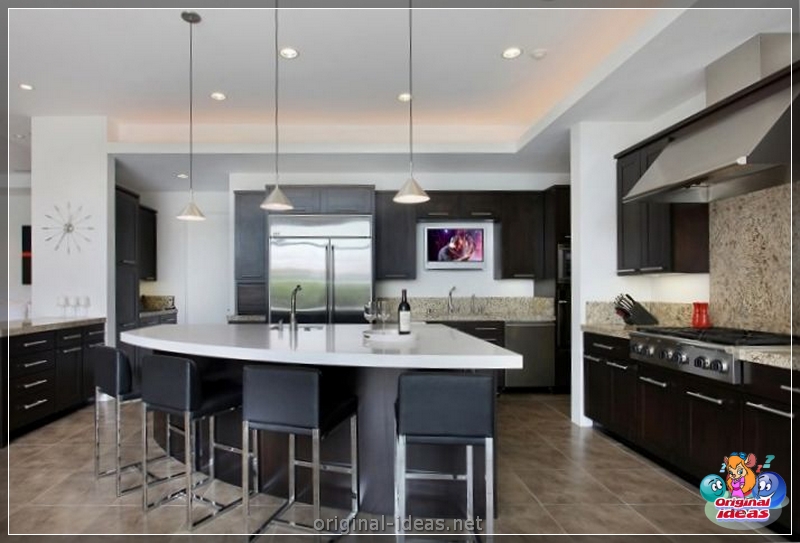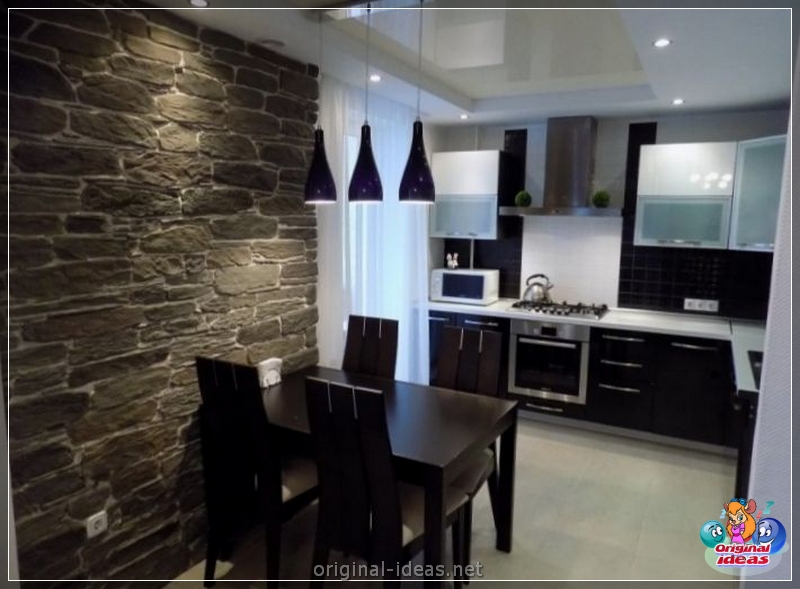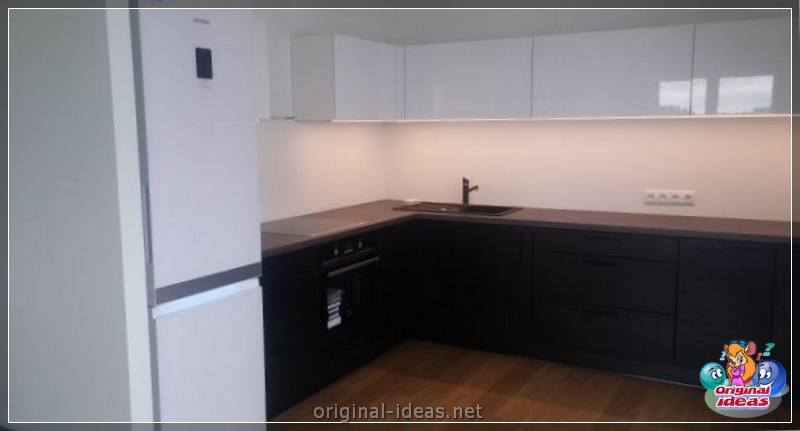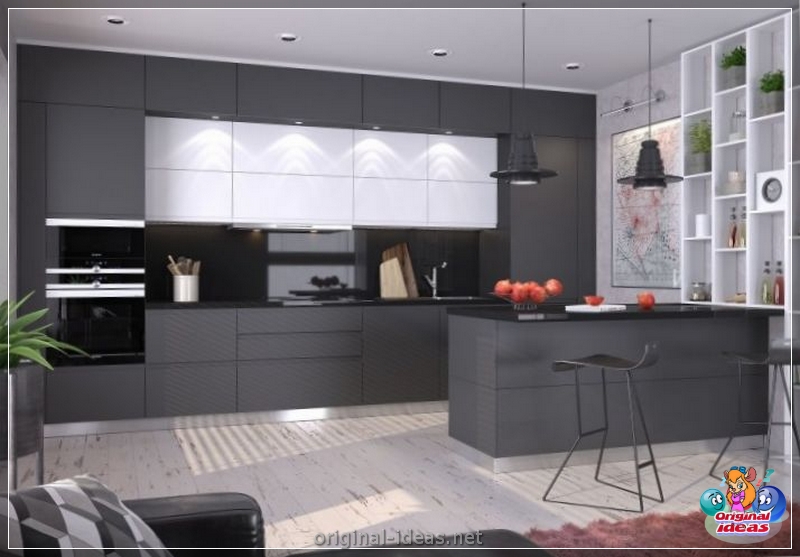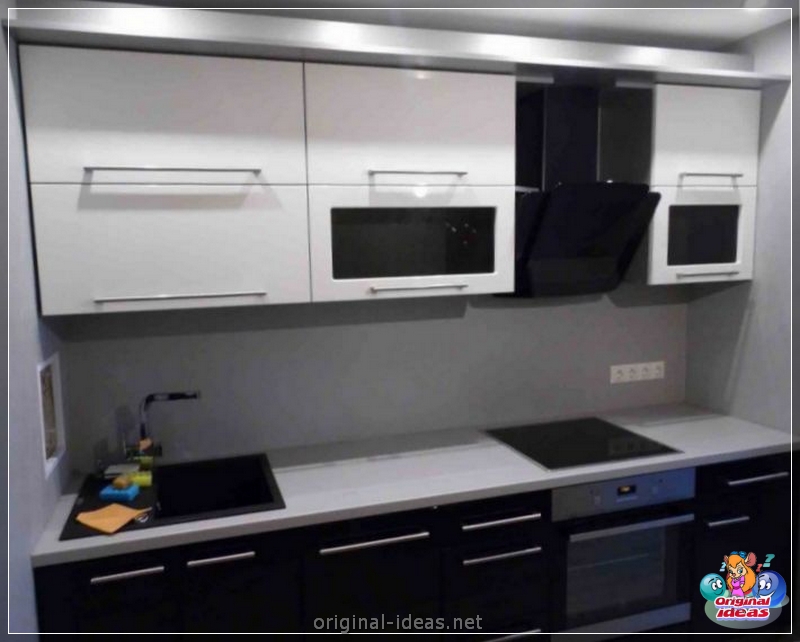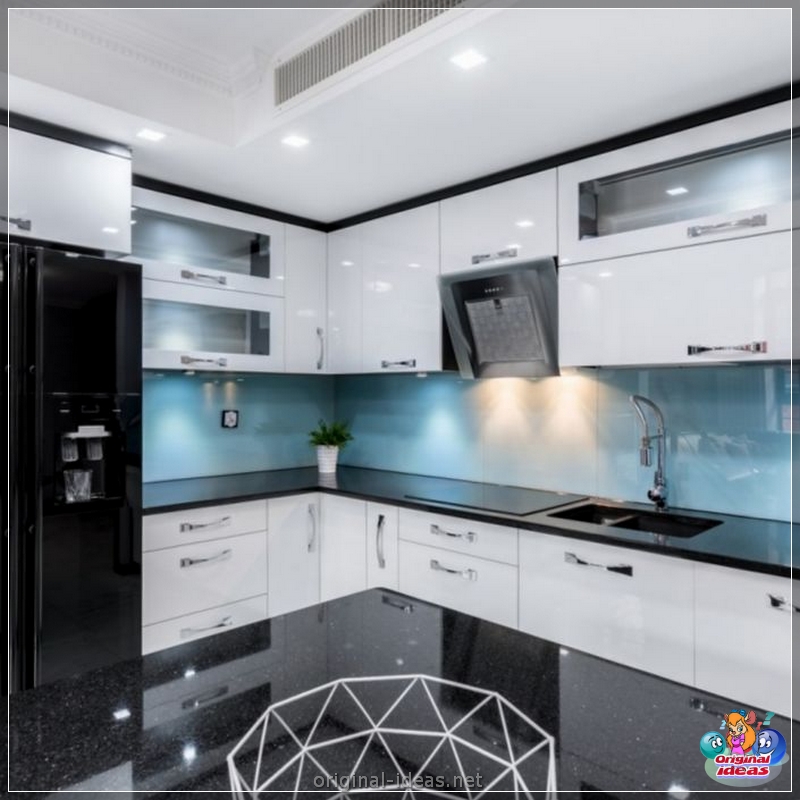 Options for a combination of colors "White bottom, black top"
Reverse option: "White bottom, black top". It looks also stylish and unusual, and very modern. It can be a spacious kitchen with a cream flooring, white cabinets and cabinets, light household appliances, dark curtains and black floor lamps.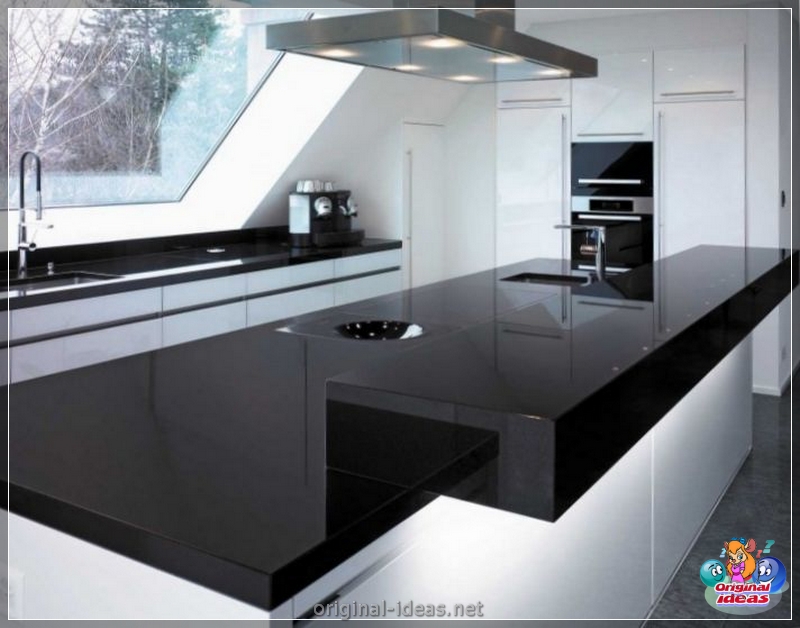 It will look in the design and very stylish. This option is more suitable for spacious rooms.White kitchen with a black apron looks very beautiful and voluminous. The black niche of the working area creates a special space, the depth and airiness of the room is felt.
A very good solution for a small cramped dwelling. The reverse option looks good, in which the kitchen is black and the apron is white. But this is only for a spacious room, where there is a lot of space and lighting.
These options for combining and using shades are the main. But of course, there are also options, everything is limited only by your imagination.
A few more colors on the color scheme
Do not make black and white kitchen homogeneous, it is worth making a couple of bright accents. Very beautiful and universal - the use of bright color "spots" on a apron or kitchen facades, or even on a countertop.
A small corner black and white kitchen with a bright pattern in the working area will acquire a special life and radiance, and if there is a lot of expanse, then it just needs to be decorated with such an accent. It can be bright stripes or stains, floral motifs, ornament, photography, landscape.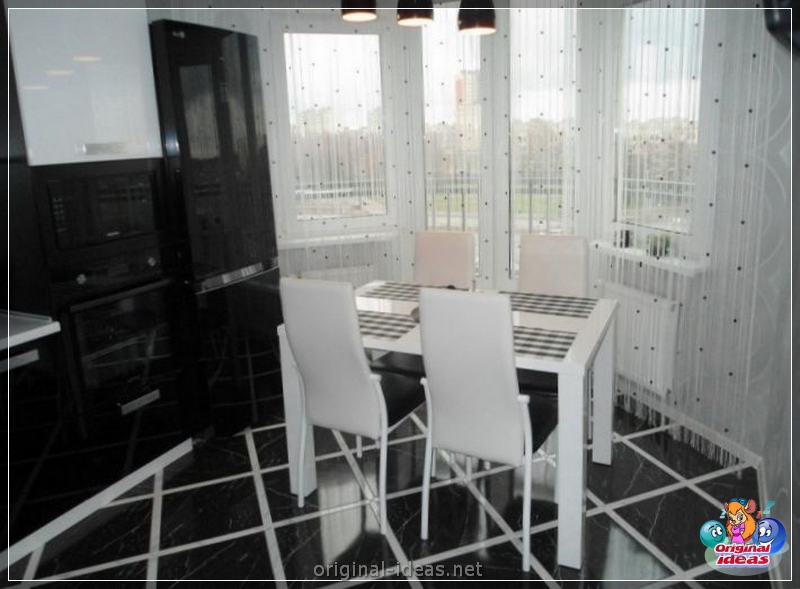 You can add colors only in small details of the interior. For example, in black and white kitchen, orange, green or blue curtains, and the same color lamps will look bright and fresh. The main thing here is to use one shade, and do not overdo it.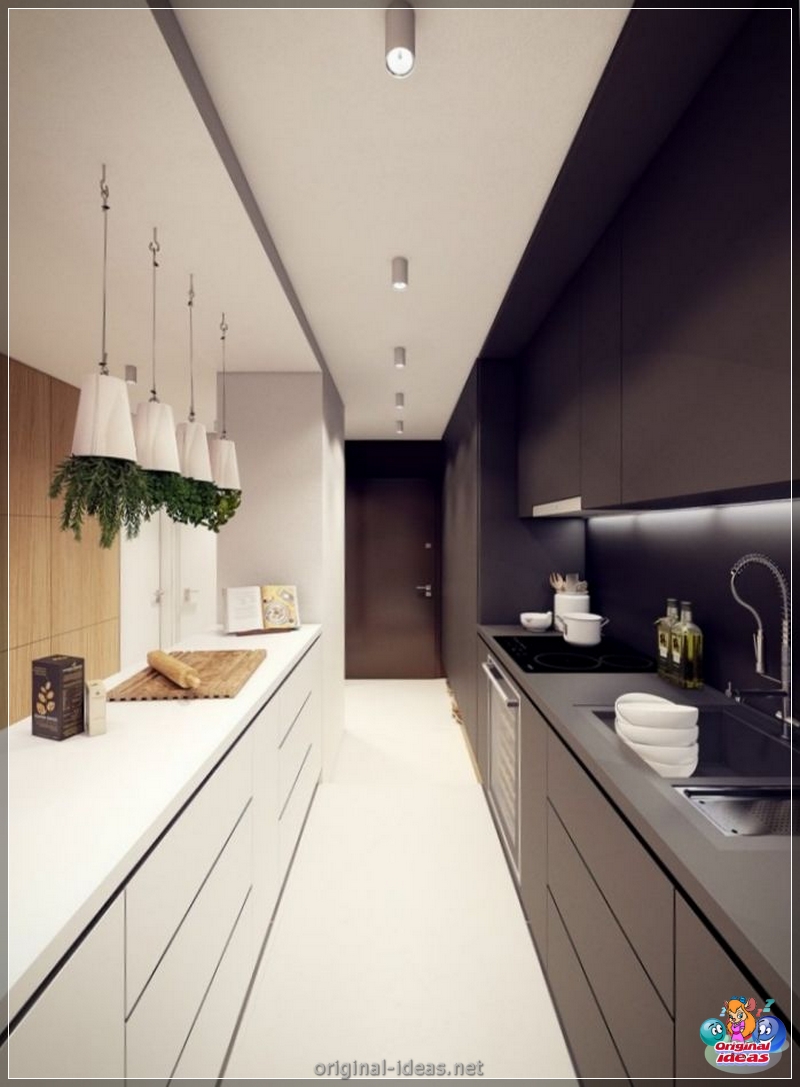 In a word, it is worth experimenting and selecting decor elements. After all, a black and white room is rather risky, it can be both gloomy and gloomy, or incredibly cozy and bright. It all depends on the details, and they should be treated very carefully!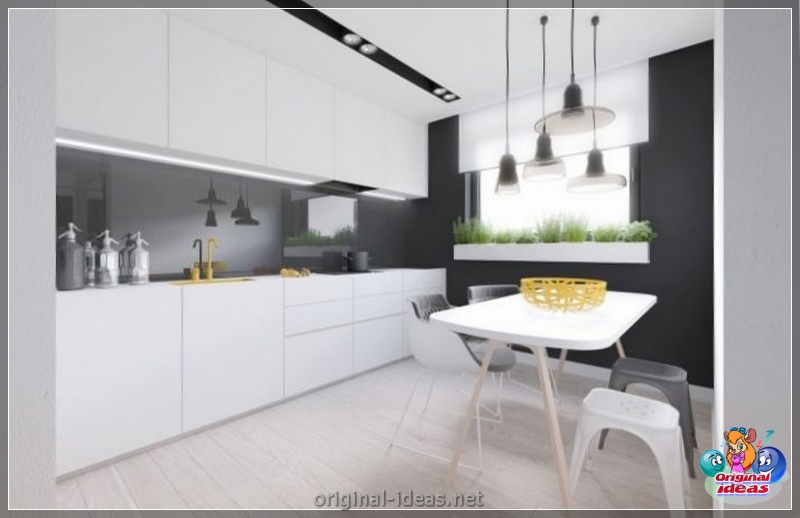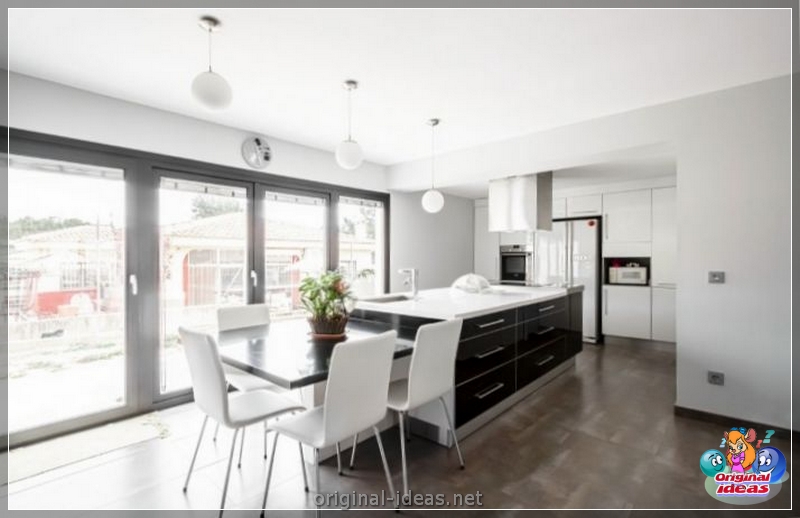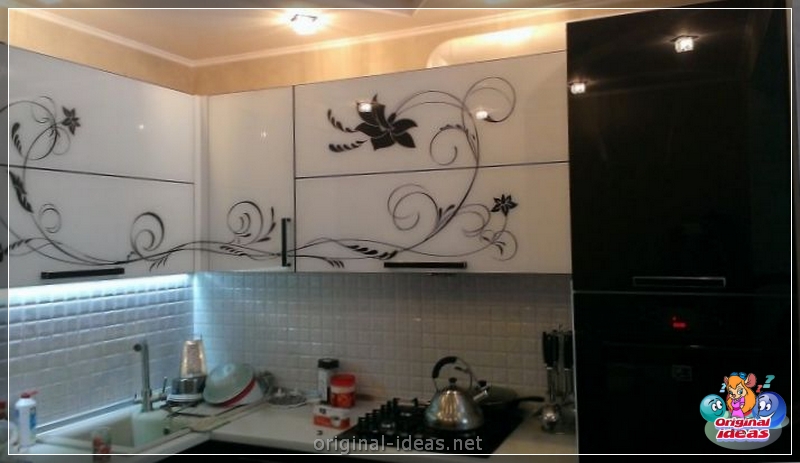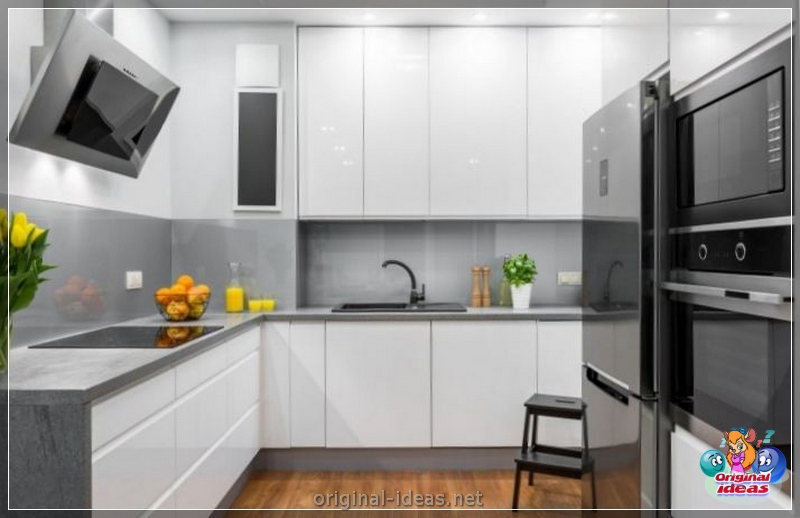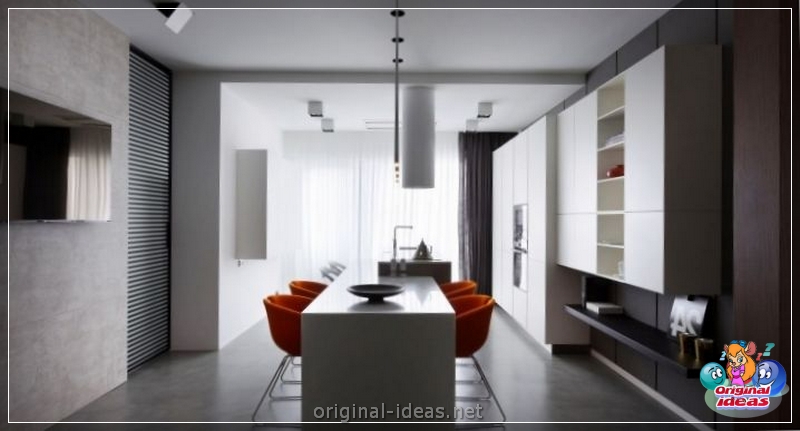 Design advice
It is worth saying once again that the choice of black and white design is a fairly large risk, and it should be realized only carefully thought out all the details. There are many "underwater stones" that can ruin everything if they are not taken into account. Here are the most important of them.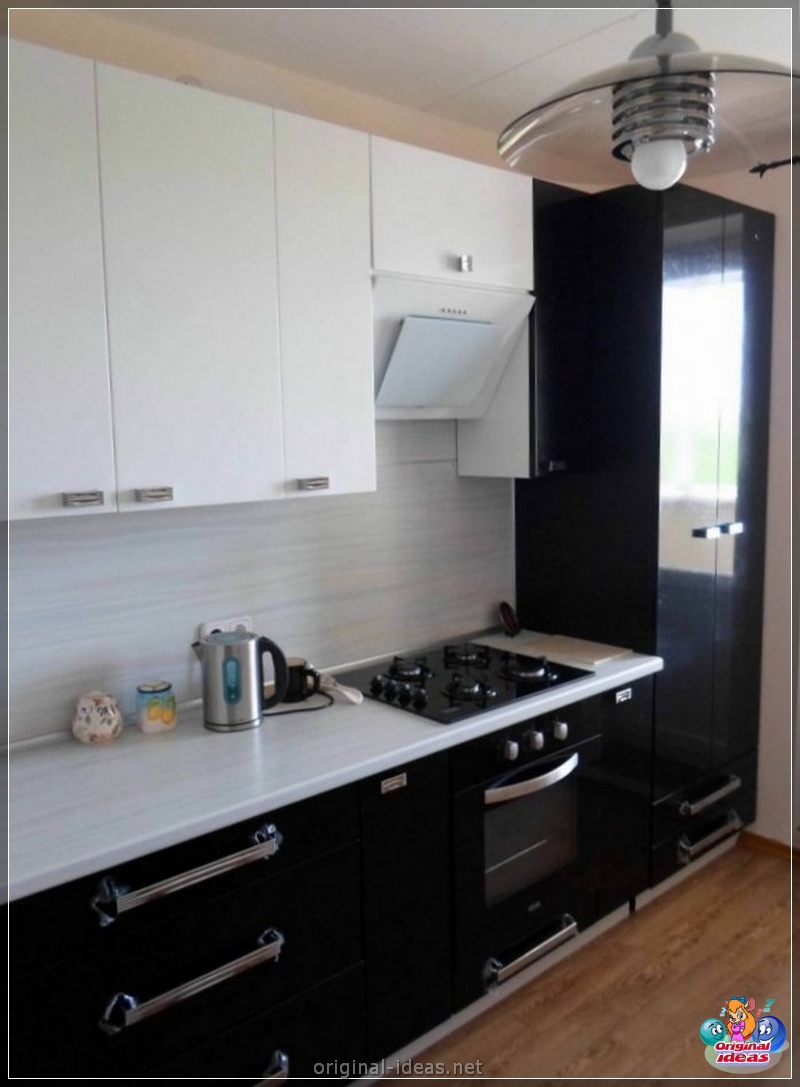 Stylish white kitchen with a black countertop, a glossy snow -white apron - this is beautiful. But it is worth remembering that the materials in the kitchen should be not only aesthetic, but also functional. Choose durable and durable materials for these purposes. Both black and white are the most "marked", all spots, stoops from water, traces of fingers are visible on them. So it is worth choosing the materials on which it will be imperceptible. All surfaces should not be afraid of moisture and household chemicals, do not absorb fat and water, is easy to clean and not leave stains. Otherwise, the most stylish interior will lose its appearance in a year. Follow the balance in everything. Must not be ...overload... in black or, on the contrary, white. Ideally, if they are approximately equally. Mix the textures, avoiding onerosity. If all surfaces are smooth and glossy, then the space will look flat and cold.
And yet - don't be afraid of experiments!
A couple of tricks
The most difficult place is the working area. Therefore, the apron, the surface of the countertops and everything that is next to the stove should be practical. Of course, snow -white tiles will look very fresh here. But keep in mind that it will have to be cleaned almost after each cooking.
If the room is small, it is better to use the maximum of a light shade, and the dark one is applied as a selection and accents. But in a spacious kitchen, on the contrary, you can safely take a black color for the base, and with white only to refresh some of its areas.
In a word, you should remember the practical side, and design the space not only from the point of view of aesthetics, but also to understand in advance how it will be used in everyday life.
And finally
There is no and there should not be any prohibitions and strict rules for real creativity. If your soul requires beauty, and if you definitely feel that the kitchen in black and white is "yours", then dare! And do not pay attention to the rules. After all, the main thing is that you are comfortable, and in order for you to spend more free time in this space.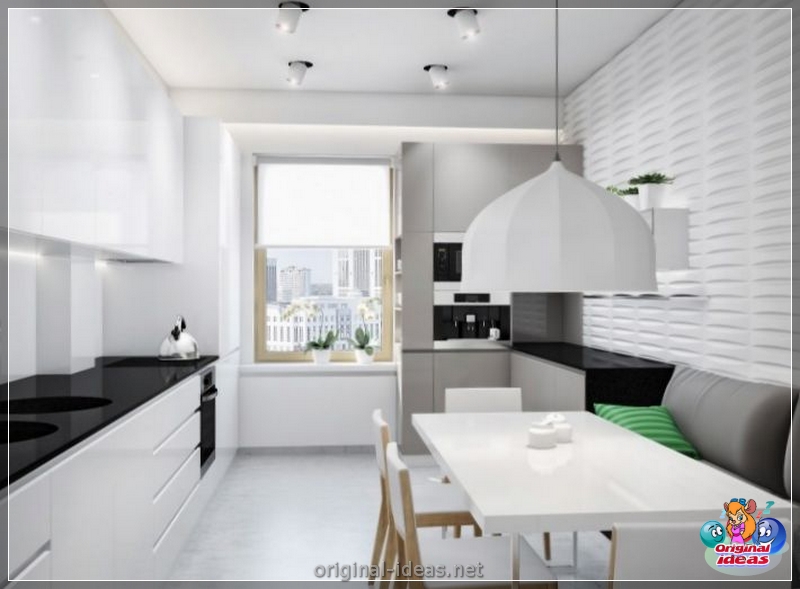 After all, the most important thing for creating an ideal interior is a sense of taste, intuition, attention to details and a craving for the beautiful. If you arrange your own home carefully and with love for each corner, then the result is guaranteed to be magnificent!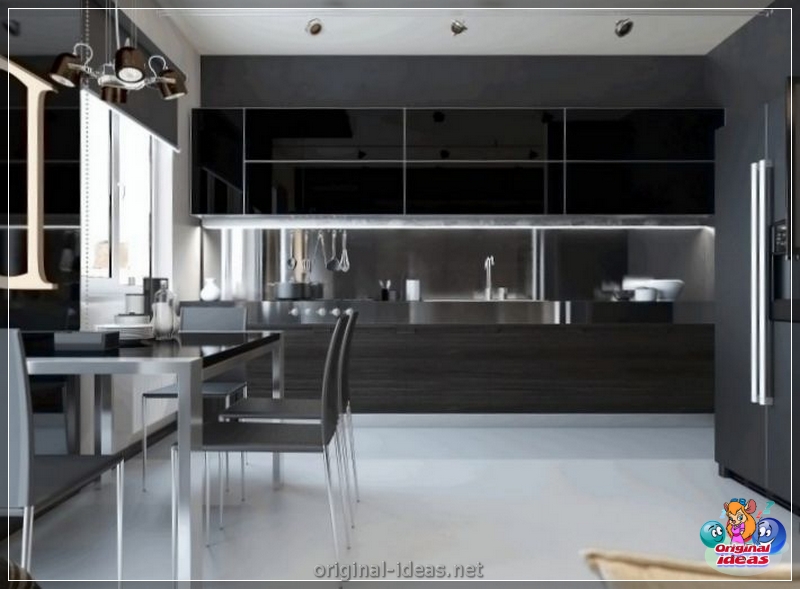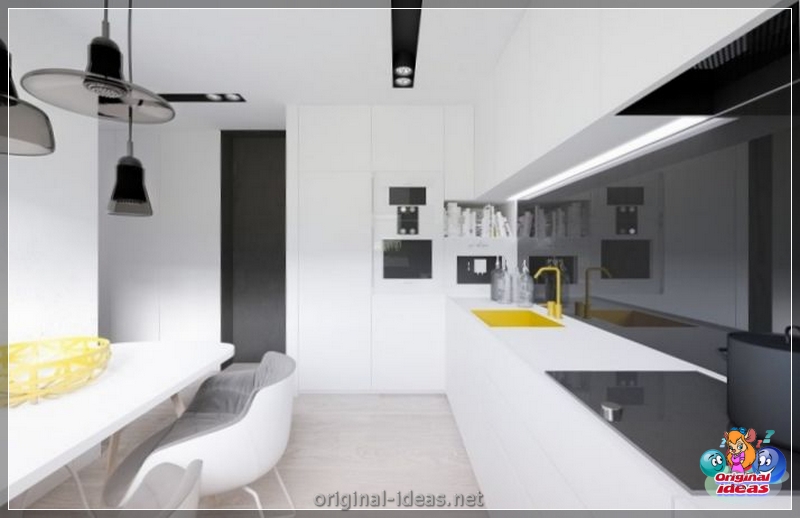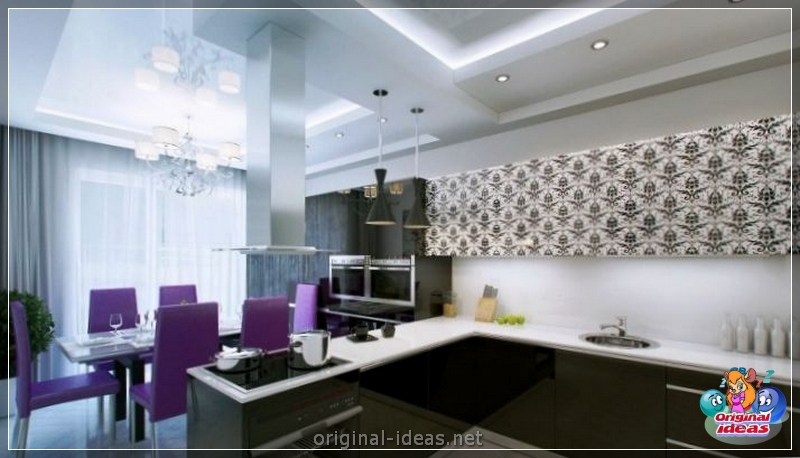 Photo of black and white kitchen