How to imitate brickwork on the wall with your own hands
Sometimes naked walls or wallpaper with a monotonous pattern are bored. I would like to add brightness to my interior, such as brickwork. It looks at the same time simple and spectacular.
Imitation of brickwork in the interior of the apartment
If the house is built of bricks, then it is enough to remove the finish. In other cases, you have to look for workarounds to create your favorite design. Imitation of brickwork with your own hands from plaster in the hallway, for example, is a solution to the problem. Kitchen
"Brick" design in the kitchen adds her solidity and comfort. To make the interior memorable, it is enough to build one accent wall, designers say. There is a flat masonry and rough, slightly sloppy, resembling a bare brick wall. The accent zone can be made even brighter due to painting.
On a note! The overall impression on the kitchen depends on the design of the apron.
Some are decided to imitate brickwork in this zone. A good solution would be ceramics or tiles resembling the outlines of brick. Choose rough or smooth modifications. Tuscan tiles without glaze look natural, but not everyone can afford this.
Imitation of brickwork from plaster in the kitchen will highlight door or window areas if it is installed on the corresponding walls. Outwardly, they become more neutral. Also, the cladding will protect the walls from damage. Bedroom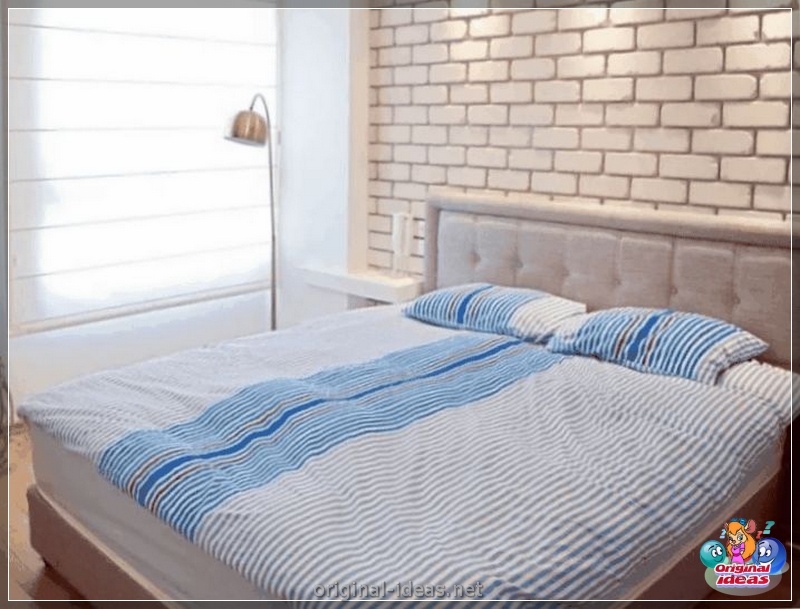 Walls under a brick in the bedroom can say a lot about a person. Through imitation of masonry, you can reveal your character in the interior: In the young man's bedroom, the brick wall speaks of his brutality, strength and self -sufficiency. A girl's room with a sophisticated version of the same design will indicate the brightness and modernity of the hostess. The newlyweds that used the brick in their room will demonstrate the extraordinary and creative warehouse of thinking. And in family couples in long -term relationships, it will emphasize the statute.
Designers recommend combining color and brickwork to achieve some additional effect. For example, the white version of the wall carrier of the window will visually increase the space, and bright colors will create a special mood. The owners of such decisions noticed that it is convenient to experiment on a brick wall and bring creative ideas to life. The aged design is combined with Provencal and classic furniture styles characteristic of bedrooms. Natural brickwork will emphasize the main function of the concisely furnished bedroom - rest. In the hall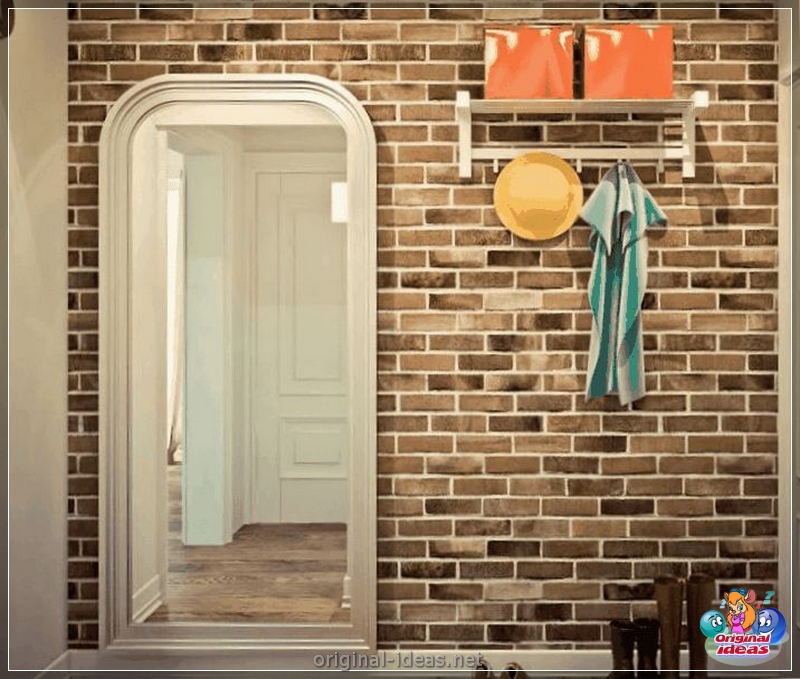 Brick in the corridor will create the mood of the whole house. Most often there are long narrow hallways, where natural masonry will not fit at all or take most of the space. So decorative brick is an ideal solution in this zone.
The option of complete wall filling with brick design with inserts from additional elements is allowed if necessary.
On a note! Brick lines or columns on the walls will help reduce a very long corridor thanks to zoning. Living room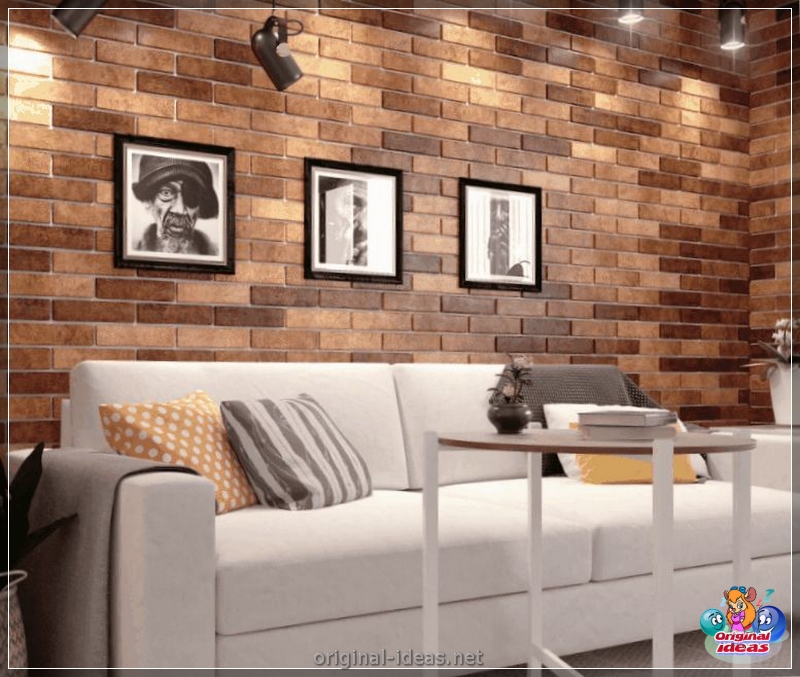 The living room with its design says a lot about its owner, so everyone thinks out in detail before making an imitation of brickwork on the wall in this room.
Accent walls with fake bricks fit well in the hall. Moreover, in this way the fireplace or its false version is easily played out. The room becomes more comfortable, the atmosphere of its house is created.
In apartments-studios, where the living room and kitchen are united, it is worth refraining from the abundance of brick. One decorated wall is enough to completely change the appearance of the space. Bathroom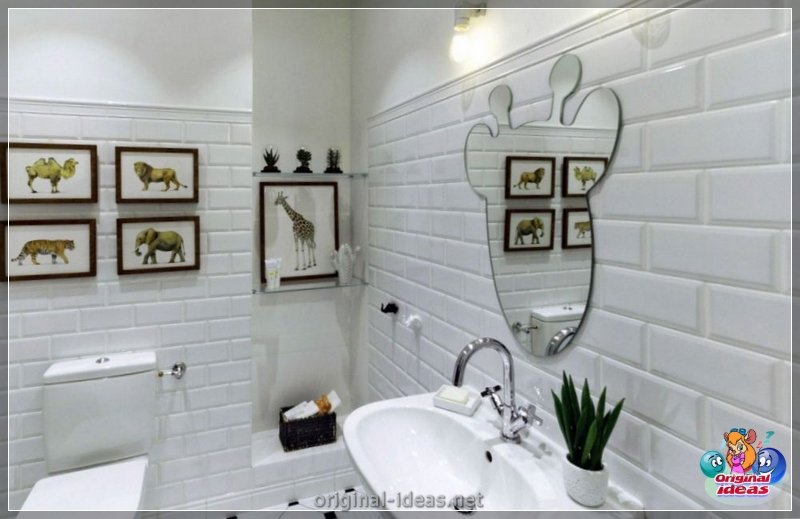 Due to high humidity, it is necessary to choose an imitation of brickwork, which will not deteriorate or deform from frequent contact with water, that is, moisture resistant options.
Typically, bathrooms do not differ in large sizes, so it is recommended to pay attention to light shades to visually expand the walls. If this effect is not needed, then any color is suitable. For the same reason, experts recommend choosing a "thin" design, such as wallpaper or plaster on the wall. How to imitate brickwork with your own hands
Sometimes money or the size of the rooms does not allow to build a real brickwork, then the consumer is forced to turn to a propulsion. Manufacturers offer solutions that can be implemented with your own hands. At the same time, there are ready -made step -by -step instructions for creating any design on the Internet. Decor material plays an important role, so the most attention is paid to the properties and characteristics of each. Imitation of brick from soft tiles
Soft tiles are popular due to the ease of laying and processing the surface. The texture of the brick is transmitted almost completely, so this option is quite close to natural laying.
On a note! The tiles are quite supple, so it can be put on any surface, bending in the right direction. Experts note its strength and durability. Brick masonry made of polystyrene foam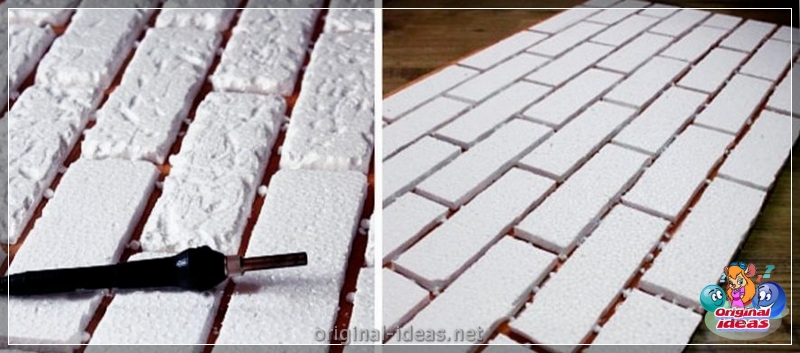 Imitation of brickwork with your hand from foam does not require special education. Need to buy: Styrofoam; glue; panel that will be attached to the wall.
From these materials you can make a black decor version. Rectangles cut out with a knife are glued to the panel, imitating the seams. Then - a flight of fantasy. You can use a burner or knife to create the texture of bricks. If desired, add the necessary coloring.
Foam brickwork is suitable for those who have time to sit and make a certain number of foam panels for finishing. Brick masonry made of solid tiles
Three types of solid tiles are allocated on the market. However, each has its own properties: Gypsum. The cheapest. Due to moisture resistance, it should not be used to simulate brickwork with your own hands in the bathroom, toilet or in the kitchen. Cement. A stronger and more expensive option in comparison with the previous. Can be used for finishing work both indoors and on the street. The material is quite resistant to external factors. Clinker. Rarely used for decoration of premises. Quite expensive, but the most durable and durable.
Note! In the presence of special forms, you can create an imitation of brickwork with your own hands from cement. From plastic panels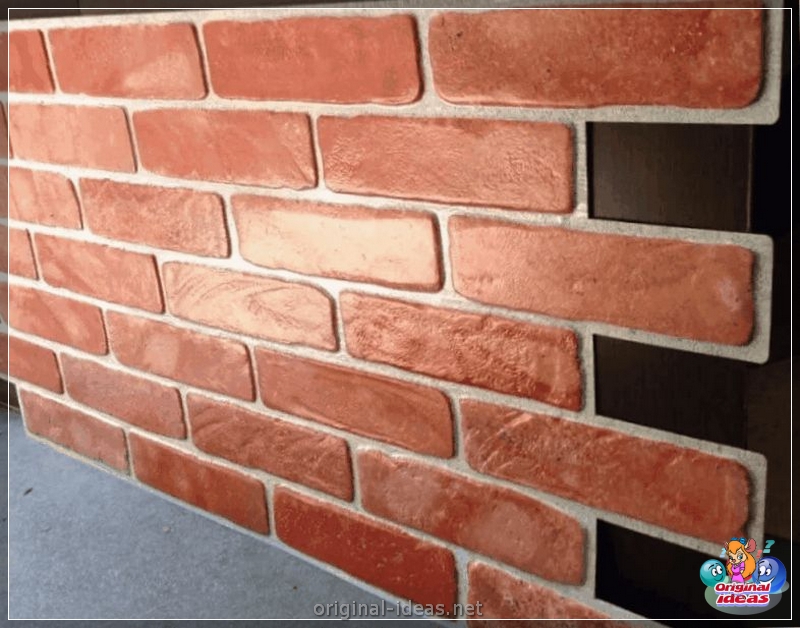 Consumers and masters note a number of advantages of imitation from plastic panels. These include: Repairs. You don't have to destroy something. You can simply dismantle the previous installation, replace with any other panel or remove at all. Simplicity of installation work. Special education to attach plastic, no need. Some manufacturers leave instructions for installation on the packaging of goods. Affordable price. Plastic a priori inexpensive material, and for one panel it needs slightly, which in the aggregate makes the plastic panel available for all the option of finishing. Resistance to temperature drops and other external factors. Simplicity of care.
The plastic panels are unpretentious, it is enough to wipe them from dirt and dust so that they serve as best as possible. From MDF panels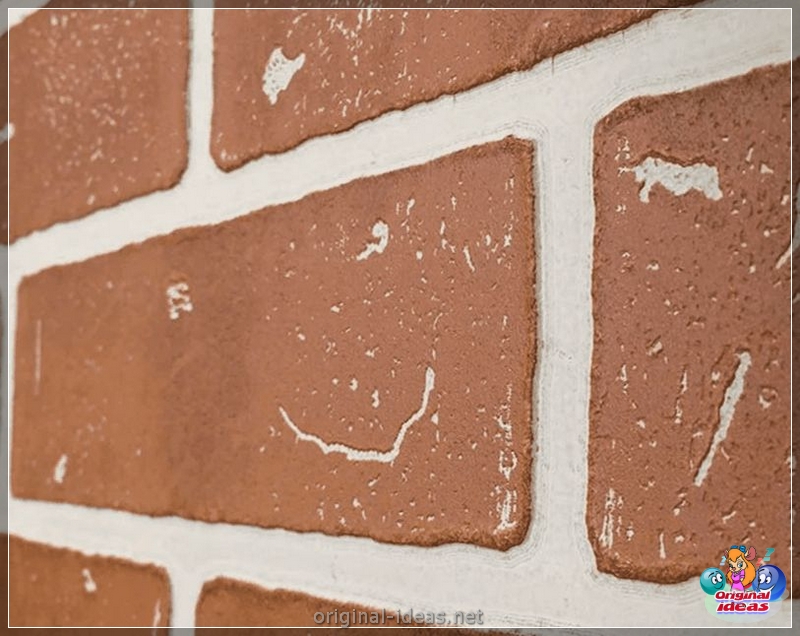 Better and durable material compared to PVC is a panel from MDF. This is a small -dispersed tree fraction. The advantages of decorative brick from MDF include: simple installation; quality and durability; a variety of colors and textures; There are panels that the consumer can paint at will; much cheaper than natural masonry; high installation speed; MDF improves sound insulation and thermal insulation.
However, it is worth noting that the panels from MDF are quite impudent, especially if the plate itself is large. Therefore, it is worth finding an assistant or choosing smaller options for work.
On a note! Moreover, if, for example, plastic can be glued to the wall, then a heavy panel from MDF should be fixed additionally on special strips or crate. From drywall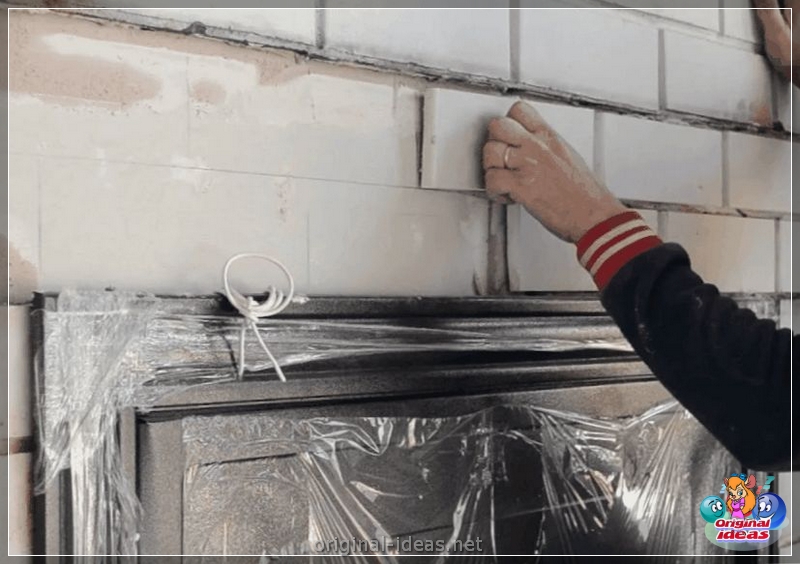 Drywall without processing externally far from brick. But you can bring the material to the necessary texture using plaster or putty. The course of creating such a panel with your own hands in the drywall version is not very different from the version of the foam. After creating a base from chopped rectangles, create roughness with plaster. You can fix the panel on the wall or paint additionally. Wallpaper for brick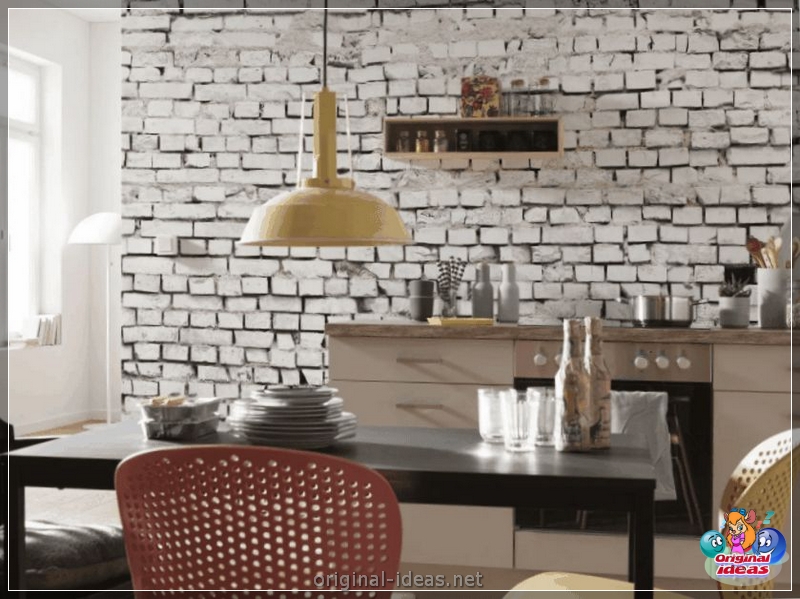 If you do not want to load the walls with something voluminous, then you can glue the wallpaper under the brick. This material is suitable for gluing on various surfaces and bends. However, the wallpaper will not transmit the laying of the masonry, although there are rather large reliefs. It is also necessary to take into account the drawing and look for a suitable continuation after each sheet.
On a note! Wallpaper is suitable for simulating brickwork with your own hands in the hallway and bathrooms, where there are not many free space. Imitation of a brick wall of plaster with your own hands
To finish the room, you need to choose a decor that combines safety, aesthetics, cost, environmental friendliness and a small volume of the necessary surface for installation. By all criteria, imitation of brickwork with your own hands from plaster in the kitchen is suitable.
The advantages of decor from this material include: low price; installation speed; lack of harmful materials in the composition; thin layer of the formed masonry; Simplicity of work.
Since work does not require special education, you can find a video on the Internet for beginners to simulate brickwork with your own hands from plaster.
The masonry, made with his own hand, not only pleases the eye, but also adds highlights to the interior. Despite the fact that brick has been used in construction for more than a dozen years, he has not lost his relevance. Masters shot a lot of videos on creating fake structures and installing them, which are in the public domain. They will help you cope with the work of any person. It remains only to choose a room and walls, where there will be a decoration, color and texture, panel material. Now shops offer different solutions.