The best options for decorating a corner hallway in a corridor
The hallway is the first thing a person sees when going into the apartment. The first impression of the guest about the whole apartment will depend on its appearance and organization. Therefore, the choice of furniture in the hallway must be approached with no less responsibility than when it comes to residential rooms.
Advantages and disadvantages of corner hallways
In the current houses, the hallway is often small, because overall furniture is most often not suitable. Only something compact, leaving a place to move. So, a good option would be an angular hallway in a small corridor, consisting of cabinets and cabinets, open shelves, strips with hooks.
Such furniture has its drawbacks: Without regard to fashion and modern directions, standard models remain in the old design; The assembly of large and massive cabinets in a cramped room is complex; Popular built -in cabinets when moving cannot be taken with you; Cabinet furniture is usually limited to only a few models.
Despite this, there are advantages: Such cabinets save a place well; It is possible to make furniture to order, which will increase its functionality; The cabinets are usually already equipped with a mirror in the entire door, or even two, so you do not need to buy a mirror separately; corner structures for the hallway are quite compact and spacious.
The design of such cabinets is often universal and due to several basic colors in the model line is suitable for any interior. Features of choosing a corner hallway
The size and type of corner hallway depends on the volume of the room where it will stand. There are both very compact designs and large.
For a small square corridor, a modular corner hallway in a modern style, consisting of shelves, boxes, space with hangers for clothes and shelves for shoes, will be a good choice. In the corridor with a mirror, you can purchase a separate cabinet.
On a note!  For any option, one rule must be remembered: the smaller the room, the less furniture should be in it.
When choosing an hallway to order, it is worth considering design and style in the entire apartment, so that everything is combined with each other. It is better to take cabinets with mirrors - this will make the room visually more. Good lighting is important and important.
There are many variations of cabinets for small rooms, it can be a corner hallway with a wardrobe and an open part. The design kit also often also includes a mirror, shelves, cabinets, hangers, but the capacity and compactness will be associated with the features of the cabinet.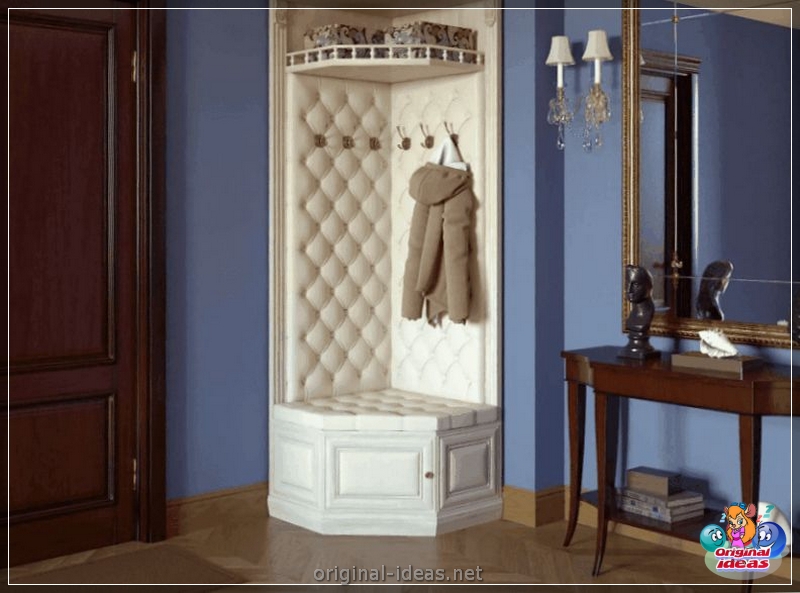 The main types of cabinets for the hallway: Triangular. The most compact, completely enters the corner, takes the least space. One sliding door can be with a mirror. Radius. This option is also included in the corner. The outer side with the doors can be either concave or convex. This is usually a compartment that is complemented by regiments, but can be without them. Well suited for small square rooms. Rectangular. One side adjoins the corner, the other goes from it along the wall. There are usually many places for storage in this performance, t. to. The cabinet comes out quite overall. Such options are more suitable for spacious rooms. Trapezoidal. It has 2 end sides, the mirrors are located on two or more doors. There are many storage places.
On a note!  The choice depends on the dimensions of the room, and the necessary volume for storage is also taken into account. Materials for manufacturing
In the production of furniture for hallways, several standard materials are used: DVP. This type is usually used for built -in structures. It is quite cheap and is characterized by high loading resistance. But to moisture is still unstable. Chipboard. Strong enough, therefore, it is more often used by manufacturers of cabinet furniture. Such cabinets are characterized by low price, low sensitivity to moisture and temperature extremes. The material consists of compressed wood chips, so it's enough cheap and popular. But there is a drawback: it contains resins that become dangerous at high temperatures. MDF. This is a material consisting of wood -fiber elements. Furniture from such material is durable and reliable, resistant to liquids. Due to the flexibility of the material from it, you can create different decorative solutions. But the price of such products will be much higher. A massif of a tree. Cabinets made of natural wood of good quality, durable and durable. Disadvantages - high weight and high cost.
On a note!  The choice depends on financial capabilities, wishes for decorative design and estimated load on the floor of the room. Color spectrum
The general mood of the hallway will depend on the choice of color. Correctly chosen gamut can visually expand the room. The same purpose will serve as a well -placed cabinet with a mirror. With the help of color, it is easy to divide the space into zones, and this will bring more convenience.
When choosing, you need to remember the basic rules: Neutral tones are approaching many new styles. With a combination of white, gray or sand with small amounts of black, a beautiful additional accent in a small room is created. Knowing how to professionally arrange shades, you can create a harmonious design. Contrast colors give birth to bold solutions. The hallway, designed in combination of bright and dark, will look boldly and attract attention. But in this case, it is better to choose a closed -type design so that a variety of clothing does not interfere in the interior. The main thing with this choice is not to overdo it with light and dark tones. Natural tones are well suited for cabinets and hallways. Moreover, not only wood, but also a stone is used in the interior.
On a note!  Natural materials are successfully suitable for modern design. Their colors are well combined with natural style and shades of needles, sky, sand. Style solutions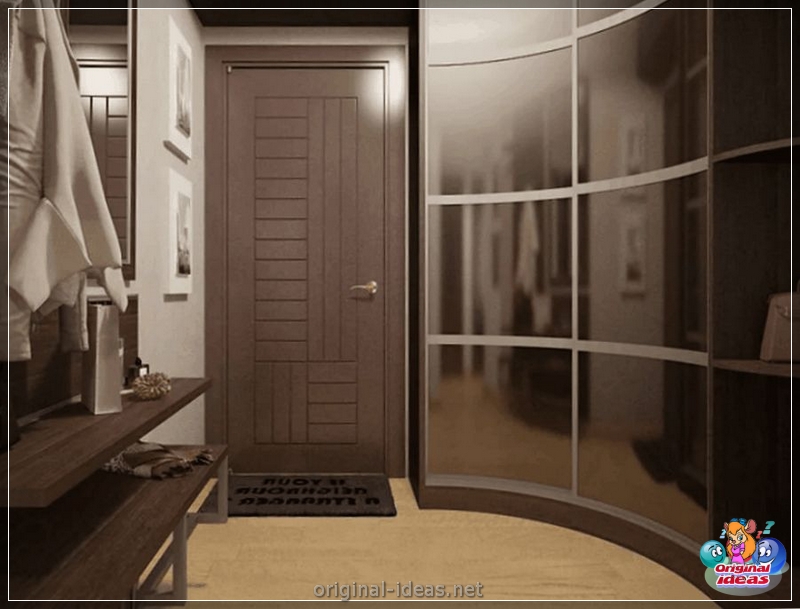 The style depends on the design of the room or apartment in general. The hallway is most often designed in such styles: Classic. The corner hallway looks elegant and to some extent luxurious. Basically, such rooms are filled with natural wood furniture. Typically, rooms in the classic style are spacious, therefore they mean overall furniture: the cabinet can be large, with many hangers, shelves and cabinets. In addition, furniture in a classic style is often performed in dark colors, which looks rich and solid. Provence. This style is characterized by light color tones of wood, which will give the interior lightness, airiness. No less relevant is the design of the cabinet with intentional aging and decorating with patterns that do not attract a lot of attention. Minimalism. Perhaps this is the most popular option for small halls in a modern style, since corner cabinets are designed for small rooms. This design is characterized by the minimum use of interior elements, the main criterion is the laconicism of the lines. Cabinets are best suited for this purpose, riding the corridor from things that are used infrequently. They are almost always equipped with mirrors, and this visually expands a small room. Modern. This style is characterized by asymmetry, so the furniture can also be adjusted to modern-Mr.-shaped models, wardrobes with concave or convex sliding doors. Loft - in this style you can find hallways for large rooms and for small. The cabinets are usually either completely or half -closed, with many shelves, boxes, hangers.
On a note!  The hallway-loft is designed by a combination of dark and light muffled tones. The choice of design for corner furniture in the hallway
When choosing furniture, some requirements must be observed: Layout. Despite the fact that the corner entrance hall itself was created for a compact room or corridor, it should not take up more places than necessary. Ergonomics. How comfortable it will be to use furniture, determined by the amount of free space. Efficiency. For all the compactness of furniture, there should be so many cabinets and shelves that they are enough for things and nothing is empty.
Often a small corner hallway consists of several main modules: corner element (conventional cabinet or compartment); shoe; pencil case; hanger; mirror.
On a note!  Do not "stuff" a lot of modular furniture into the hallway. It must be remembered that the design should be compact. How to choose a corner hallway
Modern furniture has many varieties in colors, forms, price, but the requirements for choice are always the same:
For a small room, it is best to choose an option in light colors and with mirrors. So the space will expand visually. It is better if the hallway is modular. So it will be more convenient to distribute specific storage places. A tall but shallow design is suitable for narrow rooms. So the place will be freed. It will be better if the wardrobe of the door-wreck-they do not need additional space in front to open. Furniture should be combined with the style of the room and apartment. You can additionally install lamps or LED lamps for more lighting if the structure is installed in a dark place of the corridor.
Corner hallways - the best solution for the corridor of small sizes. They are compact and with a competent arrangement of all components save place. From the abundance of designs and styles, it will be easy to choose the perfect option for yourself.