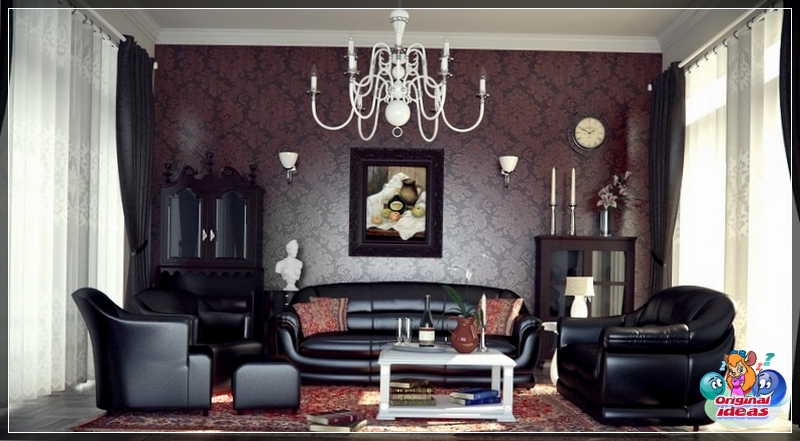 Classic style apartment design will never lose popularity. Photos of such interiors can be found in any modern magazine.
Having appeared several centuries ago (in the XVI-XVIII centuries.), the classic style is still ubiquitous. Several features of this trend have forever become the basis of design and are now used not only in their pure form, but also in mixing with details of other styles in eclectic interiors.
Modern classic apartment design
The main features of the classics
The classic style is considered the golden mean for a reason: it always remains relevant, is associated with the stability and thoroughness of the character of the owners, it will never be vulgar.
The main features of the classics
The interior design of an apartment in a classic style will help out those who want to make repairs for several years, independently think about the layout, looking for photo samples of such interiors.
An option for decorating an apartment in a classic style
Classics in interior decoration may seem too standard, subject to stereotypes. But this is not so: its manifestations are diverse, although they are based on several main features:
Clear geometric shapes of walls, furniture.
The proportions of the interior, consistent symmetry.
Nice soft colors of finishes, furniture, accessories and textiles.
Natural and expensive materials.
Restraint of decor (decorations are possible, but should not be excessive, too bright, must correspond to the area of ​​the room).
appearance of modern classic interiors
Finishing and layout
The appearance of modern classic interiors was based on examples of palace rooms, which, in turn, were based on ancient architecture, slender, solemn, graceful, symmetrical and luxurious.
Photo of the interior of a small apartment
Rooms with a sufficiently large area, high ceilings, allowing to emphasize the rich details of the furnishings, respect for symmetry are considered ideal for classicism. The design of a small apartment in the classic style may look incomplete and somewhat strange, although photos of such interiors exist, and they look good in the pictures.
Living room in classic style
The walls of rooms in a classic style are usually decorated simply. They are painted in a light, less often in a deep dark color, and are framed by strict columns.
Classics in room decoration
The ceiling can be decorated with stucco molding in the form of a refrain floral ornament with soft gilding, the traditional classic flooring is natural parquet. In the layout of such rooms, arches are used, strict multi-level ceiling designs, a fireplace will add special comfort, which will become the center of the entire composition.
apartment design in classic style
Observance of the correct proportions and symmetry in the arrangement of furniture, the distribution of textile elements occupies not the last place in the planning of a classic interior.
The design of an apartment in a classic style provides for the use of only expensive and luxurious materials: natural wood, metal, gilding, marble, as if they came from museum photos.
Not everyone can afford such an interior, but it will not work to decorate a house in this style without costs.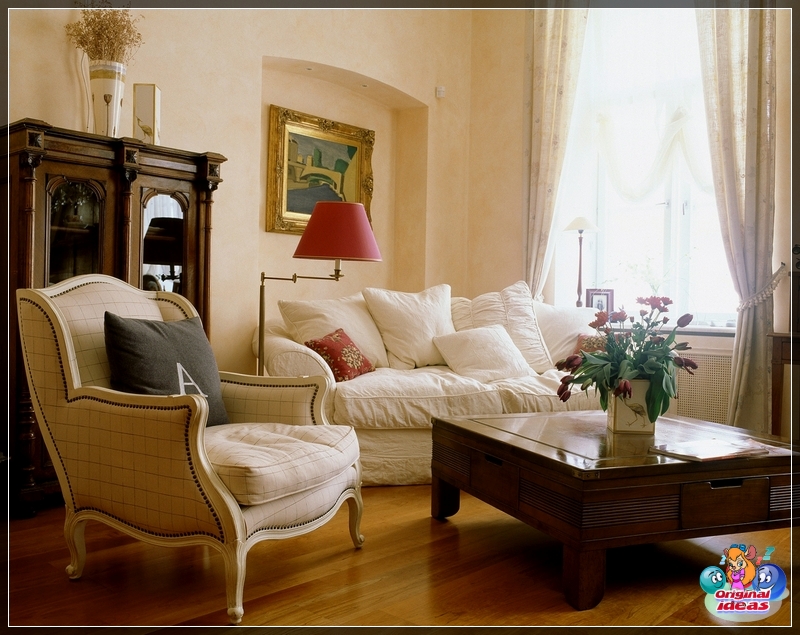 Classics in the interior
Color spectrum
The design of an apartment in a classic style is created in a calm and laconic natural color scheme (photos of such interiors can be found in many respectable catalogs of furniture and decor items).
hall decoration in classic style
The main colors of the classics: beige, brown, mahogany, wenge, white, bleached oak, dark shades of red and green. The tones are usually rich, but not "screaming" and are slightly muffled.
Colors when decorating an apartment in a classic style
Such shades are suitable for apartments for families with children, for those who are used to relaxing at home. Classic ceilings are usually white, floors are light (beige) or natural dark shades. Curtains and other textiles (furniture upholstery) act as accents.
Classic room walls
Selection of furniture
The luxurious atmosphere of a classic house cannot be matched by furniture made of modern materials. A must for true classic design - refurbished antique furniture made from natural materials that become more valuable with age. Such furniture can be replaced by luxurious models of European factories, handcrafted according to old technologies.
classic style furniture
Doors of cabinets and nightstands, table legs, mirror frames are decorated with exquisite carvings, fittings - in bronze or gilding. Behind the carved doors of such pieces of furniture, you can hide modern technology, which should not be in sight of visitors.
Accessories, textiles and lighting when decorating an apartment in a classic style
The design of a one-room apartment in a classic style will not do without such "tweaks" (photos of suitable furniture can be found in any catalog).
upholstered furniture in classic style
Velvet, velor, satin fabric, leather are used as upholstery for classic upholstered furniture. Chairs, armchairs and small poufs need to be purchased and placed in pairs, because the classics are "prone" to symmetry.
Modern solutions for the interior of an apartment with classic elements
Accessories, textiles and lighting
A classic interior is unthinkable without a variety of accessories: flowerpots, figurines, small flower arrangements, paintings in gilded frames - elements that perfectly complement the design of a studio apartment in a classic style or a house (photos of such a decor of the highest quality are posted on the websites of the best European factories).
Classic style accessories
Also important for the interior, designed in the classics, and textiles, in particular, curtains, which must necessarily frame window openings. Lambrequins are often used in their design - not too lush and pompous, but made of heavy expensive fabric with many folds. It is important to arrange window openings and curtains symmetrically.
curtains in classic style
Classic style chandeliers are voluminous, suitable for high ceilings. Wall lamps are selected from the same set with a central chandelier and are usually decorated with crystal, gilding and other decorative elements.
Classic chandelier
Classics in the interior - not cheap pleasure and timeless trend. For those who like traditional features, but cannot afford expensive renovations, modernity offers neoclassicism - a style that resembles palace halls, but is decorated using furniture imitating antiquity, finishing materials, decor.
Classic interior layout