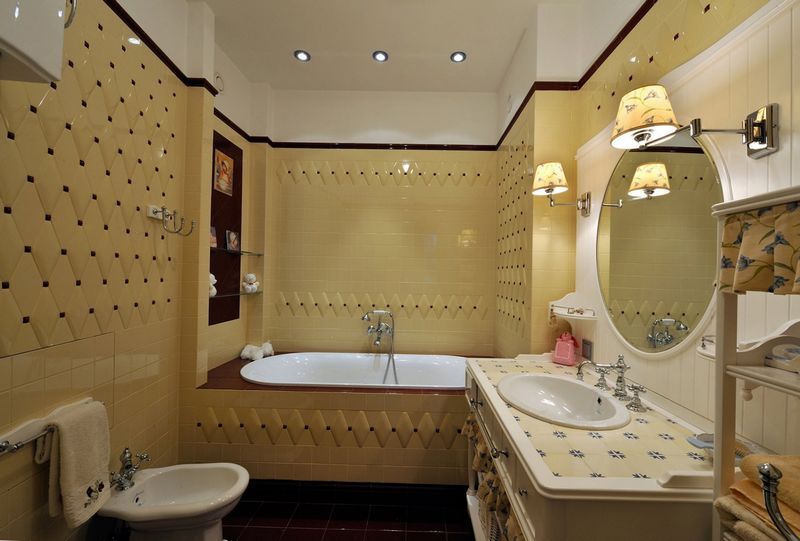 A classic-style bathroom is one of the most popular room design options. This style of interior design is the most harmonious, it perfectly combines, for example, pomp and simplicity.
The classic style, like all interior design styles, has its own special features that make it possible to distinguish it from such bathroom design options as country, hi-tech, modern.
At the same time, the most important feature of this style can be called luxury and pomp, because the classics should emphasize the status and financial situation of the owner of the premises. If we talk about its other distinctive features, then the following points can be attributed to them:
Using only expensive natural materials. This can be, for example, precious wood, granite, marble or wild stone.
Wide use in the decoration of such decorative elements as stucco molding, arches, semi-arches, columns.
Installation in a room decorated in this style, sculptures.
Extensive use of gilding, accessories and items made of bronze and brass.
The presence of gracefully curved lines in the interior and the absence of straight lines in it.
A classic-style bathroom will look best in a large room, for example, in a country house room. In this case, without fail in such a room there must be a window, and the bath itself is placed next to it. When this is not possible, the bath can be placed in the middle of the room.
In this case, it is worth remembering 2 points. Firstly, such a bathtub should have a rounded oval shape, and secondly, there is no place for modern household appliances in the bathroom. Otherwise, it will have to be built into furniture or camouflaged with removable wood panels.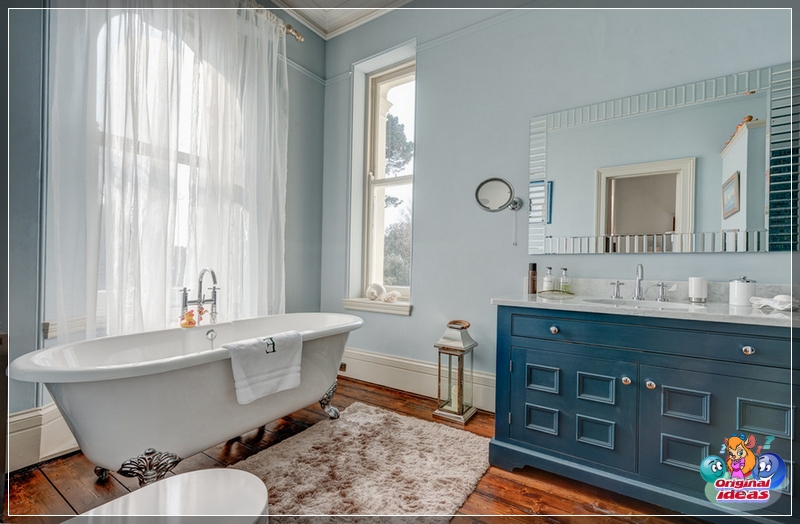 On a note! A must-have element in a classic interior is a mirror.
It should be massive, luxurious and decorated with an expensive carved frame made of precious wood with carvings and gilding. Alternatively, this frame can be painted in bronze or silver.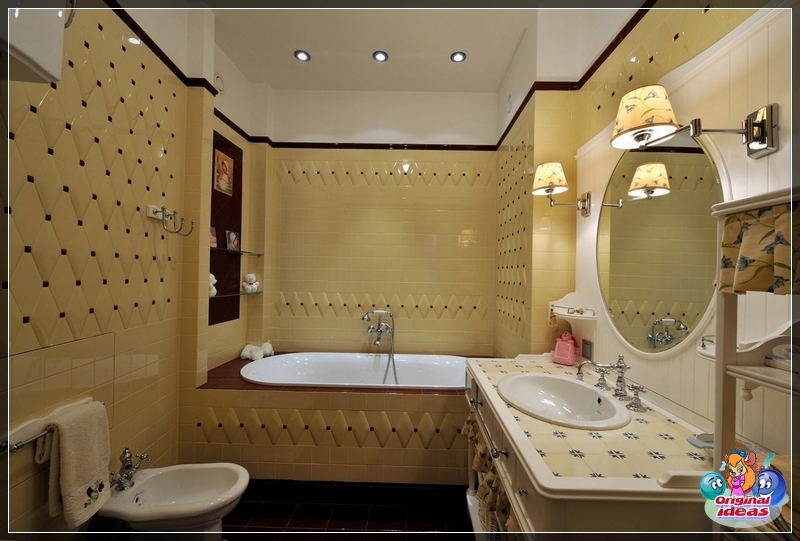 One nuance worth considering. The fact is that in the classic style of interior design only expensive natural materials are used.
In order to protect products made of wood, it is necessary to cover them with a water-repellent material. At the same time, the classics categorically do not welcome modern materials, for example, plastic or modern metals.
Bathroom design in classic style
Bathroom design in a classic style is obliged to emphasize the status and taste of people with high incomes. At the same time, there are some features that must be taken into account when decorating a room in this way. So, for example, one of the characteristic features of this style can be called the use of pastel and gilded shades in the design.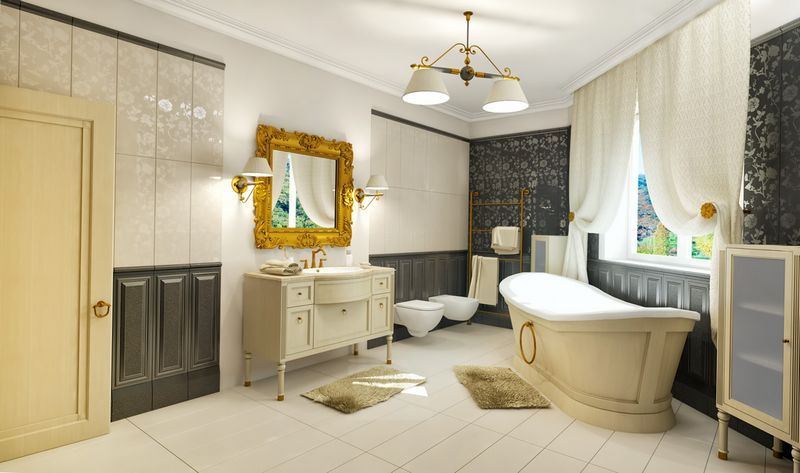 Important! It is imperative to use plant decorative elements, exceptionally high-quality and expensive finishing materials.
As for the room itself, it is selected in the correct geometric shape in the form of a rectangle or square. Pilasters, stucco molding and columns are used to decorate it. If it is not possible to make such decorative elements from natural material, it is allowed to use their high-quality imitation.
The world widespread interiors of bathrooms in a classic style (their photos are presented) imply that the ceilings here are decorated with the use of a cornice. Another element of this design is decorative stucco molding. The walls are usually finished with marble and onyx in pastel shades, you can also use ceramic tiles "like parquet".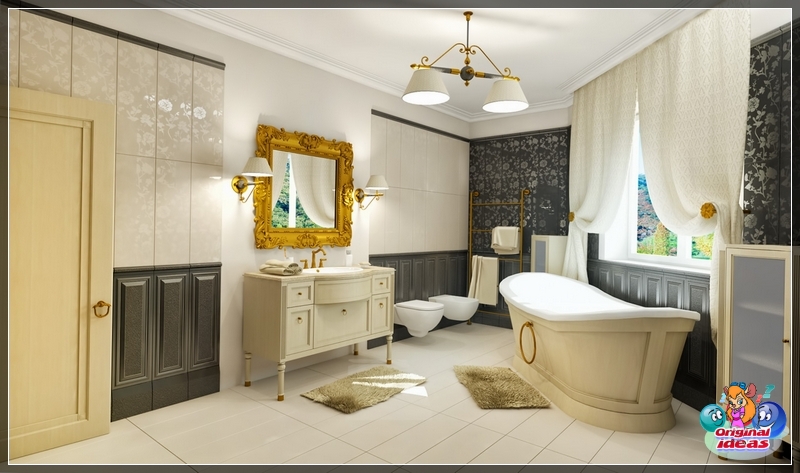 As for the color scheme, the described bathroom in a classic style is decorated with restraint, without contrasting and bright shades.
The main color scheme here is pastel, burgundy and brown shades, sometimes green and red colors are used.
The main ornament in the classical style is considered to be elements associated with antiquity, for example, a vine. The ornament is applied to walls, furniture and mirrors.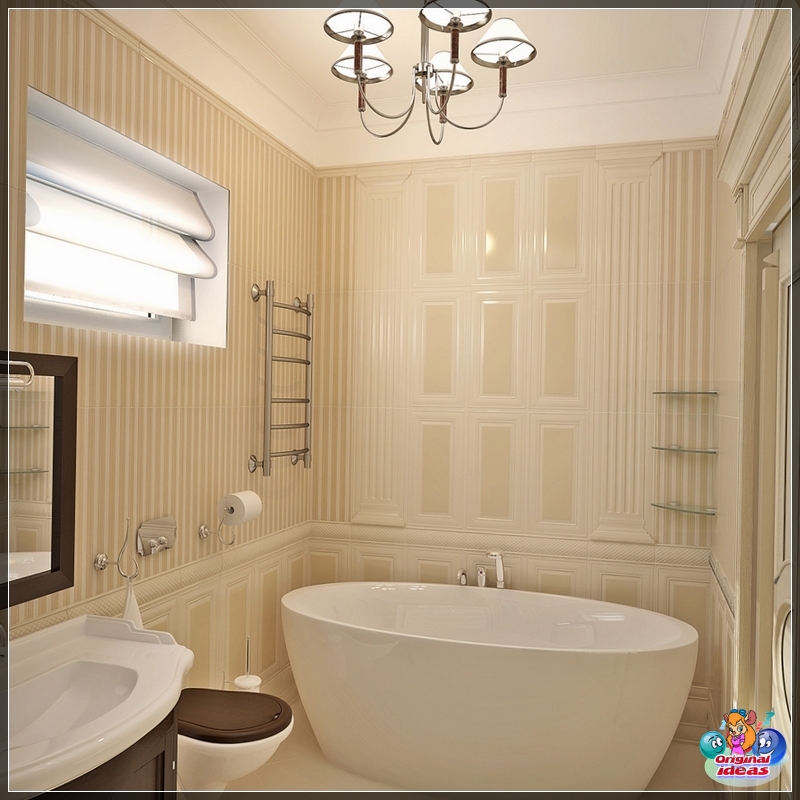 If you study the furnishings of such a room as a classic-style bathroom from a photo, then you can easily determine that expensive ceramic tiles, natural stone and moisture-resistant wallpaper are used for wall decoration, in rare cases the walls are simply painted.
The ceiling is decorated in light colors; it can be finished with drapery to match the palace interior. At the same time, the windows are draped with expensive, dense and heavy curtains, and it is quite possible to hang a canopy over the bathroom. The impression of wealth and monumentality to the room will be added by accessories made of bronze, copper or gold, gilding or stucco molding, as well as doors made of precious wood.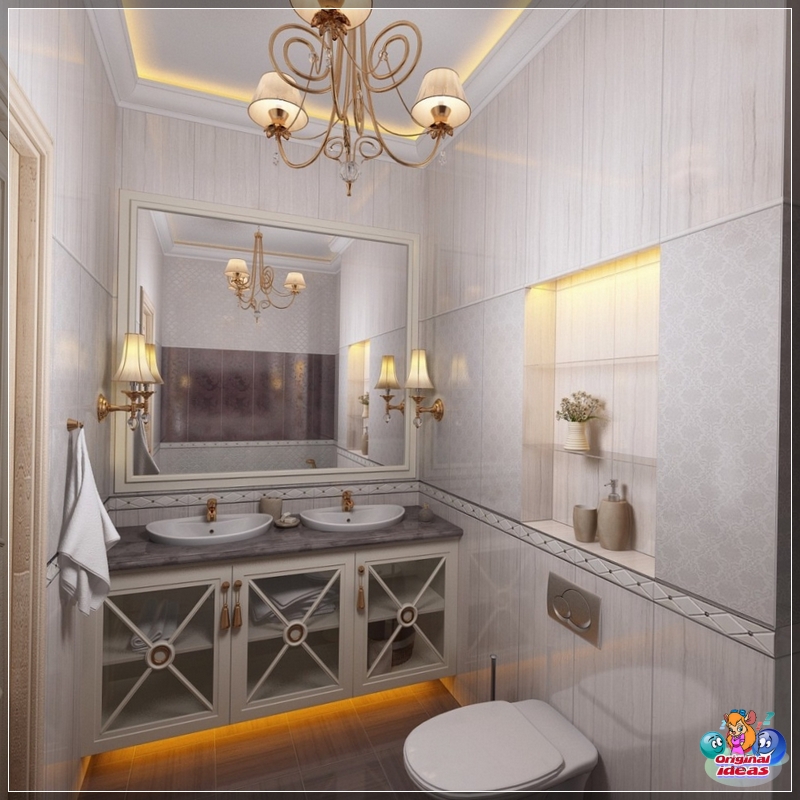 Bathroom interior in classic style
Bathroom interiors have their own characteristics. In order to comply with all the requirements for a room in a similar style, it is not at all necessary to use only natural finishing materials and decorative elements. High-quality imitation of some of them is quite acceptable. So, it is quite possible to imitate natural stone, valuable wood species. When arranging a bathroom, the interior can be supplemented with the use of fittings specially produced by the industry "for the classics".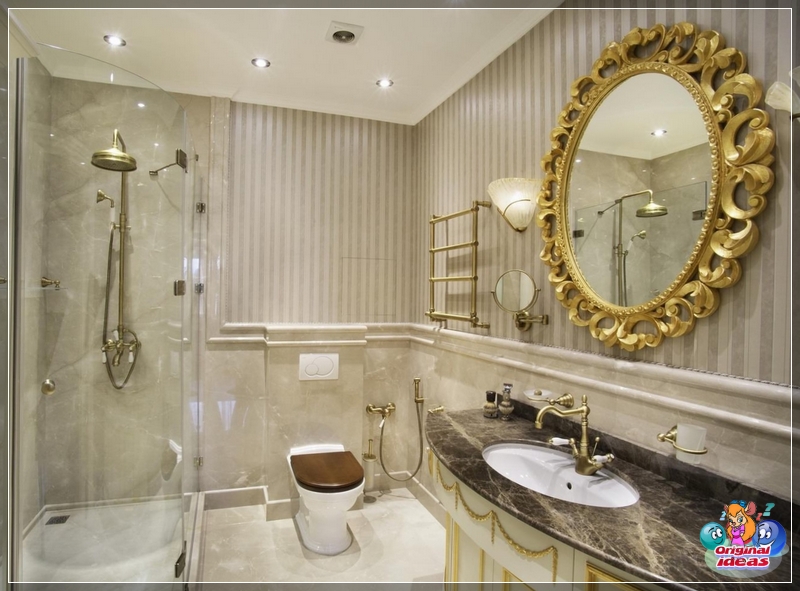 A classic-style bathroom, a photo of which is a standard for a room of this type, usually shows the absence in the described interiors of flashy shades, deliberately rough finishes, modern gadgets and decor items. All furnishings should emphasize luxury and wealth.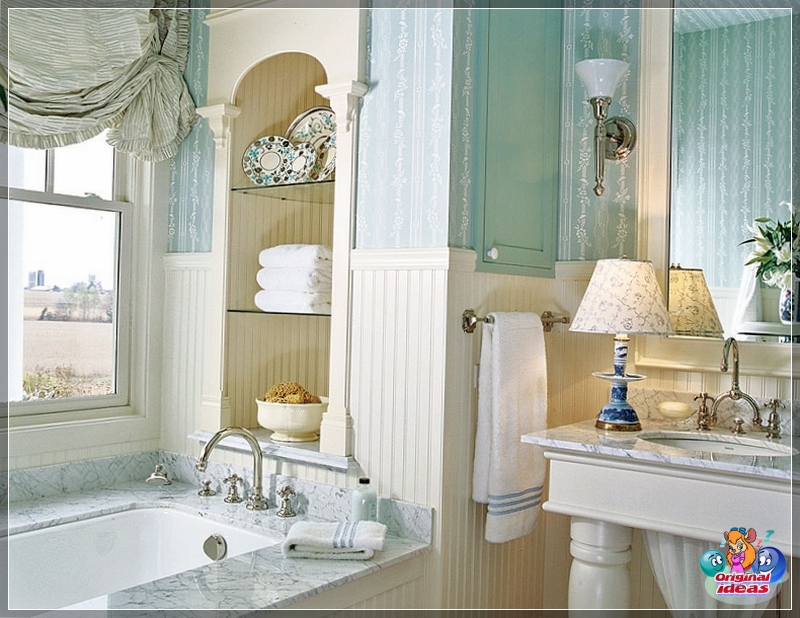 Beautiful bathrooms in this interior style are usually made using light colors.
At the same time, a bathtub with carved horns is usually selected for a classic interior. The choice of models in bronze or copper is welcomed. In combination with pastel tones of the walls, they can create a bohemian atmosphere in the room.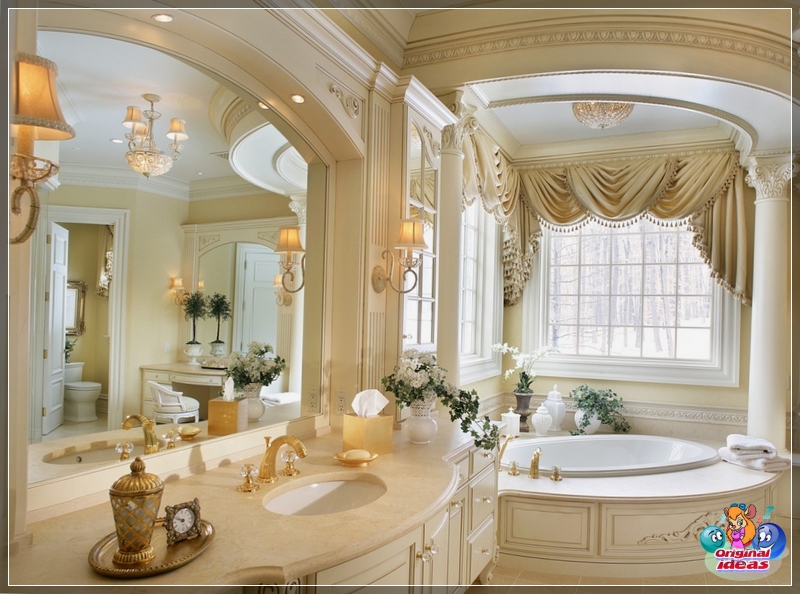 In the case when the bathroom itself is small in size, plumbing is usually installed near the wall to save usable space. If the room is spacious enough, the bath can be positioned both in the center and on the podium. Moreover, in the latter case, in order to emphasize the royal entourage, the walls of the room are decorated with white.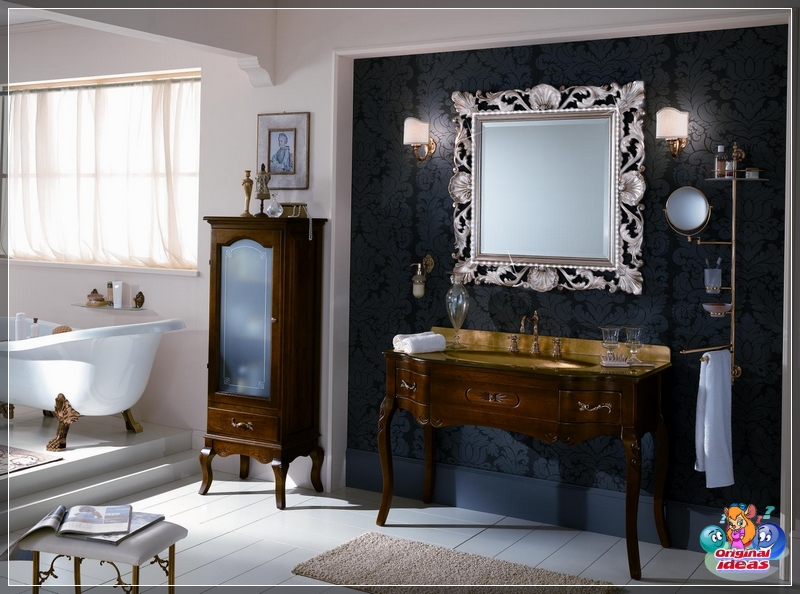 A classic bathroom design with photos posted in the albums of the most popular design agencies usually involves a sink. At the same time, it has recently become fashionable to install 2 sinks here at once. This is done in order to save time for residents of an apartment or house in the morning and evening hours. Such sinks are usually installed perpendicular to the bathroom, opposite each other, on either side of the bathroom - it all depends on the requirements of the interior design in one case or another.
Bathroom tiles: classic style
One of the options for shaping the design and interior of a bathroom in a classic style is wall decoration with ceramic tiles. The fact is that the tile allows not only to completely protect the walls of the room from moisture and harmful microorganisms. Almost any finish can be done with relatively little money.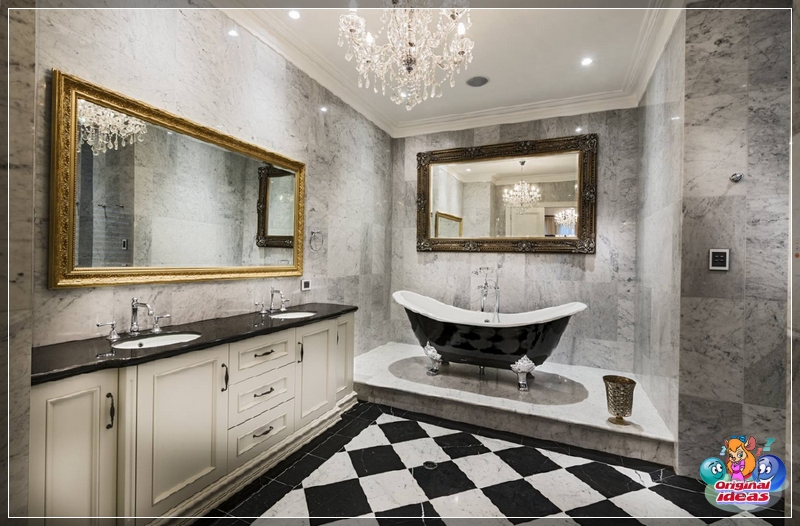 Tiles are especially relevant for a style such as neoclassicism. The fact is that a properly selected bathroom tile allows you to imitate most of the finishing materials found in nature.
So, for example, modern tiles allow:
Embody the surface of marble, imitate the appearance of solid wood of various types of wood, fabric, metals, wild stone.
You can decorate the space near the columns using stucco molding, and between the columns using arches.
Create visual variety in the room through the use of pastel, light colors with blue, green, gold, as well as red and brown shades.
It should always be remembered that tiles for a style such as classic should look lively and not create a feeling of museum silence in the bathroom. So, for example, marbled tiles should be combined with interior design elements, a mirror. It is worth paying attention to other options for imitating natural stone, which always looks luxurious and pompous, without creating a feeling of old age in the room.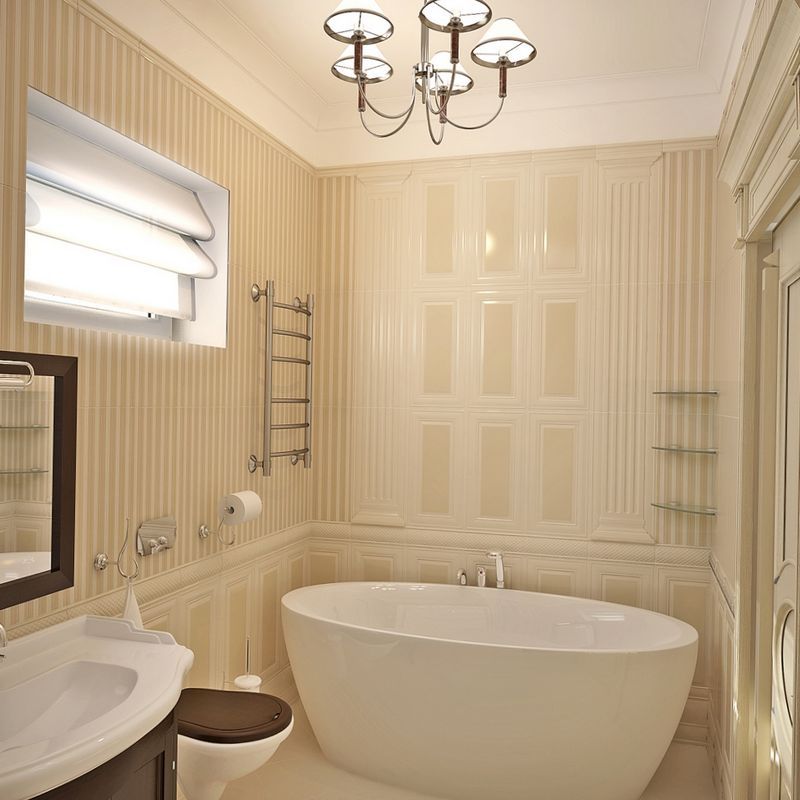 Fashion trends in recent years indicate the possibility of using prints for wallpaper or images made according to classic motives in decorating bathrooms. In this case, in any case, a tile of white or pastel shade will look advantageous. It's great if they are combined with gilding. It is very appropriate to have textures, for example, wood.
On a note! A very original solution would be to use a tile with an original pattern applied to it.
It can be floral ornaments and frescoes. The latter option is the most expensive of all possible bathroom design options, but at the same time it is the most unusual.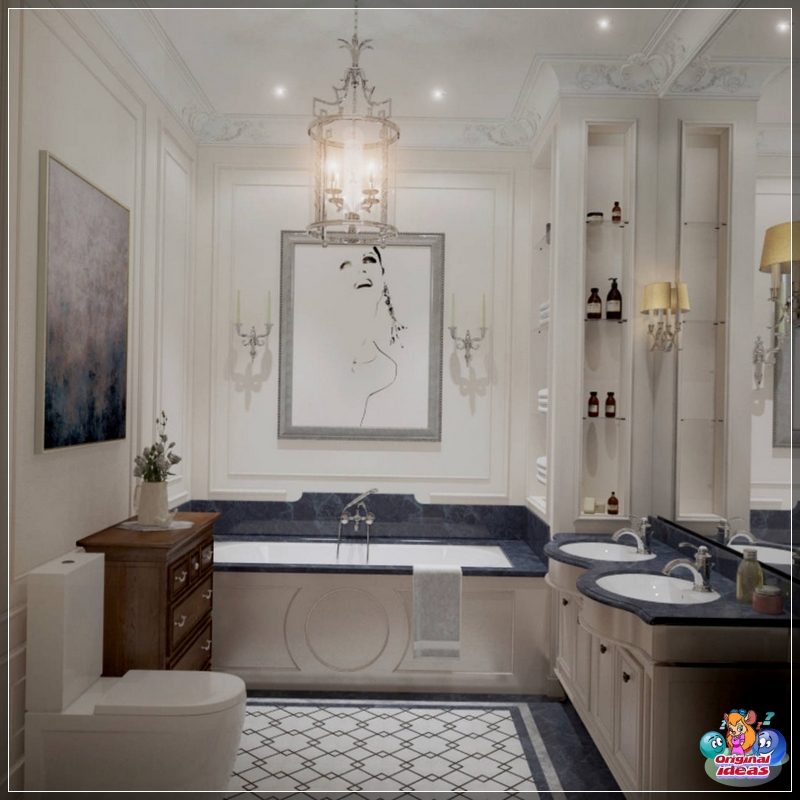 By the way, tiles, due to their appearance and technical features, look great in combination with decorative glass elements. For such a combination to be as effective as possible, it is necessary to highlight it with the help of modern spot lighting. Such a design move can help to organically fit both tiles and elements made of glass into the interior design of almost any bathroom.
Classic style bathroom chandelier
The classics cannot be imagined without such a design element as a chandelier in the bathroom. The fact is that in such a room it can become an involuntary center of attraction, the main element of the decor. In connection with this circumstance, its choice must be taken very carefully.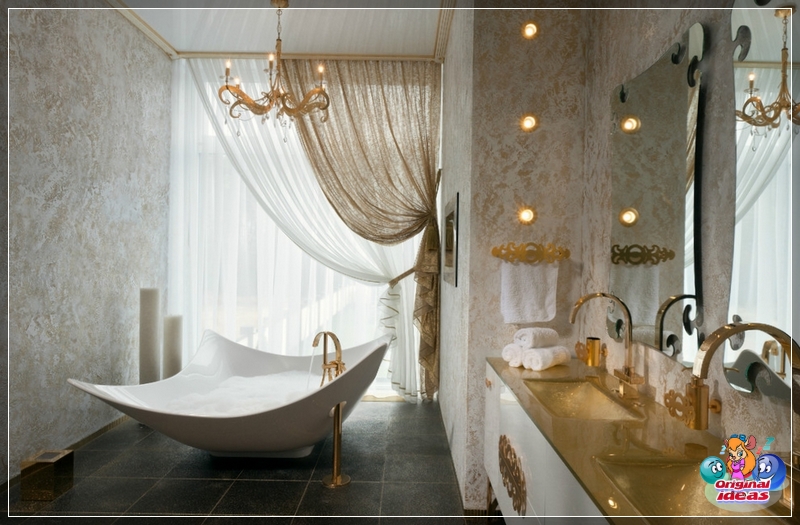 It should be noted that the selection of lighting devices should not be based only on the aesthetic side of the issue. The fact is that the bathroom is a place of high humidity, which is constantly present in this room. In connection with this circumstance, it is allowed to install the chandelier at a distance of one and a half meters from the water source, and the lamp itself must meet the water resistance indicators of IPx4 and higher.
As for other aspects of choosing a chandelier in a classic bathroom, then it should be suitable in size for the room. The fact is that in standard apartments it is made relatively small, and for a classic bathroom, an overall chandelier with rich decor is just characteristic. It will be necessary to resolve the issue with additional lighting. It must be used with caution as the classic design style does not favor too many light sources. If you cannot do without additional light sources, they should be wall sconces that give a subdued light.
Usually, experienced designers in this case choose a large multi-tiered chandelier with elements of bronze and crystal. If this is not possible, you will have to limit yourself to wall sconces alone, while it is worth combining them with the columns. Such lamps must be decorated with stucco, gilding, crystal elements without fail.
If we talk about what kind of lighting devices the classic style does not tolerate, then these are all modern chandeliers. If you want to use modern advances, for example, the ability to remotely turn on and off the light, try to find the one that combines classic design and modern filling. It is quite acceptable if such a chandelier is taken from a line of lighting fixtures produced in the neoclassical style.
Most classic bathrooms usually do not need natural light, but if there is still a window, opening or niche in the room, they should not be laid. It is better to arrange them with a frame and heavy curtains made of expensive fabric. In this case, the room will acquire a new original design element that can become a center of attraction.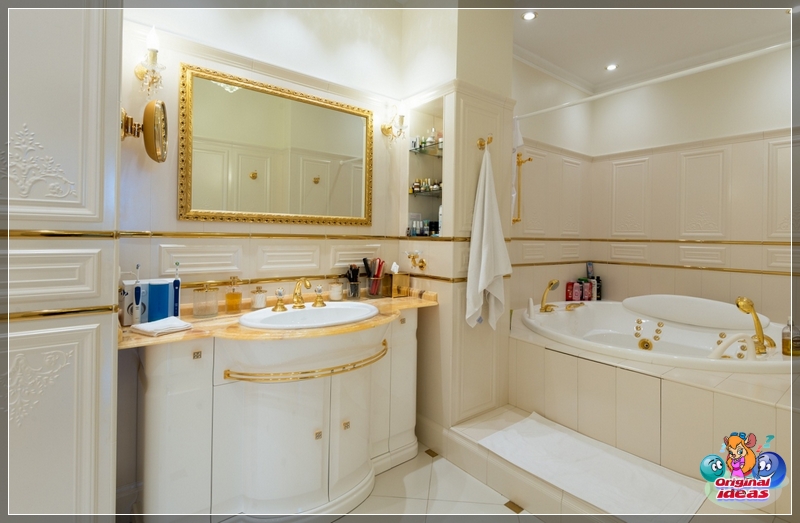 Details and styling in a classic style
Like any interior design, the classic means a lot of attention to detail. The fact is that it is they who can add emphasis to this or that part of the bathroom. So, for example, with the help of large mirrors, columns, cornices, you can create a visually cosmetic zone.
In a classic-style bathroom, paintings framed by heavy gilded frames are quite appropriate. Don't hang pictures on the walls.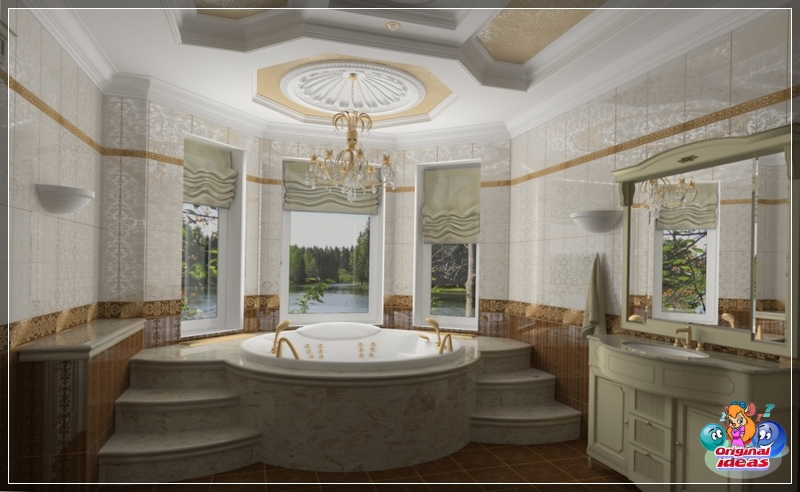 Candles and candlesticks are another design element. They can be used both for their intended purpose and simply as a decorative element. In this case, it is best to take devices that simulate candles for this purpose. They are placed near the mirrors. Real candles should be placed on special shelves to create a romantic atmosphere in the bathroom.
The classic style of interior design is characterized by the extensive use of canopies and screens. They not only create an intimate atmosphere, but also allow to further emphasize the central role of the bath in the interior of the room. At the same time, they must be created from moisture-resistant fabrics and water-repellent materials.
It is worth talking about stylization techniques in the process of creating a design. The fact is that in a small bathroom it will be impossible to use completely natural materials and original design solutions characteristic of this style. Therefore, it makes sense to use partially imitations.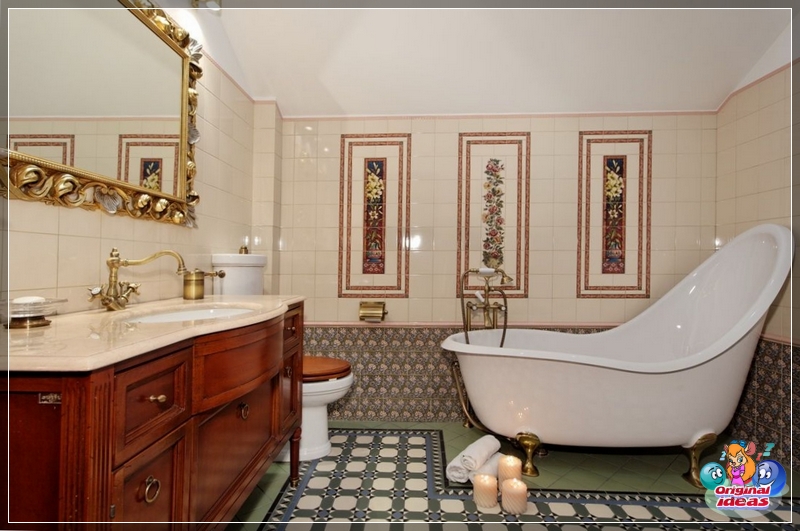 So, for example, for this, separate lines of materials are produced, for example, tiles can imitate marble, wild stone, wood of different species. Columns and moldings are made of PVC, and the furniture is artificially aged. Do not go to extremes, because if you overdo it with imitation, you can get the opposite effect to what you expected.
There is also a separate point that people sometimes forget about who have no experience in their design. The classic style does not tolerate the presence of modern technology in the room. Therefore, it must be hidden, for example, in a closet or niche. If the washing machine cannot be disguised in this way, it can be designed to match the motives of the room, for example, using self-adhesive tape.