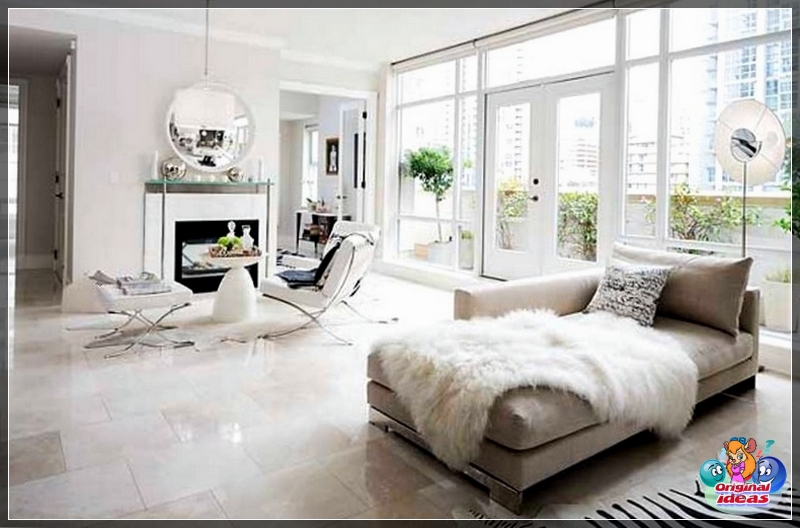 The center of any home is the living room. It doesn't matter if it is a separate room, or part of a room with the function of a living room. And yet, usually the most spacious room in the apartment is assigned to the living room. The main function of the room in question is to rest and receive guests. Sometimes it is combined with an office, a guest bedroom, a library. Living room design in light colors will help to perfectly realize all these functions, since these shades contribute to an easy and pleasant pastime. At the same time, you can think of a light interior for the entire living room or for most of its zones if a zoned room is planned.
Diversity and flexibility
There are incredibly many options to decorate the living room in light colors. It is not for nothing that this room is considered the most flexible: with a competent approach, it can easily transform at the request of the owner. All that remains for the owner of the house is to take into account his taste, provide all the amenities and pack it all into a single style.
There are incredibly many options to decorate the living room in light colors
A feature of light shades when decorating a living room is that when using them, you can completely do without global redevelopments - do not move walls, do not create arches.
Glamorous modern living room design
At the same time, the area of ​​\ u200b \ u200bthe room does not matter, because such shades will visually expand even the cramped living room, which is often the case with houses built in the Soviet period. And if there are still problem areas in the room (niches, incorrect geometry, etc.).d.), it is enough to correctly use distracting elements - light wood furniture, lighting, window shape. But to
the design of a modern living room in light colors was truly stylish and light, it should not be oversaturated with decorative elements. Perhaps this is the only limitation in such an interior.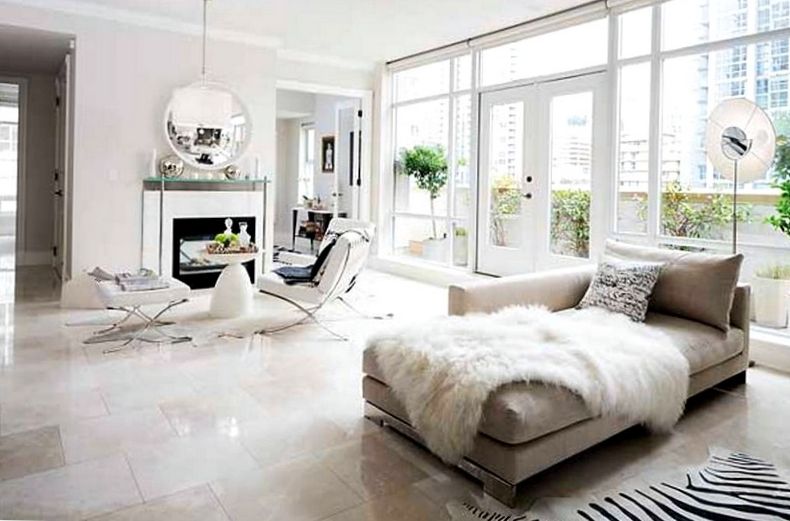 Living room in white
The axiom of design
The design of a living room in light colors requires adherence to some rules, otherwise there is a risk of getting an uncomfortable faceless room, even if it claims to be a certain style.
Design of a modern living room in light colors
To prevent this from happening, designers suggest remembering the following:
functionality and practicality of surfaces. Light light shades in furniture and wallpaper turn out to be the most laborious when cleaning. Therefore, you need to select the material so that washing and cleaning it was as simple as possible;
precisely matched range of shades. General rules apply here, such as the fact that cold shades are prohibited in poor lighting. The wallpaper is selected very carefully, the pattern on it should fit into the living room palette and be almost weightless so as not to visually clutter up the room;
Modern living room interior design idea
the number of decorative accessories should be in harmony with the style. At
minimalism is limited to accents in textiles, interesting lamps or furniture. Classic design is not against decor, without it the living room will be boring and insipid, but the color and number of elements must be in balance, otherwise the effect of lightness and spaciousness will be lost;
Elegant and modern living room
versatility of materials and shades. This will help the interior stay relevant for a long time. For a highly fashionable effect, 1-2 topical accessories are enough.
beautiful living room interior
We decorate the living room according to all the rules
All aspirations of the designer should be aimed at creating an atmosphere of lightness and relaxation.
All aspirations of the designer should be aimed at creating an atmosphere of lightness and relaxation
If you study the photo of the living room design in light colors, it can be noted that the preferred shades in the design of the room are:
grays: they are neutral and serve as a great backdrop for color accents that create a mood;
light green: relaxing, soothing;
golden, sand, ivory and beige: a feeling of warmth, prosperity, peace.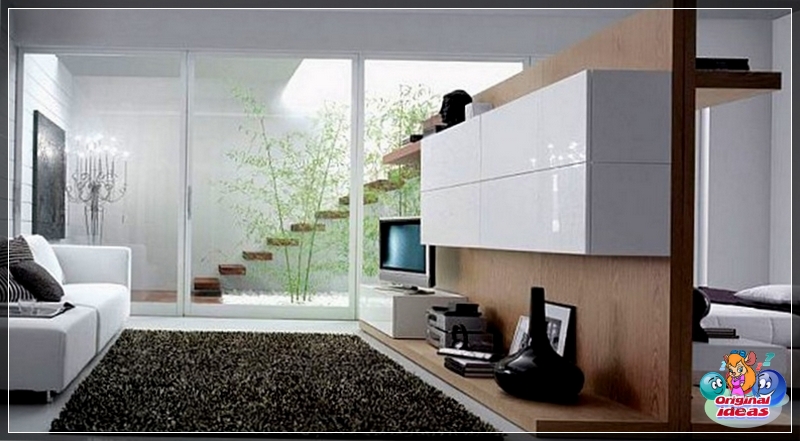 Stylish living room interior
Bright touches like furniture or textiles are added against the general background of emotions. But the overall design must remain within the chosen color scheme. In this case, you should choose your favorite shade, then over time, the living room will not be annoying.
Unusual living room interior
As in other rooms, darker shades should be at the bottom, lighter shades should be higher.
Stylish living room design
When zoning, you can use an interesting option with the use of matte and glossy surfaces of the same color in different zones. This maintains the overall direction and does not visually weigh down the living room.
Living room decoration in beige tones
Living room furniture is usually not used much. Enough soft headset (sofa and armchairs), table, rack. Large elements are selected a tone or two darker than the walls. If you plan to allocate a zone for an office or library, then bookcases and a desk are purchased in the same style for each zone.
The decoration of the floor and walls depends on the general style. For the floor, they prefer light wood species - oak or alder. The self-leveling floor also looks great. The walls are covered with wallpaper (better washable), or decorative plaster, the color of which is 3-5 shades lighter than the floor, and the drawing should be light and low-contrast.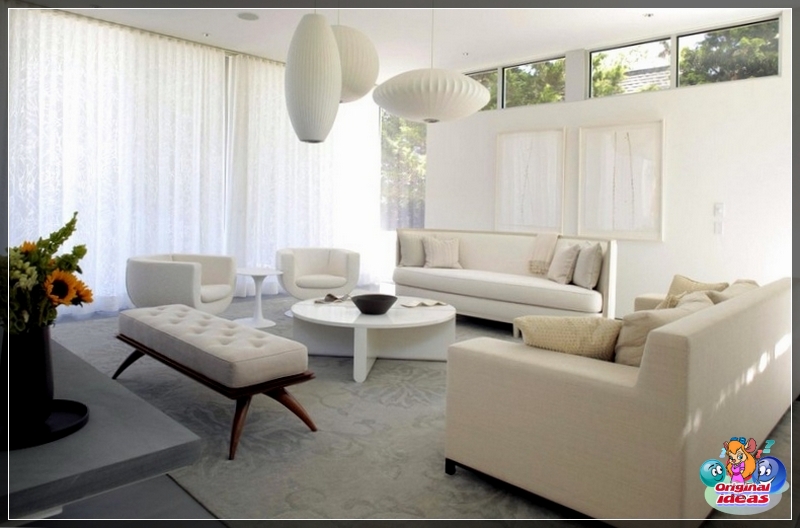 Modern living room design
Ceiling decoration is different: in low rooms it is wiser to make a stretch glossy ceiling of the lightest shade from the general range. In living rooms with high ceilings, multi-level ceilings with spectacular lighting look amazing.
living room decoration in sand colors
Decor
When decorating a living room, its purpose is taken into account. If you only intend to rest for the family, then you can limit yourself to paintings or vases, spectacular curtain hooks, fill a rack or curbstone with travel souvenirs.
Living room decoration in gray tones
The design of the living room in light colors with the function of the dining room is quite appropriate to use decorative dishes, avoiding flashy shades and obvious inconsistencies with style.
Living room example
Lighting plays an important role in decoration and decoration. In the living room, it can be: a chandelier, spotlights, floor lamps, sconces.
Modern living room design with fireplace
Darkened corners should receive more light in order to maintain an overall light, light style. All lighting fixtures must have a common design.
Living room decoration in modern style
Light sources are selected of the same type - cold or warm, depending on the location of the living room and the general color scheme.
luxurious living room in light colors
The beauty of a living room in light colors is that such shades are perfectly combined, attract attention and have almost no chance of being unattractive. In such a living room, you are guaranteed a good rest.
Contemporary living room solution