Living room furniture in the English style should be made of natural wood. Most often, oak, walnut or mahogany is chosen for the manufacture of headsets and frames for upholstered furniture. Sofa and armchairs have the same shape and upholstery. It can be leather or Indian chintz, which is traditionally used by the British. Furniture items are selected in light or dark colors, depending on the overall design of the room.
The English style is an ageless classic that combines a reverent attitude to tradition and conservatism. It is suitable for people who believe that family values ​​are the most important thing in life. In such living rooms, the atmosphere of home comfort and warmth reigns.
Requirements for furniture in the English style
The interior of the English living room resembles baroque with smooth lines. There should be a lot of furniture in living rooms, stylized as English. Designers are allowed to create a cramped feel in a room. All furnishings are massive and durable, reliable things.
It is picked up in shops selling antiques, or made to order, artificially aging its appearance. The choice is stopped on expensive comfortable lacquered furniture, where a tree cut pattern is visible.
On a note! The living room, furnished in an English style, has low tables, large bookcases, soft armchairs and a sofa.
A table for festive dinners is set in a large room. In small rooms, you can limit yourself to a small tea table, the tabletop of which is upholstered with tapestry or leather.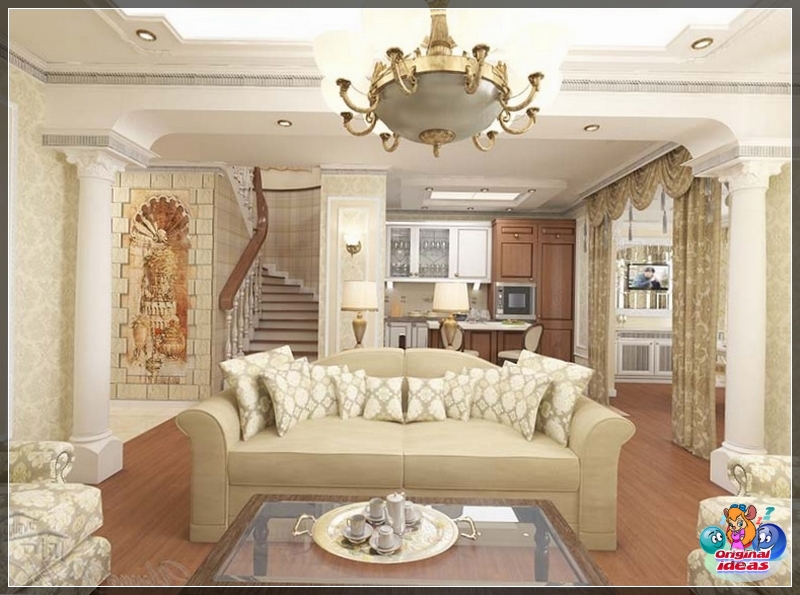 On a note! Tall bookcases to the ceiling in this room must be.
They can be built in or made in a traditional manner. In a small living room, you can install a chest of drawers and book shelves instead of a bookcase. Guests should see that the host is versatile, reads a lot, has visited many countries, for this, a large number of various accessories are installed everywhere, reminiscent of travel.
All pieces of furniture in the front room have an element that indicates that this is furniture for the living room in the English style - these are short curved legs in the form of a comma.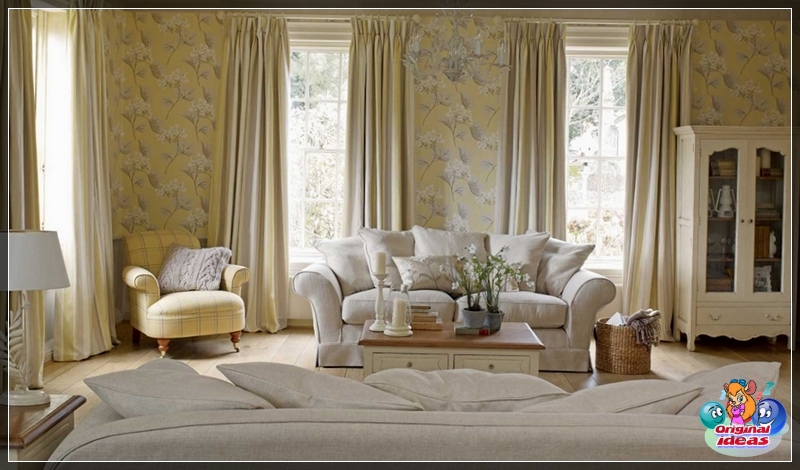 Table tops, heavy cabinets or shelves made of solid wood or veneer, shiny backs and armrests create an austere atmosphere. Wooden parts, varnished or waxed, polished to a high gloss, completely retain the pattern of the natural material.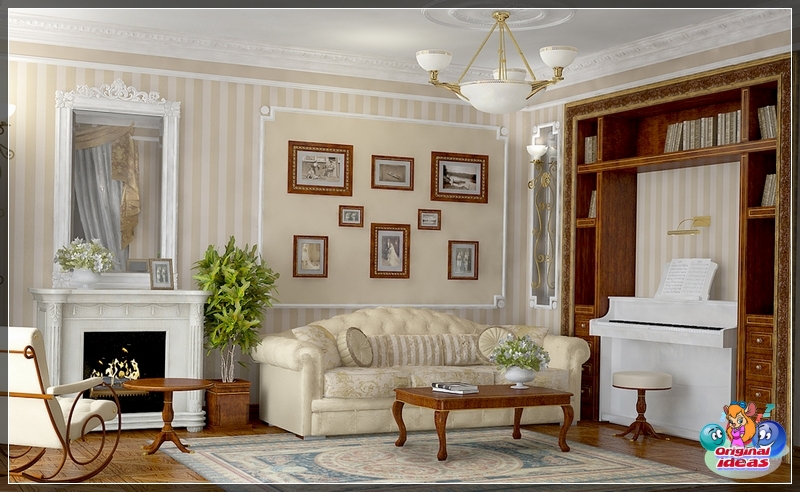 To diversify the English restraint, the furniture is decorated with curly bright fittings that look expensive and attract the attention of guests.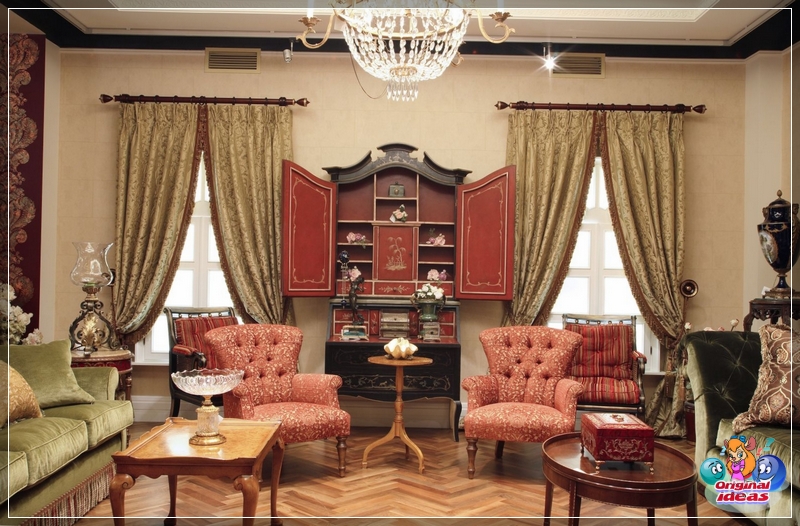 English style sofas for the living room
Living room furniture in the English style should have smooth lines in its shape so that it would be difficult to get injured in case of an accidental fall.  To accurately express the style in the room where guests are received, a Chesterfield sofa is installed. It has perfect rounded shapes, armrests are the same height. Their edges curl outward, reminiscent of an element of ancient architecture. A rounded roller installed in place of the armrest is allowed.
A carriage tie runs along the soft back. All attachment points of upholstery fabric with wood are covered with buttons. In a classic Chesterfield, 2-3 massive pillows upholstered in the same fabric as the backrest fit on a wooden seat. English sofas can be leather or upholstered in fabric.
They are comfortable in that the natural wood from which the base of the sofa is made is durable, and the soft upholstery and cushions can be easily renewed if they have lost their appearance.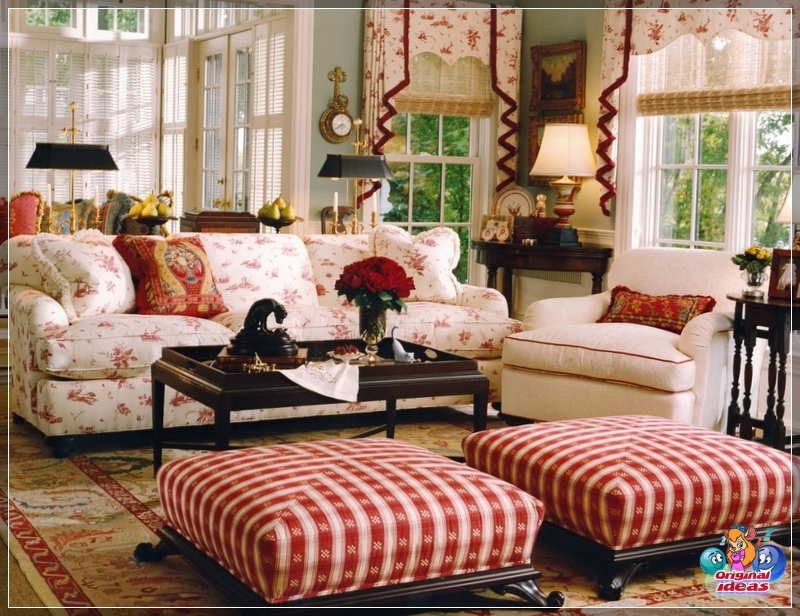 Modern sofas can have a soft non-removable seat, small thick or elongated curved legs, of which there can be not 4, but 8. Manufacturers offer many models in traditional English style.
All modern models are distinguished by unique ergonomics. They are made from quality materials using fabric upholstery that is easy to clean.
Textiles or leather, which is used to decorate the sofa, are stitched with a stapler in a certain order so that an original pattern is formed on the surface of the upholstered furniture.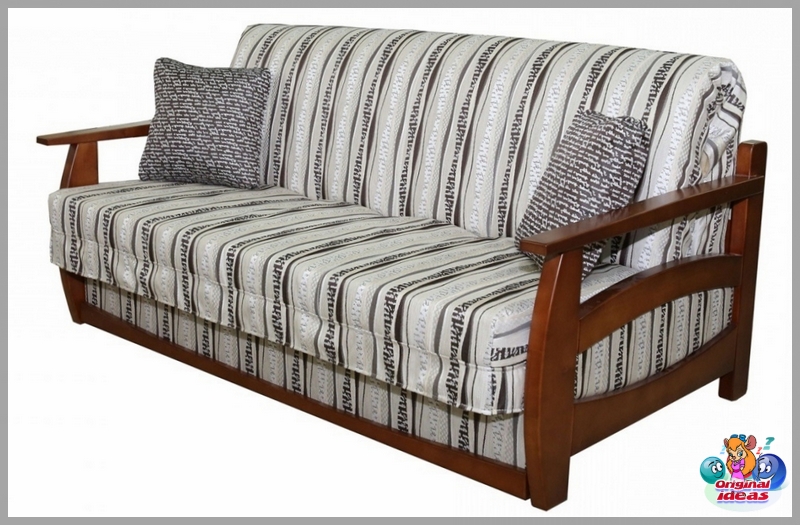 You can order from the manufacturer a frame model made of natural wood in certain sizes, choose the right textiles for upholstery of the backrest and pillows for it, so that the sofa fits perfectly into the interior of the living room.
For the sofa, manufacturers use natural fillers - coconut fiber, latex, synthetic fluff, polyurethane foam, which lasts for a long time without losing its shape.
On a note! The sofa can be plain or in a medium-sized pattern.
Its decoration combines different materials, if they are in harmony together. Upholstered furniture made of dark wood looks beautiful on a dark flooring, especially if the background of the walls is light.
Sofas are decorated with decorative pillows. They can be plain, embroidered, fringed, or tasselled.
Decorative pillows are needed to combine disparate elements into a single style composition. Finishing elements should be repeated on curtains and tablecloths.
Important! So that all guests can sit comfortably, 2 chairs of the same color are purchased with the Chesterfield sofa.
They are installed near the fireplace. In front of a set of upholstered furniture is placed a low table with a tablecloth that matches the color of the sofa cushions.
Rest in such a room near a burning fireplace with family and close friends brings many happy minutes.