Provence style attracts with its warmth and elegance. It originates in French villages, where delicious croissants and delicious coffee are baked in the oven, and nearby a purple lavender field merges with the color of the sunset. This style does not tolerate bright and catchy colors: the space should be filled with delicate pastel colors. Provence is a plank floor, flowing fabrics with a light pattern in small flowers, pots and vases made of clay or ceramics. It is characterized as a style that is as close to nature as possible.
Provence is perfect not only for the design of rooms in country houses and summer cottages. It will fit perfectly into the interior of a city apartment, bring a romantic piece of village life into the usual city bustle.
Provence style living room design option
Special features of the Provencal style in the living room
The basis of this style is the spirit of antiquity. After visiting such
the living room should give the impression that the things in it are already many years old, but they are pretty well preserved. Provence in the interior
Unevenly putty ceiling, shabby wood, cracked enamel on furniture, such details should be present in the design of the living room in the Provence style. Colors should be soft and delicate, with contrasting color splashes.
White. You can use it in its pure form, or you can take its light shades as a basis: light pink, pale blue. In any case, although he will appear as the main one, he should not remain the only one.
As a complement, designers use the entire palette of blue colors. Azure, sea, sky blue, they are all perfect for a Provence style living room design.
Pink color is also very often used as an additive and diluent for the bulk.
Black, despite its gloom, can also be found in the Provence style. But he never acts as dominant. Black is used to create accents and create contrast: for example, chairs, a table or handles on the couch.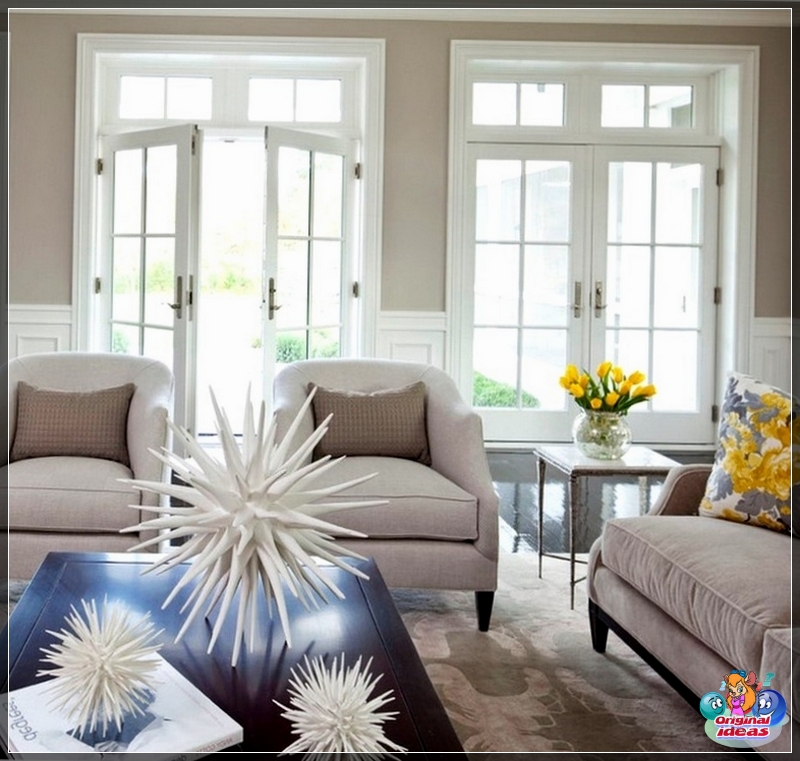 Living room in Provence style
Country and Provence are the same?
Now you can often hear that Provence is called a word like country. In fact, this is an erroneous opinion, since these are two different concepts initially. Country homeland England in the 19th century, and Provence is purely French style. Yes, they have similarities, but there are also enough differences to understand that these are not the same things.
Country style in the interior
In country, warm orange-yellow tones prevail, and Provence is distinguished by an exceptionally cold range of colors. This is the main distinguishing feature that cannot be found in a traditional country. Therefore, if you entrust designers to create a Provence style living room design, never say that you need a country style, otherwise you will be misunderstood.
Living room design in light blue colors
Provencal style in detail
It is very practical to create a design project for a living room combined with
bedroom due to the fact that rooms decorated in this style always have large and bright windows. It is pleasant in the morning, upon waking up, to swim in the rays of sunlight that penetrates through light curtains decorated with embroidery or a pattern in a small flower.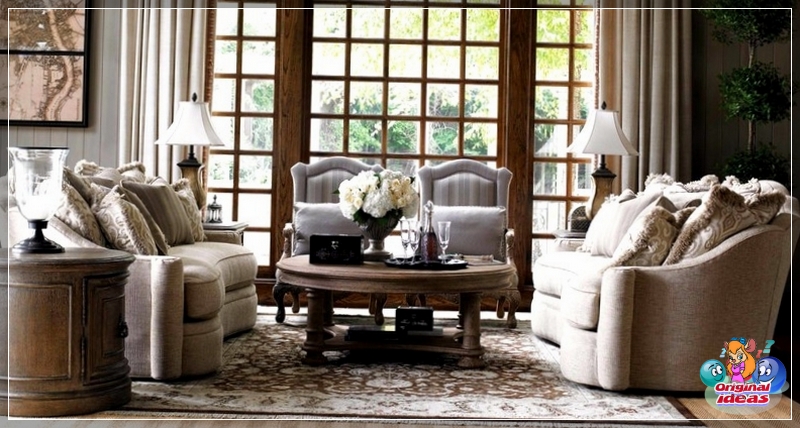 Provence style living room design
You can see how such a room will look like in the photo of the Provence style living room design.
Furniture in light colors
A large number of different colors should be present in the room. They can be placed on windows, wardrobes, bedside tables or hung in a flowerpot.
Contemporary living room solution
A good addition to the interior is a fireplace. Of course, not everyone can install it in an apartment, but in a country house it is easy.
Wonderful Provence style
In the Provencal style, furniture plays a more decorative role than a practical one. For example, an old wardrobe will fit very organically into the interior, but it is better not to use it. Therefore, it is better to decorate new furniture to match the old one.
Provence style living room design idea
For the Provencal interior, it is advisable to choose furniture of light colors. This way you will fully fulfill the traditions of this style.
Modern living room in Provence style
Chairs with peeling backs, an old sideboard and a rocking chair are indispensable attributes of your future living room.
Features of the Provencal style
In search of such furniture, it is not at all necessary to rummage in a barn or in an attic. Now there is a special treatment, where scuffs, peeling and faded areas are deliberately created.
Old photo albums, chests will look great in such an atmosphere. Drinks in the kitchen must be served in wooden coasters.
Provencal style in detail
When designing a living room design in Provence style, it is worth considering all the details, even those that at first glance may seem insignificant.
Great solution for living room design
Oddly enough, but a cozy atmosphere can be decorated not only with fresh flowers, dry shoots of ornamental grasses, delicious ikebans in porcelain vases will perfectly complement the Provencal interior.
Lovely living room decoration
Provencal lighting
The main light source here are windows and semi-glass doors. It has long been believed that sunlight is the most comfortable and cozy. In the evening, light is emitted by forged chandeliers, candlesticks and lamps with a corresponding aged design. The main light is complemented by floor lamps and floor lamps covered with beautiful embroidered lampshades with hanging fringes. Often the bases of the lamps are decorated with painting.
Provencal lighting
Soft light in the Provencal living room complements the accessories and furniture located in it, which in the ensemble pacifies visitors, creates a feeling of comfort, leisurely, home warmth and coziness.
Elegant living room in Provence style
Provencal style kitchen: dream or reality
Creating a Provencal cuisine is not so difficult if you know the aspects of this style. Now many large companies create combinations and sets of kitchen furniture, so in most cases you do not have to choose it individually and worry about guessing whether this or that element is suitable for another.
Provence style kitchen design idea
It is worth noting that there should almost always be a tablecloth on the kitchen table (and precisely the tablecloth, by no means an oilcloth). The pattern on it should intertwine with the one on the curtains.
Curtains should be simple cut
Curtains should be of a simple cut: ruffles and multiple folds are acceptable, but in a reasonable amount. There shouldn't be many of them. Do not forget that Provence is a simple country style, without luxury and urban frills.
The design of the kitchen, living room in the Provence style is built according to the same principle: a large number of pastel colors, in some places diluted with contrasting details.
Provence simple rustic style, without luxury and urban frills
The buffet in the kitchen can be served with traditional French wine and a loaf of soft white bread.