Each person wants to create a unique interior and a cozy atmosphere at home. The nautical style refreshes the room and brings a pleasant mood and lightness to it. The bedroom in a nautical style is distinguished by a blue-blue palette, specific decor elements and freshness.
If you are ready for a variety, want to make your bedroom cozy, then themed decor, delicate shades of blue is ideal.
Features of the nautical style
Marine style is a conventional term characterized by the use of thematic decor and accessories. The bedroom can be decorated in a classic or modern style, but if it is complemented by elements of marine decor, then it can rightfully be called a "marine".
As a rule, this decor is used when decorating a bedroom in country, rustic or Mediterranean style. Therefore, before proceeding with the design of the room, you should definitely decide on the leading style. After the final decision, you can build on it when choosing furniture, accessories, materials, colors.
Optimal color palette
Any idea of ​​a marine bedroom ends in shades of blue. Using any variation of blue and cyan is a common solution. At the same time, blue shades, Navi color will look aesthetically pleasing and harmonious. If the bedroom is decorated in a classic style, then combinations of such shades as white, brown, deep blue can transform it into a "sea".
On a note! Colors that are associated with the sea, sand, underwater world, algae, corals will harmoniously look in the sea bedroom.
Orange, coral or yellow will become a bright spot. Shades of blue, combined with sand, olive or green, acquire a subtle harmony.
Choice of finishing materials
A nautical-style bedroom can be decorated with the simplest finishing materials. Based on the leading design style, you can choose natural wallpaper, parquet board, lining, plastic panels with embossed, wavy texture and much more. If the main style of the bedroom is minimalism or classic, then the wall surfaces can be simply painted. The rooms of a country house can be sheathed with clapboard, and subsequently painted white or blue.
On a note! Natural materials in a marine interior look harmonious and beautiful.
If you want to bring tropical notes to the design of the room, then wallpaper made of jute or bamboo will be an excellent option. Wallpaper with a thematic pattern is no less popular. It can be wallpaper with shells, fish, ships.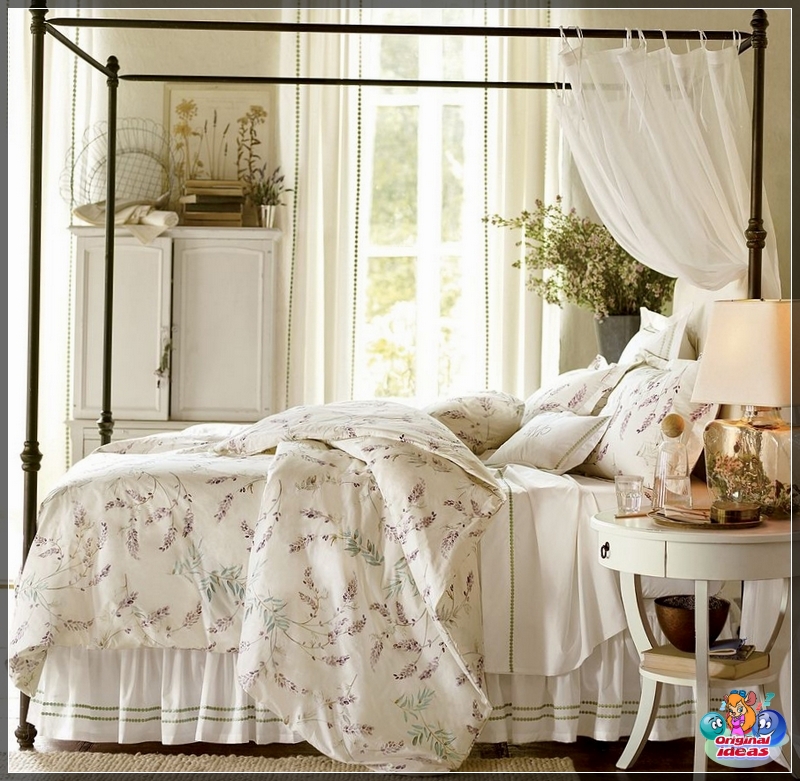 Photo wallpapers, hand-painted walls look very bright, unusual. Seascapes, a palm beach, a beautiful yacht surfacing the waves will fill the room with freshness, summer, joyful mood. The finishing element in the bedroom design will be a wicker carpet or parquet board.
Fill your bedroom with the tangible blue of the sea with a blue carpet or carpet. In addition, you can find laminate or parquet flooring in blue on sale. If you need to highlight certain fragments of the interior, then you can use a facing stone. It symbolizes sheer rocks, pebbles.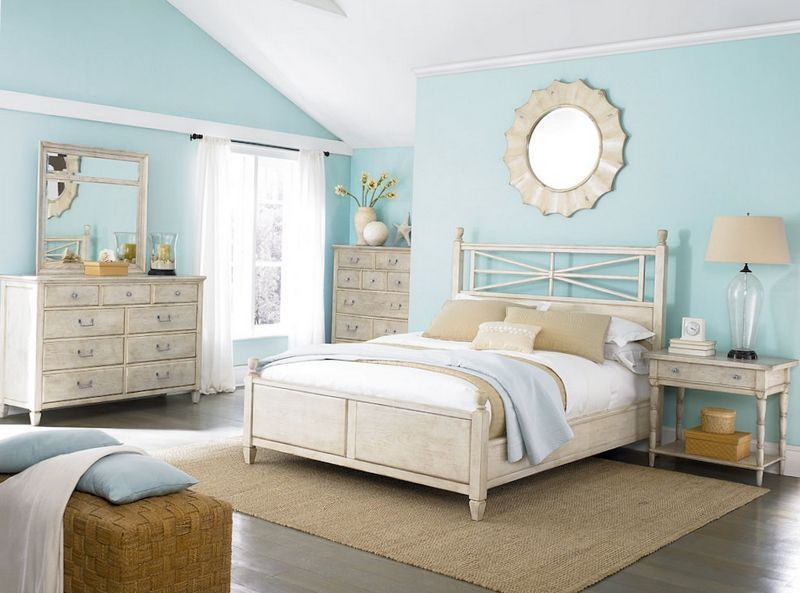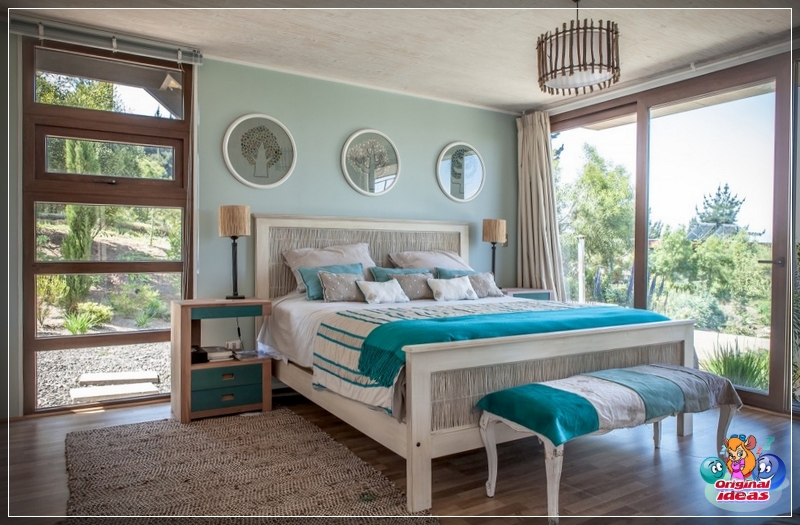 Use of patterns and ornaments
The most common nautical pattern is a strip or wave. You can choose white, blue or green stripes from the color palette. This geometric pattern will fully reveal the design concept. Zigzags are no less popular in marine interiors. Moreover, they can be either one-color or multi-colored. It all depends on the fantasy and imagination of a person, as well as on his ideas about the sea and relaxation on the coast.
In addition to the typical patterns in the bedroom, you can use unusual ornaments. For example, drawings of shells, anchors, steering wheels, ships.
Ornaments with tropical motives also look beautiful. To create an original bedroom design, you can resort to the services of specialists. Designers will help you decorate the room and suggest the best options.
Features of the choice of elements of the furniture group
When choosing furniture for a bedroom, you need to focus on the main style. If you want to combine classic and nautical style, then you should pay attention to solid wood furniture. In this case, it is better to give preference to items of the furniture group of light or dark shades. For a private house, you can use artificially aged, coarser furniture.
Wicker furniture will look organic. For example, armchairs, cabinets or small wardrobes. Bamboo furniture can be both painted and natural shades. To organize the storage system, you can use old chests, suitcases or wooden boxes.
A bedroom in a marine style, a photo of which will help you decide on the elements of furniture and decor, will look beautiful and harmonious if you rely on your own ideas and fantasies.
Of course, you can use the same type of furnishings and create a room in a nautical style. But do not forget that each person has the opportunity to create a unique interior using the simplest objects.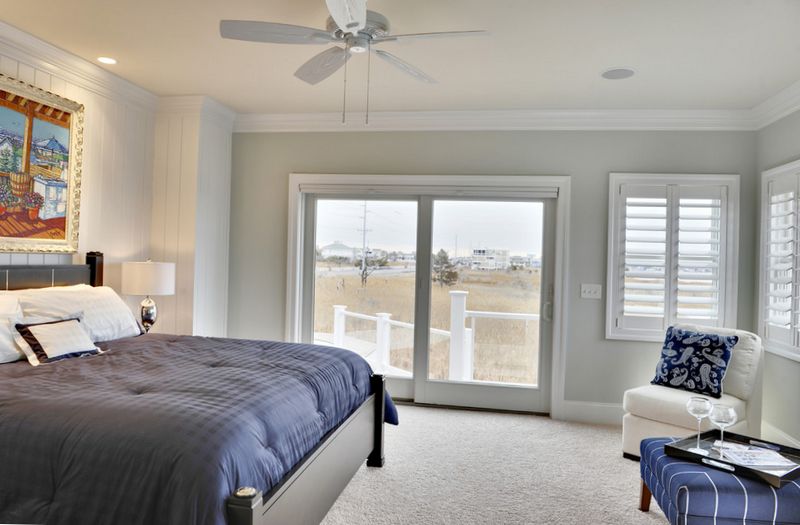 Methods for decorating a bedroom in a nautical style
The decor in the nautical-style bedroom plays an important role. When decorating a room, you must show a sense of proportion and not resort to ridiculous grotesque. To make the bedroom beautiful and calm, you need to use a minimum of decor.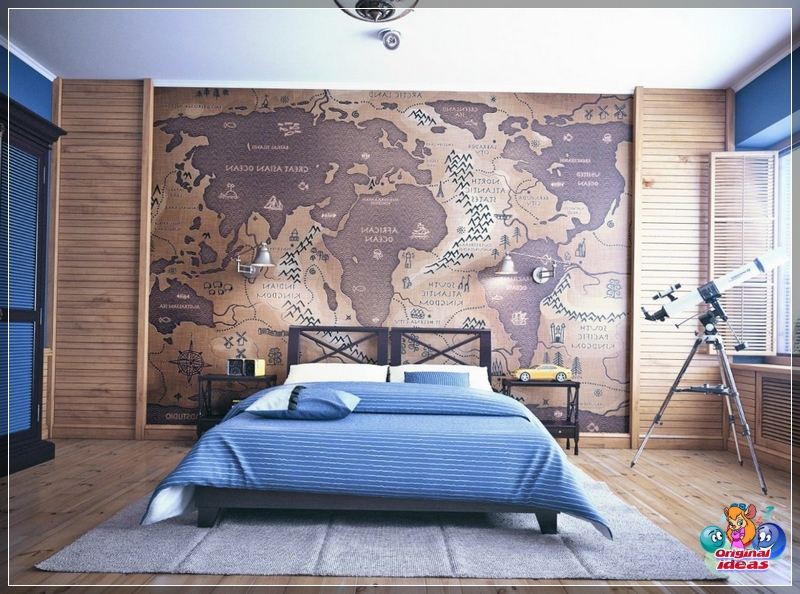 In marine interiors, the most common:
landscapes;
pebbles, seashells and other attributes;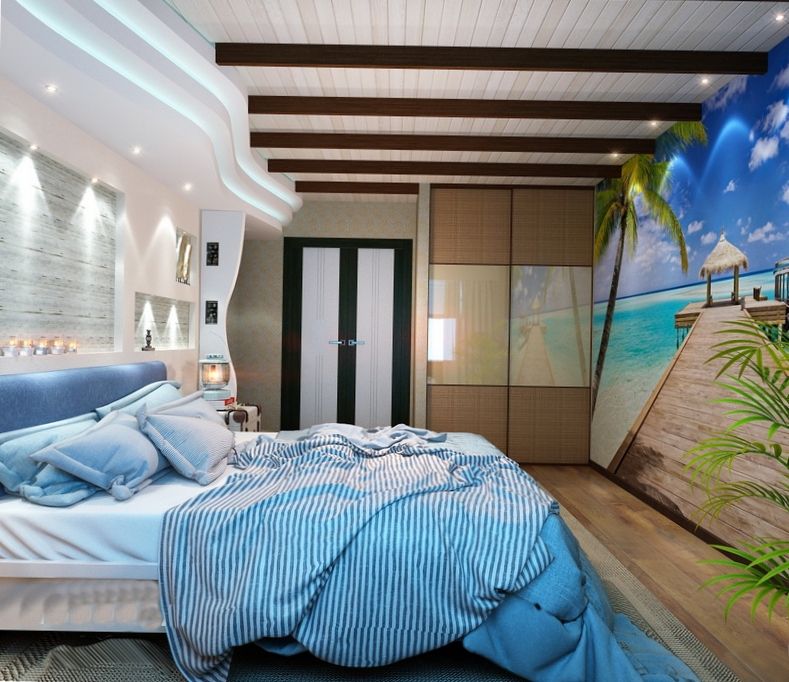 themed souvenirs (ships, dolphins, lighthouses);
round frames, captain's mirrors;
unusual table lamps;
wicker items (boxes, vases, furniture).
The popularity of the nautical style is great, and the number of its adherents is not decreasing. And this is not surprising, since the sea, sun and sand never get bored. Seascapes delight with freshness, evoke vivid memories of a pleasant, amazing vacation at sea.
When decorating any bedroom, a lot of textiles are always used. It is he who can emphasize the marine style as effectively and laconically as possible. At the same time, there is no need to choose textiles with a thematic pattern, since you can decorate the room with fabrics of white and blue colors. Such textiles can be used to create a beautiful lampshade, bedding, bedspreads, curtains.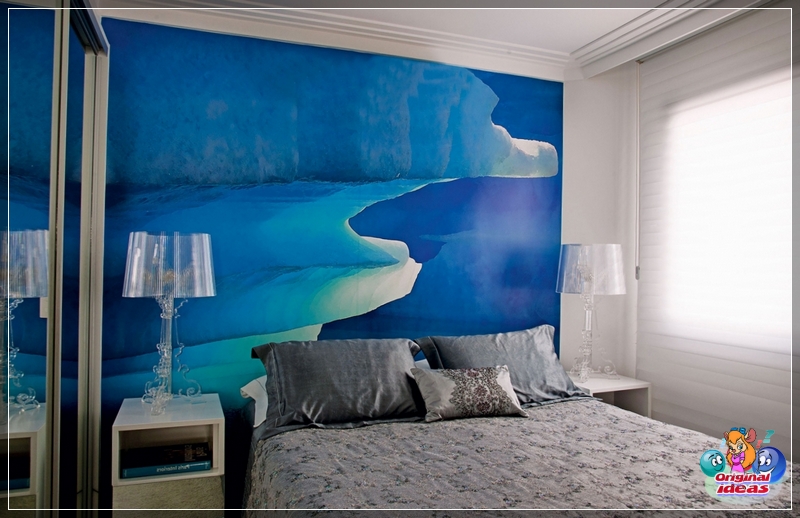 An aquarium with goldfish will become a stylish decoration of the room. It will bring calmness and serenity to the atmosphere of the bedroom, because the main purpose of the bedroom is rest, relaxation.
On a note! The most unexpected elements will help to complement the interior. For example, a geographic map on the wall, coral candles, ship clocks, shell vases.
You can create an unusual accessory with your own hands, using master classes or your own imagination.
In order to diversify the interior, you can use parts made of rope, flax. Simple fabrics are able to convey the whole atmosphere of relaxation at sea: a breath of wind, freshness of the surf. Linen bedding, bedside rugs made of natural cotton, muslin curtains will be the final element of the design of the bedroom in a nautical style.