Gone are the days when blinds were considered exclusively an office window accessory. Today, many people use different types of blinds to darken the apartment from the scorching sun, get rid of excess dust and create a cozy atmosphere. The assortment of blinds is huge and diverse, vertical blinds for plastic windows are in great demand, photos of fashionable novelties and classic designs are presented in the article.
Why are vertical blinds attractive?
Convenient and practical, vertical blinds have become popular for a reason:
can be installed in different openings, including those of irregular shape;
are not subject to contamination due to antistatic impregnation;
easy to clean with a vacuum cleaner, can be wiped with a slightly damp cloth;
do not fade in the sun;
protect from bright sunlight;
with the help of vertical blinds, you can zone the space, using them as mobile partitions separating work areas, close niches or openings with them.
Vertical blinds are easy to choose so that they are in harmony with the rest of the interior in color or texture. Such blinds are perfectly combined with tulle, organza or thick curtains, creating a single elegant composition that decorates the window.
More about the design of vertical blinds
Vertical blinds are an easy-to-use and reliable design, consisting of the following elements:
cornice;
control mechanism;
slats.
The cornice is a load-bearing base; hooks attached to the lamellas are fixed on it. Cornices are made of various materials, which affects the cost of the product:
Wooden. Long service life guaranteed. Made of precious woods with a noble natural texture. They look very original and beautiful, often decorated with carvings. The only drawback is the high cost.
Stainless steel. They proved to be excellent during long-term operation. They do not rust, since the coating is treated with a special anti-corrosion varnish. Strong, reliable.
Aluminum. Also covered with a protective varnish layer to prevent rust. Due to their plasticity, aluminum curtain rods are indispensable in the manufacture of blinds of complex shapes in non-standard openings. Reasonable price.
Plastic. Not demanding in care, easy in daily use, various colors, affordable price.
Nuance! To determine the length of the cornice, experts correlate the area of ​​the blinds with their weight, which depends on the material of the lamellas. The heavier the material, the longer the cornice will be required: vertical fabric blinds 4 m high will require a cornice of at least 3.5 m, while for plastic blinds 3 m will be enough.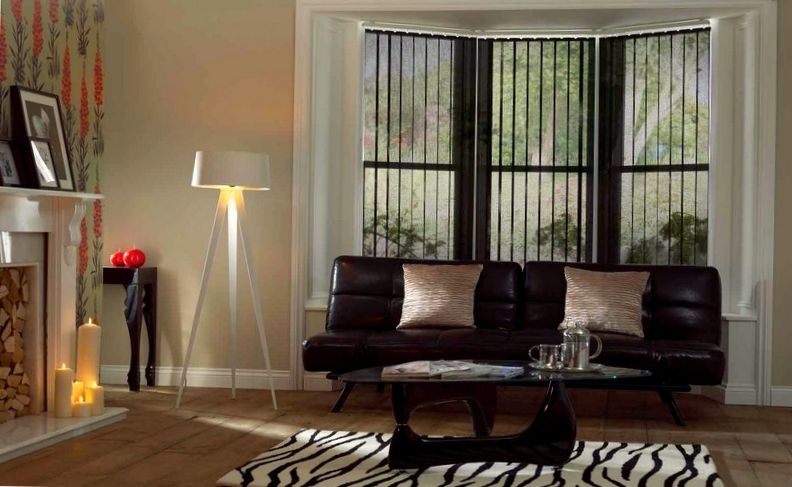 The vertical blinds control mechanism allows the slats to be turned by 1800, open or close the blinds by moving the slats along the guides along the eaves using levers and ropes. The mechanism can be:
Manual. Acts through human effort. A practical inexpensive way to control, however, if the windows are difficult to get to or there are a lot of them, such a mechanism is inconvenient.
Electromechanical. Operates due to a miniature motor, which is turned on from the control panel or remotely in the smart home system. Often equipped with various sensors (light level, position control, infrared reception, etc.). d.). Due to the mechanism, the cornice of such blinds is much heavier, in addition, their price rises significantly.
The mechanism allows you to open the blinds so that it is as convenient as possible. Usually manufacturers offer to choose one of the options:
the planks are split into two equal parts and shifted from the center to the edges;
from the edges to the center;
all lamellas move to the control mechanism to one side;
to the side opposite to the control mechanism.
Important! They purchase either ready-made blinds, based on the size of the window or other opening, or from the photo, vertical blinds are ordered individually from the manufacturer, choosing the opening method and control mechanism.
Lamellas specially treated light protection strips. Made from a variety of materials, from transparent thin to dense opaque. Differ in width:
American type 89 mm;
European type 127 mm.
Each lamella is attached to the cornice independently on a plastic slider, which allows you to replace a damaged bar without changing the blinds completely. Bottom on the slats are attached:
plastic weights for balance;
a connecting chain so that the strips do not diverge in different directions.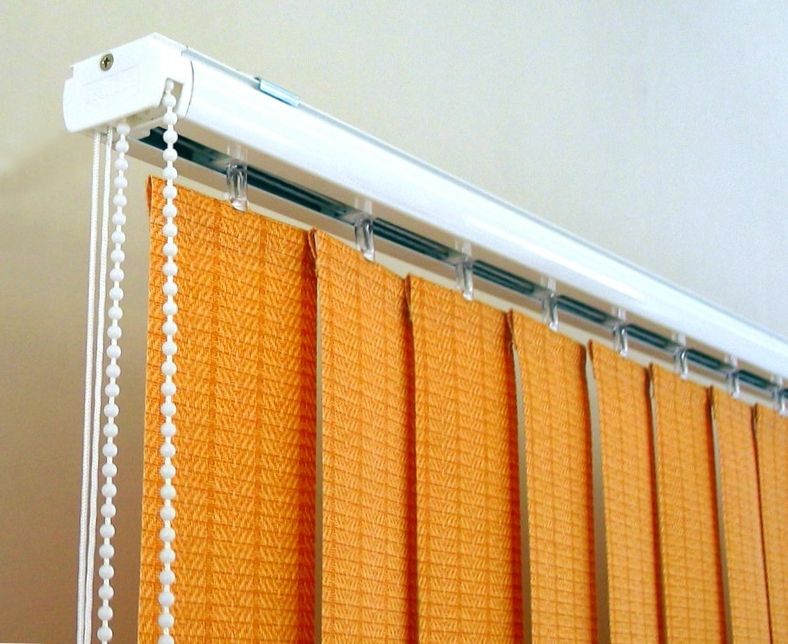 Probably the most difficult thing for the buyer to choose the material from which the vertical blinds are made, because each material has its own merits.
Plastic
Vertical plastic blinds are produced from polyvinyl chloride, PVC, so they have a number of important qualities:
are not impregnated with odors, which allows them to be used in the kitchen;
are not affected by water, therefore they are used in swimming pools, saunas;
perfectly tolerate temperature changes;
perfectly diffuse light, there are transparent, translucent or opaque.
Plastic vertical blinds can be not only of different colors, but also differ in texture, the surface of products is smooth, corrugated or embossed.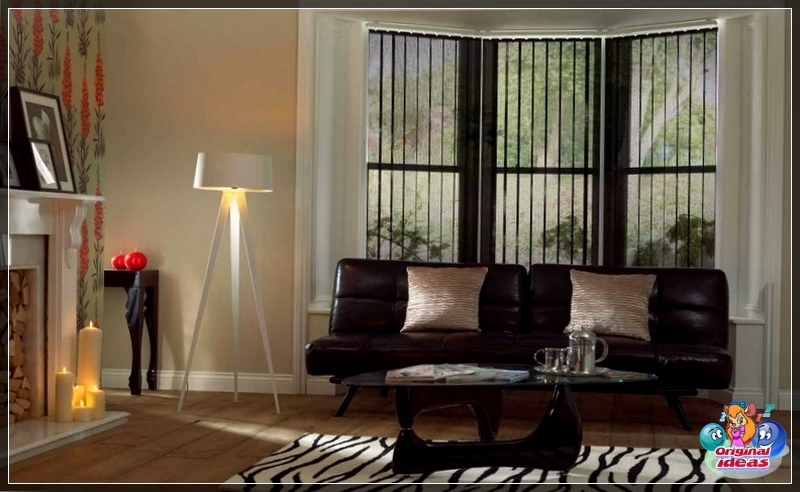 Plastic vertical curtains make a slight noise during use, however, the affordable price and wide scope of their application have made this type of blinds popular and in demand.
Metal
Vertical aluminum blinds are indispensable in rooms decorated in fashionable loft, high-tech or modern styles. They perfectly cover balconies in apartments and huge windows of shopping centers and shops from the sun. The lamellas are covered with special powder paints that are not afraid of heat and ultraviolet radiation.
On a note! The only drawback of aluminum blinds when they are operated they tinkle a little.
But blinds made of light metal practically do not require maintenance, it is only enough to sometimes wipe the dust with a special brush.
Wood
Produce vertical blinds with wooden or bamboo slats coated with a special protective compound. Such products are indispensable in the interiors of certain styles. These curtains cannot be washed.
Tissue
This is the most popular type of vertical blinds; they are made from different materials with excellent performance properties:
Jacquard is a dense fabric woven of at least 24 threads. Jacquard lamellas perfectly keep their shape, perfectly protect from light. Threads of different thicknesses and colors can be woven into the fabric, which creates a kind of embossed pattern. Withstands gentle hand wash.
Polyester artificial canvas. Impregnated with additives with dust-repellent and waterproof properties. Blinds made of polyester do not fade in the brightest sun, have high fireproof properties. They are machine washable. Depending on the quality of the fabric, there are absolutely opaque, translucent and transparent.
Natural fibers cotton, linen. Most often they are used as additives to jacquard or polyester, since natural threads do not hold the shape of heavy lamellas poorly.
Fiberglass high quality dirt resistant material. Excellent resistance to high temperatures, exposure to sunlight does not lead to surface fading. Such products do not require washing, they are only vacuumed and treated with a dry brush.
A wide range of colors allows you to choose vertical blinds for a specific interior, harmoniously combining with the color of the wall covering, furniture or curtains. Product options:
one-color;
lamellas of different shades and colors;
combination of different textures and colors.
Special types of textured blinds give originality to the design of the room:
rope thin muslin threads or ribbons are connected in lamellas;
wave-decor the lamellas are given a wavy shape, it looks beautiful and unusual;
vertical blinds with a pattern, an image is applied to the fabric by photo printing.
Vertical fabric blinds are selected in each case individually, although finished products of standard sizes can also be purchased. Fabric products perfectly complement arched openings, beautiful lambrequins are created from them, they are used instead of traditional curtains.
Multifacture
The design development of multi-textured vertical blinds looks interesting, which not only regulate the flow of sunlight into the room, but also give the interior individuality and originality. In each case, this is a unique design piece that will decorate your home or office.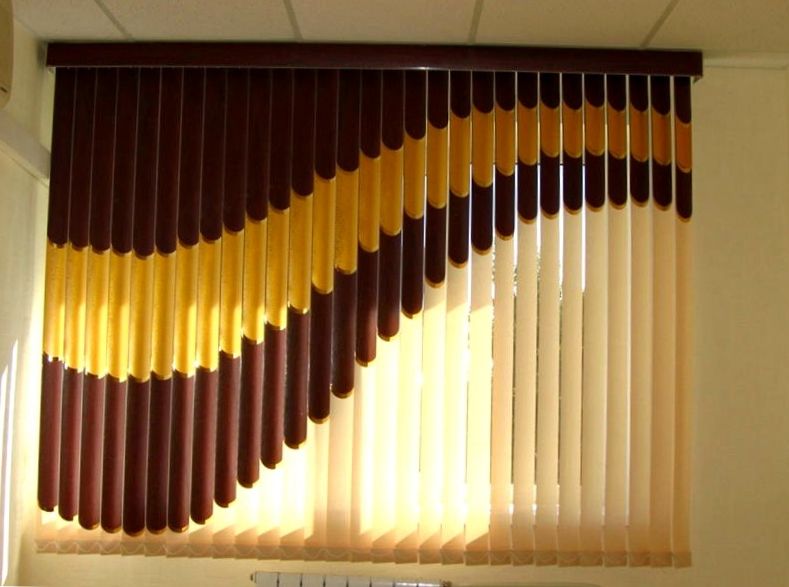 A lamella is a combined product made simultaneously from different materials of fabric and plastic, bamboo and aluminum. The difference in textures, colors of lamellas creates unusual and unique patterns on the panel.
Multi-textured blinds successfully imitate expensive curtains or their elements, transparent tulle, as well as a composition of several curtains of different heights, colors and textures. Slats of multi-textured blinds can be made in the form of patterns.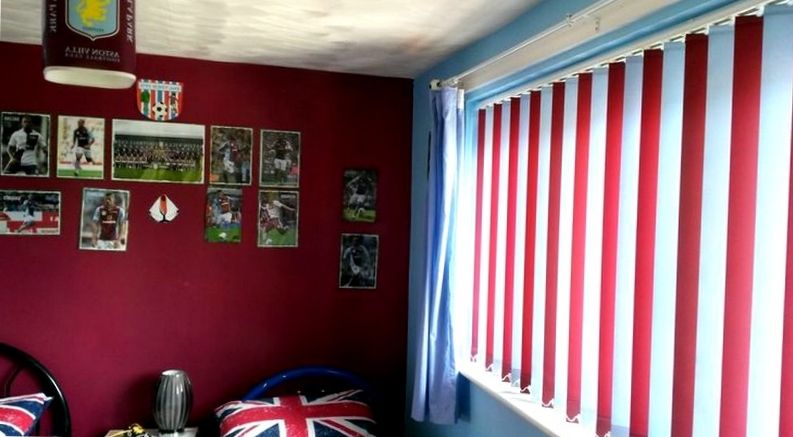 The latest novelty created in Holland, lamellas, which are made from python or crocodile skin. Genuine leather is carefully processed, and each plank has its own embossing and shade. A more economical option is to use a material that imitates the look of natural leather.
Due to the complexity of the execution, such products are attached both to one and to several cornices.
Photo printing
Vertical blinds with photo printing look original and unique. A landscape, portrait, reproduction, funny picture or advertisement can be placed on one side of the blinds or on both. Photo blinds are great for zoning a spacious room. Any photograph is applied to the lamellas by thermal printing using computer technology, while the high-quality image will not be erased from periodically wet cleaning and will not fade in the sun.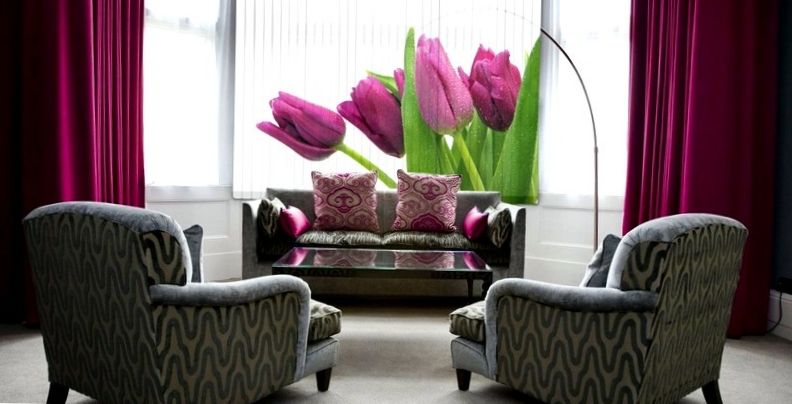 Printing a pattern on vertical products is carried out in 2 stages:
the picture is printed on special paper;
the image on the lamellas is fixed by high temperature and pressure.
Fixation
Vertical blinds are attached in different ways, depending on the size of the opening and the severity of the structure:
on the window frame;
door frame;
on the wall;
on the ceiling.
Choosing vertical blinds for windows is a rather simple task, the main thing is knowledge of certain rules and approaches.