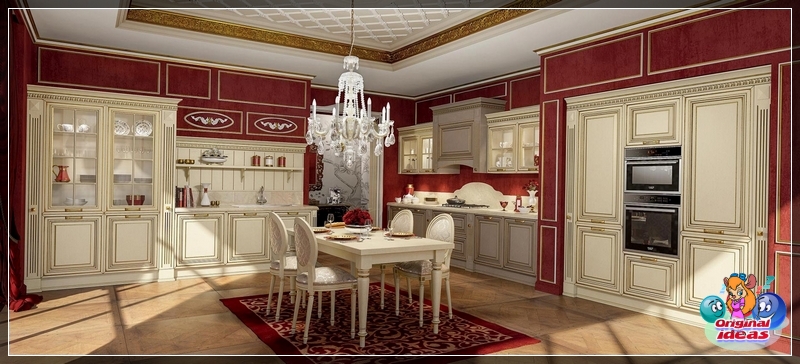 The empire style is otherwise called the imperial style or late classicism. In the 19th century, its use was mandatory in the design of official halls, personal chambers of the imperial, royals, and the highest nobility. Its magnificent splendor was supposed to demonstrate the status, social and financial position of the owners of the premises.
Modern Empire cuisine
Today, the style, of course, has undergone certain changes, but it remains a priority in the design of apartments, cottages of wealthy people who value interiors, sustained in the classical canons. Living room, bedroom or kitchen in the Empire style, despite some modernity, still look chic, impressing with the correct form and balanced sophistication.
Empire style is a combination of classic and luxury
Signs and features of style
Empire style is the complete opposite of minimalism. That is, empty spaces, affordable materials and general restraint are completely absent in it.
The Empire kitchen is characterized by an exquisite and expensive finish
This style can be easily recognized by the following features:
high ceilings;
volumetric structures;
correct geometry;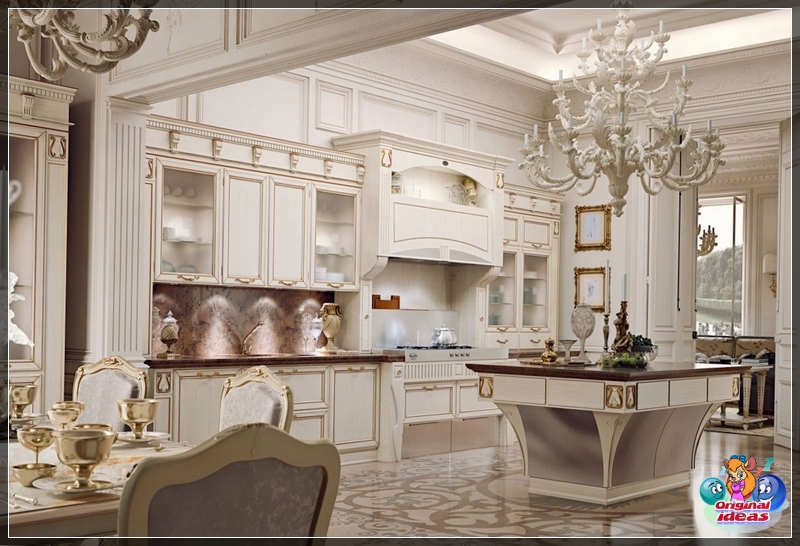 High ceilings and a large space are essential conditions for Empire-style interiors
special orderliness, consistency;
exquisite, expensive decoration;
highly artistic techniques.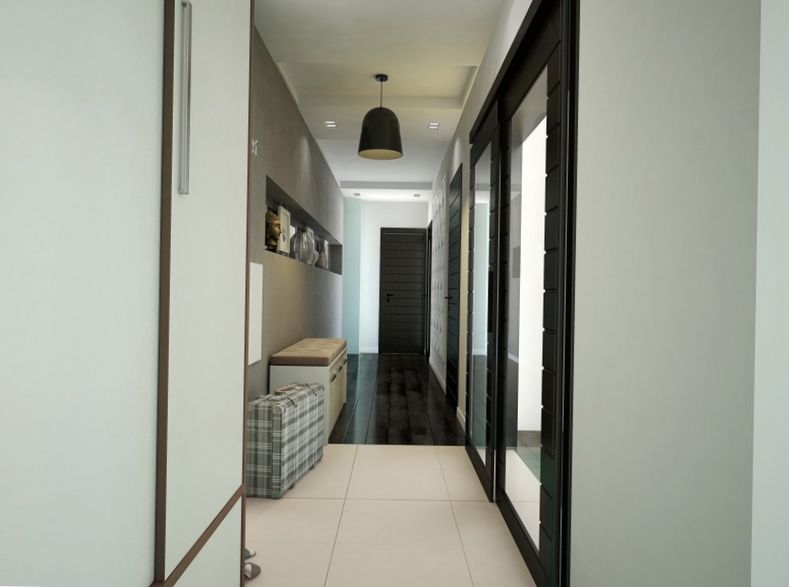 Two-tone kitchen
Important! It is possible to recreate the ideal Empire style in the kitchen only if it is a large room with sufficiently high ceilings, huge windows, double doors, since this style requires spaciousness and impressive spaces.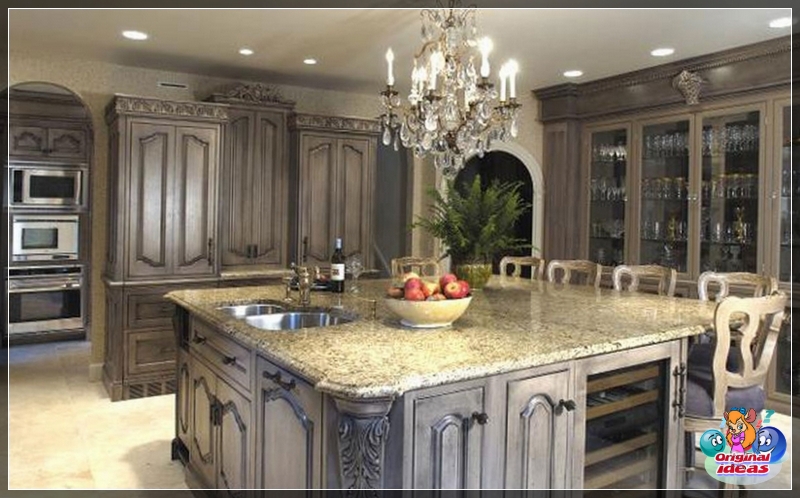 Facade of the kitchen
From the point of view of architecture, the Empire style is characterized by the presence of columns, various arches, pilasters, wall and ceiling bas-reliefs in the room. Only expensive materials are used in the decoration: precious woods, Venetian plasters, natural stone, marble, etc.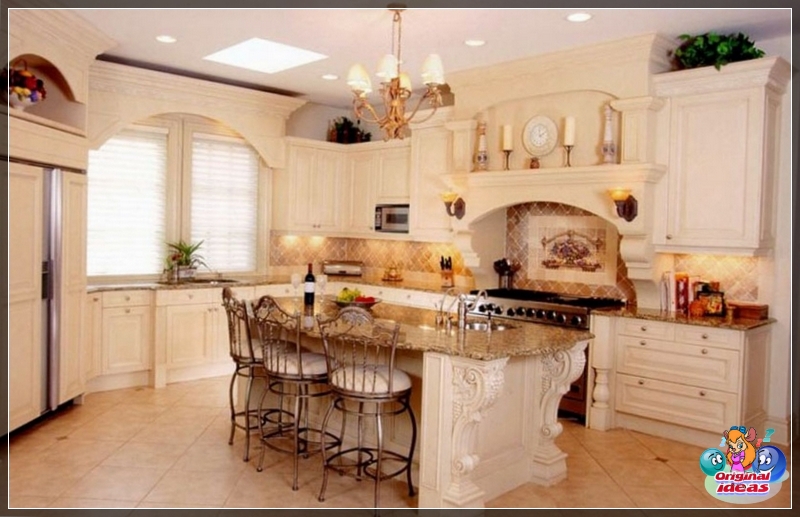 When decorating an Empire kitchen, marble is often used
Only massive furniture with semi-columns, overhead, volumetric reliefs, facade cornices corresponds to the imperial style.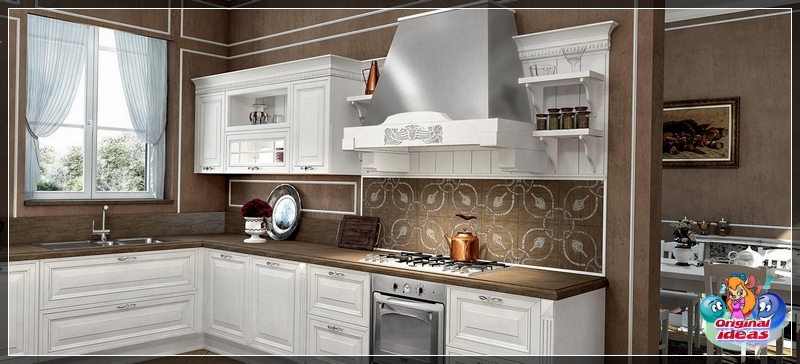 Crystal chandelier in the Empire kitchen
Furnishings can include rich and luxurious objects such as a fireplace, antique sculptures, paintings in massive gilded frames, floor vases and clocks. Everything should show luxury, exclusivity, wealth.
Snow-white imperial cuisine
Color scheme, layout
The Empire style color palette is always calm, light, kept in the key of pastel uniformity. Any flashy shades, accents, contrasts, abrupt transitions are unacceptable.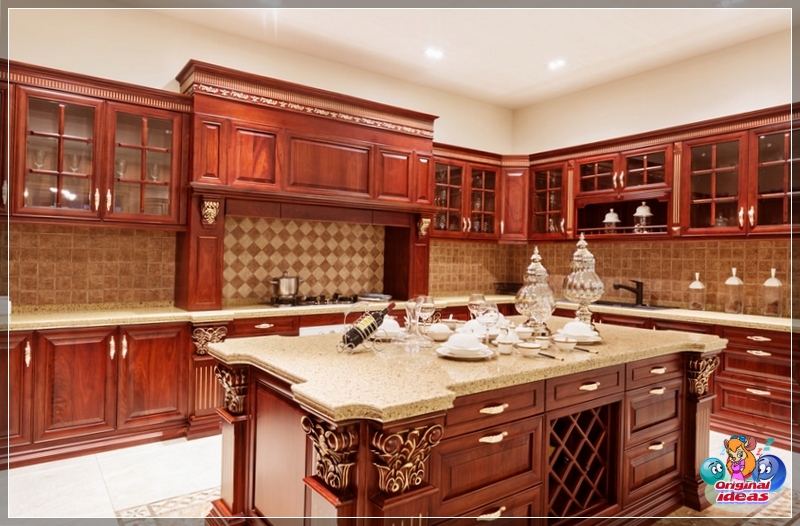 In the manufacture of an Empire-style kitchen furniture, expensive types of wood are often used
White, milky, pale yellow shades and, of course, gilding prevail. The last element of the color palette must be present in the kitchen.
Empire style kitchen in milky color
Gilding was always loved in Europe and Russia during the era of Alexander the First, who, by the way, introduced the Empire to the rank of the main imperial style. Empire kitchen decoration should be generous with gilding. Moreover, it can be present on walls and ceilings, furniture and lamps, dishes and cutlery.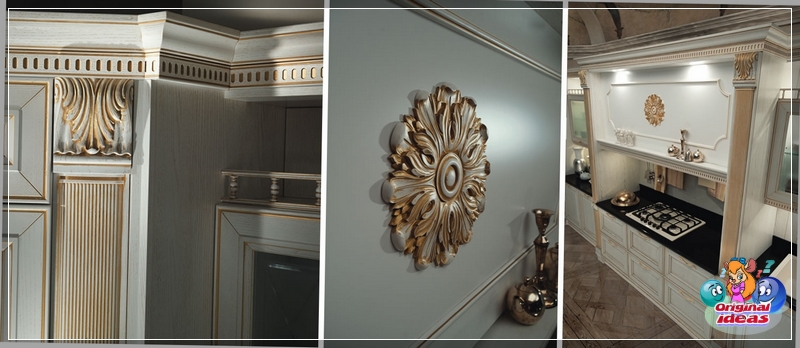 Finishing elements
As for the layout, in the classic Empire, zoning certainly takes place. Only they do it not with color and light, but with arched structures, colonnades, furniture sets, soft sofa zones.
Spacious Empire style kitchen
The set in the imperial kitchen, like in any other, takes center stage. It can be linear, U-shaped, island-shaped. The choice will depend on the geometry of the room itself.
If the kitchen is rectangular, you should stop at a linear headset. If the room is of medium size and square, an u-shaped headset should be installed in it.
An unusual version of island cuisine
An island type of furniture complex is suitable for a spacious square room. Very often, preference is given to corner headsets. But in this case, for balance on the opposite wall, you should install a soft dining area or a large dishware sideboard.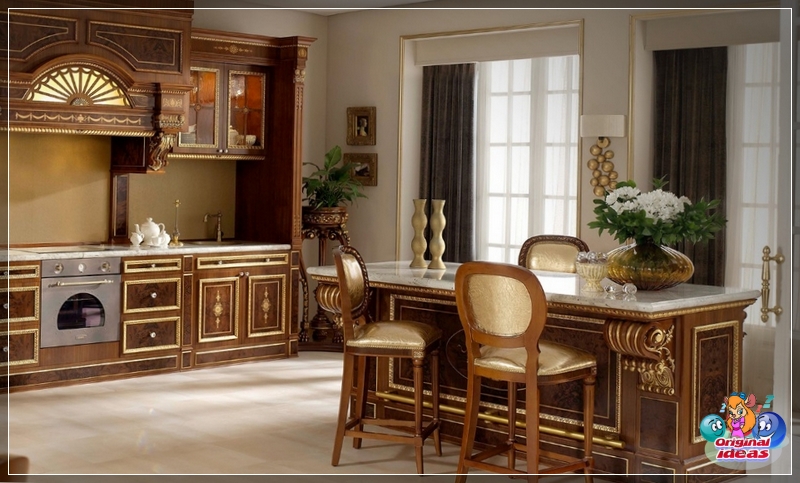 Empire style kitchen design (photo)
Wall squares in the spirit of imperial classicism are always light and always smooth. You can decorate them with Venetian plasters or exclusive tiles: special series exclusively for the Empire style are produced by several manufacturers. There are even ceramic wall panels in the form of long columns.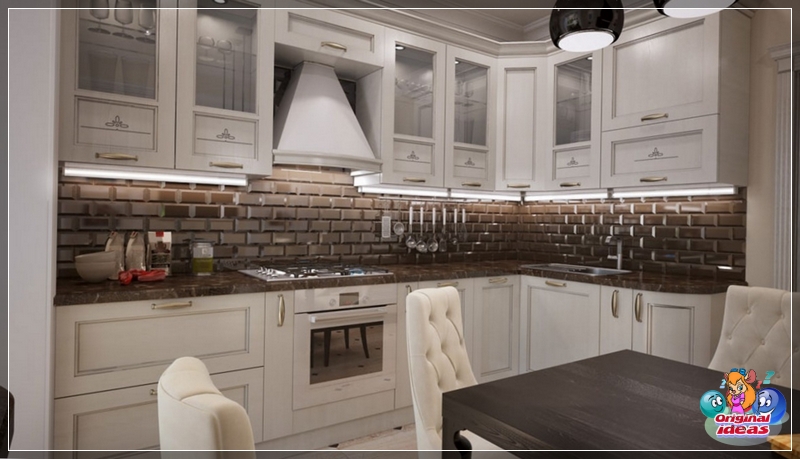 Kitchen combined with the dining room
The ceiling should also have a smooth structure with stucco elements located only in the area where the chandelier is attached or around the perimeter. For the floor, you can pick up a special tile, the surface of which imitates the texture of natural wood. This tile also has a special name - ceramic parquet. Also, natural stone, marble, tile collections of various shapes and patterns are suitable for the floor.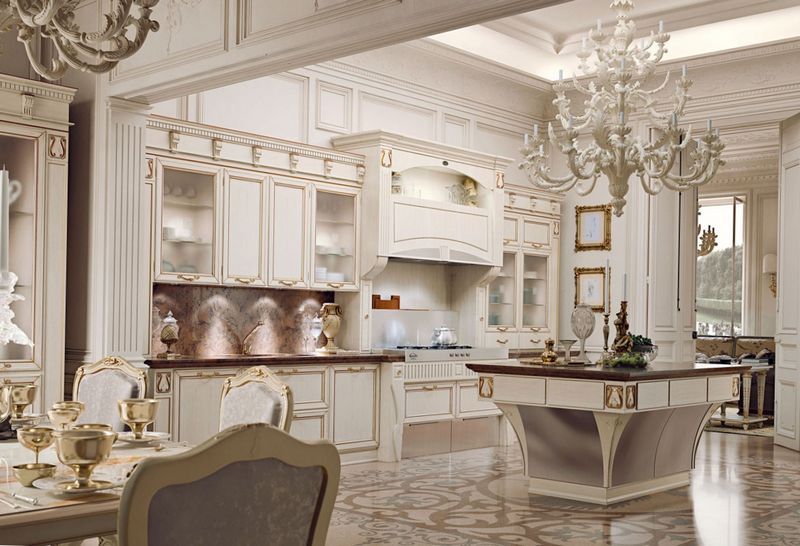 Ceramic parquet flooring is ideal for an empire kitchen
Various accessories are of great importance for the kitchen interior in the Empire style. This list fits perfectly:
large grandfather clock with striking (antique or "antique");
tapestries and paintings;
figurines of various sizes;
candelabra;
A chic chandelier is another must-have element of an Empire style kitchen
large massive chandeliers with lamps imitating candles;
floor vases in antique, Greek style;
heavy curtains of brocade, velvet with gold fringes and tassels;
freshly cut flowers of classic and exotic varieties.
Kitchen in tinted solid wood with gold decor
You can find out what an Empire style kitchen might look like by looking at an extensive selection of photos on our website.
Classic yet luxurious combination of colors: white, red and gold
Furniture and lighting
Empire-style kitchen furniture is mostly made from natural varieties of wood, necessarily light shades.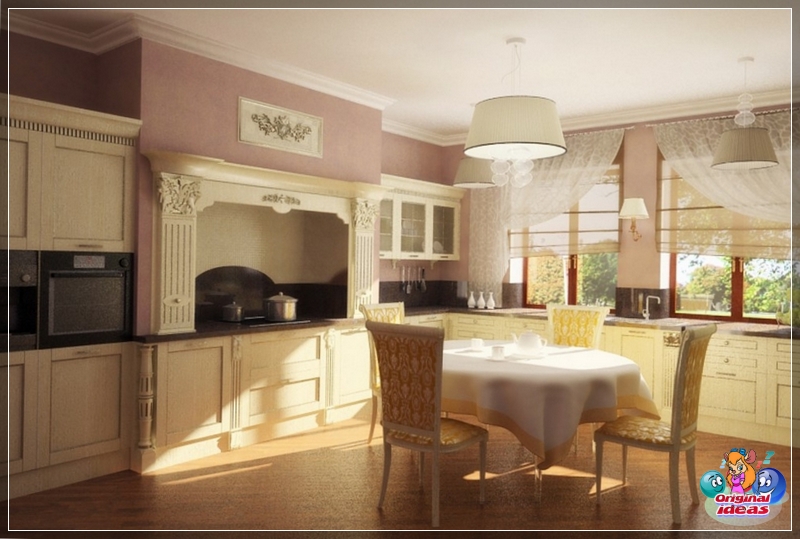 Kitchen furniture for the Empire style is performed mainly in light colors
Sometimes there are countertops made of natural stone or materials that imitate it. Also, wood is used for finishing door arches, openings, window frames. Since the Empire is a classic style with a great desire for antiquity, pilasters, vegetable edging, scallops, and denticles are often found in the decoration of furniture facades.
Kitchen in an unusual green design for the Empire
Important! The most important thing is to observe the measure: despite the wealth and luxury, this style does not at all welcome excessiveness.
Modern Empire style allows for glazed cabinet doors. Often there is gilding or other inlay on them. The main function of the glass walls is to demonstrate to the guests of the kitchen expensive, often antique dishes placed on the shelves.
Range hood in an empire kitchen
The kitchen table - square or round - must be solid and stable. The chairs around it, in the old fashion, are usually leather, with armrests. Their legs can represent the paws of lions, tigers, and other animals.
Kitchen island as a small dining table
Other upholstery options - brocade, satin, velvet. The number of chairs, poufs and other seating items must be even, and their arrangement must comply with the laws of symmetry, blend harmoniously into the interior, and not create visual dissonances.
Bar stools in the Empire style kitchen
Classic Imperial cuisine requires bright, yet warm, even lighting. The ideal option is a large crystal chandelier with wrought iron elements and candle-shaped bulbs. It is usually located above the main table. Complemented by a lighting ensemble of sconces, table lamps.
In a spacious Empire kitchen, a large massive chandelier will be appropriate
On a note! Since today the Empire style has become more modern and free, the shape of the lamps can be laconic and simple, and their arrangement can be suspended, wall-mounted, floor-mounted.
However, in terms of colors, you should adhere to the same pastel, light palette.
Empire style kitchen table
Often, lampshades in the Empire style imitate flower buds, bouquets. But the stands of the lamps can be made in the form of animal figures holding the plafonds in their paws. Soffits, neon lamps, other modern lighting elements in the Empire style interior should be completely absent.