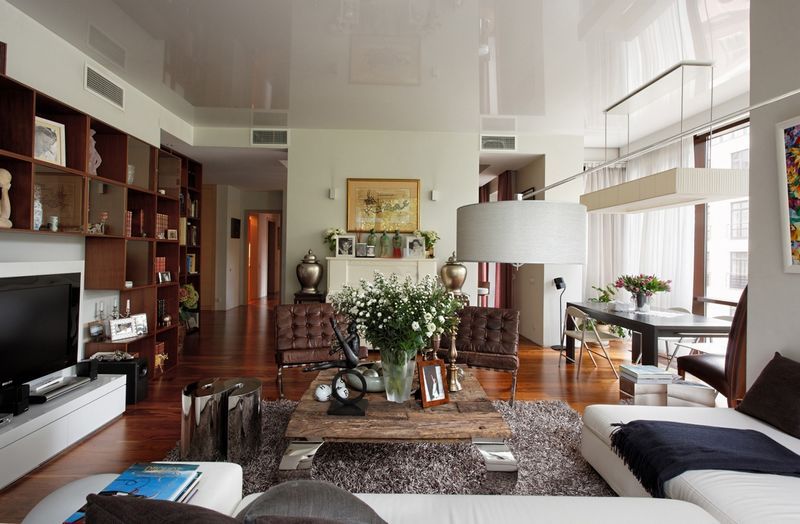 Fans of unusual design should pay attention to the opportunity to decorate the living room in fusion style, which is able to combine incongruous. Its main feature is a complete departure from the classic stereotypes in design.
Fusion is the most complex design style, since it does not have any clear boundaries and is compiled individually for each separate room, depending on its shape and area.
An important condition for such a design is a clear sense of the line between what is allowed and the complete mixing of everything, otherwise there is a risk that the living room will turn into a real vinaigrette.
This style, despite its democratic features, should bring harmony between pieces of furniture and general decoration.
Fusion living room interior
This design of the living room allows the use of different colors and direct mixing of styles.
Can:
use any materials for decoration;
experiment with textures and fabrics;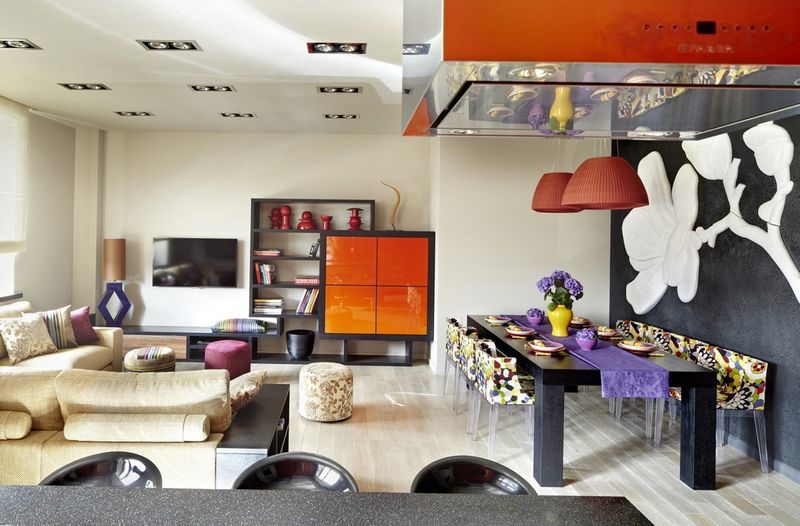 apply decorations and accessories chosen from different directions.
However, you should first imagine the future interior of the living room in order to have a general idea of ​​what boundaries for mixing styles will be carried out.
Prioritization will also be mandatory, thanks to which it will be possible to maintain such an important harmony.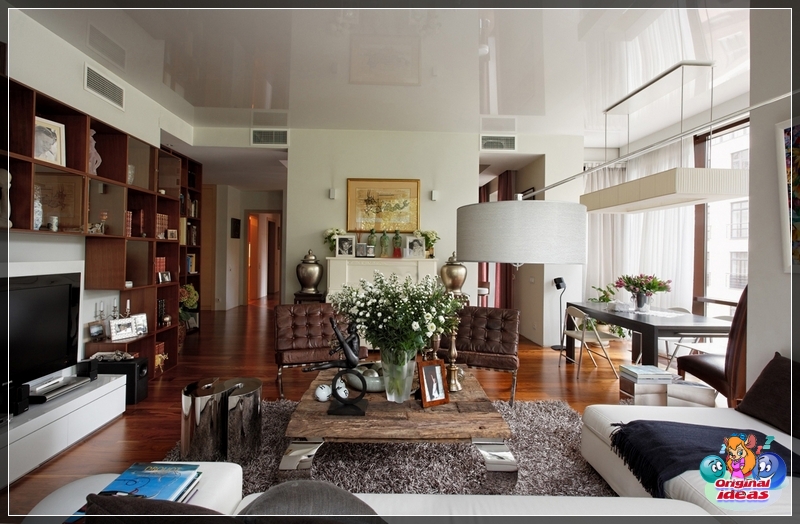 Boring colors are not suitable for this design option, so you need to use bright shades, perhaps even acidic ones. For example, it can be raspberry, pink, bright green, blue and gold.
It is worth paying attention to the color combination, which can also have a contrasting character. For example, raspberry can be used in the same living room with pink or even blue. Feel free to experiment!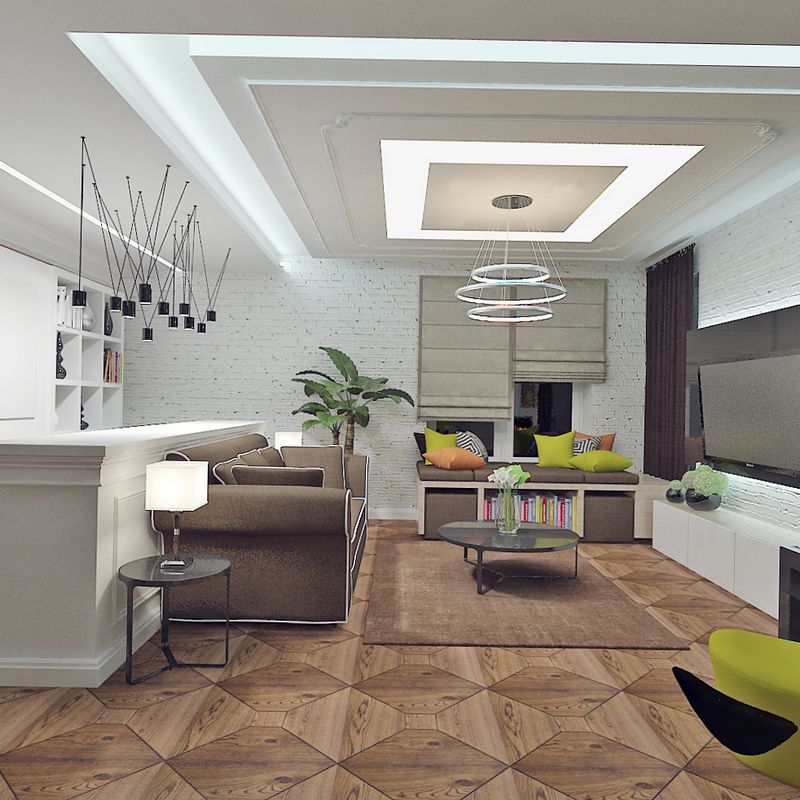 If using this kind of color seems too bold, you can use quieter combinations such as navy, red and orange. A fusion-style living room is often decorated with just such a range of shades, which makes it easy to choose furniture in the future.
Living room lighting
In addition to the choice of color, fusion requires exposure to certain accents, where lighting plays a special role. Correctly selected light will allow you to emphasize the selected color scheme, as well as furniture, even if it does not differ in its features.
On a note! The most advantageous option for fusion is spot lighting, for the sake of which it is necessary to mount a multi-level ceiling.
However, such a design is possible only in apartments with high ceilings or in a private house. In other cases, you will have to place spotlights around the perimeter of the ceiling without dividing its levels. Such a lighting solution will allow you to favorably emphasize all the features of the chosen style.
In addition to the ceiling localization of fixtures, you can fix them on the floor at the level of the plinth, as well as on built-in shelves, which will make the light not only strictly vertical, but also diffused over the entire area. It is desirable that each group of lamps have its own control mode, this will allow you to create a dim light.
Then, if necessary, the fusion living room will acquire its own special charm and look unusual.
As for the shape of the lamps, it is not at all necessary to be limited to point devices. You can combine them with large floor lamps and even table lamps that will be attached directly to furniture. The ideal option for a relaxation area in the living room would be the use of sconces, which can be from the same set with ceiling lamps.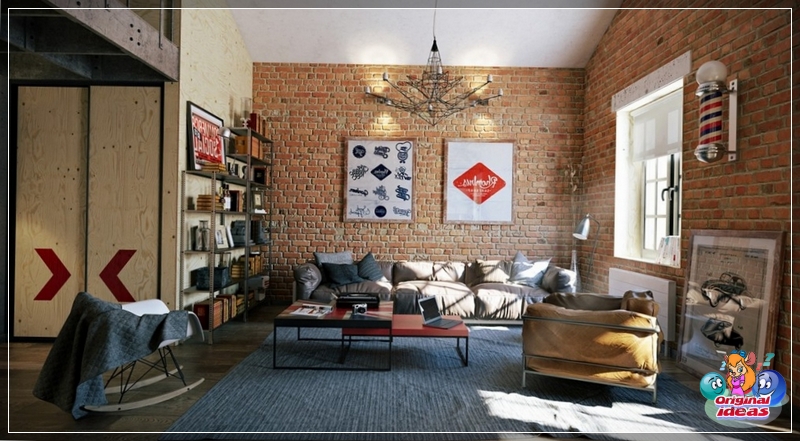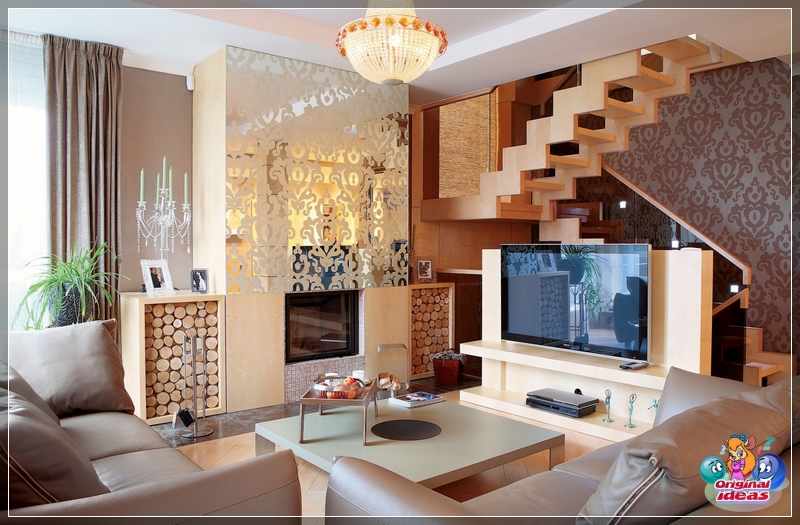 Living room furniture
Since this style allows the use of incompatible textures in the design, fusion-style living room furniture deserves special attention. Photos of furnishing options of various styles will allow you to choose a completely harmonious combination. And here it is also important to maintain a certain balance so that in the end it does not turn out to be too large a jumble.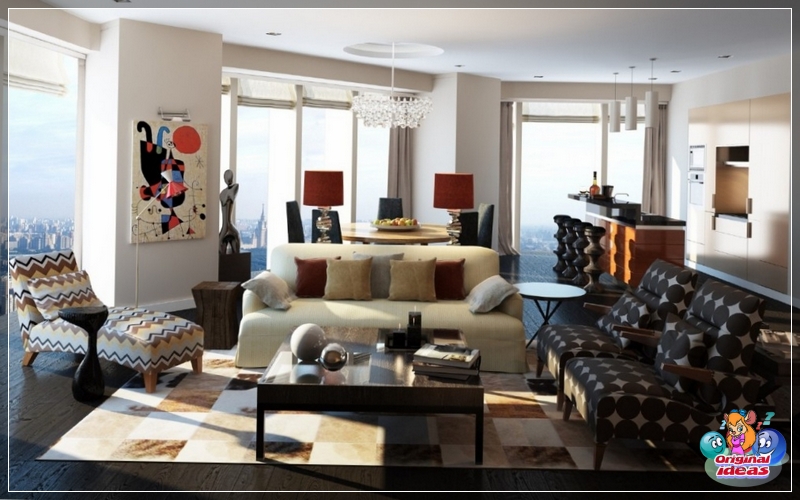 It is also necessary to adhere to some minimalism when choosing, since too chic furniture is not suitable for decorating a living room in fusion style.

Metal cabinets will not look too harmonious, as well as furniture whose facades provide for excessive pretentiousness.
Firstly, this option is not very practical, and secondly, it will be too ridiculous to combine with the selected color gamut.
It is preferable to choose such pieces of furniture that have fabric upholstery, and it must be textile upholstery - leather in this case will not work.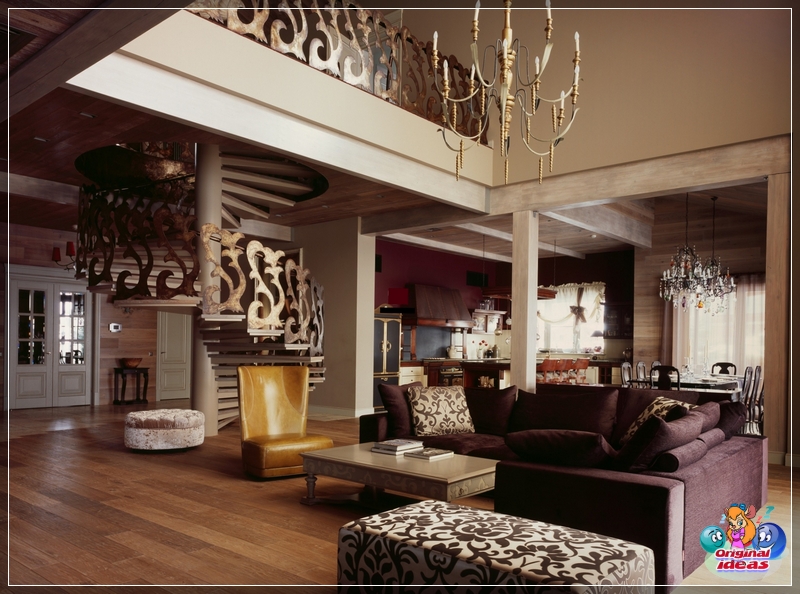 It is also important to take into account the style of the selected upholstered furniture, since ultramodern designs can deprive the living room of the proper coziness. What can not be said about an ordinary sofa or armchair, which can be decorated with bright bedspreads and embroidered pillows.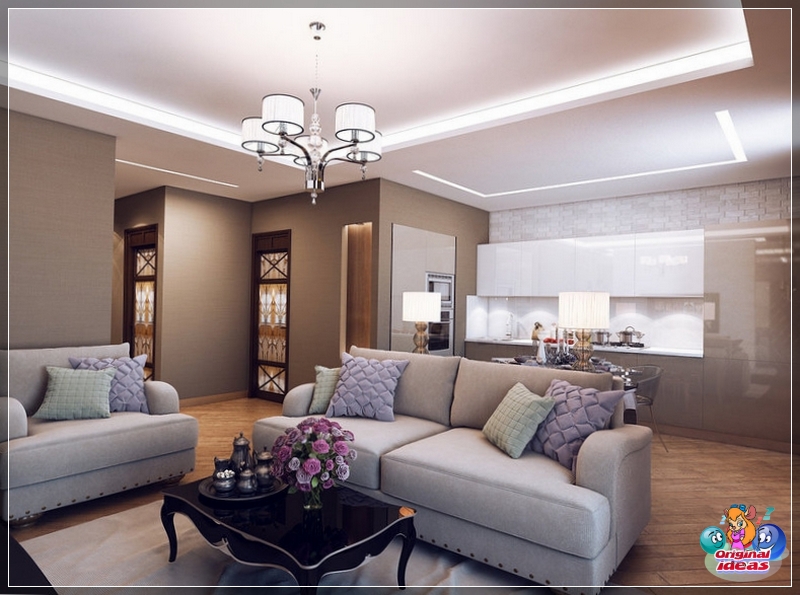 On a note! It is advisable to purchase chairs with velvet upholstery in non-dark tones.
In order not to fear their rapid contamination, you can purchase special covers to match the upholstery, which can be removed and washed at any time.
A wardrobe is considered an unnecessary piece of furniture in the living room, since its place in the bedroom. In the living room, it is better to install a cupboard-type wardrobe with a minimum amount of glass, open shelves are preferable, although they require more maintenance.
It is difficult to imagine a full-fledged living room without a TV or screen for a projector. Plasma should be placed either on the wall or in a special cabinet niche. The main thing is the convenience of viewing, for this the TV should be placed opposite the sofa.
In some cases, the owners of an apartment or house prefer to arrange a bar and a bar in their living room. If possible, the bar itself should be located in the kitchen, however, if the layout does not provide for this, you can place it in the living room.
It is also important to use just wooden cabinets and a wooden table, which will give additional home comfort to the atmosphere.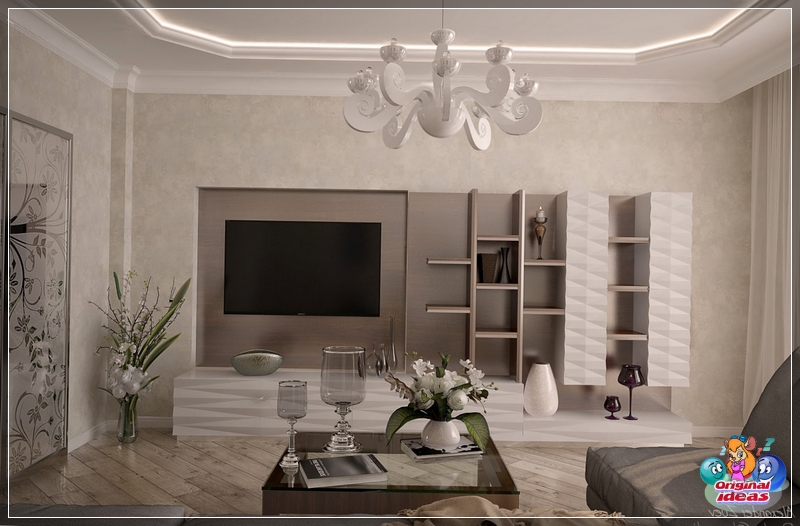 Welcomes the fusion style and natural stone, which can be used to decorate the bar countertop. Only such a design requires considerable financial investments.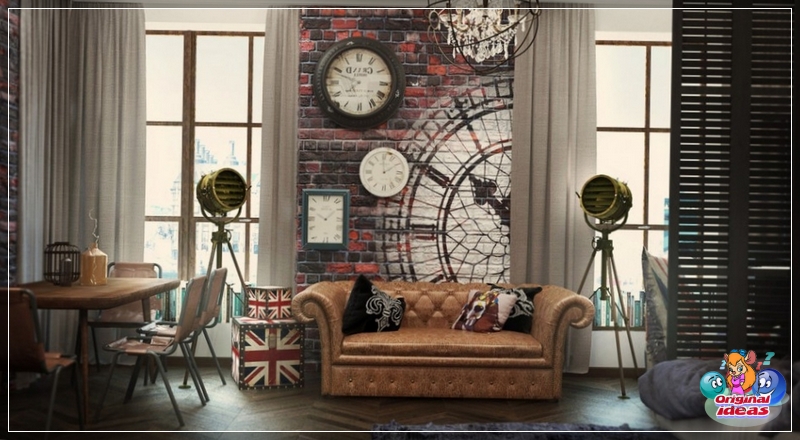 Cute accessories
When decorating a living room in fusion style, you can use the following accessories:
paintings;
decorative pillows and covers;
floor vases;
floor lamps;
small floor mats.
Important! The main function of all accessories that fit the fusion style is to add coziness.
You can create a really warm atmosphere not only with the help of various pieces of furniture, but also with additional items. The paintings that decorate the walls can have any content: from banal painting to the works of the impressionists. The most important thing here is the same observance of harmony, to prevent oversaturation of the room.
Floor lamps are best purchased in a classic style. The same applies to floor vases - no gloss and unusual shapes, only classic curves and painting.
The fusion style, which is perfect for decorating a living room, aims to combine different styles. Observance of harmony in this case is an important point, otherwise, there is a danger of oversaturation of the interior with various design solutions.