Provence style kitchen has a second name "country", as it is considered a variety. She is considered to be the true embodiment of the French spirit, therefore she is popular with all Francoms. The classic French interior originates from the province of the same name Provence, located in the south of France.
Despite the fact that Provence cuisine became popular in the 19th century, it is in great demand in our time, when it is already 2023. This is due to the fact that this design style has absorbed the atmosphere of Provence. Allows you to create a unique interior, unlike any other, created in other countries of the world. You can understand what its subtleties are by examining Provence-style kitchens in the photo.
French style interior
Decorating a room in this style is a rather difficult task, since it is necessary not only to withstand all the requirements of the style, without slipping into vulgarity and tastelessness, but also to achieve the maximum level of comfort in the kitchen. Naturally, it is much easier to do this in a wooden house than in a standard panel high-rise building, where each wall speaks of modernity. Therefore, if you yourself cannot withstand the Provence style in your house, it makes sense to invite a third-party specialist to design it - a designer who has experience working with it.
Spacious kitchen decorated in Provence style
Country kitchen design and provence
It should be noted separately that the French Provence and Country design styles are very similar, therefore, when choosing a kitchen design option, you need to know how they differ. So, for example, the country style originated in England, and it is a kind of "rustic" style. Today, this style is supranational, and it does not have any pronounced signs, taking on the national flavor of the country in which the homeowner lives.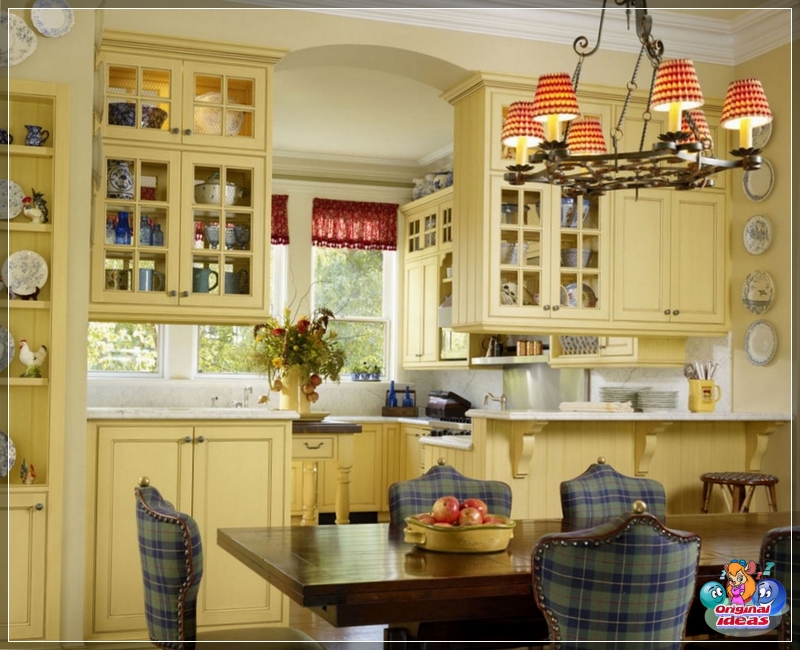 Country cuisine
Provence is one of the varieties of country style, but with a pronounced national color. It has absorbed the traditions of interior design in the French province of Provence, so all its main features can be found in this area. This should be clearly understood in order to avoid confusion.
On a note! If we take the specific differences between the two styles, then the country style assumes warm colors, and Provence assumes cold colors, for example, white and whitish.
Provence kitchen
In addition, the differences are that in the "rustic" style, layering of textures and colors is used, as a result of which the room looks juicy and full. Provencal style cannot give such richness. The tree here is not stained, but painted, the themes of cockerels and lavender are used as decor, not cornflowers and berries.
Provence style kitchen design
Country style kitchens and Provence in the photo differ immediately. The fact is that they have a unique color scheme that is not found in the design of rooms decorated in a different style. So, in order to design a Provencal kitchen, you must first of all use the following tones and shades:
lavender;
beige;
mustard;
wheat;
sand.
Provencal cuisine
As for the color of the furniture, if you look at the Provence kitchen in the photo, you can be quite surprised. The fact is that usually it is made out in colors such as turquoise, yellow, blue, lavender. This is not typical of the classic style or high-tech style, so if you have never worked with Provencal style, use such furniture very carefully so as not to spoil the interior of the kitchen or that bedroom.
In any case, furniture and all decorative elements must be antique or semi-antique. The best material for them is wood, and in the room there must be shelves on the walls. A sample of such shelves can be found on specialized sites, the main theme of which is Provence style kitchen, photo and interior.
Kitchen with antique furniture
Attention! Country style does not recognize artificial materials, so you will have to abandon plastic furniture, as well as seriously limit the use of glass in the decor, characteristic of the high-tech style.
The most optimal solution will be the one in which you will use roughly plastered wall surfaces, stone, tiles, mosaics to decorate the design of your kitchen. In addition, without fail, you will have to arrange the hearth, since without it, the country style cannot be imagined.
The stove takes center stage and is always beautifully decorated in the Provencal style
If you study Provence kitchens in the photo, their design, you can understand that this style is for those who love a large number of small cute useless accessories and trinkets, such as birdcages, vases, candlesticks, baskets, candlesticks. In addition, in any case, the presence of such symbols of France as a rooster or lavender will not hurt you. They will not only give the room a unique spirit, but also visually make it more "French".
Provence kitchen always has a lot of various accessories
Provence style kitchen interior
After you have firmly decided that you need exactly the Provence kitchen, interior design will require some effort. The fact is that in the interior of the style there are features that must be taken into account when decorating a room in accordance with its canons. If the design at the same time solves the global tasks of decorating the room, the interior touches on more substantive issues, for example, the choice of the finishing material of the walls, the color of furniture or the type of floor and ceiling.
Lilac Provence style kitchen
So, for example, a modern kitchen should have a ceiling, floor, walls, and furniture painted in whitish, desaturated colors. This rule is due to the fact that usually in Provence there is a bright sun all year round, and therefore a separate kitchen or kitchen-living room in the Provence style should constantly remind of this. In addition, such a choice of colors is also dictated by the fact that such paints practically do not fade in the sun, so if your building facades face the sunny side, this style of interior design is just perfect for you.
Both furniture and fittings should not shine here. They should give the impression of antiquity, so the best option would be the case when real antique wardrobes, table and chairs are used. Chips or abrasions are allowed, but in any case, such furniture should not be dark in color.
When decorating in a Provencal style, you can use antique furniture and decor items
A wonderful touch that emphasizes the liveliness of the interior of such a kitchen can be the use of both dried and fresh flowers in its design. In this case, they can be placed on shelves, placed in ceramic and clay vases. In the described version of the interior, they try not to hide the dishes, but place them in conspicuous places, surrounded by spices and seasonings.
Experienced specialists can help arrange, show the Provence kitchen file cabinets, what is in the interior, photo. This will help you to successfully arrange both the furniture and the decoration of the walls, floor and ceiling in the proportion you need. As a result, you will be able to experience the true spirit of France.
Small kitchen in Provence style
Despite the fact that in the homeland of the style in Provence, the premises are usually quite spacious, kitchens in the described style can be decorated even in a small apartment in an urban setting. So, for example, there are examples when in an ordinary Khrushchev it was possible to make a luxurious apartment, using the Provencal style in the interior. At the same time, in such a small Khrushchev, residents will practically not feel any changes in terms of the convenience of using the kitchen, and the level of comfort on it will increase.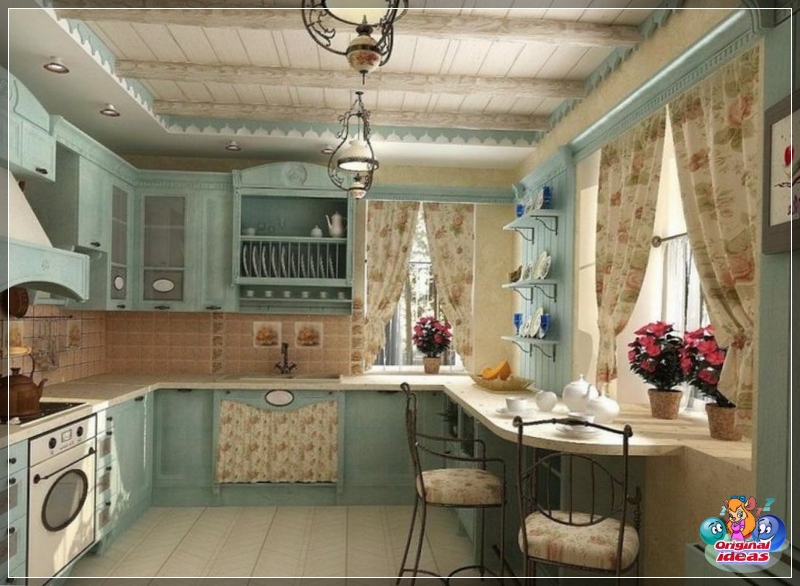 Small kitchen in Provence style
As for the direct design of the kitchen, small rooms to create the atmosphere of Provence in them are finished with materials such as porcelain stoneware, tiles or wood. In this case, the walls are usually covered with whitewash or plaster. As a result, the design of a small kitchenette will cost a very small amount, which speaks even more in favor of using this style in the design of premises.
White kitchen
Since in an ordinary small-sized kitchen there is no way to arrange dark-colored ceiling beams, you will have to limit yourself to ordinary ceiling plaster in the process of performing the work. In this case, you will have to remove modern hoods and find an exhaust hood, which will be very appropriate here. It is worth remembering that in domestic small-sized apartments, corner built-in wardrobes are often installed, which can be disassembled.
Provencal style in a small kitchen
The fact is that corner built-in furniture does not fit well with the described decorative style, although if you "age" the doors and facades, such cabinets can be left. The general rule here will be the fact that furniture must be artificially aged or buy antique on antique ruins. Only in this case it will be possible to withstand the spirit of the described decorative style.
In addition to furniture, decorative elements characteristic of Provence are various accessories. In Khrushchev, it makes sense to hang shelves on which to put plates, copper dishes, flowers. It will be preferable to hang old landscapes or wall clocks on the walls.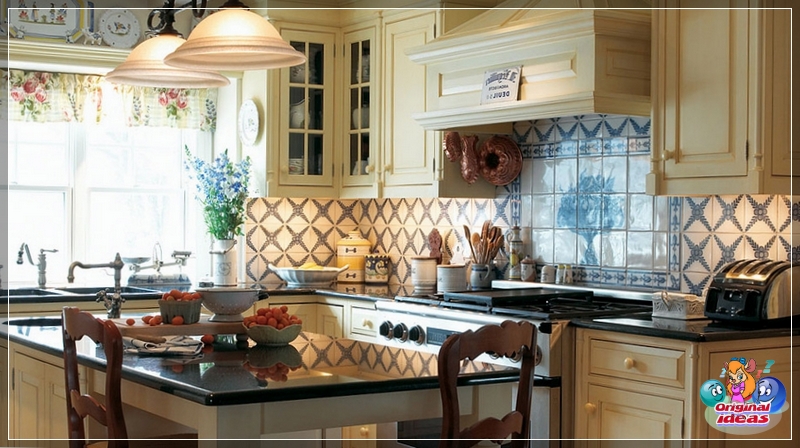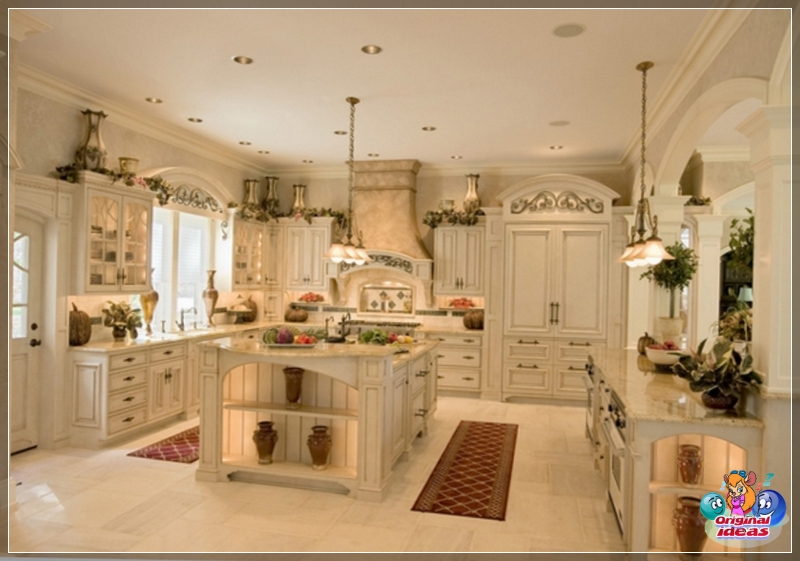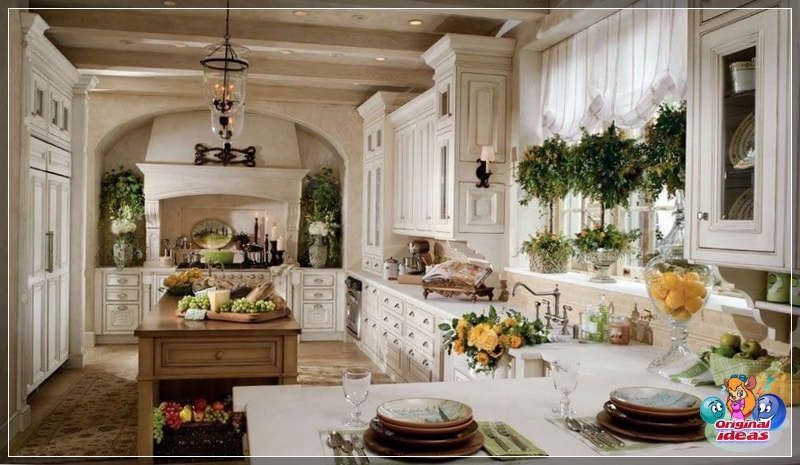 Provence style kitchen decor
The decor of the Provencal style kitchen takes a separate place, since, along with old furniture and light colors, it forms the unique appearance of a room decorated and furnished in a similar way.
Classic version of the kitchen in the style of Provence
At the same time, experienced designers usually advise to be very careful about the use of certain decorative elements or accessories, so if you overdo it, instead of a positive one, you can achieve a negative decorative effect. Therefore, if you are poorly versed in creating an atmosphere in the interior, you should consult before you start decorating your room.
Provencal decor
Of the most popular decorative elements and accessories today, the following can be recommended:
figurines of chickens and cockerels;
small pillows;
small paintings and landscapes;
a variety of holders for cups, plates and candlesticks;
painted plates;
bunches of garlic and herbs.
We recommend using a variety of jars and bottles for oil, condiments and vinegar.
In Provencal cuisine, you can often find shelves with decorative utensils
Provence style kitchen facades
If you decide to order Provencal-style furniture for your kitchen, special attention will need to be paid to its facades. The fact is that here it is recommended to use only solid wood, which is durable, reliable and fully corresponds to the concept of "rustic furniture". At the same time, it will be good if they are equipped with decorative handles with patina elements.
Experts advise to bring such furniture into a "shabby" look, imitating the scuffs and scrapes of paint. At the same time, it would be quite appropriate to decorate the facade of the kitchen with a variety of decorative paintings and ornaments, in combination with carved elements, floral motifs. As for the material for making such a facade, it should be beech, cherry, pine or oak wood.
Wooden unpainted kitchen facade
The most common material is pine. It is inexpensive and durable, but it can change its color over time. As for the luxurious options for finishing the facades of the kitchen, oak is usually used for this, which gives the impression of stability and reliability. At the same time, it is quite expensive, so products from it are available only to wealthy homeowners.
Provence style blue kitchen
One of the most common design options for a room in the described design style is a blue kitchen. The fact is that blue has its advantages. So, for example, he personifies freshness, indicates closeness to nature. If you add a little white to it, you can add a sense of lightness to the atmosphere of the room and create a sense of peace and comfort in it.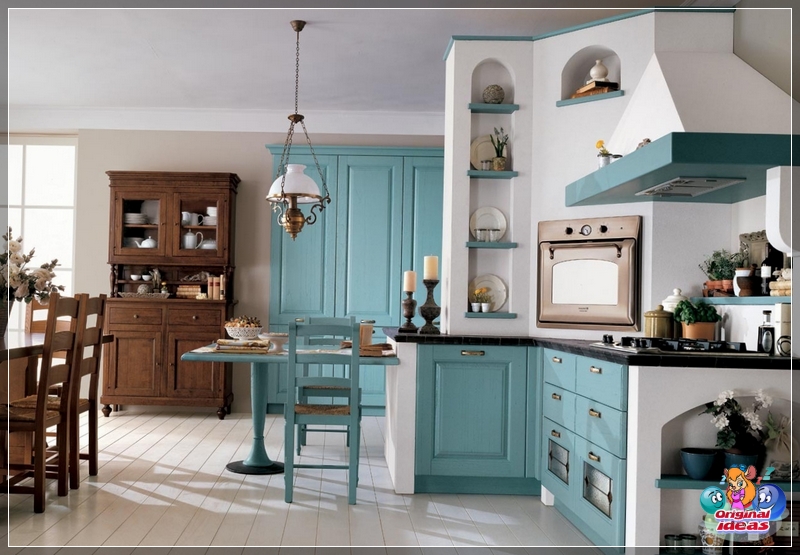 White and blue kitchen
At the same time, it should be noted that the choice of this color scheme is a rather bold design move, therefore the design of such a kitchen requires a very competent planning. At the same time, it is worth remembering that shades of blue can suppress appetite, which is good for people who monitor their weight. In addition, the shade is believed to help relieve headaches, normalize heart rate and blood pressure.
But if your kitchen is not 7 meters, but much more, it is better not to use the blue color, as it will visually enlarge it too much. This will make the interior of the room unfinished, and the room itself is empty. In addition, in blue kitchens, it is necessary to monitor the lighting very carefully so that they do not seem dark and gloomy.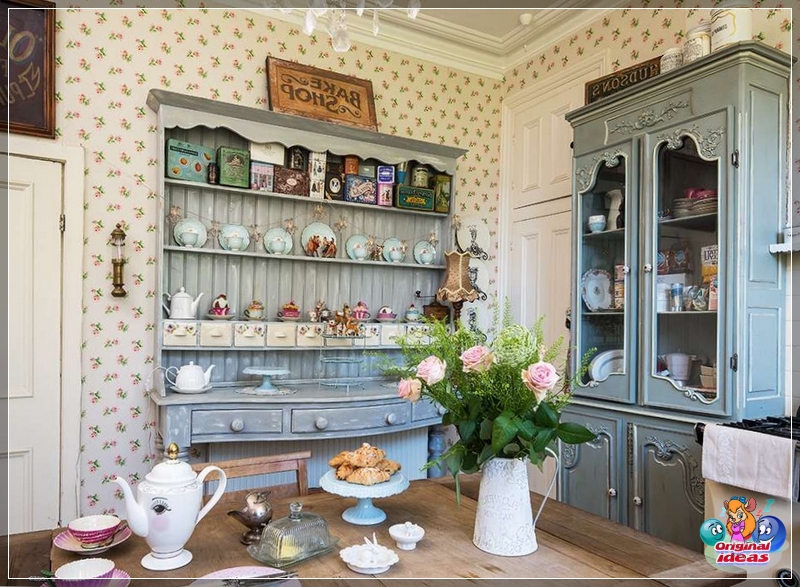 French Style Cupboards
White kitchen in Provence style, photo
Another option to decorate the kitchen in the described style is to make it white. At the same time, you should not dwell solely on pure white, since a completely white room creates a feeling of emptiness.
Attention! It will be best if you prefer a kitchen made in olive tones or pistachio color. They are quite light, but at the same time they do not create a feeling of emptiness in the room.
Light Olive Kitchen Facade
In addition to light colors on the walls and furniture, this kitchen design option also presupposes good natural light in combination with light curtains on the windows. At the same time, the curtains can be trimmed with ruffles and sewing. Tablecloths and furniture capes are designed in the same way.
The white kitchen design is only good when the room is relatively small. The fact is that white tends to visually increase the area of ​​the room. Naturally, in a large-area kitchen, it can only spoil such an effect, since it will seem simply huge.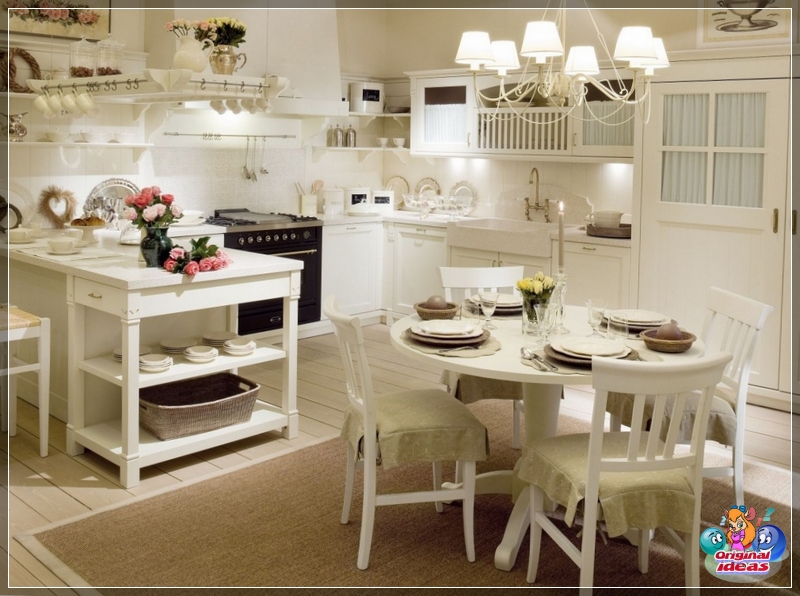 Kitchen in white
If you nevertheless decide to make the Provence style kitchen white, try to choose accessories and decor elements for it that match the tone. So, for example, you should not place dark dishes or elements of "village" life in such a room. It is best when their color is light, sunny. In this case, they will perfectly fit into the interior of the room, complementing it with new touches and colors.
Green kitchens in Provence style
Green kitchens in the described style are also quite popular. This tone is considered one of the most harmonious, since it allows not only to please the eye, but also makes it possible to relieve mental and physical stress. It also energizes a person with vigor, and in the kitchen helps to improve appetite.
At the same time, it is worth noting the fact that a green kitchen should in no case have poisonous and bright shades that are not characteristic of the described design style. It would be best to use the option when the green color will be at least slightly diluted with white. The result can be olive or emerald green with whitish shades.
Light mint spacious kitchen
As for the walls, floor and ceiling, they do not have to be green at all. The walls may well be milky or white. But nevertheless, the elements of green color should be present in this case. They will focus on one or another part of the room and smooth out the color contrasts in the room.
If we talk about colors that do not combine with green, then definitely in such a kitchen there should be no dark shades. They not only create a tense atmosphere, but they can ruin the whole look of a Provencal style kitchen. It is also not recommended to use red and orange tones due to their aggressiveness and excessive brightness.
Kitchen with a cold green facade combined with warm beige walls
Provence corner kitchen
If you have a small kitchen, consider installing in furniture using light corner projects. Their main advantage is a high level of compactness, since such furniture and household appliances placed in it take up very little space. Other kitchen options usually take up a much larger area.
In addition, with the help of corner projects, you can quite simply highlight the dining area in the kitchen and the place for cooking. At the same time, the use of shelves characteristic of the Provencal style will be very appropriate here, since such an approach will further save usable space. The "rustic" style also makes it possible not to spend too much on finishing furniture, which also gives additional savings for arranging other parts of a small room.
Beige corner kitchen
Separately, it is worth mentioning the presence of a hearth, which in Provence is considered the center of the room. With a corner layout, it is best to create it on the basis of an electric fireplace. The sink, like all modern household appliances, should be either disguised or stylized as "old-fashioned". This will make it possible to preserve the spirit of this design style, while maintaining a high level of comfort in the kitchen.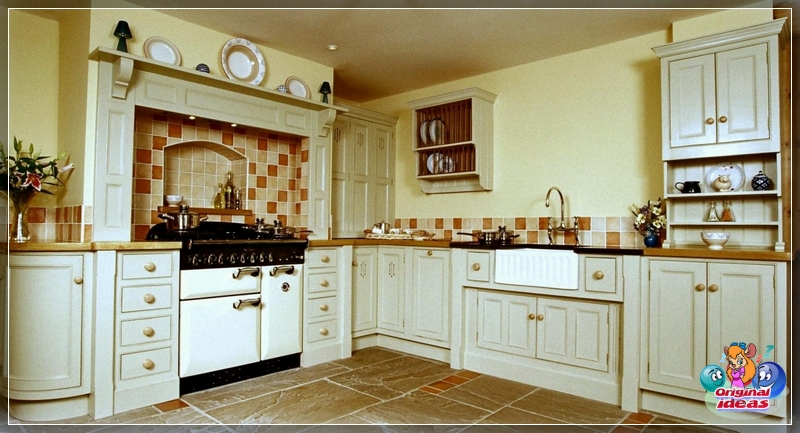 Corner set in Provencal style
Provence style kitchen studio
Studio apartment leaves a unique imprint on the design and interior of the kitchen, decorated in the Provence style. Moreover, usually such a room can simultaneously combine the functions of a living room, kitchen, bedroom and other functional areas and rooms. A dining room combined with a kitchen, in this case, will allow you to highlight functional areas (for example, a place for cooking and eating) with the help of furniture.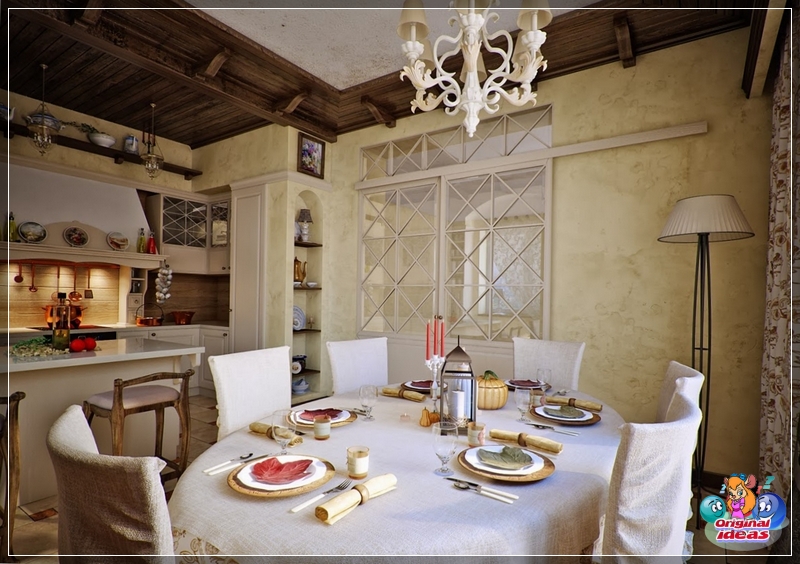 Kitchen combined with dining room
So, for example, the table can be set on a small elevation, and the cooking area is fenced off by cabinets on the back, which can be hung with handmade carpets or paintings. By the way, it is much easier to arrange the hearth zone in the studio. It makes sense to take advantage of this opportunity by creating it in a style close to the present, namely, by laying out a decorative hearth made of wild stone and installing a tripod with a decorative cauldron above it.
As for the finishing of the kitchen studio, due to the lack of internal walls, all decorative elements will be placed on stationary objects. So, for example, columns and main walls can be simply plastered, exposing the brickwork. If it is necessary to add an additional "ethnic" spirit to the interior, this can be done by installing benches and old rustic chests in the room.
Kitchen with a chic antique hood
DIY Provence style kitchen decoration
Since country and Provence styles are based on following the "village" traditions, it is quite possible to bring them to life with your own hands, without inviting highly paid designers. It is enough for a start to pick up the furnishings that will be in the kitchen. For example, old cabinets, chairs and tables that you or your relatives have in stock are fine as furniture.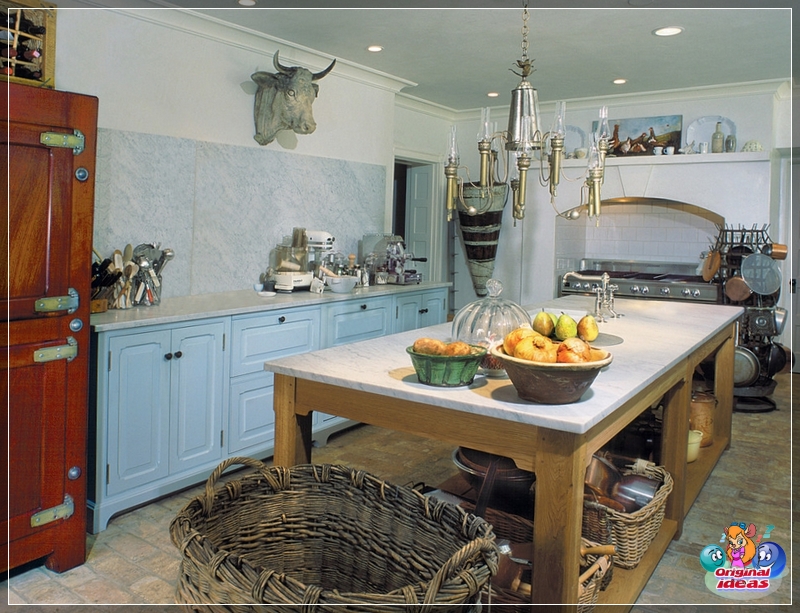 Simple and functional kitchen with a large island table
If your room does not have special repairs, this can be an additional reason for doing all the repairs yourself. So, for example, simply by plastering or painting a brick wall, you will not only save money, but also give your room a very original appearance that fully corresponds to the described design style. At the same time, you do not have to spend money on expensive finishing materials.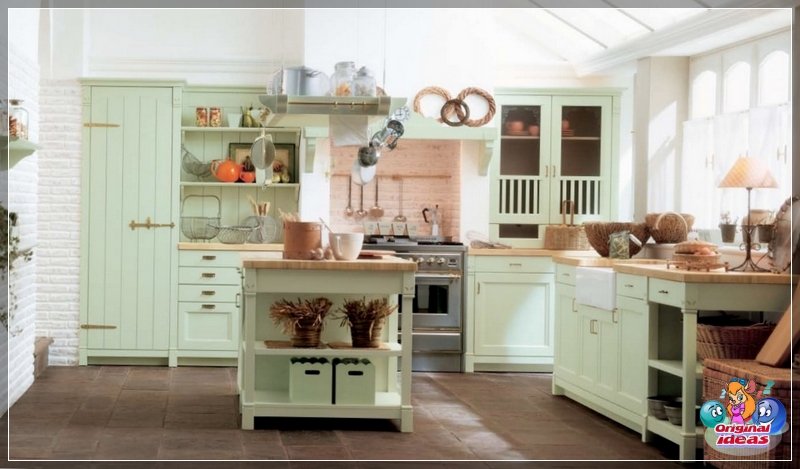 Mint kitchen facade
Of the complexities of finishing the kitchen, in this case, only the need to use light colors (for example, mint-colored furniture facades) can be noted, which cannot always be sustained in Russian conditions. Otherwise, it is not difficult to reproduce the Provencal design style in the kitchen on your own.
Kitchen renovation in Provence style photo
An ideal Provencal-style kitchen renovation can only be done if you stock up on a photo of a similar interior in advance. Thus, you can plan not only the order of performance of certain stages of work, but also imagine in advance how the room will look in the future. In addition, photography also allows you to make an estimate in advance, which can significantly reduce the cost of decorating a room in the described style.
Luxurious French style kitchen
Usually, this kind of repair makes you adhere to a fairly simple rule. It consists in the fact that in a city apartment, smooth walls, painted with paint or whitewashed, will look the most natural. Outside the city, you can experiment with coarser elements and use wooden planks, logs or bricks in wall decoration.
It is best to leave the ceiling outside the city as it is - with beamed ceilings and timber trusses. In the city, when the kitchen will have a large area, false beams can be mounted to imitate the rustic style. If this cannot be done, the ceiling is best painted and whitewashed.