The pop art style, due to its creativity, brightness, cheerfulness, energy, has a huge number of adherents. Its name is translated from English as "boom", which is 100% consistent with his visual philosophy. This is truly a real creative, energy, color and light boom, in which elements that are completely incompatible with each other are often combined. A pop art kitchen, like any other room decorated in this style, is ideal not only for young people in fact. She will perfectly harmonize with the inner world of everyone who, regardless of real age, feels young, cheerful and energetic.
Detail in the form of exclusive curtains will make the room unforgettable
This style has one definite advantage - it is extremely economical, since it accepts the simplest materials. And many decor elements, accessories can be completely invented / made by anyone who considers themselves to be creative, creative personalities.
You can order a unique sketch or paint the wall yourself
Key Features
A pop-art kitchen is a combination of modernized equipment, fresh fashion trends and individuality of its owner
The main law of pop art is the absence of any laws and boundaries. Moreover, this applies to furniture and accessories, and, most importantly, colors.
Attention! All shades that are considered incompatible in other styles, or are generally prohibited for use, are allowed and even welcomed in the "boom".
Bright, juicy colors in the kitchen are sure to awaken your appetite
Do you want to paint each wall or ceiling in three different colors? Please! Want every cabinet in your kitchen to shine with all the colors of the rainbow? Yes, who will forbid you! Moreover, the most acidic shades, "despised" in other classical styles, welcome "guests" in pop art so much that someone's portrait on the central wall with blue lips and green skin will be the real pride of the owner of the kitchen. From here, you can identify the central features of the style:
A room with a bright interior will become a favorite meeting place for a group of friends
lack of any rules;
various color combinations;
an abundance of neon, acid colors, gloss, prints;
the spirit of minimalism in the setting;
creative freedom in hand-made style;
glorification of mass culture, consumer products.
Pop art welcomes bold color combinations
Pop art kitchen - a true riot of colors. Multi-colored planes, furniture surfaces, a lot of neon lighting, the most unimaginable color contrasts. Against the background of cacophonic colors, furniture should not stand out with complex shapes or expensive materials, but unusual textures are welcome. Everything should be as simple, functional, ergonomic as possible. Pop art is the style of freedom-loving people, so there is no need to clutter up the room.
With an overall neutral color scheme, bright accents refresh the room
For your information. Boom is not an exclusive style. There should be nothing unique here. On the contrary, factory stamping, replication is encouraged. This applies, first of all, to well-recognized prints.
Pop art style will suit cheerful, energetic people
The god of style - Andy Warhol - was the first to think of "singing" ... a tin can, a package of sausages, which is quite acceptable, in fact, in the kitchen. Posters or pictures on the walls showing batteries of canned food, cans and bottles of lemonade, tomato paste in the most crazy and paradoxical colors - a true highlight of Pop Art.
Pop art style will allow you to embody any creative ideas
Another basis of the style is a variety of creativity. Furniture, accessories, various handmade installations are welcome in every possible way. And for this you can use completely inexpensive, artificial materials - plastic, metal, paper and even recyclable materials.
It is not at all necessary to acquire new stools, for example. Can be made from a stack of magazines tied with twine or an old leather belt. Or put a bunch of flowers ... in a can of green peas.
Bright installations and unusual lamps diversify the space
Registration rules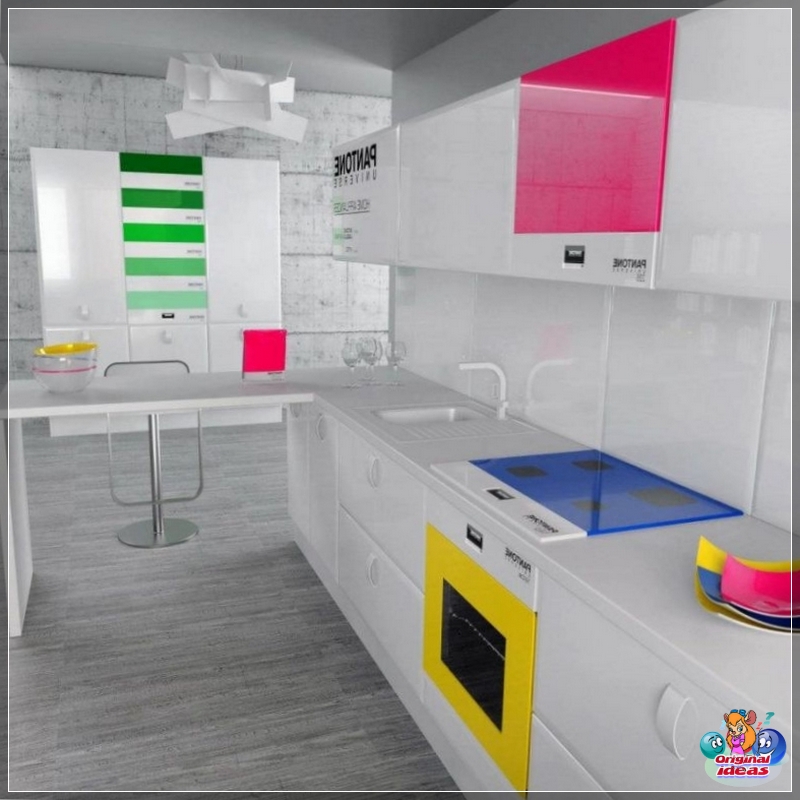 Don't be afraid to combine rich colors and prints
To get the perfect pop art kitchen, its space must be filled with the following items:
The abundance of light green will keep the summer in the room all year round
bright sculptures, paintings;
colorful textiles;
reproductions, posters, photographs;
the most incredible installations;
objects that, in principle, should not be in the kitchen.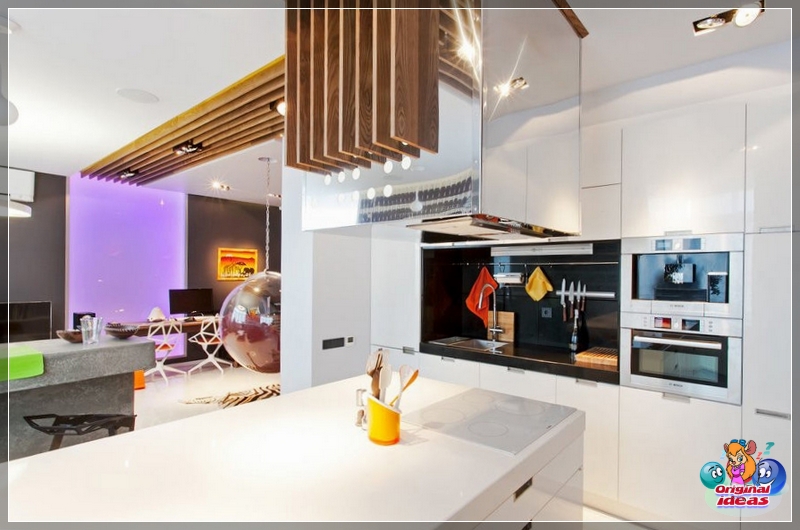 Neon lighting, unusual interior details make the apartment stylish and unforgettable
Pop art is colorful. But for balance, you can combine acidity with completely clean, light walls, floor, ceiling. Both white and gray with a touch of chrome gloss are welcomed. You can use wallpaper for the walls, creating a variety of optical illusions.
Pop art style will help you express yourself and embody any ideas
When it comes to sculptures, figurines, many are presented with works in the classical style. Applicable to pop art, these will not be Greek gods and heroes, but ... pink elephants, green dogs, colorful hippos, funny Mickey Mouses or Charlie Chaplin in acid tones. Most often they are made of plaster, plastic, polyurethane, papier-mâché. The theme of paintings, reproductions has already been touched upon above.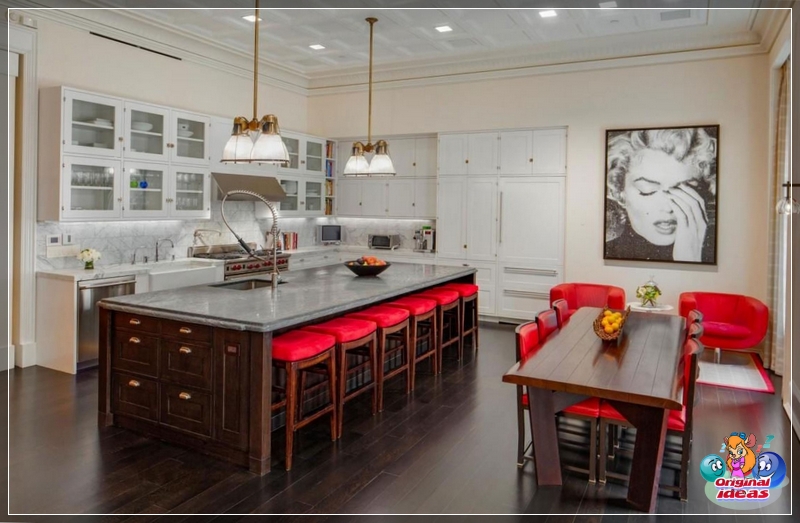 A bright accent in the interior can be done even with the help of chairs
In addition to the "canning" theme, pop painting is portraits of stars of both past years and today. Moreover, the palette of such portraits is always deliberately flashy.
Reproductions and portraits in acid colors are an integral part of the pop art style
Pop art modern kitchen welcomes bright textiles. And if you have the ability for needlework, you can purchase fabric of completely unimaginable, crazy colors and make curtains with your own hands. You can also try to look for kitchen textile sets with labels from well-known companies that produce food, drinks, or with prints in the spirit of mass culture or "graffiti".
Eye-catching wallpaper on a separate fragment of the wall looks stylish and relevant
Speaking of graffiti. This is a great option for decorating an apron or accent wall. You can paint the apron yourself or buy plastic with a graffiti print that matches the style. The subjects of such drawings can be different: from fantastic canned food to acidic Marilyn Monroe or Michael Jackson.
A classic pop art installation can be arranged right on kitchen cabinets
note! An apron will look interesting if its coloring is a kind of collection of images of brands and brands, names of goods, well-known companies. Or maybe you will set aside a wall for images of characters from the Marvell or Disney universe: on the ceiling you have a giant Spider-Man figure, and from behind the kitchen cabinets the faces of seven dwarfs will peep out.
Pop art furniture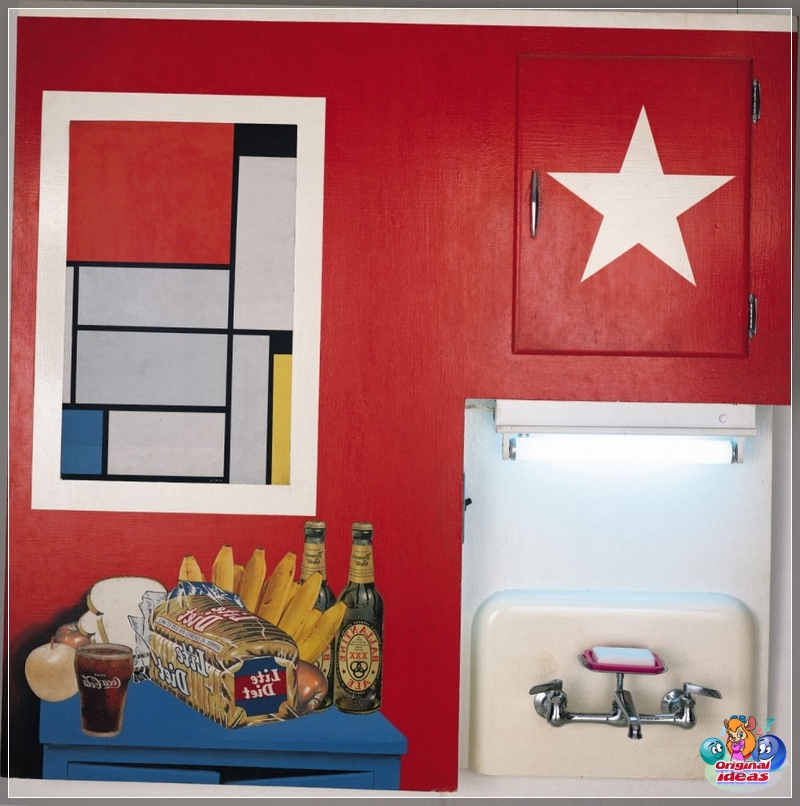 It is worth painting the wall in the pop art style, and the room will sparkle with new colors
A designer boom kitchen should have a minimum of furniture items. Their colors will depend on the color of the walls: if they are light, then the furniture can be bright, and vice versa. Plain options are preferred. You should choose a headset made of plastic with a metal, chrome finish. There should be no wood, stone, other expensive natural materials. A great option is modular furniture or folding structures.
Bright mosaic is a great solution for the kitchen in the style of pop art
If we talk about the geometric shape, then preference should be given to round, oval models of small, simple shapes so that the furniture can be easily moved, rearranged. The fronts of the cabinets should be monochromatic, bright, the handles should be small, inconspicuous, rounded.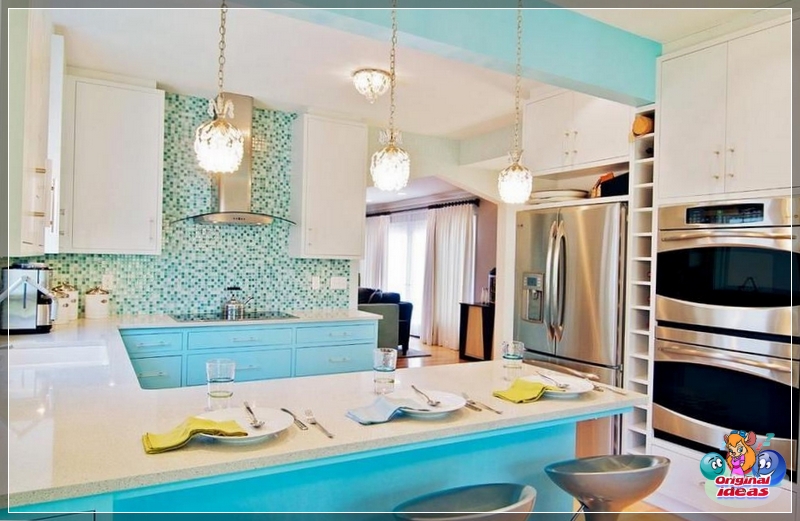 Bar counter, current high chairs
No pop art kitchen can do without appliances and sinks. The latter should be chosen a shiny, ordinary stainless steel shape. But the technique can be of various colors: a green refrigerator, a red toaster, a yellow kettle, a purple microwave, etc.d. If you can find a refrigerator with polka dots, it will be real chic! If not, no one bothers you to paint it in the spirit of Andy Warhol, turning the refrigeration unit into ... a fence, on which, for example, "hooligans-graffiti" worked.
Pop art is the best choice for creative, full of ideas personalities
Remember that pop art welcomes all creativity, regardless of your level of professional skill!