The patchwork sewing technique, which allows you to create beautiful clothes and various household items from scraps, has existed for many centuries in all countries. But only nowadays, patchwork has come out of the cramped framework of textile decor.
Patchwork tiles perfectly complement the interior of the room
Ceramic tiles in the patchwork style, reminiscent of a colorful patchwork quilt, became a fashion trend several years ago and every year it gains more and more admirers. After all, the elegant charm of this ceramic coating gives to any, the most modest interior, magnificent dynamics and energetic brightness. Such tiles can be used in any room, decorating it: in the kitchen, living room, even in the bedroom, on the veranda, on the terrace. But above all - for the bathroom. Patchwork-style tiles can make even a small bathroom a real work of art, in perfect harmony with different interior styles: Mediterranean and classics, retro, country, Provence, minimalism, eclecticism, etc.
An apron in the kitchen made of patchwork tiles, in addition to functional qualities, gives coziness to the room, and also fits well with wooden modules
Patchwork-style ceramic tiles in the bedroom look unusual
Patchwork tiles are great for Mediterranean-style living rooms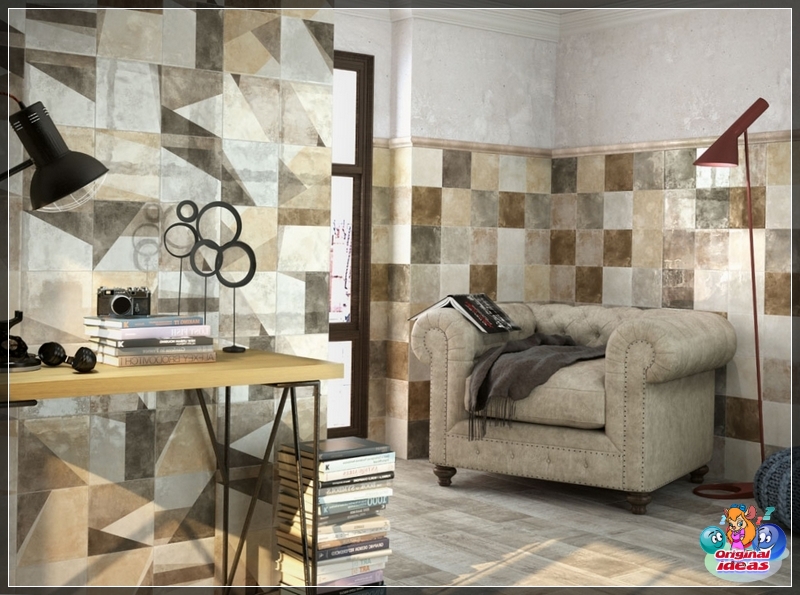 Patchwork tiles look spectacular in the design of the shower area
Patchwork tile production
Original patterns of patchwork sewing with the help of modern technologies were digitized and transferred to ceramic tiles and porcelain stoneware. Patchwork tiles are found in the collections of leading manufacturers:
Italian companies Del Conca, Cir Ceramiche, BayKer, Ragno Marazzi;
Spanish La Platera, APE Ceramica, Geotiles, Dual Gres, Mainzu, Roca;
Polish Cersanit;
Austrian Lasselsberger Ceramics;
Russian Uralkeramics, Jade Ceramics, Kerama Marazzi.
Italian ceramic tiles Del Conca in patchwork style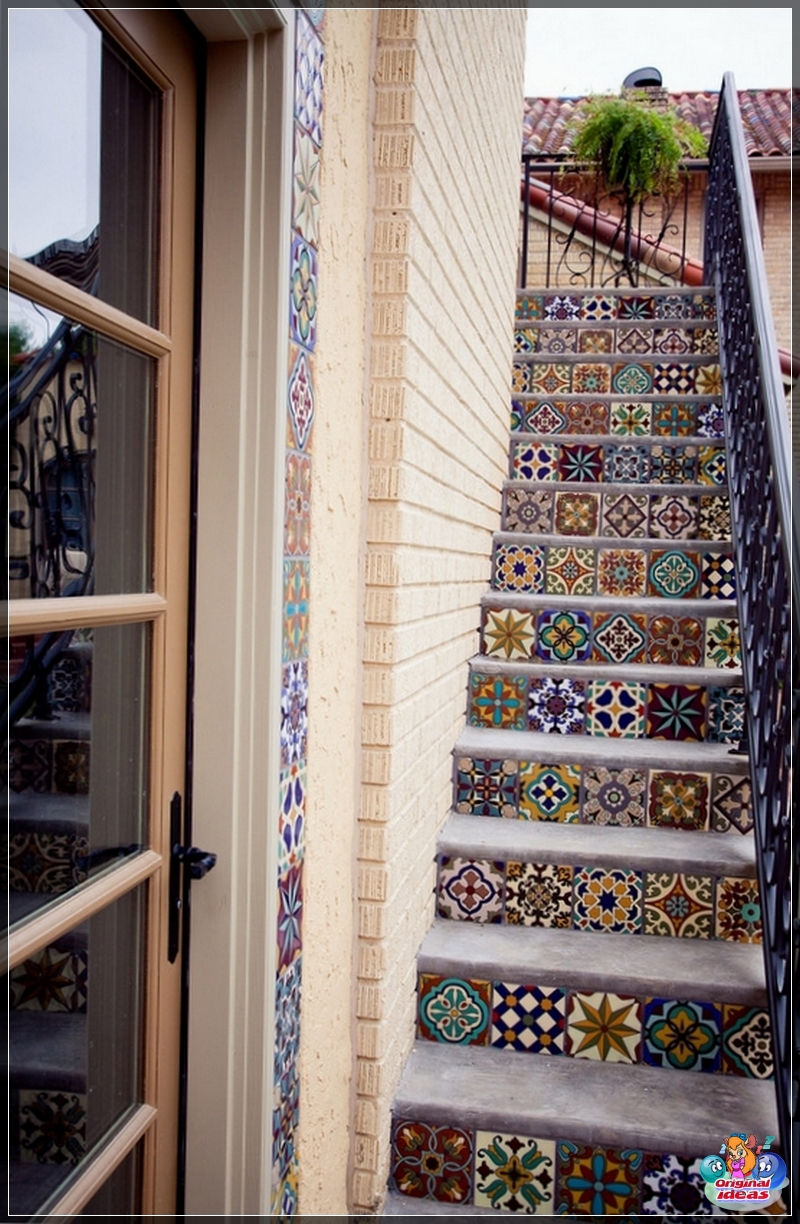 Spanish ceramic tile patchwork APE Ceramica
Polish ceramic tiles in patchwork style by Cersanit model lati
Austrian ceramic tiles in patchwork style Lasselsberger Ceramics model Siena
Ceramic tiles in patchwork style of Russian production Uralkeramika Freya model
Available as floor and wall tiles in different formats. Traditionally popular sizes are 20x20 cm, 25x40 cm, 45x45 cm, 30x30 cm. Many manufacturers also offer large tiles 25x50 and 60x60 cm, as well as individual sizes on order.
The size of the patchwork bathroom should be clearly related to the size of the ceramic finish. In small bathrooms, the maximum tile size is 20x20 cm, but it is better to use the smallest one - 10x10 cm. In this case, the room will not feel tiny and cramped. Large patterns should be left for spacious rooms, at least 6 m2, where large tiles look good.
Popular ceramic tile sizes
Texture and color
The tiles offered for finishing in the patchwork style for the bathroom and other premises differ in texture and can be:
smooth;
rough;
porous;
glazed;
matte;
glossy.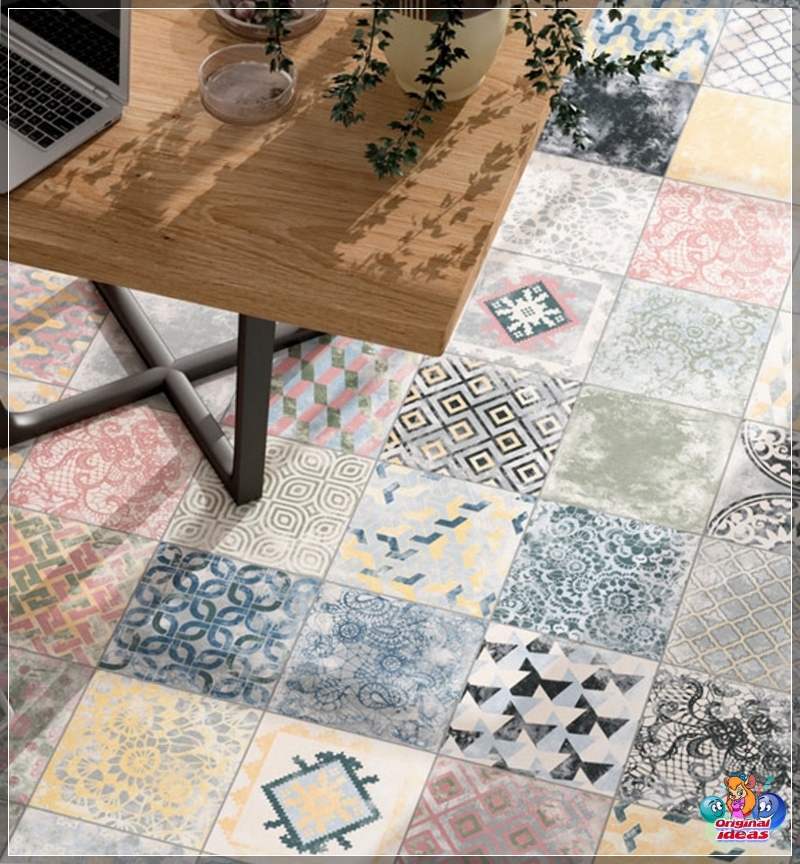 Matte patchwork tiles are suitable for floor coverings, as they will minimize slipping with such a figure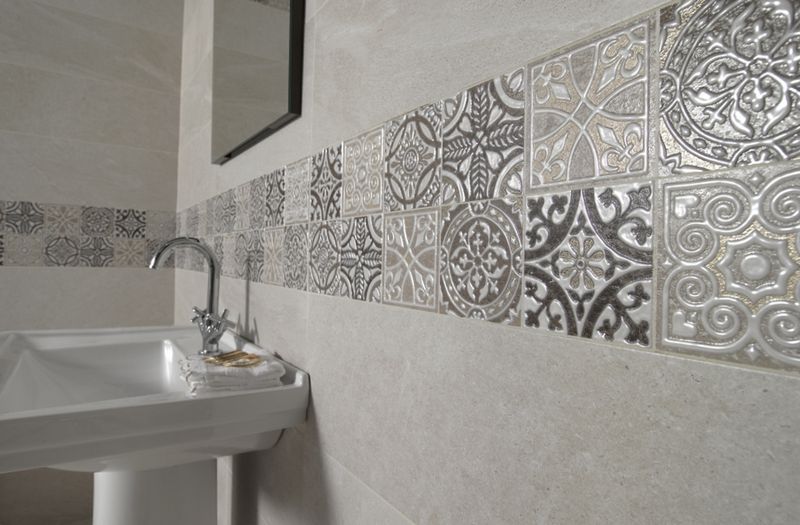 Textured patchwork tiles look three-dimensional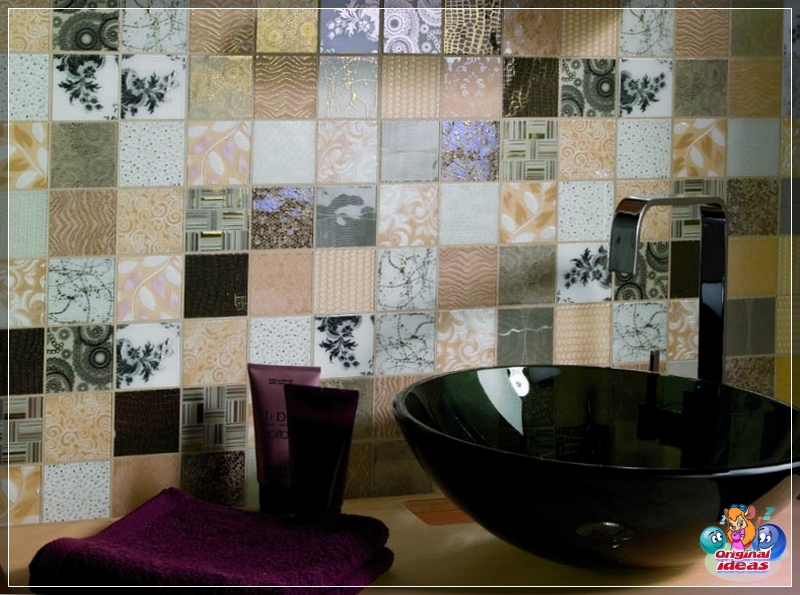 Tiles on the wall with different textures look interesting and expressive
Tile thickness, edge processing methods vary. The color scheme of fancy patterns and ornaments allows you to choose ceramics for any interior, manufacturers offer tiles:
monochrome;
two-color;
multicolored.
Monochrome patchwork tiles are composed of gradations, black, white and gray
Two-tone patchwork tiles with different patterns
Multi-colored patchwork tiles are often used to highlight accents, for example, to liven up a monotonous interior
Very popular black and white, white and brown and white and blue finishes that harmonize perfectly with a variety of interior styles. Collections of beige, gray shades look good, delicately adding an interesting variety to the bathroom design.
Important! The selection of patchwork tiles requires excellent taste, so most specialized stores offer ready-made mixes in which floor and wall tiles have already been arranged, having different sizes, the same pattern, surface layer quality, thickness. Such collections are often presented in all sorts of color options.
The image on the patchwork tile can be different, which allows you to create a unique design in the room:
imitation of floral and plant ornaments;
abstraction;
geometric patterns;
cell;
peas;
strips;
lace.
Floral patchwork motifs are suitable for Provence and vintage interiors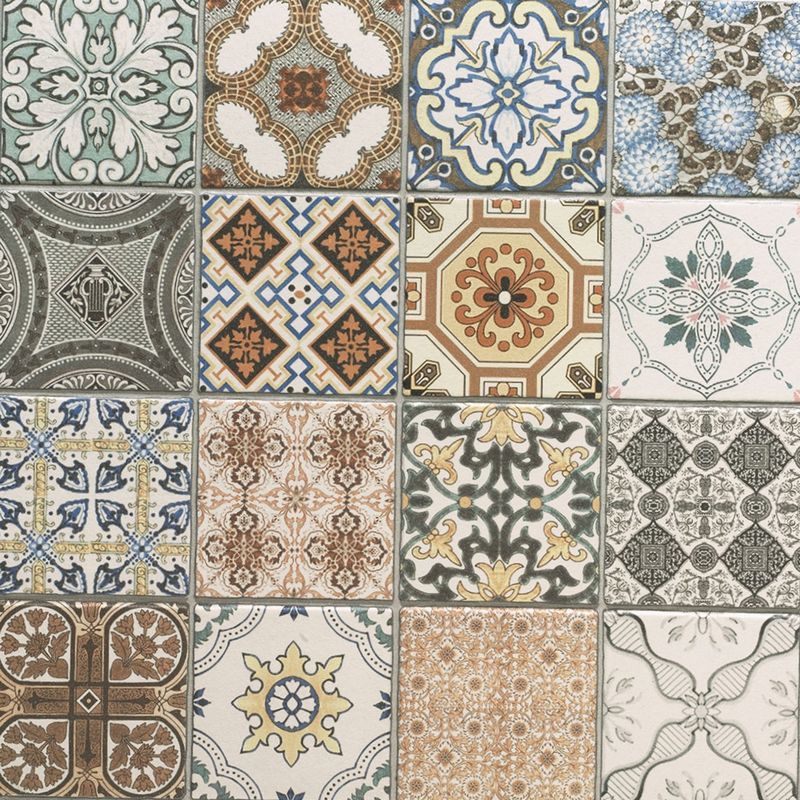 Often patchwork tiles can be found with various geometric shapes and fractals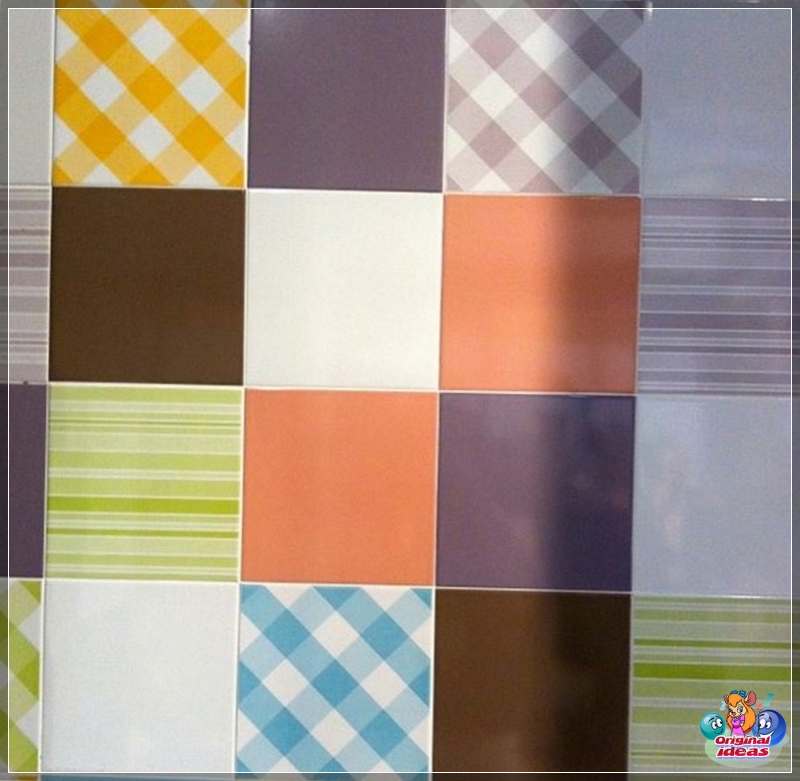 Multicolor tile patchwork with stripes and checks
Designers propose to combine a variety of ornaments into a single composition, combining geometry with floral patterns, stripes with ethnicity and lace.
But in order for the drawing in the bathroom to create an integral impression, to be a single composition, the tiles are carefully selected in terms of size, surface quality, thickness. These parameters must match. Also, either pattern or color should be combined with each other.
Despite the variety of patterns and colors, patchwork tiles for composition should be combined with each other
Bathroom design using tiles
Patchwork bathroom tiles are the easiest way to make your bathroom unique. A design that uses a patchwork ceramic coating for decoration becomes one of a kind. At the same time, you can create a masterpiece with your own hands, independently matching tiles to each other, or purchase ready-made exquisite collections.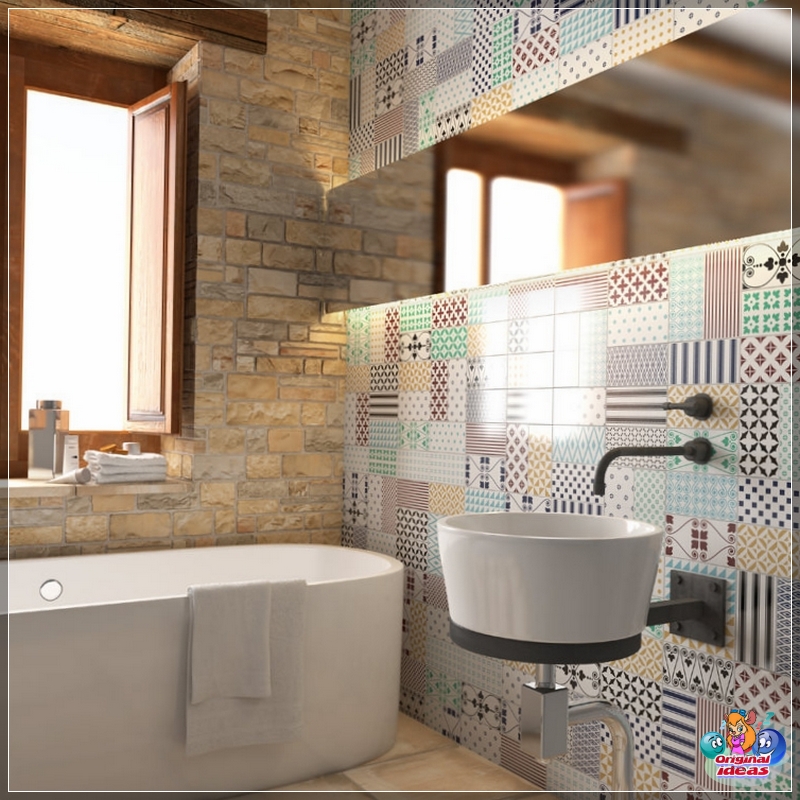 Patchwork tiles in the bathroom can effectively complement the interior
How best to fit patchwork tiles into the bathroom interior, regardless of style? There are several interesting ways that professionals most often use when laying tiles:
Inserts. Decorative elements are randomly scattered on a plain surface of the wall - patchwork tiles. The pattern on each tile and the shade of color may differ from each other, but it is important to preserve the stylistic harmony of the ceramic coating.
Interesting accent. Against the background of a monochromatic ceramic coating, an object in the bathroom or part of the surface stands out with bright patchwork tiles. For example, the partial lining of the bathtub, the wall of the shower stall, the countertop near the sink or the space above it looks great. A patchwork pattern laid out in a narrow horizontal or vertical stripe on the wall effectively attracts attention and visually increases the area of ​​a small bathroom.
Patchwork tile bathroom insert
Can be accentuated with patchwork tiles on the bathtub and walls
note! Patchwork looks very nice on the floor: in a long narrow bathroom, a patterned strip along the room on a monochrome flooring immediately catches the eye and gives the interior color saturation. Often on the bathroom floor, a kind of carpet is laid out of patchwork tiles, choosing the appropriate patterns for this.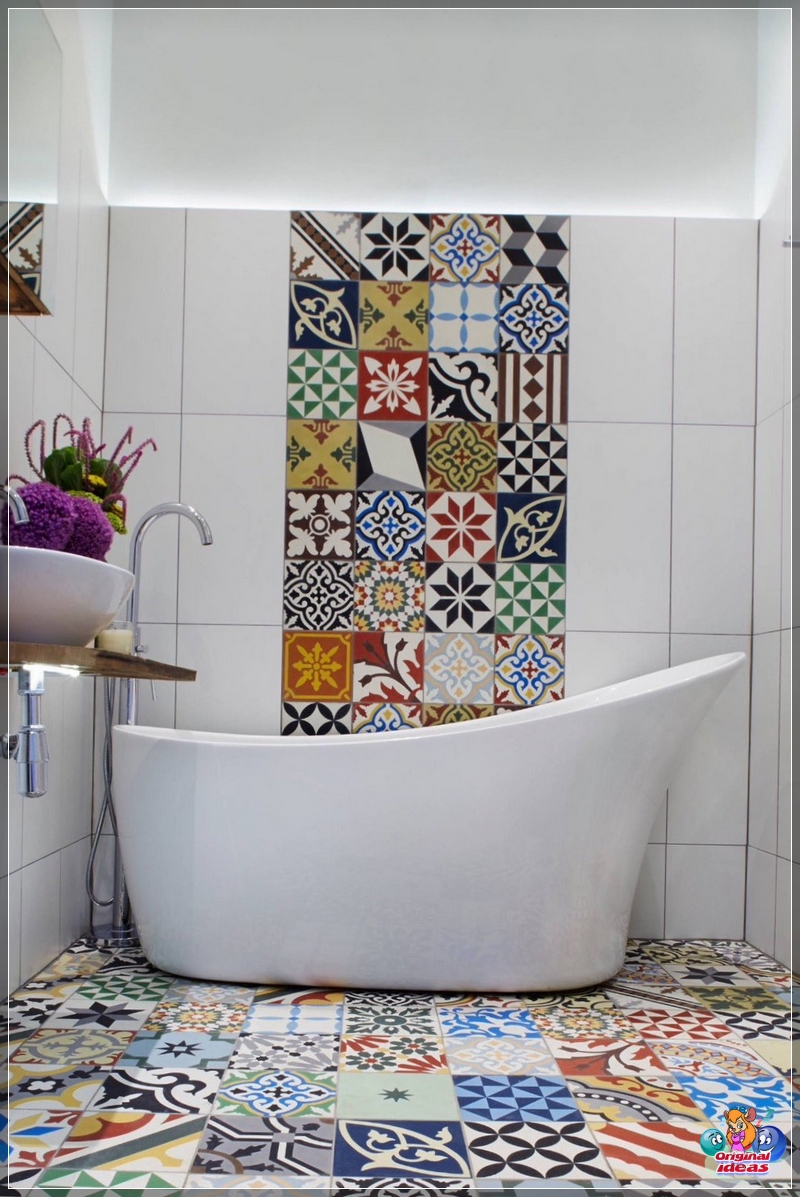 In the patchwork style in the bathroom, you can immediately arrange both walls and floors
Patchwork carpet imitation in the bathroom
The emphasis can be made:
single-color tiles with one pattern;
monochrome with different patterns, combining patterns;
multicolor with one pattern;
multicolor with various patterns and ornaments.
When decorating with patchwork tiles, in addition to walls in the bathroom, a countertop with a sink is often decorated
An interesting way of styling - randomly. In this case, tiles with an ornament are not matched according to the pattern and do not fit to each other, but are placed deliberately mixed up.
In a spacious patchwork bathroom, you can tiled with patchwork tiles a continuous space of one wall or completely cover the floor.
Nuance! To prevent the interior from creating an annoying impression of loud brightness, designers use the principle of Variegated walls - a plain floor and vice versa. Contrasting patchwork tiles call for a calm design.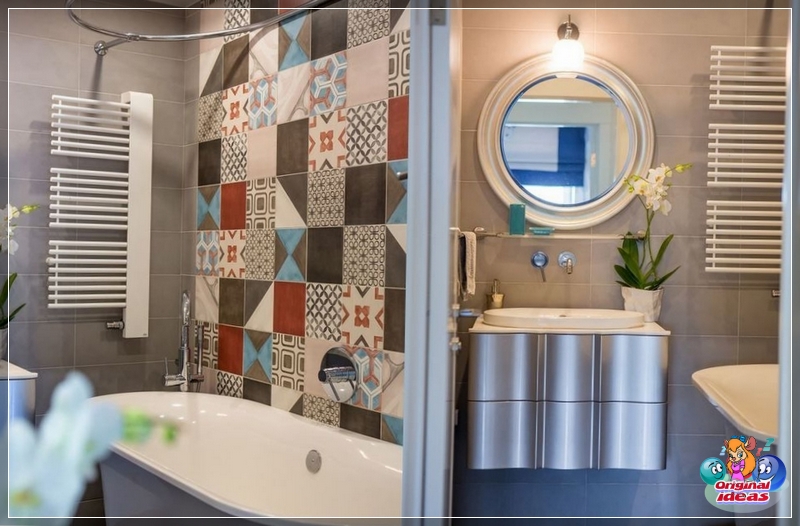 In the bathroom, you can select only one patchwork wall with tiles, so as not to overload the space
Therefore, the color palette of other finishes and furniture in this case should be soft, preference should be given to basic colors:
beige;
gray;
white;
blue;
olive.
Patterns with aging effects look extremely interesting, blurry or as if faded from time. Bright colors on such a tile are slightly muted, do not look so defiant, and therefore ideally harmonize with a variety of current interior styles. As if half-erased patterns are in perfect harmony with light forged products - shelves, consoles, countertops under the sink, chairs. Natural light wood furniture is also suitable.
Shabby patchwork tiles look softer and more muted
Monochrome patchwork tiles universally interact with any design. In addition, it fits perfectly into small rooms, without creating an oppressive impression of tightness. An interesting effect is provided by the use of patchwork tiles of the same color, but with different patterns, and also as if aged.
Ceramic scraps are extremely effective and elegant, so the bathroom in this design will always look fresh and original.