The French region of Provence is called the land of lavender, it is known for its picturesque villages, olive groves, luxurious vineyards, bright sun and fresh air. In this fertile land, an interior style full of peculiar charm was born, a Provence-style room will absorb the warmth of the French province - unhurried, prosperous, flourishing.
Provence style room interior
The Provencal style can be used to decorate the living room and bedroom, kitchen, bathroom, hallway, even an office. But it looks especially good in a children's room, the owner of which is a girl or a girl.
Unusual lamps with forged elements are the best fit for a Provence-style room
What are the characteristic features of this popular interior style? Designers call the following:
delicate range of pastel shades;
light elegant furniture;
light lightweight textiles;
an abundance of floral designs on upholstery, furniture, wallpaper;
Natural flowers;
lots of knickknacks.
The Provence room looks like the owners have lived here from generation to generation, carefully keeping their house.
How to decorate a room in Provence style
Impeccable taste will be needed by someone who decides to make a renovation of a room in the Provence style with their own hands. If the number of accessories and floral prints exceeds a certain norm, which allows you to harmoniously perceive the interior, the style will turn into a parody of itself.
Wicker chairs and coffee tables will create a unique summer atmosphere
It is imperative to observe the color scheme, which visually sets the style direction of the room. Provence is dim, as if burned out over the years, paints, delicate, pale airy: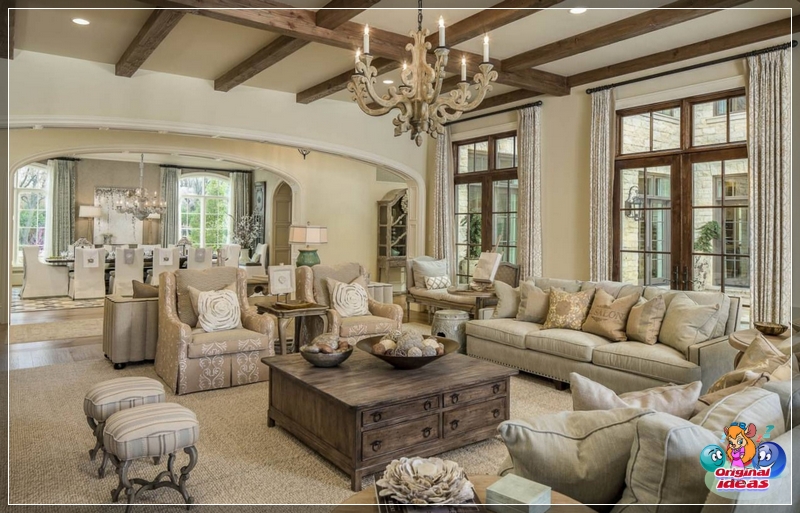 The abundance of soft, cozy sofas is a visiting card of the Provencal style in the interior
warm shades of white cream, milky, vanilla;
shades of yellow beige, sand, straw;
the presence of purple tones, including lavender and lilac, is required;
light blue and blue;
light salad;
olive;
red-brown.
There are no bright, neon and dark colors in the Provence palette. Prioritized lavender, white and indigo.
A Provencal-style room undoubtedly speaks of the love for detail of its owner
To design a room in Provence style, photos of ready-made interiors can be studied in advance by choosing the best one for a sample or coming up with your own version.
For the living room, choose tables and cabinets with fanciful carvings
Finishing will require natural environmentally friendly materials.
Walls. The following types of finishing materials are most often used:
wallpaper;
plaster;
brick;
wooden panels.
Try combining different patterns and shades of the same color in the same room
Floral wallpaper looks great. It can be individual flowers and collected in bouquets, small field and large garden. The main thing is that the drawing is gentle, romantic. Check wallpaper with vertical stripes. You can use textured wallpaper for painting.
Scuffs on wooden furniture are an integral part of the Provence style
To make the walls look authentic, they can simply be plastered and painted with plain paint in a Provencal palette or whitewashed. At the same time, it is not required to perfectly smooth the surfaces a little unevenness and roughness give the appearance of the room convincing.
Living fireplace final chord for a Provencal living room
Part of the wall can be finished with brickwork and laid out with natural stone. This finish is especially good near the fireplace.
Another way to decorate walls is combined. The lower half is decorated with wooden wall panels, the upper half is painted or covered with wallpaper.
Attention! Provencal-style walls are not decorated with heavy vinyl wallpaper in dark colors.
Floors. Making a floor in a Provencal way is simple: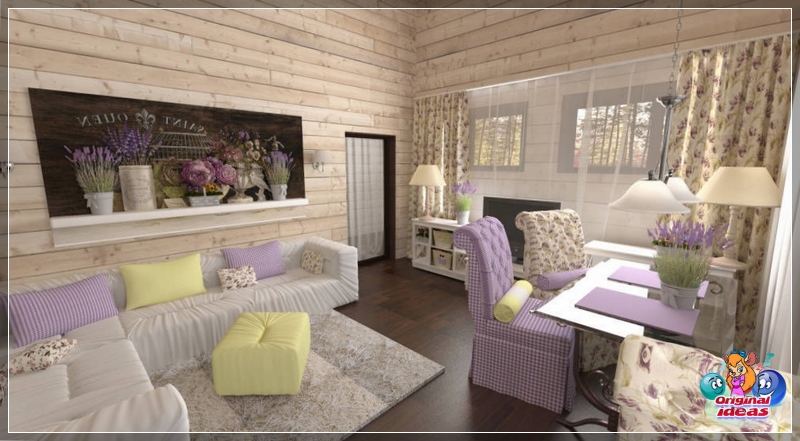 Provencal style room ideal solution for sophisticated natures
wooden boards are used;
light parquet is suitable;
a natural stone;
looks good ceramic tiles.
Don't forget about the details: paintings on the walls, lamps and rugs will perfectly complement your living room
It is desirable that the floor covering has a scuffed effect or is painted in light colors.
Ceiling. You can arrange it in several ways:
the plastered ceiling is painted white or sand;
dark wooden beams are placed on top;
visually delimiting the space, the ceiling is fully or partially decorated with wooden planks.
Window. The design of window openings is important when creating style unity in the room. Reinforced plastic white frames are not suitable, they should be replaced with imitating wood - light or dark. It is even better if the windows are made of real wood and painted in a light color. Window fittings are made of wrought iron.
Doors. Light door leaves are decorated with frosted or stained glass inserts, paintings with floral motifs.
Choosing furniture
Provence style is the best solution if you want to create a feeling of freshness, air and light in the room
The Provence style is one of the varieties of country, but the furniture in the Provencal interior looks more airy and softer. This is achieved by a number of design techniques:
furniture forms are convex, slightly pot-bellied, smooth outlines;
the furniture silhouettes emphasize that they are made by hand;
most often dressers, wardrobes, armchairs and sofas have graceful legs, carved or curved, raising them above the floor and visually facilitating;
the color of the furniture is light, looks good aged;
open wide shelves that are closed with textile curtains are welcome;
the height of the chests of drawers is slightly below average;
chairs, armchairs can be wicker or rattan, rocking chairs are suitable;
openwork forged products fit perfectly into the interior.
Furniture upholstery on armchairs and sofas should be in harmony with the rest of the interior, it is better if the pattern and color of the fabric will exactly match the design of the walls.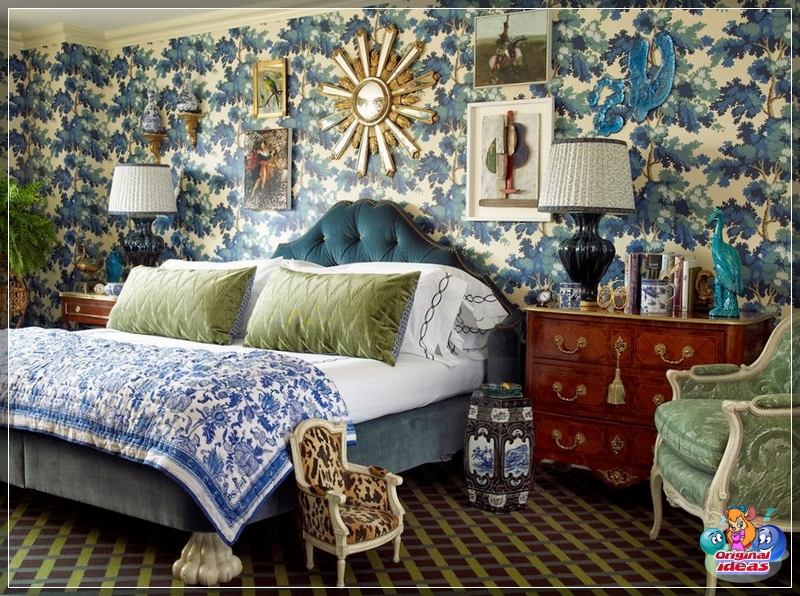 Do not be afraid to experiment with bright, unusual prints in the interior
Furniture items are not placed close to each other or strictly along the perimeter of the room, because symmetry is alien to Provence. Upholstered furniture line up around a low table or in front of a fireplace, making up a cozy group. The fireplace will immediately create a certain mood and fit perfectly into the style. Instead of a real one, you can install a false fireplace.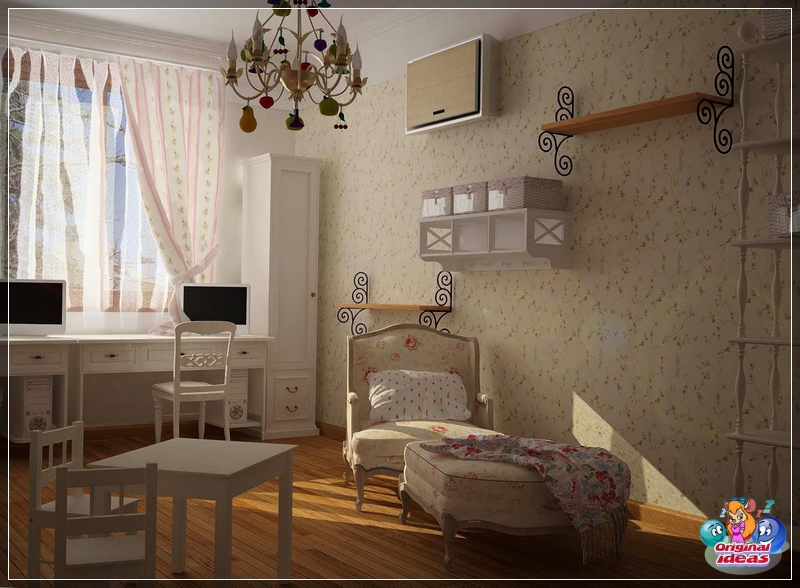 Floral patterns on wallpaper and furniture will perfectly complement a Provencal-style room
Open shelves of cabinets, dressers and tables serve as a place where numerous decorative elements stand, beautiful dishes are displayed. A mirror, oval or round, looks great over a dresser or fireplace.
Coffee tables are placed throughout the house, there are flowers in vases or pots on them.
Textile interior decoration
Provence-style room design is unthinkable without a variety of textiles. Most often used:
muslin;
wool;
cotton;
chintz;
linen.
Nuance: the textile print on all products must be the same and correspond to the general color scheme of the room.
Even with a strict color scheme, natural curtain fabrics and wooden furniture will help to recreate the Provencal style
For the Provence style, fabrics with a floral pattern are preferable, a vertical strip and a cage are suitable. Handicrafts look great: embroidered napkins, knitted blankets and rugs, chair covers.
Features of carpets:
rectangular or square;
any color, but the shade is as if burnt out;
white and blue carpets look great;
floral or floral ornament;
it is better to put several small carpets than one on the entire area of ​​the room;
pile is low or medium in height;
from natural threads.
Delicate colors, lace and open shelves are the perfect base for your ideas
Window curtains can be light, transparent, made of muslin, organza, lace, or even absent to allow the sun to look into the house more often.
Lighting in French
It is important to successfully combine interior details so that the room does not look clumsy
Provence is the edge of the dazzling sun, and therefore the more light in the room, the better. A luxurious central chandelier with crystal pendants and a large number of horns is hung in the living room; numerous sconces and floor lamps with woven lampshades are placed around the room. The body of lighting devices can be:
ceramic, including with a pattern;
forged;
bronze, covered with patina;
alloy of brass and aluminum.
Body color can be white, black or bronze. Horns are shaped like candles raised up. The lamps are decorated with decorative elements: painting, forged elements in the form of flowers, butterflies.
Accessories add charm
Provence style will be an excellent option for a nursery
Attention! The peculiarity of the Provencal style is the abundance of various accessories in the room. They are placed on open shelves, tables, dressers, hung on the walls.
Clocks, boxes, empty birdcages, candlesticks, vases, figurines, including a rooster, the symbol of the country, beautiful dishes are placed on all surfaces. On the wall there are paintings, photographs and herbariums in wooden frames, mirrors, decorative plates.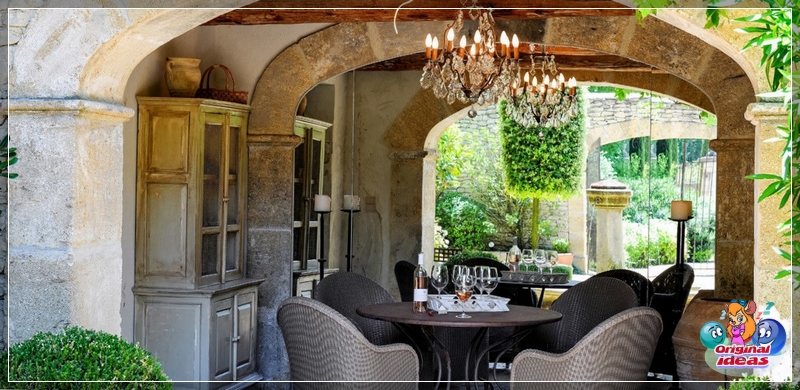 Provencal style looks especially harmonious in country houses
Another hallmark of Provence is the many fresh and dried flowers arranged around the room. The style allows you to use unusual containers as pots and pots teapots, watering cans, even rubber boots and boxes.
Small room in Provence style
For a Provence style room, it is better to choose furniture with upholstery in pastel colors
If the apartment has a small room, you can make a cozy Provence-style bedroom in it. The focal point, of course, is the bed. In the tradition of Provence, to install wide, solid, solid beds:
wooden, made of light wood or painted white, additionally decorated with carved floral ornaments;
forged graceful flowing outlines, they are also painted white.
A light canopy made of translucent fabric is appropriate over the bed.
Provencal style is a combination of home comfort and refined casualness
Compulsory furniture - bedside tables. If there is a lot of space, you can put a wardrobe, dressing table, couch. Everything is wooden, solid, durable, artificial aging looks good. Furniture is decorated with carvings, enamel and fabric inserts, forged elements. The decoration of the bedroom will be curtains with frills, flounces, lush, going down to the floor.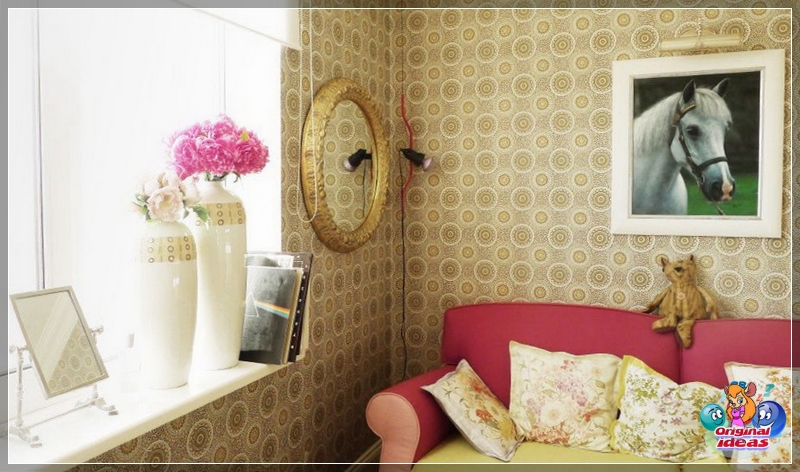 For Provencal-style bedrooms, light, unobtrusive decor elements are suitable
A small room can be a dining room. It is furnished with classic wood furniture with woven upholstery. Dining room center rectangular or round table. In the dining room, the walls are finished with textured plaster, it's good if you manage to place a fireplace or its imitation.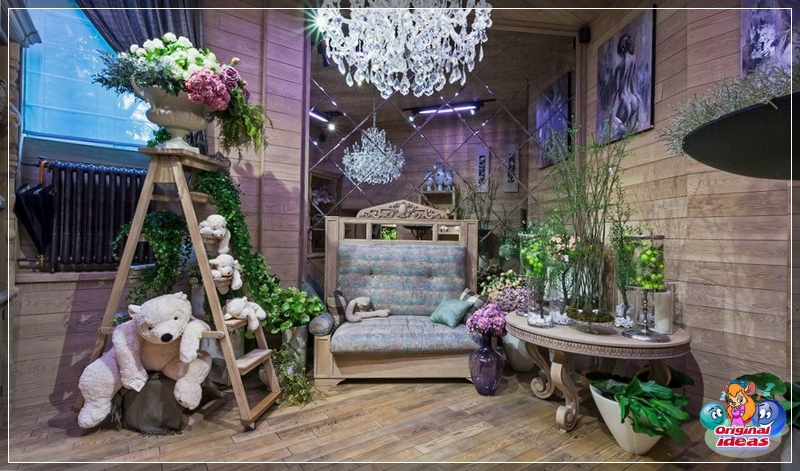 Flowers and natural plants will perfectly fit into a room in Provence style
Even a small room in the Provence style, photos of the best design options are presented in the gallery, does not look cramped, and thanks to the light decor, light and space are added to it.
Provence style room for a girl
The Provence style is one of the most popular for decorating a children's room for a girl. Every baby likes the color scheme, as well as the abundance of plant patterns. How to designate a Provencal style in a girl's room:
the walls are covered with wallpaper with small flowers;
warm homespun rugs are placed on the wooden floor;
elegant antique furniture is decorated with drawings;
you can store toys in wicker boxes or baskets;
a canopy is hung over the bed, many pillows are laid out on the bed;
vases with flowers, vintage toys are placed around the room, paintings and photographs are hung on the walls.
Charming room for a girl in Provence style
For a teenage girl who has matured and abandoned games, dolls give way to a large mirror with a dressing table or dressing table. A dressing table on curved thin legs, with many drawers, the front panel of which is decorated with delicate painting, will be a real gift for a young beauty.
The Provence style living room will become a place where you want to return
When deciding how to decorate a room for a girl, it is worth involving her in the process. Perhaps the young housewife will replace the toy boxes with a wicker rocking chair, instead of a study table, she will put a small table where a laptop can fit, and will replace children's pictures with Provence landscapes.
Provence style allows you to create a cozy comfortable room with minimal funds.