Children grow up, their tastes change. If at 5-9 years old girls like the abundance of pink flowers, and boys are Spider-Man, then in adolescence, tastes sometimes change radically. Following the changed addictions, the teenager seeks to adapt to his new personality and his room.
Even a small room for a teenager should be comfortable and match his taste
Parents should remember that a teenager's room is his personal space, where one cannot enter without asking and, moreover, change something.
You can arrange teenage rooms in different styles from severe Gothic to delicate Provence. But how to carry out repairs with small funds with the possibility of subsequent transformations? It is not known how the teenager will want to change his world tomorrow.
A room for a teenager should reflect his hobbies and tastes
The room is the basis for any style
So that after 2-3 years parents do not have to do repairs again, it is more practical to make a basic neutral design. In any case, the design of the room must meet the following requirements:
Practicality. The room can be quickly and easily cleaned up, things are neatly stored, the room has everything a teenager needs to study and communicate with friends.
Security. The decoration uses natural materials.
Creativity. The child can change the design of the room.
Black and white are considered basic colors, so you can use them in a neutral room design for a teenager
For wall decoration, neutral colors are suitable:
beige;
cream;
olive;
sand;
Gray.
Color accents are added depending on the style of the room.
For wall decoration it is convenient to use:
plastering followed by painting with acrylic paints;
paper wallpaper in neutral shades.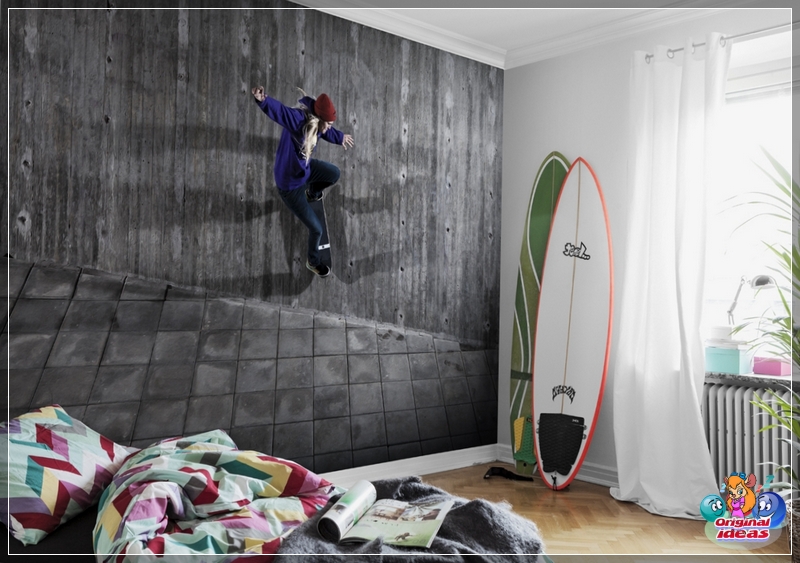 Themed wallpaper will help to complement the interior and personal space of a teenager
The floors are best made from parquet boards, cork or high-quality laminate imitating wood. These floor coverings are practical and suitable for any style.
Laminate flooring can be used as flooring for a teenager's room, which is suitable for a variety of styles
Supporting the idea of ​​creating a neutral base in the room, the ceiling can be of the following types:
tension;
plasterboard construction;
a combination of PVC film and drywall;
color white, blue, sand.
Stretch ceiling is perfect for the interior in a room for a teenager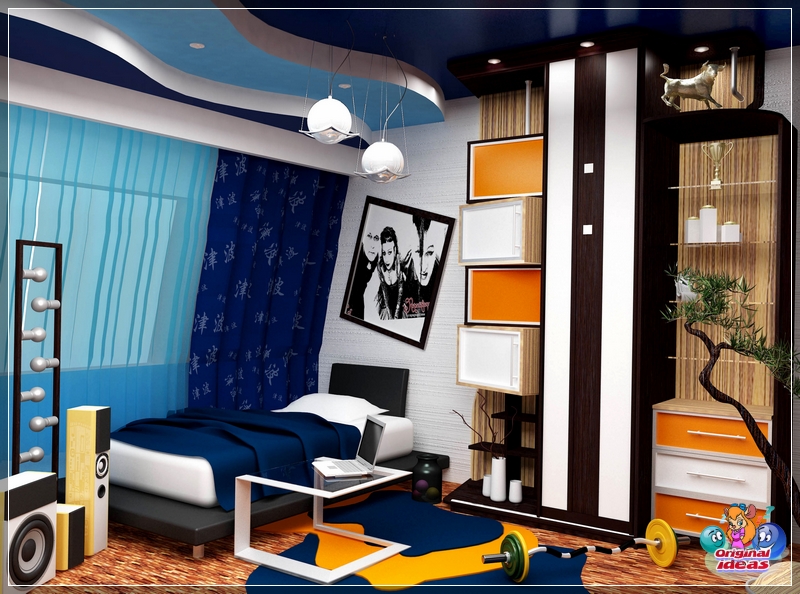 Using drywall, you can visually zone the ceiling
It is convenient to integrate part of the room lighting into the ceiling. It is better to choose lamps that are also neutral in shape and color.
Spot lighting in the room for a teenager perfectly complements stretch and false ceilings
Furniture in the room will require a wardrobe, a bed, a desk and a chair, as well as a chest of drawers, perhaps a sofa for guests or 2 armchairs, girls definitely need a dressing table.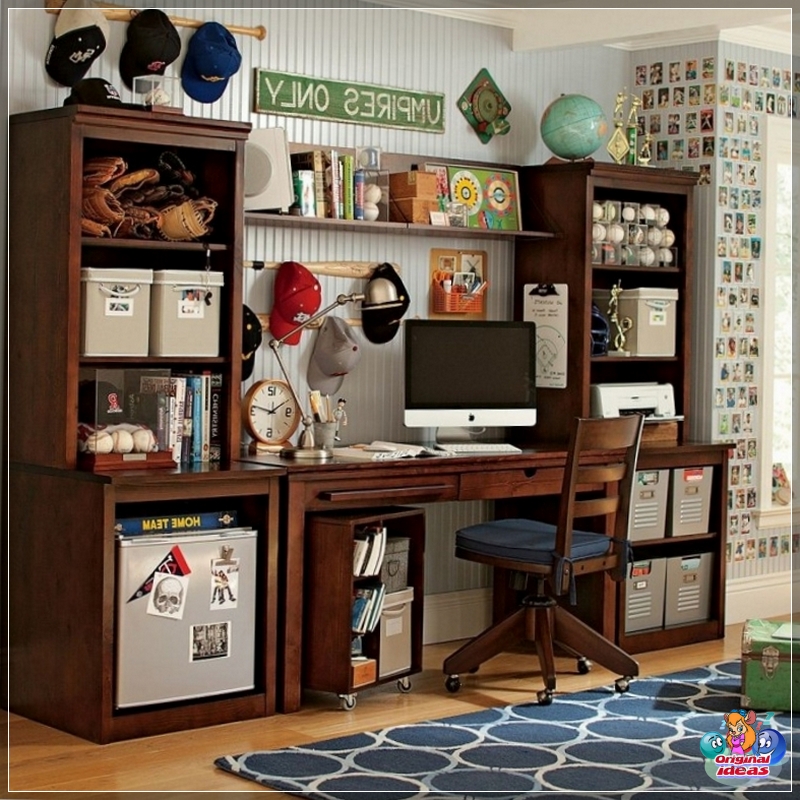 A workplace in a teenager's room should be comfortable and functional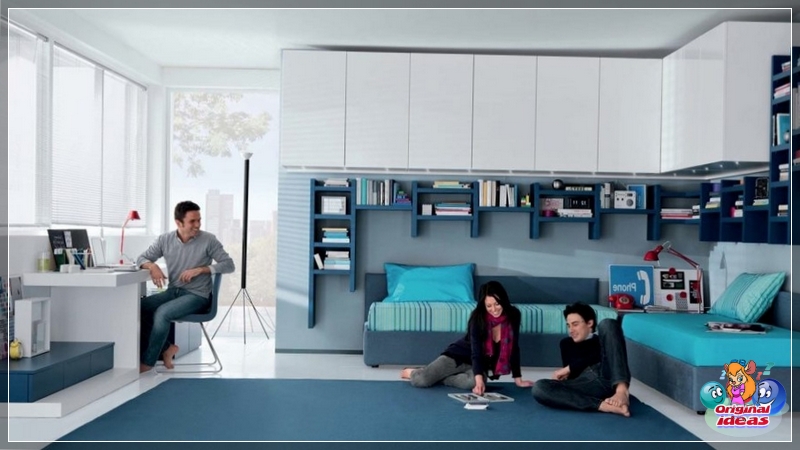 It's good if the teenager has a place in the room where you can get together with friends
In a room for a teenager, you can interestingly arrange a bed area
Having made a high-quality basic repair together with the parents, the child can take up the creative design of his territory.
Versatile room styles for teens
The child should be aware of how he sees his room, based on his own tastes and activities.
Important! There are a number of versatile designs that suit both boys and girls, reflecting general trends in youth culture. The difference will only show up in details, textiles.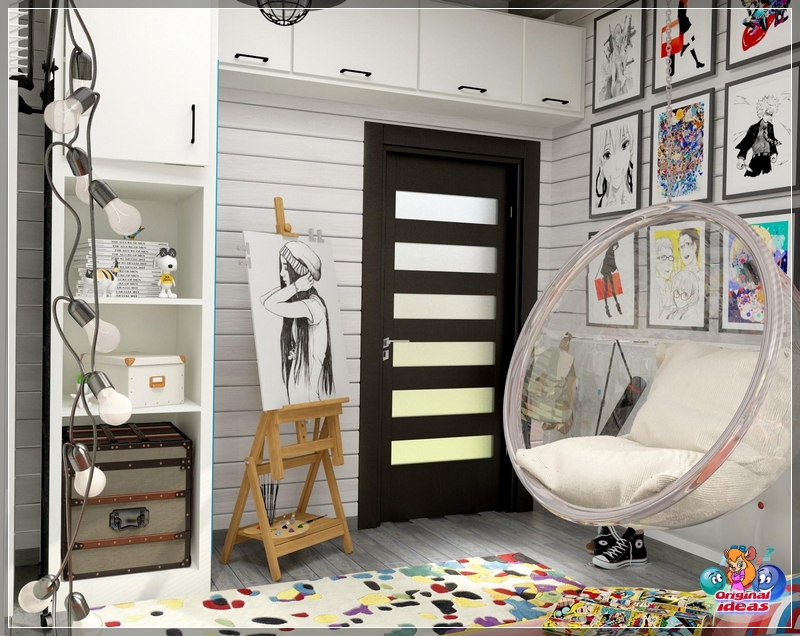 Youth culture should be considered in a room for teens
Surf room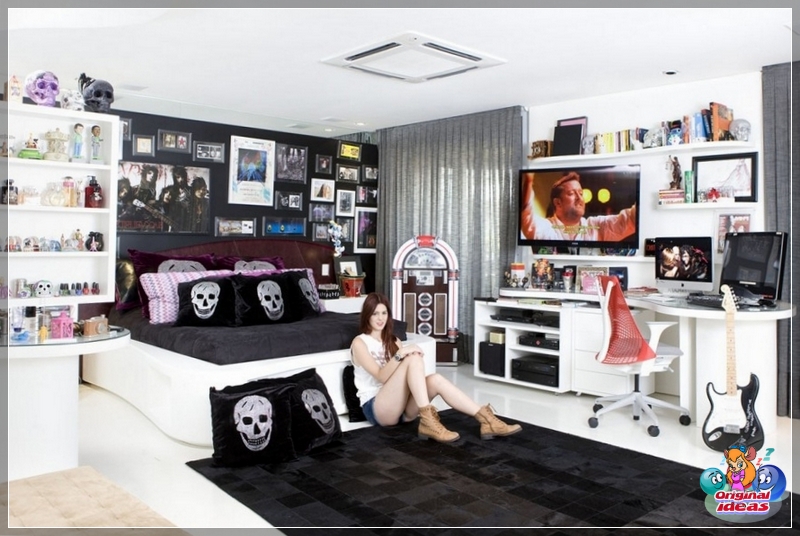 A room for a goth teenager does not have to be black, you can emphasize accessories
Such styles of rooms, their name is rather arbitrary, it is easy to implement in a room of any size:
musical;
sports;
high tech;
Scandinavian;
pop Art.
Musical style. If a child cannot imagine life without music, his room will become a continuation of his hobby:
neutral walls (light gray, sand, beige);
wall decoration - posters with your favorite musicians, painting in the form of musical notation or a scene, photo collages;
the headboard is decorated with a huge vinyl record;
simple light furniture is additionally decorated with stickers or stencils on a musical theme.
Walls can also be decorated in a musical style
Room for a teenager - guitarist - favorite instruments, posters on the wall, amplifiers and speakers
A certain area can be allocated to practice music in the room
Sports. An energetic style for those who train or cheer for their team:
the walls are decorated with team attributes, posters with sports stars;
one wall should become a sports corner (horizontal bar, barbell, exercise bike);
decorate the walls with murals in the form of a sports arena, silhouettes of champions, a stylized image of a particular sport;
if the child has his own trophies, they can be put on a special shelf;
favorite team color prevails.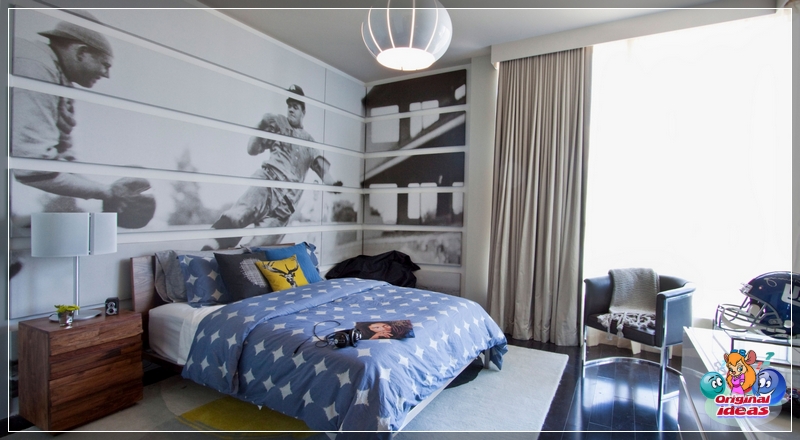 In the room for a teenager, the walls can be decorated with wallpaper or panels in a sporty style with the players of your favorite team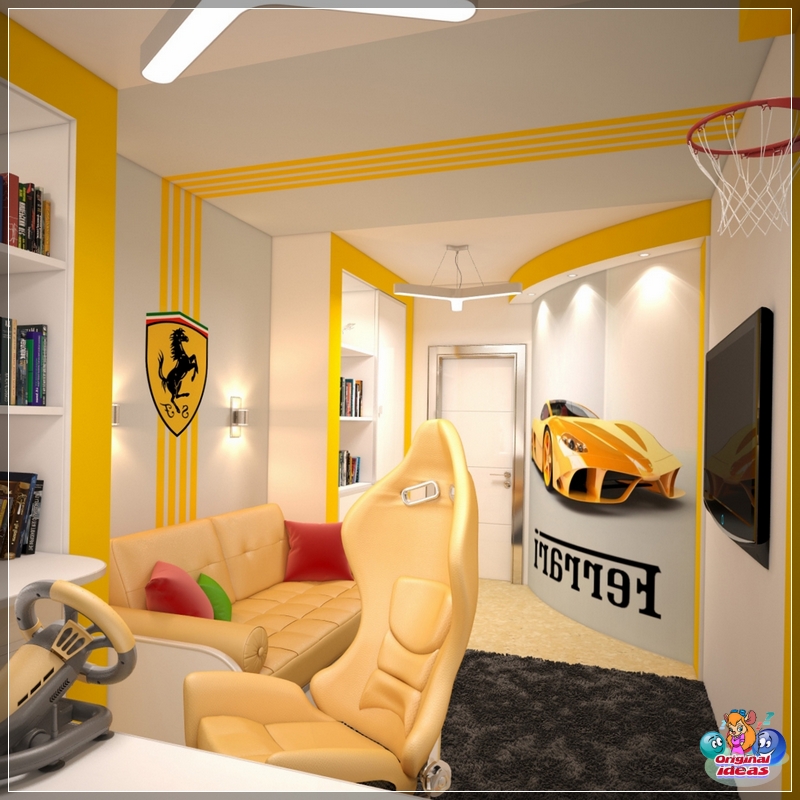 Ferrari lover's room decoration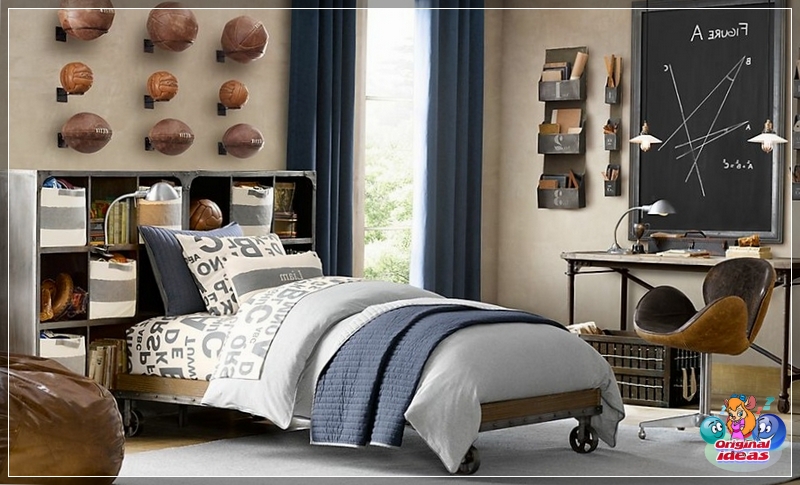 A teenage sports room can include sports attributes, for example, torn balls can not be thrown away, but used as accessories
High tech. The ultra-modern design of a high-tech room is distinguished by the spaciousness of the room and the versatility of objects:
a minimum of furniture is used, but each item is transformed or folded;
chrome-plated metal elements;
many technical devices;
multilevel lighting.
The high-tech teen room has a lot of metallic shades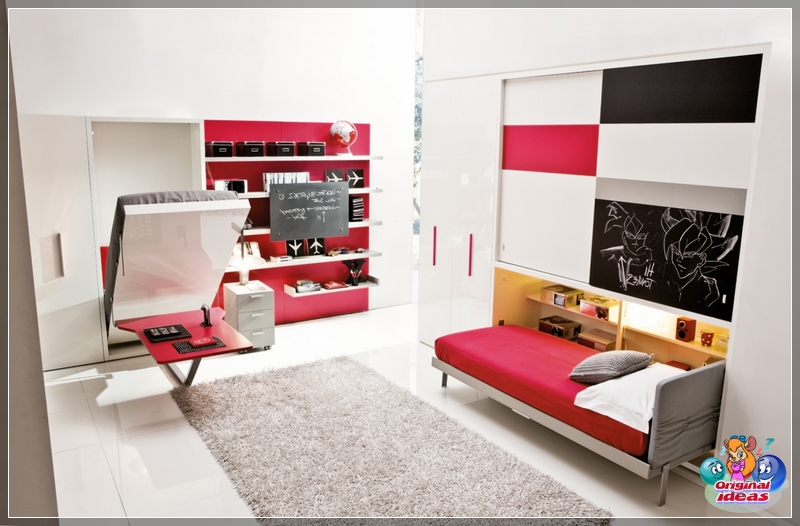 To decorate a teenager's room in high-tech style, it is relevant to use transformable furniture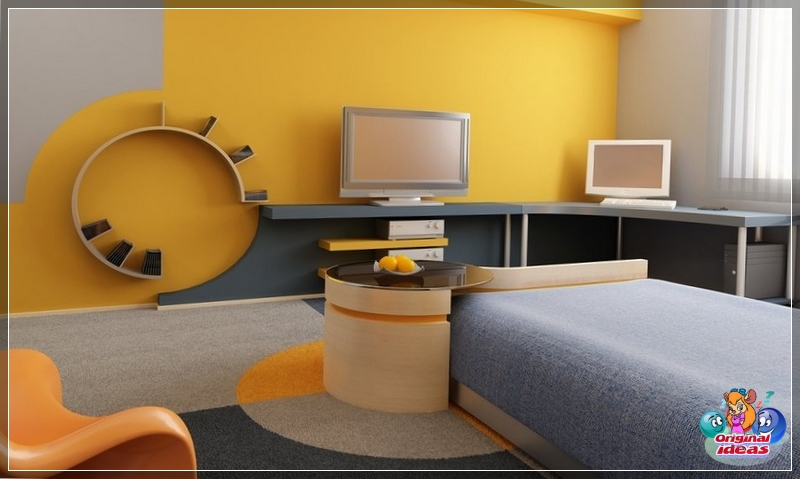 A high-tech teenage room is a combination of modern style and an abundance of technology
Scandinavian. Gives complete freedom of expression, so it is great for growing up and girls and boys who are engaged in creativity, compose or draw:
style colors - black, white, gray with bright accents;
minimum of furniture;
selection of textiles in soothing shades;
you can hang a large TV on the wall.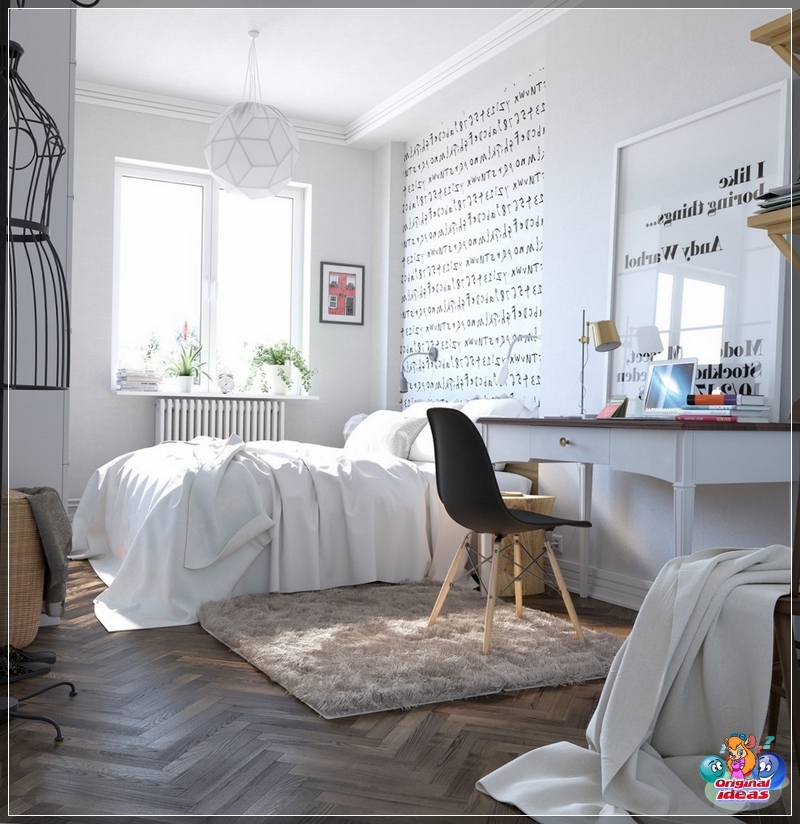 A Scandinavian-style room for a teenager is an abundance of light and white, as well as the use of natural materials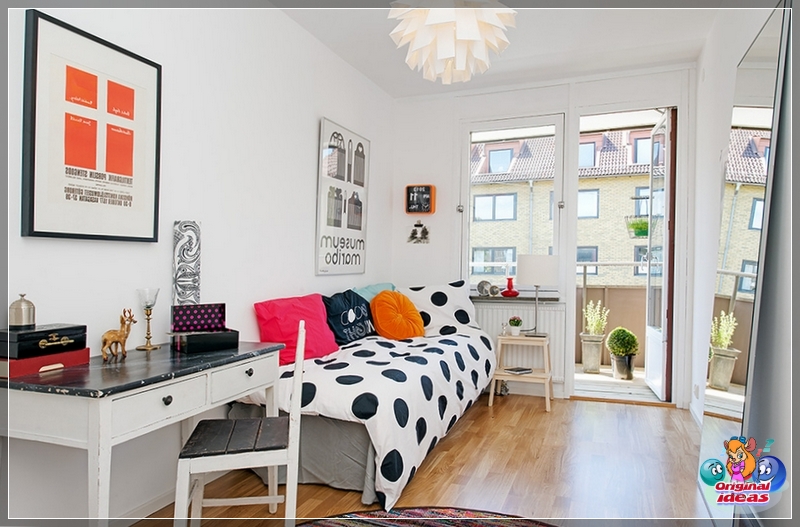 Scandinavian style can be complemented by small color accents indicating the gender of the child
In a Scandinavian-style teenage room, simple, ascetic forms are often present, complemented by geometric patterns in textiles
Pop Art. A dynamic style for those who have not decided on their passions or, on the contrary, who have too many hobbies:
each wall can be painted in its own color - red, orange, blue, green;
if the walls are plain, then large bright posters and graphic paintings look great on them;
furniture with plastic facades of a futuristic look;
the sofa is always bright, with lots of pillows;
doors and windows can also be painted in rich colors.
The pop art room for a teenager has a lot of bright colors and shades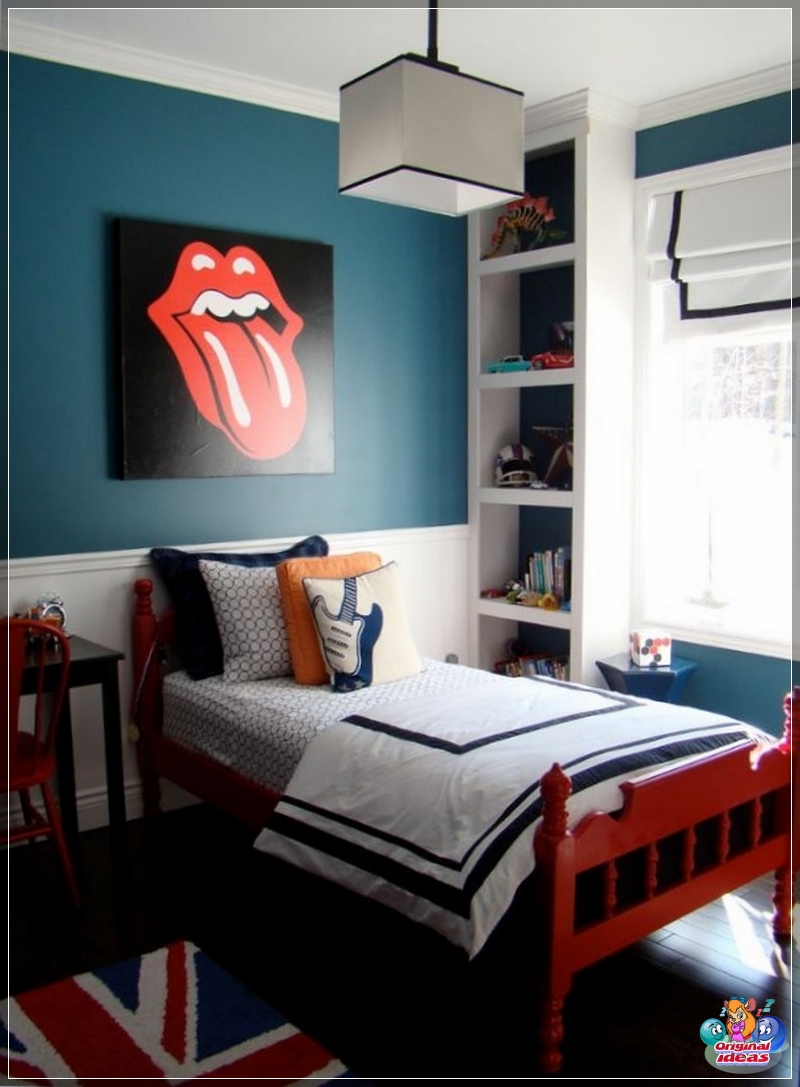 Pop art walls in a teen's room are usually painted in vibrant colors to hang a variety of colorful hand-drawn posters or paintings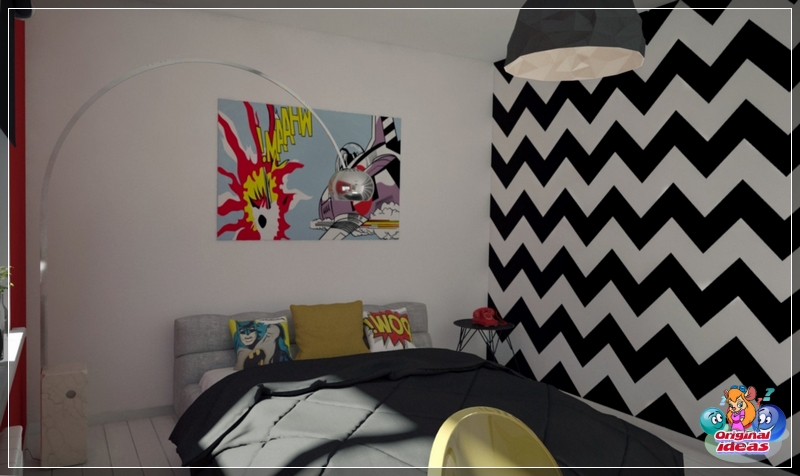 in the room for a teenager in the style of pop art, comic motifs are often used
American style. One of the features of the style is the arrangement of furniture. The bed is certainly installed with the headboard against a blank wall in the center of the room. A few more distinctive features:
open shelves for books, CDs, trifles;
bright colors of textiles against the background of white or beige walls;
furniture of classic shapes, walnut or white;
one wall can be painted black and decorated with graphics or used as a reminder;
many local light sources on sliding mechanisms.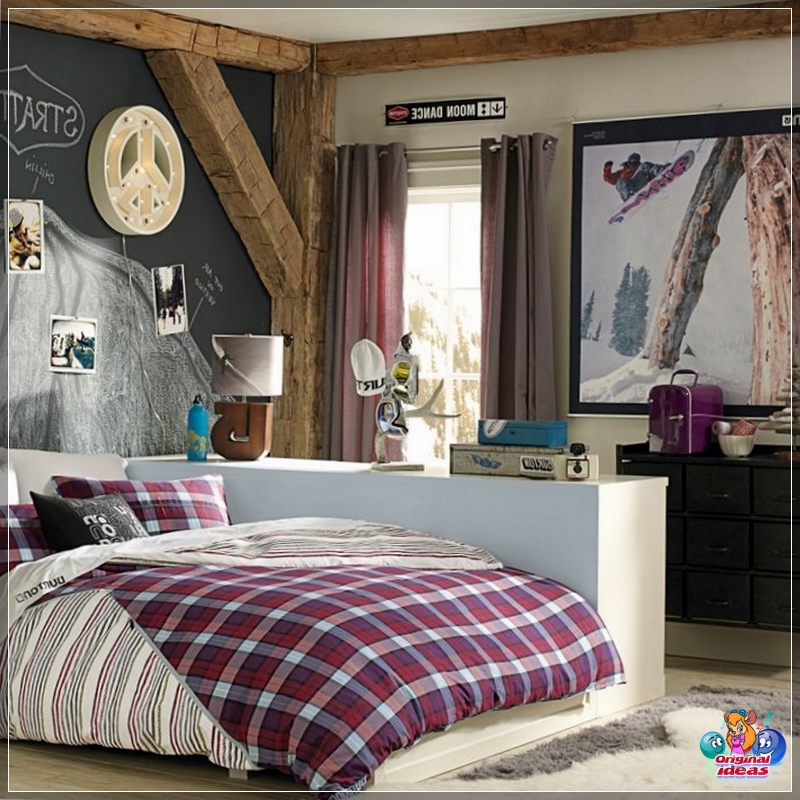 The bed in the American-style teenager's room is usually large and voluminous, located with the headboard against a blank wall
In an American-style teen room, you can often find a reminder board above the workplace
A girl's dream come true
Based on the character of the daughter, you can offer her several options for how a charming room for a teenage girl should look like. The styles are as follows:
Modern. It is characterized by smooth lines similar to the grace of plants. In such a room, it would be appropriate to make an asymmetric floor, highlighting the sleeping area and a place for meeting with friends. The design uses gentle pastel colors, floral ornaments. Drawings decorate not only textiles (curtains, carpet), but also furniture. Forged products look good, for example, a headboard or shelves. Furniture should be streamlined, airy, light.
The modern room for a teenage girl is a combination of modern comfortable style, flowing shapes and calm colors
In a room for a teenage girl in Art Nouveau style, floral ornaments and drawings may be present
Nuance! an interesting design solution - to decorate one wall with painting, drawing a Parisian cafe overlooking the Eiffel Tower.
Provence. The style remains popular for many years, because its main feature is romance and tenderness.
The main features of the style:
colors: milky, beige, pink, lilac, violet, lavender, blue;
flower drawings;
wooden furniture gives the impression of being old;
a light tulle canopy over the bed and lots of pillows;
forged elements.
In the room for a teenage girl in the Provence style, you can find floral textiles that emphasize the romantic and airy atmosphere
Light grace wrought iron bed in a kmonat for a girl in the style of Provence
Shabby chic. Growing up in such a room is a pleasure, because the interior testifies to the inextricable connection of times, strong family relationships.
How to define shabby chic:
purchase elegant semi-antique furniture;
color palette: shades of white (creamy, milky, cream), pink, blue;
decorate the ceiling with stucco or its imitation;
floral designs, birds are used in the decoration, it is appropriate to make inserts from stripes and cages;
decorative details play a special role: many colors in various containers, commemorative toys, photographs.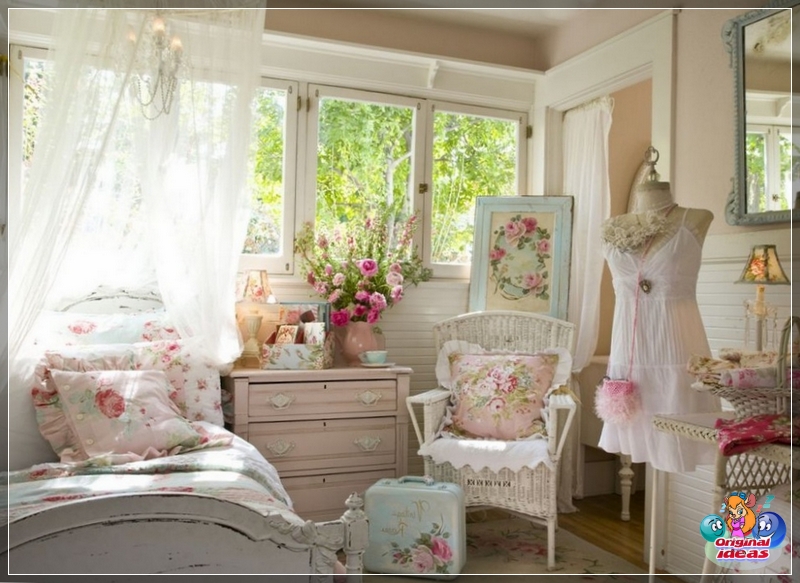 The shabby chic girl's room features antique or specially aged furniture, floral designs and commemorative accessories
For a shabby chic style, delicate romantic colors such as blue and pink are suitable
A shabby chic room with a vintage feel
Room decoration for a young man
The expressive atmosphere of the room will help the teenage boy actively implement his ideas, invent and create. When choosing interior content, the priority is the desires and hobbies of the child.
note! There are styles in which teenage rooms are most often decorated, each time bringing something unique, peculiar to a particular child.
Military. Camouflage in desert color or green will help to decorate the military interior. Blind cabinet doors or walls are painted for camouflage, appropriate textiles are selected. Strengthen the style unity of color - accents of marsh, sandy. Furniture is needed durable, massive, made of rough wooden planks or leather.
Wall decor will help create an atmosphere:
painting depicting military installations, landscapes from the battlefield;
stencils depicting the military;
photos of equipment.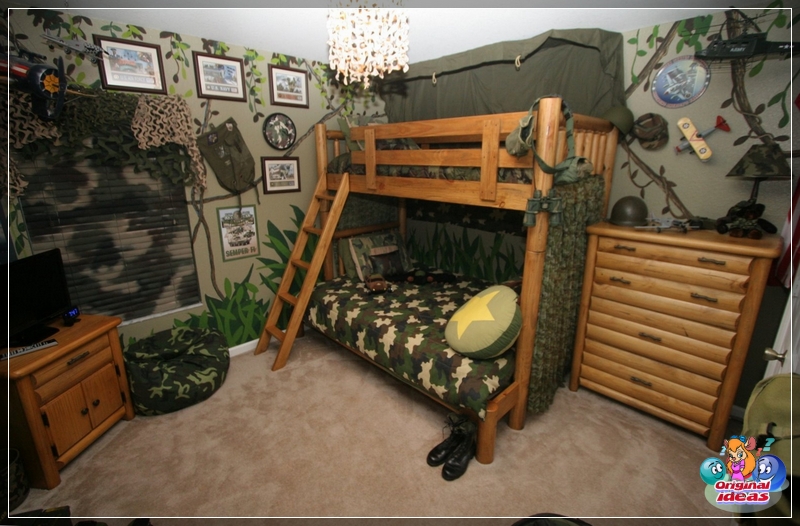 Camouflage pattern and tarpaulin will help to give a military atmosphere in the room for a teenager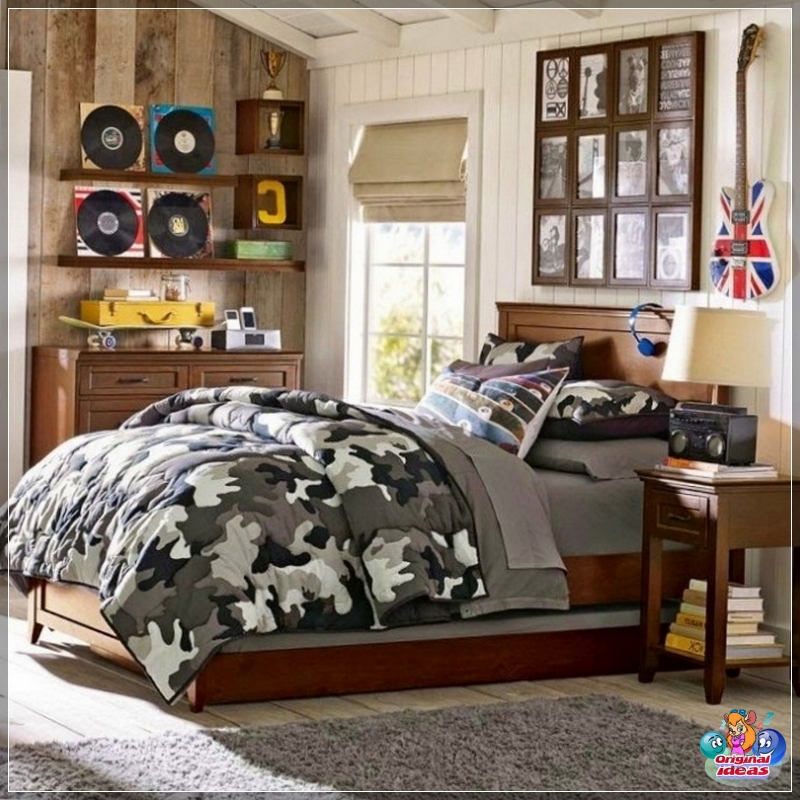 You can not overload the room with military elements, but make some military accents
Minimalism. A minimalist room is ideal for a technically gifted teenager, because it is appropriate to install all kinds of technical devices here. Equipment is placed on open shelves.
Peculiarities:
the color palette is limited to 1-2 colors, monochrome finishing is possible, diluted with 1-2 bright spots;
furniture of elegant geometric shapes, slightly elongated horizontally, with painted or wooden facades;
chrome decor elements: lamps, desktop decoration;
on the windows - metallized blinds.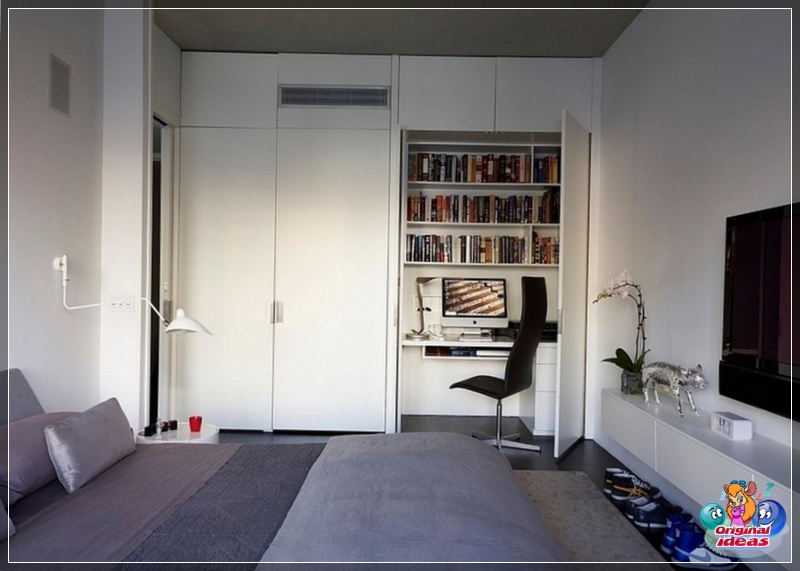 Some elements in a minimalist room can be hidden behind doors and drawers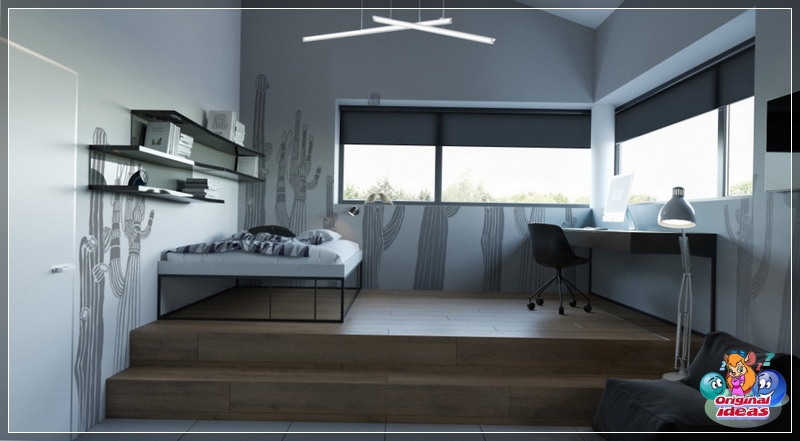 The interior of the room for a teenager in the style of minimalism excludes unnecessary details and accessories, which creates an atmosphere of spaciousness
Japanese. If the young man is fond of oriental martial arts, perhaps he will be attracted by the design of the room in the Japanese style:
the color of the walls is plain, white, olive, sand;
natural materials are used for decorative finishing - bamboo, stone, straw;
low rectangular furniture, the bed can be replaced with a tatami.
The interior of a room for a teenager in a Japanese style is the use of natural materials, a low bed, and you can often find images of bamboo in it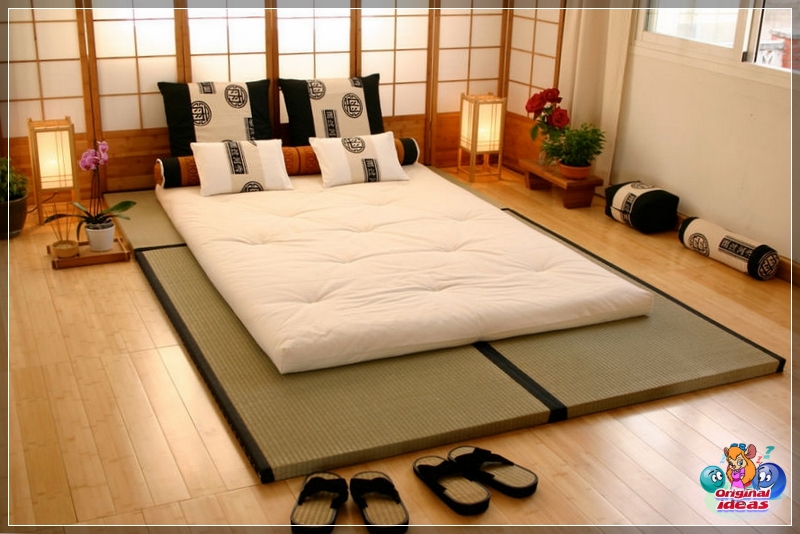 Japanese-style decor is great for very small rooms, where you can use a tatami mat as a bed, which can easily fit into the closet after sleep
Minimalism reigns in a Japanese-style room
Loft. Industrial design ideas often resonate with adolescents through the freedom to express themselves. There is a place for everything in such a room.
This design direction allows:
combine different textures and materials in the decoration of walls, ceilings, furniture;
openness of communications;
the presence of a significant amount of equipment - even a bicycle or motorcycle may have a place.
in a loft-style room for a teenager, you can often find brick walls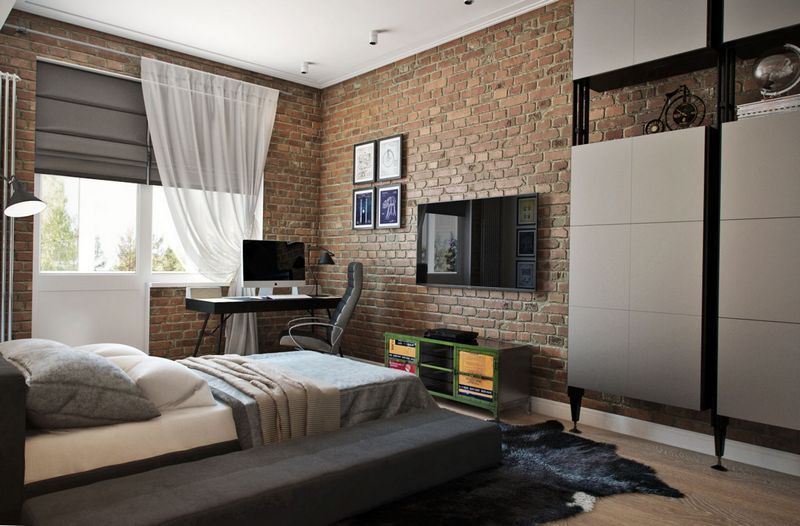 In a loft-style room for a teenager, in addition to brick walls, you can find gray concrete shades
In a loft-style room for a teenager, a sleeping place can be arranged in a loft bed under the ceiling
When choosing a style for a teenage room, it is worth remembering that this room is a child's personal space, so he has every right to express his wishes in interior design.