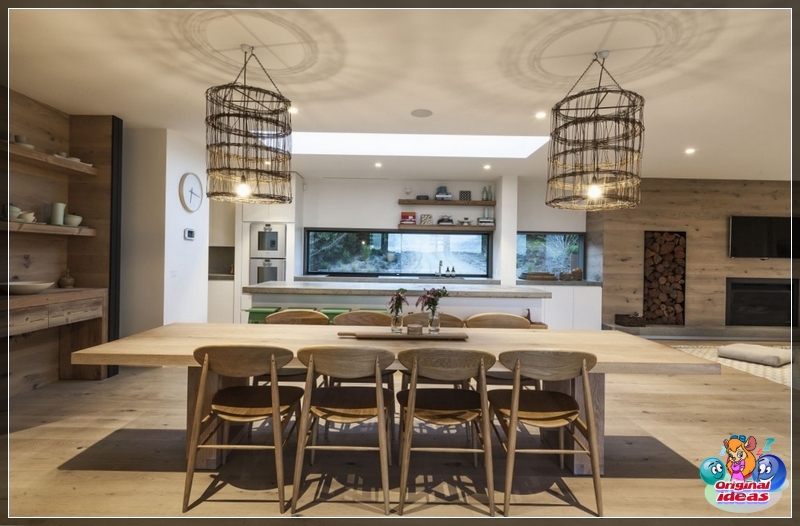 Eco-style kitchen is perhaps the most practical of all the proposals for decorating a place where food is prepared. Its distinctive features can be considered the presence of a large amount of greenery in pots and the decoration of the room with natural materials.
Light, ascetic eco-kitchens attract people who strive to lead a healthy lifestyle, use sprouted cereals and greens in their daily diet, fight for a clean environment, and welcome the recycling of old, worn-out things.
Eco-style kitchens look like bright, spacious rooms, which are equipped with additional lighting devices that allow you to turn the cooking area into a small greenhouse where herbs are grown.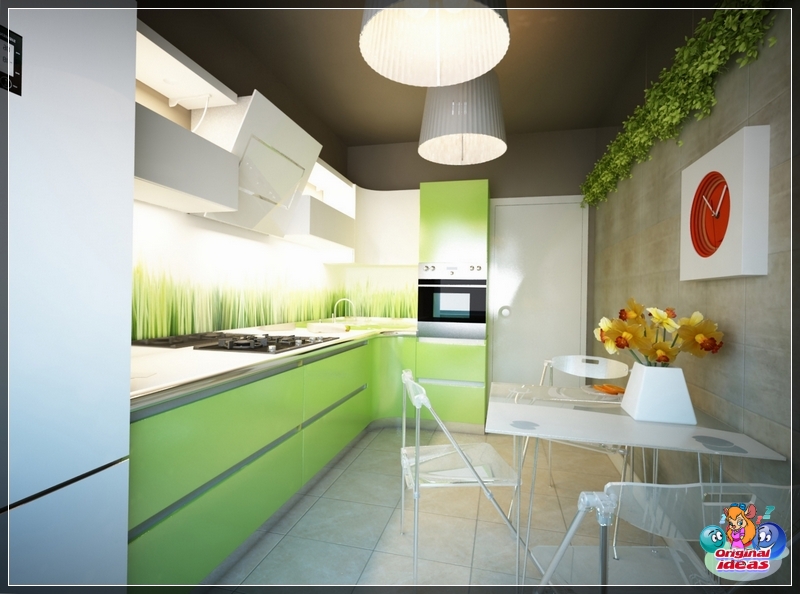 How to prepare a room
The floors in the eco-style kitchen are covered with a wooden floorboard. Ceramic tiles or stone can be used to create a working area, and a cork or parquet board is suitable for the dining half.
The walls can be laid out with bricks, partially plastered and whitewashed, and partially painted over the masonry without additional processing. To paint the walls of the kitchen, buy water dispersion paint. The apron is decorated with ceramic tiles or tempered glass. For him, they choose finishing materials with a large floral pattern. It can be sunflowers, red poppies, daisies.  The wall located near the dining table is decorated with polished stone or tiles that imitate natural material.
On a note! Stabilized moss treated with glycerin can be used for finishing one wall.
It retains a pleasant appearance for a long time and forms a green carpet on the wall, soft and pleasant to the touch.
The ceiling can be painted white to achieve a visual enlargement of the room. It can be divided into sections using two longitudinal beams or squares of dark wooden planks with a surface whitewashed inside. Window frames, interior doors, skirting boards, platbands are made of natural wood.
In the eco style, all shades of white are welcome, which are in good harmony with green and brown decor elements.
Then the general impression of an air space filled with bright natural colors is created. All earth colors from dark gray to terracotta can be used as complementary colors.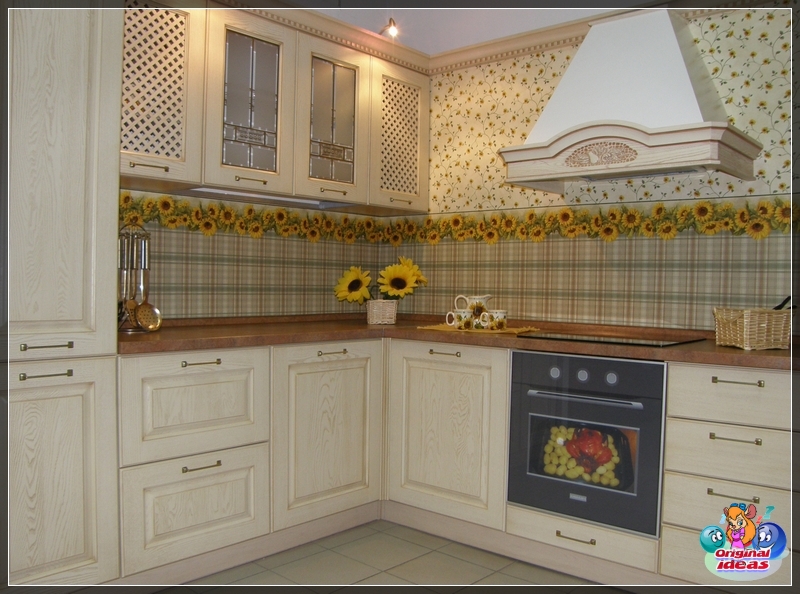 Style details
Eco-style kitchen textiles should be made from natural fibers. Linen, cotton and bamboo are suitable for sewing Roman curtains, tablecloths and napkins. From these materials in bright monochromatic colors, you can sew chair covers, pillowcases on cushions.
Bamboo stem blinds, balsa wood or rattan woven hot dish coasters complement the eco-style in the kitchen. In a kitchen created in eco-style, wicker baskets look great, which are necessary for storing small things and food. They are filled with bread, fruits, homemade cookies and rolls. Decorative panels wicker made of natural materials that decorate the walls fit perfectly into the overall atmosphere of the kitchen. To decorate tables, shelves or cabinets, use transparent vases filled with beautiful stones, shells, colored beans. Children like to sort them out, waiting for lunch or dinner.
Important! Plants in the kitchen become a significant part of the interior.
An open shelf or niche is specially allocated for them, where they will be well lit. Plants can be located on the windowsill, hang over the work table so that you can reach them. On a note. Laurel may be in the kitchen. Its pleasant scent naturally refreshes the air, and the leaves are added to dishes as a spice.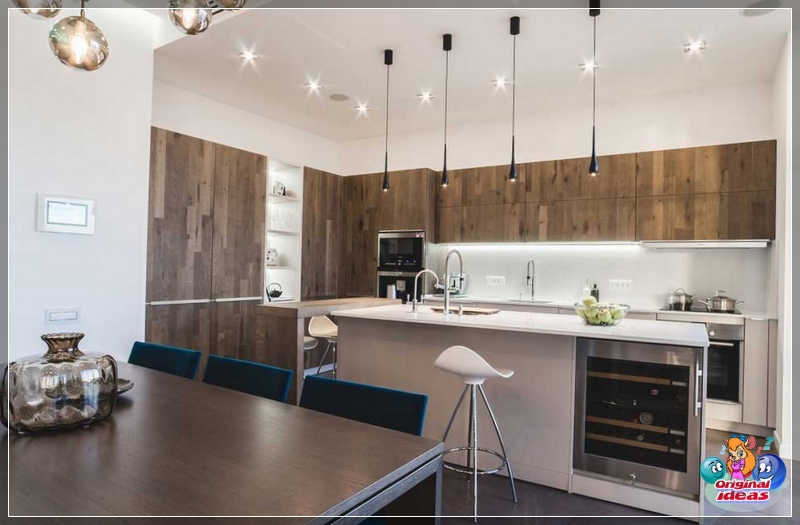 The carpet laid in the dining area can be homespun, made from wool or sisal. Eco-style kitchens, the photos of which are available below, can be decorated with the most unexpected things - this can be seen in the pictures.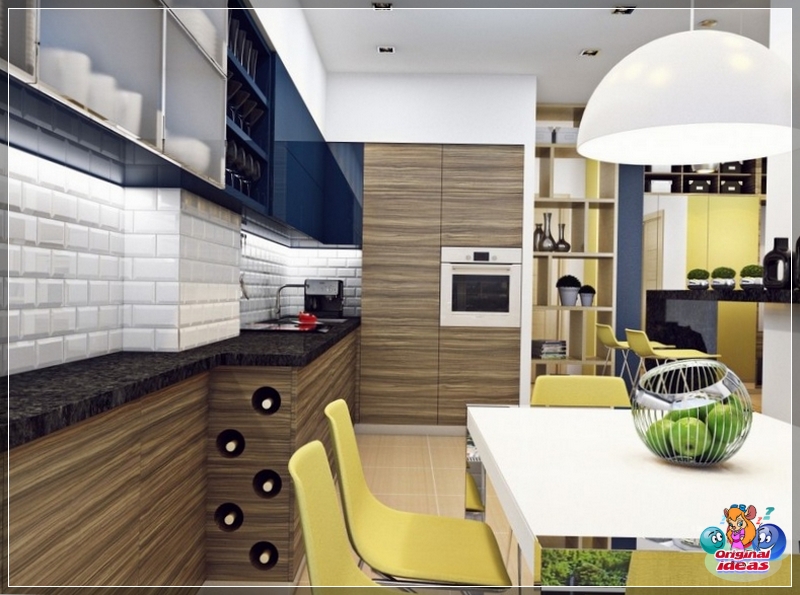 On a note! Household appliances in the eco-kitchen are present in minimal quantities.
Use only those electrical appliances that are difficult to do without.
All appliances that make life easier for the hostess are built into kitchen furniture or niches that mask them so that they do not betray their presence.
Since the lighting must be bright, panoramic windows, glass partitions and artificial light from LED lamps are used. Bulbs can hang from the ceiling without a lamp or have the most primitive lampshades made from natural materials.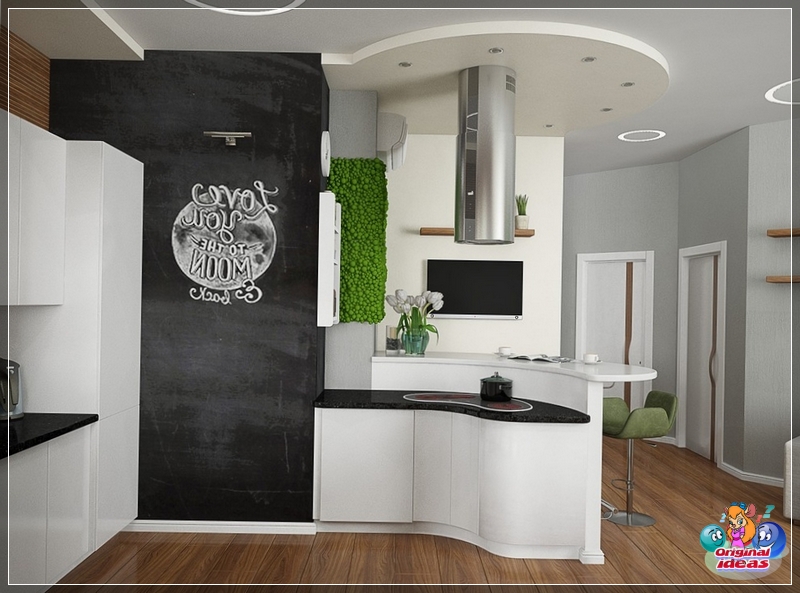 Which furniture to choose
Ecological style requires furniture made from natural materials. You can buy a kitchen set of simple shapes, made of particle boards or plywood, partially decorated with inserts of glass and natural stone.
Kitchen furniture can be made by hand. Suitable for eco-style wicker rattan or vine furniture. For small rooms, in order to create visually more space, glass countertops are used, which are almost invisible from afar. They are installed on processed driftwood, which looks very original.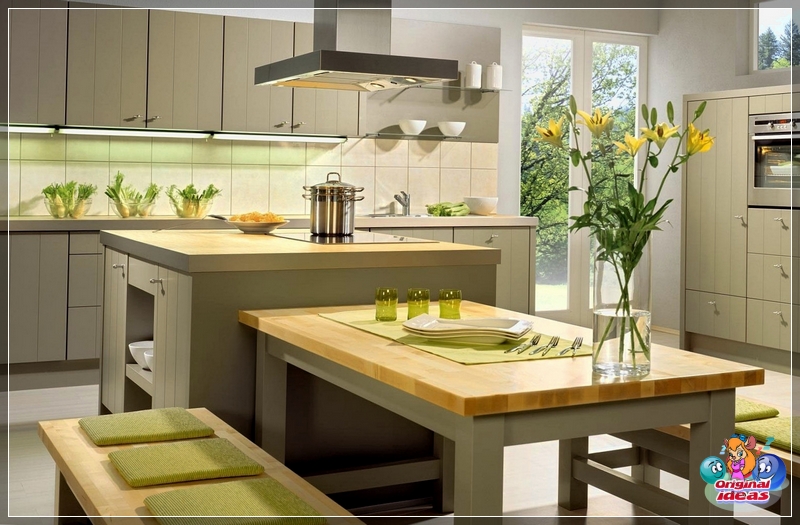 In a large room, a worktop made of tightly fitted wooden boards looks interesting in the interior of the kitchen.
A massive wooden table in the dining area, furnished with heavy wooden chairs with hard backs and soft pillows will resemble episodes from folk tales.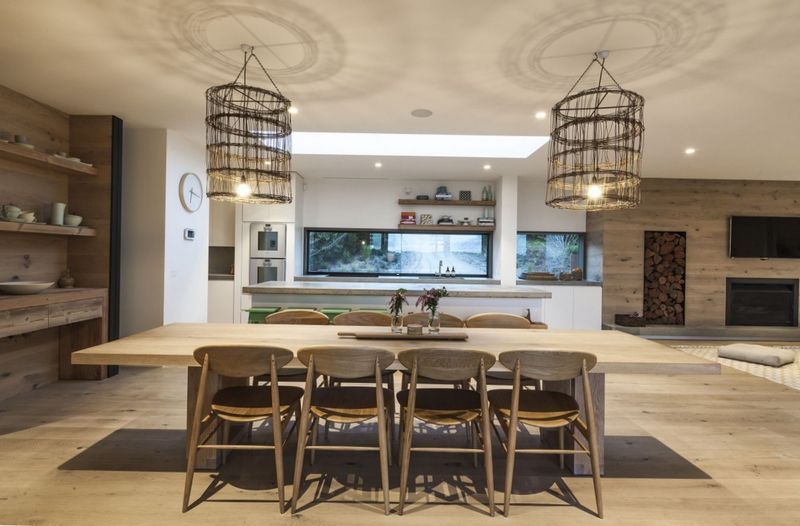 Rough benches that once decorated peasant huts will help to create a unique look and originality.
Instead of stools, you can use wide and high chocks, stumps of wood, sanded and varnished.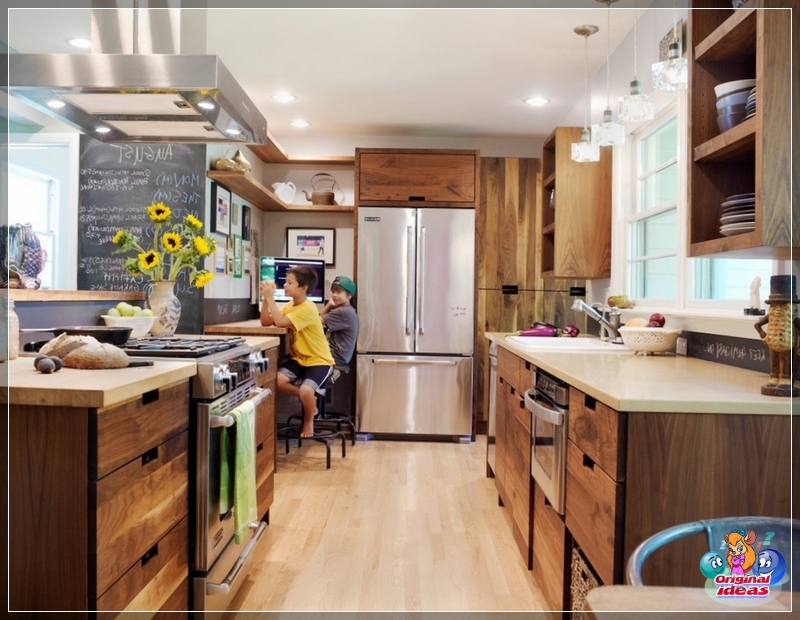 Open shelves with accessories are an irreplaceable part of the eco-kitchen interior. They can be angular or longitudinal and stretch across the entire wall. Often, designers offer to diversify the kitchen with minimalistic furniture. These can be small shelves made of rough boards, which are used for zoning the kitchen.
Important! When buying furniture, you need to give preference to those made from those materials that can be recycled without littering the environment with waste. This fundamental rule must be observed in eco-style.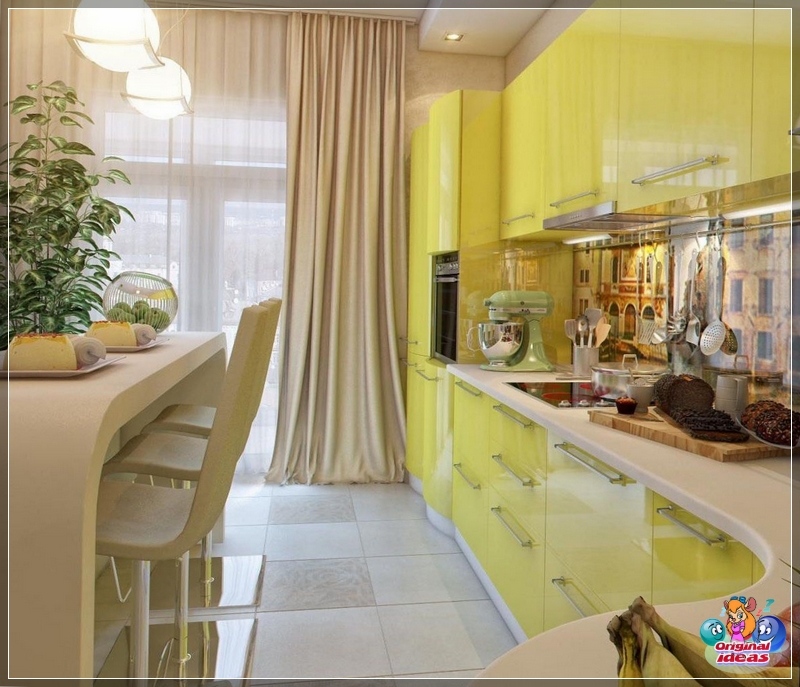 When creating an eco-style in the kitchen, you should be careful in the selection of interior details so that the modern style with an ecological focus on the stylization of the Russian hut with an abundance of benches, wooden shelves and wooden barrels of flowers does not occur. Three striking details inherent in this style are enough to make the room recognizable.