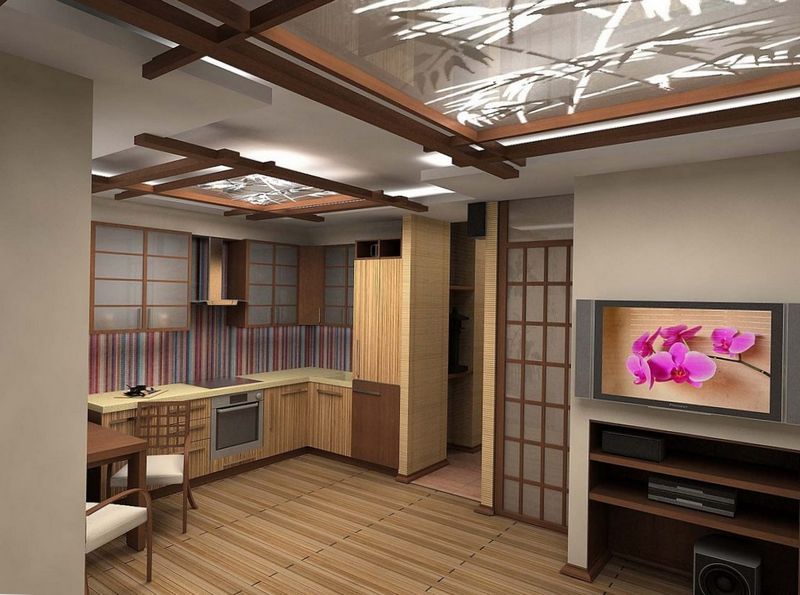 Chinese style cuisine is designed using feng shui rules. The Chinese in interior design always strive for minimalism. This allows them to achieve an energetic balance of the four elements.
Natural materials are used to arrange the kitchen space in China. A special feature of the decoration is a combination of items of red, dark brown and black, located on a white background.
A Chinese-style kitchen should not only be a place for food preparation, but also promote sublime calm contemplation and muscle relaxation. Kitchen rooms are usually small in Chinese dwellings.
Their interior is different from that of Chinese restaurants and eateries, where there is much more space. All rooms have general trends that should be taken into account in the design.
What the room looks like
A different approach to decorating a Chinese-style kitchen can be seen in the photo below, allowing you to understand what needs to be done to create an interior that should carry the principles of a thoughtful attitude to life.
Important! In the kitchen, rectangular shapes and intersected planes should prevail, which are created when decorating walls and ceilings.
For wall decoration, the Chinese most often use painting or plastering.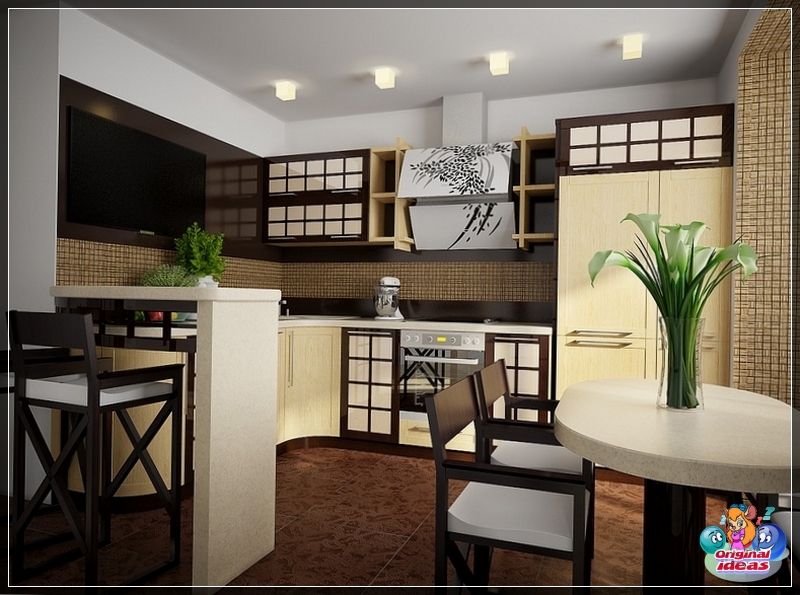 Sometimes they are sheathed with wood or bamboo panels. Walls can be pasted over with wallpaper, which has a pattern imitating the texture of silk fabric with hieroglyphs or patterns in an oriental style.
These can be images:
pagodas;
pandas;
goldfish;
bamboo branches;
dragons;
flowers.
On a note! A light kitchen apron is made in the working area, which visually expands the space of a small kitchen.
To create it, you can choose tiles with geometric patterns, which suits the Chinese style due to its brevity and rigor. Skinal aprons will look beautiful.
These are decorative panels made of durable glass with Chinese symbols applied to it by means of photo printing. This finish matches perfectly with plastic kitchen furniture with shiny, closed fronts.
The ceiling is decorated with white squares, which are formed by framing wooden beams, treated with wood stain and covered with dark varnish on top.
The floor in a Chinese style kitchen can be covered with dark wood planks.
They can be replaced with a laminate imitating a wood texture with a black and red sheen. Large walnut-colored tiles in the working area will look organic.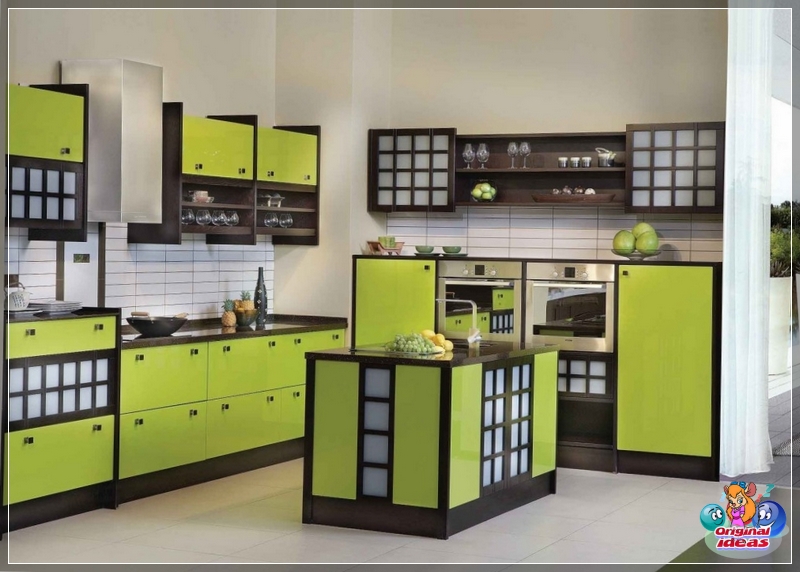 What furniture is right for this style
The Chinese do everything based on the recommendations of the ancient teachings of feng shui.
Advice. Before creating a Chinese atmosphere in the kitchen, you need to familiarize yourself with the basics of ancient philosophy, because this doctrine claims that furniture, arranged taking into account the cardinal points, attracts well-being into human life.
A Chinese kitchen can have a minimum amount of furniture. The basic rule when choosing furniture requires that all objects have rounded shapes that will smooth out the squares found in the decoration of the walls and ceiling.
Important! The minimalism of the Chinese reached such an extent that they began to use built-in and transforming furniture and appliances.
For example, such a set: stove, work table and dining area. This kit is only suitable for a tiny kitchen.
For more spacious rooms, visually divided into dining and work areas, furniture is purchased at your choice. It will be either a traditional kitchen set made of wood, or furniture made of acrylic plastic, on the facade of which drawings are applied in the Chinese style.
Work and dining table tops can be finished with marble slab or porcelain tiles. Single-legged dining tables with a round or oval glass top and a shelf are in vogue, visually increasing the space in small kitchens.
The pieces of furniture in the dining area are arranged, forming a diagonal line going from one corner to another. In this way, you can set a bamboo coffee table, hard benches, stools, chairs. A large table is installed only when there is a need for it. A family of three will fit perfectly at the glass coffee table for breakfast and dinner.
If the house has preserved antique furniture made of natural wood, then it can be cleaned of old paint and painted in the desired color. She will become the main attraction in the kitchen. All other pieces of furniture must match it.
If there is an opportunity to purchase any cabinet furniture suitable for the kitchen in an antique store, then each item can be given the desired stylistic effect by changing its color and decorating it with a characteristic ornament.
When ordering a set for a Chinese-style kitchen, you need to opt for cabinet furniture painted in dark cherry color and varnished.
Kitchen appliances should be built into kitchen furniture and match in color with it, so as not to stand out from the general background.
What decorative elements are used
In the design of Chinese-style kitchens, the photos of which are presented below, various decorative elements can be used. For zoning in such a kitchen, lighting devices in the form of side lamps and hinged shades can be used. You can purchase lamps in the form of traditional red paper lanterns, which aesthetically fit with their rounded shapes in the rectangular details of the interior walls and create the effect of a Chinese interior.
The kitchen may have screens or openwork wooden lattices dividing the room into two parts. They must have a Chinese style - they can be decorated with various gilded inserts, silk painting, wood carvings.
There must be bamboo blinds on the Chinese kitchen window. A curtain covering a doorway is usually made from peach pits and bamboo stalks. It can be purchased at any Chinese store. If the kitchen needs a door, then its outer contour is made of wooden planks, and the middle is made of a decorative lattice. Bells are hung on the doorway, which attract good luck with their ringing.
Chinese porcelain will undoubtedly become a decoration of the kitchen. It can be tableware for everyday use and formal dinners, a set for a tea ceremony. A floor vase with Chinese symbols and table figurines look good in the interior.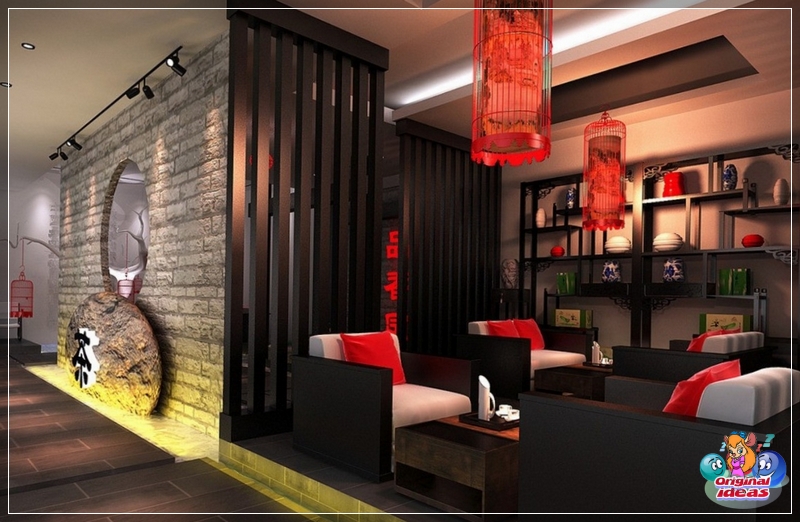 Textiles in Chinese cuisine are presented in a minimal amount. Oriental interiors require a lot of silk cushions that are stacked on wooden seats. The room is abundantly decorated with bamboo products. It can be:
mats laid in the dining area;
decorative panels;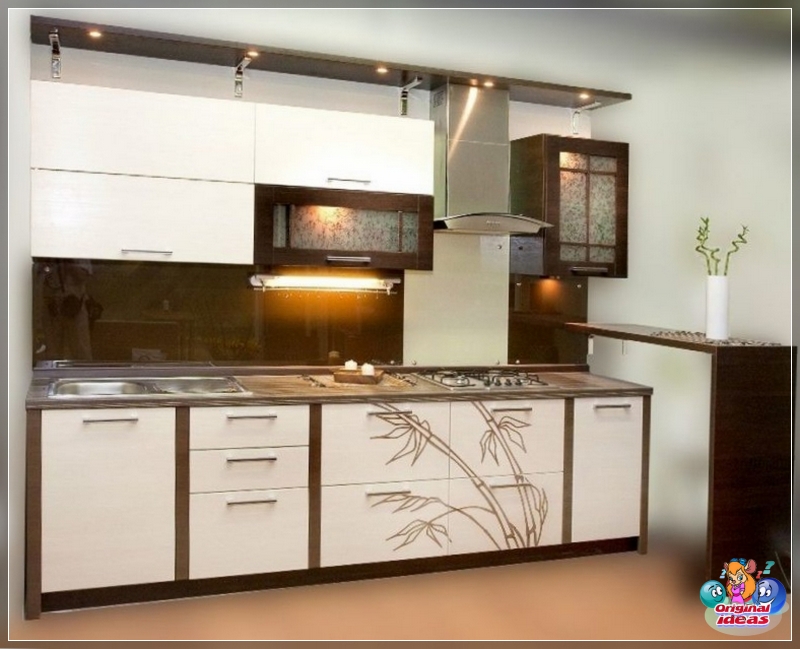 dessert baskets;
coasters for pans or pots.
Bamboo is used to make the fiber used in kitchen towels and napkins. They should be in the kitchen too. They are selected in different colors to make the kitchen more cheerful.
In a conspicuous place in the interior of the kitchen, there may be wooden Chinese sticks, which will also carry a decorative function - you can make a panel of them or put them in a glass for napkins.
Close cooperation between China and Russia allows you to quickly select decorative material to decorate the kitchen, taking into account the national traditions of the Chinese people