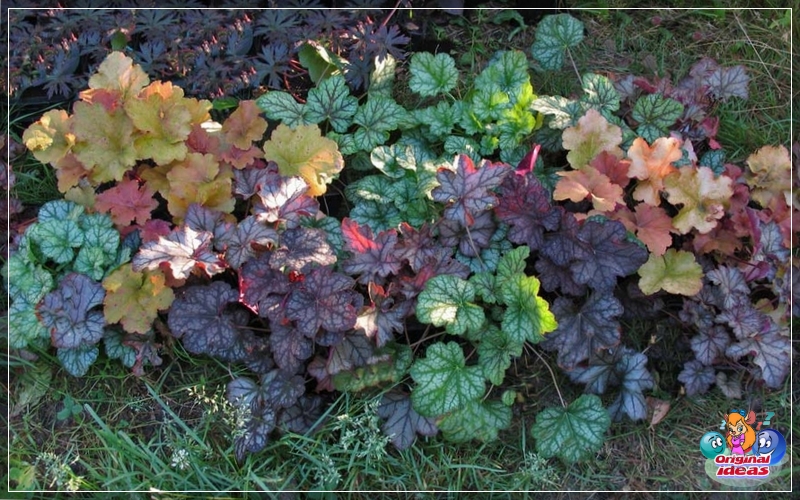 Geykhera Sadovaya impresses even the most fastidious connoisseurs of garden exoticism. Garden decorators and experienced amateur gardeners very often say that correctly selected plants will help create an unforgettable picture on each site. For this, Heuchera is often used in landscape design. A photo of this plant and tips for caring for it can be found in the proposed article.
Description of Heuchera
Geichera is a perennial representative of the saxifrage family. Heuchera was first discovered in the mountains in western North America. Gradually, this plant spread to other regions.
Geichera is a perennial representative of the saxifrage family
Leaves with a wide color range are recognized as the main feature of heuchera. The freshness and decorativeness of this plant is preserved from early spring until the onset of the first cold weather. Therefore, Heuchera in
landscape design is used very often. In the photo you can see various options for using this plant for decorating a garden and a local area.
Landing place
The appearance of heuchera, the appearance of flowers and the brightness of the leaves are largely determined by the correct choice of the place for planting the plant. Young Heuchera grows better in the open sun. However, it needs to be protected from wind and cold.
Young Heuchera grows better in the open sun
An adult Heuchera, as a rule, thrives on almost any garden plot. Although some varieties are best planted in areas where the sun only hits in the morning.
The site, planting and care in the open field, where the Heuchera will grow, will be successful if the soil is nutritious, light and permeable. Indeed, when water stagnates in the ground, the root system begins to rot and the gradual death of Heuchera.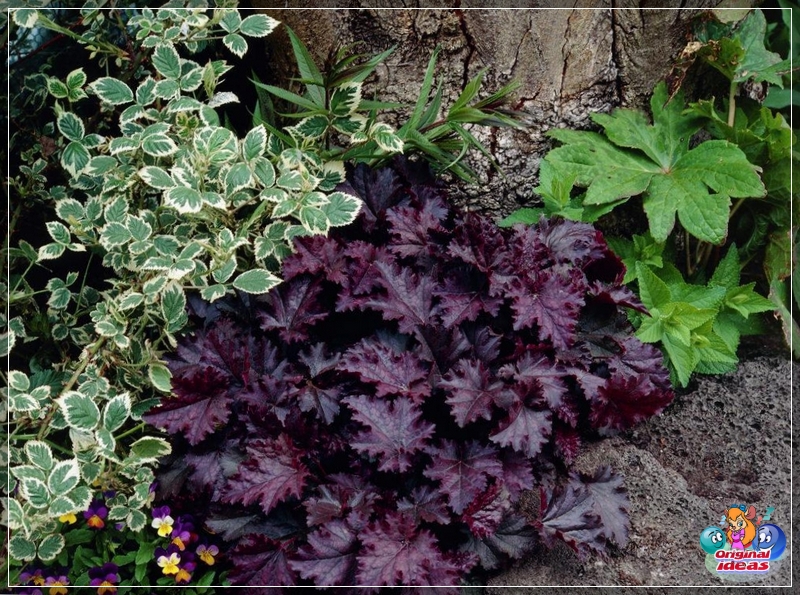 The soil for Heuchera must be nutritious and permeable
Growing and caring
In order for Heuchera to grow well, caring for it consists in periodic feeding with mineral fertilizers. At the same time, the concentration is required half as much as for other horticultural crops. Excess fertilizer has a negative effect on Heuchera. After all, it originally grew on poorly nutritious mountain soils. With excessive watering, the root system rots. Therefore, you need to water the plant carefully. Hilling of heuchera is carried out no more than once a year, when the base of the plant grows above the ground level.
Heucher needs to be periodically fed with mineral fertilizers
Heuchera reproduces by dividing the bush
Heuchera, planting and caring for which was carried out correctly, loses its aesthetics every 3-5 years. In this case, the plant can be transplanted. It is preferable to do this before or after flowering. For example, in the spring after the appearance of new leaves or in the fall, when the plant has finished blooming.
Transplanting Heuchera preferably before or after flowering
For transplanting, the heuchera is carefully dug up and divided into several small bushes to expose the main stem. It is trimmed to young tissue. Dead shoots should be pruned to small live small-hatch buds. They are located in the axils of dead old leaves. After that, it is necessary to shorten the overgrown roots and remove their rotten areas, leaving only healthy tissue. All cuts are sprinkled with crushed charcoal.
After transplanting, the plant must be protected from excessive sun
For planting, you need to choose a shaded place and dig holes measuring 30x30 cm. They are filled with ash and any fertilizer from the number of mineral or compost. Then a plant is planted, which must be watered immediately. The accretion of a new root system usually occurs within 40-45 days. All this time, the plant needs to be covered from excessive sun. Then the Heuchera can be transplanted to the permanent place intended for it.
Heuchera reproduces well by seeds
How to grow Heuchera from seeds
Heuchera reproduces well by seeds. The seeds remain viable for about six months after being harvested. When stored in foil packaging, the viability of seeds increases up to one and a half years. This is something you should pay special attention to when buying seeds.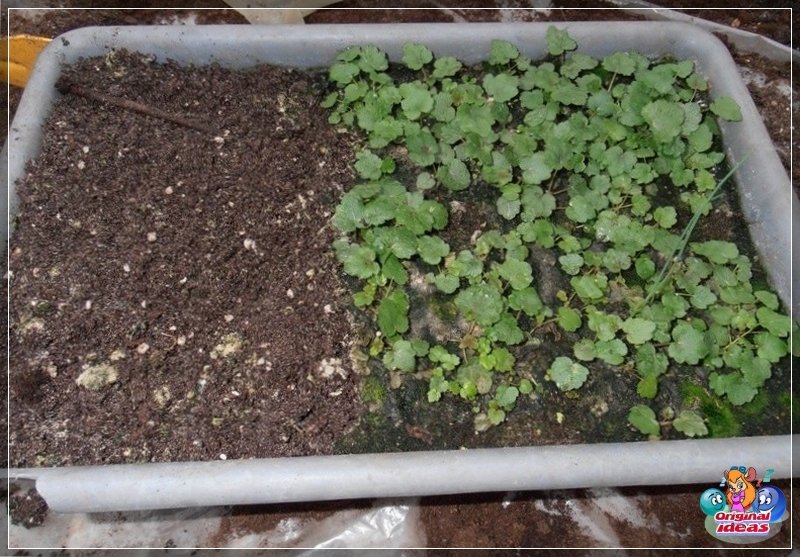 Sowing of Heuchera can be started at the end of March or at the beginning of April
Seeds are planted in wide vessels with a height of 5 cm or more. You can use, for example, plastic food containers. It is necessary to fill in them with loose soil with the addition of perlite or sand. Seeds are planted only in heated soil. To do this, you need to hold it in the oven or in the microwave immediately before disembarking, but no more than 5-7 minutes. Another option for heating the soil is pouring boiling water. In this case, sowing begins after the earth dries up.
Sowing can be started in late March or early April. It all depends on the characteristics of the climate in a particular region and on the illumination. To make the seedlings of Heuchera uniform, the seeds are mixed with sifted sand.
To make the seedlings of Heuchera uniform, the seeds are mixed with sifted sand
Having very small seeds, heuchera planting requires a superficial method without additional deepening. The soil for sowing must be moistened, loosened and leveled. After uniform distribution of the mixture of seeds and sand, the container is closed with polyethylene or glass.
To provide seedlings with a sufficient amount of light, containers with it are best placed near a window. Draft can kill seedlings. At the same time, one should not forget about periodic airing of the room where the seedlings will emerge.
Draft can kill seedlings
The first shoots usually appear in 15-20 days. Then you need to slightly raise or make holes in the glass or plastic covering the seedlings. The seedlings are cut open after the appearance of the initial 3 leaves. In this case, the distance between them must be at least 4-6 cm.
Shortly before the onset of cold weather, the seedlings need to be wrapped in spruce branches
Young shoots should be grown in moderately moist soil. Overdrying or excessive waterlogging of the soil can destroy the Heuchera seedlings. In order for the outlets to form before the onset of winter cold weather, the seedlings must be taken out into the open air around mid-May. A reservoir with shoots is dug into the ground in an area protected from direct sunlight. Shortly before the onset of cold weather, the seedlings need to be wrapped in spruce branches.
Application of Heuchera in design
The popularity and prevalence of the ornamental perennial garden plant Heuchera in landscape design is due to a number of its features, in particular:
beauty, compactness and unpretentiousness;
low exactingness to growing conditions;
shade-loving with high tolerance to direct sunlight;
ease of reproduction and resistance to disease;
preservation of decorative qualities throughout the season;
the possibility of growing on stones or near water;
lack of conflict with other plants;
growing both in open ground and in containers;
variety of varieties and species;
frost resistance.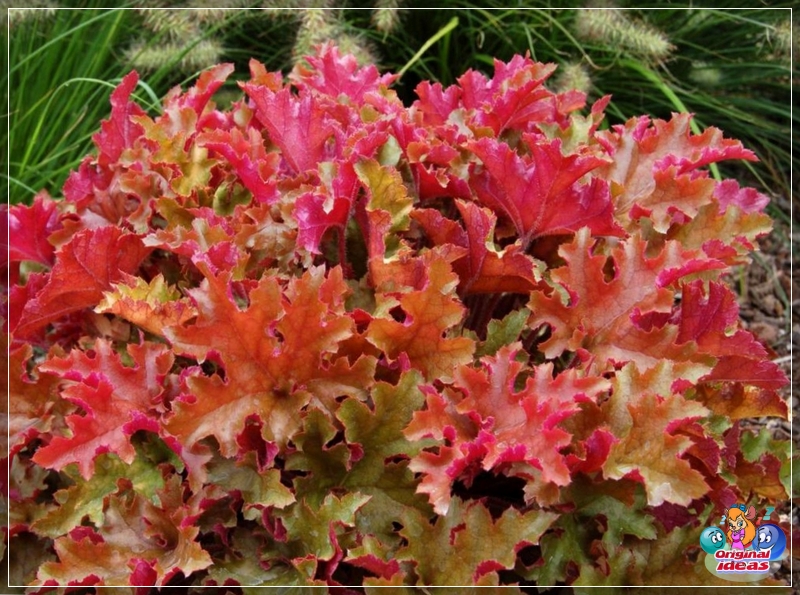 Geichera retains its decorative qualities throughout the season
These properties and features of Heuchera make it almost indispensable in landscape design for both beginners and experienced gardeners. The variety of Heuchera varieties, the number of which is approaching half a thousand, allows you to choose a single plant for every taste or use several varieties to create original compositions.
Heuchera is disease resistant
It should be noted that one of the most common methods of using heuchera in decorating an area is decorating a flower garden with a low density of vegetation. Heuchera bushes allow you to mask bald spots or empty areas formed during the seasonal rotation of plants, thereby forming a smooth transition from one group of plants to another. Due to the fact that heuchera does not lose its attractiveness practically during the entire growing season, it is an important decorative element
design of a flower garden or a separate flower bed.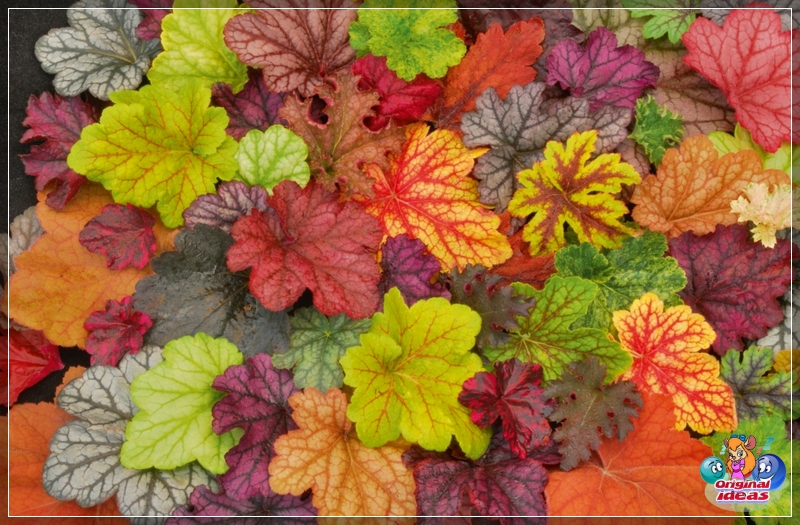 Heuchera is often used to decorate borders, flower beds or flower beds
One of the natural properties of the heuchera bush is the ability to maintain a constant shape for a sufficiently long period. In this regard, heuchera is often used to decorate borders, flower beds or flower beds that have a certain clear geometric shape. What is required, for example, for the zoning of a personal plot or the formation of flower beds of complex shapes. Quite often, Heuchera is used in combination with liliaceae, primroses or bruners. You can also find a very beautiful combination of garden or flower garden decoration - hosts planted together, heucheras and other plants with decorative leaves.
Geichera is a perennial plant
Various subspecies of Heuchera are perennial plants that are resistant to extreme seasonal temperature changes. However, when decorating a border, flower garden or flower beds, it should be remembered that in a young plant at low temperatures, the root neck may freeze and be damaged. In this regard, when planting a plant, you should leave the possibility of insulating the lower part of the bush with foliage or sawdust.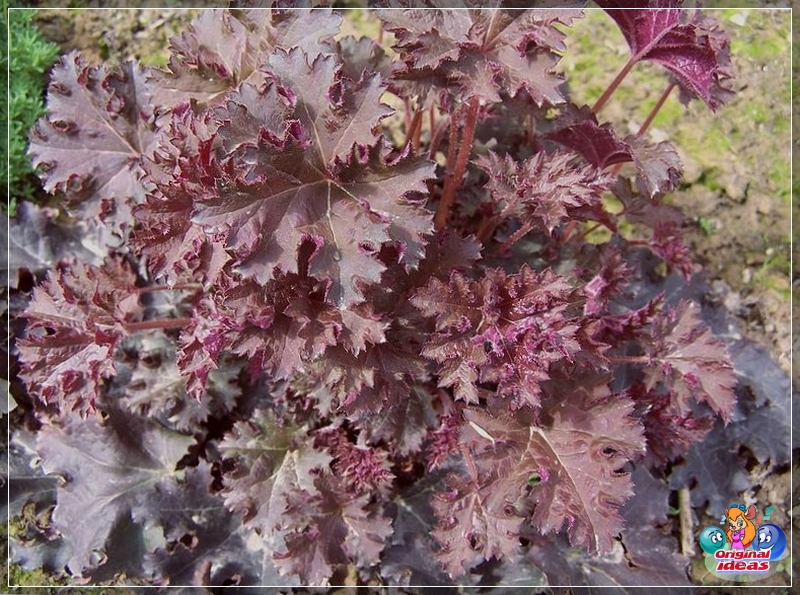 Heuchera transplant can be done in early spring or late autumn
In cases where a decrease in the size or thinning of leaves is observed in an adult plant, the heuchera bush should be transplanted or transplanted into areas with unexhausted soil. The transplant can be done in early spring or late autumn. In this case, large bushes must be divided into several daughter bushes.
Heuchera in landscape design (see. photo) in combination with other plants can be the basis of original garden compositions that delight the gardener's eye almost all year round.
Heuchera leaves acquire a very bright and rich color during the flowering period
Different types of heuchera
Types of heuchera (see. photo) are extremely diverse and differ from each other both in shape and in color of flowers and leaves. Heuchera leaves are distinguished by the fact that during the flowering period they acquire a very bright and rich color, determined by a specific variety or type of plant, and darken over time, which increases the decorative qualities of the plant.
Heuchera blooms almost from early summer to late autumn
The garden flowering plant of Heuchera, the types and varieties of which are subdivided according to the shape and color of leaves and flowers, is a small bush with dense shiny leaves of the most bizarre shape. Leaves can be smooth, wavy, corrugated. The color of the leaves can vary from almost white to dark green, both uniform in color and with chaotic spots or specks. Some varieties of Heuchera are distinguished by a yellowish or brown color of the base of the leaf, smoothly turning into green or dark green.
Heuchera species are divided by origin into mountain and forest
Heuchera blooms almost from early summer to late autumn. Heuchera flower is not large, has the shape of a bell. Individual flowers are collected in inflorescences, located on straight long stems. The color of the inflorescences can range from bright white to dark red, depending on the specific type of plant. After the end of flowering, hollow fruits in the form of bolls with seeds are formed on the stems. The number of seeds in one box can reach 10-20 thousand pieces.
External diversity attracts gardeners to the Heuchera plant. Varieties and photos with the name of each variety or species of plants are presented in the photo gallery.
Common types include hairy heuchera and cylindrical heuchera
Heuchera species are divided by origin into mountain and forest. In particular, mountain red heuchera, from which many ornamental garden species of heuchera originated, differs from other species in dense green toothed leaves with small marble veins and bright red or pink flowers. American Heuchera belongs to the forest species and is a shrub with rounded heart-shaped yellowish leaves and yellow-green flowers.
Common types also include hairy heuchera and cylindrical heuchera. The latter got its name for the cylindrical shape of the inflorescence, which has different colors and shades, depending on the variety. Garden Heuchera is also distinguished by its original appearance.
Heuchera hybrid is the result of crossing several plant species
Heuchera hybrid is the result of crossing several plant species. As a result of hybridization of several subspecies of mountain and forest varieties of Heuchera, hybrid Heuchera began to differ in a wide variety of shapes and colors of leaves and flowers in comparison with the original plants.
For a long time, the most popular among gardeners in Russia is the Palace Purple variety. Plants of this variety have large maroon to brown leaves and creamy flowers. Flowering lasts from June to late August. Peduncles reach a height of half a meter.