The history of the existence of blinds is only about 200 years old, although patterned lattices have been known for a long time, behind which the beauty of oriental women was hidden from immodest looks. In Europe, it was customary to close windows at night with wooden shutters assembled from planks.
In the twentieth century, blinds as a type of window curtain became in demand due to the fact that they easily fit into almost any interior. Practical wooden, woven and aluminum horizontal blinds for plastic windows are very popular, their photos can be viewed in the article.
Modern blinds made of any material have a variety of properties:
rich colors;
ease of care;
high wear resistance;
excellent sun protection.
The price range of blinds allows you to choose any model from high-quality budget to luxury exclusive.
To make the right choice and decorate your windows with stylish blinds that will last a long time, you need to figure out what materials horizontal blinds are made of, and what is the peculiarity of their operation.
Blinds material
Horizontal blinds, photos of which are presented in the article, consist of slats (lamellas), interconnected by strong cords of artificial threads, which allows you to simultaneously rotate the blinds by 1800.
Manufacturers produce blinds with slats from a variety of materials, and this determines their performance, the ability to use a certain style in a room and cost.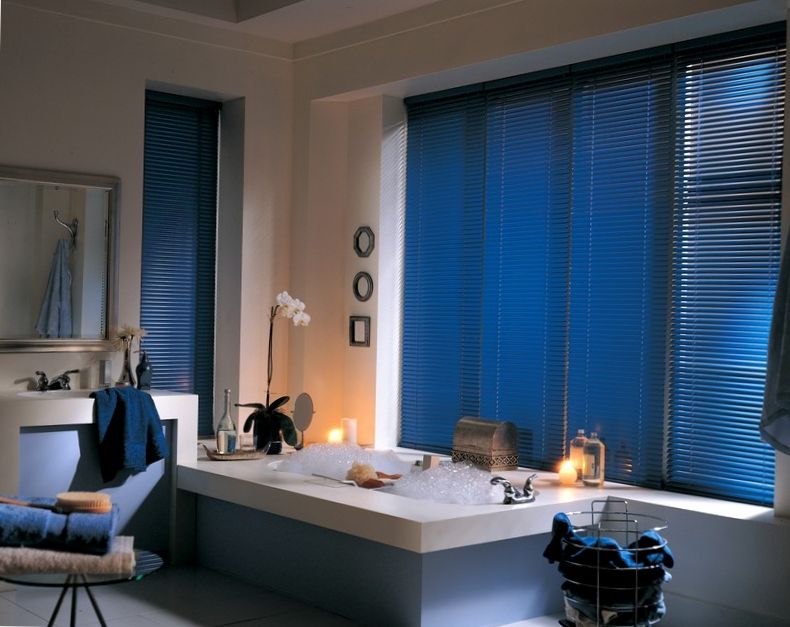 Aluminum blinds are popular, the horizontal slats of which have the following properties:
do not deform during use, do not break or bend;
durable;
are lightweight, which is convenient with a large area of ​​the window opening;
do not fade from ultraviolet radiation;
do not overheat in the sun;
not afraid of moisture.
Aluminum blinds are available in different colors, so it's not difficult to choose the one that matches the interior. In addition, you can combine slats of different colors to create original blinds. Aluminum blinds will perfectly fit into a room decorated in the style of minimalism, hi-tech, loft, modern.
Often, aluminum strips are coated with a plastic coating, which increases the strength of the product, and also prevents dust from adhering. Aluminum blinds are indispensable in rooms with high humidity, such as bathrooms. It is easy to care for such curtains, you just need to regularly wipe them with a damp cloth.
Nuance! Metal blinds make a lot of noise during ascent and descent.
Plastic horizontal blinds are the most affordable type of curtain. In hypermarkets, you can buy ready-made plastic structures of various sizes. They are offered fully assembled with a fixing and lifting system.
Lightweight plastic models are varied in color, except for plain blinds, manufacturers produce plastic that imitates wood. This type of window curtain is suitable for many types of interiors, they are often used in offices, kitchens, on balconies, verandas, loggias, in garages.
Plastic blinds are combined with the textile decoration of the window, covering with tulle or organza. In this case, the blinds provide protection from sunlight, and the textile curtains decorate the window.
Important! Plastic blinds should be placed away from heat sources and not hung near a stove or radiator.
Wooden horizontal blinds are also called Venetian. The slats are 25-50 mm wide and strung on ropes, thanks to which the slats are raised, opening the window, or rotated, changing the angle of access of sunlight.
The following material is used for the production of wooden blinds:
canadian linden;
corkwood;
pressed bamboo.
Wooden blinds are one of the most expensive types:
structures are environmentally friendly, therefore they are used in children's rooms;
increased moisture resistance, resistance to temperature extremes and UV rays;
do not require complex care;
lightweight and durable;
beautiful natural pattern on the planks;
richness of natural shades.
Such blinds can be combined with other eco-materials, decorating windows. Compositions look original. Wooden blinds are a great functional decoration. Wooden blinds are in perfect harmony with all kinds of ethnic and modern styles.
Wooden blinds are made not only from slats of different widths. There are other types:
Pinoleum - the braid is attached vertically to narrow strips, so the curtain turns out to be thin and flexible, it can be wrapped in a roll;
Faux are made from composite material (wood particles and artificial substance), therefore they are cheaper than conventional wood materials and have increased moisture resistance.
Horizontal fabric blinds are made from various types of fabrics with the addition of polyester and impregnated with special compounds:
dust-repellent;
antistatic agent;
water repellent.
The light transmittance of such blinds depends on the density of the fabric in the lamellas. The denser the fabric, the better it holds its shape and transmits less sunlight. The most popular are woven jacquard blinds. The textured relief pattern of this material fits perfectly into the style of living rooms, bedrooms and children's rooms.
Design features of horizontal blinds
Horizontal blinds made of any material can be placed on the window in 2 ways:
internal (mounted on a window sash with a cornice, while they can be mounted both close to the window and at a distance from the glass unit, including on the ceiling);
interframe (installed between window frames).
Horizontal blinds are distinguished by control mechanisms, with the help of which the slats are raised, and their angle of inclination changes:
Manual control. Does not require the use of special force, suitable for both light and heavy lamellas. Adjustment of the slats is carried out using various mechanisms (rope, cardan reducer, spring-inertial)
Electrical control. An electric drive is mounted in the cornice, with its help the position of the louvers of the blinds is controlled, just press the button on the remote control. This type of control is necessary when there are many blinds.
When choosing a control method, it should be borne in mind that you can turn and raise the slats with one mechanism, or you can choose a mechanism that separately controls the lifting and rotation of the slats.
What you need to pay attention to when choosing a mechanism:
lamellas rise easily and smoothly;
the blinds move silently;
ropes and cords do not get tangled;
no squeaks.
Blinds selection
When installing horizontal blinds on wooden or plastic windows, it is necessary to choose the correct size of lamellas. The width of the planks varies from 16 to 50 mm.
Important! The larger the window, the wider the slats should be. For narrow or small windows, narrow jalousies will do.
The blinds should not be too long, it is better if the lower slats do not touch the windowsill.
They produce horizontal blinds not only in different colors, but also in different textures:
perforated;
glossy;
matte.
To make the blinds fit into the interior of the room, you can order:
one-color lamellas;
a combination of 2-3 colors;
make photo printing, aluminum or plastic blinds are suitable for this.
The texture and color of wooden blinds must be in harmony with the window frames made of wood.
Blinds should be in harmony with wall decoration, furniture color and curtains. There are several rules for choosing designs:
in small rooms, blinds of light cold shades are installed;
for a children's room, it is better to choose bright colorful blinds;
cream, blue, green shades are suitable for the bedroom.
If there are already curtains on the window, then the blinds should contrast with them in color or complement it, so the window opening will look harmonious. Better to choose colors that are in different parts of the color palette.
Blinds care
The good thing about horizontal blinds is that they do not require complex expensive maintenance. There are different ways to clean the blinds.
Dry cleaning involves the use of different devices:
vacuum cleaner: a nozzle for hard-to-reach places removes dust from the slats;
the dust is simply brushed off with special brushes;
each strip is wiped separately with wet wipes; additional drying is not required;
special cleaning agents (gel, spray, powder) are applied to the lowered lamellas, which are then wiped alternately with a damp and dry cloth so that there are no streaks.
Wet cleaning is carried out only in case of heavy pollution, it can be done:
with the help of a shower;
using a damp sponge;
soaking in the bathroom.
It should be borne in mind that in case of excess moisture, the shutter mechanism is deformed, therefore, it is necessary to remove the plugs on the cornice and the lower bar.
How to clean horizontal aluminum blinds:
The blinds can be opened and removed from the eaves, neatly placed in the bathtub.
Using a strong pressure of hot water from the shower head, treat the slats on both sides, remove stubborn dirt with a detergent and a sponge, or soak the slats of the blinds in a solution of a special cleaning agent for 10 minutes, then wipe them.
Rinse with clean water.
When the water drains, the blinds are put in place and wiped off with a soft cloth.
The plugs are attached in a day, when the structures are well dry.
It is impossible to dry the blinds in any thermal way - this will lead to deformation of the lamellas. Better to let them dry naturally in the bathroom or in their place.
You can wash your blinds without removing them. To do this, closed blinds are treated with a wet sponge from top to bottom, after which they are wiped with a dry napkin. Turn the clean side of the lamellas, after which the other side is also processed.