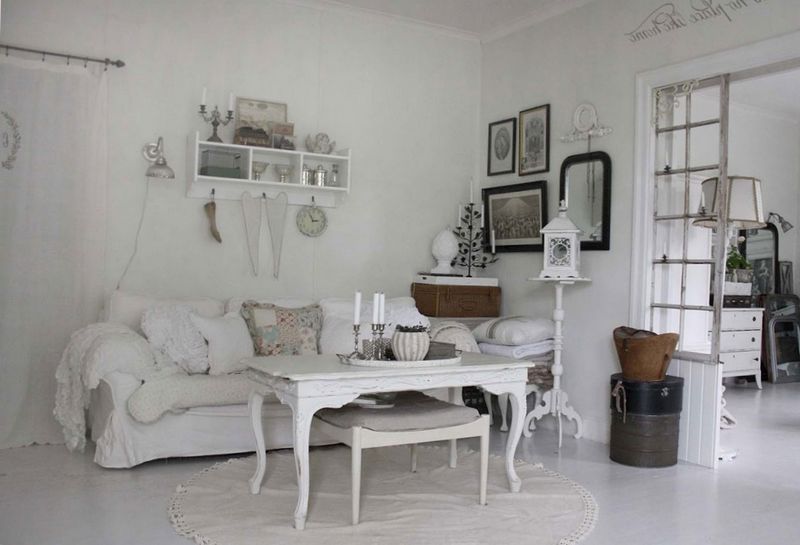 Often, designers are advised to pay attention to modern design options for living quarters. Shabby chic room is popular these days. This type of interior involves the use of different styles. As a result, the room takes on an original look.
Shabby chic style is romantic elegance
It is important to note that at the very beginning this term was coined precisely to denote a new style in the interior. This name means an original mix of different trends and styles. It can be a collection of details from the interior in style:
baroque;
retro;
vintage;
romance.
Shabby from English can be translated as "shabby", that is, outdated, which fully conveys the idea of ​​the shabby chic style
As a result, the room looks very original, and this, in turn, testifies to the good taste of the owner of the house or apartment.
Important! But it is very important not to overdo it, because the main thing is that the room does not seem too outdated or dilapidated.
The style was invented by a famous designer who loved to visit various antique shops and sales. She could spend hours looking for the most original and ancient things, as a result, all finds were very well combined with modern interior items. The shabby chic room is most often equipped for girls - this is such a glamorous space with elements of old shabby luxury.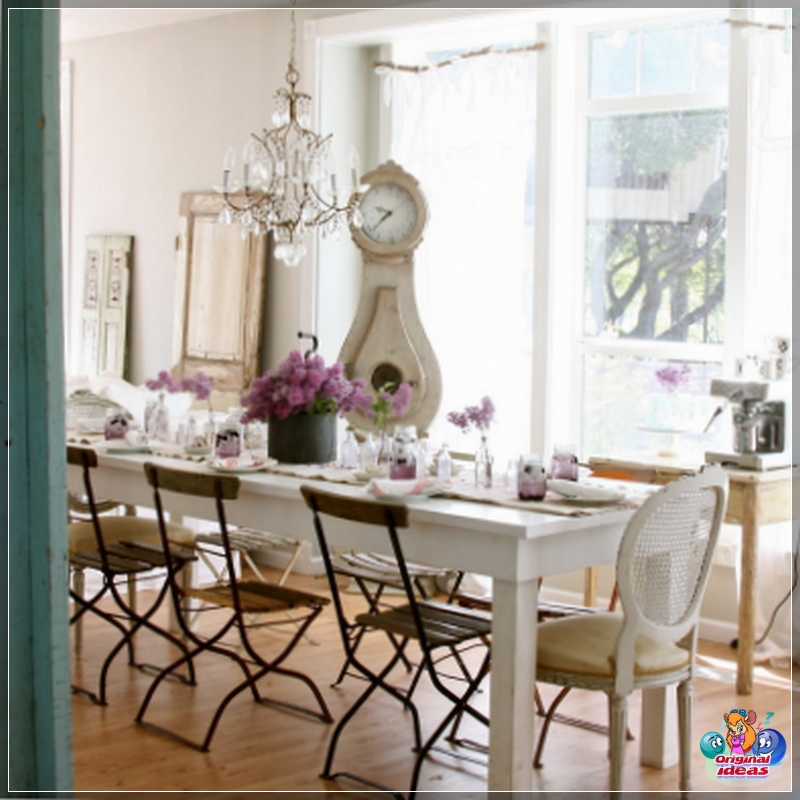 Shabby chic is a feminine style that fits perfectly into a girl's room
The room harmoniously combines furniture made of natural materials, handmade textiles with fanciful decor items. For example, a wicker chair can be installed next to an expensive crystal vase.
In the shabby chic style, you can withstand the whole apartment: the bedroom, the kitchen, the living room and even the bathroom
Shabby chic girl's room
The room for a shabby chic girl looks quite glamorous and stylish. Thanks to the presence of antique decor items, dishes, and textiles, the room becomes original. You also get the feeling that the room has its own special history, which has been going on for many centuries.
Shabby chic children's room
Designers highlight the main attributes in the decor of a room that make it special:
antiques;
antique furniture that has obvious wear and tear, as well as other signs of deterioration;
romantic print textiles.
Almost all structures have forged parts, they are painted exclusively in light colors.
Shabby chic is perhaps one of the sweetest and most delicate interior styles for decorating a children's room
It is clear that a room in this style is intended for a romantic nature, therefore, in most cases, this style is chosen by young girls and women.
Often bedrooms that are designed in this style have light upholstery and good lighting. They try to make window frames large and with the possibility of ventilation. Wooden shutters on windows are also common.
Light colors are the perfect choice for the bedroom
It is worth noting that a similar design is used not only in the bedroom, but also in other areas. It can be a living room or a relaxation room, even a dining room can be arranged in a similar way. The main thing is to clearly understand all the details of the interior and use them strictly for their intended purpose.
If we are talking about a living room, then a fireplace and a comfortable couch, which has expensive upholstery, must be installed in it. The bedroom can be equipped with a large bed on wrought iron legs.
Very often you can see a fireplace in a shabby chic living room
Features of the shabby chic style
Sometimes this style is confused with a country-style interior (French variation). This is due to the fact that in Provence there is also furniture with a snow-white surface, which has some scuffs and textiles with a romantic print. But shabby chic involves the use of designs that have a luxurious look. This furniture, despite its wear, conveys all the glamor and prestige of the room, and this very wear testifies to the ancient origin of the structure.
Chebbi-chic is distinguished from Provence and country by glamor and luxury
It could be an ottoman with worn upholstery, but a beautiful print, embroidered with gold thread. Vases are selected exclusively from crystal, lampshade from expensive premium textiles. Also, we must not forget about such interior items as forged items.
Attention! A shabby chic room involves the use of a large number of decor items. These can be various shapes, table lamps, as well as photo frames and paintings.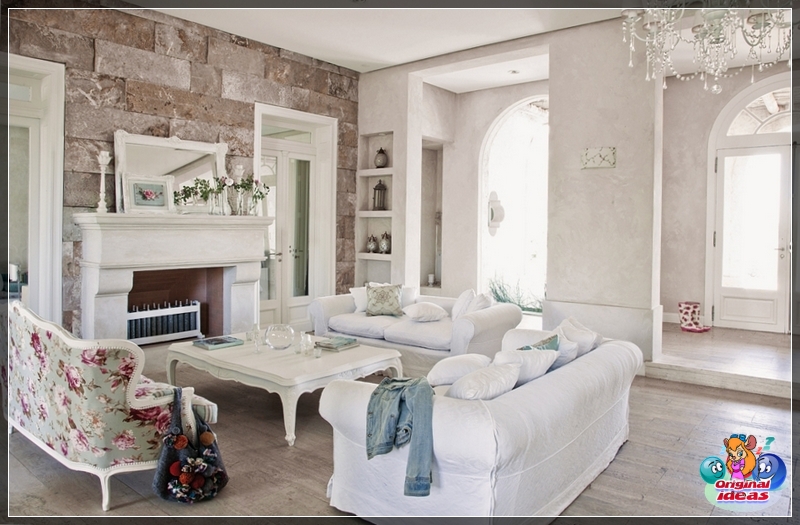 The shabby chic room is filled with rare vintage accessories
As for the color palette, it should be mainly light shades, as well as pastel colors:
snow-white and all shades of white;
the color of the sky, it should be a little pale;
mint shade, but again, extremely light;
pale purple;
plum color;
all shades of sea foam;
pink (pale).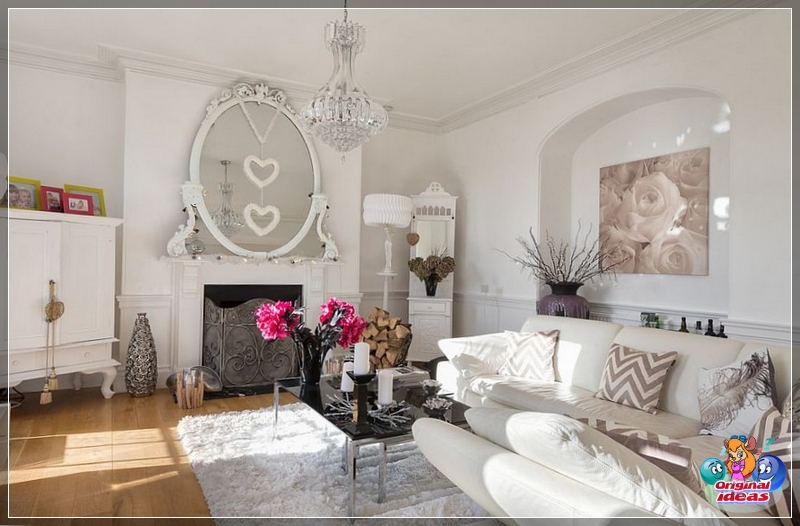 The color scheme of the shabby chic style includes two main colors, these are white and pink
It is also assumed to use wooden structures without painting. Usually it is light wood, which is used in the manufacture of wicker furniture. It can be combined with platinum forged items.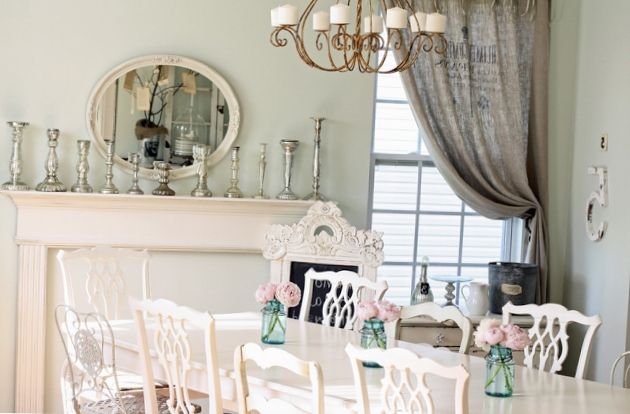 What to look for in wall decoration?
It is equally important to pay attention to what kind of wall decoration a room in the shabby chic style suggests. White shades are important, a separate section of the wall, which is not painted at all, will blend very harmoniously. The same applies to other surfaces: some of them must always be unpainted.
Many designers use contrasts in the design of the room: furniture in dark shades can be installed on non-snow-white walls. Walls covered with wallpaper with the effect of old plaster are often found.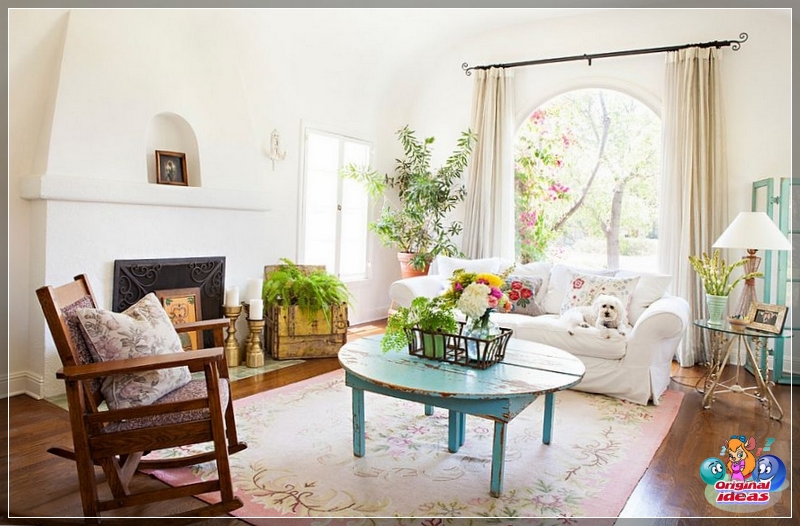 The easiest way to decorate the walls of a shabby chic interior is to paint them white
You can use stucco to decorate walls or ceilings. Moldings, plaster sockets and other stucco moldings are acceptable.
The style involves the use of some country motifs, so designers often use wood panels that are positioned both vertically and horizontally.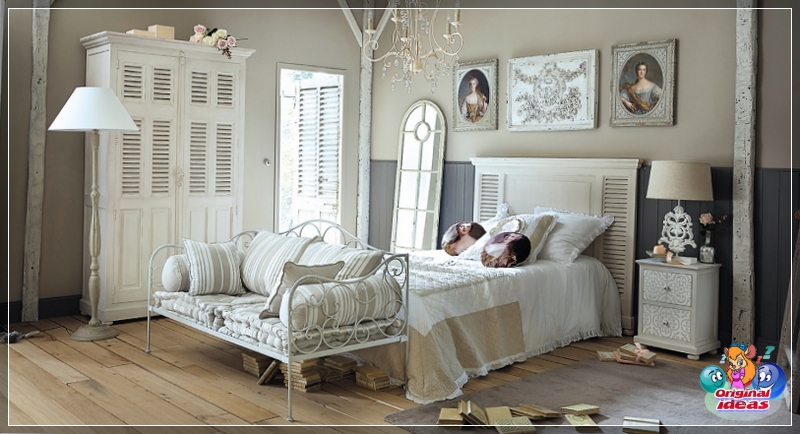 Wooden panels in wall decor
Brickwork that is painted white. She, too, can often be found in rooms that are equipped in a shabby chic style. For example, in a bedroom, a similar surface can be used to visually highlight a fireplace or a shelf on which frames with photographs or a vase of flowers are installed.
Snow-white brickwork looks very beautiful in the interior
What does the ceiling look like??
If everything is clear with the walls, then there are still some questions about how to properly decorate the ceiling.
Important! You should always remember that in a room decorated in a shabby chic style, there should always be a lot of light.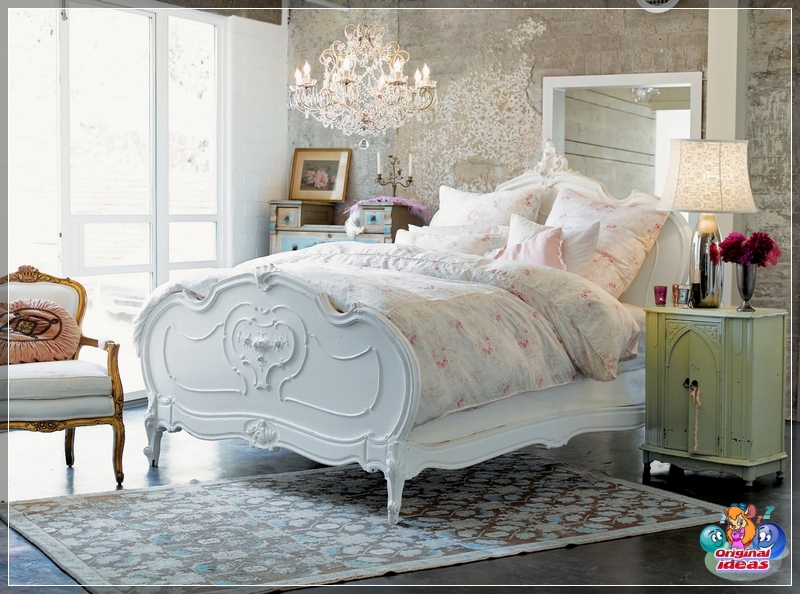 In the interior of shabby chic, a luxurious crystal chandelier looks organically
At the very beginning of work, you should pay attention to the presence of beautiful chandeliers that are made of crystal or high-quality glass. They can be trimmed with gold or any other material that suggests that this is a real luxury item.
To decorate the ceiling in such a room, you need to use beams and other decorative elements of a different shade - it can be unpainted wood.
Imitation of beams on the ceiling
To make the interior more chic, you can artificially age this part of the room. This could be the effect of cracked paint on the ceiling. Also, such an option is acceptable when a certain part of the ceiling will be unpainted.
The design of the ceiling, like the walls, involves the use of the technology of artificial aging of surfaces. This makes the room seem very romantic.
In the interior of a shabby chic, aged walls or ceiling look the best
Reasons for the popularity of the style
The main reason for the popularity of the style is that it combines many different types of interiors. There is an option for finishing with natural materials, for example, wooden floors or beams of the same material on the ceiling. Indoors, you can install chic furniture, which is upholstered with expensive fabric. And for lovers of romance, there is an opportunity to use a natural style with a beautiful floral print.
Shabby chic or able to recreate a unique, cozy atmosphere with a touch of elegance and romanticism
As a result, the room becomes very cozy and romantic, but at the same time it does not seem outdated or cluttered. All this can be achieved only if you carefully select each piece of furniture, from the furniture itself, to textiles, vases or a lamp.
So that the shabby chic room does not seem like a warehouse of old things, you need to very carefully select all the decor items
At first glance, it seems that there is nothing difficult in collecting all the antique furnishings and placing them in one room. But this is a misconception, here it is important to understand that the room should not seem like a warehouse for trash. Quite the opposite, it testifies to the presence of a delicate taste in the owner of the premises and his direct relationship to high society.
But in order to translate all this into reality, you need to very accurately study all the nuances of this type of interior and be able to decorate the room in detail with old and expensive things.